Improving Vocational Education in Thailand: An interview with Khunying Sumonta Promboon
Bangkok – When robots are advancing and industries are playing catch up to technological advancement, vocational education plays a pivotal role in national development. Instead of arcane theory, vocational education trains students with sophisticated, hands on and practical skills needed to excel in the world of work. Vocational training offers an up to date and cutting edged techniques for students not only comply but push technical boundaries forward. Countries that excel in their industrialization all champion vocational education – Germany, China and Taiwan to name but a few.
Thailand, despite setting its eyes for Thailand 4.0 to transform its economy to digitalization, automation and robotics, is falling behind the race to the top. The World Bank found that 40% of the top tier international firms reported the inadequate skills as the major constraint. While the country is in much needed position for vocational education, there are only 1 million students in vocational school comparing to 2.5 millions in higher education. Although the country has more than 900 vocational colleges, students opt for higher education because better images and prestigious. When news about vocational education in Thailand are filled with images of violent students and gang fights amongst students, there is a dire need to reform this important sector. Rattana Lao, Program Officer in Policy and Research at the Asia Foundation, talked to Associate Professor Khunying Sumonta Promboon, the President of Chitralada Technology College on ways in which Thailand vocational education can reform itself to better respond to national demand: One step at a time.
What role should vocational education play in Thailand?
Vocational education should be the main educational track to educate and encourage young students to partake in the national development of the country. After receiving basic education of grade 1 to 9, the majority of students should enroll in vocational education. However, the case of Thailand is different. The majority of Thai students like to enroll in basic education of grade 10 to 12 and continue to enroll in universities rather than vocational education.
How can one promote vocational education?
Many factors need to be taken into account in order to incentivize more students to enroll in vocational education.
Firstly, students need to have guaranteed employment. Such employment should begin when they are still students, an internship of some sorts. This requires a close collaboration between educational institutes and corporates. A symbiosis between the two stakeholders is necessary. This is not widespread in Thailand. The opportunities are still inadequate and limited to a few top students in colleges rather than available equally to all students.
Secondly, the social attitude must change. In Thailand, parents want their children attend higher education and receive bachelor degrees, master degrees and PhD. To change this attitude, it will take time. It goes back to the first point that students need secure employment.
We incorporated these ideas into the creation of Chitralada Technology College. We want to take lead in enabling students who take vocational education with us being able to transfer into higher education later on– making the opportunities for education and employment aligned.
What are the problems of vocational education in Thailand?
The first problem is the social bias. People prefer basic education because its more prestigious. The second problem is students do not know the diversity of career paths. They know only limited choices of teachers, soldiers and doctors. The educational counselling in Thailand needs an improvement.
What does Chitralada Technology College try to do?
There are two institutes within the same umbrella. The first is Chitralada Vocational School and the second is Chitralada Technology College. There are total number of 800 students in these two institutes. Although we are small in sizes, we would like to lead best practices in term of vocational educational practices. There are many programs that we offer for students.
What is your strategy to promote vocational education in Thailand that is different from others?
We have extensive networks of 67 businesses throughout Thailand as well as partnered with other organizations. In total, we have MOUs with more than 80 institutions. We partnered with Singapore, China and Germany.
Can you give examples?
With China, we partnered with Leshan Vocational Technical College. They accept our students' exchanges for culinary school. There is also Tienjin Sino-German Vocational Technical College that we partner about mechatronics. With Singapore, we work with Singapore Polytechnique. We are beginning to initiate exchanging programs with Temasek and Singapore Polytechnique. Last year, we took Singapore students to Sumutsongkarm to visit local communities who produce shrimp pastes. It's impressive idea they are creating. There is also Senior Expert Project we partner with Germany. Mostly it is about mechanics and mechatronics.
How do these collaborations help Thailand?
These are successful countries who implemented vocational education and we can learn from them.
There are a lot of pictures of Her Royal Highness Princess Maha Chakri Sirindhorn. How does HRH inspire this college?
Her idea is to educate students according to their talents. Those who do not like academic track should have the opportunity to pursue other alternatives. Her Royal Highness plays a monumental role to guide our college's direction and inspires us to excel. When HRH visits other countries, HRH enables the college to expand our collaboration with successful institutions from abroad.
We want to change the images of vocational students in Thailand from being violent students to be responsible students.
The geographical location of Laos, a small landlocked state surrounded by China, Thailand, Myanmar, Vietnam and Cambodia, has made it imperative for this country to pursue a well-balanced multi-faceted foreign policy that hinges on the development of a mobile system of economic and political counterbalances.
Regional integration is key to the economic development of Laos. A major integration mechanism is ASEAN, of which Laos has been a member since 1997. 99% of Laos' residents believe that their country's membership in this organization yields tangible economic benefits; 92.5% say it has improved their personal financial standing.
As a member of ASEAN, Laos is committed to developing relations with China, Thailand and Vietnam but pursues a preferential policy as regards each of them.
China remains number one investor in the Laotian economy ($ 8.5 billion) with the bulk of the finances channeled into the mining, transport infrastructure and energy sectors. In 2016, trade turnover between the two countries reached $ 2 billion , a significant amount for Laos with its less than 7 million population. The largest Chinese-Lao project is the railway from Kunming Province (PRC) to Laotian capital, Vientiane. China is ready to inject more than $ 6 billion in the project
Meanwhile, Laos has been stepping up cooperation with Vietnam, which maintains a wait and see position in relation to China. Laos views Vietnam as a political and ideological counterweight to China. Cultural ties with Vietnam serve as an additional means of preventing the transformation of Beijing's economic influence into the ideological one. Members of the ruling People's Revolutionary Party of Laos receive training in Vietnam.
With a view to diversify foreign economic and foreign policy relations, Laos is developing contacts with France, whose colony it used to be in the past. Paris is seen as a remote neighbor of Laos, a partner in the economic and cultural spheres. Since 1991 Laos has been a member of the international organization for the cooperation of the francophone states "Francophone". According to the French Embassy in Vientiane, the number of Laotians who speak French amounts to 3% and has been increasing over the past 12 years.
Laos is home to two branches of the Institut Francais du Laos (IFL) – an organization that promotes the French language and culture abroad; the French language is on the curriculum of three of the country's five universities. In March 2018, Laos was visited by leaders of "Francophone", and in May 2018 – by representatives of the Francophone University Agency. The official mission of the latter is to create a new French-language communication and educational space. The visits resulted in the signing of agreements on further cooperation with both organizations.
The period that saw a catastrophic fall in the demand for the French language in Laos since the mid-1970s is coming to an end. Nevertheless, the Lao Ministry of Education has designated English as a compulsory subject in schools for the 2019 academic year. The decision was prompted by the currently prevailing position of English worldwide and Vientiane's intention to develop economic ties not only with the Francophone, but also with the Anglosphere.
Along with the cultural influence, France is trying to build up its economic presence in Laos. In May 2018, a French delegation led by French Ambassador Claudine Ledo visited a special economic zone in the province of Savannakhet to examine the prospects for French investment. For Laos, France is the ninth largest trading partner accounting for only 0.2% of the Lao market but it holds top position among non-Asian countries in the volume of investment.
Trade turnover between Laos and France has been fluctuating in recent years between $ 34 and $73 billion. France is prepared to invest in the Lao economy but the volume of investment is determined by the extent of Vientiane's openness to foreign investment flows and the ability of the Lao economy to 'digest' them.
The year 2019 will mark greater cooperation within ASEAN for Laos. Last year, economic issues within ASEAN prevailed over political ones in connection with trade conflicts between the United States, the European Union and the People's Republic of China. ASEAN countries are planning to launch the Regional Comprehensive Economic Partnership program (RCEP).
If the program is fulfilled, it will become the largest trade agreement in the world. The cumulative GDP of the countries participating in it makes up 25% of the global GDP, the population accounts for 45%, and the trade turnover amounts to 30% (5). Australia, New Zealand, Japan, South Korea may all be attracted to the program. This will provide Vientiane with more opportunities to diversify foreign economic relations amid China's growing financial presence in Southeast Asia.
France was the first European country to sign a partnership agreement with ASEAN. Paris regards this organization as key to its policy in the Indo-Pacific region and a major economic partner. The volume of French investments in the ASEAN economy in 2017 reached € 16 billion. France's share in the ASEAN market is 1.6%. This figure has not changed for ten years.
Paris aims to give cooperation with ASEAN a new impetus, which will impart more momentum to French-Lao relations.
First published in our partner International Affairs
On Refugees… And Myanmar: It's Not Just The Rohingya
… And my life's cold winter that knew no spring; Of my mind so weary and sick and wild,  Of my heart too sad to sing.  — Paul Laurence Dunbar
The world now has more refugees than at any time since after WW2, more than the population of Britain.  They are often the consequence of wars usually instigated by great powers directly or through proxies.  Civil strife accompanied by the demonization of minorities, killing and expulsion is another reason.  Such is the story of the Rohingya in Burma, or Myanmar as it now likes to be known.
It is a country with the river Irrawaddy as a central artery.  Bordering it is the heartland, peopled by the Bamar who make up 68 percent of the population and are Buddhist.  The Rohingya are Muslim, look different and have lived in Rakhine state for at least five centuries.  During WW2 they supported the British while the Buddhist Burmese supported the Japanese, their coreligionists.  It brought lasting enmity.  After years of propaganda and vilification, the Rohingya were stripped of citizenship.  Not unlike Nazi Germany targeting Jewish people, new restrictive laws curtailed liberties, marriage rights, even children — limited to two.  The vilification turned most neighboring Buddhist villages against the Rohingya, and those attacking and burning their villages were often these neighbors when not the military.
In this latest violence, 90 percent of the Rohingyas were driven out and about three-quarters of a million sought refuge across the border in Bangladesh.  The story does not end with the Rohingya for there are other threatened minorities in Burma occupying the periphery in the north and south:
In northern Shan state, a simmering conflict with the Taang National Liberation Army dating back to 1963 has displaced 300,000.  The army emboldened by the relatively meek response to the assault on the Rohingyas have intensified their efforts also against the ethnic Kokang's  Myanmar National Democratic Alliance Army.  The consequence is an addition to the tens of thousands that had streamed from earlier conflicts over the border into China.  Also in the north the largely Christian Kachin minority formed the Kachin Independence Army to defend their villages.   The ongoing conflict has displaced more than 135,000 internally.  And in the south the conflict with the Karen (Buddhist, Animist and 15 percent Christian) resulted in over 100,000 refugees … this time in Thailand, plus a 100,000 diaspora to the rest of the world including some 65,000 in the US.  Myanmar's perverse antipathy towards all its minorities makes a mockery of the Nobel Peace Prize awarded to Aung San Suu Kyi, its leader.  Is meaningful censure an answer, or is innate tribalism an unconquerable primitive amygdala response?
The top five refugee hosting countries might also come as a surprise.  Amid all the news of Angela Merkel's generous offer to accept everyone entering her country, Germany is not one of them.  Shortly thereafter her party lost by-elections and she is departing.  The actual figures are Turkey (3.5 million), Pakistan (1.4 million), Uganda (1.4 million), Lebanon (1 million) and Iran (0.98 million).  The chaos in countries adjoining them (think of Afghanistan, Iraq, Syria and Somalia) explains why, and the great power with a finger in each pie, when not actually baking it, is also not difficult to discern.
Imagine being forced to flee with just the clothes on your back or just a bag.  A word here also for the people who had to do just that to escape wildfires.  They all have our heartfelt sympathy, often taking a concrete form through donations to help.  A happy new year to everyone and a better one for the unfortunate among us.  We can try to make it so.
In Thailand, Mahathir offers a hypocritical take on ASEAN unity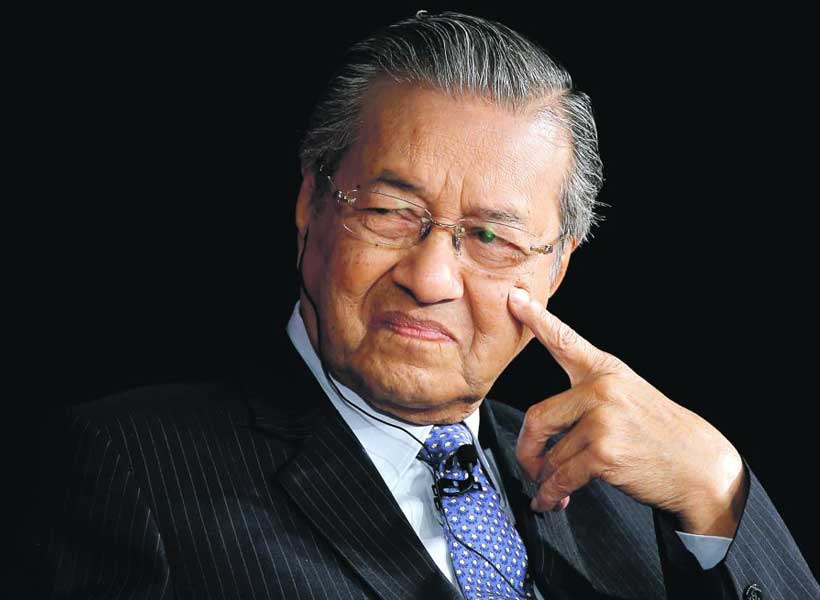 "The stability and prosperity of our region," Malaysian premier Mahathir Mohamad claimed earlier this week, "rely heavily on a united and integrated ASEAN." The call for regional unity came as Malaysia's prime minister was conferred an honorary doctorate in Thailand in the field of social leadership, entrepreneurship and politics, an occasion that marked Mahathir's second visit to the country since winning a landmark election in May this year. His earlier visit saw him pledge to facilitate peace in the southern border provinces of Thailand amid a persistent separatist insurgency.
While his speech may have been stirring, Mahathir's grandiose vision of a more unified ASEAN community does not extend to his own government's policies, at least judging by the escalating border dispute Putrajaya has ignited in recent weeks with neighbouring Singapore. The same Mahathir that called for regional unity in Thailand is refusing to remove ships from disputed waters, while a senior member of his party threatened Singapore with "pain by a thousand cuts". The provocative language harkens back to the long and tense relationship between the two countries since their 1965 split, with boundary issues typically flaring up in parallel with domestic politics.
This latest dispute straddles two sets of issues. On the maritime side, Malaysia's October claim to extended limits of the Johor Bahru port has been rejected by Singapore on the grounds that the new boundaries exceed previous claims. In terms of airspace, Malaysia has voiced opposition to the Instrument Landing System (ILS), an assisted navigational aviation facility for Seletar Airport. Malaysia protests the system's implementation on the grounds that it infringes on national sovereignty and creates adverse impacts on flight paths and shipping in Pasir Gudang.
Mahathir's renewed aggression toward Singapore marks a notable about-face from predecessor NajibRazak's efforts to build stronger ties between Malaysia and the city-state. Najib sought to increase mutual trust through cross-border infrastructure and education projects. "We certainly do not want to return to the era of confrontational diplomacy and barbed rhetoric between our two countries," he declared earlier this year in a barely-veiled barb at Mahathir's preceding stint in office. "It was an era that we want to forget."
That attitude was echoed by international observers, who held high hopes for bilateral relations upon Mahathir's election as PM in May despite his widely-known frosty attitude towards Singapore. A few months in, those hopes have given way to somber disillusionment. The tensions of the past several weeks have revived uncomfortable memories of cross-causeway relations during Mahathir's first stint in power, when he ruled Malaysia with an iron fist from 1981 to 2003.
One focal point of tensions is Mahathir's so-called 2001 "crooked bridge" plan, designed to replace the causeway linking the two countries with a bridge to allow ships to cross the Johor Strait. Singapore refused to back the project, declaring the bridge unnecessary as long as the causeway was in good condition. Mahathir's insistence on building Malaysia's end of the bridge, and more recent attempts to revive project discussions, have confirmed fears that his return to power would revive old issues previously laid to rest.
It's difficult to determine exactly why Mahathir is so blatantly after confrontation with Singapore. Two main theories have emerged to explain the PM's enmity towards Malaysia's tiny neighbour. According to the first theory, the idiosyncratic Mahathir holds a grudge from his university days in Singapore, where he faced anti-Malay prejudice and condescension from Singaporeans.
Mahathir does indeed have a history of holding grudges. Long before the Seletar airport issue and the revival of the Johor Strait bridge project, Mahathir had one-time protégé Anwar Ibrahim thrown in jail on trumped up sodomy charges after they disagreed over financial policy in the wake of the 1997 Asian Financial Crisis. Anwar, who has since re-emerged as a critical political ally for Mahathir, was just one of a long list of political opponents to suffer similar fates during Mahathir's first tenure.
That trend has carried over into the premier's second term. Having already spoken at length of his soured impression of successor Abdullah Badawi, the newly reinstated leader is now going after predecessor Najib. Arrested in July in connection with the billion-dollar corruption scandal surrounding state investment fund 1MDB, Malaysia has also filed criminal charges against Goldman Sachs for its involvement in the embezzlement of large sums of money. The unfolding case against Najib is being held up as a litmus test of Mahathir's commitment to justice. The supposedly "bitter" Mahathir is unlikely to disappoint.
The second theory, however, may offer a more straightforward explanation. It suggests Mahathir is using this latest spat with Singapore as a means of drawing attention away from domestic problems. A Nikkei Asian Review report released earlier this year held Mahathir's government responsible for a rapidly declining ringgit, with the new administration lacking in substantial new economic policies and failing to curb capital outflow.
Mahathir's economic woes are compounded by rising concerns over Malaysia's ballooning debt. In the wake of the 1MDB scandal, realizations that government debt exceeds RM1 trillion – more than $238 billion – are ringing national alarm bells. The benchmark FTSE Bursa Malaysia Kuala Lumpur Composite Index has fallen nearly ten percent since Mahathir took office.
Amid rising debt, dubious economic policies, and broken election promises, Mahathir's comments in Thailand earlier this week belied what could very well be a conscious strategy of exploiting regional tensions to maintain domestic control. While ASEAN unity almost certainly is the only path to shared regional prosperity, Mahathir does not seem to be to be listening to his own advice.