Twenty Years of South Africa's transition: An Economic and Foreign policy perspective
Authors: Srimal Fernando and Siksha Singh*
South African has made a major transition from apartheid to democracy which is one of the most significant political occurrences of the past 20 years. The flag bearer of this movement was anti-apartheid crusader Nelson Mandela. Through his deep commitment to the cherished ideals of equality he introduced South Africa to the larger world. The nation's vision on foreign affairs during this period was based on the tenet that human rights should be at the core of international relations. This period also witnessed the constitution of Truth and Reconciliation Commission to set in place the justice mechanism. South African constitution has also gone through many transformations post the political upheavals in the region since 1996.
Mandela's tenure from 1994 to 1999 was credited for its emphasis on economic growth through a framework of market economics and encouragement of foreign investment. The former President exercised active, determined leadership in the years following his consolidation of power. There had been sincere attempts to shift to democratic federalist system which had helped in improving the economic welfare of all communities. On the economic front the nation was transitioning from Reconstruction and Development Programme (RDP) Policy to Growth, Employment and Redistribution (GER) Policy. This policy accelerated the economic growth of the nation to 3.5%, led to creation of 400,000 Jobs and uplifted the Black Middle class.
Mandela was succeeded by Mebaki's Presidency. His government was instrumental in establishing intra-continental trade with other African nations which resulted in national exports rising from ZAR 8.6 Billion in 1994 to ZAR 38.8 Billion in 2003 which was a 300% increase. Mebaki's regime was known for quiet diplomacy; however South Africa's leadership among African nations was making new strides. The leader's key emphasis was on finding solutions to Africa's problems such as reducing poverty levels and helping in establishing stability in African states. However his foreign policy was criticized for the refusal to express disapproval of Zimbabwe's President Mugabe's authoritative rule and gross neglect of human rights abuses. The pursuit of economic development at all cost had implications for the political complexation of the Mebaki presidency as well. Former leader therefore wished the country's performance to be measured in terms of its acceleration of economic change.
Zacob Zuma succeeded Thabo Mebaki and his economic policy shifted from Mandela's Growth, Employment and Redistribution to a new macro-economic policy which provided social assistance to 17 million South Africans and ZAR 120 Billion a year on infrastructure projects like Roads, Railways, Ports and electricity supply. During his presidency South Africa also got the distinction of the number one country in the world for extending maximum subsidy for housing. South Africa also became a part of BRICS (Brazil, Russia, India, China and South Africa)in 2011 and helped in laying the foundation for BRICS Development Bank in Johannesburg. The country got the chair of IORA (Indian Ocean Rim Association) and BRICS since 2017.
The appointment of former Vice-President Cyril Ramaphosa as South Africa's President can be seen as a period achieving stability and taking significant steps towards consolidating its economic and social status in the next four years. His policy formulation is vastly different from his predecessors. South Africa's perception of foreign relations has remained fairly consistent since the time of late President Nelson Mandela and current President has been the most successful in combining creativity and collaboration with numerous regional groupings taking a lead on matters of foreign policy. The countries GDP per capita over the last twenty years has grown from 3,447$ in 1994 to 7,524$ (World Bank, 2017).The growth however has been inequitable due to the high rates of unemployment which was estimated to be around 26%.(Statistics office, 2017).The government recently set the vision for 2030 which is Quality basic education, decent employment through inclusive economic growth and Vibrant, equitable and sustainable rural communities contributing to food security for all. Changes in South Africa's social structure during the past decades are insufficient to explain the policy changes that took place during Mandela's period. Transforming the democratic leadership in South Africa was a process of what's called dismantling of the old system in a way that simultaneously creates a new foundation for a political system that will lead South Africa to new heights. Nevertheless there are things that draw these leaders together as the political economy of South Africa has found a stable equilibrium with less than maximal redistributive taxation. The desire to preserve South Africa's status as a global and a continental power will require small steps beyond the presidency.
*Siksha Singh, a scholar of Masters in Diplomacy, Law, International Business at Jindal School of International Affairs, India
Kenya's Peter Mathuki appointed as Head of EAC Secretariat
Kenya's Peter Mutuku Mathuki has been appointed to head the East African Community (EAC), the regional bloc that brings East African countries under one umbrella. Mathuki replaces Burundi's Liberat Mfumukeko, whose five-year term ended early 2021. The post is usually rotational for five years.
As Secretary-General of the regional bloc, his key tasks include regional development, increasing inter-regional trade and addressing investment possibilities for both potential internal and external investors.
According to his profile, Mathuki has worked as Executive Director at the East African Business Council, and consequently emerged as the top candidate for the new position. Over the years, he has been dealing with the corporate business sector, and believed to have sufficient experience and contacts useful to address incessant wrangles in the East African Community.
Mathuki previously served as a member of the East African Legislative Assembly, chairing the Committee on Legal Affairs and Good Governance as well as Accounts, Trade and Investment.

He has held political positions in Kenya and in international bodies including the International Labour Standards at the former International Confederation of Free Trade Unions (ICFTU-Africa), now ITUC-Africa, which he served as director. He was also a consultant for European Union programmes in Kenya.
Mathuki comes on board as the African continent implements the Africa Continental Free Trade Area (AFCFTA) agreement, where he has been involved in the creation of the nascent African Business Council. Trading under this AfCFTA began on January 1, 2021 and opens up more opportunities for both local African and foreign investors from around the world.
Mathuki was taken on as a rectification strategy by Kenya, following a low-key leadership by Mfumukeko. Under his term, countries routinely skipped summits and member states wrangled over tariffs and political accusations. His secretariat faced financial constraints as member states delayed remitting their membership dues and donors reduced funding following allegations of corruption.
The latest report from the East African Community Secretariat for this year shows, for example, that South Sudan is the most indebted member of the EAC. It owes US$24.6 million in funding towards the main budget even though it should pay up to US$32.4 million including this year's dues. It should also pay US$2.8 million to the Inter-University Council of East Africa and another US$345,000 to the Lake Victoria Fisheries Organization.

The main budget usually funds the operations of the EAC Secretariat, the East African Court of Justice, the East African Legislative Assembly and other bodies dealing with specified fields. The Secretary-General is the principal executive and accounting officer of the community as well as the secretary of the summit and serves for a fixed period of five years.
Many businesses and market players perceive the region as progressively stable for long-term beneficial business, investment and trade. With a combined population estimated at 173 million, the region is relatively large. The East African Community (EAC) is an intergovernmental organization composed of six countries in the Great Lakes region in Eastern Africa. The members are Burundi, Kenya, Rwanda, South Sudan, Tanzania and Uganda.
A Fault Line Named Farmajo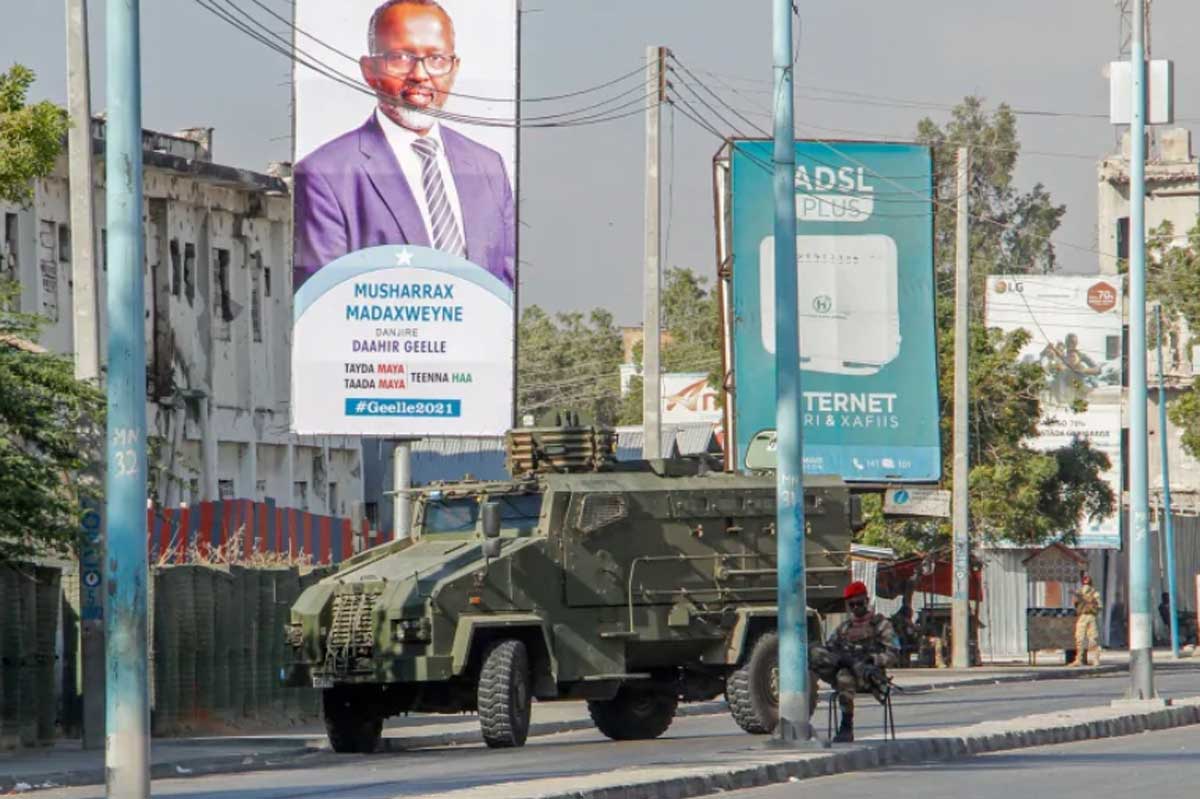 Somalia, a country of many political fault lines that indicate looming earthquakes of great magnitude, now has a new one- the Farmajo fault. Mohmed Abdullahi Farmajo is the malignantly polarizing president of Somalia.
Two of the Farmajo fault's severe foreshocks or preliminary shakers have occurred on Thursday 18 February and Friday 19 February. In the first one, government troops have attacked two former presidents and current candidates at a hotel where they were organizing to lead a peaceful march against Farmajo's illegally delayed election the next day.
The second one occurred on Friday when the government fired indiscriminately at a peacefully marching citizens led by Farmajo's former prime minister, former ministers and a few other candidates. An estimate of twenty people was reported dead or seriously injured.
That was the most callous act that any leader or ruler could have ordered at a time of high political volatility. It is the opinion of this author that that has ended Farmajo's political future. He severely wounded himself in his first reckless attack and committed suicide in his second.
Nature of the Violation
According to Article 19 of the U.N. Universal Declaration of Human Rights:
Everyone has the right to freedom of opinion and expression; this right includes freedom to hold opinions without interference and to seek, receive and impart information and ideas through any media and regardless of frontiers.
And, according to Article 20:
(1) Everyone has the right to freedom of peaceful assembly and association
(2) No one may be compelled to belong to an association.
These universal rights coupled with the freedoms expressed in Somalia's provisional constitution, affirm that those whose Friday march was violently aborted had the right to protest and chant 'Doorasho diid dooni meyno!' which means we don't want election refuser. No one should be bullied, violently attacked, injured, or killed for their verbal expressions of discontent.
What was witnessed in Mogadishu in that bloody protest was something not seen in a number of decades. The protesters were not those often seen in the streets of Mogadishu- IDPs and other poor women draped in the Somali flags who are stationed in street corners, under the baking sun, to get paid a few dollars at the end of the day, and children shouting slogans that they do not understand.
Any government that resorts to violence in order to silence its opposition, activists, or dissidents inevitably loses its legitimacy. So more often than not, such government's days become numbered.
Anyone who has been following my commentaries on Somalia knows that I neither support nor think the opposition (any one of the 14 presidential candidates) could help save this nation that is sinking deeply into quicksand of distrust, for that requires more than election. Yet, I—like many others who have no horse in this bloody race—am committed to defend their right to publicly and privately express their political views.
Spin Doctors of Halane
The aforementioned Friday violence occurred within a walking distance from Halane (Somalia's Green Zone) and key actors in that compound were well aware, at least for a few days before the event, that an anti-Farmajo protest would led by a coalition of presidential candidates who felt scorned and disenfranchised by the 'Madaxweynaha uu xiligiisu dhamaaday' or the President whose term has ended.
In reaction, the UN Assistance Mission in Somalia (UNSOM) @UNSOM offered this solution "The UN in #Somalia notes that the clashes in #Mogadishu underscore the urgent need for Federal Government and Federal Member State leaders to come together to reach political agreement on the implementation of the 17 September electoral model."
The U.S. Embassy in Somalia followed with a paraphrased version of the same statement from another planet. " We urge an end to all violence and remind all parties of their commitment to immediately conclude an FGS-FMS agreement on #election implementation."
Interestingly, the referenced 'electoral model' is at the heart of the presidential candidates' grievance. They were denied to be part of it. These statements on behalf of the U.N. and U.S. were adding insult to an injury. As a result, the coalition of presidential candidates reasserted their position of not considering Farmajo as a legal president and that they would continue protesting until he comes back to his senses.
In solidarity with the disenfranchised presidential candidates, both the leader of Puntland federal-state and Jubbaland federal-state (who were at odds with Farmajo for long) have declared said agreement null and void. The 19 February bloody event has killed 17 September agreement.
In a no hold barred televised speech, President Said Abdullahi Deni of Puntland said "We are not going to a conference with Farmajo…" He described Farmajo as a "dictator" who has been dividing the country, and warned against regression into a renewed civil war.
Recommendations
1) Allow the candidates and all others who want to march to do so freely, and all domestic and foreign stakeholders should support their right to do so
2) Farmajo must be pressured to step aside without being barred of participation in the election- a constitutional right that he cannot be denied
3) The 2009 precedent should not be followed. When then controversial president, Abdullahi Yusuf, was pressured to step aside, his Prime Minister, Nur Adde, was asked to lead the country while a new government was being formed in Djibouti. Nur Adde was not seen as partisan as the current Prime Minister, Mohamed Hussein Roble, who recently declared to unilaterally conduct elections without Puntland and Jubbaland
4) Since no official in the Executive or the Lower and the Upper House branches has a mandate to lead the country while stakeholders are negotiating the right model of election and implementing it, the Speaker of the Upper House, Abdi Hashi, should be entrusted with that responsibility for the following reasons:
a) He is a tower of patriotism among the current politicians
b) He is the oldest, most ethical, and indeed most credible member of the parliament
c) He is the only leader who has been playing by the rules
d) He is the only one who refrained from the cut-throat politics that kept all others in a state of hyper-paranoia
e) He is one of the Senators who represent Somaliland in the clan-based federal system
f) He represents one of the four 'major clans' in the so-called 4.5 system that never held the presidency, even transitionally
g) Once a new parliament is elected and a new president is elected or selected, Speaker Hashi clears the way for that new president
The Farmajo fault should not be underestimated. His prolonged stay could wholly tribalize the issue and subsequently make matters worse. Though the clan rhetoric has not been absent, so far the dichotomous divide between the political elite is not fueled by clan politics. Certain foreign actors possess more political leverage than the clans.
African problems require African solutions
In order to strengthen political dialogue and promote economic relations, Professor Robert Dussey, Minister of Foreign Affairs, African Integration and Togolese Abroad, held diplomatic talks on February 16, 2021 with his Russian counterpart Minister Sergey Lavrov in St. Petersburg. According to reports, Professor Dussey's visit was on the invitation by Moscow, and came on exactly one year after their last meeting February 15 in Munich.
After their closed-door discussion, Lavrov told the joint news conference that there is a mutual interest in intensifying and deepening the entire scope of bilateral ties, including trade, the economy and investment, and have agreed to look for specific opportunities for joint projects in areas such as energy, natural resources, infrastructure, transport, and agriculture.
Regarding issues on the African continent, Lavrov re-emphasized that African problems (of which there are many) require African solutions. "We strongly support the African Union, the G5 Sahel, and the sub-regional organizations in Africa, in their efforts to resolve numerous local conflicts and crises. We specifically focus on supporting the fight against terrorism, which poses a real threat, including for our friends in Togo and other coastal countries in the region of the Gulf of Guinea," he said.
In fact and as always, Lavrov reiterated Russia's commitment to continue to act actively in pursuing peace and, to this end, called for the peaceful settlement of all kinds of differences, and reaffirmed support for sustainable development there in Africa.
Regarding issues from the last summit held in Sochi, Lavrov stressed: "We are interested in developing the resolutions of the Russia-Africa summit. We spoke in detail about the implementation of these agreements. The coronavirus pandemic has required adjustments. Nevertheless, the results on implementing the Sochi agreements are obvious. This year we will actively continue these efforts."
The Association for Economic Cooperation with the African States was created in Russia following the 2019 Sochi summit. It includes representatives from the related departments and major Russian companies. The Russia-Africa Partnership Forum, which is a political association, was created, its secretariat is located at the Russian Foreign Ministry. The primary tasks of the Russia-Africa Partnership Forum includes preparation and organization of the next Russia-Africa summit scheduled for 2022. The venue to be chosen by African leaders.
"We are still slightly behind other states, but trade between Russia and the African countries has been growing quite rapidly lately. I think we will soon make up for the time we lost in the years when, at the dawn of the new Russian statehood, we were too busy to maintain proper ties with Africa. A very strong foundation was laid in Soviet times, though," Lavrov said further at the news conference about the current situation with relations between Russia and Africa.
It has always been the wish of both Russia and Africa to have an excellent quality of cooperation and partnership relations between the two regions and to diversify and deepen them as best as possible in order to provide an appreciable geopolitical influence and strategic power balance in Africa.
Russia and Togo, as with many other African countries, have had long time-tested relations over the years. The most recent high-level meetings were between Russian President Vladimir Putin and Togolese President Faure Gnassingbe during sidelined bilateral meeting in October 2019, when Gnassingbe participated in the Russia-Africa summit in Sochi, and on the sidelines of the BRICS summit in Johannesburg in July 2018.
With an estimated population of about 7.9 million, Togo is among the smallest countries in Africa. Its economy depends highly on agriculture. Togo pursues an active foreign policy and participates in many international organizations. Relations between Togo and neighboring states are generally good. It is particularly active in West African regional affairs and in the African Union.