Germany's Coal Commission Won't Solve Europe's Power Struggles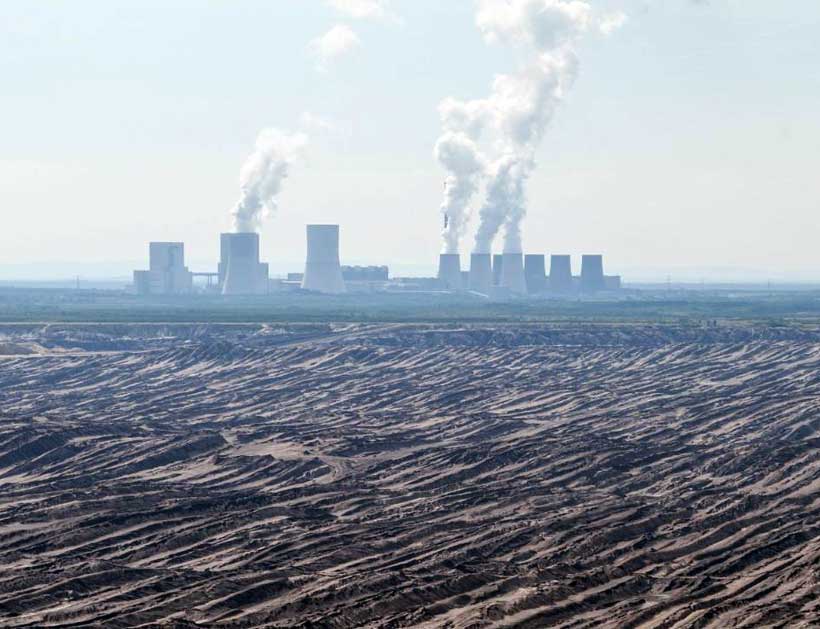 By the end of this year, the German government's "Commission on Growth, Structural Change and Employment" (known more simply as the coal exit commission) has been given a unenviable task. The thirty or so individuals who will sit on it must map out the end of coal power in Germany, determine how the German economy can cut emissions to meet climate targets, and find ways to soften the blow to German coal regions.
This would qualify as a monumental remit under any circumstances. As the recent controversy over commission co-chair Ronald Pofalla's proposal shows, overcoming the influence of the German coal sector will be no easy task. Germany, however, presents one additional challenge that will make it far more difficult for this commission to find an optimal solution for the nation's energy security: an irrational fear of (and opposition to) nuclear energy that Berlin has transformed into official policy and is now trying to impose on the rest of Europe.
From a purely domestic perspective, Angela Merkel's 2011 decision to shut Germany's nuclear plants and rely on coal instead (ostensibly on safety grounds) has made her countrymen less safe, not more. Two years after the decision, in 2013, over 3,600 people in Germany died for reasons related to coal – a higher rate than any other EU member state. Just over half of those deaths were attributable to coal use in Germany itself, but nearly 1,800 of them could be traced back to coal burned in other EU countries.
While that human cost is tragic, it should hardly have come as a surprise. In that same year, a NASA study co-authored by James Hansen (a pioneering figure in the science of global warming) found that use of nuclear energy over fossil fuels had saved 1.8 million lives worldwide between 1971-2009. While the German public fears the theoretical danger of a (highly unlikely) nuclear accident, the lignite and hard coal that together provide 36.6% of their country's energy mix are responsible for thousands of premature deaths every year.
Instead of pushing its own industries and its neighbors towards less polluting power sources, the German political class has spent the past several years sheltering domestic coal interests while Merkel's government pressures other EU member states to follow its now militantly anti-nuclear lead. Their most immediate target: the Czech Republic.
Germany is currently trying to bloc Prague from expanding its Temelin nuclear power plant, working in tandem with Austria – which is so anti-nuclear it sued Britain over state aid to Hinkley Point C and is suing the EU for letting Hungary move ahead with its Paks II plant. The Czech Republic, already behind on its emissions targets, has limited renewable energy potential and would be forced to resort to burning more fossil fuels without nuclear energy. The 2015 State Energy Policy calls for nuclear power to provide somewhere between 46-58% of Czech electricity by 2040. To reach that target, however, Prague will need to overcome opposition from Berlin and Vienna to obtain exemptions from the EU laws governing government bids.
Temelin is just one of several European nuclear energy projects that have transformed into lightning rods of interstate tensions, and Germany and Austria are not the only EU member states subtly advocating for fossil fuels. The polemic surrounding the Astravets nuclear energy plant on the Lithuania-Belarus border offers another example of how European debates over nuclear energy often have only tangential links with reality.
Lithuanian lawmakers have sought EU support to block Astravets, built with Russian technology, on the grounds it constitutes a threat to their national security. Vilnius consistently raises the spectre of Russia using the plant as a geopolitical weapon. Not only has Lithuania vowed to prohibit energy exports from Astravets to counter this perceived threat, but also seeks to disconnect from the BRELL agreement governing its electric grid entirely. BRELL has regulated the Lithuanian grid – along with those of Estonia, Latvia, Russia, and Belarus – since the end of the Soviet Union.
The three Baltic countries now plan to join a more "European" network, which is to say reinforcing existing links with the Nordic countries and Poland. Desynchronizing from BRELL will cost €800 million, and the EU will have to bear much of the cost.
The countries justify this transition by raising the specter of Russian "energy blackmail" leveraging their shared electric grid. As one expert recently made clear in the National Interest, however, Lithuania has more than enough installed power capacity (counting both domestic capacity and imports from its neighbors in Sweden and Poland) to provide a healthy security margin in the event of any disruption. Lithuania's peak winter load is estimated at no more than 2.3 GW. Between its own generation capacity and the power provided by the LitPol and NordBalt, it has 3.2 GW of capacity entirely independent of its eastern neighbors.
Lithuania's complaints that Astravets cut nuclear safety corners follow a similar pattern. The plant recently passed EU stress tests and has also gotten the green light from a number of IAEA missions. In 2016, the IAEA's director Yukiya Amano singled Belarus out as one of the most advanced "newcomer" countries developing nuclear energy.
Most importantly, staunch Lithuanian opposition to Astravets – like the German public's opposition to their domestic nuclear capacity – ignores the benefits of the plant's low-carbon energy to the benefit of polluting fossil fuels. Lithuania closed its own Ignalina nuclear plant (which provided 70% of the country's electricity) at the EU's behest in 2009. To make up for the resulting shortfall, Lithuania has since launched a liquefied natural gas (LNG) terminal at Klaipeda and is now supporting importing LNG from the United States to ensure a diversified supply.
Between them, Germany, Austria, and Lithuania form three members of a growing European club whose efforts, if successful, will effectively torpedo one of the EU's best clean energy bets. While policymakers in Berlin, Vienna, and Vilnius may claim they are acting in the name of safety, their discreet advocacy of fossil fuels has direct human costs that far outweigh the hypothetical threats they are supposedly protecting Europe against.
Gender equality for an inclusive energy transition
Women represent 32% of workers in renewables, a new survey and analysis conducted by the International Renewable Energy Agency (IRENA) reveals. This compares to 22% reported in traditional energy industries like oil and gas and over 48% in global labor force participation. IRENA's report Renewable Energy: A Gender Perspective highlights significant opportunities for a greater gender balance in the global energy transformation. Based on responses from nearly 1500 participants in 144 countries, this new study is one of the largest surveys conducted on gender in renewable energy to date. It was presented to IRENA Members during a Special Evening Event at the 9th Assembly taking place in Abu Dhabi from 11-13 January 2019.
The global energy landscape is witnessing a rapid and wide-ranging change driven by an unprecedented growth of renewables. This transformation enables an array of social and economic benefits, including growing employment. IRENA estimates that the number of jobs in the sector could increase from 10.3 million in 2017 to nearly 29 million in 2050. The renewable energy sector offers diverse career opportunities along the value chain, requiring different skill sets and talents. The greater participation of women would allow this rapidly growing sector to draw on untapped female talents while ensuring the socially fair distribution of socio-economic opportunities of the global energy transformation.
Adopting a gender perspective to renewables development is important to ensure that women's skills and views are part of the growing industry, participants in the survey recommend. Responses show that 75% of women, but only 40% of men, perceive the existence of barriers to women's entry and advancement in the sector. The survey shows a similar gap about wage equity along gender lines: 60% of male respondents assume pay equity between women and men versus only 29% of female respondents. "Woman are often offered positions and say no because they believe they cannot do it", said María Fernanda Suárez, Energy Minister of Colombia, encouraging woman to be bold. "We tell employers to employ women," agreed Habiba Ali, CEO of Sosai Renewable Energies in Nigeria, "and we tell woman to stand up and say: I can do it." Fiame Naomi Mata'afa, Deputy Prime Minister of Samoa, confirmed, "Gender equality is about social attitude. If this doesn't change, nothing will move on". Full support to gender equality in business by Harish Hande, Co-Founder of Selco India, "the fact that we are talking about gender in 2019 is shameful."
Greater gender diversity brings substantial co-benefits, the survey finds. Mainstreaming gender perspectives, adopting gender-sensitive policies and tailoring training and skills development can help increase women's engagement and ensure that women's perspectives are fully articulated. Speaking at the Evening event, Gauri Singh from the Public Health & Family Welfare Department at the Renewable Energy Corporation in Madhya Pradesh agreed, calling on communities to empower woman. "We need clear and equal rules", added Gabriela Cuevas Barron, Senator from Mexico and President of the Inter-Parliamentary Union (IPU). "We have to set up an ecosystem that allows woman to combine the professional with family life."
Women bring new perspectives to the workplace and improve collaboration, while increasing the number of qualified women in an organisation's leadership yields better performance overall. In the context of energy access, engaging women as active agents in deploying off-grid renewable energy solutions is known to improve sustainability and maximise the socio-economic benefits. "We don't achieve our sustainable energy for all agenda if we don't advance on gender balance", Sheila Oparaocha, International Coordinator and Programme Manager at ENERGIA Hivos reminded, suggesting to "start building the business case."
IRENA's survey reveals that modern energy access reduces drudgery, improves well-being and frees up time for women and girls to seek an education and engage in income-generating activities. Women are ideally placed to lead and support the delivery of off-grid energy solutions, especially in view of their role as primary energy users within the household and their social networks. Actively engaging women in deploying off-grid renewable energy solutions requires a particular focus on training and skills development, followed by access to finance and mainstreaming gender in energy access programmes, according to the survey respondents. The socio-economic dividends of gender mainstreaming are immense; with several examples covered in the report suggesting improvements in women's self-perception and empowerment within the community.
During the evening's panel discussion, Kudakwashe Ndhlukula, Executive Director from the Southern Africa Centre for Renewable Energy and Energy Efficiency added that "from a renewables-side, we traditionally see women as victims. Now, we focus on ensuring that the benefits are shared equally." Shawn Tupper, Associate Deputy Minister from Natural Resources Canada confirmed that new and 160th Member of IRENA intends to advance the gender agenda Internationally together with its partner.
While the 2030 Agenda for Sustainable Development specifically dedicates one goal to gender equality, detailed information related to gender equality in the renewable energy sector remains sparse. Renewable Energy: A Gender Perspective aims to contribute to filling this knowledge gap. Findings from the survey offer a glimpse into the current status of women's participation in the sector and provide insights on what measures are needed, and by whom, to "engender" the energy transition.
Winners, losers and unintended consequences in the outlook for oil product demand
Debates about the future of oil tend to focus on total demand: how long it might continue to grow, when it might peak, and so on. But digging deeper into the prospects for individual oil products reveals a rich variety of stories of growth and decline that are also of great significance for the overall oil outlook.
Global oil consumption has been on an almost unbroken rising trend for decades, but there have already been divergent trends for individual oil products. Demand for heavy fuel oil, for example, has been declining since the 1980s, while the pace of demand growth for lighter products – such as ethane, liquefied petroleum gas (LPG) and naphtha – has been almost triple that of total oil demand.
In the World Energy Outlook's New Policies Scenario, heavy fuel oil is set to face another blow when the International Maritime Organization (IMO)'s regulation on the sulfur content of bunker fuels comes into effect from 2020. Gasoline demand also peaks in the late 2020s as efficiency improvements, fuel switching and electrification weigh on oil demand for cars. But there are sectors where efficiency improvements or electrification are less effective in curbing oil demand, most notably the petrochemical sector.
As a result, demand for ethane, LPG and naphtha (mainly used as petrochemical feedstocks) continues to grow much faster than total oil demand in the New Policies Scenario. Robust growth in these lighter products (also known as the "top of the barrel") means that their share of total oil consumption rises from 19% today to 23% in 2040. In contrast, the share of gasoline and heavy fuel oil declines from 33% to 28%. Refiners have coped with divergent trends for different oil products in the past, but the pace and extent of the changes envisaged in the New Policies Scenario still pose a significant test.
In the Sustainable Development Scenario, which provides an integrated strategy to meet Paris climate targets, achieve energy access, and significantly improve air quality, the share of "top of the barrel" products grows to an even greater extent. Oil demand in cars drops significantly; consumption for other transport modes – trucks, ships and aviation – also declines; but use in the petrochemical sector remains robust due to strong demand growth for chemical products in developing economies.
These changes engender a major shift in the composition of oil product demand. Demand for gasoline and diesel falls by some 50% and 35% respectively between today and 2040. Demand for kerosene and fuel oil also falls. By contrast, demand for ethane, naphtha and LPG grows by around 25%. LPG is also key in this scenario to tackle the negative health impacts associated with the traditional use of solid biomass as a cooking fuel in many developing countries. As a result, the share of lighter products rises to over 30% by 2040 in the Sustainable Development Scenario, which poses an unprecedented challenge for refiners.
Refiners are used to coping with changing demand patterns. In the past, these efforts were mainly focused on reducing heavier yields and increasing the output of gasoline and middle distillates (diesel and kerosene). The challenge in the Sustainable Development Scenario comes from a different angle: to increase the yield of lighter products and reduce the output of traditional refined products such as gasoline and diesel. Growth in the availability of natural gas liquids (NGLs) and lighter crude oil eases some of the pressure on refiners, at least in the near term. However, production of NGLs and of tight oil are both projected to fall back post-2025, while demand for lighter products continues to increase.
The mismatch between refinery configurations and product demand in the Sustainable Development Scenario would increase the incentives for refiners to deepen integration with petrochemical operations, and thereby boost the direct production of chemical products relative to transportation fuels. There are various technological pathways to increase chemical product yields beyond the levels that a refinery can typically produce (less than 10%).
Several Asian refineries have aromatics units attached to a refinery; high-severity fluid catalytic cracking technologies are being explored; while companies in China are building integrated petrochemical and refining facilities that aim to have chemical yields of around 40%. There are even more ambitious schemes being pursued in the Middle East to bypass refining operations and produce chemicals directly from crude oil.
Implications for the refining industry
The changes in product demand could also have profound implications for the business model of the refining industry. Today, refiners typically earn most of their profit from selling road transport fuels such as gasoline and diesel. Prices for petrochemical feedstocks – the main sources of demand growth – often trend lower than crude oil prices. The significant reduction in road transport fuel demand may therefore challenge this traditional pattern.
In theory, foregone profits in one area would be compensated by higher prices for products in high demand such as naphtha and LPG. While it is conceivable for the prices of these products to increase to some degree, it is hard to envisage a rise that fully compensates for the reduction in road transport fuels sales. The current interest in petrochemical integration reflects a desire to hedge against this risk by seeking out new business lines and revenue streams.
Implications for the energy transition
The IMO sulfur regulation is expected to increase demand for diesel and reduce that for high-sulfur fuel oil (HSFO) around 2020. This raises the prospect of a spike in diesel prices and a drop in HSFO prices, which could have broader economic ramifications beyond oil product markets. The regulation may provide an illustration of how changes in product demand can send ripples through the refining industry and then through the wider energy system.
Our projections highlight other possible mismatches between products demanded and refinery configurations, causing spikes or slumps in the price of individual oil products. While policy makers need to try to minimise the potential impacts of price spikes on energy consumers, they would also need to be attentive to the unintended influences of price slumps.
For example, if policy action were concentrated narrowly on the passenger car segment while other sectors – such as trucks, aviation, shipping and petrochemicals – were left relatively untouched, it would be difficult to avoid a glut of gasoline on the market once demand started to fall back. Efforts to curb oil use in passenger cars would therefore face much stronger headwinds because cheap gasoline would make efficiency improvements and electrification more difficult and expensive.
Avoiding such rebound effects would require removing fossil fuel subsidies or putting in place an offsetting tax or duty that maintains end-user prices at higher levels. Anticipating and mitigating these feedbacks from the supply side needs to be a central element of the discussion about orderly energy transitions.
Could tight oil go global?
Authors: Tim Gould and Christophe McGlade*
Tight oil production is today a largely US phenomenon. From less than 0.5 mb/d in 2010, production has surged to around 6 mb/d in 2018 and this growth shows little sign of slowing down any time soon. In the most recent World Energy Outlook, tight oil output continues to rise until well into the 2020s in the New Policies Scenario, reaching more than 9 mb/d. As a result, the United States reinforces its position as the world's largest oil producer, accounting for almost one in every five barrels of production by 2025; it also become a net oil exporter.
This dramatic turnaround in fortunes has had profound implications for energy markets, and the consequences are also being felt beyond energy, for example in the renaissance of the US petrochemical industry. This example has also led many other countries to ask whether they too could experience a shale revolution.
So, what are the prospects for tight oil going global?
One key issue with tight oil production is the sheer number of wells that are needed to reach material levels of production. Production from an individual tight oil well declines very rapidly after it has been completed. If the rate of drilling drops, production is likely to follow suit shortly after. For example, in 2017, around 8 500 tight oil wells were completed in the United States and nearly 70% of these were needed simply to compensate for declines at existing wells. If no new wells had been completed after the end of 2017, we estimate that tight crude oil production would have fallen by around 1.8 mb/d within 12 months and by a further 0.6 mb/d in the next year.
The eternal tussle between innovation and depletion
A critical determinant of future production is having a sizeable resource potential. In theory, there are major tight oil resources in multiple countries. The latest assessment estimates that there are around 350 billion tight oil barrels that are technically recoverable outside the United States (triple the amount in the United States).
However, estimates of resource potential are subject to a huge degree of uncertainty. In some cases, this results in major upward revisions and in other cases to substantial downward revisions. For example, a recent reassessment by the United States Geological Survey (USGS) of the Permian shale play indicated that there were around 20 billion barrels more technically recoverable tight crude oil resources than was previously thought.
In our modelling, increases in the estimated US tight oil resource potential translate into higher projected production levels. For example, tight oil resources in the WEO-2018 (at about 115 billion barrels) are around 10% greater than in the WEO-2017, and production in 2025 is around 0.9 mb/d higher as a result.
Many observers expect further upward revisions in US resource estimates in the coming years. These should not be taken for granted, but they would be necessary to meet oil demand in the New Policies Scenario if the US shale industry is to compensate for a continued shortage of new conventional projects elsewhere.
In the end, as the United States has demonstrated, the only way to prove whether a resource is technically or economically producible is through drilling. A huge theoretical resource potential is no real indication that a shale industry can be successfully developed.
Tight oil is a relatively new production technique and many of the increases in resources in the United States have stemmed from technological progress. Yet even with continued innovation in the New Policies Scenario many of the most productive areas in the United States start to show signs of depletion by the mid-2020s (with the recoverable resource potential that we assume).
This means the average well drilled in 2025 is less productive than today and so a larger number of wells need to be completed to maintain or increase production. We estimate that achieving more than 9 mb/d tight crude oil production in the New Policies Scenario in the United States would require around 20 000 new wells to be drilled and completed in 2025. Thereafter, with our current estimate for recoverable resources, production starts to fall gradually.
How does the success of US shale affect prospects elsewhere?
The knowledge and expertise gained in the United States can clearly be of value in developing tight oil resources in other parts of the world. But, perhaps ironically, one reason for the lack of take-off of shale production (for both oil and gas) to date has been the degree of success in the United States. US tight oil was a central reason for the drop in the oil price in 2014 (and again in recent months), which dimmed the economics of similar production elsewhere.
The US shale sector has also absorbed a large portion of the attention and capital spending of international companies that could have otherwise invested elsewhere. Outside the United States, shale remains a relatively high-cost, poorly-understood resource that poses challenges stretching from access to land and availability of water to bureaucratic hurdles. A critical mass of activity and learning is necessary to generate economies of scale and bring down breakeven prices. But getting the momentum going for this is tough.
To date, only a limited number of countries have achieved some success with tight oil production. Canada produces around 0.4 mb/d tight oil and initial drilling in Argentina has been promising and suggested that resources could be large. Production there stands at around 50 kb/d today. Results have been less promising elsewhere, China, South Africa, and Ukraine all experimented with tight oil, for example, but production targets have been lowered or drilling abandoned altogether.
Despite these near-term difficulties, the New Policies Scenario does eventually see some spread in tight oil. Projected growth is most apparent in Argentina, Canada, Russia and Mexico, and there are also increases in Australia, China and the United Arab Emirates. By 2040, there is more than 3.5 mb/d of tight oil production from areas outside the United States. Crucially, the upturn in tight oil production does not really occur until after production in the United States reaches its peak of production.
As it becomes more difficult for companies to find commercial resources to develop, this encourages them to seek out opportunities elsewhere. There is, of course, a high degree of uncertainty in these projections. Developments could take off sooner if ongoing drilling activity is particularly successful (in Argentina for example), but could also be delayed if the oil price is suppressed for extended periods.
What if the world accelerated a transition away from hydrocarbons? Lower oil demand and prices in our Sustainable Development Scenario would pose a challenge to both the established shale industry in the United States and the more nascent industry elsewhere. Yet tight oil is also arguably a logical choice for many companies faced with uncertainty about the future. Decline rates are high and so there is less need for a long-term outlook on demand and prices. Operators need just enough market visibility to know when to increase or throttle back on drilling. Tight oil is also generally a relatively light crude oil that is well suited to provide the kinds of products in most demand in the Sustainable Development Scenario.
So, an accelerated energy transition would not necessarily constrain tight oil production as much as other types of resources. But, as we have emphasised in previous WEO analysis, prospects in individual jurisdictions also depend on the way that social and environmental concerns are addressed, as the scale and intensity of shale development can have major implications for local communities, land use and water resources, as well as for emissions.
In the world depicted in the Sustainable Development Scenario, there is likely to be even greater attention placed on these aspects. The prospects for tight oil going global depend not just on what is available below the surface, but also on how effectively and credibly these 'above-ground' issues are managed.
*Christophe McGlade, WEO energy analyst