Analysis: Petrochemicals set to be the largest driver of world oil demand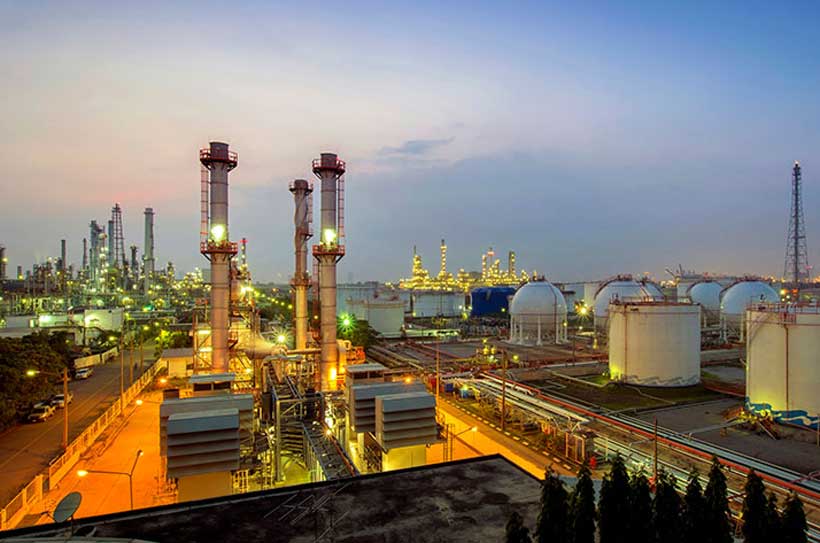 Petrochemicals – components derived from oil and gas that are used in all sorts of daily products such as plastics, fertilisers, packaging, clothing, digital devices, medical equipment, detergents and tyres – are becoming the largest drivers of global oil demand, in front of cars, planes and trucks, according to a major study by the International Energy Agency.
Petrochemicals are set to account for more than a third of the growth in world oil demand to 2030, and nearly half the growth to 2050, adding nearly 7 million barrels of oil a day by then. They are also poised to consume an additional 56 billion cubic metres (bcm) of natural gas by 2030, and 83 bcm by 2050.
The Future of Petrochemicals is part of a new IEA series shining a light on "blind spots" of the global energy system – issues that are critical to the evolution of the energy sector but that receive less attention than they deserve. The report is among the most comprehensive reviews of the global petrochemicals sector, and follows other reports in the series, including the impact of air conditioners on electricity demand, the impact of trucking on oil demand, or the role of modern bioenergy in the renewables sector.
Petrochemicals are particularly important given how prevalent they are in everyday products. They are also required to manufacture many parts of the modern energy system, including solar panels, wind turbines, batteries, thermal insulation and electric vehicles.
"Our economies are heavily dependent on petrochemicals, but the sector receives far less attention than it deserves," said Dr Fatih Birol, the IEA's Executive Director. "Petrochemicals are one of the key blind spots in the global energy debate, especially given the influence they will exert on future energy trends. In fact, our analysis shows they will have a greater influence on the future of oil demand than cars, trucks and aviation."
Demand for plastics – the key driver for petrochemicals from an energy perspective – has outpaced all other bulk materials (such as steel, aluminium, or cement), nearly doubling since 2000. Advanced economies currently use up to 20 times more plastic and up to 10 times more fertiliser than developing economies on a per capita basis, underscoring the huge potential for global growth.
The dynamism of the petrochemical industry is also driving new trends around the world. After decades of stagnation and decline, the United States has re-emerged as a low-cost location for chemicals production thanks to the shale gas revolution, and is now home to around 40% of the global ethane-based petrochemical production capacity. Meanwhile, the Middle East remains the lowest‑cost centre for many key petrochemicals, with a host of new projects announced across the region.
Petrochemical products provide substantial benefits to society, including a growing number of applications in various cutting-edge, clean technologies critical to sustainable energy systems. However, the production, use and disposal of petrochemical-derived products present a variety of climate, air quality and water pollution challenges that need to be addressed.
While substantial increases in recycling and efforts to curb single-use plastics are underway, especially in Europe, Japan and Korea, the impact these efforts can have on demand for petrochemicals is far outweighed by sharply increasing plastic consumption in emerging economies.
To address these challenges, the report outlines a Clean Technology Scenario (CTS), which provides an alternative future in line with key UN Sustainable Development Goals, such as climate action, responsible consumption and life below water, among others.
The scenario provides an ambitious but achievable pathway to reduce the environmental impacts of petrochemicals: air pollutants from primary chemicals production decline by almost 90% by 2050; direct CO2 emissions reduce by nearly 60%; and water demand is nearly 30% lower than in the base scenario. It also emphasises waste management improvements to rapidly increase recycling, thereby laying the groundwork to more than halve cumulative, ocean-bound, plastic waste by 2050.
In the CTS, petrochemicals become the only growing segment of global oil demand. Despite near-tripling in plastic waste collection by 2050, the limited availability of cost-effective substitutes for oil feedstock means that oil demand for petrochemicals remains resilient.
The IEA's Future of Petrochemicals report was developed with input from governments, industry and other key stakeholders, and seeks to bring the sector the attention it deserves in the global energy policy debate. It also provides ten key policy recommendations to build a more sustainable and efficient petrochemicals industry.
Four Things You Should Know About Battery Storage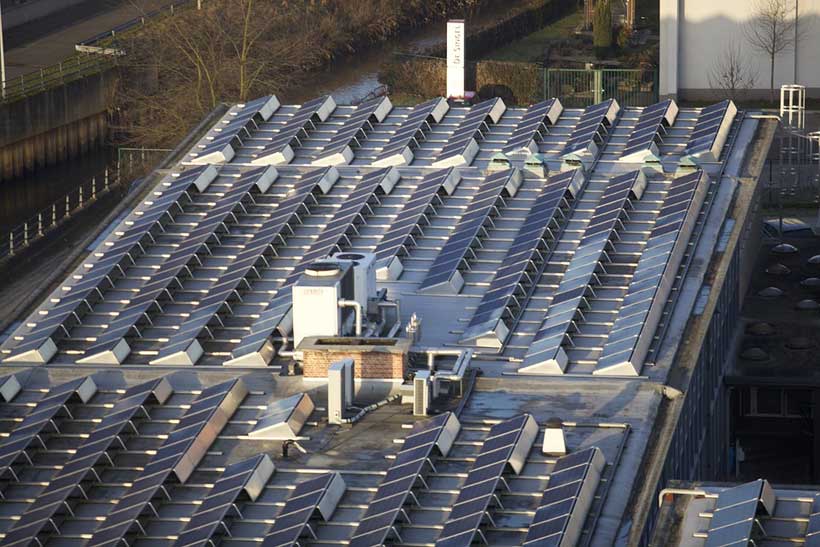 The global energy landscape is undergoing a major transformation. This year's Innovate4Climate (I4C) will have a priority focus on battery storage, helping to identify ways to overcome the technology, policy and financing barriers to deploy batteries widely and close the global energy storage gap.
Here are four things about battery storage that are worth knowing.
First, energy storage is key to realizing the potential of clean energy
Renewable sources of energy, mainly solar and wind, are getting cheaper and easier to deploy in developing countries, helping expand energy access, aiding global efforts to reach the Sustainable Development Goal on Energy (SDG7) and to mitigate climate change. But solar and wind energy are variable by nature, making it necessary to have an at-scale, tailored solution to store the electricity they produce and use it when it is needed most.
Batteries are a key part of the solution. However, the unique requirements of developing countries' grids are not yet fully considered in the current market for battery storage – even though these countries may have the largest potential for battery deployment.
Today's market for batteries is driven mainly by the electric vehicles industry and most mainstream technologies cannot provide long duration storage nor withstand harsh climatic conditions and have limited operation and maintenance capacity. Many developing countries also have limited access to other flexibility options such as natural gas generation or increased transmission capacity.
Second, boosting battery storage is a major opportunity
Global demand for battery storage is expected to reach 2,800 gigawatt hours (GWh) by 2040 – the equivalent of storing a little more than half of all the renewable energy generated [today] around the world in a day. Power systems around the world will need many exponentially more storage capacity by 2050 to integrate even more solar and wind energy into the electricity grid.
For battery storage to become an at-scale enabler for the storage and deployment of clean energy, it will be imperative to accelerate the innovation in and deployment of new technologies and their applications. It will also be important to foster the right regulatory and policy environments and procurement practices to drive down the cost of batteries at scale and to ensure financial arrangements that will create confidence in cost recovery for developers. It will also be essential to find ways to ensure sustainability in the battery value chain, safe working conditions and environmentally responsible recycling.
With the right enabling environment and the innovative use of batteries, it will be possible to help developing countries build the flexible energy systems of the future and deliver electricity to the 1 billion people who live without it even today.
Third, battery storage can be transformational for the clean energy landscape in developing countries
Today, battery technology is not widely deployed in large-scale energy projects in developing countries. The gap is particularly acute in Sub-Saharan Africa, where nearly 600 million people still live without access to reliable and affordable electricity, despite the region's significant wind and solar power potential and burgeoning energy demand. Catalyzing new markets will be key to drive down costs for batteries and make it a viable energy storage solution in Africa.
Already, there is tremendous demand in the region today for energy solutions that do not just boost the uptake of clean energy, but also help stabilize and strengthen existing electricity grids and aid the global push to adopt more clean energy and fight against climate change.
Fourth, the World Bank is stepping up its catalytic role in boosting battery storage solutions
There is a clear need to catalyze a new market for batteries and other storage solutions that are suitable for electricity grids for a variety of applications and deployable on a large scale. The World Bank is already taking steps to address this challenge. In 2018, the World Bank Group announced a $1 billion global battery storage program, aiming to raise $4 billion more in private and public funds to create markets and help drive down prices for batteries, so it can be deployed as an affordable and at-scale solution in middle-income and developing countries.
By 2025, the World Bank expects to finance 17.5 GWh of battery storage – more than triple the 4-5 GWh currently installed in developing countries. With the right solutions, it can be possible to build large-scale renewable energy projects with significant energy storage components, deploy batteries to stabilize power grids in countries with weak infrastructure, and increase off-grid access to communities that are ready for clean energy with storage.
The World Bank has already financed over 15% of grid-related battery storage in various stages of deployment in developing countries to date.
In Haiti, a combined solar and battery storage project will ultimately provide electricity to 800,000 people and 10,000 schools, clinics and other institutions. An emergency solar and battery storage power plant is being built in the Gambia, as are mini-grids in several island states to boost their resilience.
In India, a joint WB-IFC team is developing one of the largest hybrid solar, wind and storage power plants in the world, while in South Africa, the World Bank is helping develop 1.44 gigawatt-hours of battery storage capacity, which is expected to be the largest project of its kind in Sub-Saharan Africa.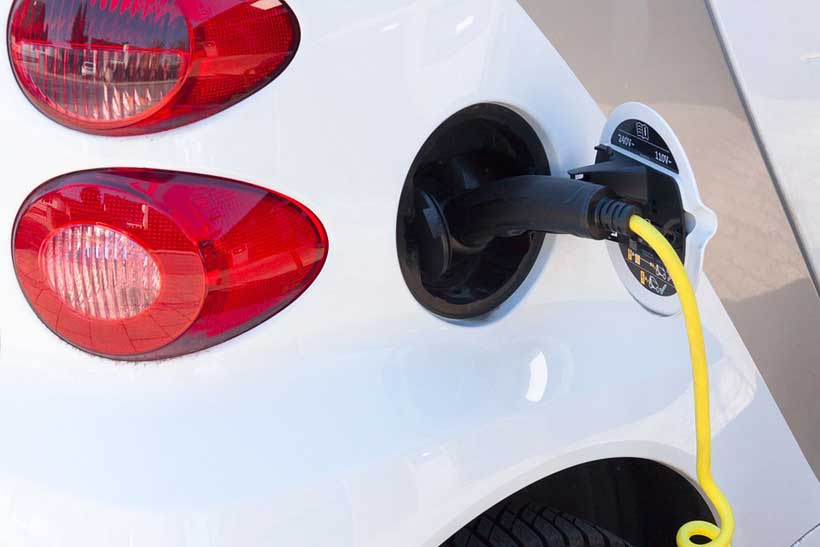 Today the average car runs on fossil fuels, but growing pressure for climate action, falling battery costs, and concerns about air pollution in cities, has given life to the once "over-priced" and neglected electric vehicle.
With many new electric vehicles (EV) now out-performing their fossil-powered counterparts' capabilities on the road, energy planners are looking to bring innovation to the garage — 95% of a car's time is spent parked. The result is that with careful planning and the right infrastructure in place, parked and plugged-in EVs could be the battery banks of the future, stabilising electric grids powered by wind and solar energy.
Today the average car runs on fossil fuels, but growing pressure for climate action, falling battery costs, and concerns about air pollution in cities, has given life to the once "over-priced" and neglected electric vehicle.
With many new electric vehicles (EV) now out-performing their fossil-powered counterparts' capabilities on the road, energy planners are looking to bring innovation to the garage — 95% of a car's time is spent parked. The result is that with careful planning and the right infrastructure in place, parked and plugged-in EVs could be the battery banks of the future, stabilising electric grids powered by wind and solar energy.
Advanced forms of smart charging
An advanced smart charging approach, called Vehicle-to-Grid (V2G), allows EVs not to just withdraw electricity from the grid, but to also inject electricity back to the grid. V2G technology may create a business case for car owners, via aggregators (PDF), to provide ancillary services to the grid. However, to be attractive for car owners, smart charging must satisfy the mobility needs, meaning cars should be charged when needed, at the lowest cost, and owners should possibly be remunerated for providing services to the grid. Policy instruments, such as rebates for the installation of smart charging points as well as time-of-use tariffs (PDF), may incentivise a wide deployment of smart charging.
"We've seen this tested in the UK, Netherlands and Denmark," Boshell says. "For example, since 2016, Nissan, Enel and Nuvve have partnered and worked on an energy management solution that allows vehicle owners and energy users to operate as individual energy hubs. Their two pilot projects in Denmark and the UK have allowed owners of Nissan EVs to earn money by sending power to the grid through Enel's bidirectional chargers."
Perfect solution?
While EVs have a lot to offer towards accelerating variable renewable energy deployment, their uptake also brings technical challenges that need to be overcome.
IRENA analysis suggests uncontrolled and simultaneous charging of EVs could significantly increase congestion in power systems and peak load. Resulting in limitations to increase the share of solar PV and wind in power systems, and the need for additional investment costs in electrical infrastructure in form of replacing and additional cables, transformers, switchgears, etc., respectively.
An increase in autonomous and 'mobility-as-a-service' driving — i.e. innovations for car-sharing or those that would allow your car to taxi strangers when you are not using it — could disrupt the potential availability of grid-stabilising plugged-in EVs, as batteries will be connected and available to the grid less often.
Impact of charging according to type
It has also become clear that fast and ultra-fast charging are a priority for the mobility sector, however, slow charging is actually better suited for smart charging, as batteries are connected and available to the grid longer. For slow charging, locating charging infrastructure at home and at the workplace is critical, an aspect to be considered during infrastructure planning. Fast and ultra-fast charging may increase the peak demand stress on local grids. Solutions such as battery swapping, charging stations with buffer storage, and night EV fleet charging, might become necessary, in combination with fast and ultra-fast charging, to avoid high infrastructure investments.
To learn more about smart charging, read IRENA's Innovation Outlook: smart charging for electric vehicles. The report explores the degree of complementarity potential between variable renewable energy sources and EVs, and considers how this potential could be tapped through smart charging between now and mid-century, and the possible impact of the expected mobility disruptions in the coming two to three decades.
What may cause Oil prices to fall?
Oil prices have rallied a whopping 30 percent this year. Among other factors, OPEC's commitment to reduce output, geopolitical flash-points like the brewing war in Libya, slowdown in shale production and optimism in U.S. and China trade war have all added to the increase. The recent rally being sparked by cancellation of waivers granted to countries importing oil form Iran has taken prices to new highs.
However, one might question the sustainability of this rally by pointing out few bearish factors that might cause a correction, or possibly, a fall in oil prices. The recent sharp slide shows the presence of tail-risks!
Libya produces just over 1 percent of world oil output at 1.1 million barrels, which is indeed not of such a magnitude as to dramatically affect global oil supplies. What is important is the market reaction to every geopolitical event that occurs in the Middle East given the intricate alliances and therefore the increasing chances of other countries jumping in with a national event climaxing into a regional affair.
Matters in Libya got serious as an airstrike was carried out on the only functioning airport in the country a few days ago. Khalifa Haftar who heads Libyan National Army has assumed responsibility for the strike. However, UN and G7 have urged to restore peace in Tripoli. Russia has categorically said to use "all available means" while U.S.' Pompeo called for "an immediate halt" of atrocities in Libya.
The fighting has been far from locations that hold oil but the overall sentiment is that of fear which is understandable as this happens in parallel to a steep decline in Venezuelan production, touching multi-year low of 740,000 bpd. However, as international forces play their part we might expect a de-escalation in the Libyan war — as it has happened before.
Besides the chances of an alleviation of hostilities in Libya, concerns pertaining to global economic growth, and thereof demand for oil, have still not disappeared. The U.S. treasury yield, one of the best measures to predict a future slowdown (recession), inverted last month; first time since 2007. If this does not raise doubts over the global economic health then the very recent announcement by International Monetary Fund (IMF) who has slashed its outlook for world economic growth to its lowest since the last financial crisis. According to the Fund the global economy will grow 3.3 percent this year down from 3.5 percent that predicted three months ago.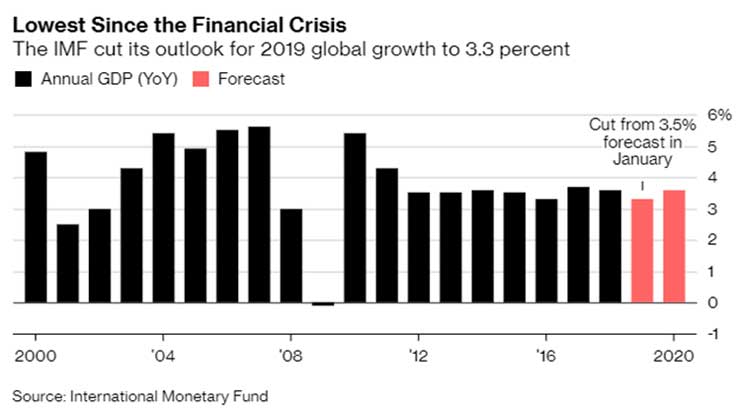 Then there is Trump, whose declaration of Iran's IRGC as a terrorist organization might increase the likelihoods of yet another spate of heated rhetoric between the arch-rivals. But if he is genuinely irked by higher oil prices as his tweets at times show and if he thinks that higher gasoline prices can hurt his political capital then this will certainly have a bearish effect on the markets as observers take a sigh regarding the mounting, yet unsubstantiated, concern over supply.
One of the factors that contributed most to the recent rally was OPEC's unwavering commitment to its production cuts. The organization's output fell to its lowest in a year at 30.23 million barrels per day in February 2019, its lowest in four years. But the question remains for how long can these cuts go on? Last month it was reported the Kingdom of Saudi Arabia had admitted that they need oil at $70 for a balanced budget while estimates from IMF claims that the level for a budget break-even are even higher: $80-$85. We should not forget Trump and his tweets in this regard as well. Whenever prices have inched up from a certain threshold POTUS' tweet forced the market to correct themselves (save the last time). One of the key Russian officials who made the deal with OPEC possible recently signaled that Russia may urge others to increase production as they meet in the last week of June this year. While this is not a confirmation that others will agree but it certainly shows that one of the three largest oil producers in the world does feel that markets are now almost balanced and the cuts are not needed further.
Now with the recent cancellation of waivers we should expect U.S. to press KSA to increase production to offset the lost barrels and stabilize the prices.
Finally stoking fears of an impending supply crunch (a bullish factor) is the supposed slowdown in U.S. Shale production. But the facts might be a tad different. Few weeks ago U.S. added 15 oil rigs in one day, a very strong number indeed-this comes after a decline of streak of six consecutive weeks. According to different estimates the shale producers are fine with prices anywhere between $48 to $54 and the recent rise in prices has certainly helped. Well Fargo Investment Institute Laforge said that higher prices will result in "extra U.S. oil production in coming months". Albeit, U.S.' average daily production has decreased a bit but it doesn't mean that the shale producers cannot bring back production online again. Prices are very conducive for it.
So if you think that prices will continue to head higher, think again. Following graph shows that oil had entered the overbought territory few days back–hence the recent slide.
Therefore, If the war in Libya settles down (and there is a strong possibility that it will); rumors of a production increase making its way into investors' and traders' mind (as it already have) and global economy continue to struggle in order to gain a strong footing — the chances are oil will fall again. The current rally might last for some-time but, like always, beware not to buy too high.