Strengthen UN, Implement UN Charterer in true spirit
Humanity is suffering everywhere whether it is Syria or Yemen, Afghanistan or Libya, Iraq or Myanmar, Palestine or Kashmir. The one who are being killed are human beings, irrespective of his or her race, color, religion, nationality, its human lives which are being lost. Last couple of decade, around 2 million people have been killed, 6 million have been made refugees in their own country or forced to migrate to other countries. Threats and tension is felt in Iran, Turkey and North Korea, Ukraine, and many other parts of the world.  If one switches on TV or read or listen to News, it is all about War, Killings, Blasts, hate and suppressions. People are fed-up of bad news all the time. Everyone is suffering with mental torture. Geo-political situation is deteriorating rapidly. The world is less safe than few decades ago. Insecurity feelings are rising exponentially. What is new world order? On the name of World new order, we have made this world more hostile and fragile. Who is suffering, humanity! Who is the beneficiary, end of the day, no one will be winner.
United Nation General Assembly is busy in its 73rd session. Leaders from all over the world are meeting each other and making speeches one after another, but what will be the out-come or result?
United Nation was founded on 24 October 1945, just after the World War II, in replacement of League of Nations. Its head quarter is at New York, USA. The United Nations is an intergovernmental organization tasked to promote international co-operation and to create and maintain international order. The charter of UN was very well drafted and very comprehensive. Its charter was formulated on justice and equality. It was hard work of genius people.
But with the passage of time, it is losing its effectiveness and failed to maintain world order. Some nations became so strong that, they put aside the UN and act unilaterally. Some nations are so stubborn, that they violate UN charter openly and feel no guilt. Some countries are so feeling-less that the whole world condemned them but they keep criminal silence.
Should we stay calm and just became spectators and watch what so-ever will happen? Should we leave all the issues to our next generations to suffer? Should we close our eyes and do not acknowledge the issues? Can we escape? Can we be ignorant? Can be we so cruel to our kids and leave them to be humiliated?
I believe, it is time to think and raise our voice, and struggle for a better tomorrow, better tomorrow for everyone, better tomorrow for my kids, better tomorrow for your kids, better tomorrow for our next generation, better tomorrow for everyone. We should struggle to make our tomorrow better than our yesterday. Think positively, act smartly and be optimistic.
We demand, respect of the UN , we demand for implementation of UN charter, We demand for justice, We demand for equality, We demand for fair-practices, We demand respect for human kind, We demand for a stoppage of killing, we demand stoppage of violence, We demand for protection of weak, We demand for uniformity etc.
It is natural, when we live together, the differences may rise among us. It can be among individuals or nations. It is very much normal and was happening since ages. We quarrel with our kids, brothers and sisters, parents, spouse or friends, boss or subordinates or colleagues. It is understandable. But we live in a civilized world. There are mechanisms to resolve the differences. In our day to day life we are over-coming on many issues and resolve with each other. The same approach may be followed to resolve the differences or misunderstanding among nations. UN is the right platform, UN charter is the proper guidelines for resolving the issues. Diplomacy is the weapon of civilized world. We all must respect UN, and its charter and resolve all issue through peaceful manner and dialogue. No one should have the right to by-pass UN or impose its decisions unilaterally.
I suggest, the International Community may join hands and strengthen UN and implement its charter in true later and spirit. UN may investigate the history of almost 7 decades and point out all the violators and let them declare responsible for their wrong doings. Force them to rectify their mistakes, compensate their wrong doings. UN should strengthen to the extent that any country how strong it might be, should not dare to violate UN charter. Any sanctions without UN approval may be declared null and void. Any military action without UN approval may not be recognized and declared criminal acts. They must be punished for their heinous crimes and war like crimes.
Let us struggle to make this world a place of "Peace, Harmony, Justice, Equality and Prosper" place for our generations to come. We may sacrifice but our next generation may enjoy Peace, Harmony and Prosperity.
Trump's Golan Heights Declaration: The Message to Azerbaijan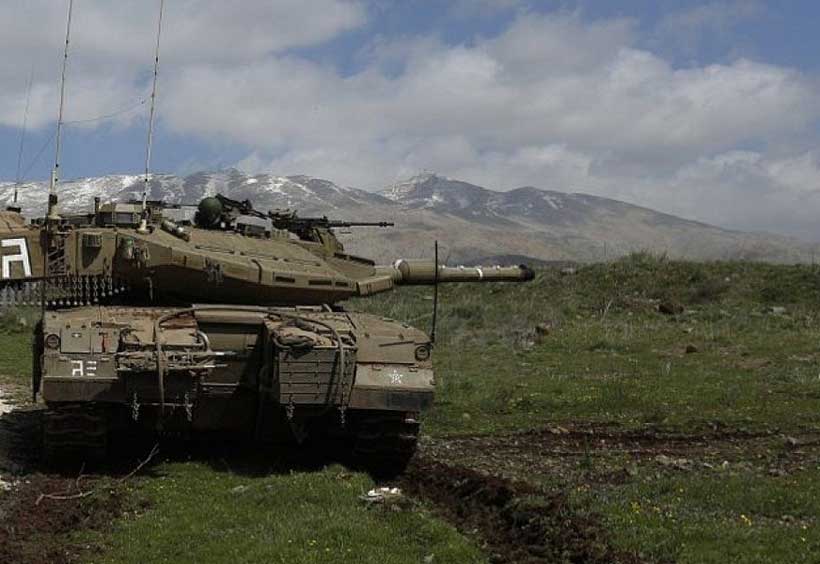 On March 21, 2019, United States President Trump tweeted, "After 52 years it is time for the United States to fully recognize Israel's Sovereignty over the Golan Heights, which is of critical strategic and security importance to the State of Israel and Regional Stability!"
Regardless of one's position within the spectrum of persuasions about whose sovereignty should be respected in the Golan Heights or the arguments used to justify its annexation to Israel, Trump's declaration is unprecedented, post-WWII. Trump's statement does not appear to be the official United States government policy yet. However, the die is cast. Trump has undermined the manifest inadmissibility of states acquiring territory by force. Lest we forget, the first Gulf war over the Iraqi attempt at annexing Kuwait by force.
Trump also dismisses United Nations Security Council Resolution 497, which states, "…the Israeli Golan Heights Law, which effectively annexed the Golan Heights, is "null and void and without international legal effect." The same United Nations, with Resolution 181, mandating the partition of Palestine, recognized the State of Israeli. Rather than to expose yet another hypocritical move in international relations, what message is Israeli support for Trump's unilateral declaration sending to conflicting sides in territorial conflicts? What about Indian-administered Kashmir? What about Azerbaijan's territorial claim over the Armenian-administered region of Nagorno-Karabakh? Not a very good message for the interests of Azerbaijan.
A relative comparison of arguments used and issues raised concerning the Armenian-administered region of Nagorno-Karabakh and the Israeli annexation of the Golan Heights is seen here. Of more importance to Azerbaijan is how Trump has just trampled on the concept of internationally recognized borders. Syria had recognized borders until violated by Trump; the same Trump who wants a border wall of his own from Texas to San Diego. Azerbaijan's articulated basis upon which they demand that the Armenian region of Nagorno-Karabakh relinquish it's sovereignty to them is their claim of territorial integrity. The Azerbaijan press is full of article quoting states that reiterate the concept of territorial integrity.
The Organization for Security and Cooperation in Europe's (OSCE) Minsk Group was established to help negotiate a peaceful settlement, between Armenia and Azerbaijan, of the still-simmering Nagorno-Karabakh conflict. Its members include the United States, Russia, and France. Russia annexed Crimea, although with nearly no force, it acquired Georgian territory, and the United States president declared support for the inclusion of the Syrian Golan Heights into the State of Israel. From Baku's viewpoint, the OSCE Minsk Group does not appear to represent neutral facilitators when two of its three members represent states that ignore both territorial integrity and selective United Nations resolutions. The OSCE's Minsk Group is making itself less relevant to both Armenia or Azerbaijan.
Armenian negotiators could use Trump's declaration to pull out of OSCE-sponsored negotiations and Armenia could directly annex the region of Nagorno-Karabakh, considering Nagorno-Karabakh "… is of critical strategic and security importance to the State of" [Armenia] "and Regional Stability!". Azerbaijan would be outraged by such an Armenian move, but curiously official Baku appears rather silent about Trump's Golan Heights declaration. Why?
Israel supports Azerbaijan's public relations campaign against the Armenian lobbies and Armenian-administered Nagorno-Karabakh. This support is demonstrated in some of today's Israeli and Jewish publications, and publicly stated during a September 2015 Israeli Knesset visit to Baku. Why would Israel even care about Azerbaijan? Israel buys half its crude oil from Azerbaijan and Azerbaijan has purchased on the order of $5B of advanced Israeli weapons over the past decade. This is a relationship of convenience and Azerbaijan has a border with Iran.
Will Turkey now annex northern Cyprus, which was also acquired by force? Turkish jets frequently buzz Greek islands also claimed by Ankara. If southwestern Syria is up for the taking, why not other parts. Since 1920 Turkey has eyed the northern Syrian landmass stretching from the Western Thrace to Mosul in Iraq. Conveniently, Turkey currently claims its soldiers are in northern Syria for security reasons.
There are consequences to what United States Presidents declare.
Chagos Islands: Has the Sun Finally Set on the British Empire?
Authors: Punsara Amarasinghe and Anastasia Glazova*
The fame of British Empire was once embellished around the corners of the world as the empire where sun never sets and its imperial majesty ruled the millions of lives regardless how they were brought under the colonial yoke. The end of two great wars saw eventually paved the path to dismantle British Empire yet the problems created by the colonial rule were unsolved and continued to undermine the decolonized states. The recent advisory opinion given by International Court of Justice over the status of Chagos islands in Indian Ocean generates number of questions in the realm of international law regarding the drawbacks created in decolonization process and the duplicity of the concept if self-determination in international law. In the historic context Chagos islands always have been an integral part of Mauritius but however three years prior to granting independence to Mauritius Britain detached Chagos islands from Mauritius and created it a part of the territory known as British Indian Ocean Territory.
Between 1967 and 1973 the inhabitants lived in Chagos islands were forcibly removed and thus far they have been impeded by British law to enter the territory. The issue on the sovereignty of Chagos islands has lasted for decades as an unsolved riddle of colonialism whereas Mauritius always insisted the Chagos islands a part of their sovereignty despite British were reluctant to relinquish it, even the initial efforts made by Mauritius to bring the case before ICJ was not successful in the 80 decade. Nevertheless after envisaging a serious of attempts along with the assistance of African Union, 2017 United Nations General Assembly passed a resolution referring the issue to the advisory opinion of ICJ. The two fundamental questions General Assembly put forward before were that whether the decolonization process of Mauritius was completed when it was granted independence in 1968 and secondly what are the consequences emerging from modern international law before the continues presence of Britain in Chagos islands.
The issue of decolonization seems to be the most interesting legal issue arising from the advisory opinion of ICJ due to the fact that court has viewed the decolonization of Mauritius was not complete as it was not in accordance of the right to self-determination of the Mauritius people. Bringing the idea of self-determination into further evaluation becomes a pertinent issues as the very idea of self-determination always been a double edged sword. Especially in the post-colonial context dialog between West and newly independent states in Global South regarding understanding self-determination always have been different and the notion of self-determination appreciated by Third World was based on preserving their external integrity without getting subjected to any foreign force. As a matter of fact it was a quite understandable position as many of Third World countries had emerged from years of colonial domination and it paved the way for them to concern about external self-determination as their prime concern. However in examining court's approach to assess the scope of right to self-determination in its advisory opinion was akin to the Declaration on the Granting of Independence to Colonial Countries and Peoples adopted by the UNGA Resolution 1514(XV) in 1960 (Resolution 1514). The Resolution 1514 declares that the 'subjection of peoples to alien subjugation, domination and exploitation constitutes a denial of fundamental human rights…', and all such peoples 'have the right to self-determination' whereby 'they freely determine their political status and freely pursue their economic, social and cultural development'.
The trivial question encountered in discussing the self-determination was whether it was a part of customary international law when the UK granted independence to Mauritius in 1968. However it is rather ironic that UK being the forefront colonizer in early 20thcentury had appeared for the right of self-determination of Sudanese people as their legal entitlement, in its effort to counter Egyptian claims on the Sudan in 1947. In its advisory opinion court seemed to have generally relied on the number of general assembly resolutions in deciding the scope of self-determination in international law. In fact the lethargic position adopted by Court without tracing the historical development of right to self-determination in opinojuris and state practice has diminished the magisterial jurisprudential value that many international law scholars expected to hear from this advisory opinion. However court confined its opinion regarding right to self-determination of Mauritius people to UNGA Resolution 2625 (XXV) of 1970, on Declaration on Principles of International Law concerning Friendly Relations and Co-operation among States in accordance with the UN Charter and court confirmed its status in customary international law.
The court's opinion on the incompletion of Mauritius decolonization should be taken into account as a monumental position shared by ICJ on the grim realities of colonialism which keeps haunting in 21st century. ICJ came to a conclusion that separation of Chagos Islands from Mauritius before the independence was an act done by British colonial rule without the genuine consent of Mauritius people. It seems to indicate that Court may have implicitly hinted that it would have been lawful if the separation was conducted after assessing the consent of people through something like a referendum. Court's opinion was concluded by stating "the United Kingdom's continued administration of the Chagos Archipelago constitutes a wrongful act entailing the international responsibility of that State". This was the culmination of ICJ advisory opinion which brought a great triumph for Mauritius and a great blow upon the United Kingdom. In its concluding remarks Court invoked all UN member states have a responsibility to finalize the decolonization of Mauritius as right to self-determination stands as erga omnes obligation.
All in all the advisory opinion on Chagos islands brought some solace to the states eager to confront the colonial legacies and post-colonial burdens. As an example in its court proceedings Mauritius was heavily backed by African Union and India. One counsel appeared on behalf of African Union stated that "It is unthinkable that today, in the 21st century, there is a part of Africa that still remains subject to European colonial rule." On the other hand the UK has been still adamant about their presence in Chagos island as they claimed that matter was resolved in 1982 in an agreement on compensation and also the UK has pointed out that right to self-determination was not applicable in international law till 1970's , whereas the separation of Chagos island took place in 1968. The UK defense was rejected by majority of judges in ICJ and the only dissenting opinion was given by American judge Joan Donoghue and her contention was based on that this matter should not have been taken before ICJ as it stands as a bilateral dispute between Mauritius and the United Kingdom. It is evident that this advisory opinion has brought a severe pressure on the UK in the backdrop of ongoing Brexit hullaballoo. Even though the advisory opinions are not binding that it is hardly to assume the UK would completely disdain the opinion as it has already acknowledged that the manner of removing the inhabitants of Chagos islands was shameful. In that case the entire advisory opinion should be regarded as a significant victory for Chagossians and hall mark legacy in the international jurisprudence relating to concept of self-determination.
*Anasatasia Glazova is a PhD candidate in at Faculty of Law, Higher School of Economics in Moscow, Russia. She worked as state legal officer in Vologda prior joining HSE and her research areas include International Human Rights Law, Law of the Sea and International Maritime Law. She can be reached at:  angla.1892[at]mail.ru
Getting the interpretation of 2008 India-Pak Bilateral Agreement right and its relevance in Jhadav Case
On 21st February 2019, International Court of Justice finished it hearing the arguments of India and Pakistan on Jadhav Case and cases is reserved for deliberation. In 2017 India had instituted proceedings against Pakistan claiming for consular access to Mr.Jadhav (alleged to be Indian Spy by Pakistan) who is convicted for espionage. The case arises out of an Application filed by India under Article 40, paragraph 1, of the Statute of the Court and Article 38 of the Rules read along with Article 1 of the Optional Protocol concerning the Compulsory Settlement of Disputes (Optional Protocol) done at Vienna on 24 April 1963.Pakistan has however in its reply statement argued that State of Pakistan was willing to permit consular access upon an undertaking from the State of India that it will co-operate with Pakistan in a mutual investigation about the crimes allegedly perpetrated by Jadhav in the territory of Pakistan and his possession of Indian Passport with wrong credentials. State of Pakistan states its view is legally correct as per paragraph (vi) of the Indo-Pak 2008 Bilateral Agreement on Consular Access.
The interpretation of 2008 Bilateral Agreement is thus important in order to resolve the issue. However, while the State of India considers the 2008 Agreement to be irrelevant and Pakistan relies on a flawed interpretation of the same in order assert the correctness of their action. Getting the interpretation of 2008 Bilateral Agreement right could have saved States from arguing on the uncharted areas of espionage, and the status of military tribunals, indirectly compromising the interests of national security on various notes.
Indian counsels began the arguments by identifying two broad issues arising in the case. The first one relates to the violation of Article 36 of Vienna Convention of Consular Relations (VCCR)1963 and the second is a little extended argument about the relief to be awarded in the said case upon an affirmative decision of the violation of Article 36. Indian Counsels stressed on the importance on the special relief of release pleaded by India, unlike Avena or La Grand Case, where ICJ had ordered reconsideration. They had been confident enough throughout the hearing that the first issue is established on a very simple prima facie observation. However there appears to be a missing point in the Indian take on the case. It fails to address the India-Pakistan2008 Bilateral Agreement on Consular Access interpretatively. It simply relies on a theory that the 2008 Agreement doesn't modify the obligations of the State of Pakistan under the Vienna Convention of Consular Relations. Perhaps, the State of Pakistan was successfully managing to fix the context of the dispute to an alleged espionage case and led the arguments away from the text of treaties.
There are several ambiguities in the explanation given on 2008 Bilateral Agreement. Not using the full title of the 2008 agreement even once, State of India argued that "(2008 Agreement) is… irrelevant to the assertion of rights to consular access under Article 36 of the Vienna Convention (Para 107 of Verbatim Record 2019/1)". It is highly unsustainable claim State of India can make, after signing an international agreement titled "Agreement on Consular Access" intending to provide "reciprocal" consular facilities. Such a claim is not consistent with good faith by which States enter into treaty relationships. You may argue Human Rights, but the implementation of the same requires inevitably a system of governance build upon the principle of trust.
By applying Article 41 of VCLTand Article 73 of VCCR India contends that the provisions of 2008 Agreement have no applicability in the instance case. It also relies on the Human Right's dimension of the Article 36 of VCCR (pages 35-47 of Verbatim Record 2019/1) to establish an erga omnes nature of consular access as a due process of law. It deals casually with the words "supplementary and amplification the provisions thereof" in the text of Article 73. This in my view is a serious lacuna. The word "supplementary" can mean something which is "completing and supporting" the provisions as well. If it solely meant to be augmenting the provisions then there is no need for separate enunciation of the words "confirming", "supplementing", "extending" or "amplifying" in the article.
First of all, Article 73 of VCCR is speaking about the provisions of VCCR as such, and not directly addressing the rights contained therein. It means that the absolute notion of the rights mentioned in VCCR is imaginary and highly expansive of the textual meaning of Article 73.Article 36 of VCCR also is primarily not a human rights provision, although the dimensions of Human rights are easily attributable to it. It deals with procedural aspect of "exercising consular functions" and intents "to facilitate" a smooth exercise of the same. Viewed from such a context the 2008 Agreement is meaningful and relevant. It is decidedly descriptive of the procedure to be adopted by governments of India and Pakistan in cases involving Article 36 of the VCCR.
The Article 36 of the VCCR, paragraph 1 clause (a) speaks about the freedom of consular agents to communicate with nationals of sending state and vice-versa, clause (b) deals with actions to be taken up by the receiving state, without delay, if the nationals under custody request to meet their consuls, and clause (c) right of the consular officer to meet nationals and arrange for legal assistance. But clause (c) also requires consuls to refrain from such actions if the nationals expressly requests so. Paragraph 2 further mandates that the rights referred in paragraph 1 shall be exercised according to the laws and regulations of the receiving state with only subjection that "the purposes" for which the rights are provided must be fulfilled.
The2008 Bilateral Agreement paragraphs (i-iv) are improving upon these provisions of Article 36. They are not irrelevant as such. The paragraph (ii) makes it obligatory that receiving state immediately inform the sending state the arrest of its nationals, whether the national requests so or not. This is an amplification of right mentioned in paragraph (b) of the Article 36 of VCCR. Paragraph (iv) improves upon the position of paragraph (b) of Article 36 by qualifying the words "without delay" in Article 36(b) with "a maximum limit of 3 months" within which the consular access "must be provided". Paragraph (iii) once again improves upon the provisions of the VCCR by making it obligatory again for the receiving state to inform expeditiously about the sentencing of the nationals of sending state. State of India at ICJ could have ideally relied upon these provisions in order to further establish instances of violations of its rights by the State of Pakistan. Although the State of Pakistan has almost violated almost each one of these provisions in the instant case, India's claim solely relies upon the Vienna Convention (Application Instituting Proceedings, Para 46).The motivations behind State of India in avoiding such a straight legal strategy and choosing the language of Human Rights is something interesting to be investigated. Probably it's because of the intention to seek remedies beyond "review" or "reconsideration" of case back in the courts of Pakistan.
On the other hand, State of Pakistan claims the paragraph (vi) of 2008 Bilateral Agreement enables them to make the provision for consular access conditional, which is both jurisprudential and interpretatively unsustainable. Jurisprudentially, such an argument abridges the guarantee of the right of consular access, a 'due process principle 'codified under Article 36 of VCCR. Interpretatively, paragraph (vi) not cannot be argued successfully as a provision dealing with consular access. Although the paragraph (vi) states thus "in case of arrest, detention or sentence made on political or security grounds, each side may examine the case on its merits", it is not clear as to whether this could mean limiting the right to consular access.
Both the paragraphs (v) and (vii), i.e. to say antecedent and subsequent to para (vi), deals with the repatriation of the individuals arrested, detained or convicted inside the territory of receiving state upon the fulfilment of certain conditions by the sending state. Just because the Agreement is titled after Consular Access, it is highly imaginative to load paragraph (vi) with explanation on consular access when both the paragraphs (v) and (vii) are dealing predominantly with repatriation after detention or conviction. Right to Consular Access is a right coming into the effect at the very first moment of the arrest or sometimes even when a decision to make an arrest is made by the receiving state.
However arguing on the false premise presented by State of Pakistan, India Counsels had to the extent the breadth of its own arguments, finally ending up with claims like interests of national security cannot be self-certified by nations concerned. This is in direct contravention to Indian position in various human rights forum that it cannot allow for politicised international organisations or international tribunals to decide upon the issues of national security. Further these arguments, if addressed seriously by the International Court, are going to change the composure of the jurisprudence of international law. Although such an evolution of jurisprudence is desirable from the angle of human rights, it has the danger of exposing diplomatically the weaker State's sovereignty to a politicized International arena. This could have been possibly be avoided by solely relying upon positive legal materials such as Vienna Convention 1963 and 2008 Bilateral Agreement. The outcome of judgement could be no different, but would also have saved the principle of State sovereignty. The lack of international law expertise of developing nations was quite visible throughout the hearing.