Global leaders and companies pledge to reduce the gender pay gap by 2030
Global leaders from governments, private sector companies, trade unions and civil society pledged to take concrete action towards closing the gender pay gap by 2030. The global commitments – to ensure women in every sector of the workforce are paid equally to men for doing work of equal value – were made at the Equal Pay International Coalition (EPIC) Pledging event held during the United Nations General Assembly in New York.
Globally, and in every sector of the workforce, women are paid less than men for doing work of equal value. Unequal pay is one of the most persistent barriers to women's success at work and to economic growth, and is a critical problem that has been prioritized in the UN's Sustainable Development Goals (SDG), in particular SDG 8.5 and 5. Equal pay, in addition to empowering women, can have a significant impact on achieving other key goals, such as promoting inclusive societies, reducing poverty, and creating conditions for decent work and gender equality.
As Principals of the EPIC Secretariat, the Secretary General of the OECD, Angel Gurría, the Director General of ILO, Guy Ryder; and the Executive Director of UN Women, Phumzile Mlambo-Ngcuka, pledged to accelerate progress on reducing the gender pay gap by convening global leaders to share experiences, documenting and disseminating good practices, and drawing global political attention to the issue of gender pay inequality.
Secretary-General of the OECD, Angel Gurría, said, "Gender pay gaps are not only unfair for those who suffer them, but they are also detrimental to our economies. If you do not have equal pay productivity suffers, competitiveness suffers and the economy at large suffers." He asserts that "it is in our power to make an immediate improvement in the quality of life of hundreds of millions of women and their families if we succeed in delivering equal pay for men and women."
The Director General of the ILO, Guy Ryder, said, "The fact that women across the globe are still being paid less than men for work of equal value is one of the most visible, tangible and pervasive manifestations of discrimination. It is a matter of urgency to make sure the message is finally heard and things start to change."
Global leaders will be in attendance including President of Iceland Guðni Th. Jóhannesson, and Vice President and Minister of Foreign Affairs of the Republic of Panama Isabel de Saint Malo de Alvarado. Governments from Peru to Jordan to Switzerland to Canada demonstrated their shared vision to accelerate progress to achieve equal pay by pledging to:
implement legislation that prohibits unequal remuneration in the public and private sectors
establish National Commissions that monitor the compliance of equal remuneration laws
and launch national awareness campaigns on the importance of equal pay
The Executive Director of UN Women, Phumzile Mlambo-Ngcuka, said, "A strong social protection system is critical to reducing the gender pay gap – where women have access to paid maternity leave, to affordable child and elderly care services, and to sustainable infrastructure, we see an increase in women engaging in paid work. This will be the theme of next year's Commission on the Status of Women, and I count on support from the EPIC to accelerate progress on improving social protection systems."
Notable pledges made at the event include:
The President of Iceland, H.E. Guoni Th. Johannesson, committed to implement its Law on the Equal Pay Certification. The law prohibits discriminatory practices based on gender and requires that women and men working for the same employer shall be paid equal wages and enjoy equal terms of employment.
The International Trade Union Confederation has pledged to raise awareness of initiatives that aim to achieve equal pay through advocacy campaigns on investment of childcare, establishing minimum living levels, and guaranteeing social protection to care workers.
The International Organisation of Employers has pledged to strengthen its actions to promote gender equality and non-discrimination good practices as part of its commitment to preserve and defend Fundamental Principles and Rights at Work, while paying special attention to gender-based discrimination in pay.
Civil Society organisations including Save the Children and CIVICUS pledged to support its members to reduce the wage gap and to conduct internal reviews of its pay policies to ensure internal equity between men and women.
Global companies also participated, including IKEA, Deloitte, Pepsi Co, Nestle and Novartis AG, who expressed their allegiance to EPIC's mission by committing to, for example:
reviewing hiring and promotional practices to reduce unconscious bias and structural barriers
identify and promote best practices that ensure fairness for all workers
and to implement policies prohibiting discrimination based on gender
EPIC, an initiative launched in 2017 to work towards closing the gender pay gap, has brought together key actors from across the world to raise momentum and help ensure that equal pay for work of equal value is fully realized. EPIC is led by the OECD, the International Labor Organization (ILO) and UN. The EPIC secretariat will support global leaders to ensure these commitments are fully implemented and realized.
Kenya Receives $750 million Boost for COVID-19 Recovery Efforts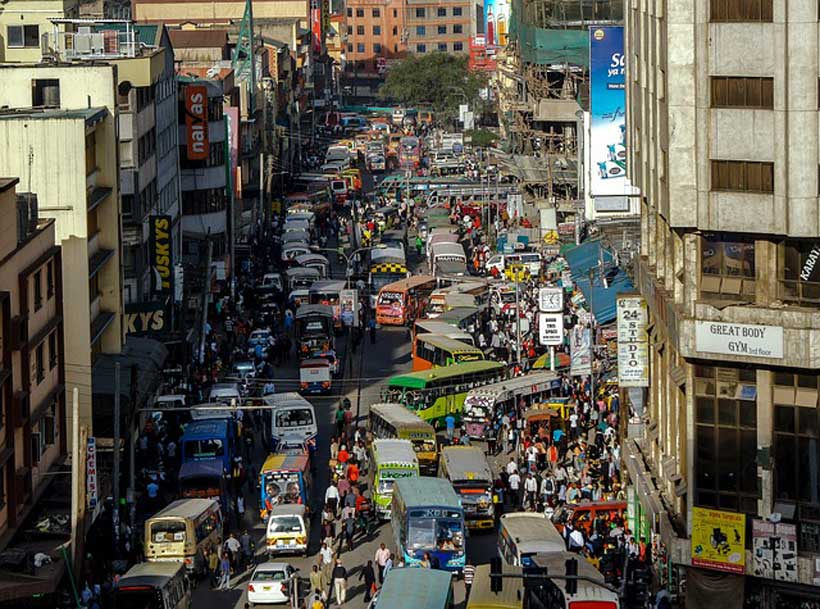 To reinforce Kenya's resilient, inclusive and green economic recovery from the COVID-19 crisis, the World Bank approved $750 million in development policy financing to support policy reforms that will strengthen transparency and accountability in public procurement and promote efficient public investment spending.
This development policy operation supports measures to improve medium-term fiscal and debt sustainability through greater transparency and efficiency in government spending, building on ongoing World Bank support to enhance public finance management systems. The operation provides for the establishment of an electronic procurement platform for the public sector that seeks to make government purchases of goods and services transparent. This will help increase accountability in public spending and reduce opportunities for corruption. The support also strengthens public investment management by seeking cost-savings and applying rigorous selection and monitoring and evaluation criteria to all projects. Both measures are expected to yield fiscal savings of up to $2.6 billion.
"The operation prioritizes reforms in hard hit sectors, such as healthcare, education, and energy, which have been made urgent by the impacts of the COVID-19 crisis," said Keith Hansen, World Bank Country Director for Kenya. "In recognition of the severity of the crisis and need for a comprehensive response, we are supporting the government's post-COVID-19 Economic Recovery Strategy, which is designed to mitigate the adverse socioeconomic effects of the pandemic and accelerate economic recovery and attain higher and sustained economic growth."
The policy operation also prioritizes energy sector reforms to improve electricity access and ensure that Kenyans benefit from least-cost, clean energy sources. Further, the new policy framework will help strengthen Kenya Power and Lighting Company's (KPLC's) finances with a new competitive pricing regime.
Kenyans will also benefit from better healthcare and disease prevention, especially for the poorest and most vulnerable households, through National Hospital Insurance Fund (NHIF) governance reforms and the establishment of the Kenya Center for Disease Control (KCDC) to strengthen disease prevention, detection, and response. Reforms will further seek to provide Kenyans with more equitable access to higher education, through a performance-based funding method to reduce the imbalances and inefficiencies created by the existing funding model for universities.
"Stabilizing the debt trajectory and reducing high debt costs is a top priority," said Alex Sienaert, Senior Economist and Task Team Leader, World Bank Kenya. "This policy operation supports measures to reduce the budget deficit over time, such as by making public spending more efficient, whilst minimizing debt costs by helping to meet the government's current financing requirements on concessional terms."
DPOs are used by the World Bank to support a country's policy and institutional reform agenda to help to accelerate inclusive growth and poverty reduction. The negative impacts of the COVID-19 crisis have made reforms that improve governance and service delivery, including those covered by this operation for Kenya, even more critical because they create better conditions for Kenya to inclusively and sustainably recover from it. Financing provided by the World Bank is offered on concessional terms, making it significantly lower than commercial loans. The total annual interest and service cost of the Kenya DPO is 3.1%.
* The World Bank's International Development Association (IDA), established in 1960, helps the world's poorest countries by providing grants and low to zero-interest loans for projects and programs that boost economic growth, reduce poverty, and improve poor people's lives. IDA is one of the largest sources of assistance for the world's 76 poorest countries, 39 of which are in Africa. Resources from IDA bring positive change to the 1.6 billion people who live in IDA countries. Since 1960, IDA has supported development work in 113 countries. Annual commitments have averaged about $21 billion over the last three years, with about 61 percent going to Africa.
World Bank Supports Croatia's Firms Hit by COVID-19 Pandemic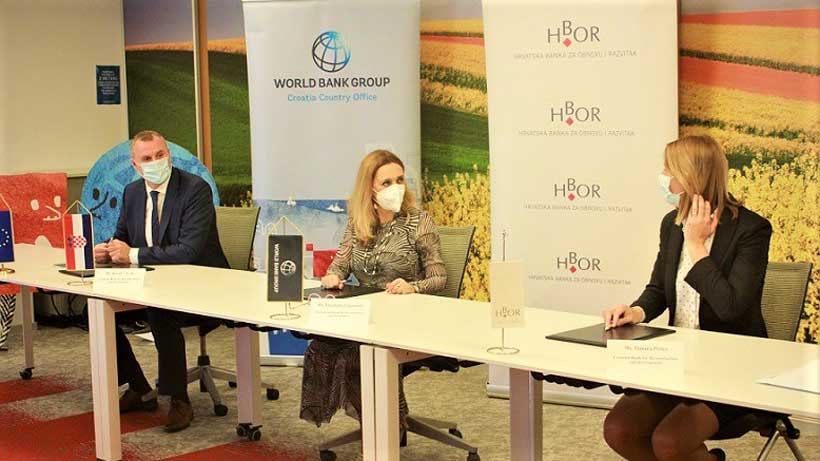 Tamara Perko, President of the Management Board of the Croatian Bank for Reconstruction and Development (HBOR) and Elisabetta Capannelli, World Bank Country Manager for Croatia, signed a Loan Agreement for the HEAL Croatia Project (Helping Enterprises Access Liquidity) in the amount of EUR 200 million (US$242 million equivalent). The Croatian Deputy Prime Minister and Minister of Finance, Zdravko Marić also signed a Guarantee Agreement with the Bank for the Loan. The HEAL Croatia Project will provide liquidity and financial restructuring to firms that have been hit by the COVID-19 pandemic and by the two devastating earthquakes of 2020 and will support an inclusive and resilient recovery.
The COVID-19 crisis has caused a sharp decline in the economic activity of Croatian businesses and has had a profound effect on jobs and livelihoods. The pandemic disrupted firms' production and reduced the demand for their goods and services, while the financial sector tightened lending to companies, due to rising credit risk. The crisis also exacerbated Croatia's regional disparities and reduced credit access for young firms and for firms owned and managed by women.
To mitigate such negative effects, the HEAL Project will increase access to finance to firms focused on export, both small and medium enterprises (firms employing fewer than 250 people) and mid-caps firms (employing from 250 to 3000 people), as well as for firms from less developed regions of Croatia, and firms owned or managed by women. It will also increase access for young enterprises (operating less than five years). The Project will support HBOR's continued development through improved business processes, strengthened sustainability and climate change resilience, and use of EU funds.
"The loan being signed today represents a continuation of the significant support provided by the World Bank to the Republic of Croatia since the beginning of the crisis in 2020, which is reflected in operations worth a total of EUR 760 million (including HEAL). With this project, we are contributing to the further recovery of Croatia's private sector, following the existing measures of the Government of the Republic of Croatia adopted in the context of the COVID-19 pandemic, post-earthquake reconstruction and creating foundations for future sustainability and resilience," said Zdravko Marić, Deputy Prime Minister and Minister of Finance of the Republic of Croatia.
"Terms and conditions granted by the World Bank will provide us an additional source of finance for granting further favorable loans to our entrepreneurs. We are pleased that the World Bank has recognized the significance of financing entrepreneur groups whose importance has also been recognized in HBOR's five-year strategy. Exporters and entrepreneurs in underdeveloped areas are among them. In addition to granting favorable financing terms, the World Bank will support us in improving our Environmental and Social Management System. This will be important as HBOR's activities in the coming period will be particularly committed to building more capacity for supporting sustainable projects and inclusive growth," stated Tamara Perko, President of the Management Board of HBOR.
"We look forward to a smooth and quick implementation of the HEAL Croatia project which will help preserve jobs and support household livelihoods through direct support to approximately 150 firms employing around 25,000 people. The Project will contribute to a resilient, inclusive and sustainable recovery of Croatia, which has been hard hit by the global pandemic, the economic recession, and the devastating earthquakes of March and December 2020," said Elisabetta Capannelli, the World Bank Country Manager for Croatia.
The HEAL Croatia project complements two other World Bank crisis operations approved last year, the Croatia Crisis Response and Recovery Program and Earthquake Recovery and Public Health Preparedness Project – worth together US$ 500 million, to help mitigate the effects of the economic shock, advance recovery, facilitate earthquake reconstruction and strengthen national systems for public health preparedness for pandemic outbreaks. The Justice for Business Project focused on improving the business regulatory procedures and justice service standards for businesses and citizens was also approved in March 2020, bringing the World Bank support to the country to EUR 760 million under the ongoing Country Partnership Framework.
The World Bank has been a partner to Croatia for over 27 years. During this period, the Bank has supported more than 50 projects, worth almost US$5 billion, produced numerous studies, and provided technical assistance to help strengthen institutions and support the design of policies and strategies. The Bank's current program focuses on mitigating the economic and social impact of COVID-19, post-earthquake reconstruction, transport, justice, innovation, business environment, land administration, science and technology, and economic development of the Pannonian region.
New Financing to Help Indonesia Achieve a Deeper and More Resilient Financial Sector
The World Bank's Board of Executive Directors today approved a loan of US$400 million to support reforms that will help the Government of Indonesia increase the depth, improve the efficiency, and strengthen the resilience of the financial sector.
The COVID-19 pandemic has caused recession in Indonesia, with potentially long-lasting financial, fiscal, and social implications. While the banking system is well-capitalized and profitability is high, the lack of depth in the Indonesian financial markets increases the country's vulnerability to external shocks. The new financing is designed to help the country address financial sector vulnerabilities heightened by the pandemic. It does so through support to measures such as extending financial services to previously underserved groups, reducing the costs of such services for individuals and businesses alike, and strengthening the capacity of the financial sector to withstand financial and non-financial shocks.
"The COVID-19 outbreak has made structural reforms to address financial sector vulnerabilities urgent. The Government of Indonesia is committed to strengthening the financial sector given its critical role in sustaining Indonesia's growth and in reducing poverty, especially during the COVID-19 recovery phase. " said Minister of Finance of the Republic of Indonesia, Sri Mulyani Indrawati.
The new development policy loan will support Indonesia's financial sector reforms through three key approaches. First, it aims to increase the depth of the financial sector by expanding the access to financial services – including by youth and women – broadening the range of financial products, and incentivizing long-term savings. These efforts would reduce Indonesia's vulnerability to foreign portfolio outflows.
Second, it aims to improve the efficiency and lower the cost of the financial sector by strengthening the insolvency and creditor rights framework, protect consumers and personal data, and make payment systems more efficient and faster by utilizing digital technology. The latter will help large-scale social assistance payments to vulnerable people during the crisis.
Third, it aims to boost the capacity of the financial sector to withstand shocks by strengthening the resolution framework to avoid financial activities disruptions in the event of a bank failure, advancing the effectiveness of financial sector oversight and implementing sustainable finance practices.
"This financing complements the government's efforts to cushion the financial sector and the overall economy from the impacts of the COVID-19 crisis. By making financial services more transparent, reliable and technology-oriented, savings can be channeled into the most productive investments in a less costly, faster and safer way, thus opening opportunities for people to invest in their future and to protect themselves from unexpected shocks," said Satu Kahkonen, World Bank Country Director for Indonesia and Timor-Leste.
The World Bank's support to financial sector reforms in Indonesia is an important component of the World Bank Group's Country Partnership Framework for Indonesia, whose engagement area on strengthening economic resilience and competitiveness contains a specific objective focused on increasing the depth, improving the efficiency and strengthening the resilience of the financial sector. The new financing is also based on the World Bank Group's GRID (green, resilient, inclusive development) principles.