Digital Platforms and the Future of Tourism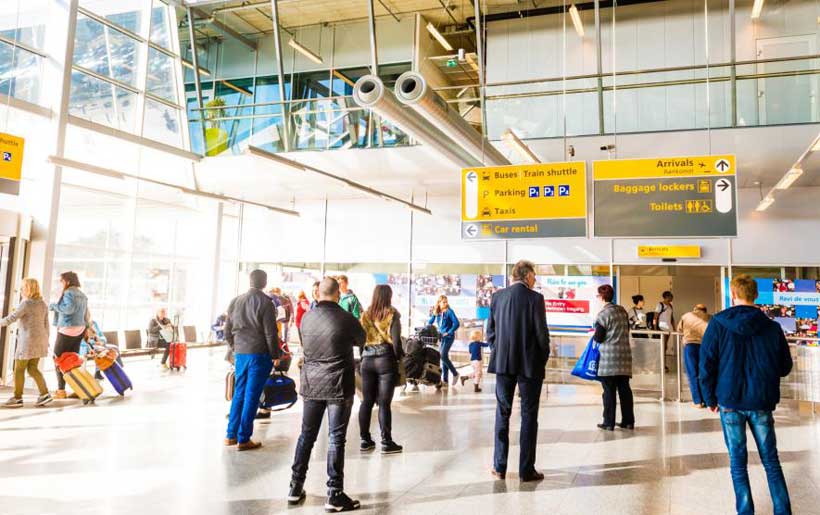 Tourism is one of the fastest growing and most important economic sectors in the world providing benefits to both host communities and destination areas. In 2017, international tourist arrivals reached a new record high at over 1.3 billion according to the latest UNWTO Tourism Highlights. The sector has now seen uninterrupted growth in arrivals for eight straight years. It also represents 10.4% of GDP and in 2017 the tourism industry supported 313 million jobs or 1 in 10 jobs globally.
Tourism also provides better opportunities for women's participation in the workforce, women's entrepreneurship, and women's leadership than other sectors of the economy.
That is why the World Bank Group continues to be committed to invest funds, knowledge and expertise to support tourism for development.
As a part of the World Bank Growth & Competitiveness Project in the Gambia, a hospitality training center trained 1,235 students and helped increase arrivals by tourists from non-traditional markets by 71% between 2011 and 2015.
In Peru, an IFC Advisory project financed by SECO (Swiss State Secretariat for Economic Affairs – Economic Cooperation and Development) helped streamline procedures for obtaining licenses and permits to start and operate tourism businesses in Cusco. The reforms eliminated 150 unnecessary processes and shaved three years off the business registration process, making it easier for both local and foreign investors to operate in Cusco.
A World Bank Group report on the 20 Reasons Sustainable Tourism Counts for Development explains how sustainable tourism counts not just for travelers, but for tourism destinations and local residents.
The World Bank Group developed the Abraham Path project to bring together fragmented communities along the path in the West Bank through many interventions like training and capacity, which were aimed at generating tourism revenue and jobs, and improving economic opportunities for women. The project has generated 137 jobs, 57% going to women.
Digital technologies and platforms are disrupting the way the tourism sector operates from end to end.   Many low-income economies can potentially benefit from this digital transformation and others are at risk of being left behind if they fail to embrace this moment.
The World Bank Group recently published two reports on the significance of this disruption on tourism and how countries can harness it for the benefit of all. According to the report, Tourism and the Sharing Economy, the annual growth rate for the global P2P accommodation is estimated at 31 percent between 2013 and 2025, six times the growth rate of traditional bed and breakfasts and hostels.
In addition, the second report, The Voice of Travelers, produced in collaboration with TripAdvisor explains how peer reviews and other forms of user-generated content (UGC), facilitated by digital platforms, have become the most important sources of travel information globally—more important than tourism boards and traditional outlets. This joint report is part of an MoU that was signed by the World Bank Group and TripAdvisor to promote the development of the tourism sector that highlights some of the key digital trends impacting the sector to countries and private sector partners.
This year, World Tourism Day is shining a light on "Tourism and the Digital Transformation"— as its theme. The UNWTO is calling on governments and the global community, to "support digital technologies that can transform the way we travel, reduce the ecological burden of tourism and bring the benefits of tourism to all."
They also can provide new opportunities for women and rural entrepreneurs to improve their market access and financial inclusion. However, many developing destinations have limited knowledge on how to take advantage of digital platforms and mitigate risks. Either constrained by the lack of understanding or knowhow and resources, these economies are not able to leverage digital tools to grow their tourism.
Responding to the global call to promote innovations in tourism through technology, the World Bank Group, will host a day-long event just prior to WTD2018 focusing on Digital Platforms and the Future of Tourism.
Portugal's post-crisis policies boosted growth and employment
A mix of sound economic and social policies and constructive social dialogue between the government, workers' and employers' organizations have helped Portugal recover from the 2008 economic and financial crisis and have driven economic and employment growth, says a new ILO report.
The study, entitled Decent work in Portugal 2008-18: From crisis to recovery , finds that Portugal way out of the crisis lied on a mix of economic and social policies which helped improve the business environment, public sector efficiency, education and training, and integration in global production chains. These factors – some of which pre-dated the crisis – paved the ground for the country's current trajectory towards solid recovery.
According to the report, the Portuguese experience does not support the conventional notion that economic recovery can be accelerated and international competitiveness rapidly regained simply by means of reducing labour costs and making the labour market more flexible.
Reaching 4.8 million by the end of 2017, employment in Portugal has partially recovered from the more than 600,000 jobs lost following the 2008 economic and financial crisis.
With an estimated 351,800 jobseekers (6.7 per cent) in the second quarter 2018, unemployment has reached pre-crisis levels. In 2013, unemployment had peaked at 927,700 compared to only 455,200 job seekers in 2008.
ILO Director-General Guy Ryder commended the study as a solid basis to inform Portugal's future policy decisions which could "also become a point of reference for other countries". He cited Portugal "as an important example of overcoming austerity policies, while continuing to pursue a realistic commitment to needed fiscal consolidation."
Social dialogue between the country's government and social partners before, during and after the crisis, though not always resulting in consensus, was key to the country's achievements over the last decade, the report states. However, "where decisions were made unilaterally, or against the interests of unions and/or employers, conflict and pushback resulted."
Nevertheless, in spite of economic and employment recovery, concerns remain about the quality of jobs and the need to further strengthen the production base to enhance resilience to external shocks, underscoring that these two objectives are not incompatible.
In addition, labour market segmentation "has led to a high rate of involuntary temporary contracts, raising both equity and efficiency concerns. There is a need for policies to address this issue, particularly the low number of workers moving from temporary to permanent employment and unequal working conditions across contract types," the report says.
In this context, the report authors welcome the commitment of the Portuguese government to further tackle labour market segmentation as a step in the right direction. The will of the government and the social partners to work together on this issue was reflected in a tripartite agreement in June of this year.
The study also highlights recent changes in the country's collective bargaining system, noting that the goal of the agreement and subsequent legislation "to decentralize collective bargaining from the sectoral to the enterprise level was not achieved." It also says that the extension of collective agreements was key to promoting collective bargaining, reducing inequality and fostering inclusiveness. The study therefore recommends maintaining this system of extensions.
While wages picked up before the 2008 crisis, they sharply fell during 2010 – 2013 and levelled off just slightly above pre-crisis levels. The report notes, however, that the wages of low-paid workers increased due to Portugal's minimum wage policy, which was pursued in recent years. This contributed to a decline in wage inequality.
Following consultations with Portugal's Ministry of Labour, Solidarity and Security, these findings update a 2013 ILO report, Tackling the Jobs Crisis in Portugal .
Further reforms will promote a more inclusive and resilient Indonesian economy
A steady economic expansion in Indonesia is boosting living standards, curbing poverty and offering millions of people greater access to public services. Reforms that boost growth, improve the business environment for small and medium-sized enterprises and increase government revenues will allow investment in infrastructure and increased spending on health and social services, which would ensure a brighter future for all Indonesians, according to two new reports from the OECD.
The latest OECD Economic Survey of Indonesia looks at the current expansion, as well as the challenges facing the country moving forward. The Survey projects growth of 5.2% this year and 5.3% in 2019, and lays out an agenda for making the economy more resilient and more inclusive.
The Survey, presented in Bali by OECD Secretary-General Angel Gurría and Indonesian Finance Minister Sri Mulyani Indrawati, highlights the importance of policies to increase resilience as global risks rise. It also underlines the potential for tax reforms that increase government revenues to meet financing needs in a growth and equity-friendly manner, as well as how tourism can contribute to sustainable regional development.
"As the OECD launches the latest Economic Survey of Indonesia today in Bali, our heartfelt sympathies go out to the Government and the people of Indonesia over the tragic loss of life from the earthquake and tsunami in Central Sulawesi. This Economic Survey promotes policies designed to improve Indonesia's resilience to global risks. Efforts already underway to recover from this natural disaster and rebuild for the future offer a powerful illustration of resilience in action," Mr Gurría said.
"The Indonesian economy is growing at healthy rates, and a demographic dividend will further boost growth in the coming years," Mr Gurría said. "The challenge going forward will be to create the conditions to ensure that future generations have the opportunities for a better life. Infrastructure, education, health and job quality still pose important challenges that must be addressed to ensure that Indonesia achieves sustainable and inclusive growth."
To make the economy more resilient and inclusive, the Survey calls for improved targeting of social assistance, deepening domestic financial markets, better transparency and governance of state-owned enterprises, reforms to employment regulations to bring more workers into formal employment and further simplification of business regulations.
To raise greater revenues to meet spending needs, the Survey proposes Indonesia increase investment in tax administration, make greater use of information technology to strengthen monitoring and facilitate compliance, broaden the tax base for both income tax and value-added taxes, and work with local governments to increase revenues from recurrent property taxes.
To develop a stronger and more sustainable tourism sector, the Survey points out the need to include infrastructure in new development plans, expand tourism skills training and consider opening new areas for appropriate tourism use.
Improving conditions for SMEs and entrepreneurs will also be key for future economic development, according to the first-ever OECD SME and Entrepreneurship Policy Review of Indonesia 2018. Mr Gurría presented the Review in Bali with Minister of Cooperatives and SMEs Anak Agung Gede Ngurah Puspayoga and Minister of National Development Planning Bambang Brodjonegoro.
The Review examines the performance of SMEs and entrepreneurship and provides tailored recommendations for improving the business environment and framework conditions, the strategic policy context, national programmes and the coherence between national and provincial policies.
"In Indonesia, small companies employing less than 20 people account for more than three-quarters of national employment, more than in any OECD country," said Mr. Gurría. "This is why policies to boost SME development should remain a priority for the Indonesian Government."
To strengthen productivity growth in SMEs, the OECD suggests increasing government spending on skills upgrading and innovation in SMEs. The Review finds that Indonesia spends less than 0.1% of GDP on R&D, compared with the OECD average of 2.3%, and that standard innovation policies such as R&D tax credits are relatively underdeveloped.
To reduce the budgetary impact of this policy, the OECD also suggests reducing the cost of some large-scale programmes, such as KUR (Kredit Usaha Rakyat, People's Business Credit) – a loan guarantee with an interest rate subsidy – by increasing focus on targeted groups, such as first-time borrowers and SMEs from lagging regions.
To improve the overall coherence of Indonesian SME policy, the Review recommends the integration and merger of programmes that offer very similar services but are operated by different ministries, for example in the field of business development services and business incubators.
Mr Gurría and Minister Indrawati also launched a new OECD – Indonesia Joint Work Programme (2019-21) that will cover a range of national studies, policy advice and capacity building, while placing greater emphasis on bringing Indonesia closer to OECD bodies and instruments. "Aligning Indonesia to OECD standards can lead to a more dynamic economy and a more inclusive and sustainable growth model," Gurría said.
Shared mobility and automation will reshape the auto industry by 2030
Shared mobility and automation are expected to drive a revolution in the automotive industry workforce and production by 2030, according to a new study by PwC's Strategy& consultancy.
Transforming vehicle production: How shared mobility and automation will revolutionize the auto industry by 2030 predicts substantial changes for manufacturers and consumers. Vehicle production will have split between mass-market, largely no-frills "cars on demand" that will be rented journey-by-journey and more customized vehicles for those who still want to drive, or be driven in, their own vehicle.
PwC's Strategy& expects that this will require original equipment manufacturers (OEMs) to rapidly develop two distinct types of factory. The first will be focused on standardised, networked 'plug and play' vehicles aimed at young, urban drivers. The second 'flex champion' model will produce customised vehicles for a range of consumers, akin to today's luxury prestige market.
The study expects this change to radically alter the current workforce as robots take on a greater share of the work, on both assembly lines and in the R&D function. It is estimated that between 40-60% of today's workers with contemporary skills will be needed on the shop floor, although the required number of data engineers and software engineers may rise by 90%.
"The auto industry has not substantially altered its model since Ford's assembly lines were introduced over a century ago," says Heiko Weber, partner in PwC Strategy& Germany, "yet we expect to see many of these changes to gather pace by 2021.
"OEMs must start now to build the workforce they will need over the next decade, both by hiring people with the right skills and by retaining and retraining their existing employees. By 2030 the number of data engineers will almost double in the flexible plant and increase by 80 percent in the plug-and- play plant, while the number of software engineers needed will rise by 90 percent, and 75 percent, respectively," Weber says.
The study also notes that the pace of change will accelerate in other areas, with the time between R&D and production to shrink to two years, compared to 3-5 years today. There will also be growing competition to OEMs from technology companies who will be able to provide mobility-as-service solutions directly to consumers.
At the same time, there will be growing pressure on manufacturers to create far more cost-efficient production processes to accommodate an increasingly diverse range of vehicles and designs.
"The auto industry is on the brink of a revolution where data management and the ability to adapt will be essential to survival,' says Weber.
"OEMs should act now, making the right choices for their production models and future workforce," he adds.