Digital Platforms and the Future of Tourism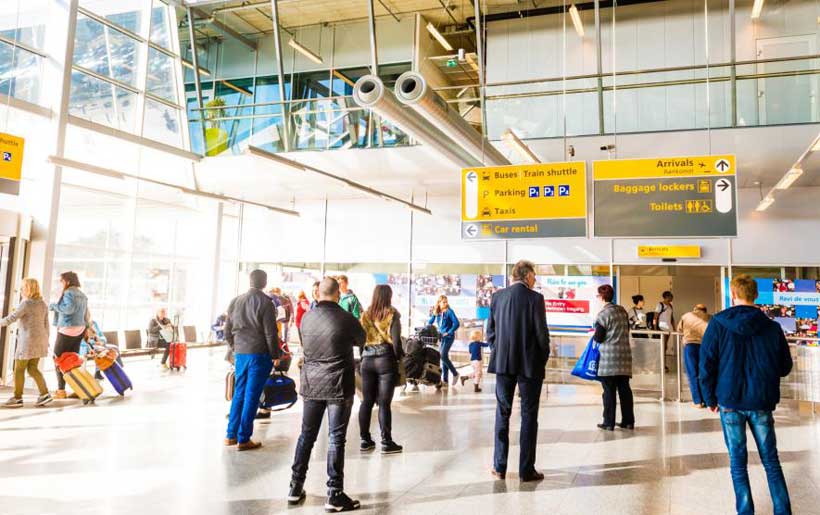 Tourism is one of the fastest growing and most important economic sectors in the world providing benefits to both host communities and destination areas. In 2017, international tourist arrivals reached a new record high at over 1.3 billion according to the latest UNWTO Tourism Highlights. The sector has now seen uninterrupted growth in arrivals for eight straight years. It also represents 10.4% of GDP and in 2017 the tourism industry supported 313 million jobs or 1 in 10 jobs globally.
Tourism also provides better opportunities for women's participation in the workforce, women's entrepreneurship, and women's leadership than other sectors of the economy.
That is why the World Bank Group continues to be committed to invest funds, knowledge and expertise to support tourism for development.
As a part of the World Bank Growth & Competitiveness Project in the Gambia, a hospitality training center trained 1,235 students and helped increase arrivals by tourists from non-traditional markets by 71% between 2011 and 2015.
In Peru, an IFC Advisory project financed by SECO (Swiss State Secretariat for Economic Affairs – Economic Cooperation and Development) helped streamline procedures for obtaining licenses and permits to start and operate tourism businesses in Cusco. The reforms eliminated 150 unnecessary processes and shaved three years off the business registration process, making it easier for both local and foreign investors to operate in Cusco.
A World Bank Group report on the 20 Reasons Sustainable Tourism Counts for Development explains how sustainable tourism counts not just for travelers, but for tourism destinations and local residents.
The World Bank Group developed the Abraham Path project to bring together fragmented communities along the path in the West Bank through many interventions like training and capacity, which were aimed at generating tourism revenue and jobs, and improving economic opportunities for women. The project has generated 137 jobs, 57% going to women.
Digital technologies and platforms are disrupting the way the tourism sector operates from end to end.   Many low-income economies can potentially benefit from this digital transformation and others are at risk of being left behind if they fail to embrace this moment.
The World Bank Group recently published two reports on the significance of this disruption on tourism and how countries can harness it for the benefit of all. According to the report, Tourism and the Sharing Economy, the annual growth rate for the global P2P accommodation is estimated at 31 percent between 2013 and 2025, six times the growth rate of traditional bed and breakfasts and hostels.
In addition, the second report, The Voice of Travelers, produced in collaboration with TripAdvisor explains how peer reviews and other forms of user-generated content (UGC), facilitated by digital platforms, have become the most important sources of travel information globally—more important than tourism boards and traditional outlets. This joint report is part of an MoU that was signed by the World Bank Group and TripAdvisor to promote the development of the tourism sector that highlights some of the key digital trends impacting the sector to countries and private sector partners.
This year, World Tourism Day is shining a light on "Tourism and the Digital Transformation"— as its theme. The UNWTO is calling on governments and the global community, to "support digital technologies that can transform the way we travel, reduce the ecological burden of tourism and bring the benefits of tourism to all."
They also can provide new opportunities for women and rural entrepreneurs to improve their market access and financial inclusion. However, many developing destinations have limited knowledge on how to take advantage of digital platforms and mitigate risks. Either constrained by the lack of understanding or knowhow and resources, these economies are not able to leverage digital tools to grow their tourism.
Responding to the global call to promote innovations in tourism through technology, the World Bank Group, will host a day-long event just prior to WTD2018 focusing on Digital Platforms and the Future of Tourism.
ADB, India Sign $31 Million Loan to Develop Tourism, Boost Jobs in Tamil Nadu
The Asian Development Bank (ADB) and the Government of India today signed a $31 million loan agreement to build up the state tourism industry and boost visitor arrivals.
The signatories to the tranche 4 loan for Infrastructure Development Investment Program for Tourism (IDIPT) were Mr. Sameer Kumar Khare, Additional Secretary (Fund Bank and ADB), Department of Economic Affairs, Ministry of Finance, who signed for the Government of India, and ADB Country Director for India Mr. Kenichi Yokoyama, who signed for ADB.
"The ADB-supported project in Tamil Nadu aims to make tourist sites more attractive, convenient, and safe for visitors," said Mr. Khare after signing the agreement.
"The increased tourism traffic generated by this project will generate extra jobs in Tamil Nadu, especially through skills training and community-based activities targeting the poor and women," said Mr. Yokoyama.
Approved in September 2010, the $250 million IDIPT aims to build opportunities for local communities and boost local economy by enhancing tourism in three other states—Punjab, Himachal Pradesh and, Uttarakhand—besides Tamil Nadu. This will be achieved through developing and preserving sites of natural and cultural heritage, and building connectivity, capacity, and infrastructure around state tourist sites.
The Government of India's recent Three-Year Action Agenda (2017–2018 to 2019–2020) envisages the hospitality, travel, and tourism sector as a major driver of growth and employment. The agenda recognizes India's significant potential to increase the number of arrivals, global presence by leveraging its cultural industries, and capacity to create large-scale jobs among the poorest segments of the population. It identifies key areas for action, including infrastructure, marketing, and skills development, all of which are aligned with the MFF road map.
The project will support the conservation and restoration of eight heritage monuments, one museum, three temples, and a pond. It will build various facilities at the sites, including information centers, rest centers, and toilet blocks, with facilities served by solar-powered lighting and energy efficient lighting. The total cost of the project is $44.04 million, of which the government will provide $13.04 million. The estimated completion date is June 2020.
ADB Project to Help Boost Inclusive Tourism in Vietnam's Secondary Towns
The Asian Development Bank (ADB) has approved a $45 million loan to help Viet Nam transform secondary towns into more economically inclusive, competitive tourism destinations.
The Second Greater Mekong Subregion (GMS) Tourism Infrastructure for Inclusive Growth Project will construct climate-resilient transport and urban infrastructure needed to boost tourist arrivals and tourism services investment in Hoa Binh, Nghe An, Quang Binh, Quang Tri, and Thua Thien Hue provinces. It will also develop urban green spaces and public beaches in these provinces, where the project is expected to benefit about 168,000 residents and more than 8 million visitors annually.
"Tourism is growing rapidly in Viet Nam, but most growth and corresponding socioeconomic benefits are concentrated in a few gateway destinations. To promote more inclusive and sustainable growth, it's important for Viet Nam to increase public and private investment in secondary towns," said ADB Project Administration Unit Head for Viet Nam Mr. Steven Schipani.
Specifically, the project will upgrade about 31 kilometers (km) of urban-rural roads and 13 passenger piers to provide visitors and residents with convenient access to cultural and historic sites in all participating provinces. To help Nghe An's Cua Lo town attract more and higher-spending visitors year-round and adapt to climate change, the project will rehabilitate a 5.5-km seawall and beachfront drainage, improve public recreation areas, and expand market space for local vendors. Quang Tri's Cua Viet and Cua Tung beaches will benefit from similar investments.
Using training, certification programs, and policy incentives, the project will also help ensure that tourism management in project areas meets standards set by the Association of Southeast Asian Nations.
The integrated project design incorporates lessons from more than 15 years of ADB support to foster inclusive and sustainable tourism in Viet Nam. This includes the ongoing 2014–2019 GMS Tourism Infrastructure for Inclusive Growth Project and successfully completed GMS Sustainable Tourism Development Project and GMS Mekong Tourism Development Project.
10 Finalists Announced in 1st UNWTO Tourism Startup Competition
The 1st UNWTO Tourism Startup Competition is a pioneering initiative that has identified emerging companies at the forefront of the transformation of the tourism sector and the promotion of innovation ecosystems through tourism. It is organized by the World Tourism Organization (UNWTO) in partnership with Globalia, the leading tourism group in Spain and Latin America. The 10 finalists will present their projects within the framework of the Fitur International Tourism Fair (23-27 January 2019, Madrid, Spain) with the presence of global tourism leaders from the public and private sectors, as well as potential investors.
The competition sought innovative startups capable of transforming the way people travel and experience tourism, while adhering closely to the principles of sustainability (economic, social, and environmental).
"For the first time, we have positioned tourism in the global innovation agenda, a well-deserved place that reflects the weight and socio-economic impact of tourism," said UNWTO Secretary-General Zurab Pololikashvili. "The key is to connect the public and private sectors collaboratively, thus creating opportunities to share ideas and projects," he added.
Each project's uniqueness, viability, potential impact, business model and scalability, along with the profile of the team, were the criteria for selecting the 10 finalists.
"We have jointly created this pioneering public-private collaborative model in tourism as a global tourism group and we are delighted to spearhead this action alongside the World Tourism Organization, working together to lead the transformation of the tourism sector and fostering the global innovation ecosystem and its entrepreneurs," said Globalia CEO Javier Hidalgo.
The finalists are notable for proposing innovative projects that redefine the way people plan trips or live tourism experiences, while promoting sustainability and community participation. All this is combined with the application of technology to revolutionize business models and the management of companies in the sector.
Following the model applied on World Tourism Day, the winner will have the opportunity to carry out a pilot project with the Globalia Group and the finalists will have access to the leading actors in the world tourism sector.
An innovative competition
Globalia and the World Tourism Organization have entrusted this initiative to Barrabés.biz, an innovation consultancy with over 20 years of experience in creating, connecting and activating entrepreneurship and innovation ecosystems.
The technological platform chosen to manage the competition was YouNoodle, a pioneering Silicon Valley firm that specializes in innovation and entrepreneurship competitions at the global level.