Rafale: A national tragedy or just plain stupidity?
In other countries, it would have been a badge of shame for the Government, Bureaucracy, Defense Industry and the citizenry as a whole. In India, it has become an ugly no-holds-barred slugfest like none other. Endless discussions, numerous debates and multitudes of expert opinions have pervaded the national discourse on just one topic these days. Apparently, the topic on which everyone in India and apparently a few abroad, have become an expert is Dassault Rafale. Every moment, new facts, truths, half-truths, and blunt lies are being tossed about in the Print, Television & Social Media and apparently, some so-called experts have started a smear campaign to malign the name of the Prime Minister, labeling him as a chor (thief) and much more. What is the whole issue about? Pick any hundred shouting at the very top of their voices and ask them about the issue. Not one would be able to go beyond the generality and much-used catchphrases like Scam, Ambani-Adani, Modi, France. Most, if not all, detractors of the defense deal have a half-baked understanding of the fighter aircraft in general and would be unable to differentiate between an interceptor and an air-superiority fighter in any literature. Conversely, the supporters of the deal, in their standard fashion, have built walls of ignorance so high that it puts even Mount Everest to shame. While most (though not all) of the questions of the detractors are logical and valid, tagging every detractor as an Urban Naxal while ignoring his line of questioning won't work. It's time for the supporters and detractors of the deal to gain a meaningful insight into the entire deal and then form an opinion on the issue.
The entire fiasco has its roots way back in 2001 when the Indian Air force had projected a requirement for 126 (seven squadrons of 18 aircrafts each) aircraft. The strength of the IAF was starting to fall. It has last acquired an aircraft (Mirage-2000) in the 1980s and the acquisition of the Sukhois (-30MKI) was starting to gain steam. The initial requirements were for a 20-ton class fighter aircraft with medium role capability which would fill the multi-role niche between the heavy-hitter Sukhoi Su-30MKI (an air superiority fighter) and the MiG-21/Tejas (a smaller multi-role interdictor). Apparently impressed by the Mirage 2000s bomb lugging capability at high altitudes during the Kargil War, the IAF was keen to acquire the Mirages and had quietly made up its mind to acquire the same until the French Aerospace industry and Rafale, in particular, threw a spanner in their works. However, the French aerospace industry was winding down Mirage 2000 production due to lack of orders and preparing for the manufacture of the Rafale aircraft. Apparently, the French Air Force needed it Rafales faster (point to be noted- the Rafale is the next iteration of the Mirage-2000 fighter and the current mainstay fighter of the French Air Force). The Mirage production line was shutting down and the French could only keep it open if India gave a firm order. But we are Indians, have we ever committed to anything without first bargaining and comparing the hell out of it?
Hence, Requests for Information (RFI) were issued in 2004. In the formative years of the tendering, aircraft in the running were: Mirage 2000-5 Mk.2 (Dassault, France), F-16C/D (Lockheed Martin, USA), MiG-29OVT (Mikoyan, Russia), and JAS 39 Gripen (Saab, Sweden). Preliminary estimates pegged the costs in the neighborhood of INR 55,000 crore (US$8.6 billion), making it India's single largest defense deal. However, the 20-ton MTOW (maximum take-off weight) limit requirement was later removed and this limit was revised to 24-tons. Given the protracted nature of the tendering and the past governmental acquisition timelines, Dassault replaced the Mirage 2000-5 with the Rafale and the MiG Company placed MiG-35 in instead of the prototype MiG-29OVT. The Eurofighter consortium entered the Typhoon into the competition. Not wanting to be outdone, the Boeing F/A-18E/F Super Hornet also joined the tendering. Given the vagueness of the clauses, all aircraft, single engine or double and both light and heavy became a part of the fray.
As per one defense analyst, this deal meant that The Indian Air force was comparing every four-wheel vehicle from a Maruti 800 and a tractor when it just needed a jeep.
The Indian government had initially planned to buy the first 18 aircraft directly from the manufacturer. The remaining fighters will be built under license with a transfer of technology (ToT) by HAL. After an intensive and detailed technical evaluation by the IAF, in 2011, the competition has reduced the bidders to two fighters — Eurofighter Typhoon and Dassault Rafale. On 31 January 2012, it was announced that Dassault Rafale won the competition due to its lower life-cycle cost. The deal has been reported to cost US$28–30 billion in 2014. However, the French refused to provide any guarantees for the 108 aircraft that would be manufactured by HAL. The deal went back to the chopping block and the fleet strength of the IAF continued to deplete at alarming rates. A report commissioned under the erstwhile UPA slammed the HAL's practices and there were some serious differences between HAL and Dassault on the various fronts.
In light of this, on April 10, 2015, Prime Minister Modi declared: 'Keeping in mind the critical operational necessity of fighter aircraft in India, I have discussed with the president (of France) the purchase of 36 Rafale fighters in 'fly-away condition' at the earliest through an inter-governmental agreement.' However, the Congress party alleges that the Modi government, in buying 36 Rafales for €7.8 billion ($9.2 billion or Rs 58,000 crore/Rs 50 billion), paid more than what Dassault had quoted in the MMRCA tender but a full breakdown of figures is essential as the total cost of a fighter contract includes — besides the cost of the aircraft — costs related to technology transfer, spare parts, weapons and missiles, added-on equipment and maintenance costs. Moreover, the same aircraft Rafale has also be bought by the Governments of Egypt and Qatar.
A closer look at the costs shows that the contracted price averages out to €91.7 million (Rs 686 crore/Rs 6.86 billion) per Rafale which includes the purchase of 28 single-seat fighters, for €91.07 million (Rs 681 crore/Rs 6.81 billion) each; and eight twin-seat fighters, each priced at €94 million (Rs 703 crore/Rs 7.03 billion). That puts the cost of each of the 36 fighters at €91.7 million (Rs 686 crore) — totaling up to €3.3 billion.
Besides this, the IAF will pay €1.7 billion for 'India-specific enhancements', €700 million for weaponry such as Meteor and SCALP missiles, €1.8 billion for spare parts and engines, and €350 million for 'performance-based logistics', to ensure that at least 75 percent of the Rafale fleet remains operationally available (our Sukhoi serviceability is an abysmal 50%). We are paying extra for the India specific enhancements that were earlier not the part of the generic aircraft selected via the MMRCA process. Also, while such a direct comparison is not right, prima facie the IAF is paying more or less the same as the EAF and the QAF. The Egyptian air force has paid €5.2 billion for 24 fighters and is reportedly considering buying 12 more, a 'fully loaded cost' of €217 million per Rafale. Similarly, the Qatar air force has paid out €6.3 billion for a similar number of aircraft, with a 'fully loaded cost' of €262 million per fighter.
The opposition Congress is arguing that by reducing the buy from 126 aircraft for which a sum of (520-700 crores per aircraft, varying in every speech) to just 36 aircraft (700-1600 crores), the present dispensation is causing a scam of epic propositions. There are also serious concerns about the offer being made to Reliance instead of HAL to partner with the deal. While concerns about the apparent lack of Reliance's experience in making aircraft is genuine, this is no excuse to mock and needlessly criticize a perfectly valid deal. One Congress legislator had even claimed that he would make a better plane than Reliance and mockingly flew a paper plane in the august presence of elected public representatives. Wish making fighter jets was only that simple. However, they seem to forget that Reliance is not going to manufacture any aircraft. It is just a part of an Indian Consortium which will be benefitted by offsets as part of the deal. Why Reliance? Yes, this is a question that needs to be asked and should be answered. The choice was primarily dictated by Dassault's need to gain a foothold in Indian Markets and tap the rich moolah in the pockets of Indian Industrialists. Given the tie-up between Tata ASL and Lockheed Martin & Pilatus, Honeywell and HAL, Adani and Elbit Systems of Israel and Mahindra taking a heavy plunge in the aviation industry with its acquisition of Gipps Aerospace, Dassault was wary of being caught napping and needed a partner that would be accommodative for them and assertive for others. Reliance Group fit the bill perfectly and while many have been accusing the govt. for crony capitalism, the Dassault-Reliance tie-up is one of survival.
Many have also lamented that private industries are being promoted at the cost of public institutions. Well, only HAL can be blamed for this mess. Not only has HAL chronically underperformed over the years and hamstrung the IAF's expansion plans (read Sukhoi SU-30MKI) by its ineptitude, it is also overcharging the Indian Tax-payer for basic jets like the domestic Tejas. Recent estimates show that the much-hyped Tejas (named by our former PM Atal Bihari Vajpayee during his regime) is still facing teething troubles even after 2 decades in testing & production and the costs have ballooned exponentially over the years. It is being reported that each Tejas will cost between 460-480 crores per platform which is significantly higher than other fighters for its niche (read JF-17, FC-1) and certainly not making sense in any way. It's an irony that people accusing the present dispensation of allowing private players to siphon taxpayers' money are either unaware or simply don't care that the public sector undertaking is just as expensive (if not more) with the added downside of inefficiency and lethargy. It must also be pointed out that HAL Dhruvs (a light helicopter) manufactured by the PSU have had serious doubts raised about their capability and a South American nation has mothballed all its Dhruvs after a significant no. of them crashed within a short span of time. It is only logical that any foreign manufacturer would be hesitant to partner with HAL. If there is indeed something wrong in this deal, it is the sorry state of affairs at HAL and the government must take immediate steps to resolve it.
On an ending note, defense procurements in India and around the globe have always been shrouded in mist and with good reason. Given the stringent security clauses, unique modifications and country-specific costing, it is near impossible to compare figures across the board, unlike the Big Mac Index. While everyone has the right to an opinion, it should be exercised with caution and should never be misused. The fleet strength of the IAF is rapidly depleting and the Rafales are needed. The opposition is being hypocritical by painting its inability to close a deal in a decade (remember, Saint Antony of the "You can't be accused of corruption if you do nothing" fame) as a done deal and conveniently forgetting the facts and reports, it had itself prepared. The Government, on the other hand, is doing a poor job by its high on rhetoric and low on facts media reporting. The deal is tough and not easily understandable for all because it is meant to be that way. Having a simple analogy to substitute for this deal is hilarious and plainly, uncalled for. Something must be left to the experts and not brought down to the floor. We are, after all, buying a Mach 2 capable fighter plane, not the bhaziya-tamatar of everyday use. While common sense should prevail on this issue of national importance and the cacophony should subside, it is highly unlikely in the coming days and the slugfest will continue. Meanwhile, the only casualty in this conflict will be the Indian Air Force and its brave pilots, who continue to fly old and unsafe planes for the foreseeable future to come.
Japan's Security Environment in Asia Pacific: A Tragic or Misery
Authors: Mehtab Ali Bhatti and Kainat Akram*
The security threats can be to a great extent partitioned into two groups; traditional and non-traditional security threats. One's focus would mainly be on the traditional security challenges of Japan. Tokyo deliberately perplexed the world. It emerged as non-western power but no one could expect about its dexterity, and it was serious trouble to Western and Asian powers because they were dependent on its impressive economy. Tokyo's trade surpluses were, $44 billion in 1984, $56 billion in 1985 and $93 billion in 1986, which shows Japanese rulers' strategies, growing technology, education system, and people's countless struggle towards their homeland.[1]But during WWII, they lost their formidable economy as well as some of their major cities like Hiroshima and Nagasaki. Aftermath, Japan experienced a tremendous financial crisis like debt. Ironically, Japan is one of the biggest debtor countries with the highest debt to GDP ratio of 222.2% in the world[2], which is a major threat for Japanese people.
Currently, Japan's security environment is getting significantly severer with the sensational move in the global force balance, the development of new threats, for example, psychological oppression and cyberattacks, and the serious security environment in the Asia-Pacific region. Such threats effectively cross-national borders. In the Asia Pacific region, regardless of the centralization of countries that have enormous scope military ability including atomic weapons states, regional collaboration structures on security are not adequately regulated. North Korea's proceeded with the advancement of atomic weapons and ballistic rocket programs just as its provocative conduct is compromising for Tokyo. China's headway of its military capacity without straightforwardness and its further exercises in the ocean and air space are a danger for Tokyo. In addition, move in the global force parity and fast advancement of mechanical development, multiplication of weapons of mass annihilation, and the rise of threats that cross national borders, remembering international psychological oppression and dangers for the ocean, space, and cyberspace are additionally unavoidable threats to Japan's security. In addition, issues identified with "human security,"[3] including destitution and advancement difficulties, and developing dangers to the global economy.
In this fast-moving world and cut-throat political competition era, the political dynamics of Asia Pacific region is changing with changing strategic environment, due to the geo-strategic consolidation among different countries, the focus of the entire world is tilted towards China's owing to rapid development in terms of economic, political and military means. The ongoing protracted South-China Sea conflict of China with many ASEAN countries who are claimant of the cited territory and aggressive posture of nuclear power North Korea has made the region more prone to conflicts as well as an arms race in the region has frayed nerves, further, escalated the tensions. In this tense environment, Japan has been facing a potential threat from the opposite bloc to its very sovereignty and territorial integrity.
According to Tokyo, following countries have posed an aggressive posture in the Asia-pacific, which is worrisome for Japan:
China
China-Japan Relations
In the Asia-Pacific region tensions are being seen worrisome as China is becoming more energetic about its claims over the South China Sea, its tactical and evident actions have spotted other surrounding countries and external interested countries like the United States. China and Japan both have flourished and innate abhorrence since 19th century and America is owing more hatred and tensions in the Asia-Pacific region.[4]It might be called upon that there is nothing invaluable in the East Asia-Pacific but historically it is all about pride and honor, and serious issue of Senkaku Island for Japan. And their tensions ousted from the first Sino Japanese war, then islands were given to Taiwan, and due to victory in WWII, these islands were recovered by China after surrendering of Japan. The aftermath of a new threat established from communist country China; US and Japan signed an agreement of San Francisco Peace Conference by allowing Japan to patrol in the island regions, and America provided types of equipment and economically supported Japan to counter rising power China in the Asia Pacific region and tensions rampantly encouraging until today.
In the 21st century, the ascent of Asia has drawn the consideration of the United States to concentrate particularly on the Asia-Pacific region. Because of its geostrategic significance and going to be an economic hub of the world, the development of Asia can be identified with the expanding economic exercises in which rising forces China, India, and Indonesia are assuming their crucial role. The major economic activities happen in the Asia Pacific, for instance, the main trade routes pass through the Asia Pacific, and the Indian Ocean where strait of malacca is a gateway to major economies like China, Japan, and South Korea. Particularly, in the Asia Pacific region, the US has its economic, strategic, and security interests. It includes the economic network all through the region, support of peace and soundness, and making sure about its allies particularly Japan and South Korea, and ensuring the claimants of the South China Sea to resolve their issues peacefully.
China's Response towards American Pivot and Indo-Pacific Strategy
China's rise as a great power in this changing dynamics of world politics does not lag behind and it is important to understand Sino-US relations in the purview of America's past Asia Pivot strategy[5] and Trump's Indo-pacific strategy.[6]There are multiple significant events by which it can be speculated that People's Republic of China (PRC) is emerging as a great player, for instance, it has resisted western intervention three times in collaboration with Russia over the Syrian civil war in the Middle East; it also bring-up with the idea of making BRICS and establishing AIIB which is considered as the counterweight to America's World Bank; through SCO, China has also influenced her role in the international politics; most significantly, it has come up with a 'Belt and Road initiative'' with CPEC which shows China's soft power in the world. However, with this dynamic strategic architecture in the Asia Pacific, two contours are important – what made the US come up with a rebalancing strategy and how China responds to it.
According to official reports, China has responded to the Indo-Pacific policy of America in two levels. Firstly, Chinese authorities have firmly denounced this US expressed policy and that they are mindful that US diplomatic moves would bolster its allies regarding the sea and territorial debates with China. Secondly, Chinese non-official media has harshly castigated US rebalancing strategy towards Asia. Some view this strategy as Cold-war like containment of China which was based solely against China because China's ascent is representing a possible danger to America's authority and its allies. "China in countering Pivot's response has come up with 'Marching West' strategy, which aims at focusing China's diplomatic and economic relations with the Eurasian countries," according to Aaron Jed Rabena.[7] She is also of the view that China's ascent is representing a likely threat to America's hegemony.
Moreover, China's reaction to the Asia-Pivot policy in past and current procedure of Trump can be shown by means of diplomatic and economic activities, for example, Belt and Road activity, Asian framework venture bank and reinforcing respective relations. The OBOR activity of China will fill two needs. Right off the bat, it will merge China's delicate power, and besides, enhance economic collaboration with in excess of 60 nations. The Chinese reaction and its military modernization have made a serious mix and unsafe circumstance to the US Indo-Pacific technique with pervasive interests in the Asia-Pacific region. In this universe of complex association, war is certifiably not an attainable choice. America will never do battle with China since China is the second the biggest exchanging accomplice of America. Additionally, the Chinese reaction to this US procedure has been delicate as is obvious from March West methodology, OBOR, and AIIB activities. These steps are the projection of Chinese Soft power response to Obama's rebalancing and Trump's Indo-pacific strategy towards Asia.
North Korea
Rivalry is not Old-fashioned
Korean Peninsula has been remained a play chess match for foreign powers like Japan, the US, Soviet Union, and China—in 1910 Korean Peninsula was occupied by the Japanese empire but after the demise of Japan in 1945 and WWII, Korean Peninsula was partitioned into two South and North. Whereas, the North was occupied by the Soviet Union and the South was occupied by the United States. In 1948, re-unification negotiations were failed and two governments were stimulated; the Socialist Democratic People's Republic of Korea (DPRK) in the North and the Capitalist Republic of Korea (RK) in the South. In addition, the Korean War occurred in 1950's, initiated by North Korea for invasion and the ceasefire occurred but peace treaty was not endorsed.[8]
In the contemporary era, the security environment of North Korea is very complex and instrumental. North Korea has one of the world's biggest regular military powers, which, joined with its rocket and atomic tests. North Korea spends almost a fourth of its total national output (GDP) on its military, as indicated by U.S. State Department gauges.[9] Its brinkmanship will keep on testing regional and international associations planned for protecting stability and security.
However, North Korea has remained a part of Communist bloc, where Russia and China have been the back supporters. In the realist paradigm, 'enemy of an enemy is friend,' likely in this case, Russia supports North Korea and the US supports South Korea economically, politically, and militarily. Therefore, in the North Korean nuclearization, the role of China and Russia is very evident. On the other hand, in the economic advancement of South Korea, the American role is not far-seeing as evident.
North Korean Nuclearization a Dwelling Threat for Japan
North Korea's quest for atomic weapons is a sensible procedure given that the system's greatest security probability from international intercession. Additionally, for the North Korean system, atomic weapons have three strategic capacities, and with everyone, the US is directly in the middle. After that, they fill in as impediments; also, an instrument of international strategy; and thirdly, they are an instrument of residential legislative issues. The atomic weapons have given influence and a negotiating concession diplomatically associating with all the more impressive and increasingly effective on-screen characters, similar to the US and its partner South Korea and Japan.
North Korea's nuclear missile testing has raised tensions in the Asia-Pacific region and created a global threat. It is an imminent threat to Japan as an ally of the US. Since 2006 North Korea has conducted 6 nuclear ballistic missile tests and one of them flew over Japan in 2017.[10]Due to nuclear tests, 15 members have voted against North Korea to the Security Council with US-drafted resolution, and new sanctions of North Korea's textile exports have been alleged. In the reaction, North Korea had shown the backing of veto powers like China and Russia and aggressively indicated to devastate the US, Japan, and South Korea.
According to South Korean President Moon, they were against nuclear weapons in their state and they had withdrawn their nuclear weapons in the 1990s, "Nuclear weapons could not prolong the peace in the region," said Moon, "They have provided $8 million through the United Nations to North Korean citizens for women pregnancy and to aid the poor and infants.[11]In the words of war, North Korea called South Korea as "traitors and dogs" of America and "dancing tune" to Japan and alleged that the US has troops in South Korea to destroy the North and its Asia- Pacific allies. Because of nuclear capability and conflict of the 1950s, in which America and South Korea were allied and had an aim to force North Korea for peace treaty but it rejected. North Korea continued to develop a ballistic missile program (Hwasong-14 with the range of 10,000 and Hwasong-15 with the range of 13,000 KM) which has been an impendent threat to Japan, South Korea as well as America. By measuring, America has put North Korea at the top list of terrorism promoter and designed unravished sanctions on North Korea.
De-nuclearization Fiasco
Tokyo is currently carefully watching the process of dialogue moving toward a U.S.- North Korea exchange and is worried that dealings on denuclearization on the Korean Peninsula may reject Japan's unsafe perspectives. A senior authority of the Japan Ministry of Defence concerning the highest point among Trump and Kim Jong-un of 2018 stated, "We ought not to have an idealistic view that North Korea will relinquish the atomic weapons which it has at long last obtained."[12] Therefore, to adapt to the North Korea emergency, Abe regularly underscores the significance of the U.S.- Japan partnership. There is no uncertainty that security ties among Japan and the U.S. have fortified further under the Abe administration.
Other Global Threats to Japan
According to the realist school of thought in international relations, global world order is anarchic, and power centric; its effects are, no trust in Anarchy, constant competition for power, zero-sum game, and relative gains. Further two types, 1. Defensive realism (states are security maximizers and seek survival, status quo, and states are not inherently aggressive) and 2. Offensive realism (States are power maximizers, in the absence of complete hegemony states act offensively and use its power as any can i.e. the US invasion of Iraq 2003).
The rapid progress of technology and shift in the global power is a major threat for all states but Japan has regular emerging threats like in the Asia-Pacific region. The proliferation of conventional and unconventional weapons is increasing which indicates threats at large, besides this, global terrorism, maritime risks, and cyberspace are disparate challenges to Japan. Japan is actively seeking an active role of self-defence and peacekeeping and increasing its technology to combat in the Korean Peninsula and to counter China's growing power in the Asia-Pacific as well as in the World. State sovereignty is absolute, particularly which showed Japan through its heavy Defence budget and its measures taken in the Senkaku island, recently fiscal defence budget in 2016-17 was nearly $42 billion.[13]It was a non-western state which defeated Russia and attacked the US and its economy was second largest in the world. No doubt, Japan is the most industrialized and thick technological country that emerged again after World War II.
Concluding Remarks
The dynamics of the international geostrategic environment in which the world politics is transforming from unipolarity to multipolarity with China emerging as a great power due to its military modernization, advanced technology, and growing economy and commercial connectivity in the entire Asia, which is alarming for the US but regionally it is an irked threat for American allies particularly Japan and South Korea.
By witnessing China as emerging power, American Asia pivot/rebalancing strategy and Trump's Indo-Pacific strategy towards Asia in order to counter the growing influence of China. America and its allies should not perceive Chinese rise in terms of military and economy as a threat to world peace and aggressor because PRC has always been peaceful in dealing the problems of the world and the norms of non-interference are prevailing but no compromise on territorial claims—have been immersed in the Chinese foreign policy.
The United States' concern over denuclearization of North Korean nuclear assets is not acceptable to Kim's regime due to the prestige and status quo of the state but has vague threats from the US forces in South Korea. Even after the President Trump's summit with Kim Jong Un in 2018, the US ally Japan is claiming that North Korean regime poses a genuine and inescapable danger to their security regardless of bringing down of regional pressures following the summit.
China has reacted to America through the procedure of 'Looking West and Marching West'. A few researchers are of the view that the opposition between two significant forces depicts another virus war, however, I differ that since China won't utilize its military alternative, China wants to grow economically and it wants to have an influence on the world through soft power. In a nutshell, I would say that the US must integrate with China rather than to contain it and appreciate its emergence as a responsible stakeholder.
Nonetheless, Japan's reaction should comprise of two distinct methodologies: the anticipation of decay and the improvement of its security environment the essential reaction will be the discouragement of heightening through the improvement of Japan's safeguard capacity and the upgrade of the Japan-US collusion. It is additionally significant for Japan to acquire and fortify international comprehension and backing for its position through protection discretion remembering that for multilateral exchanges. International help can upgrade Japan's situation in managing the difficulties, and yet, the effect would stay roundabout. Japan can't depend on unrealistic reasoning and ought to investigate other options too.
* Kainat Akram did Bachelor of Arts from Government College University Faisalabad. She also did Masters in Science (M.Sc) in Gender and Women Studies from Allama Iqbal Open University, Islamabad.
---
[1] Robert C. Christopher, "Don`t Blame The Japanese," The New York Times Magazine, Oct. 19, 1986 (https://www.nytimes.com/1986/10/19/magazine/don-t-blame-the-japanese.html), accessed on July 20, 2020.
[2]H. Plecher, "Japan: National debt from 2014 to 2024," Statista, May 6, 2020 (https://www.statista.com/statistics/270121/national-debt-of-japan/), accessed on July 18, 2020.
[3] Catia Gregoratti, "Human Security," Encyclopaedia Britannica, Dec. 14, 2018 (https://www.britannica.com/topic/human-security), accessed on July 20, 2020.
[4] Kerry Brown, "The Most Dangerous Problem in Asia: China-Japan Relations," The Diplomat, Aug. 31, 2016 (https://thediplomat.com/2016/08/the-most-dangerous-problem-in-asia-china-japan-relations/), accessed on July 19, 2020.
[5] Matt Schiavenza, "What Exactly Does It Mean That the U.S. Is Pivoting to Asia?" The Atlantic, April 15, 2013 (https://www.theatlantic.com/china/archive/2013/04/what-exactly-does-it-mean-that-the-us-is-pivoting-to-asia/274936/), accessed on July 18, 2020.
[6] Sun Chenghao, "What is the prospect of the U.S. Indo- Pacific strategy?" News CGTN, Nov. 07, 2019 (https://news.cgtn.com/news/2019-11-07/What-is-the-prospect-of-the-U-S-Indo-Pacific-strategy–LqCA9M3YKA/index.html), accessed on July 18, 2020.
[7] Niklas Swanstrom and Par Nyren, "China's March West: Pitfalls and Chalenges in Greater Central Asia," Institute for Security & Development Policy, Jan. 10, 2017 (https://www.isdp.eu/publication/chinas-pitfalls-challenges-gca/), accessed on July 20, 2020.
[8] Liam Stack, "Korean War, a 'Forgotten' Conflict That Shaped the Modern World," The New York Times, Jan. 02, 2018 (https://www.nytimes.com/2018/01/01/world/asia/korean-war-history.html), accessed on July 21, 2020.
[9] Eleanor Albert, "North Korea's Military Capabilities," Council on Foreign Relations, Dec. 20, 2019(https://www.cfr.org/backgrounder/north-koreas-military-capabilities), accessed on July 17, 2020.
[10] David E. Sanger and Choe Sang-Han, "North Korean Nuclear Test Drawn U.S. Warning of 'Massive Military Response,' The New York Times, Sept. 02, 2017 (https://www.nytimes.com/2017/09/03/world/asia/north-korea-tremor-possible-6th-nuclear-test.html), accessed on July 19, 2020.
[11] Choe Sang-Hun, "Kims Says He'd End North Korea Nuclear Pursuit for U.S. Truce," The New York Times, April 29, 2018 (https://www.nytimes.com/2018/04/29/world/asia/north-korea-trump-nuclear.html), accessed on July 20, 2020.
[12] Koji Sonoda, "Japan's Security Alliance Dilemma," The Diplomat, March 24, 2018 (https://thediplomat.com/2018/03/japans-security-alliance-dilemma/), accessed on July 21, 2020.
[13] Japan-Defence Budget, Global Security.org, 2015 (https://www.globalsecurity.org/military/world/japan/budget.htm), accessed on July 21, 2020.
The Credibility of Deterrence is Indispensable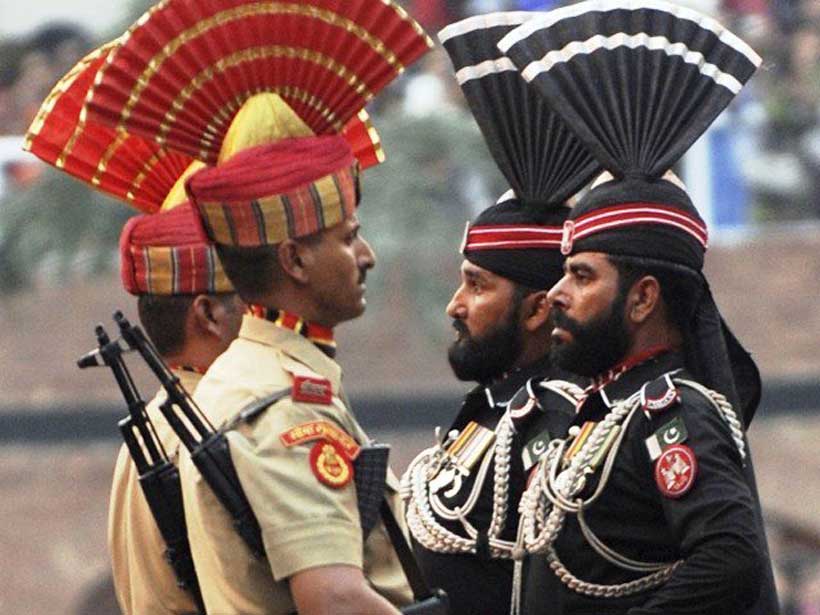 In India and Pakistan's Strategic affairs, the key challenge to Deterrence Stability is India's inexorable strategic aims. That negates the fragile stable situation and thus motivated Pakistan to modernize its Strategic Doctrine into the Full Spectrum Deterrence (Credible Minimum Deterrence) and successfully counter Indian threats from all the domains. India's move from No-First Use to War-fighting strategy (Indian Armed Forces Joint Doctrine-2017 and Indian Land Warfare Doctrine-2018) is a signal to accomplish its strategic ambitions for regional domination that resultantly destabilizes the strategic environment of South Asia. So, there is a need to evaluate which are the key factors that are undermining the 'Credibility of Deterrence' and that can deter India from taking hostile action against Pakistan.
The 'Credibility of Deterrence' is a noteworthy component as Thomas Schelling, a leading advocate of nuclear deterrence, maintains that the maneuvering of 'Credibility' can influence another state's behaviour not to take any hostile political, and military action. David Robertson, in the Dictionary of Modern Defence and Strategy, described that "Deterrence works with the capability, credibility and will". Thus the Credibility of Deterrence is the crux of deterrence stability that works effectively with the 'Capability and 'Political Will'.
It is virtually observed in the recent Pulwama Crises (2019) when Pakistan's decision-makers 'Political Will' along with Pakistan Air Force's (PAF) conventional capability enabled Pakistan to respond with a calculated approach against India military misadventure. Pakistan's military and civil establishments have so far proved that India cannot influence Pakistan with its assertive and offensive policies; and that Pakistan has the will-power to deter Indian aggressive and its so-called surgical strikes. But the important point is that the threat of escalation remains eminent in Pulwama crises.
The key reason behind such India military adventure is the 'Political Will of India influenced by RSS philosophy that is contradictory with the obligation of deterrence stability. Therefore, a significant question arises that how the Credibility of deterrence can work in future affairs? It is hard to assess the Credibility of 'political will' rather than technical capability; the technical capability of a state can be analyzed however the political will can change with the leadership's thought process. The political-will is reliant on the nature and a behavior of individuals and systems and in India's case, Pakistan is dealing with the Ideology of Right-wing Extremism practiced by behind the Indian different political parties (BJP, Congress) India Foreign and Defence establishment. The fuel adds to fire when India gets discriminatory support of the US that gives them the political privilege to compel Pakistan.
The statements of India high-officials expressed their 'Will' in 2019 Pulwama Crises. Indian Prime Minister Narendra Modi called Pakistan nuclear arsenal bluff and cleared that our weapons are not for Diwali and then talked about "Qatal Ki Rat". He further stressed that "Pakistan used to threaten us; it used to say we have a nuclear bomb and we will press the button. I want to say we have double the nuclear capacity. I say (to Pakistan), do whatever you can." Without realizing the consequences of nuclear war how can be a rational political leader can deliver such speeches. Hence, all these kinds of crude signals emanating from India are a threat to the Credibility of deterrence. Indian Home Minister in the Indian Parliament after the revocation of the Article 370 and 35A in Indian occupied Kashmir has said that the Pakistani part of Jammu and Kashmir is Indian Territory, and we will take it back even if we must sacrifice our lives. Such statements make political and diplomatic environment tensed under the nuclear umbrella and no room vacant for any crises prevention or management.
Along with that the Credibility of deterrence also depends on the fact of how much public opinion supports or opposes the use of nuclear weapons, how they respond in peace and wartime with regards to the employment of atomic weapons. It will influence the strategic thinking of the civil-military leadership. The more the public opinion not in favour of using nuclear weapons, the higher will be the Credibility of nuclear deterrence. But unfortunately, in India Pakistan crises, Indian public media messages, especially in the form of public statements, has remained very unpolished and immature. The trends on twitter and News Channels so-called "raged breaking news" issued without any understanding of the policy impact the stability of the entire region. Such patterns and trajectories on which Indian leadership is moving is a grave threat to regional security.
Theoretically, the reason behind their irrationality can be i) – the lack of information on which they make irrational judgments, ii) – states fail to communicate threats effectively, iii) – any information gap which leads towards irrational behavior. Unfortunately, irrationality in India originates from their strategic culture. India is in the delusion that she is a regional power state and can influence their dominancy. The way Indian strategic thought is leading the region and altering the dynamics of the Credibility of deterrence is irreversible. The unstable strategic environment of South Asia under the enlightened leadership of India must sense the catastrophe of nuclear war beyond hegemonic ambitions.
China's Effect: A Global NATO
A shift is taking place in global military thinking. NATO, arguably the most successful military alliance in history, is slowly but steadily edging toward casting China as an outright military competitor. Previously, the collective West avoided involving NATO in the context of the rising China.
Much changed with the advent of Donald Trump. NATO has been undergoing a profound evolution in which it is recalibrating its priorities. We are gradually moving toward a more global NATO with interests that spread beyond its classical zone—Europe—and into the Indo-Pacific region.
Many would argue that the foundation for a global NATO was established long ago. Indeed, for more than a decade, the alliance has been operating in Afghanistan, where it led the International Security Assistance Force (ISAF). NATO naval forces were among the first to fight off pirates via the OCEAN SHIELD operation along the east African coast in 2008.
Military training missions have been a common element of NATO involvement in the Middle East. The alliance also responds to terrorism, cyber-threats, and disinformation. Moreover, it enjoys special partnerships (consultative in nature) with Australia, New Zealand, South Korea, Japan, and Mongolia.
However, China's military and economic rise, ambitious Belt and Road Initiative (BRI), and growing appetite in the Indian and Pacific Oceans in the last decade have brought it into sharp opposition with the US. The latter now sees NATO playing a bigger role in Eurasian affairs, which means taking a tougher stance toward Beijing through the development of a new vision for its outdated Euro-Atlantic-centric model.
This evolution in thinking is reflected in statements by NATO officials. Last December, at the NATO summit, China was declared a concern in a document that said: "[W]e [NATO] recognize that China's growing influence and international policies present both opportunities and challenges that we need to address together as an Alliance."
The reasons for this shift are fundamental in nature. It has been argued that China's official $260 billion defense budget could mask far greater purchasing power, potentially reaching up to 70% of the US defense budget. China's military cooperation with Russia continues to grow and now covers Central Asia, the Mediterranean, the Persian Gulf, and even the Baltic Sea. Moreover, Beijing's expanding supply of nuclear weapons can now reach Europe, which, in NATO's thinking, requires a rethinking of its approach to the Asian giant.
More painful for the alliance is the realization that China has made significant inroads into the European defense market. Recently, Serbian President Aleksandar Vucic announced his country's purchase of six Chinese-built CH-92A combat drones (UCAVs). This will make the Serbian army the first European military to use Chinese combat drones. Economically, too, China's rise in Europe is visible in its BRI-related cooperation with Italy, purchase of ports in Greece, extensive relations with Turkey, and establishment of the 17+1 mechanism, which involves Central and Eastern European states.
It can be argued that it is China that came to NATO and not the other way around. China could, indeed, serve as a driver for cohesion within the alliance, which over the past few years has seen internal strife among its member states. NATO was created to counter the Soviet Union on the European mainland, but it must now rise to the new "China reality." It will have to change its geographical scope and methods of activities.
Though that shift in thinking is taking place within NATO, the alliance remains attached to its vision and wishes to avoid casting China as an outright military enemy. It leaves open the possibility for cooperation, as statements by NATO General Secretary Jens Stoltenberg attest. In recent interviews, Stoltenberg said, "[NATO] does not see China as the new enemy," "This is not about moving NATO into the South China Sea," and "It's about taking into account that China is coming closer to us—in the Arctic, in Africa, investing heavily in our infrastructure in Europe, in cyberspace."
China does not pose a direct military threat right now, and that is unlikely to change any time soon. But there is an inescapable geopolitical dimension in which China becomes more active in the Arctic, the African continent, and the Indo-Pacific region. In addition, Beijing is negotiating a mammoth trade and economic cooperation treaty with Tehran that will give China the ability to position itself in the Persian Gulf and the Arabian Sea—a major artery for its oil supplies. All of this will require greater coordination and cohesion within NATO.
Critical changes to elements of NATO's vision could be forthcoming. As China's power grows, there will be a greater need for the establishment of a NATO-China Council, similar to what the alliance has had with Russia since 1997.
Perhaps deeper engagement with its Pacific partners—Australia, New Zealand, the Republic of Korea, Japan, and Mongolia—will become a necessity. Even a permanent military presence could be negotiated.
Some elements of this future strategy are already here. Stoltenberg raised the need for the alliance to take on a greater political role in world affairs and even to help nations of the Indo-Pacific compete with China's rise. "As we look to 2030, we need to work even more closely with like-minded countries like Australia, Japan, New Zealand, and [South] Korea to defend the global rules and institutions that have kept us safe for decades, to set norms and standards in space and cyberspace, on new technologies and global arms control," Stoltenberg said.
We are witnessing a trend toward a more global NATO in which the alliance's security agenda is no longer Europe- and North America-centric. This will take at least a decade. A shift in NATO's vision will also mean that Moscow and its activities in Eurasia will be deemed to be at a lower level of threat.
NATO will have to move eastward. This does not necessarily mean stationing permanent military installations or personnel across Asia, but the alliance will have to pay more attention to Chinese activities. Doing so will draw it closer to Asia and the Indo-Pacific in particular.
Author's note: first published at BESA Center