Meet the Schwab Foundation's Social Entrepreneurs of the Year 2018
Twelve social entrepreneurs at the helm of 11 organizations from around the world have been recognized by the Schwab Foundation for Social Entrepreneurship as the 2018 Social Entrepreneurs of the Year.
Among this year's honourees is the first Muslim woman from Kenya's Marsabit region to receive a law degree, which she is using to help create more resilient and peaceful communities in the drought- and conflict-prone region; a Dutch phone manufacturer who is changing the way smartphones are made; and a Brazilian man who created a prisoner rehabilitation programme that has successfully decreased recidivism rates from 85% to 30%.
"Social Entrepreneurs leverage the power of market forces and business principles to solve social problems in ways that benefit the marginalized and the poor," said Hilde Schwab, Chairperson and Co-Founder, Schwab Foundation for Social Entrepreneurship. "Their work is often carried out in areas where government and the private sector are unable to achieve meaningful outcomes and involves considerable creativity coupled with pragmatism."
The winners of the 2018 Social Entrepreneurs of the Year Award are:
Urvashi Sahni, Study Hall Education Foundation, India: The organization runs a network of nine types of schools and programmes, catering to girls, disabled children, rural youth and children outside the formal school system. To date, the foundation has worked with more than 900 government schools and trained 5,000 government teachers, reaching an estimated 500,000 children.
Fatuma Abdulkadir Adan, Horn of Africa Development Initiative (HODI), Kenya: HODI works to create peaceful, resilient communities in the extremely poor and drought-prone Horn of Africa through advocacy, education, conflict resolution, and the promotion of decent livelihoods. Its four flagship programmes span 300 villages, reaching 10,000 youth, 13 schools including 1,500 girls, and 14,700 households. HODI's Breaking the Silence programme aims to end the shame and suffering in silence prevalent among victims of sexual violence by creating a school-based peer network for adolescent girls to give and receive support.
Valdeci Ferreira, The Brazilian Fraternity of Assistance to Convicts (FBAC) Brazil/Latin America: The FBAC has developed a prisoner recovery methodology based on 12 principles, including community participation, work, merit and family. FBAC operates in five Brazilian states and has facilitated the adoption of its methodology in 23 countries. Brazilian convicts who serve their sentence at a FBAC-run facility have a 30% recidivism rate, compared to the national average of 85%.
Bas van Abel, Fairphone, Netherlands: Fairphone drives change in the electronics industry by making smartphones in a way that puts social and environmental values first. It has implemented a long-lasting modular design to limit waste, source conflict-free material, provide its workers with good working conditions, and supports recycling efforts to move closer to a circular economy. To date, it has sold 160,000 smartphones.
Bruktawit Tigabu, Whiz Kids Workshop, Ethiopia: Whiz Kids uses the reach of television, radio and print media to disseminate educational messages in seven local languages with an emphasis on early childhood education, healthy behaviour, literacy and gender equality. Its flagship international award-winning programme, Tsehai Loves Learning, reaches up to 5 million television viewers every week and an estimated 10 million radio listeners.
Sasha Chanoff and Amy Slaughter, RefugePoint, Africa/Middle East: This organization finds lasting solutions for the world's most-at-risk refugees by improving their integration into the countries to which they flee thanks to a self-reliance programme. Partnering with the UN High Commissioner for Refugees (UNHCR) in Africa, South-East Asia and the Middle East, RefugePoint has directly helped more than 54,000 refugees access resettlement and created the conditions that provide access for thousands more.
Mike Quinn, Zoona, Zambia/Malawi: Zoona has established a technology platform and network of franchises, which provide accessible financial services. Since its launch in 2009, the organization has grown to service an active customer base of 2 million consumers and 3,000 agent outlets in three countries, has processed $2 billion in transactions and raised more than $25 million in investment.
Zack Rosenburg, SBP, USA: The organization reduces the time between disaster and recovery by ensuring that citizens and communities have access to the information and support they need before and after a disaster occurs. It rebuilds homes in an average of 61 days, at 40% of the cost of market rate contractors, and has rebuilt 1,420 houses to date. Additionally, it has open-sourced its rebuilding model and offered training to NGOs to encourage widespread adoption.
Tulin Akin, Tabit, Turkey: Tabit has pioneered an SMS-based system that is free and accessible via any basic mobile phone, revolutionizing the way in which small-scale farmers receive vital agricultural information, including weather forecasts, market prices and financing options. In 2017, 50% of Turkey's 3 million rural farmers used Tabit's mobile-based services.
David Yeung, Green Monday, Hong Kong: Green Monday aims to tackle climate change, global food insecurity and public health issues. It offers schools, catering companies and restaurant chains a vegetarian meal once a week and aims to change dietary habits. Its once-a-week plant-based meal philosophy is practiced by more than 1.6 million people in Hong Kong, and has spread to more than 30 countries.
Muhammad Amjad Saqib, Akhuwat, Pakistan/Uganda/Kenya: Akhuwat has disbursed around $600 million in loans among the poor, 98% of which have been used to launch or expand small businesses. Designed to be compatible with Islamic finance, Akhuwat is currently the world's largest interest-free microfinance programme.
The 11 organizations and 12 individuals honoured in 2018 become part of the broader Schwab Foundation community of 350 outstanding social entrepreneurs from around the world. The work of the Schwab Foundation Social Entrepreneurs is integrated into the World Economic Forum's events and initiatives aimed at scaling-up market-based solutions for global challenges
ILO calls on Belarus President to respect workers' rights and freedoms amid protests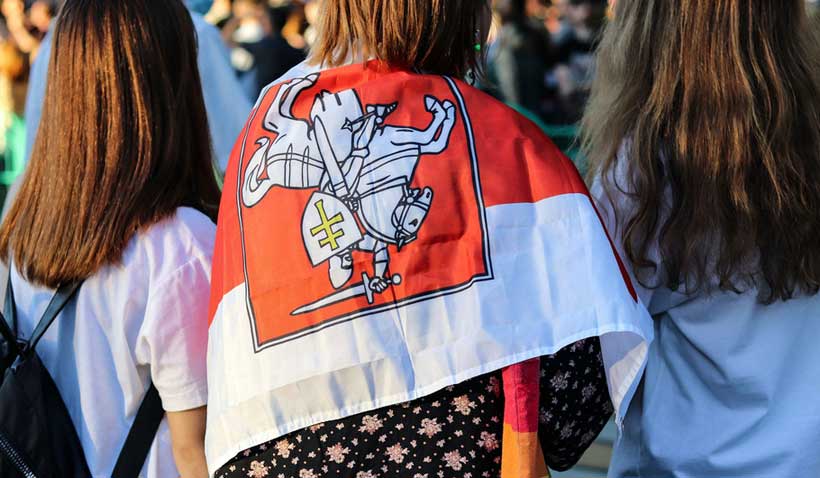 The Director-General of the International Labour Organization, Guy Ryder, has called on the President of Belarus, Alexander Lukashenko, to prevent human rights violations and "ensure full respect for workers' rights and freedoms" during the wave of protests that have swept the country in recent weeks.

In his letter to the Belarus President, Ryder urged President Lukashenko to release and drop charges against six trade unionists who have been detained by the authorities after participating in peaceful protests and industrial action.

He reminded the President that it is the responsibility of the Government to ensure a climate free from violence, threats or pressure against peacefully protesting workers and that any such allegations should be rapidly and independently investigated.
"I must urge you to do all in your power to prevent the occurrence of human rights violations and ensure full respect for workers' rights and freedoms," Ryder's letter said.

He expressed his deep concern at reports coming out of Belarus on the arrest, detention, imprisonment and mistreatment of workers' leaders.

'No one should be deprived of their freedom or be subject to penal sanctions for the mere fact of organizing or participating in a peaceful strike or protest,' Ryder wrote.

The letter recalls that the ILO has been working with the Belarus government, and the national workers' and employers' organizations, for 16 years, helping to address issues raised by an ILO Commission of Inquiry in 2004 which was set up following serious infringements of trade union rights and freedoms in the country.

Ryder notes that while there has been some progress on these issues, "the Commission's recommendations are far from being fully implemented."

The intervention by the ILO Director-General follows a request made by the International Trade Union Confederation (ITUC).
More can be done to ensure a green recovery from COVID-19 crisis
Many countries are making "green" recovery measures a central part of stimulus packages to drive sustainable, inclusive, resilient economic growth and improve well-being in the wake of the COVID-19 crisis. However some countries are also implementing measures that risk having a negative environmental impact and locking in unsustainable growth, according to new OECD analysis discussed by member country ministers today.
New OECD analysis, Making the Green Recovery Work for Jobs, Income and Growth, indicates that OECD member governments have committed USD 312 billion of public resources to a green recovery, according to a preliminary estimate that will be refined in the coming months. However, a number of other measures within broader recovery packages are going into "non-green" spending such as fossil fuel investments.
"It is encouraging to see many governments seizing this once-in-a-lifetime opportunity to ensure a truly sustainable recovery, but countries should go much further in greening their support packages," said OECD Secretary-General Angel Gurría, during a Ministerial Roundtable to discuss the issue. "Climate change and biodiversity loss are the next crises around the corner and we are running out of time to tackle them. Green recovery measures are a win-win option as they can improve environmental outcomes while boosting economic activity and enhancing well-being for all." (Read the full speech.)
The analysis finds that among OECD and other major economies, a majority of countries have included measures directed at supporting the transition to greener economies in their recovery strategies. These include grants, loans and tax relief for sustainable transport and mobility, the circular economy and clean energy research; financial support to households for improved energy efficiency and renewable energy installations; and measures to foster the restoration of ecosystems.
At the same time, some countries have unveiled measures likely to have a direct or indirect negative impact on environmental outcomes. Some of these are temporary and form part of emergency economic rescue plans; others risk having longer-term implications. Measures include plans to roll back environmental regulations, reductions or waivers of environment-related taxes or charges, unconditional bailouts of emissions-intensive industries or companies, and increased subsidies of fossil fuel infrastructure investment.
"Addressing global issues such as climate change, biodiversity loss, ocean degradation, and inefficient resource use is more important than ever as we seek to rebuild our economies and enhance resilience against future shocks," said Spanish Deputy Prime Minister and Minister for the Ecological Transition and the Demographic Challenge Teresa Ribera, chairing the Roundtable. "Well designed and implemented stimulus packages can drive a recovery that is both green and inclusive, driving income, prosperity and jobs as well as accelerating action on national and global environmental goals."
The meeting included ministers of environment, climate or ecological transition from OECD member countries and Costa Rica as well as the European Commission Executive Vice President. The Roundtable is part of the preparations of the OECD's Ministerial Council Meeting, which will take place on 28-29 October under the chairmanship of Spain and with Chile, Japan and New Zealand as Vice-chairs. This Roundtable comes just before the OECD releases its Interim Economic Outlook on 16 September.
The analysis notes that a period of low oil prices offers an opportunity to scale up the introduction of carbon pricing and continue phasing out support for fossil fuels. Taxing environmentally harmful consumption and production can mitigate environmental harm while improving economic efficiency. It is crucial that energy tax reforms do not increase the share of "energy poor", as good access to energy services is essential for good standards of living. The distributional implications of other pricing instruments, such as taxes and charges on vehicle and fuel use should be also addressed. Similarly, reform of fossil fuel subsidies, which amounted to USD 582 billion in 2019 according to OECD and IEA data, should be accompanied by transition support for industries, communities, regions and vulnerable consumers.
The OECD analysis underlines the need to monitor and evaluate the impact of recovery measures on environmental outcomes, something that was lacking after the 2008 financial crisis. It presents 13 environmental indicators that can be used to measure the impact of stimulus measures, including carbon intensity, fossil fuel support, exposure to air pollution, water stress and environmentally related tax revenue.
10 years to restore our planet. 10 actions that count
Against a backdrop of environmental crisis, the UN Decade on Ecosystem Restoration is a chance to revive the natural world that supports us all. A decade may sound like a long time. But scientists say that these next ten years will count most in the fight to avert climate change and the loss of millions of species. Here are ten actions in the strategy of the UN Decade that can build a #GenerationRestoration.
Empower a global movement
The UN Decade aims to stop and reverse the destruction and degradation of billions of hectares of ecosystems. It is a daunting task, made more complicated by the diversity of ecosystems and the threats they are facing: from lush forests threatened by wildfires to agricultural soils so eroded that they may only carry a few more years of harvests. No single entity can steer the course in this endeavour. The UN Decade thus connects and empowers the actions of the many. Groups and individuals can get informed about restoration opportunities in their area, joining initiatives already underway, or start their own.
Invest in restoration
Restoration takes resources. Organizations driving activities on the ground are often underfunded and face financial insecurity. While the benefits of restoration far outweigh the costs, it can only happen with long-term financing. Governments, international lenders, development agencies, the private sector and individuals will have to ramp up their support.
Set the right incentives
In the long-term, healthier ecosystems can produce bigger harvests, more secure incomes and a healthier environment. But caring for nature can also mean foregoing some of the financial gains of less sustainable practices. There are ways to change this by incentivizing restoration activities and reducing subsidies that finance harmful practices, in the agriculture and fishing industries, for example.
Celebrate leadership
Over the past years, we have witnessed incredible momentum around restoration. Campaigns to plant trillions of trees have captured the imagination of many communities. Under the Bonn Challenge, more than 60 countries have committed to bringing 350 million hectares of forest landscapes back to life. Indigenous peoples have acted as defenders of their ecosystems for generations. The UN Decade will celebrate leadership and encourage others to step up.
Shift behaviours
Deforestation, the depletion of fish stocks and the degradation of agricultural soils are all caused by global consumption patterns. The UN Decade will work with all partners to identify and encourage restoration-friendly consumption. This can range from changes in diets to promoting restoration-based products.
Invest in research
Restoration is complex. Practices that work in one ecosystem may have adverse impacts in another. As the climate changes, new uncertainties arise. Returning to a former state may not be desirable as hotter temperatures or shifting rainfall call for more resilient plants and crops. Scientific understanding of how to restore and adapt ecosystems is still developing. Considerable investments are needed to identify the best practices to restore our planet – one plot at a time.
Build capacity
Thousands of conservation and restoration initiatives are already underway. The UN Decade will be fuelled by their vision, expertise and dedication. However, practitioners often face barriers that keep them from taking their projects to scale. Other critical sectors, such as finance, require more data and insights to make informed decisions. The UN Decade's strategy seeks to build the capacity of marginalized groups that stand to lose most from the destruction of ecosystems – such as indigenous peoples, women and youth to take an active role in restoration.
Celebrate a culture of restoration
The power to revive our environment does not lie only with governments, experts and practitioners alone. Healing the planet is a cultural challenge. The UN Decade's strategy therefore calls on artists, storytellers, producers, musicians and connectors to join the #GenerationRestoration.
Build up the next generation
Youth and future generations are most impacted by the current rapid destruction of ecosystems – they also stand to benefit the most from a restoration economy. The UN Decade's strategy links the wellbeing of youth and the goals of restoration. Education for restoration will turn today's children into ecosystem ambassadors and provide skills for sustainable jobs.
Listen and learn
We would like to hear from you. Take a quick survey to help us learn more about you and how you want to be involved.