In Northern Nigeria, Online Skills Help Youth, Women Tap New Opportunities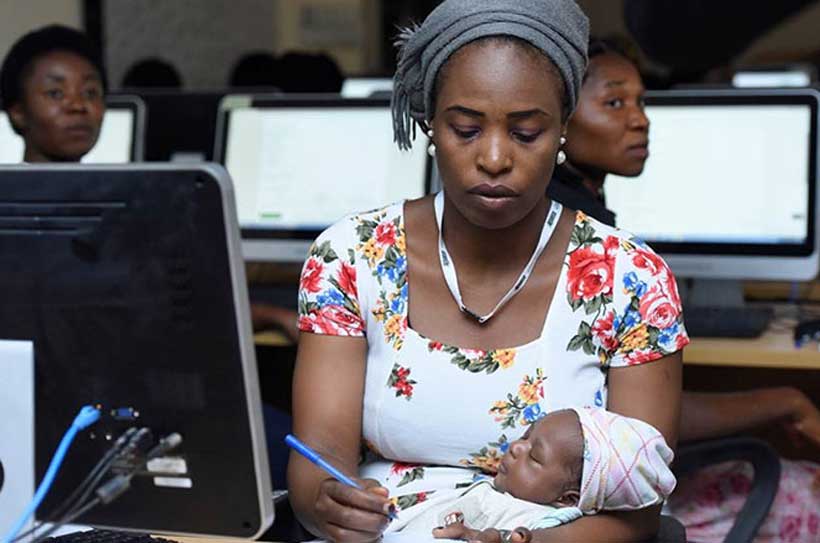 Rashidat Sani lost her job when she was pregnant with her child.  Now a nursing mother, she has been unable to find flexible employment that would allow her to take care of her baby and earn a living.
That was before Sani attended the Click-On-Kaduna digital skills workshop earlier this year, which helped her become an "e-lancer;" a self-employed contractor who can work various online jobs.
"This workshop has been perfect for me," said Sani. "I can stay home and take care of my baby while working on my computer. I can't thank the organizers enough."
Sani is one of more than 900 young people who attended the three-day workshop designed to help young Northern Nigerians tap into the digital job market. With support from the Rockefeller Foundation, the workshop was created by the Kaduna State government and the World Bank to increase job opportunities for the country's youth—which currently makes up more than half its population—and decrease youth unemployment which has risen to 33%.
"There are nine million people in Kaduna State, 75% of whom are below 35," said Muhammad Sani Abdullahi, Commissioner of Budget and Planning for Kaduna State. "There are also roughly 70,000 government jobs in the state and this cannot meet up with the job deficit."
The hands-on workshop aimed to give unemployed and underemployed youth, women, and disadvantaged groups some of the tools needed to compete in the online job market. Sessions included practical trainings on how to set up an online profile, build a personal brand, negotiate a fair compensation, and land a first job. The workshop also provided opportunities for participants—nearly half of them women—to interact with e-lancing platforms like Upwork, a key partner of Click-On Kaduna, as well as several local platforms such as Efiko, Asuqu, MotionWares, or Jolancer.
In the last decade, digital technology has disrupted the global economy and fostered the creation of countless new markets, products, platforms, and services. Among the innovations, there has been a rise of online freelancing platforms which have enabled disadvantaged people across skills, gender and income levels to overcome physical and socio-economic barriers to earn an income through the Internet.
In Nigeria, unemployment rates have increased from 11.92 to 15.99 million in 2017, with the youth reported to be the most affected. This is further aggravated in Northern Nigeria due to its fragility and where the educational and economic infrastructures remain inadequate.
Kaduna State, located in the northern part of the country, faces these challenges. Plagued by years of endemic violence, government leaders recognize the importance of creating jobs for its young people, and the immense opportunities the digital economy offers.
Boutheina Guermazi, World Bank Director for Digital Development, said the global digital economy has given rise to a massive new market facilitated by digital platforms that are accessible to anyone who has access to the Internet.
"It is helping to promote inclusion by creating economic opportunities for youth in fragile states by equipping them with the skills needed to improve their social welfare regardless of their gender and income levels" she said. "These new income-generating opportunities need to be leveraged to create and connect people with jobs, especially women in the North who often do not have equal access to markets and jobs."
Building on the success of the workshop, the Bank and Upwork rec+ently launched a pilot program that aims to kickstart the online careers of about 150 job seekers, expose them to more and better jobs, and contribute to Click-On-Kaduna's sustainability and long-term impact.
Each of the selected participants will be given five tasks created under the Upwork pilot program. Once successfully completed, they will be paid for their work and rated, increasing their competitiveness for jobs on the platform. Participants will also be provided with further opportunities for mentoring and capacity building from Upwork while receiving payment for their work.
"I did not even have any idea of Upwork in the first place if it had not been for Click-On Kaduna," said Nehemiah John, who participated in the workshop and the pilot program. "Aside from [participating in] the pilot project I am about to round a [new] contract with a client on Upwork. He requested a t-shirt design which I have done, and he liked it."
The outcomes of the pilot program will continue to be monitored by Upwork and the Bank team, with the goal of increasing the number of people able to access online jobs and increase their incomes.
The power of love: comparison of two romantic relationships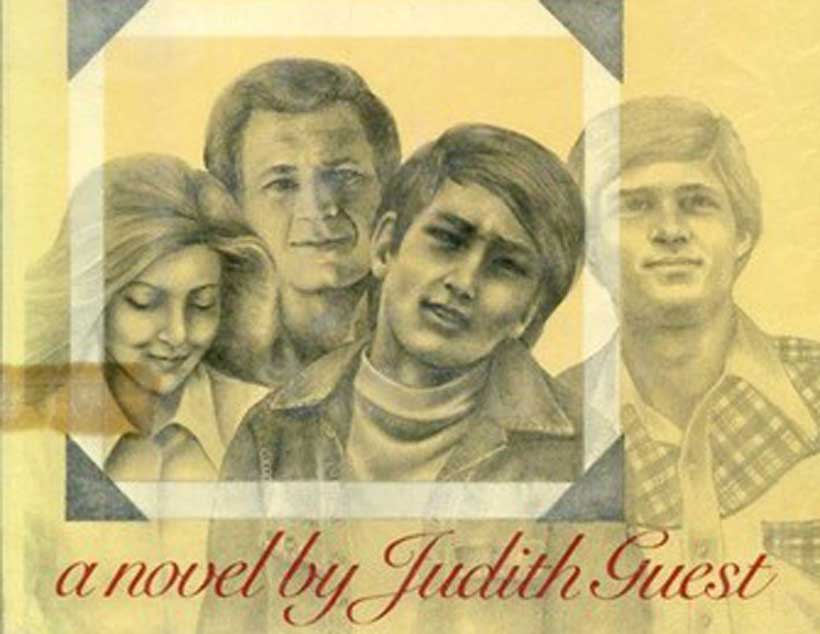 The article illustrates the role of love in two romantic relationships based on two novels. Conrad and Jeanine are the two main characters in "Ordinary People", a novel by Judith Guest [1], and also Don and Rosie have similar roles in "The Rosie Project," which was written by Graeme Simsion. The books were published at different times and were written about different societies and conditions. Although Conrad's relationship with Jeanine and Rosie's friendship with Don have some similarities, their relationships are mostly different. Don and Conrad have various mental disorders. Conrad's problem appeared because of events that happened in his life, but Don's disorder is genetic, and he needed to learn how to communicate with people. The relationship between Conrad and Jeannine helps Conrad to get better and accept that horrible event as the reality of his life. On the other hand, Don has problems with socializing and cannot communicate with women well. Finally, he fell in love with Rosie, and the power of that love caused him to fix his behavioral problem. Rosie and Jeanine's presence and love affected Conrad and Don and helped the two men began to heal considerably.
According to the novels "Ordinary People" and "The Rosie Project," their relationships happened at different times and in different regions. Conrad and Jeannine are younger than Don and Rosie. Naturally, their thoughts and feelings were different from Don and Rosie's. For example, in the first meeting, it seems that Conrad had a positive attitude about Jeannine and just looked for her beauty. The first time when they talked to each other, they had a friendly greeting. After the greeting, Jeannine and her friend turned away, and Conrad walked blindly behind them, down the hall toward history class (Ordinary People, p.21). In contrast, Don, when he first visited Rosie, did not empathize with her. He could not tolerate her differences, and though her lifestyle and characteristics were not familiar to him; then, he found her unsuitable for his Wife Project. For instance, when Rosie said she was a vegetarian, he thought vegetarians and vegans could be incredibly annoying (The Rosie Project, p.51). He also found her smoking inappropriate and criticized her smoking habit; "Smoking is not only unhealthy in itself and dangerous to others in our vicinity, but it is also a clear indication of an irrational approach to life" (The Rosie Project, p.57). In fact, Conrad found Jeanine more attractive at the first meeting, but Don showed no interest in Rosie, and he was agitated when he saw Rosie was completely different than he expected. Moreover, during Conrad and Jeanine's relationship, it can be recognized that they loved each other, and Conrad was a very kind partner to Jeanine. For example, when she talked about her parents and cried, Conrad lifted her chin with his hand and kissed her (Ordinary People, p.200). The events in the novel showed that Conrad always had romantic behavior. Jeanine also had a good agreement with him. For instance, she encouraged him to write the song and notate it. "I love it. Let's notate it, okay? I have got some paper. Here, play it again. It is so lovely and clean" (Ordinary People, p. 245). Conversely, Don was very selfish. He just set his schedules, thought about himself and did not care about Rosie's feelings. In the laboratory, when he was testing the DNA samples for the Father Project, he hurt Rosie's feelings and said, "Presumably, you think it is to initiate a romantic relationship." Rosie answered, "The thought had crossed my mind." Don continued with this sentence, "I am extremely sorry if I have created an incorrect impression. I am not interested in you as a partner. I should have told you earlier, but you are completely unsuitable." Rosie said, "Well, you will be pleased to know I can cope. I think you are pretty unsuitable too" (The Rosie Project, p.125). Consequently, Don and Rosie's relationship was completely different from Conrad and Jeanine's affair. It seemed that it was one-sided love that eventually changed during the relationship.
Finally, at the end of the novel, Conrad and Jeanine's love affair raised their life expectancy and helped them to forget their pasts that had subjected them to terrible events. The author illustrated that they were happy after forming a deep relationship, and portrayed the result of their relationship with the following sentences: "He squeezes her tightly, feeling the sense of calm, of peace slowly gathering, spreading itself within him. He is in touch for good, with hope, with himself, no matter that" (Ordinary People, p.251). Therefore, the presence of Jeanine helped Conrad's mental problem got better and returned to a healthy life. In contrast, Don and Rosie's relationship process was different. They went to New York City, and in the hotel, when Rosie opened the door wearing only a towel, he recognized that she was extremely attractive and fell in love with her (The Rosie Project, p.221). First, Rosie kissed him, and then he kissed her back; again, she responded (The Rosie Project, p.223). When he declared his marriage intention to her, she refused and said, "Don, you do not feel love. You cannot love me" (The Rosie Project, p.269). After that, he began to change his behavior. He thought he should open his life socially to a wider range of people and decided to fix his behavior. In fact, he struggled to solve his communication and empathy problems, which were defining symptoms of the autism spectrum, to win Rosie's love and feeling.
In conclusion, Conrad and Jeanine's relationship in comparison with Don and Rosie's dating have happened at different times, in different places, and involved different situations. Despite the differences, both events lead to similar results. The presence of Jeanine and her love helped Conrad to improve his mental problem. Additionally, when Don fell in love with Rosie, he decided to change and socialize more to obtain Rosie's good impression. The power of love treated Conrad and Don's mental disorders significantly. On the whole, love is a powerful impression and profound feeling that often can help people overcome psychological problems. Research also has shown that individuals can obtain good health and long life via having a romantic relationship, and falling in love also can improve critical mental disorders.
Endnotes:
1. Ordinary people is a novel by Judith Guest that first published in 1976. The novel talks about life of the Jarretts, a typical American family who try to cope with the consequences of two traumatic events.
2.The Rosie Project is a 2013 Australian novel by Australian novelist Graeme Simsion. The novel is the New York Times bestseller book. The novel was written about genetics professor Don Tillman, who struggles to have a serious relationship with women.
Invisible COVID-19 makes systemic gender inequalities and injustices visible
It is no surprise that the Covid-19 epidemic is not gender-neutral in our social world, which requires everything to be sexually consequently halted economic activities and enforced social distance. The gender dimension of the outbreak is very violent and paralyzed, but they are not new and surprising. In fact, the invisible covid19 is hyper-global and largely corporate-driven, with its economic, environmental and social injustices, permanent gender inequality and sexism, severe xenophobia and racism, and new colonialism and marketed mining activity implemented by self-owned financial, political and intellectual elites has made many fault lines visible in our world visible.
In the context of the coronavirus epidemic and other systemic crises, some useful features associated with female leadership, such as knowing their own limits, motivating through transformation, putting people on top of self-praise, humility, focusing on raising others, and empathizing rather than managing others, are more gender-sensitive, egalitarian and human rights. can help improve centered responses. At the very least, the diversity of approaches and experiences in addressing public health and human safety should be an argument for more equal representation of women at all levels of decision-making. This can affect, for example, how parliaments (currently 75% men worldwide) protect and safeguard human rights, how gender-sensitive the measures they take and how they should control their implementation after Covid-19 and how we can build a better future.
The Covid-19 outbreak is not the real cause, but it is a reinforce, enhancer and aggravating of existing discrimination and injustice in our systems and societies, including crushing, using and victimizing women and girls in many areas of daily life. It does not separate viruses, societies and systems. It is not a coincidence that the dominant economic pattern and thinking are constantly exploiting existing gender stereotypes, and that women and girls are constantly underestimating their contribution to the survival of societies by making the care work invisible, worthless, low-paid, and insignificant. Therefore, the fight against corona virus should be comprehensive and systematic. This struggle cannot be limited to the virology plane and cannot be referred to improving health systems; The feminist, human rights-based, intersectional and justice-oriented analysis, based on nationalist and authoritarian austerity and competition policies, is based on human rights, intersectional and justice-oriented analysis, cultural, political, social and economic levels. it should attack discrimination and inequality inside and outside.
Gender experts and feminists are wise to deal with the epidemic in their writings and analysis to begin to transform the way our societies work, the most vulnerable and marginalized groups, especially women and girls, to protect, empower and take advantage of them. it reminds us that we need to use this momentum – and initiatives, resources, research, actions and discourses. They are also making a joint effort to monitor the actions of governments and companies and to impose the responsibility to launch the fundamental changes needed now. This is a gender equality, intersectional and human rights that prioritize people's well-being, participation in decision-making processes and access to basic services and resources, centrally for the responsibilities targeted at the local, national and global level, during and after the Covid-19 outbreak.
Finally, during a terrifying global crisis such as the Covid-19 outbreak, especially to political leadership, to both real leadership examples and failures, and therefore to societies experiencing multiple and intersecting human, economic, social, sanitary and political crises, We witness the need to re-evaluate what qualities we are looking for in leaders who are expected to guide the world after the epidemic, which is radically different from the pre-epidemic world. A series of gender experts and observers, comparing different national responses – and leadership styles – to the coronavirus crisis, is not the debt of female leaders in different countries such as Taiwan, New Zealand and Germany, and female heads of states in some Scandinavian countries, in times of crisis to empathize and diligently. points out that they emphasize that there is power. The success of the epidemic in limiting the worst excesses in their country is even more impressive, given that at the start of the epidemic, only 10 out of 152 elected presidents, and therefore only 7% of all global political leaders, were women. Compare this to the style of a group of male leaders who use the crisis around the world, perhaps the most striking example of Hungary, who use the crisis to speed up authoritarianism and undermine the principle of separation of powers, and resort to the war of blame rather than offering stable crisis management. This shows only what social scientists have previously confirmed at various levels, that is, there are some gender differences in leadership activity.
The Need for Humanitarian Leadership and Global Solidarity during COVID-19
The coronavirus pandemic is a systemic human development crisis, affecting individuals and societies in unprecedented ways. It is also generating new humanitarian needs.
According to UN estimates, half a billion people, or 8% of the world's population, could be pushed into destitution by the year's end, largely due to the pandemic. If so, then the fight against poverty would be set back 30 years. The International Rescue Committee said last week that the virus could cause 1bn infections and 3.2m deaths in 34 fragile states, including Afghanistan and Syria.
The fourth annual Global Report on Food Crises highlights Yemen, the Democratic Republic of the Congo, Afghanistan, Venezuela, Ethiopia, South Sudan, Sudan, Syria, Nigeria and Haiti among the countries most at risk of widespread famines caused by the coronavirus pandemic. According to World Food Programme estimates, the number suffering from hunger could rise from 135 million to more than 250 million.
The International Labour Organization reported last week that almost 1.6 billion informal economy workers (representing the most vulnerable in the labor market)out of a worldwide 2 billion and a global workforce of 3.3 billion are in immediate danger of having their livelihoods destroyed.
COVID-19 has underscored the importance of humanitarian leadership and global solidarity. On April 2, the United Nations General Assembly unanimously adopted a resolution, co-sponsored by 188 nations including Qatar, calling for "intensified international cooperation to contain, mitigate and defeat the pandemic, including by exchanging information, scientific knowledge and best practices and by applying the relevant guidelines recommended by the World Health Organization."
Solidarity is a matter of both morality and long-term vision. Failure to pass this test would leave deep psychological wounds in left-behind countries, paving the way for all manner of extremism and new crises—from pandemics to conflicts—that would threaten everyone. By rallying around science and solidarity today, we will sow the seeds for greater unity tomorrow.
The coronavirus does not respect borders. Nor does it discriminate. It brings into stark view the imperative for humanitarian leadership. This crisis has revealed variations in state capacity to contain the spread of the virus.
Many governments either lack adequate capacity to respond, or in some cases, the necessary political will to provide for their citizens. For example, the most developed countries – those in the very high human development category – have on average 55 hospital beds, over 30 physicians, and 81 nurses per 10,000 people, compared to 7 hospital beds, 2.5 physicians, and 6 nurses in a least developed country.
One can readily imagine that if the COVID-19 response has been dire in the developed countries, it is going to be infinitely more devastating for governments that have only a fraction of the financial and medical resources.
Despite the blockade, the State of Qatar stands out as one of the most actively involved in global humanitarian responses to the COVID-19 pandemic. Qatar has provided significant humanitarian aid to 20 countries so far, including assistance in the field of medical supplies, building field hospitals, and contributing USD 140 million to multilateral organizations working to develop vaccines or ensure the resilience of healthcare in other countries.
To date, Qatar has sent substantial aid to China, Iran, Palestine, Italy, Lebanon, Algeria, Tunisia, Nepal and Rwanda. In addition, the representation mission of the Qatar Red Crescent Society (QRCS) in Turkey has recently distributed supplementary food aid to around 110,000 families at internally displaced persons (IDPs) camps in Idlib and Aleppo Governorates, northern Syria.
In the age of COVID-19, protecting the most vulnerable among us is not just a moral imperative but also an urgent public health objective. The health of one is the health of all.