Middle Eastern Black Swans dot China's Belt and Road
If any one part of the world has forced China to throw its long-standing foreign and defense policy principles out the window and increasingly adopt attitudes associated with a global power, it is the greater Middle East, a region that stretches from the Atlantic coast of Africa to north-western China, a swath of land populated by the Arab, Turkic and Persian worlds.
It was a series of incidents in 2011 during the popular Arab revolts that drove home the fact that China would not be able to protect with its existing foreign and defence policy kit its mushrooming Diaspora and exponentially expanding foreign investments that within a matter of a few years would be grouped as the infrastructure and connectivity-driven Belt and Road initiative linking the Eurasian landmass to the People's Republic.
Policy principles of non-interference in the domestic affairs of others, an economically-driven win-win approach as a sort of magic wand for problem solution, and no foreign military interventions or bases needed reinterpretation if not being dumped on the dustbin of history.
The incidents included China's approach to the revolt in Libya as it was happening when it deviated from its policy of non-interference by establishing parallel relations with the opposition National Council. The outreach to Libyan leader Col. Moammar Qadhafi's opponents did not save it from being identified with the ancien regime once the opposition gained power. On the contrary, the Council made clear that China would be low on the totem pole because of its past support for the Qadhafi regime.
The price for supporting autocratic rule in the greater Middle East meant that overseas Chinese nationals and assets became potential targets. To ensure the safety and security of its nationals in Libya, China was forced to evacuate 35,000 people, its most major foreign rescue operation. The evacuation was the first of similar operations in Syria, Iraq and Yemen.
The evacuations didn't stop militants in Egypt's Sinai from kidnapping 25 Chinese nationals and radicals in South Sudan from taking several Chinese hostages. The kidnappings sparked significant criticism on Chinese social media of the government's seeming inability to protects its nationals and investments.
With Uyghurs from China's strategic north-western province of Xinjiang joining militant jihadists in Syria and two Uyghur knife attacks in Xinjiang itself in the cities of Hotam and Kashgar, the limits of China's traditional foreign and defense policy meshed with its increasingly repressive domestic approach towards the ethnic Turkic people.
Finally, the greater Middle East's expectations were driven home in a brutal encounter between Arab businessmen and ethnic Chinese scholars and former officials in which the Arabs took the Chinese to task for wanting to benefit from Middle Eastern resources and trade relations without taking on political and geopolitical responsibilities they associated with a rising superpower.
Add to all of this that in subsequent years it was becoming increasingly difficult for China to remain on the sidelines of the Middle East's multiple conflicts and rivalries. This was particularly true with President Donald J. Trump's coming to office. The greater Middle East's problems escalated with Mr. Trump's abandonment of any pretence of impartiality in the Israeli-Palestinian conflict; his heating up of the rivalry between Saudi Arabia and Iran by withdrawing from the 2015 international agreement curbing Iran's nuclear program; and his toying with attempting to change the regime in Tehran that encouraged Saudi Arabia to step up Saudi support for Pakistani militants in the province of Baluchistan; the likely return of Uyghur jihadists in Syria to Central and South Asia that has prompted the establishment of Chinese military outposts in Tajikistan and Afghanistan and consideration of direct military intervention in a possible Syrian-Russian assault on Idlib, the last rebel-held stronghold in Syria; and finally the potential fallout of China's brutal crackdown in Xinjiang.
Already, the events in 2011 and since coupled with the mushrooming of Belt and Road-related investments has led to the creation of the country's first foreign military base in Djibouti and the likely establishment of similar facilities in its string of pearls, the network of ports in the Indian Ocean and beyond.
China's potential policy dilemmas in the greater Middle East were enhanced by the fact that it doesn't really have a Middle East policy that goes beyond its shaky, traditional foreign and defence policy principles and economics. That was evident when China in January 2016 on the eve of President Xi Jinping's visit to the Middle East, the first by a Chinese head of state in seven years, issued its first Middle East-related policy white paper that fundamentally contained no new thinking and amounted to a reiteration of a win-win-based approach to the region.
Moreover, with China dependent on the US security umbrella in the Gulf, Beijing sees itself as competitively cooperating with the United States in the Middle East. That is true despite the US-Chinese trade war; differences over the Iranian nuclear agreement which the United States has abandoned and China wants to salvage; and Mr. Trump's partisan Middle East policy.
China shares with the United States in general and even more so with the Trump administration a fundamental policy principle: stability rather than equitable political reform. China's principle of non-interference is little more than another label for the US equivalent of long-standing support of autocracy in the Middle East in a bid to maintain stability.
In some ways China is learning the lesson, despite recent developments in Xinjiang, that US President George W. Bush and Condoleezza Rice, his national security advisor and subsequent secretary of state, learnt on 9/11. Within a matter of weeks after the Al Qaeda attacks on New York and Washington, Bush and Rice suggested that the United States was co-responsible for the attacks because of its support for autocracy that had fuelled anti-American and anti-Western sentiment. It was why Bush launched his ill-conceived democracy initiative.
China, as a result of its political, economic and commercial approach towards the Belt and Road, is starting to have a similar experience. Chinese overseas outposts and assets have become targets, particularly in Pakistan but also in Central Asia.
The kidnappings in 2011 in the Sinai and South Sudan were the beginning. Uyghurs joined groups like the Islamic State and Al Qaeda not because they were pan-Islamist jihadists but because they wanted to get experience they could later apply in militant struggle against the Chinese.
Beyond profiling themselves in fighting in Syria, Uyghurs have trained with Malhama Tactical, a jihadist for profit Blackwater, the private military company created by Erik Prince.
Anti-Chinese sentiment in countries like Kazakhstan and Tajikistan is on the rise.
Iranians are grateful for Chinese support not only in the current battle over the nuclear accord but also in the previous round of international and US sanctions. They feel however that last time round they were taken for a ride in terms of high Chinese interest rates for project finance, the quality of goods delivered, and a perceived Chinese laxity in adhering to deadlines.
Resentment of the fallout of the Belt and Road investment taps into the broader threat involved in supporting stability by backing autocratic regimes That is nowhere truer than in the greater Middle East, a region that is in a period of volatile, often bloody and brutal transition. It's a transition that started with the 2011 Arab revolts and has been pro-longed by a powerful Saudi-United Arab Emirates-led counterrevolution. Transitions take anywhere from a quarter to half a century. In other words, the Middle East is just at the beginning.
China, like the United States did for decades, ignores the rumblings just below the surface even if the global trend is toward more authoritarian, more autocratic rule. 9/11 was the result of the United States and the West failing to put their ear to the ground and to take note of those rumblings.
Of course, current rumblings may never explode. But the lesson of the people's power movement in the Philippines in 1986, the video in late 2010 of a fruit and vegetable vendor in Tunisia who set himself alight that sparked the Arab revolts, months of street and online protests in Morocco in the last year, the mass protests in Jordan earlier this year against a draft tax bill that have now restarted because of the legislation's resurrection, and the current protests in the Iraqi city of Basra potentially are the writing on the wall.  All it takes is a black swan.
Said Financial Times columnist Jamil Anderlini:" China is at risk of inadvertently embarking on its own colonial adventure in Pakistan— the biggest recipient of BRI investment and once the East India Company's old stamping ground… Pakistan is now virtually a client state of China. Many within the country worry openly that its reliance on Beijing is already turning it into a colony of its huge neighbour. The risks that the relationship could turn problematic are greatly increased by Beijing's ignorance of how China is perceived abroad and its reluctance to study history through a non-ideological lens… It is easy to envisage a scenario in which militant attacks on Chinese projects overwhelm the Pakistani military and China decides to openly deploy the People's Liberation Army to protect its people and assets. That is how 'win-win' investment projects can quickly become the foundations of empire."
The Chinese crackdown in Xinjiang could just be a black swan on multiple fronts given the fact that its fallout is felt far beyond China's borders. For starters, the wall of Western and Muslim silence is cracking with potentially serious consequences for China as well as the Islamic world.
What is happening in Xinjiang is fundamentally different from past incidents including protests against a novel by Salman Rushdie and Ayatollah Khomeini's fatwa ordering his killing; the 2006 Muslim boycott of Danish products because of controversial Danish cartoons depicting the Prophet Mohammed, and the more recent protests sparked by the burning of a Qur'an by a Florida evangelist. The Chinese campaign in Xinjiang challenges fundamentals of the Islamic faith itself.
The earlier incidents were sparked by protests, primarily among South Asians in either Birmingham or Pakistan. This month has seen the first of Xinjiang-related anti-Chinese protests in Bangladesh and India. The first critical article on Xinjiang in the Pakistani press was published this week.
Malaysia is the first Muslim country to speak out with condemnations by a senior figure in Malaysian prime minister Mahathir Mohamad's political party as well as the country's likely next head of government, Anwar Ibrahim.
Consideration in Washington of Xinjiang-related sanctions by the Trump administration, coupled with United Nations reporting on the crackdown and a German and Swedish ban on deportations of Uyghurs, puts the issue on the map and increases pressure on Muslim nations, particularly those like Saudi Arabia, Iran, Turkey and Pakistan that claim to speak on behalf of Islam.
This together with the fact that Chinese support for autocratic or authoritarian rule creates a potential opportunity to export its model of the surveillance state, the most extreme example of which is on display in Xinjiang, constitutes risks and involves potential black swans. To be sure, Pakistan can hardly be described as a liberal society, but it is also not exactly an authoritarian state, yet Pakistan is China's first export target. And others closer to home could follow.
If all of this is more than enough to digest, factor in the geopolitics of Eurasia, certainly as they relate to the greater Middle East. The Chinese-backed Russian-Iranian-Turkish alliance is brittle at best, witness differences over the possible battle for Idlib and the post-war presence of Iran in Syria.
Saudi Arabia, the United Arab Emirates and Iran, and to a lesser degree Israel are players in what is a 21st century Great Game. That is particularly true in the Caucasus and Central Asia as well as Pakistan and as it relates to port diplomacy in Pakistan's Gwadar and the Indian-backed Iranian port of Chabahar.
Add to this the fact that if Saudi Arabia is the world's swing oil producer, Iran is Eurasia's swing gas producer with the potential to co-shape the supercontinent's future energy architecture.
And finally, there are multiple ways that China risks being sucked into the Saudi-Iranian rivalry not least if the United States and Saudi Arabia decide to take plans off the drawing board and initiate a campaign to destabilize Iran by stirring unrest among its Baloch, Kurdish, Iranian Arab and Azeri minorities.
The long and short of this is that the Great Game in Eurasia remains largely undecided and that change in China's foreign and defense policy is already a fact. The question is how all of this will affect China and how potential obstacles on the Belt and Road will play out.
Edited remarks at the RSIS Book Launch of China and the Middle East; Venturing into the Maelstrom (Palgrave 2018), 20 September 2018
China's great geostrategy for trade and defense
The primary policy line of the People's Republic of China, above all at sea level, is to defend its strategic and military interests, but anyway without undermining the trade routes and economic relations between China and its neighbouring countries.
Just think about the Spratly issue, but also about the Chinese position on the ownership and nationality of the Senkaku Islands, as well as about the pressure made on China by India in 2017 to block the road that China had planned and designed on the border with Bhutan.
From this viewpoint, China's tensions in its neighbouring countries have immediately affected Japan, the Philippines, Malaysia and Vietnam.
We should also recall, however, the naval confrontation with the United States in May 2009, especially with the USNS Impeccable and Victorious, for the right to operate in the 200 nautical miles off the Chinese Special Economic Zones.
The United States does not like at all China's protection of its regional seas, but it will be hard to change China's mechanism of full protection of its coasts, which partly inhibits the use of old and traditional checkpoints, from Malacca to the Paracel and Ryuku Islands – all areas in which the United States could impose a blockade on the trade and military flows of China's vessels.
This is still the first goal of China's regional naval security.
This is one of the primary strategic features of the Belt and Road Initiative, i.e. to get out of the Eastern maritime region and, hence, credibly offset the inevitable imbalance of the Chinese strategic formula on its regional seas with a significant geo-economic presence on Central Asia's Heartland.
As well as to provide China with a possibility of military (but also geo-economic) countermove capable of blocking the opponent on the sea or, alone, on its land borders.
Therefore the aim pursued by China is its full security and absolute freedom of manoeuvre, within the "first circle" of peripheral islands, but with the possibility of projecting a significant interdiction power beyond this limit.
One of the essential strategic meanings of President Xi Jinping's Belt and Road Initiative is that, at geo-financial and economic levels, the Chinese leaders are well aware that the global financial crises – the past ones, but also those looming large – make the Chinese economy too vulnerable to global flows.
This is even more severe if you have planned a neo-mercantilist and export-oriented economic development, as the Chinese leaders have done since Deng Xiaoping's Four Modernizations.
At that time there was no other alternative option.
We also need to consider the tensions in Tibet and Xinjiang, which have also a geo-economic significance.
It should be recalled that in 2000 the Chinese government launched a "Great Development Program for Western Regions" to finally establish a close connection between the land areas of Xinjiang and the Tibet region – which is essential for China's nuclear defence and intelligence -and the coastal areas' economic development.
This is also a very useful logical pathway to understand the Belt and Road Initiative well.
Also at military level, which – in the Chinese logic – is closely linked to political decision-making, so far all the 2008 and 2009 "White Papers" of the Chinese Armed Forces have always emphasized the rule of the "three functions and a role".
It is a rational and operational criterion, which envisages that the Armed Forces should: a) provide the strength to enhance the Party's leading role, which has always been the first aim of the People's Liberation Army (PLA); b) provide support to take advantage of this period of great strategic opportunities for China; c) also provide support for the defence of China's national interests; and, finally, d) play an important role in maintaining world peace and promoting global economic development.
These are not empty words. These are programs.
Reading between the lines, it is said that – beyond the regional seas and networks outside its borders – China will operate in such a way as not to create definitive tensions with its competitors or allies.
Therefore what we need to know is that currently the CPC has the urgent need to define a stable economic development for China.
Thirty years ago the CPC leaders argued – and history has proved them right – that the war between the superpowers would never occur, in line with Mao Zedong's thinking, whereby imperialism "was a paper tiger".
A regional, Soviet, Euro-American and partly Middle East paper tiger, in which no one had any interest in firing the first shot.
At the time, however, China was already thinking about Asia, Africa, the "Third World" devoid of "capitalists" or Soviet "revisionists", left as breeding ground for a new growing great power, which had not been ruined by the crazy Cold War, namely China.
Now – and this is also implicit in the Belt and Road Initiative – the current Chinese leaders obviously think that additional 30 or 40 years of peace and development are needed to enable China to really become a stable and great power.
Hence in terms of current strategic doctrine, so far China has adapted to fight what the Chinese strategists call "a war and a half". This means that it can and must successfully wage a major war on its own borders, in addition to effectively resisting attacks carried out around other Chinese borders.
We also need to consider the stable Indian garrison of 60,000soldiers in Southern Tibet, in addition to the very recent Quad 2.0 alliance between the United States, India, Japan and Australia, established precisely to counter the Belt and Road Initiative.
In this case, we have the whole range of potentialities and contrasts facing the Belt and Road Initiative.
Obviously it should also be recalled that at least 22% of Japan's and Australia's foreign trade currently depends on China. Hence it is very unlikely that regional and military tension will turn into a real clash.
In its future strategic planning, however, China is preparing to resist an Indian land invasion from the South-East and to simultaneously lead a victorious regional naval confrontation, especially in Taiwan's peripheral area or in the South China Sea.
Certainly present-day China is simultaneously carrying out the Belt and Road Initiative (BRI) and the Regional Comprehensive Economic Partnership (RCEP), with the ten ASEAN countries and the six ones with which ASEAN has further free trade treaties, as well as with the China-ASEAN Free Trade Area. The United States, however, has already created its anti-BRI commercial and economic network with the US-Mexico-Canada Trade Agreement (USMCA), and then with the probable reformulation of a proposal from the old Trans-Pacific Partnership (TTP) or with the new Comprehensive and Progressive Agreement for Trans-Pacific Partnership.
Hence, while the United States is rebuilding its geo-economic centre of gravity in Asia – that it considers to be of primary military and commercial interest – obviously China has turned to Africa, where currently the United States is not particularly engaged.
A Zen game of void and full, where everyone represents both characteristics.
At political and technological levels, the United States is causing severe trouble to China, particularly with the recent creation of a special agency called Review of Controls for Certain Emergent Technologies, an office for "dual use" control regarding biotechnologies, Artificial Intelligence, advanced navigation and positioning systems, data analysis and above all big data, robotics and biotechnology.
This is, in fact, the broader scene of the clash on Huawei and 5G which, as we can imagine, is much more important than the simple organization of an evolved Internet network.
For example, in the 2018 US Cyber Strategy it is argued that the USA must "win two cyber wars simultaneously", which are clearly wars against the Russian Federation and, above all, against China.
Hence, should the United States led by President Trump fail to fully win their current trade war with China, it could use the cyber leverage to redress the global balance of power, with a clear support action taken by the other NATO countries – an action which is necessary from the political and military viewpoints.
One will be used in the absence of the other – the greater the Chinese commercial presence in the leading sectors, the greater the tendency and likelihood of a cyber war against China.
And the other way round.
There is more, however, in relation to the clash between the United States and China and, hence, in relation to the necessary and logical shift of China to a closer bond with the EU, its individual Member States and the rest of the world.
For example, The National Defense Authorization Act of 2019, published on August 13, 2018, focuses on the operations of the Chinese ZTE corporation, while the US government is prohibited from purchasing all Huawei's materials – as is now well-known – but also the products of Dahua, which deals with video surveillance, as well as the products of Hytera, which manufactures advanced radio systems and, finally, of Hikvision, the current largest producer of video surveillance systems in the world.
As has long been happening, in all the US government official documents China is also seen as a dangerous competitor of almost equal rank and power.
Is it a realistic project? The answer is both yes and no. At technological level, probably in the future. At financial and commercial levels, not yet.
Nevertheless the matter here is tuer dans l'oeuf, namely to nip in the bud.
It should also be recalled that, again in August 2018, US President Trump announced 25% additional tariffs and duties on 50 billion US imports/year from China and later 10% additional tariffs and duties on other 200 billion Chinese goods exported to the United States. Last September further duties on Chinese exports to the USA were announced to the tune of additional 267 billion dollars.
Last autumn, at the UN General Assembly, the United States made public the "alleged" China's influence operations against the Republican Party (only?) in the midterm elections while, at the same time, Terry Branstad – the US ambassador to China since 2017, a "friend of President Xi" and former Governor of Iowa twice – published an article condemning China's "influence operations" in Iowa.
The United States has also put great pressure on El Salvador to avoid it breaking with Taiwan. Later, however, the United States exerted further very strong pressures on the IMF, with a view to stopping funds for Pakistan that would partly be used to repay old Chinese loans to the country.
Also President Trump's move to withdraw from the INF Treaty – which apparently concerns, above all, the Russian Federation – anyway puts also China under military pressure.
Nevertheless, there is the stick and also the carrot for the future US friends in Asia: last August, in fact, US Secretary of State Mike Pompeo proposed a package of financial aid for Asia to the tune of 300 million dollars, to which other 133 million dollars would be added, albeit only for specific support to private companies operating in the region.
The BUILD Act has created a new US government agency, namely the U.S. International Development Finance Corporation, with as many as 60 billion dollars of US funds already available abroad, above all to Asia – a very evident response to the Belt and Road Initiative.
Hence what will the United States do in the future, considering that the bilateral clash with China is now seen as structural?
Surely, the battle over duties will continue and it is now possible that, in only two other moves, all Chinese imports to the USA will be heavily and selectively taxed.
In any case, the United States will try to hit the companies that are most active in the Chinese project known as Made in China 2025.
The current Chinese leaders' project is modelled on the German one, known as Industry 4.0, and is already focused on the general technological upgrade of Chinese public and private companies, with the predetermined increase of components and spare parts manufactured nationally from 40% in 2020 to 70% in 2025.
There is also the construction of centres for productive innovation – that is already at an advanced stage – which will be 15 in 2020 and 40 in 2025. There will also be a change and a significant strengthening of internal intellectual property rights.
Innovation will be mainly focused on: 1) a new information technology; 2) robotics and the automated production of consumer goods and capital equipment; 3) aerospace and aeronautics; 4) hi-tech shipping; 5) railways; 6) vehicles with new energy and motion systems; 7) energy; 8) agricultural technologies; 9) new materials; 10) biopharma and advanced biomedical technologies.
In the official Chinese documents, there is no mention of "autonomous innovation "in all these sectors – as was the case in previous projects as from 2006 – and it is not here just a matter of innovation, but of entire production processes.
Autonomous innovation is internal activity and here the Chinese government makes us understand that there is a global research and experimentation activity open to collaborations with the EU, Japan and Korea.
Hence, where possible, the United States will hit exactly in these sectors, by avoiding – to any possible extent – any kind of technology transfer or, in any case, any transfer ofad hoc scientific information.
Furthermore, in the future, the United States will have the opportunity of convincing both Japan and the EU to implement practices against China featuring sanctions and open trade restriction, not only at technological level. Certainly Italy will harshly experience this kind of operations, whether they are known or not to our intelligence Services.
How will China respond to these practices? Probably with a hard and close dialogue, although with some significant concessions to the United States.
Furthermore, in the framework of China's technological upgrade program, its leaders will have the chance to increase the non-State sphere in China's production system. Finally China will look for new foreign markets. This is the first CPC's response.
Most likely, the Chinese leaders will also avoid the additional burden of public debt on companies and, above all, they will largely limit the growth of real estate speculation.
In all likelihood, China will spend a lot of money on productive investment – as already envisaged in its 2025 Plan – and will look for new external markets, above all (but not only) with the Belt and Road Initiative.
It should be recalled that currently the BRI countries account for 27.3% of the total Chinese foreign trade with the United States alone.
Moreover, China will soon develop excellent regional free trade agreements, such as with the Regional Comprehensive Economic Partnership and the enlarged ASEAN.
Furthermore, nothing forbids to reach a great agreement with India.
In the future, however, China's trade interest will be, above all, in Japan and South Korea.
Meanwhile, the United States can carefully assess the military and commercial cost of an all-out economic war against China, which will certainly not be irrelevant.
This is context in which we can see the weak and tired interests of the European Union, which does not know its destiny and hence will not have one. The same applies to Italy which could use the potential of the Road and Belt Initiative, but will not be in a position to do so and, above all, will have no way out of the US strategic, military and financial pressure.
Xi Jinping's visit to Italy and the relationship between China and the Catholic Church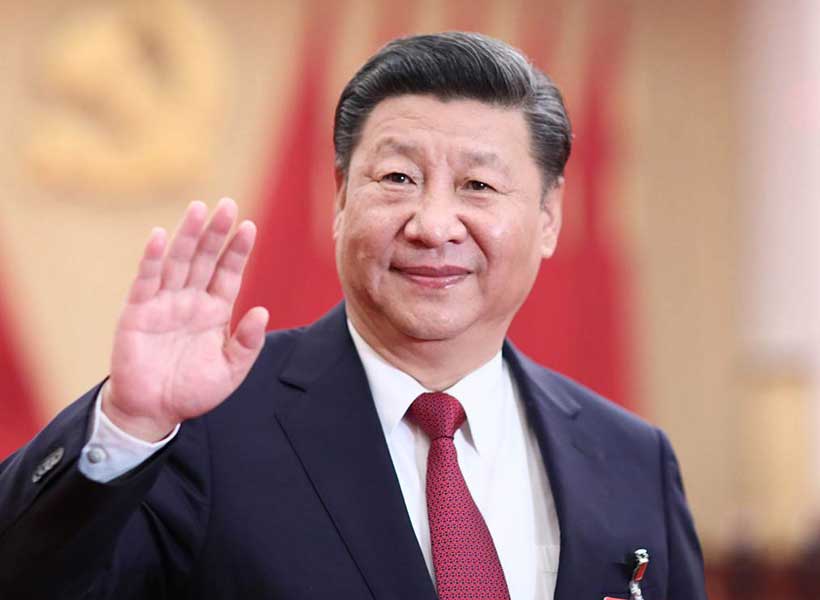 No official meetings between President Xi Jinping and Pope Francis are officially scheduled on the agenda for the Chinese President's next visit to Italy.
Neither party wants to jeopardize the agreement reached last September on the appointment of bishops and, however, as is well-known, both diplomacies like silence, long processes and long time schedules.
Whoever remembers the old diplomatic precedents, also remembers that, just ten years ago, there was the possibility of another meeting between Benedict XVI and Hu Jintao in Italy for the G8 in L'Aquila. The Chinese leader, however, had to return quickly to Beijing, for a revolt in Xinjiang which was – as usual – more dangerous than we could believe.
From the outset, however, Cardinal Zen opposed the "parallel" appointment of bishops by China and Italy, as envisaged by the agreement currently in force between China and the Vatican.
It should be recalled that, from the beginning, Cardinal Zen who was Archbishop of Hong Kong until 2009, dismissed the agreement between the Secretary of State, Cardinal Parolin, and the Chinese regime as an "incredible betrayal of Faith".
The old prelate was born in Shanghai in 1932, just a year after Mao Zedong founded a sort of Soviet republic in Jiangxi.
Nevertheless, the new strategies and opportunities or new contrasts are beginning to take shape.
Since January 30 last, for example, Peter Jin Lugang has no longer been a clandestine bishop from Nanyang, while Cardinal Filoni has recently gone to Macao to inaugurate some new facilities of the Saint Joseph University.
In 2018, as many as 48,365 people were baptized in the churches and parishes of the People's Republic of China.
Currently there are almost ten million Chinese Catholics.
There are also 104 dioceses recognized by the government of the People's Republic of China, with 30 national provinces.
Currently the largest number of newly baptized people in China is found in the Hebei province, with 13,000 new people baptized in 2018, followed by Shanxi, with 4,124 new Catholics, as well as Sichuan with 3,707 new people baptized, and finally Shandong with 2,914 new Christians.
Even in Tibet as many as 8 baptisms were celebrated. In Hainan there were 35 baptisms and in Qinghai 43. This applies even to the Islamic Xinjiang, with as many as 57 new Catholics.
On point of law – and not only canon law – Cardinal Filoni requires that the members of the unofficial Chinese Catholic communities should not be forced to join the specific "Patriotic Association" – as is instead subtly envisaged by the Chinese government.
Nevertheless, for the Chinese government, this Patriotic Association is still a "people's association" and hence has no ecclesial relevance. Moreover, participation in it is always "voluntary and never imposed".
This is what China, not the Vatican, maintains.
Nevertheless, the Vatican precisely knows that in the areas in which – as we have seen above – there is a greater presence of new Catholic vocations, the People's Association puts strong pressure to make priests and bishops be nationally independent "from the Vatican and from any foreign interference".
Without very strong nationalism, however, there is never any Chinese ideology – and certainly not the Communist one born from the Party founded in Shanghai in 1921.
Hence currently a political and cultural policy – and even a religious, cult and sapiential one, if I may say so – would be needed to make the Chinese regime understand that a Chinese Catholic is all the more Chinese precisely because he is truly Catholic.
Being Catholic is precisely the moment in which, as Saint Josemaria Escrivà de Balaguer used to say, we understand that "conversion is the matter of a moment, sanctification is the work of a lifetime".
And the sanctification of work and daily life applies to everybody, both believers and non-believers.
This means that the universality of Catholicism includes everything, namely being Chinese, Italian, Indian from America or anybody else.
For a Chinese, there is not being a Catholic outside being fully and absolutely Chinese.
Moreover, the current Chinese law does not oblige priests and bishops to join the Patriotic Association, while in all the areas in which the Catholic faith is more widespread, the Chinese government tries to push clerics to join the aforementioned Association, which not too implicitly proposes "independence" from the Holy See.
In Chinese politics, this is the heritage of a weak and divided Catholic Church, as experienced at the time of the "Chinese Rites Controversy", which started in the early seventeenth century under the pontificate of Gregory XV and lasted almost three centuries until 1939.
As you may recall, on the one side there were the Jesuits, who accepted and condoned the pagan practices and beliefs relating to the traditional cult of the dead according to the ancestral Chinese local traditions, but on the other there were the Franciscans and Dominicans, who thought that those practices – essential in the Chinese symbolism and tradition (even at political level) – should be radically changed in relation to the new, but perfect and unique, Catholic faith.
Hence currently – and here the problem of its Communism is even marginal – China still fears to lose its "soul" and its profound identity, while the Catholic Church cannot certainly afford to be turned into a sort of Protestant Church, also subjected to the political power even in its Rites.
Obviously the penetration of the Protestant-style sects – often of American tradition – could become dangerous both for the Catholic Church and, all the more so, for the Chinese government.
There is also the issue of the four priests of the unofficial community of Zhangjiakou, Hebei, who are still detained in a secret place by the People's Police.
According to Chinese Catholic sources, the issue began in late 2018.
Local governments' factionalism and different CPC configurations in the various regions, as well as a proxy struggle between the Centre and the Periphery, are all factors which could explain the different approach of the various regional governments to the issue of Chinese Catholicism and its official presence in present-day Chinese society (and also in its the power system).
There is fear for a dangerous competitor in the power game, but it should be clarified – especially at political level – that the Catholic person has not his/her own State, but is defined by the side of the currency in which Caesar is engraved.
There is nothing else – and a true Catholic is not allowed to worship anything else.
According to some Vatican sources, however, while Pope Francis did not mention the issue of the priests detained in Hebei, the Vatican's "policy line" could currently be to consider the Patriotic Association an organization to which the adhesion of bishops and clerics is fully optional.
Again in Hebei, a priest accused his Bishop, Monsignor Agostino Cui Tai, of wanting to "oppose" the Sino-Vatican agreement and even asked the police to arrest him.
Once again petty internal settling of scores, old tensions, as well as the usual problematic personal relations fit into the grand design of regularization of the Catholic Church in China, as certainly happens also on the government side.
However, all the Chinese bishops to whom Pope Francis removed excommunication are in favour of abolishing the "Church of Silence" and massively adhering, instead, to the Patriotic Association.
While recognizing the Chinese government's full right to control the political activity of the Chinese Church, what about thinking about a very different instrument from the Patriotic Association, which is the obvious heir to an archaic Third International logic, together with the "United Front" and the other organizations that control political, religious and cultural heterodoxy in China?
This is a topic about which Pope Francis and President Xi Jinping could talk if they met in Italy.
Nevertheless, also for this negotiation by which China sets great store, there is the key issue of relations with Italy.
The Chinese media notes that currently Italy has substantially adhered to the One Belt One Road project (OBOR), but that hopefully the agreement should be officially signed during Xi Jinping's State visit to the country.
Should this not happen, it would be an irreparable offense for China.
It should also be noted that the Chinese media's attention is very much focused on the "Special Working Group on China", a structure recently organized by the Italian Government. In particular, China underlines the fact that both Greece and Portugal have already agreed to be part of the OBOR project, without the United States having had much to say about that.
Certainly the strategic relevance of Italy in the Mediterranean is very different from Greece's and Portugal's geopolitical function for China only regards its Atlantic projection and its traditional ties with Western Africa.
For the Chinese media, however, Prime Minister Conte's position is extremely important and, in all likelihood, China will enhance on the media the success it is already expecting to have in Italy.
According to Chinese analysts, the US nervous reaction to Italy joining the OBOR project stems from the fact that is a crucial and decisive country for the European Union, from both an economic and geopolitical viewpoint.
China is subtly trying to make us understand that while the United States finally wants to thwart the single currency and weaken the great network of duties and protections that the EU is essentially for it, China has no interest in undermining the EU nor certainly in plunging the Euro area into a further crisis.
Surely, according to Chinese analysts' economic projections, the flow of goods and services going from Italy to the United States would decrease – albeit to the benefit of China – while it is likely that, in the near future, the 5G issue will emerge again, and hence China could have some more chances.
Hence a clear loss of US relevance in Italy, which would give rise to a long series of very harsh countermoves by the United States.
Over 60 countries, including 12 European ones, have so far signed a Memorandum of Access to the OBOR network, in whatever manner.
We enter here directly into the project that Xi Jinping has recently outlined in the "Two Sessions" of the National People's Congress, which are always held in the first two weeks of March.
In this year's two sessions, President Xi Jinping has underlined that the limit whereby the President of the Republic and CPC Secretary, as well as the President of the Central Military Commission, shall serve no more than two consecutive terms has been removed.
The meaning is clear: my power lasts and is stable, possibly until 2027 – hence the many factional areas of the Party and the State would do well to conform again with the Party's policy line and not to cause too much trouble.
President Xi Jinping emphasized once again the importance of the anti-corruption campaign, with 621 civilian officials and military officers punished in 2018 alone.
He also highlighted the new widespread presence of the Party's committees in Chinese private companies – a presence that has now reached 70% of companies – as well as the huge reduction of NGOs operating in China from 7000 to just 400. Finally, there was the reaffirmation of the "mistakes" made by the Western propaganda, as well as the reaffirmation of the pillars of the CPC doctrine and practice.
Certainly this has much to do with the relationship between the Chinese government and the Catholic Church.
With specific reference to foreign policy, after the "two sessions", Xi Jinping currently tends to finalize as soon as possible the negotiation for a "Shared Code of Conduct" between China and the ten ASEAN countries, while the Chinese control over the Taiwan and Hong Kong seas is expanding.
It should be made clear that China will never conquer the Kuomintang island militarily, but it will wait for its internal political transformations to lead to a de facto reunification.
China also knows that an attack on Taiwan would enable the United States, in particular, to massively and harshly return to the Asian continental region.
As we will also see in Italy, for President Xi Jinping, China must define – as soon as possible – a "Chinese" model to resolve all current international tensions, so as to ensure that China can become a "contributor and promoter" of both global free trade – in contrast with Trump's US trade policy – and of multilateralism.
In the "Two Sessions", President Xi Jinping also proposed "Xi's five Study Points".
They concern above all peaceful unity, also referring to the fact that Xi in Chinese also means "to learn, to study, to put into practice".
As can be easily imagined, peaceful unity is directly related to the Taiwan issue – to which the rule of "one country, two systems" will soon be applied.
In Xinjiang, the Chinese government will soon accept a UN mission, provided it "does not interfere in domestic matters".
Geostrategy After the Deadlock in U.S.-North Korean Relations
George Friedman, the head of the 'private CIA' firm Stratfor, issued a report on March 5th, "After Hanoi: North Korea, the US and Japan", and it said:
The strategy since World War II, built on the assumption that U.S. conventional forces can defeat any foe and pacify the country, is being abandoned. And in the case of the Hanoi talks, the U.S. is following a new strategy of diplomatic deadlock without recourse to the insertion of force. …
The U.S. has decided to accept that North Korea is a nuclear state, so long as none of its nuclear weapons can reach the U.S. mainland. This completely destabilizes Japan's strategy. Under that strategy, first imposed by the U.S. and happily embraced by Japan, the U.S. guarantees Japanese national security. The U.S., in exchange, has been able to use Japan as a base from which to project force across the Korean Peninsula, threaten China and block Russia's Vladivostok fleet from accessing the Pacific Ocean. Japan, unencumbered by defense expenditures and any responsibility in American wars, could focus on the monumental task of its dramatic post-World War II recovery. Most important, the U.S. nuclear umbrella has guaranteed that any nation that might attack Japan with nuclear weapons would face retaliation from the United States. …
The Hanoi talks subtly shift that guarantee. The new U.S. position is that it cannot accept a North Korean nuclear program that threatens the United States. Implicit in that position is that it can tolerate one that threatens Japan.
His last sentence there is false, because it excludes the following important possibility, which now actually needs to become the reality, especially after this "deadlock" that he referred to: The U.S. and North Korea can meet together in an entirely different discussion, of whether, in return for North Korea's verifiable commitment never to possess or station any missile that can reach the United States, the U.S. will do the following three things:
1: Guarantee to Japan, and to South Korea, that any nuclear attack against Japan and/or against South Korea, will be met by a U.S. nuclear attack against the attacker (regardless of whom that attacking nation might be). The U.S. would then be taking Japan (as well as South Korea) entirely under its nuclear umbrella, so that an attack against Japan or against South Korea would be equivalent to an attack against the United States itself. No troops would need to be stationed in Japan (or South Korea) in order to be able to do this. America's real nuclear umbrella for those two countries is precisely this (the nuclear intercontinental U.S. arsenal outside of Japan and South Korea, including the missiles at sea and including in mainland U.S.), and no stationing of either troops or weapons from the United States, inside either of those two countries, is necessary, at all, in order to achieve this. That's the reality, notwithstanding George Friedman's false assumption, to the exact contrary: that "Implicit in that position ["that it [[the U.S.]] cannot accept a North Korean nuclear program that threatens the United States"] is that it can tolerate one that threatens Japan." Not at all is that presumption (America's needing to station troops in Japan in order to protect Japan) by Friedman true. American troops there are superfluous for the protection of Japan — and also of South Korea. U.S. Troops aren't needed in either country, for the protection of either country's inhabitants.
2: Withdraw all U.S. troops from both Japan and South Korea. Those troops are there only for possible uses against Russia and China (as Friedman himself acknowledges by saying "The U.S. … has been able to use Japan as a base from which to project force across the Korean Peninsula, threaten China and block Russia's Vladivostok fleet from accessing the Pacific Ocean"). The U.S. has secretly continued the old "Cold War" after the Soviet Union's end, though no longer on an ideological basis (since Russia is no longer communist). It's been doing this secretly ever since 24 February 1990, purely with the aim of ultimately conquering the entire world. That, too (though secret), is the reality: America has been, and is, secretly trying to take over the entire world.
3: End all sanctions against North Korea. Under the stated conditions, there would be no realistic future possibility that that country could pose a national-security threat to the United States. North Korea's nuclear weapons would then pose no more of a national-security threat to the U.S. than do Israel's nuclear weapons (since those are only local threats). Any further aggression (including sanctions) by the U.S. against North Korea would therefore violate Article 2 of the U.N. Charter, because North Korea would no longer even prospectively constitute a threat to America. North Korea would, of course, expect the U.S. to end all sanctions against it if North Korea would no longer be able to pose a threat to the U.S., and it wouldn't sign the deal otherwise.
This arrangement that's proposed here between the United States and North Korea would end the Korean War, and it would end the major international tensions which have prevailed in the Asia-Pacific region since the end of World War II. It would bring security to North Korea, U.S., South Korea, and Japan.
This deal would be an authentic quid-pro-quo between the United States and North Korea, which would greatly benefit the economies of the United States, Japan, and South Korea (removing the unnecessary financial burden of maintaining and arming those occupying U.S. troops — troops which are superfluous to everyone except America's billionaires, who want to impose their corporate wills upon every nation — including upon Russia and China). It wouldn't benefit merely North Korea (though it also would do that). It would also set the foundation upon which, ultimately, the two Koreas might finally agree to become again one nation, much as did East and West Germany; and, it would also protect both Japan and South Korea — and block any threat from North Korea against the U.S. itself. Consequently, this would also greatly serve the interests of the American people. It would serve EVERYONE's interests (except approximately 2,153 people, as will subsequently be explained here).
Unfortunately, the world isn't so democratic internationally, nor within the United States, for the security and welfare of the public anywhere to be actually a high priority of international policy-makers — especially not in the United States, which serves only the interests of its billionaires and extracts as much as it possibly can from its own public and from every other country on the planet. U.S. President Barack Obama even was so arrogant as to assert publicly — and he said it many times — that "The United States is and remains the one indispensable nation," which was Obama's version of Hitler's "Deutschland über alles," and means (like Hitler's German version did) that every other nation in the world is "dispensable" — only the imperial nation is not. Any other nation which allies itself with a nation such as this, is being headed by a regime that has no patriotism, no national self-respect at all — it's a mere vassal-nation, enslaved (in this case) to the tyrannical U.S. regime: "the one indispensable nation."
If the United States really had ended its side of the Cold war after the 1991 termination of the USSR, and of its communism, and of its Warsaw Pact military alliance that had mirrored America's NATO alliance, then the arrangement which has been described here would have been instituted long ago, in 1991, when the other side ended the Cold War, and NATO itself would simultaneously have been dissolved when the Warsaw Pact was, instead of being expanded right up to Russia's borders (as it since has done), but the U.S. regime in 1990 secretly ordered its allies to continue the Cold War on America's side, and that one-sided aggression continues by the U.S. and its allies, until now.
And that's the real problem — America's continuation of the (originally ideological) Cold War, now purely for aggressive purposes: global conquest. It's permanent war, for permanent 'peace' and 'justice' and 'democracy' and 'human rights', and other brazen lies, now against Venezuela and so many other countries.
Just a few years after the 1991 supposed end of the Cold War (when East and West Germany merged), Spokane Washington's Spokesman-Review newspaper headlined on 2 November 1995, "U.S. Won't Reduce Troops in Japan", and opened: "Defense Secretary William J. Perry said here [in Tokyo] Wednesday that the United States has no plans to reduce the number of U.S. troops in Japan, despite a groundswell of local opposition" in Japan.
And as was reported, on 5 March 2006, from "Asahi," by the U.S. Embassy in Japan, to the CIA, and to the Joint Chiefs, and to all top U.S. national-security officials, "Japan can expect to reduce the number of US troops in Japan and to alleviate the burden of base-hosting localities while maintaining deterrent capabilities against China and North Korea. Meanwhile, the United States can swing its reduced troops around the world with Japan's backing. The two countries' expectations coincided." But it didn't actually happen — the U.S. occupation still continues. The U.S. Government is dedicated to militarily occupying as many countries as it can. Getting rid of those occupying troops is strongly opposed by the occupying power, which continues its voraciousness to control Russia and China.
As of 2017, the U.S. had 38,818 troops in Japan, and 24,189 in South Korea. The U.S. military-industrial complex (MIC) refuses to end such military occupations in foreign countries, but the only real beneficiaries from this are the MIC itself, which controls the U.S. Government. Firms such as Lockheed Martin are 100% dependent upon the U.S. Government and its allied governments (especially the Saud family) for their sales, and selling more weapons is essential to their cancerous growth. Americans pay in taxes and many other ways, and so do the local foreign governments pay, where America's troops are stationed. This is one of the reasons for the extreme inequality of wealth in today's world: that inequality is enforced, by the U.S. international regime. The U.S. military enforces it around the world, in all of America's vassal-nations. It's supporting the local aristocracy there, but also (and above all) America's aristocracy. The U.S. has over a thousand military bases worldwide, the vast majority of which are in foreign countries. It benefits only the billionaires, but the billionaires control the governments, and so this continues and even gets worse. George Friedman ignores that crucial fact. He needs to retain his customers, and they benefit from this barbaric status-quo. He's not actually a free man. He (like millions of others) speaks for the billionaires; he's one of their millions of agents. He's a bought man, so he says "The new U.S. position is that it cannot accept a North Korean nuclear program that threatens the United States. Implicit in that position is that it can tolerate one that threatens Japan." If this statement from him is not clearly and publicly rejected by the American Government, then all Japanese (except Japan's billionaires, who depend so much upon America's) must recognize that the U.S. Government is their enemy, and that Japan needs to find authentic friends, elsewhere — and kick out its existing regime.
Friedman says, approvingly, that the U.S. "has been able to use Japan as a base from which to project force across the Korean Peninsula, threaten China and block Russia's Vladivostok fleet from accessing the Pacific Ocean." All of those — against North Korea, and against China, and against Russia; and implicitly against Japan itself as an American stooge-regime — are, in fact, international-war crimes, aggressions by the U.S. military. Regardless of which country (Japan or any other) allows occupying troops, as part of some "deal" between those two nations, neither of those two nations is allowed legally to do any of those things against any third nation (such as against China, Russia, North Korea, or any other). If two people agree to threaten or rob a third person, then no matter how much both of them say it's a 'legal' agreement and only a matter between themselves, it's not. It still remains a criminal arrangement, and it's an illegal threat to their intended victim-nations. Of course, if the U.S. is an international gangster-nation, a country that ignores any international laws (except ones that it can cite against weaker nations, such as the U.S. and its allies routinely do do, as mere PR 'justifying' their many coups and invasions) — if the U.S. ignores international laws simply because no entity will enforce them — then, the U.N. has already been destroyed, effectively nullified, by the U.S. gangster-regime. But in that case no argument could even possibly be made that the U.S. is a democracy. No nation can be both a dictator abroad, and a democracy in domestic (or intra-national) matters. To presume to the contrary is simply to lie — even if only to oneself.
The U.N. Charter says: "All Members shall refrain in their international relations from the threat or use of force against the territorial integrity or political independence of any state, or in any other manner inconsistent with the Purposes of the United Nations." The American regime has been violating that with impunity, ever since the end of World War II (such as in its infamous 1953 coup against Iran — a coup which enjoyed the support of Iran's mullahs). Most recently, it did so in Yemen, Syria, Libya, Iraq, Ukraine, and a number of other countries, which it and its allies have destroyed, all in the name of advancing things such as 'democracy' and 'human rights', so as to cover over their authentic, actually vile, motivations, which are insatiable greed, and a craving for even more power than they already possess. All of this is barbaric, and they cover over that reality by kind-sounding words, in order to fool the rubes, who, thus — via their irresponsibility by trusting those serial international invaders and coup-perpetrators — accept the rightfulness of what those international invaders and coup-perpetrators have been doing, such as invading Iraq in 2003 on the basis of sheer lies, etc.
RT — a reliable news-source, but one which America's very unreliable major 'news'-media instead call a source of 'fake news' because it reports truths they hide — reported on March 5th:
Washington is leading a "revolution against international law and against international order," with its calls for regime change and efforts to oust President Nicolas Maduro in favor of pro-US opposition leader Juan Guaido, former UN rapporteur to Venezuela and professor of law Alfred de Zayas told RT.
Secretary General of the United Nations Antonio Gutierrez should "remind" the Lima Group of Western Hemisphere countries that US actions in Venezuela violate "articles 3, 19 and 20 of the Charter of the Organization of American States" (OAS) and that the charter should be "rigorously observed," De Zayas said.
The OAS charter holds that no state has a right to intervene "directly or indirectly, for any reason whatever, in the internal or external affairs of any other State." Neither can any member state "encourage the use of coercive measures of an economic or political character in order to force the sovereign will of another State."
The violation of the charter has been "so crass and so obvious that you wouldn't think that you would have to remind the Lima Group of it, but they seem to be caught in their own web," de Zayas said.
Throughout the world, the reality is: peace, and equality of economic opportunity, are tied together and cannot survive apart from one-another, and both of them are resisted by the people in power, the few billionaires, who fund all of the real contenders for the U.S. Presidency and for Congress. And equality of economic opportunity can exist only where wealth is approximately equally distributed and where the necessities of life (such as education, adequate food, essential health care, and a safe environment) are supplied by the government equally to all, regardless of personal wealth. (The billionaires can pay extra if they want, but such basics need to be equally available to all, in order to have the most productive type of economy — one which takes the fullest advantage of each individual's actual potential.) Making access to any of those basic things dependent upon how much wealth one already has is like pouring hydrochloric acid onto even merely the barest hope for equality of economic opportunity. The result of doing that is always a putrid mockery of 'justice', and any honest person would call that a dictatorship, no democracy, at all. (It certainly is a dictatorship against the less-wealthy 90%, or even — such as in Saudi Arabia — dictatorship against the less-wealthy 99%, of the entire population.) If this corrupt aristocratic system which determines power isn't soon replaced (stripping all billionaires of any and all types of political — i.e., governmental — influence and power that's connected to their grossly excessive wealth), then things can (and will) only continue to go from bad to worse, throughout the world, in every way. This is out-of-control and racing inequality, but it can get even worse than it now is. The solution isn't to have an international gangster-nation imposing its 'democracy' on the nations it targets for conquest. The solution is the exact opposite: a global public repudiation and rejection of that lying gangster-regime.
George Friedman happens to be part of that corrupt and rotten system, but he didn't create it. He exploits it, instead of attacks it, but the system is the problem, and no solution to it can be achieved without replacing that entire system — replacing it by one that no billionaire wants, and that all billionaires will employ every subterfuge in order to prevent authentic democracy from coming into existence.
As regards Japanese national security: relying upon the United States' military occupation is complicity in a crime not only against the public in Japan, but also against the publics in North Korea, South Korea, China, Russia — and every nation. Only billionaires and their retinues benefit from it. Heeding the advices of the billionaires' agents (such as Friedman) will advance it, instead of end it and replace it with an improved world. Only the billionaires and their retinues benefit from the prevailing system. Money is power, and they have enough of it to control the governments. That desperately needs to change.
There is a very fundamental conflict-of-interests between the billionaires and all the rest of humanity; and the billionaires definitely control the United States and its allies. The reality is that there is no way in which billionaires, who have come to control not only their own countries but other nations, will tolerate a world which is more peaceful, more productive, more equalitarian, healthier, happier, and less polluting — a world that's far better for the public. That wouldn't be the type of world they control, and in which they possess obscene wealth. They not only cling to their billions but they demand to become even more obscenely wealthy. As Warren Buffett, of the U.S. aristocracy's liberal (meaning hypocritical) wing, was quoted in the 26 November 2006 New York Times, "There's class warfare, all right, but it's my class, the rich class, that's making war, and we're winning." And the statement is true. (Buffet's condemnations of that class-warfare are the hypocritical part.) And it's even more true now than it was in 2006. It needs to become false, but it becomes truer each year that passes. Here is how true it is, on a global scale, as reflected in the
Credit Suisse "Global Wealth Report 2018″:
p.20:
"Figure 1: The global wealth pyramid 2018"
Wealth%, Wealth$, %/World, Wealth-range
0.8%=$142T=44.8%=$1M+
8.7%=$124.7T=39.3%=$100,000 — $1M
26.6%=$44.2T=14.0%=$10,000 — $100,000
63.9&=$6.2T=1.9%=<$10,000
100%=$317.1T=100%
For example: The poorest 63.9% own $6.2 trillion, which is 1.9% of the total, and this is the wealth of everyone whose net worth is below $10,000.
The richest 0.8% own $142 trillion, which is 44.8% of the total, and this is the wealth of everyone whose net worth is above $1,000,000.
The richest 0.8% own 23 times more than the poorest 63.9% do.
On 5 March 2019, Forbes came out with their 2019 list of 2,153 billionaires in the world during 2018, and their combined wealth is $8.7 trillion, which is 40% more than the combined wealth of the poorest 63.9% of people in the world in 2018 as shown in the recently released Credit Suisse "Global Wealth Report 2018″. The richest 9.5% had 84.1% of the total wealth. So, since money is power, democracy can't possibly exist, and so if you aren't among the richest 10%, the government's doing what you want it to do is practically impossible to achieve. This is what is meant by saying that it's an aristocratic, not a democratic, world we live in.
And that's why this is a world of permanent war for perpetual 'peace' and (in)'justice'. That's (those lies are) the problem (both nationally and internationally), and it can't be solved without conquering economic inequality — by ending obscene personal wealth, and by placing government under the control of the entire public, no longer under the control (if billionaires control it now) of only the richest 2,153 people divided by the current world population of 7.6 billion, or 0.000000283 of the world's population, or in percentage terms, of only 0.0000283% of today's population. That's not democracy. It is aristocracy. It's even an extreme case of that. Democracy would instead represent the other 7,599,997,847 people, the other 0.999999716 or 99.99997%. To pretend otherwise than this reality is to serve only that 0.0000283%, and to try to fool the remaining 99.99997%. It's theft by lying. It is force that's used against the mind (deceit), instead of force that's used against the body (violence). Theft (either type) has enormous costs, especially when it's the actual system, instead of violations of the actual system. And, now, it is the actual system. It's the system itself. And that's the real problem.
Rightfully, there is universal condemnation of bigotry — prejudice — against ethnic minorities, but there is no similar public outrage against bigotry against the poorer 99.99997%, who are the vast majority of the world's people. This is sick, and is sustained only by constant deceits. It is a system that's built upon deceit. Anyone who wants to know how this system functions within the U.S. itself can see that here.
Author's note: first posted at strategic-culture.org