Education, Talent and Experimental Mindsets to Fuel 'Innovation Nations' of Tomorrow
An analysis of Fortune 500 companies over the past decade says it all – the companies that failed to adapt to perpetual change and disruption were the ones left behind.
"I would argue that the most successful companies in the world are those that are investing the most in innovation," observed Betsy Ziegler, Chief Executive Officer, 1871, USA. "There is lots of evidence to suggest that companies should be investing more and working more quickly, embracing the rate of change and level of ambiguity and complexity that we are all experiencing."
Addressing business and political leaders at the Annual Meeting of the New Champions in Tianjin, Ziegler explained that of the companies on the Fortune 500 list, half of them have turned over since 2000, while the average duration on the list is 15 years – versus 60 years just a decade ago.
The meeting, which carries the theme "Shaping Innovative Societies in the Fourth Industrial Revolution", has generated buzz and speculation about the essential elements required for creating the innovative societies of the future. The consensus is that adaptive education, investment in R&D and nurturing talent pools of up-and-coming entrepreneurs are among the essential elements.
"At least 26 universities across China have established AI institutes to train AI talent and this is necessary, but far from enough," noted Gong Ke, Executive President, Nankai University, People's Republic of China. China's vision of creating its own version of Silicon Valley through its Bay Area plan, an initiative that spans from tech hubs on mainland China to Hong Kong and Macao, he argued, will only be achieved with more investment in education.
Preparing for the future we will inherit, one where millions of jobs will be disrupted by new technologies, such as autonomous vehicles and cashier-less retail outlets, will require significant shifts in the education and research space, agreed Ziegler. "Education is farthest behind…Classrooms look exactly like they did 100 years ago."
Among the transformations taking place, envision leaders in China, will be an evolving geo-innovation landscape. "If you want to create an app you can do it from any city," remarked Chen Zhang, Chief Technology Officer, JD.COM, People's Republic of China, "In the US they have small tech hubs. China's Silicon Valley will be in cities such as Beijing, Shenzhen and Guangdong. Other cities are rising because the threshold is getting lower."
Emphasizing that fostering innovation environments "takes a village" from nurturing talent pools, adapting educational institutes and developing a supporting policy framework, business and academic leaders agreed there has to be room for innovative mind-sets, the space to experiment, and fail, before future gains can be achieved.
"If you are an entrepreneur you measure the success of your day on how many times you have failed before lunch or dinner. You are always trying new things, testing things and you are going to lose more often than you are going to win, until you figure it out," said Abbosh.
The best companies are always looking to stay ahead of the curve through investing heavily in innovation.
"Look at Amazon for example," explained Abbosh, "They run 1,000 experiments a year and they have an agreement with their investors that allows them to spend at a certain rate and it is just incredible. It means they are constantly innovating and finding new markets."
Coronavirus: Commission reaches first agreement on a potential vaccine
Today, the European Commission has reached a first agreement with the pharmaceutical company AstraZeneca to purchase a potential vaccine against COVID-19 as well as to donate to lower and middle income countries or re-direct to other European countries. This is following the positive steps regarding the conclusion of exploratory talks with Sanofi-GSK announced on 31 July and with Johnson & Johnson on 13 August. Once the vaccine has proven to be safe and effective against COVID-19, the Commission now has agreed the basis for a contractual framework for the purchase of 300 million doses of the AstraZeneca vaccine, with an option to purchase 100 million more, on behalf of EU Member States. The Commission continues discussing similar agreements with other vaccine manufacturers.
Ursula von der Leyen, President of the European Commission, said: "The European Commission's intense negotiations continue to achieve results. Today's agreement is the first cornerstone in implementing the European Commission's Vaccines Strategy. This strategy will enable us to provide future vaccines to Europeans, as well as our partners elsewhere in the world."
Stella Kyriakides, Commissioner for Health and Food Safety, said: "Today, after weeks of negotiations, we have the first EU advance purchase agreement for a vaccine candidate. I would like to thank AstraZeneca for its constructive engagement on this important agreement for our citizens. We will continue to work tirelessly to bring more candidates into a broad EU vaccines portfolio. A safe and effective vaccine remains the surest exit strategy to protect our citizens and the rest of the world from the coronavirus."
The agreement approved today will be financed with the Emergency Support Instrument, which has funds dedicated to the creation of a portfolio of potential vaccines with different profiles and produced by different companies.
AstraZeneca's vaccine candidate is already in large-scale Phase II/III Clinical Trials after promising results in Phase I/II concerning safety and immunogenicity.
The decision to support the vaccine proposed by AstraZeneca is based on a sound scientific approach and the technology used (a non-replicative recombinant chimpanzee adenovirus-based vaccine ChAdOx1), speed at delivery at scale, cost, risk sharing, liability and the production capacity able to supply the whole of the EU, among others.
The regulatory processes will be flexible but remain robust. Together with the Member States and the European Medicines Agency, the Commission will use existing flexibilities in the EU's regulatory framework to accelerate the authorisation and availability of successful vaccines against COVID-19. This includes an accelerated procedure for authorisation and flexibility in relation to labelling and packaging.
Background
The European Commission presented on 17 June a European strategy to accelerate the development, manufacturing and deployment of effective and safe vaccines against COVID-19. In return for the right to buy a specified number of vaccine doses in a given timeframe, the Commission would finance part of the upfront costs faced by vaccines producers in the form of Advance Purchase Agreements. Funding provided would be considered as a down-payment on the vaccines that will actually be purchased by Member States.
Since the high cost and high failure rate make investing in a COVID-19 vaccine a high-risk decision for vaccine developers, these agreement will therefore allow investments to be made that otherwise would simply probably not happen.
The European Commission is also committed to ensuring that everyone who needs a vaccine gets it, anywhere in the world and not only at home. No one will be safe until everyone is safe. This is why it has raised almost €16 billion since 4 May 2020 under the Coronavirus Global Response, the global action for universal access to tests, treatments and vaccines against coronavirus and for the global recovery.
Millions 'on the edge' in DR Congo, now in even greater danger of tipping over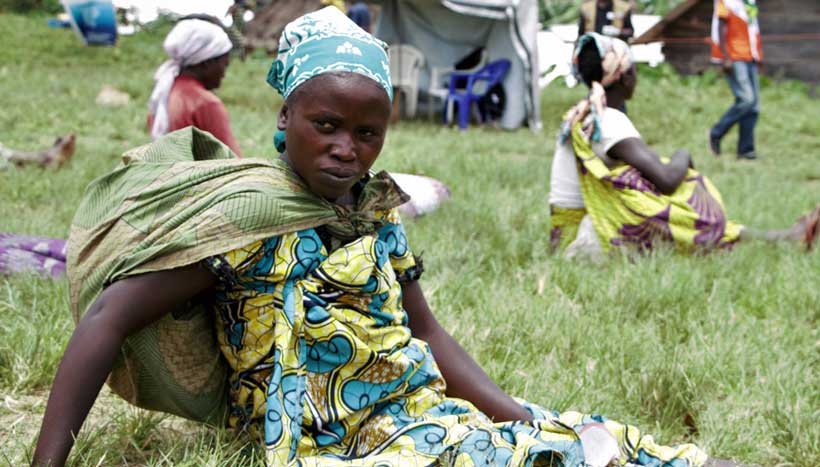 Millions of lives could be lost to hunger in the Democratic Republic of the Congo (DRC), amid escalating conflict and worsening COVID-19 transmission, the UN emergency food relief agency has warned, urging the international community to step up support for the African nation.
According to the World Food Programme (WFP), latest national data shows that about four in ten people in the DRC are food insecure, with some 15.6 million suffering "crisis" or "emergency" levels of hunger.
"So many Congolese are on the edge, and in even greater danger now of being tipped over the edge", said Claude Jibidar, the head of WFP operations in the country.
"The world just can't let that happen, worried though it understandably is about the huge toll COVID-19 is taking on lives and livelihoods elsewhere."
Crisis in every direction
Outbreaks of diseases, violence, and fears of a poor harvest, are worsening an already alarming situation.
Malnutrition is particularly pervasive in the east of the country, where decades of brutal conflict has forced millions from their homes – many of them numerous times. In the first half of 2020, almost a million people were uprooted from their homes due to new violence.
Displaced persons across the DRC – numbering more than five million – live in makeshift camps and urban areas with poor sanitation and healthcare, making them especially susceptible to COVID-19.
Adding to this are killer diseases, malaria and cholera, exacerbating the hunger challenge. A new large-scale outbreak of measles in the central Kasai region has significantly increased the risk of fatalities among malnourished children.
The dire health situation is compounded by successive outbreaks of Ebola Virus Disease (EVD). By the time the DRC's tenth and biggest Ebola epidemic ended in June, having claimed almost 2,300 lives in the east over two years, the eleventh had erupted in the northwest, and continues to spread.
Resources urgently needed
Against this bleak picture, UN agencies, including the WFP have been working to provide life-saving assistance across the nation.
On its part, WFP need another $172 million to be able to fully implement its emergency operation in the country over the next six months. With enough resources, it aims to reach 8.6 million people this year– including almost a million of those hit hardest by the pandemic – up from a record 6.9 million reached in 2019.
However, without the necessary funding, food rations and cash assistance will have to be cut, then the number of people being helped, warned the UN agency.
"Interventions to treat and prevent acute malnutrition – which afflicts 3.4 million Congolese children – are at immediate risk", it said.
Coronavirus and schools: Access to handwashing facilities key for safe reopening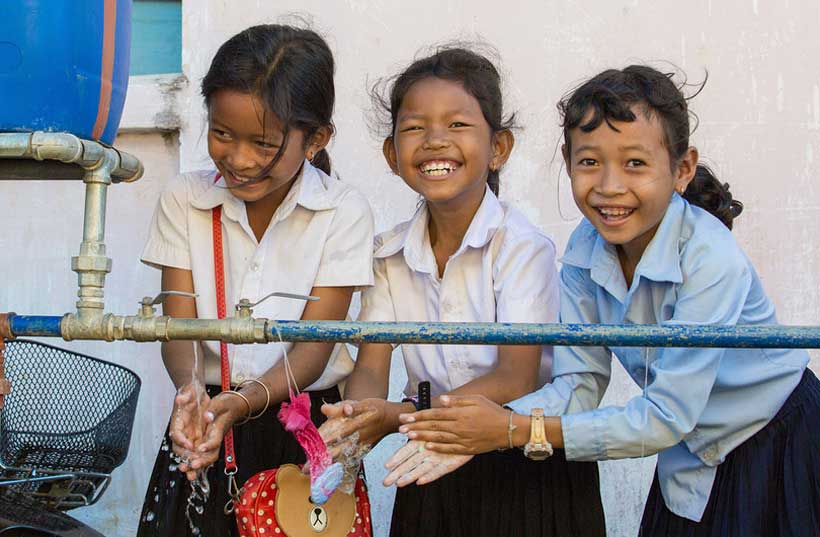 Nearly 820 million children worldwide do not have basic handwashing facilities at school, putting them at increased risk of COVID-19 and other transmittable diseases, according to a report published on Thursday by the World Health Organization (WHO) and the UN Children's Fund, UNICEF.
"Access to water, sanitation and hygiene services is essential for effective infection prevention and control in all settings, including schools", said Tedros Adhanom Ghebreyesus, the WHO Director-General.
"It must be a major focus of government strategies for the safe reopening and operation of schools during the ongoing COVID-19 global pandemic."
Historic disruption to education
COVID-19 has created the largest disruption to education ever recorded, affecting nearly 1.6 billion students in more than 190 countries, according to UN data.
The study found that last year, 43 per cent of schools globally lacked access to basic handwashing with soap and water: a key condition for schools to be able to operate safely in the midst of the pandemic.
Of the roughly 818 million children worldwide who lack basic handwashing facilities at school, more than one third are in sub-Saharan Africa.
In the 60 countries at highest risk of health and humanitarian crises due to the virus, three-quarters of children lacked the basic ability to wash their hands at school at the start of the outbreak, while half lacked basic water service.
Balancing act for governments
The report stressed that governments seeking to control coronavirus spread must balance the need for implementing public health measures against the social and economic impacts of lockdown measures.
The partners said evidence of the negative impacts of prolonged school closures on children has been well documented.
"Global school closures since the onset of the COVID-19 pandemic have presented an unprecedented challenge to children's education and wellbeing", said Henrietta Fore, UNICEF Executive Director. "We must prioritize children's learning. This means making sure that schools are safe to reopen – including with access to hand hygiene, clean drinking water and safe sanitation."
Solutions for safe return
The report identifies resources for COVID-19 prevention and control in schools, including 10 immediate actions and safety checklists.
It builds on guidelines on the safe reopening of schools issued in April by UNICEF and partners, geared towards national and local authorities.
The guidelines include several protocols on hygiene measures, use of personal protective equipment, cleaning and disinfection, as well as providing access to clean water, handwashing stations with soap, and safe toilets.
UNICEF and WHO underlined their commitment to achieving equitable access to adequate water, sanitation and hygience services worldwide, including through the Hand Hygiene for All initiative that supports vulnerable communities.