Putin and Erdogan Plan Syria-Idlib DMZ as I Recommended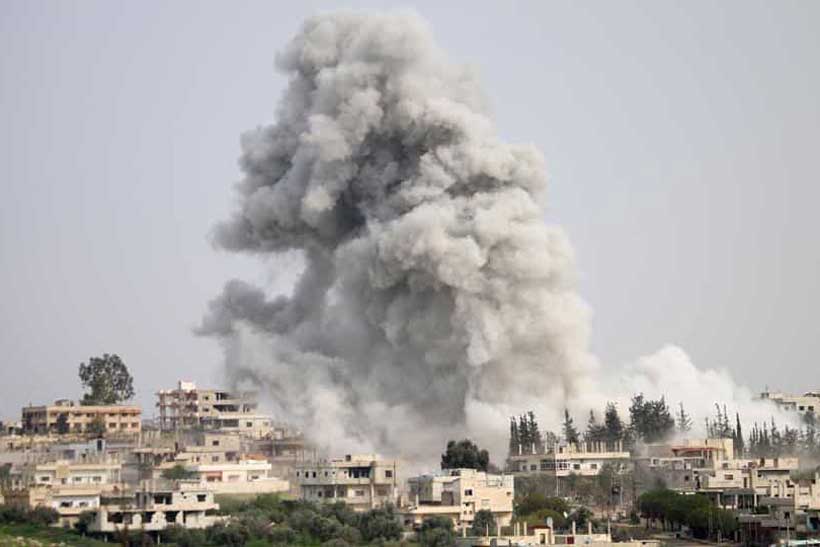 As I recommended in a post on September 10th, Russia's President Vladimir Putin and Turkey's President Tayyip Erdogan jointly announced on September 17th, "We've agreed to create a demilitarized zone between the government troops and militants before October 15. The zone will be 15-20km wide," which compares to the Korean DMZ's 4-km width. I had had in mind the Korean experience, but obviously Putin and Erdogan are much better-informed about the situation than I am, and they have chosen a DMZ that's four to five times wider. In any case, the consequences of such a decision will be momentous, unless U.S. President Donald Trump is so determined for there to be World War III as to stop at nothing in order to force it to happen no matter what Russia does or doesn't do.
What the Putin-Erdogan DMZ decision means is that the 50,000 Turkish troops who now are occupying Idlib province of Syria will take control over that land, and will thus have the responsibility over the largest concentration of jihadists anywhere on the planet: Idlib. It contains the surviving Syrian Al Qaeda and ISIS fighters, including all of the ones throughout Syria who surrendered to the Syrian Army rather than be shot dead on the spot by Government forces.
For its part, the U.S. Government, backed by its allies and supported in this by high officials of the United Nations, had repeatedly threatened that if there occurs any chemical-weapons attack, or even any claimed chemical-weapons attack, inside Idlib, the U.S. and its allies will instantaneously blame the Syrian Government and bomb Syria, and will shoot down the planes of Syria and of Russia that oppose this bombing-campaign to conquer or 'liberate' Syria from its Government. The U.S. has announced its determination to protect what one high U.S. official — who is endorsing what Trump is doing there — "the largest Al Qaeda safe haven since 9/11." He admits it, but he wants to protect them from being bombed by Syria and by Russia.
During recent weeks, the U.S. military has increasingly said that even if the jihadists they've been assisting to assemble the materials for a chemical-weapons attack fail to carry it out or to stage one, any attempt by Syrian and Russian forces to destroy the jihadists (which the U.S. side calls 'rebels') in Idlib will be met with overwhelming U.S.-and-allied firepower. That would spark WW III, because whichever side — Russia or U.S. — loses in the Syrian battlefield will nuclear-blitz-attack the other side so as to have the lesser damage from the nuclear war and thus (in military terms) 'win' WW III, because the blitz-attack will destroy many of the opposite side's retaliatory weapons. In a nuclear war, the first side to attack will have a considerable advantage — reducing the number of weapons the other side can launch.
If, on the other hand, the DMZ-plan works, then Turkey's forces will be responsible for vetting any of Idlib's residents who try to leave, in order to prohibit jihadists and their supporters from leaving. Once that task (filtering out the non-dangerous inhabitants and retaining in Idlib only the jihadists and their supporters) is done, the entire world might be consulted on whether to exterminate the remaining residents or to set them free to return to the countries from which they came or to other countries. Presumably, no country would want those 'refugees'. That would answer the question.
America's Arab allies, the oil monarchies such as the Sauds who own Saudi Arabia and the Thanis who own Qatar, and which have funded Al Qaeda and the Muslim Brotherhood, would then be put on a spot, because if they say "Exterminate them!" then their clergy who have provided the moral imprimatur upon those families' ownership of those nations, will either be in rebellion or else will themselves become overthrown either by their own followers or else by their monarch — overthrown from below or from above.
Alternatively, after Turkey's forces in Idlib will have allowed release from Idlib of all who will be allowed out, Syria's and Russia's bombers will simply go in and slaughter the then-surrounded jihadists and take upon themselves the responsibility for that, regardless of what the leaders of the U.S. and its allied governments might say.
On the night of September 17th in Syria, there were missile-attacks "from the sea" against several Syrian cities; and those attacks could have come from either Israel's or America's ships, or from other U.S.-allied ships. Russian Television bannered, "Russian plane disappears from radars during Israeli attack on Syria's Latakia – MoD" and reported:
A Russian military Il-20 aircraft with 14 service members on board went off the radars during an attack by four Israeli jets on Syria's Latakia province, the Russian Defense Ministry said.
Air traffic controllers at the Khmeimim Air Base "lost contact" with the aircraft on Wednesday evening, during the attack of Israeli F-16 fighters on Latakia, said the MOD.
Russian radars also registered the launch of missiles from a French frigate in the Mediterranean on the evening of September 17. …
The attack on Latakia came just hours after Russia and Turkey negotiated a partial demilitarization of the Idlib province
If the missiles were authorized by President Trump, then WW III has already begun in its pre-nuclear stage. However, if the attacks were launched by Israel's Netanyahu, and/or by France's Macron, without U.S. authorization, then the U.S. President might respond to them by siding against that aggressor(s) (and also against what he used to call "Radical Islamic Terrorists"), so as to prevent a nuclear war.
Late on September 17th, Al Masdar News bannered "NATO warships move towards Syrian coast" and reported "The NATO flotilla cruising off the Syrian coast reportedly consists of a Dutch frigate, the De Ruyter, a Canadian frigate, the Ville de Quebec, and a Greek cruiser, the Elli." Al Qaeda and ISIS have influential protectors.
Ultimately, the decision will be U.S. President Trump's as to whether he is willing to subject the planet to WW III and to its following nuclear winter and consequent die-off of agriculture and of everyone, in order to 'win' a nuclear war, such as America's aristocracy has especially championed since the year 2006. The nuclear-victory concept is called "Nuclear Primacy" — the use of nuclear weapons so as to win a nuclear war against Russia, instead of to prevent a nuclear war. That concept's predecessor, the "Mutually Assured Destruction" or "M.A.D." meta-strategy, predominated even in the U.S. until 2006. Trump will have to decide whether the purpose of America's nuclear-weapons stockpiles is to prevent WW III, or is to win WW III.
In Russia, the purpose has always been to have nuclear weapons in order to prevent WW III. But America's President will be the person who will make the ultimate decision on this. And Idlib might be the spark. Netanyahu or Macron might be wanting to drag the U.S. into war even against Russia, but the final decision will be Trump's.
The ultimate question is: How far will the U.S. go in order to continue the U.S. dollar as being the overwhelmingly dominant global currency?
Will there be war with Iran? Will there not be war with Iran? The questions are being asked repeatedly in the media even though a single carrier task force is steaming up there. The expression is old for the latest carriers are nuclear powered. Imagine the mess if it was blown up.
There are two kinds of weapons in the world … offensive and defensive. The latter are cheaper, a fighter plane compared to a bomber. If a country does not (or cannot afford to) have offensive intent, it makes sense to focus on defense. It is what Iran has done. Moreover, its missile centered defense has a modern deadly twist — the missiles are precision-guided.
As an Iranian general remarked when questioned about the carrier task force: some years ago it would've been a threat he opined; now it's a target. Iran also has a large standing army of 350,000 plus a 120,000 strong Revolutionary Guard and Soviet style air defenses. In 2016 Russia started installation of the S-300 system. It has all kinds of variants, the most advanced, the S-300 PMU-3 has a range similar to the S-400 if equipped with 40N6E missiles, which are used also in the S-400. Their range is 400 km, so the Iranian batteries are virtually S-400s. The wily Putin has kept trump satisfied with the S-300 moniker without short-changing his and China's strategic ally. The latter continuing to buy Iranian oil.
Iran has friends in Europe also. Angela Merkel in particular has pointed out that Iran has complied fully with the nuclear provisions of the UN Security Council backed Joint Comprehensive Plan of Action i.e. the Iran nuclear deal. She is mustering the major European powers. Already alienated with Trump treating them as adversaries rather than friends, they find Trump's bullying tiresome. President Macron, his poll ratings hitting the lowest, is hardly likely to engage in Trump's venture. In Britain, Theresa May is barely able to hold on to her job. In the latest thrust by senior members of her party, she has been asked to name the day she steps down.
So there we have it. Nobody wants war with Iran. Even Israel, so far without a post-election government does not want to be rained upon by missiles leaky as its Iron Dome was against homemade Palestinian rockets.
Topping all of this neither Trump nor Secretary of State Pompeo want war. Trump is as usual trying to bully — now called maximum pressure — Iran into submission. It won't. The wild card is National Security Adviser John Bolton. He wants war. A Gulf of Tonkin type false flag incident, or an Iranian misstep, or some accident can still set it off.
In Iran itself, moderates like current President Hassan Rouhani are being weakened by Trump's shenanigans. The hard liners might well want to bleed America as happened in Iraq and Afghanistan.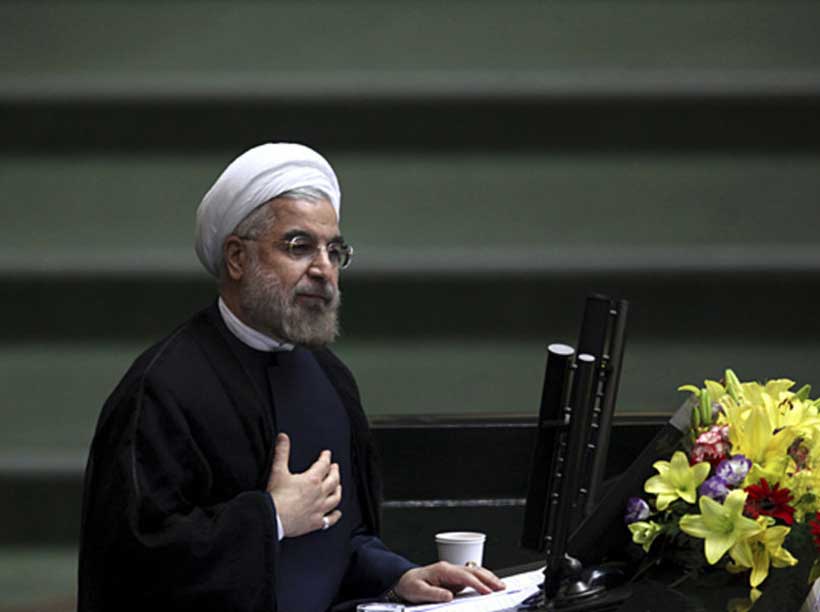 By announcing that Iran will begin keeping its excess uranium and heavy water, the Islamic Republic now sends a firm and clear message to the west, exactly one year after U.S. president, Donald Trump unilaterally withdrew from its nuclear deal with Iran.
At this point, it seems that Iran has made a wise decision. Over the last year, the European troika has not only done anything to revive the nuclear deal or bring any kind of benefit to the Iranian nation, but they have actually backed up U.S. by developing new plans to undermine Iran's "missile work", and diminish its "power in the region" as well as its "nuclear technology".
As stated in clauses 26 and 36 of Joint Comprehensive Plan of Action (JCPOA), if the other side fails to meet its obligations, Iran is entitled to partially or completely end its commitments as well. So, Iran's recent decision could be analyzed both on legal and strategic terms.
However, it seems that the strategic aspects of Iran's decision are even more important than its legal aspects. This decision is strategically important because it stops Washington and European troika to carry out their anti-Iran scheme, a dangerous scheme that they actually started devising when Trump took the office in 2017.
At the time, Theresa May, the British Prime Minister, and Emmanuel Macron, the French president played a major part in carrying out the west scheme. A scheme based on enforcing Iran to keep its "nuclear promises" and stay committed to a "distorted nuclear deal" while "U.S. had abandoned the deal", and at the same time, trying to "diminish Iran's power in the region" and "reduce its missile activities".
All other actions of Europeans toward Iran were also simply targeted at carrying out this major plan, including how they constantly changed their strategies toward Tehran, and how Germany, U.K. and France intentionally delayed in launching the alternative trade mechanism (Instex) with Iran.
Now, Iran's decision to keep its Uranium and heavy water is definitely in compliance with JCPOA, and more importantly, it will seriously undermine the "American-European" joint plan against Iran. This also explains why French government was so distressed by Iran's new nuclear strategy and had such a quick reaction, considering that Emmanuel Macron, the French president and Jean-Yves Le Drian, the French Foreign Minister both have had important roles in carrying out the American-European anti-Iran scheme.
At any rate, what is clear now is that the game has just started! And the Iranian political system and specially the foreign ministry have a great mission to run this game wisely.
In following days, the European troika might want to force Iran into changing its decision by threats such as reviving the European Union sanctions against Iran or even taking Iran's case to the United Nations Security Council (so that Trump administration can meddle in Iran's affairs). But, it is time for Iran political system to be adamant in its decision.
The Iranian Foreign Ministry should clearly ask the Europeans to choose one of these options, either Iran will "further reduce its commitments to the nuclear deal" or the Europeans should do something practical to "protect the rights of Iranian nation".
It is also necessary that the Iranian political system reveals the American-European joint anti-Iran scheme to the people so that the true nature of Europeans is showed to Iranians. In that case, Europe and specially the European troika will completely lose their reputation.
First published in our partner Tehran Times
Why the Algerian popular movement has succeeded until now?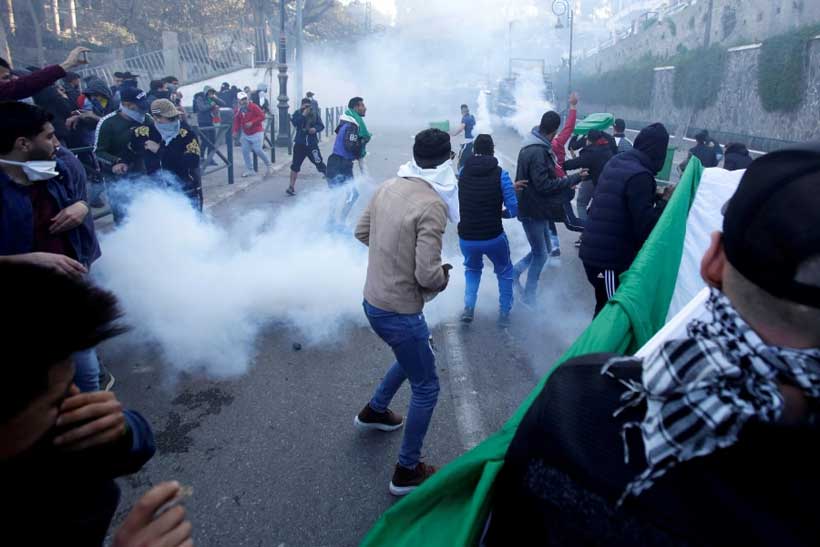 Authors: Sadek Hadjal and Samar Sahki
Ten factors and mechanisms adopted by both Algerian people and its army have made popular movement remain in its proper peaceful path
Since February 22, 2019, the Algerian popular movement has calmed anger on the streets every Friday demanding the departure of Abdelaziz Bouteflika and his regime. The last decade of the 20 years of his mandate was characterized by a high-level of corruption and mismanagement, especially, after his illness. Although after the resigned of Abdelaziz Bouteflika, people have continued to march demanding the complete change of the old regime.
Until now, after nearly 11 weeks, the Algerian popular movement has succeeded in achieving several goals without violence, giving a good image for Arab region witnessed the same events after a huge popular movement in 2011, called "the Arab spring". but unlike what is happening today in Algeria, the so-called "Arab spring" led to a bloody and dangerous consequences for the Arab countries – civil wars, military interventions, displacement, illegal immigration, proxy wars in the context of international and regional rivalry-.
The success of the Algerian Popular Movement reflects a great deal of intelligence and awareness between the Algerian demonstrators on one hand, satisfaction, wisdom and professionalism of the Algerian military in dealing with the situation on the other hand. Certainly, the two parties in Algeria -the demonstrators and the military command- have benefited from the events of the so-called "Arab Spring" in 2011, which unfortunately led to disastrous results in most Arab countries. As well as what was known by "black decade" that Algeria witnessed in the 1990s.
In order to learn lessons from these events, the Algerian elites organized many international and national academic seminars, discussed several doctoral dissertations at universities, and produced many television programs to analyze the causes of these bloody events and to discover the best ways to avoid similar events, based on the reject of all kinds of external intervention as a main idea in any discussion.
There is a method both the Army and the demonstrators have relied on to success until now, which is characterized by:
From the side of protestors, they have focused on:
1 Avoiding the confrontation with military and police officers, unlike what happened in "Arab spring" countries.
2.Trying to coax the military and police officers to be with their side through the slogans.
2.Avoiding acts of violence and vandalism by keeping protests pacific.
3. Reject any religious, ethnic, or political group or party or symbols to represent them.
4.Focusing on pragmatic demands that have nothing to do with ideological discourses.
5.Refuse any external intervention whatsoever, whether there was supporting the movement or against it.
From the other side military command has focused on:
1.Not aligning against the popular movement. Otherwise, we would face a disaster situation may be more than what happened in some Arab countries.
2.The Army interference to align with the popular movement, but after confirming that there is no political solution on the horizons and that the situation could get worst.
3.The commitment of Military command by the constitution; which means passing a message that there is no intention to a military coup.
4.Not taking any step unless the popular movement demands it strongly and forcefully through the slogans carried every Friday. So that the steps taken by the Army won't be in doubt, critic, or exploitation.
5.Provide guarantees to judges to do their work against corrupt people.
By these ten factors, the Algerian popular movement succeeded to achieve fifty percent of Goals (isolated Bouteflika and arrested the most famous symbols of the old regime on corruption charge). Now, the rest of the Goals are more difficult to achieve than the first one. The next step will focus on how to achieve a democratic system that results in accountability and empowers people to control the ruler. Whatever; until now the Algerian popular movement presents a Successful model can the rest of Arab societies benefit from.
What next:
To realize the rest of the goals, the Algerian popular movement and the Army must keep these ten mechanisms but also avoid any confrontation between them. Today there is a controversy between the two sides about the next stage; the Military command wants to hold quick presidential elections as soon as possible under Article 102 of the constitution because according to its view, any political solutions out of the constitution can lead to chaos. But the question here is who ensure that elections will be democratic under the same faces of the old regime and rules (election law for example). in return, there are a lot of citizens insist on carrying out a transition period to get rid of all old regime symbols in order to ensure presidential elections based on international standards, rather than the elections under the old regime symbols (the interim president Ahmed ben salah, and the current government of Noureddine Bedoui). But the question here is who leads this transition period? If the answer was through elect representatives, so who organize and ensure the transparency of these elections! The transition period will create a constitutional vacuum that possibly leads to chaos and that's why Military command don't wanted .
Algeria now is in front of a big constitutional and political dilemma, there are solutions but to maintain all possible solutions, we must avoid any confrontation between citizens and the military command. Of course, the popular movement has all the right to pressure and demand what it looks appropriate as a solution but without entering in confrontation with the military, because, in the end, the military has played a positive major role until now.
Algeria has the ability to overcome the current state crisis and emerge from the events of the popular movement as a regional force because it has a new generation of educated and ambitious youth, a well-equipped military force with experience in the field of counter-terrorism, and large energy reserves of oil and gas.