Machines Will Do More Tasks Than Humans by 2025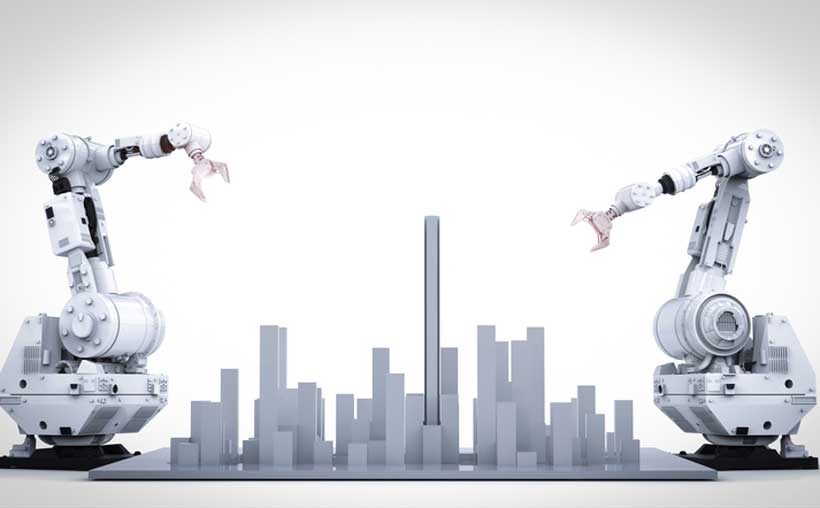 The world is going through a workplace revolution that will bring a seismic shift in the way humans work alongside machines and algorithms, according to new research by the World Economic Forum. By 2025 more than half of all current workplace tasks will be performed by machines as opposed to 29% today. Such a transformation will have a profound effect on the global labour force, however in terms of overall numbers of new jobs the outlook is positive, with 133 million new jobs expected to be created by 2022 compared to 75 million that will be displaced.
The research, published today in The Future of Jobs 2018, is an attempt to understand the potential of new technologies to disrupt and create jobs. It is also seeks to provide guidance on how to improve the quality and productivity of the current work being done by humans and how to prepare people for emerging roles.
Based on a survey of chief human resources officers and top strategy executives from companies across 12 industries and 20 developed and emerging economies (which collectively account for 70% of global GDP), the report finds that 54% of employees of large companies would need significant re- and up-skilling in order to fully harness the growth opportunities offered by the Fourth Industrial Revolution. At the same time, just over half of the companies surveyed said they planned to reskill only those employees that are in key roles while only one third planned to reskill at-risk workers.
While nearly 50% of all companies expect their full-time workforce to shrink by 2022 as a result of automation, almost 40% expect to extend their workforce generally and more than a quarter expect automation to create new roles in their enterprise.
The report presents a vision of a future global workforce that provides grounds for both optimism and caution. Compared to a similar study by the Forum in 2016 to understand the impact of the Fourth Industrial Revolution on jobs, the outlook for job creation today is much more positive as businesses have a much greater understanding of the opportunities made available by technology. At the same time, the huge disruption automation will bring to the global labour force is almost certain to bring with it significant shifts in the quality, location, format and permanency of roles that will require close attention from leaders in the public and private sector.
"It is critical that business take an active role in supporting their existing workforces through reskilling and upskilling, that individuals take a proactive approach to their own lifelong learning, and that governments create an enabling environment to facilitate this workforce transformation. This is the key challenge of our time," said Klaus Schwab, Founder and Executive Chairman of the World Economic Forum.
Among the set of roles set to experience increasing demand across all industries are data analysts and scientists, software and applications developers, and ecommerce and social media specialists, all of which roles that are significantly based on or enhanced by technology. Roles that leverage distinctly 'human skills,' such as sales and marketing professions, innovation managers and customer service workers, are also set to experience increasing demand. Jobs expected to become redundant include routine-based white-collar roles, such as data entry clerks, accounting and payroll clerks.
Jobs Outlook 2022
Within the set of companies surveyed, respondents predicted a decline of 984,000 jobs and a gain of 1.74 million jobs between now and 2022. Extrapolating these trends across those employed by large firms in the non-agricultural workforce of the 20 economies covered by the report suggests that 75 million jobs may be displaced by a shift in the division of labour between humans, machines and algorithms, while 133 million new roles may emerge that are more adapted to this new division of labour.
While we expect net positive job growth, there will be a significant shift in the quality, location, format and permanency of new roles. In fact, businesses are set to expand their use of contractors doing task-specialized work, engage workers in more flexible arrangements, utilize remote staffing, and modify the locations where their organization operates to ensure access to talent.
Workers will require new sets of skills as the division of labour between humans and machines continues to evolve. Surveyed companies report that today, 71% of total current task hours are performed by humans, compared to 29% by machines. By 2022, this average is expected to shift to 58% task hours performed by humans, 42% by machines.
Change Management Strategies
All industries expect to have sizeable skills gaps, with average skills instability of 42%, highlighting the scale of the challenge in preparing today's workers for changes within their current roles and the emerging jobs of the future. Technology proficiency, such as technology design and programming, and distinctly human skills, such as creativity, critical thinking and persuasion, are among the competences that will be sharply increasing in importance.
"Companies need to complement their automation plans with comprehensive augmentation strategies. For businesses to remain dynamic, differentiated and competitive in an age of machines, they must in fact invest in their human capital. There is both a moral and economic imperative to do so. Without proactive approaches, businesses and workers may lose out on the economic potential of the Fourth Industrial Revolution," said Saadia Zahidi, Head of the Centre for the New Economy and Society at the World Economic Forum.
An augmentation strategy takes into account the broader spectrum of value-creating activities that can be accomplished by workers, machines and algorithms in tandem. Fulfilling this potential will require workers to have the appropriate skills for the workplace of the future, and will require business and policymakers to lead complementary and coordinated efforts to invest in human capital.
Respondents reported three main strategies for coping with the challenges of the new world of work: hire wholly new permanent staff with the skills relevant to new technologies; automate work tasks completely; and retrain existing employees. A smaller but significant number of companies expect to allocate the work to specialist contractors, freelancers and temporary workers.
While large-scale, multistakeholder action will be needed to tackle existing and impending skills needs, 85% of companies reported that they plan to rely mainly on internal specialized departments within their organization to provide reskilling opportunities, compared to half expecting to work with public education institutions. Only 34% of the training to be delivered directly by employers is expected to result in an accreditation recognized outside of the company in question.These findings highlight both the future role of companies as learning organizations and the range of untapped reskilling and upskilling collaboration opportunities.
The Future of Jobs Across Industries
The future of jobs is not singular, and disparate impacts will be felt across industries depending on initial starting conditions, skills availability, technology adoption and adaptability of the workforce.
While there is an overall net positive outlook on the future job market, the balance of workforce expansion and contraction looks different across industries. The level of displacement is expected to vary considerably. For example the share of companies projecting jobs losses in the mining and metals, consumer and information and technology industries is higher than companies in professional services. Declining roles and skills in one industry are growing in other industries. These findings point to potential opportunities for coordinated job transition strategies across industries.
All industries expect to have sizable skills gaps, with the Aviation, Travel & Tourism industry projected to have the highest reskilling needs in the 2018-2022 timeframe. Skills gaps are also a particular concern in the Information & Communication Technology, Financial Services & Investors, and Mining & Metals industries. The broad mobility sector is least likely to look to reskill their current employees, while business leaders in the Global Health & Healthcare, Chemistry, Advanced Materials & Biotechnology sectors are most likely to retrain their workers.
"Knowing which occupations are growing and declining globally is a starting place for policymakers, educators, and employers to start conversations on how to transition the global workforce to the jobs and skills of tomorrow," says Allen Blue, Co-founder of LinkedIn. "To help people connect to economic opportunity on the individual level, it's important to map and understand today's labor market dynamics at scale."
If managed well, a combination of reskilling and the augmentation of a range of tasks today can create the opportunity for new, higher productivity growth. For example, administering and physical tasks are projected to be significantly replaced by mechanized labour, leaving room for humans to focus on higher productivity tasks.
The Future of Jobs Across Regions
The impact of automation on jobs will also vary across countries and regions, especially as global companies consider a number of strategic factors in choosing where to locate specific job roles and economic activities. 74% of companies cited the availability of skilled local talent as their foremost consideration in determining job locations. More than half of companies surveyed for this report expect that by 2022, they would consider adjusting the composition of their value chains in response to the adoption of new technologies, and just under half expect to target new talent by modifying the location of their operations. These findings point to the potential impact of workforce management strategies on the geography of jobs across the global economy.
The report finds variation among the demand for roles across regions. Region-specific roles expected to be in growing demand include Financial and Investment Advisors in East Asia and the Pacific and Western Europe; Assembly and Factory Workers in Latin America and the Caribbean, Middle East and North Africa, South Asia and Sub-Saharan Africa; and Electrotechnology Engineers in North America. Across all countries and regions, employers expect that significant reskilling will be needed by a large share of the global workforce over the 2018-2022 period. Remaining competitive in a global context and taking advantage of emerging job creation opportunities will require a well-skilled local workforce bolstered by national lifelong learning ecosystems.
Shaping a Human-Centered Future of Jobs
Harnessing the transformative potential of the Fourth Industrial Revolution will require coordinated efforts among stakeholders in all industries and regions to formulate a comprehensive workforce augmentation strategy ready to meet the challenges of this new era of change and innovation. Business, government and workers must proactively plan and implement a new vision for the global labour market.
For governments, there is an urgent need to address the impact of new technologies on labour markets through upgraded education systems aimed at raising both technical and soft skills among the future workforce; social policies aimed at supporting an ecosystem of lifelong learners; safety nets for managing the social impact of workforce transformations; and stimulating job creation taking into account local and global demand for emerging roles and skills. For industries, it will pay to support the upskilling of their current workforce toward new and higher-skilled roles as competition for skilled talent intensifies and becomes more costly over the coming years. Industries will also need to consider how these efforts may also apply to the gig, temporary and online workforces they increasingly plan to rely on. For workers, there is a need to take personal responsibility for their learning trajectory through the current transition and developing a higher degree of comfort with the concept of lifelong learning.
Methodology
The latest edition of the Future of Jobs Report aims to support individual workers, businesses, and policymakers understand the impact of automation on talent gaps, skills churn, job displacement and change management strategies for navigating the new world of work. The 2018 employer survey that formed the basis of the report gathered the views of business executives at the frontlines of the changing workforce, especially Chief Human Resource Officers, Chief Strategy Officers and Chief Executives. It covers over 300 global companies from a wide range of industry sectors. Survey responses represent more than 15 million employees, and 20 developed and emerging economies which collectively represent about 70% of global GDP. In addition to the aggregate analysis, the report contains 12 industry profiles and 29 country or regional profiles, providing detailed information for projections through to 2022. The Report also included a unique data contribution from LinkedIn, showing the key emerging and declining roles in the recent past across several industries and geographies.
Green Infrastructure Development Key to Boost Recovery Along the BRI
The Belt and Road Initiative (BRI) presents a significant opportunity to build out low-carbon infrastructure in emerging and developing economies throughout the world. A new insight report from the World Economic Forum, "Advancing the Green Development of the Belt and Road Initiative: Harnessing Finance and Technology to Scale Up Low-Carbon Infrastructure," illustrates the green potential of this new development paradigm. It also highlights the 'Vision 2023' action plan of the Green Investment Principles of the Belt and Road, jointly developed within the World Economic Forum's Climate Action Platform.
Emerging and developing economies face rising demand for energy and mobility as they grow, industrialise and urbanise. Today's infrastructure investment decisions will lock in emissions trajectories for decades and could make or break the world's ability to achieve the Paris Agreement objective of limiting global temperature rise to well below 2°C.
"The Belt and Road Initiative offers a new development paradigm through investment in green infrastructure that avoids the irreversible carbon lock-in effect on global climate change," said Antonia Gawel, Head of the Climate Action Platform, World Economic Forum. "Collaborative action from public and private stakeholders will be needed to facilitate bankable green infrastructure projects, supported by international standards and forward-looking climate policies. The private sector is especially important for infrastructure construction, bridging the investment gap and scaling up promising green technologies."
"By accelerating the buildout of low-carbon infrastructure, the Belt and Road Initiative can play a leading role in decoupling economic development from emissions growth for emerging and developing economies," said Raymund Chao, Asia Pacific Chairman, China Chairman and Chief Executive Officer, PwC. "To capitalise on the increasing global appetite for green assets, the financial sector will play a vital role in channelling investment flows towards green energy and transportation projects."
The Green Investment Principles (GIP) for the Belt and Road was launched in 2018 to accelerate green BRI investments. Membership has recently expanded to 41 signatories and 12 supporters from 15 countries and regions, holding or managing combined assets in excess of $49 trillion and providing significant funding to BRI projects.
"This insight report uses a number of vivid cases on low-carbon technologies, financial instruments, and policy measures to showcase how the effective combination of such approaches can facilitate the green development of the Belt and Road Initiative. Multilateral cooperation platforms such as Belt and Road Initiative International Green Development Coalition (BRIGC) and the Green Investment Principles for the Belt and Road play an important role in sharing best practices and fostering international cooperation on green development with countries that benefit from the Belt and Road Initiative," Li Yonghong, Deputy Director General of the Foreign Environmental Cooperation Center, Ministry of Ecology and Environment, People's Republic of China.
"This insight report offers an important contribution to low-carbon development in diverse countries along the Belt and Road. It signals that financial institutions and enterprises are taking action now to incorporate environment and climate risks into their investment portfolios to avoid transition risks and improve outcomes for sustainable economies and societies. "said Rebecca Ivey, Chief Representative Officer, Greater China, World Economic Forum
"Since the launch of the GIP, our member institutions have invested extensively in green projects in emerging market economies. However, greater efforts are needed to help these economies achieve their climate goals. This report provides a fresh perspective of how green and sustainable finance can facilitate the wide application of low-carbon technologies in emerging markets and developing economies. The GIP will continue to expand its reach and actively support the climate transition activities of the EMDEs," said Dr. Ma Jun, Chairman of Green Finance Committee of the China Society for Finance and Banking.
The report uses case studies to highlight the financial sector players, financial instruments, low-carbon technologies and conducive local policies and can and need to come together in advancing the green development of the Belt and Road Initiative.
JinkoSolar expands its South-East Asia solar photovoltaic module supply chain
Silk Road Fund invests in renewable power assets across Africa and the Middle East
Huaneng finances and builds Europe's largest battery storage project
Santiago's innovative PPP financing structure to electrify its bus fleet
Kazakhstan advances its transition from fossil fuels to green energy
Asian Infrastructure Investment Bank (AIIB) helps investors manage climate and other ESG risks
Above all, this report sets the premise for a global infrastructure development strategy and calls for further action to protect our planet and build a sustainable tomorrow."
COVID-19 pandemic stalls global economic recovery
The UN's key report on the global economy, released on Thursday, shows that the rapid spread of the Omicron COVID-19 variant has put the brakes on a rapid recovery, counteracting signs of solid growth at the end of last year.
The 2022 World Economic Situation and Prospects (WESP) report, produced by the UN Department of Economic and Social Affairs (DESA), cites a cocktail of problems that are slowing down the economy, namely new waves of COVID-19 infections, persistent labour market and lingering supply-chain challenges, and rising inflationary pressures.
The slowdown is expected to carry on into next year. After an encouraging expansion of 5.5 per cent in 2021 — driven by strong consumer spending and some uptake in investment, with trade in goods surpassing pre-pandemic levels — global output is projected to grow by only 4.0 per cent in 2022 and 3.5 per cent in 2023.
'Close the inequality gap'
Commenting on the launch of the report, António Guterres, the UN Secretary-General, declared that, with WESP calling for better targeted and coordinated policy and financial measures, it is time to close the inequality gaps within and among countries. "If we work in solidarity – as one human family – we can make 2022 a true year of recovery for people and economies alike", he said.
Liu Zhenmin, Under-Secretary-General of the United Nations Department of Economic and Social Affairs, drew attention to the importance of a coordinated, sustained global approach to containing COVID-19 that includes universal access to vaccines, and warned that, without it, "the pandemic will continue to pose the greatest risk to an inclusive and sustainable recovery of the world economy".
The report predicts that developing countries will take a greater long-term hit that wealthier nations. Africa and Latin America and the Caribbean are projected to see significantly lower growth, compared to pre-pandemic projections, leading to more poverty and less progress on sustainable development and climate action.
The number of people living in extreme poverty is projected to remain well-above pre-pandemic levels, with poverty projected to increase further in the most vulnerable economies: in Africa, the absolute number of people living in poverty is projected to rise through 2023. In contrast, the economies of richer countries are expected to almost fully recover by next year.
Safety nets
The special financial measures put in place by many governments since the pandemic – such as bailouts, improved social protection and job support – should, says the report, stay in place to ensure a strong recovery.
However, in light of rising inflation, several central banks have begun to unwind their extraordinary monetary response to the crisis.
Many low-income developing countries, are facing unsustainable external debt burdens, amid sharp interest rate rises.
Additional borrowing during the pandemic and increasing debt-servicing costs, have put many of them on the verge of a debt crisis. These countries are in urgent need of further and coordinated international support for debt relief, the report notes.
Jobs, slow to re-appear
Employment levels are projected to remain well-below pre-pandemic levels during the next two years, and possibly beyond. Labour force participation in the United States and Europe remain at historically low levels, as many who lost jobs or left the labour market during the pandemic, have not yet returned.
These shortages in developed economies are adding to other pressures, such as inflation, and supply-chain challenges.
At the same time, employment growth in developing countries remains weak, amid lower vaccination progress and limited stimulus spending. Africa, Latin America and the Caribbean, and Western Asia, are projected to see a slow recovery of jobs. In many countries, the pace of job creation is not enough to offset the earlier employment losses.
The WESP was released two days after the latest World Bank's Global Economic Prospects report, which drew similar conclusions, predicting that, given the rapid spread of the Omicron variant, the COVID-19 pandemic will continue to disrupt economic activity in the near term.
Moroccan Economic Growth Could Accelerate with the Full Implementation of Reforms
In order to achieve broad-based growth and job creation, the sustained implementation of a multifaceted and ambitious reform agenda will be essential, according to the World Bank's Morocco Economic Monitor, January 2022: From Recovery to Acceleration.
The report analyzes the growth performance of the Moroccan economy over past decades. Thus far, fixed capital accumulation has been the main driver of growth, with limited productivity gains and an insufficient contribution of labor despite a favorable demographic situation.
The report presents simulations on the impact of various policy options on economic growth in Morocco. According to these simulations, the sustained implementation of a broad-based reform agenda, which raises human capital, economic participation and the productivity of firms, will be crucial to meet the ambitious growth objectives set by the New Development Model. Such an agenda will foster the unlocking of Morocco´s productivity potential, enable the youth and women to access the labor market and improve the educational profile of workers.
"Going forward, the Moroccan economy will need to diversify its sources of growth to continue creating jobs and reducing poverty," said Jesko Hentschel, World Bank Maghreb Country Director. "As envisaged by the New Development Model, this may require the implementation of broad-based reforms effort to stimulate private investment, boost innovation, include women in the labor force and increase human capital."
The report also analyzes the performance of the Moroccan economy in 2021 which showed a projected growth rate of 5.3%. An unusually strong performance of Morocco's agricultural sector, a temporary slowdown in the pandemic, the revival of external demand for industrial and agricultural exports, and supportive macroeconomic policies are the main drivers of a marked but uneven recovery from the COVID-19 crisis.
The ongoing recovery is beginning to revert the social impact of the pandemic. This year's rebound in agricultural production led to a rapid fall in unemployment in rural areas, but in urban areas, labor market indicators only began to improve in the third quarter of 2021. After peaking at an estimated 6.4 percent in 2020, poverty rates may not return to 2019 levels until 2023 despite the effects of the government's cash transfer programs initiated during lockdown.
A robust recovery in public revenues is enabling the government to reduce its budget deficit, and the authorities have relied mostly on domestic markets to cover their financing needs. However, rising energy prices and collapsing tourism revenues have exceeded the additional inflows generated by the strong performance of manufacturing exports and workers' remittances, leading to an increase in the country's current account deficit.
An expansionary monetary policy and liquidity support provided by the Central Bank have helped Morocco's financial sector to weather the storm, but the rate of non-performing loans remains high and could still increase. The management of macro-financial vulnerabilities will be essential for a sustainable recovery, the report said.
Looking forward, and following bumper harvests in 2021, agricultural production is expected to taper off, contributing to a slowing of GDP growth to 3.2% in 2022, after which a gradual acceleration is expected.