UK and seven major companies join campaign for vehicle electrification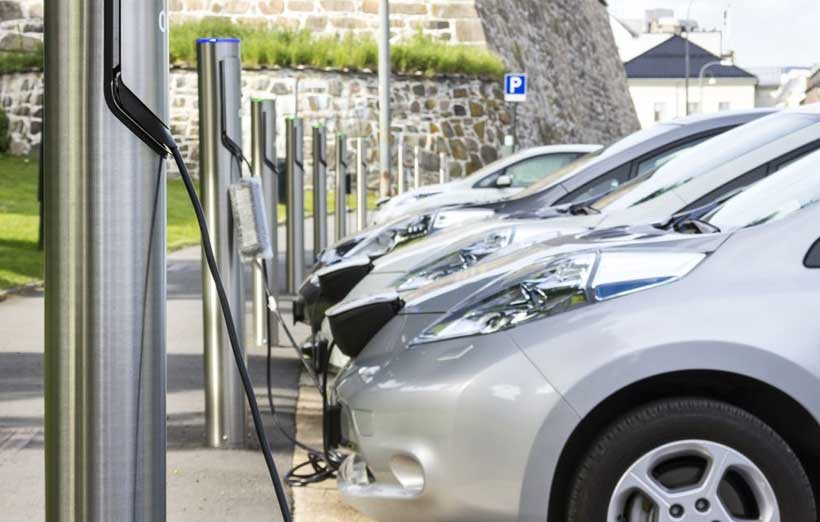 The United Kingdom (UK) and seven major companies today joined the EV30@30 campaign, which aims to speed up the deployment of electric vehicles and target at least 30 percent new electric vehicle sales by 2030.
The expanded membership will strengthen the collective and coordinated approach to meeting the EV30@30 objectives. With the UK, the campaign now has the support of most of the largest EV markets worldwide. The existing members are Canada, China, Finland, France, India, Japan, Mexico, the Netherlands, Norway and Sweden.
The addition of companies active on the electric mobility front is also a milestone for the initiative, which was started last year by the Clean Energy Ministerial (CEM). It represents a major step forward in the campaign's multi-stakeholder approach and reflects the reality of the electric mobility transition that is taking place on the ground. The companies are: ChargePoint, Enel X, E.On, Fortum, Iberdrola, the Renault-Nissan-Mitsubishi Alliance and Vattenfall.
The EV30@30 campaign is organized by the CEM-Electric Vehicles Initiative (EVI), coordinated by the International Energy Agency. The campaign was launched during the 8th Clean Energy Ministerial (CEM8), held in Beijing in June 2017.
Since then, the EV30@30 campaign has succeeded in bringing together over thirty leading cities from twelve countries on the topic of urban electrification via the Pilot City Programme. This initiative acknowledges that cities are running at the forefront of the electric mobility transition and intends to demonstrate how local- and national-level cooperation brings about more successful and sensible policies.
The campaign's target of 30 percent new electric vehicle sales by 2030 applies collectively to the CEM-EVI membership, and not to individual countries. Governments who endorse the goal show leadership by establishing policies to reach the target and engage through EVI to report progress and share best practices.
The EVI recognizes the importance of reducing carbon emissions in the transportation sector, which accounts for almost a quarter of global greenhouse gas emissions and is one of the fastest-growing energy end use sectors. It also recognizes the importance of working towards energy efficiency and the mitigation of air pollution from transportation.
These environmental, economic and social goals can be addressed through accelerated electrification of the transportation sector. In 2017, the global electric car stock reached more than 3 million vehicles, after growing exponentially for the last ten years, according to the latest Global EV Outlook report. In the report's EV30@30 scenario, where all countries together achieve the EV30@30 target on average, over 220 million electric vehicles (light-duty vehicles, buses and trucks) are deployed by 2030.
The campaign supports the market for 2-3 wheelers, electric passenger cars, light commercial vans, buses and trucks (including battery-electric, plug-in hybrid, and fuel cell vehicle types). It also works towards the deployment of charging infrastructure to supply sufficient power to the vehicles deployed. Through EV deployment progress monitoring, analytical activities and policy recommendations, the EVI also aims at providing countries with informed material for the implementation of the most effective electric mobility policies possible.
The campaign also aims to foster cooperation among many stakeholders on electric mobility to exchange experiences and deliver quality capacity building to policy makers and other electric mobility stakeholders in EVI countries and beyond.
The EV30@30 campaign is also supported by C40, the FIA Foundation, the Global Fuel Economy Initiative (GFEI), the Natural Resource Defence Council (NRDC), the Partnership on Sustainable, Low Carbon Transport (SLoCaT), The Climate Group, UN Environment, UN Habitat, and the International Zero Emission Vehicle Alliance (ZEV Alliance). It also received the backing of the Hewlett Foundation, the Renewable Energy Policy Network for the 21st century (REN21) and the World Resources Institute (WRI) this year.
The CEM is a unique partnership of 26 members, including most of the G20 economies, representing 90% of clean energy investment and working together to accelerate the global energy transition. CEM-EVI participants include Canada, Chile, China, Finland, France, Germany, India, Japan, Mexico, the Netherlands, New Zealand, Norway, Portugal, Sweden, the United Kingdom and the United States.
————–
"The electrification of transportation is a priority for the Government of Canada as demonstrated by our role as co-chair of the Electric Vehicle Initiative, and our ongoing support for the EV30@30 campaign. Canada looks forward to furthering this dialogue as hosts of the CEM/Mission Innovation Ministerial meetings in Vancouver in 2019, as we continue on the path to a low-carbon transportation future."
– The Honourable Amarjeet Sohi, Canada's Minister of Natural Resources
"Clean and decarbonised transports are key to reduce air pollution, fulfill the Paris Agreement and build a carbon-neutral world by 2050. Their development is one of the priorities of the French Climate Plan and the future Orientation Law on mobilities. France will act firmly to multiply by 5 the sales of electric vehicles by 2022 while public infrastructure network will be reinforced. France also encourages international actions, through cooperation and initiatives such as EVI or the Transport decarbonisation Alliance, to meet this global challenge. "
– Elisabeth Borne, Minister for Transport, France
"The Paris Climate Agreement of 2015 gives a boost to the ambitions of the Netherlands in e-mobility, the transition to renewable energy and business opportunities in the field of charging infrastructure and the automotive sector. It's our goal to have 100% of all new registered cars in 2030 being zero-emission cars."
– Stientje van Veldhoven, State Secretary for Infrastructure and Water Management, The Netherlands.
"Electrifying the transport sector is an important part of the efforts to end fossil fuel dependence and to achieve Sweden's goal of reducing transport sector emissions by 70 per cent by 2030. EVI is a key international initiative that promotes and supports electric vehicles to help reduce emissions in the transport sector in Sweden and globally"
– Ibrahim Baylan, Swedish Minister for Policy cooperation and Energy
"Our investors, customers and drivers have trusted ChargePoint to deliver solutions that not only combat climate change but will usher in the adoption of cleaner, more sustainable transport. Our efforts to support climate action are a byproduct of a decades long effort to build a successful business that has resulted in a comprehensive portfolio of technologies that enable people around the world to drive a better way."
– Pasquale Romano, President and CEO ChargePoint
"Joining this initiative is of paramount importance to raise awareness and consensus about e-mobility's benefits from an environmental, industrial and energy efficiency perspective. With this aim, Enel X is supportive of every private and public effort that further boosts EV uptake and that sets out concrete plans for the business, as well as becoming a driver of internal growth through the adoption of concrete initiatives that promote the e-mobility culture among our employees."
– Francesco Venturini, CEO of Enel X
"It took us close to 20 years to reach the first million electric vehicles. It took 18 months to reach the second million and an additional eight months to reach the third million. During the past six months, we globally reached four million electric vehicles. This trend needs to continue exponentially if we are to reach the targets set out by the Paris Agreement. We continue to charge ahead by building the needed infrastructure for electric vehicles all across Europe. The future is electric and the EV30@30 campaign helps us reach the future we all want."
– Tore Harritshoj, CEO, Mobility & LifeCycle Solutions Nordic, E.ON
"Today, road transport accounts for more than 40% of global oil demand. At Fortum we strongly believe that the electrification of transport is one of the crucial elements in limiting air pollution and preventing further climate change. The ultimate need to improve air quality and limit emissions, as well as reduce noise caused by vehicles, is increasingly pressing in most urban areas. We are helping to tackle the challenge by offering customers convenient, affordable and accessible services in electromobility, and by developing cloud services and infrastructure for chargers around Europe."
– Pekka Lundmark, President and CEO Fortum
"Iberdrola strongly supports actions towards a sustainable energy model. The campaign EV30@30 encourages the transition to an electric transport sector which, together with the increase in electricity coming from renewable energies, will contribute to fight against climate change, reduce pollution and increase energy efficiency. This will also produce social and economic benefits."
– Ignacio S. Galán, Chairman and CEO of Iberdrola
"Vattenfall is a leading European energy company and to us the climate issue is central and strongly influences our strategic direction. Vattenfall's goal is to enable a fossil free society and one important action we take is to build the largest charging network in North Western Europe and of course we are also electrifying our own car fleet. We hope this will inspire others to act and that we together can achieve the EV30@30 target."
– Magnus Hall, President and CEO of Vattenfall
"With a large number of vehicles on the road registered to companies, we know business has an instrumental role to play in driving the transition to electric transport. The Climate Group's EV100 initiative brings together leading companies choosing electric vehicles for their fleets and installing charging infrastructure at their premises by 2030. Governments and businesses must take action together, joining forces in a shared ambition for electric transport and sending a clear market signal to accelerate a roll-out of electric vehicles."
– Helen Clarkson, CEO, The Climate Group
Guterres: New technology a 'vector of hope' but also 'a source of fear'
Technological innovation is continuing to transform the world, with the potential to propel us all towards reaching the 2030 Sustainable Development Goals (SDGs) said the UN Secretary-General António Guterres on Friday, at the Saint Petersburg International Economic Forum in Russia.
But as much as it is a "vector of hope, it is also a source of fear", that will cause massive disruption to labour markets as they adapt with an "enormous amount of jobs both created and destroyed by artificial intelligence", added the UN chief.
Sharing the stage with Russian President Vladimir Putin, and Chinese President Xi Jingping, along with other national leaders, Mr. Guterres highlighted the publication this coming Monday of his High-Level Panel on Digital Cooperation, co-chaired by China's Jack Ma, founder of the Ali Baba conglomerate, and Melinda Gates of the Gates Foundation; a leading former Microsoft executive, before she and her husband Bill devoted their energies fulltime to running the world's largest philanthropic organization.
Their report will issue recommendations on the way forward for the so-called Fourth Industrial Revolution, with Panel members having spent months listening to input from industry, the private sector, governments, academia, civil society and inter-governmental organizations across the world. It was set up almost a year ago.
"We need a massive investment in education – but also a different kind of education" said Mr. Guterres in Saint Petersburg, "not just learning things, but learning how to learn, and learning across the lifetime. And we also need a new generation of safety nets, for effective social protection for the people negatively impacted."
He noted other major risks, such as the "crippling impact of cyber-attacks, as well as the threats to privacy and violations of human rights. And the internet is simultaneously a remarkable vehicle for connecting people and a weapon for dividing them through hate speech", he added, noting that still only half the world was even online.
"Our shared challenge is to reduce digital inequality, to build digital capacity and ensure that new technologies are on our side and are a force for good".
Mr. Guterres told world leaders that "our shared duty…is to show that we care and that international cooperation can deliver", noting this was the driver behind his UN reform agenda, a new disarmament agenda, strengthened counter-terrorism efforts and the forthcoming plan of action against hate speech.
Guterres underlines Russia's 'important role'
After meeting President Putin on Friday, the UN chief said the event in the historic Russian city was an "important opportunity" to address issues vital to the Organization "and in particular, in this Forum's context, the Sustainable Development Goals and the possibility of a fair globalization."
I would also like to underline the very important role that Russia plays in support of multilateralism and the UN – support that is even more important, in (the) difficult times we are living in", he told reporters.
"As a founding member, permanent member of the Security Council, Russia is an absolutely indispensable actor in the international scene today if we want a more balanced world," he concluded.
AI summit focuses on fighting hunger, climate crisis and transition to 'smart sustainable cities'
Artificial intelligence, or AI, is at the forefront of fighting hunger, mitigating the climate crisis and facilitating "the transition to smart sustainable cities", said the chief of the UN agency which specializes in information and communication technologies, Houlin Zhao, kicking off the third AI for Good Global Summit in Geneva.
"This summit is the leading United Nations platform for dialogue on artificial intelligence", explained the Secretary-General of the International Telecommunication Union (ITU) on Tuesday, adding that it "also raises complex questions about privacy and trust and poses other challenges, from job displacement and potential bias in algorithms, to autonomous weapons and social manipulation".
More than 2,000 participants from over 120 countries joined AI leaders and humanitarian actors to highlight its potential for advancing education, healthcare and wellbeing, social and economic equality and space research.
Unable to attend in person, Secretary-General António Guterres sent a message lauding "the promise" of AI while also warning against its potential dangers.
"If we are to harness the benefits of artificial intelligence and address the risks, we must all work together – Governments, industry, academia and civil society – to develop the frameworks and systems that enable responsible innovation", he said. "These systems must be nimble and adaptable, capable of developing norms and self-regulation standards alongside legally binding laws and instruments when needed, as in the case of lethal autonomous weapons".
Noting that the UN is "well placed" as a forum on "how best to guide progress to better serve humanity," Mr. Guterres underscored that "we must seize the moment, in partnership, to deliver on the promise of technological advances and harness them for the common good".
In his opening address, Petteri Taalas, Secretary-General of the World Meteorological Organization (WMO) spelled out that climate change is accentuating the need for tailored information to improve resilience to extreme weather events.
"WMO deals with big data every day, running a 24/7 operational prediction system based on a huge amount of data gathered around the world," he said, identifying AI as a potentially valuable tool to help meet this challenge.
Guided by its inter-disciplinary audience, this year's summit aims to generate 'AI for Good' projects and ensure that associated technologies will be developed safely, allowing equal access for all.
Francis Gurry, Director General of the World Intellectual Property Organization (WIPO) said that 340,000 AI patent applications have been filed since the 1950s: "Artificial intelligence is one of the most important of the technologies that are currently transforming our economy and society."
He acknowledged there were pressing economic, social and ethical questions surrounding AI, saying that "we are at an extremely early stage, but the common characteristic is that the underlying technological activity…is occurring at a much more rapid speed than our capacity to formulate" responses.
Organized by the International Telecommunication Union (ITU) – in partnership with the XPRIZE Foundation, the Association for Computing Machinery (ACM) and 37 UN entities – the summit, which will run from 28-31 May, aims to identify practical applications of AI to accelerate the UN Sustainable Development Goals.
Conversation centered around how to use AI and data to help find scalable solutions to the biggest challenges facing humanity," XPRIZE CEO Anousheh Ansari said.
It will also debate unintended consequences of the AI revolution, and propose actions for high-potential solutions in achieving global scale, along with a so-called "learning day" to offer an audience with leading AI experts and educators.
"By bringing together AI technologists with leaders in government, industry, and humanitarian initiatives, new ways to apply AI to pressing world challenges are imagined and realized," stressed Vicki L. Hanson, ACM CEO.
What is clear to ITU chief Zhao is that "no one nation, no one organization, no one company and no one community can meet these challenges alone".
"The path to a transformative but also a safe, trusted and inclusive AI will require unprecedented collaboration between government, industry, academia and civil society", he concluded.
Forty-two countries adopt new OECD Principles on Artificial Intelligence
OECD and partner countries formally adopted the first set of intergovernmental policy guidelines on Artificial Intelligence (AI) today, agreeing to uphold international standards that aim to ensure AI systems are designed to be robust, safe, fair and trustworthy.
The OECD's 36 member countries, along with Argentina, Brazil, Colombia, Costa Rica, Peru and Romania, signed up to the OECD Principles on Artificial Intelligence at the Organisation's annual Ministerial Council Meeting, taking place today and tomorrow in Paris and focused this year on "Harnessing the Digital Transition for Sustainable Development". Elaborated with guidance from an expert group formed by more than 50 members from governments, academia, business, civil society, international bodies, the tech community and trade unions, the Principles comprise five values-based principles for the responsible deployment of trustworthy AI and five recommendations for public policy and international co-operation. They aim to guide governments, organisations and individuals in designing and running AI systems in a way that puts people's best interests first and ensuring that designers and operators are held accountable for their proper functioning.
"Artificial Intelligence is revolutionising the way we live and work, and offering extraordinary benefits for our societies and economies. Yet, it raises new challenges and is also fuelling anxieties and ethical concerns. This puts the onus on governments to ensure that AI systems are designed in a way that respects our values and laws, so people can trust that their safety and privacy will be paramount," said OECD Secretary-General Angel Gurría. "These Principles will be a global reference point for trustworthy AI so that we can harness its opportunities in a way that delivers the best outcomes for all."
The AI Principles have the backing of the European Commission, whose high-level expert group has produced Ethics Guidelines for Trustworthy AI, and they will be part of the discussion at the forthcoming G20 Leaders' Summit in Japan. The OECD's digital policy experts will build on the Principles in the months ahead to produce practical guidance for implementing them.
While not legally binding, existing OECD Principles in other policy areas have proved highly influential in setting international standards and helping governments to design national legislation. For example, the OECD Privacy Guidelines, which set limits to the collection and use of personal data, underlie many privacy laws and frameworks in the United States, Europe and Asia. The G20-endorsed OECD Principles of Corporate Governance have become an international benchmark for policy makers, investors, companies and other stakeholders working on institutional and regulatory frameworks for corporate governance.
Download the AI Principles in full. In summary, they state that:
AI should benefit people and the planet by driving inclusive growth, sustainable development and well-being.
AI systems should be designed in a way that respects the rule of law, human rights, democratic values and diversity, and they should include appropriate safeguards –  for example, enabling human intervention where necessary – to ensure a fair and just society.
There should be transparency and responsible disclosure around AI systems to ensure that people understand when they are engaging with them and can challenge outcomes.
AI systems must function in a robust, secure and safe way throughout their lifetimes, and potential risks should be continually assessed and managed.
Organisations and individuals developing, deploying or operating AI systems should be held accountable for their proper functioning in line with the above principles.
The OECD recommends that governments:
Facilitate public and private investment in research & development to spur innovation in trustworthy AI.
Foster accessible AI ecosystems with digital infrastructure and technologies, and mechanisms to share data and knowledge.
Create a policy environment that will open the way to deployment of trustworthy AI systems.
Equip people with the skills for AI and support workers to ensure a fair transition.
Co-operate across borders and sectors to share information, develop standards and work towards responsible stewardship of AI.