Rethinking CPEC and the role of China
Abdul Razak Dawood, Pakistan Prime Minister Imran Khan's Adviser on Commerce, Textile, Industry & Production and Investment told the Financial Times that the previous Pakistan Muslim League (Nawaz ) government while signing the CPEC (China Pakistan Economic Corridor) agreement with China did not safeguard Pakistan's economic interests.
Dawood also made the point, that some of the CPEC projects could be put on hold for a year, and CPEC can be stretched up to five years. Said Dawood, "Perhaps we can stretch CPEC out over another five years or so.
Interestingly, during Chinese Foreign Minister Wang Yi's  recent Pakistan visit, Pakistan's Foreign Minister Shah Mehmood Qureshi assured the former, that Pakistan would accord high priority to CPEC — which was of immense economic and strategic importance for Pakistan. Qureshi also stated, that projects would be implemented at the earliest. Even the normally outspoken Pakistan Finance Minister, Asad Umar was cautious,  and categorically said that 'We don't intend to handle this process like Mahathir". Imran Khan also met with Wang Yi, and a statement from the Pakistani side read as follows:
"The Prime Minister reiterated that the Government is committed to the implementation of the CPEC," Wang Yi on his part emphasized on the fact, that CPEC was not responsible for Pakistan's debts. He also stated, that Beijing was willing to re-negotiate a Free Trade Agreement which according to many in Pakistan, was heavily skewed in favour of China and has faced domestic opposition
During the course of a meeting between the Planning, Development and Reforms Commission of Pakistan and the National Development and Reforms Commission (NDRC) of China two interesting aspects were added to the existing agreement. The first, that third countries would be allowed to invest in the upcoming 9 Special Economic Zones (SEZ's) of CPEC. The Chinese delegation during the meeting is supposed to have conveyed the point, that it was open to investment from countries which were friendly to both Pakistan and China to invest in the Economic Zones. Some of the potential countries discussed were; Turkey, Russia and Saudi Arabia.
Second, 'social sector' schemes and regional development schemes were added to the existing CPEC projects. Social sector schemes include drinking water, health, education and technical training. The inclusion of these areas, was done keeping in mind the priorities of the current government.
Is a significant re-think towards CPEC possible?
There is no doubt, that Islamabad's dependence upon China would have increased as a consequence of its current economic situation and it's deteriorating ties with Washington DC (days before Secretary of State, Mike Pompeo, landed in Islamabad, military aid to the tune of 300 Million USD was withdrawn. Yet, some re-think vis-à-vis CPEC can not be ruled out, because a number of Pakistani politicians have expressed discomfort with the lack of transparency regarding the project.
Transparency with regard to the CPEC project
When in opposition, Imran had himself spoken about the need for greater transparency and openness with regard to the project. Before the elections in July 2018, many analysts argued, that the Chinese would be far more comfortable with PPP and PML-N as opposed to Imran Khan.
PTI's protests against the previous PML-N government, were also viewed with skepticism by the Chinese who believed, that these protests would be detrimental to the progress of the project. Khan during his meeting, in 2016, with the Chinese Envoy to Pakistan tried to address the apprehensions of the Chinese by saying he was all for the project.
One of the objections of Pakistani politicians from Non-Punjabi provinces (across parties), as well as analysts, was that the project was Punjab Centric. In November 2017, members from the Senate including the then ruling party – PML-N – had spoken about the lack of transparency of CPEC, and had also alluded to the fact that China was benefitting more.
Apart from domestic politics, the firm stance taken by Malaysian PM, Mahathir Mohammad with regard to some Chinese projects (the Malaysian PM scrapped projects worth 20 Billion USD) is also important and has forced a rethink in Pakistan . An editorial in Dawn titled, 'Rearranging CPEC', also cited Mahathir's stance against Chinese projects. While it is unlikely, that Pakistan may follow suit as was stated by the Finance Minister, Asad Umar as well as Abdul Razak Dawood himself (Dawood in fact had to clarify, that his remarks with regard to CPEC had been quoted out of context)
There will be groups in Pakistan (especially members of the business community) who could nudge the current government towards tweaking the CPEC agreement further as well as resetting the Pakistan-China economic relationship to some extent. China itself can not afford to ignore Mahathir's stance, as well as his statement about the rise of a 'new colonialism'. The address of Chinese President Xi Jinping at the Africa-China Summit, as well as Wang Yi's statements during his Pakistan visit, are clear indicators that China is not taking Mahathir's statements lightly. Whether Imran Khan can be a Mahathir off course is a different issue.
Lack of options and GHQ
While there may be certain personalities within the current government who are making the right noises with regard to the CPEC project, Islamabad's economic situation has reduced its options.
Apart from this, the Pakistan army (which runs the show when it comes to complex foreign policy issues) has robust ties with Beijing, and will prevent any drastic changes to the CPEC agreement. During his meeting with Wang Yi, the Chief of Army Staff, General Qamar Javed Bajwa assured the visiting Chinese Minister of full support. The Chinese had a robust relationship with former Pakistan Army Chief, Raheel Sharif as well.
A re-think on CPEC as well as Pakistan-China economic relations (highly unlikely in the short run), would benefit not just Pakistan, but could have broader ramifications, and may compel more countries to rethink their ties with China.
The Malaysian PM, Mahathir Mohammad deserves credit for highlighting the shortcoming of China's infrastructural projects as well as it's economic ties with certain countries. This debate is not likely to die down soon, though not every country is in a position to take a bold stand like Mahathir. Imran Khan, in private, may be supporting Mahathir's approach towards China, but can not afford to do so publicly.
Kartarpur Corridor: Sikh Soft Power
Ever since the inauguration of the Kartarpur Corridor, three months ago, in November 2019, it has drawn the attention of media and strategic analysts in South Asia, and outside the region, for different reasons. The Corridor, a long standing demand of the Sikh community, connects Dera Baba Nanak (Punjab, India) with Gurudwara Darbar Sahib, (Narowal Kartarpur in Pakistan) (which are barely 5 kilometres apart). Individuals wanting to pay obeisance at Darbar Sahib, can cross over through the Corridor, without a visa.
The founder of the Sikh faith, Guru Nanak Sahib spent a crucial phase of his life — the last 18 years — at the town of Kartarpur, which he founded (in 2019, along with members of the community, many governmental and non-governmental organisations, in different capacities commemorated the 550th birth anniversary of Guru Nanak Sahib).
While it is true, that in recent years, there has been an increase in the number of Sikh pilgrims visiting Pakistan on important religious occasions, and the Pakistan government had taken steps to encourage more Sikh pilgrims, the opening of the Kartarpur Corridor is significant, given that pilgrims can travel without a visa.
Darbar Sahib, Kartarpur is especially relevant, not just from a symbolic point of view, because Guru Nanak Sahib spent a significant part of his life –18 years. But because it was at Kartarpur, that Guru Nanak Sahib who came up with an alternative paradigm, and sought to challenge the status quo in South Asia, along with some of his close followers from different faiths, propagated the Sikh philosophy (Meditation and remembrance of God, honest and truthful labour, and sharing one's earning with the needy are often referred to as the three important pillars of the Sikh philosophy, which were enunciated, by Guru Nanak Sahib)
Kartarpur Corridor: Current context
If one were to look at the current situation, Kartarpur Corridor and the response so far, while it is true, that there are a number of logistical issues, which have resulted in the number of pilgrims crossing over, being far lesser than estimates. According to official estimates, from the Indian side, the number of individuals who have crossed over through the corridor is a little less than 45,000 ever since the opening of the Corridor.
One of the major causes identified for the Corridor, not receiving the sort of response, which was expected, is the requirement of a Passport for travel to Kartarpur. The Sikh community had been demanding an arrangement where by any ID would suffice.
Yet, there have been a number of positive outcomes. It has resulted in interactions between Sikh Community and locals. Pilgrims have returned with positive stories not just with regard to the Darbar Sahib, but the warmth of the local population.
The opening of the Corridor hasalso opened up vistas in the area of religious tourism not just for Sikhs, but for the Hindu community as well. Pakistan has stated, that not only will it renovate Hindu Temples, but will also permit pilgrims from India access to Gurudwaras and Hindu Temples they were not permitted to visit earlier.
Pakistan itself is likely to benefit not just economically, through religious tourism, but in terms of it's international image.
Impact on South Asia's geopolitics
One aspect, which can not be ignored is the Corridor's impact in the context of South Asia's geopolitics. A number of observers of South Asia, were surprised, that the Religious Corridor actually went ahead in spite of tensions between India and Pakistan (which have consistently deteriorated in 2019) . Similarly, a number of naysayers, in the media as well as strategic community, have been critical of the Corridor, arguing that Pakistan could use it to foment militancy in Punjab (this is a rather simplistic argument, which fails to take into account the sensitivities of Sikh pilgrims, who have no real interest in the politics of deep-states, and looks at the issue from a rather narrow lens)
What is especially interesting is, how the Corridor has drawn global attention. US, China and a number of other countries have welcomed the opening of the corridor, saying that it will pave the way for peace and harmony in South Asia. A number of Sikh activists and commentators have been speaking about the need for 'Sikh Soft Power' which can be effective in blunting narratives of bigotry and narrow mindedness which have gained currency globally in the past few years.
The opening of the Corridor, and its potential role in reducing conflict could be an important component of this Sikh Soft Power. In 2019, a number of other important events have helped in enhancing the stature of Sikhs globally. First, Sikhs in different walks of life have taken an unequivocal stance, against hate both in India and outside. Two prominent Sikh politicians – Tanmanjeet Singh a Labour MP in UK and Gurratan Singh, a New Democratic Party (NDP) legislator from Ontario in Canada were hailed for taking a firm stand against Islamophobia. Second, Khalsa Aid (founded by a British Sikh, Ravi Singh) an international charity while following the Sikh principles of compassion and Nishkam (selfless service)has provided humanitarian aid in conflict zones, and regions struck by calamities like floods and earthquakes. The stellar work of Khalsa Aid, is now recognized not just in South Asia, but globally.
It would be pertinent to point out, that The UN head, Antonio Guterres, also visited the Corridor during his recent visit to Pakistan. He had welcomed the opening of the Corridor in November 2019. "paving way for interfaith harmony and understanding by facilitating visa-free cross border visits by pilgrims to holy shrines."
This visit is important, because it brings to the fore the relevance of the Kartarpur Corridor in a global context. The UN Chief while commenting on his visit to Kartarpur, dubbed it as a symbol of Inter faith harmony. A prominent US based Sikh activist, Harinder Singh in a tweet stated, that the UN Chief's visit was significant. Said Singh:
'Guru Nanak Sahib started langar at Kartarpur Sahib, free & open distribution of Wisdom & Food. United Nation's Secretary-General & Pakistan's Minister for Religious Affairs Dr. Noor Ul Haq Qadri partook rice & lentil. Hope 1-Ness wisdom prevails to realize peace via the Panjab'
Conclusion
In conclusion, Kartarpur Corridor has religious significance for the Sikh community, but it has the potential for reducing tensions in South Asia (by possibly making a beginning, by propelling greater bonhomie and economic integration between both Panjab's) and could pave the way for greater people to people initiatives as well as trade between India and Pakistan. The Corridor will also help in highlighting the role, which the Sikh faith has, not merely as a 'bridge-builder', but an active facilitator of peace in South Asia at a time when the hopes are dim. The Corridor thus is important, as it is an important component of 'Sikh Soft Power' and also reiterates the relevance of what has been dubbed as Faith Based Diplomacy.
Islamic Extremists and Christians in Pakistan
Pakistani Christians played an important role in Pakistan's independence. When they were in dire need of Sikh, Persian, and Christian minorities' support, the Supreme Leader and other Muslim leaders promised them equal freedom and rights in the newly established government.
Thus Christians in Punjab and Sindh were fully active after 1945. Christians also supported the idea of a separate Muslim state.
Since Pakistan's independence in 1947, until the mid-1970s, the Pakistani government was largely secular. But on 26 March 1971, Eastern Pakistan was declared the independent state of Bangladesh, and most of the Pakistani Hindus (who lived in Bangladesh) separated from Pakistan. Meanwhile, Pakistan's transformation into a culturally integrated and increasingly Islamic state has turned Islam to the source of legislation and a cornerstone of national identity. The governments of Zulfiqar Ali Bhutto and Zia al-Haq therefore took greater Islamic law into account.
Pakistani Christians
Most of Pakistan's population are Muslims, but Christians are the largest minority after the Hindus. The south of Karachi has a large number of Christian settlements and there are many Christian villages in central Punjab and the cities of Lahore and Faisalabad.
Most Christians' Ancestors converted to Christianity in order to escape their lower caste during British colonial times. Christians are the poorest part of Pakistani society. But a number of prosperous Christians live in Karachi and their ancestors were of the educated and prosperous class.
Christians and the Islamic Extremists
Prior to separation from India, Pakistan was a diverse religious and cultural community, but later tolerance to other religions and cultures was reduced. Now, Pakistan is a country where Muslim extremist groups and movements do not tolerate religious minorities. As a matter of fact, Christians have repeatedly been subjected to bloody attacks by Islamic extremists. Pakistani Christians, especially Christian Neophytes who have converted from Islam to Christianity, have always been the main target of Islamic hardliners. In this regard, the terrorist attack in Peshawar and the attack on the Christian Center in Lahore were among the most violent terrorist attacks. Along with the bomb blast, suicide attacks, burning Christian homes and churches and increasing ISIL attack on Pakistani Christians at Easter or Easter celebrations are also signs of this.
Reasons behind extremists' attacks on Christians
While Christians and Muslims previously used to live in peace along with each other and were rarely attacked, the following factors increased attacks on them.
First. Indeed, some consider the Pakistan constitution as the root of The radicalization of space for the benefit of extremists.
Since the 1990s, Anti-Blasphemy laws approval has led to the Christians' being accused of Blasphemy and insulting the Prophet of Islam, while some of these allegations are false charges with just personal motivation. These accusations sometimes led to the violence against the Christians and they always have security concerns for religious celebrations.
Second. Before the separation, there was a lot of tolerance in Pakistan, but tolerance has been reduced for several decades.
Pakistani society has become increasingly Islamized and homogenized. As some claim that before the separation, minorities made up 15 percent of the country's population, but it is currently less than 4 percent.
Third. Most of the harassment of Christians in Pakistan by extremist Islamic groups is influenced by political parties. In this regard, some believe that extremist groups that have close relationships with the security and intelligence agencies play an important role in this area. Currently, these radical Islamist groups are managing thousands of Islamic schools and educational centers and provide children and youth with wrong and inappropriate teaching which lead to violence against religious minorities such as Christians. In the meanwhile, churches that engage in social and youth activities experience the worst persecutions.
Fourth. The US-led war in Afghanistan has made Christians more vulnerable to deadly attacks. Indeed, some acts of violence were politically motivated. Attacks on Christian minorities can also be part of a militant message to the West and also a warning to the government to message of Islamic extremists to the government to avoid from being too close to the West.
Fifth. ISIL has supporters in Pakistan, and many extremist militias in the two countries (Pakistan and Afghanistan) follow ISIL's fanatical views of Shia Muslims and theory of putting Christians under pressure and killing them.
Sixth. What is clear is that previous governments have virtually failed to provide adequate space to prevent the migration of Pakistani Christians abroad. In the meantime, the Pakistani opposition has accused the government of "serious violations" of religious freedom by failing to cooperate against terrorist groups.
The future of Pakistani Christians
Many Pakistani Christians believe that they do not have the socio-economic status and equal access to available opportunities, and indeed they are second-class, practically lower-income citizens, and have been denied to become President, Prime Minister, Senate Speaker, or National Assembly Speaker. They also claim that the Christians work in the poorest part of society. In the same vein, some Pakistani think tanks have included Pakistan in the list of a handful of countries that have placed religious minorities under the strongest pressure.
Despite supportive measures adopted by governments in Pakistan (such as allowing guns for Christians) to protect themselves against terrorist attacks, radical Islamists have always viewed Pakistan's Christians as a threat. However, as three-quarters of Iraqi Christians have left the country since the fall of Saddam Hussein's regime and also increasing of the number of migrant Christians in Syria and the region after 2011, This may also happen for Pakistan.
Indeed, there may be numerous reasons such as war, unemployment and convulsions in the region and the increasing attacks by ISIS and other fundamentalists behind the increasing of Pakistani Christians' migration to abroad in the short and long term. This in turn can have many effects on Pakistan and its relations with Europe and the West.
Will the President Trump's India-Visit be fruitful?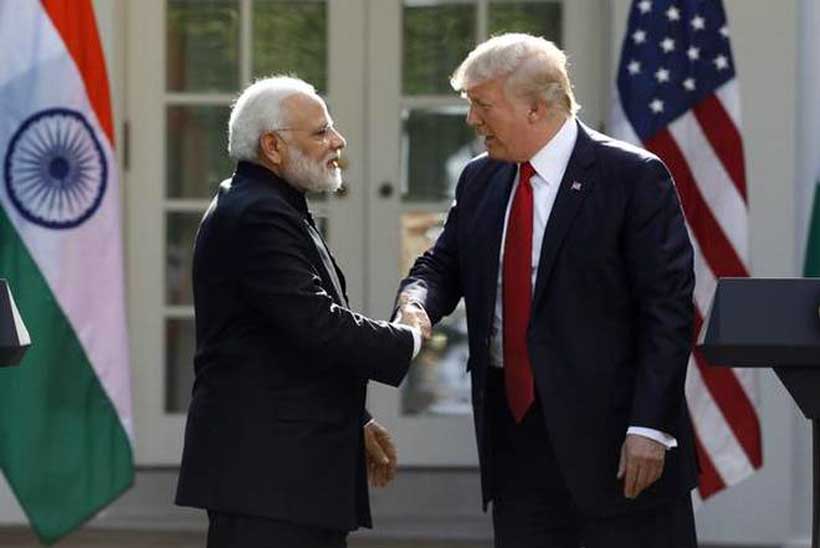 Will President Trump's visit to India on 24-25 February be fruitful? Will the US achieve its goals? Will it be beneficial for India? Will it be merely a personal visit to please Modi or a pleasure trip? There are so many similar questions in many minds.
I think there might be two objectives of this visit: One may be, President Trump has his own agenda on this trip to India, as he is just at a launching stage of his presidential campaign for presidential elections to be held in November this year. He needed political support from his friend Modi, as the Indian-American has a certain vote-bank in the US. He might be seeking his support in Presidential-Elections. The second may be a long term US policy since President George W. Bush administrations and continuing under Barack Obama's tenure, that the US needs India as a strategic partner to help "Counter Russia and Contain China".
Regarding the first objective, Modi is losing his popularity inside India as well as globally. His extremist policies have bounced back already. Kashmir is burning, a civil war in ongoing almost in 20 states against discriminatory Citizenship Act-2019. Law and order situation has drastically deteriorated. Investors are leaving, foreign tourists are advised not to travel to India. The industry is being closed. The routine business has been affected adversely. The economy is almost collapsing, and the country is bleeding. Social unrest and political instability have damaged Modi's popularity in India. Not only the Minorities but moderate Hindus, Intellectuals and neutrals are opposing Modi's policies. His policies are also not welcome by the International Community either. Anti-India protests, agitations, rallies around the world have been witnessed. Human Rights Organizations, International Institutions, and all Peace-Loving nations and individuals are criticizing his policies. India is passing through the worst crisis of its 7 decades-history, under Modi's leadership.
Under this scenario, President Trump's any association with Modi may become counter-productive and Presidential Elections may bring results contrary to his expectations.
Regarding the second objective, the US was seeking strategic cooperation with India to "Counter Russia and Contain China". As the US is losing its influence in this region and facing failure one after another. The US is left with no option except withdrawing its troops from Syria and Afghanistan. The US could not face Iran in the Middle-East and may leave Iraq too. Philippine is out of American Influence. Practically, the US cannot face Russia in the Baltic Ocean, Cannot face China in the Pacific Ocean, and cannot face Iran in Middle-East.
With this background, the US-supported India, projected India, up-lifted India, "to Counter Russia and Contain China". The US has signed with India the "Major Defense Partner" agreement and Indo-Pacific Alliance agreement. The US supplied India with the latest lethal weapons and hi-tech advanced technologies. Extended financial assistance, trade concessions, market access on priority. Extended political and diplomatic support at International platforms like UN, WTO, UNSC, IMF, FATF, EU, World Bank, NSG, etc.
The US has been helping India out of the way, sometimes directly, and sometimes through Israel or through its allies indirectly. As a result, India has become the biggest beneficiary of US assistance after Israel.
Will India meet the expectation of the US? In case of need, do India have a will or capacity to deliver according to American's expectations? While India is collapsing and Modi-Initiated civil war leading India toward disintegration, keeping any expectation from India, maybe just a dream only.
It is worth mentioning that for the last 7 decades, Pakistan was a close ally with the US during the cold war era and front line state during the war on terror. Pakistan's role was vital in achieving the strategic goals for the US in this region and globally. Pakistan's role was appreciated and acknowledged on several occasions. The US leadership knows the capabilities and potential of Pakistan very well, especially the Military leadership is much more aware. Pakistan is a Peace-Loving Nations and well matured. We are a responsible state and understand the consequences of war, especially when the two countries are nuclear states. Pakistan is always willing to be a partner of any peace process anywhere in the world. We are against any armed-conflict or use of force. We wish, all differences around the world, maybe resolved under UN Charter diplomatically, including long pending Kashmir issues.