Destination Langkawi: Beyond the Beaches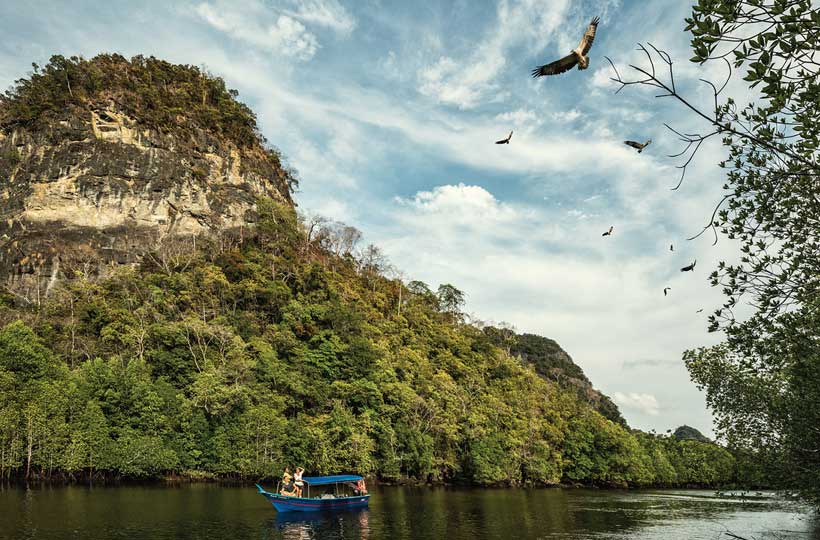 With 550-million years of geological history and generations of mythical folklore, there is always something new for guests of Four Seasons Resort Langkawi to uncover on the island.
A paradise of panoramas, the Langkawi archipelago is an amalgam of mangroves and mountains, rainforests and rivers, wildlife and waterfalls, legends and local charm, tidal flats and coral reefs, cliffs and caves. Whether appreciated from the vantage point of a bike, kayak, boat, cable car, sky-bridge or simply on foot, the islands' thrilling topography ensures a truly breathtaking backdrop for myriad magical and memorable encounters.
Water Worlds
Beyond the beaches, water sports and diving, Langkawi offers visitors rainforests, mangrove "sea forests," cascading waterfalls, hidden lakes and glistening paddy fields to explore.
Outdoor enthusiasts will be spoiled for choice.  The uninhabited islet of Pulau Langgun offers an exhilarating rainforest immersion and lush wilderness trek to the hidden sanctuary of Tasik Langgun, a large freshwater lake.  Build an appetite biking through paddy fields to Durian Perangin Waterfall – 14-tiers of clear cascading water – perfect for a refreshing dip and picnic.  Or visit the island's tallest waterfall, Temurun (30 metres or 98 feet), for another scenic natural swimming pool.
A mangrove kayak get guests unobtrusively close to the magic and mystery of forests that straddle land and sea. Traverse small, dense tributaries and follow the natural ebb and flow of this fascinating ecosystem to uncover hidden delights behind each corner. Alternatively, take a coastal kayak along the emerald seascapes of Langkawi's less explored eastern rim, and paddle through a 15 metre (49 foot) cave tunnel for an unforgettable swim in a salt-water lake.
Mineral and Mystical  
Steeped in geological heritage, Langkawi has some of the world's oldest and most intriguing naturally formed gems.  Shaped by plate tectonics, volcanic activity, ocean submersion and erosion, Langkawi's many rock formations have evolved over millennia into exciting natural habitats, many animated by fantastical folklores and legends.
Adrenalin seekers can heed the call of the ancient limestone cliffs for an afternoon of rock-climbing and abseiling within the Resort's grounds. Just a short distance away, the Langkawi Sky Bridge – suspended 700 metres (2,300 feet) above sea level and accessed via the world's steepest cable car – offers an up close experience of Malaysia's oldest rocks (the Machinchang Formation), not to mention far-reaching views extending to southern Thailand.
Fuel for the imagination, Langkawi's craggy coastline of hidden coves, sunken caves and majestic peaks is straight out of a fairytale and sets the scene for a magical adventure. The intriguing Gua Cerita (Cave of Legends) is the mythical home of a giant phoenix, a captive princess and a deadly giantess. Tasik Dayang Bunting (Lake of the Pregnant Lady) was formed when a huge limestone cave collapsed, resulting in a figure resembling a pregnant woman lying on her back. Locals believe that the lake, famed for the legend of celestial princess Mambang Sari, possesses mystical powers.
Back at the Resort, Spa devotees will be entranced by the element-based offerings at the Geo Spa, where the ancient healing energies of the Geopark meet bespoke natural treatments by ila.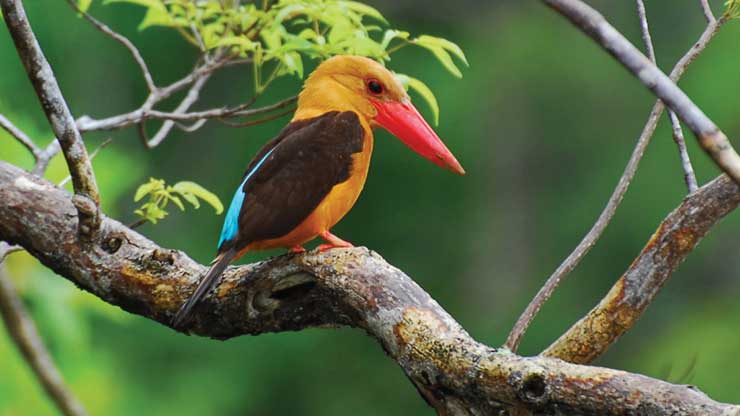 Wildlife and Local Life
A bird watcher's paradise – the open rainforest corridor, mist-covered Gunung Raya peak, and local village ponds provide the opportunity for ornithologists to tick a fair few flying friends off their must see list. Langkawi is home to approximately 200 species including: flower peckers, hills mynas, dollar birds, sun birds, eagles, woodpeckers, lesser whistling-ducks, little egrets, Chinese pond herons, striated swallows and the largest of them all, the great hornbill, measuring in at 1.3 metres (more than 4 feet).
Animal lovers will not want to miss the mangrove boat safari into the Kilim Karst Geoforest Park and its maze of meandering mangroves for exciting up-close encounters with majestic eagles and kites, mischievous macaques, fish that walk (mudskippers), colourful fiddler crabs, shy otters and sleeping bats.
Cultural connoisseurs will be enthralled by the Malaysian book village of Kampung Buku and the bucolic beauty of stilted wooden houses in local villages. A visit to the fishermen's village of Kuala Teriang enables visitors to quietly observe fisherfolk return with their day's catch, or sample delicious deep-fried banana fritters with local milk tea at wooden roadside stalls. Back at the Resort, relish local spices and ingredients during a Malay-cuisine cooking class – available as both adult and child-size experiences.
New Year's Eve with Hilton: 6 Fabulous Ways to Ring in 2023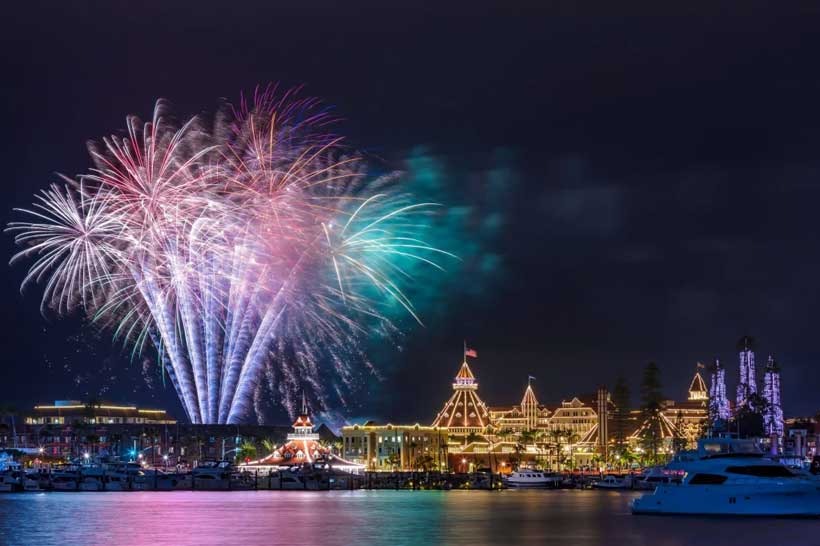 What's your ideal way to ring in the new year? Whether you prefer to get glammed up for a New Year's Eve gala, dance the night away at a rooftop bar, or simply watch the fireworks from the cozy comfort of your hotel room, there are plenty of ways to celebrate. From the beach to the big city, here are five ways you can countdown to midnight at Hilton properties across the Americas.
Conrad Los Angeles
Celebrate the new year with stunning skyline views from Conrad Los Angeles. Watch fireworks illuminate the city from Agua Viva rooftop restaurant's New Year's Eve party, complete with DJ sets, drinks and food from a specialty New Year's Eve menu. Select guest rooms will also have perfect views of the fireworks.
For an extra-special start to the year, book the Cheers to the New Year Package. As the clock strikes midnight, take in the fireworks from Agua Viva rooftop restaurant or enjoy the show from the comfort of your opulent room, complete with special turndown amenities. Wake up and start the new year with a delicious breakfast in bed or enjoy breakfast at José Andres' original fine dining concept, San Laurel, where you'll explore Spanish-inspired flavors intertwined and enhanced with fresh and local Californian ingredients. For dinner, take in captivating views of Downtown Los Angeles overlooking the iconic Disney concert hall while experiencing a decadent, chef-curated New Year's menu that includes Porcini Crusted American Wagyu, Lubina in Saffron Mussel Sauce with Caviar, and much more.
Conrad Bora Bora Nui
Countdown to midnight fireworks in a variety of ways at Conrad Bora Bora Nui. Make reservations for a prestige dinner at TAMURE beachside restaurant, visit the open-air IRIATAI restaurant for a New Year's Eve buffet with live music, or spend the evening at UPA UPA lounge bar, featuring drinks and a live DJ. Guests will be able to enjoy beautiful fireworks in the lagoon from UPA UPA bar and IRIATAI restaurant, and guests staying in overwater bungalows will be able to see the fireworks show directly from their villas.
Hotel del Coronado, Curio Collection by Hilton
Guests can ring in the new year seaside at Hotel del Coronado, Curio Collection by Hilton. In addition to a glamorous and elevated New Year's Eve Masquerade Gala in the newly-opened Southpointe Ballroom, Hotel del Coronado also offers a chill way to welcome in the New Year. Guests can reserve a seat for a New Year's Eve movie on famed Coronado Beach, immediately followed by a celebratory fireworks display over the Pacific Ocean. Guests with ocean-facing rooms within The Views, Shore House or Beach Village will enjoy a front-row experience for the New Year's Eve fireworks.
Hilton Rio De Janeiro Copacabana
Celebrate the new year with views of the famous Copacabana fireworks exhibition from Hilton Rio De Janeiro Copacabana. Choose from the New Year's Eve party at the fourth-floor Clarice Restaurant and Clarí Bar, or a cocktail party on the rooftop Isabel Lounge. Both include views of Copacabana's front beach fireworks. The Clarice Restaurant celebration will include a special buffet with table seats and an open bar, and after dinner, the party continues with a DJ and samba drummers at Clarí Bar. Isabel Lounge will feature a special cocktail by Executive Chef Pablo Ferreyra, an open bar, DJ and samba drummers. Guests with sea-view rooms will also be able to see Copacabana's fireworks from their room.
Continue the celebration on New Year's Day with a traditional Brazilian Feijoada and samba at Clarice Restaurant.
Hilton New York Times Square
Enviably located on 42nd Street in the heart of Times Square and easily accessible from Grand Central, Penn Station and several Subway lines, Hilton New York Times Square is within steps of dozens of Broadway and off-Broadway shows, attractions and Restaurant Row. Soaring 44 stories above Times Square with some of the largest standard-size rooms in the neighborhood, guests will enjoy incredible skyline and Hudson River views, with select rooms looking out to the iconic New Year's Eve ball drop.
Hilton Anatole
Ring in 2023 with the best views of the Downtown Dallas New Year's Eve fireworks show at SĒR Steak + Spirits on the 27th floor of Hilton Anatole. Tickets to the New Year's Eve party are $300 per person and include four hours of gourmet food at live-action food stations with featured chefs, a premium bar with beverages provided by Diageo and Moët Hennessy, multiple Instagrammable photo moments, live music from DJ SC, and a midnight toast.
Exploring the Majestic Almalfi Coast – The Perfect Italy Trip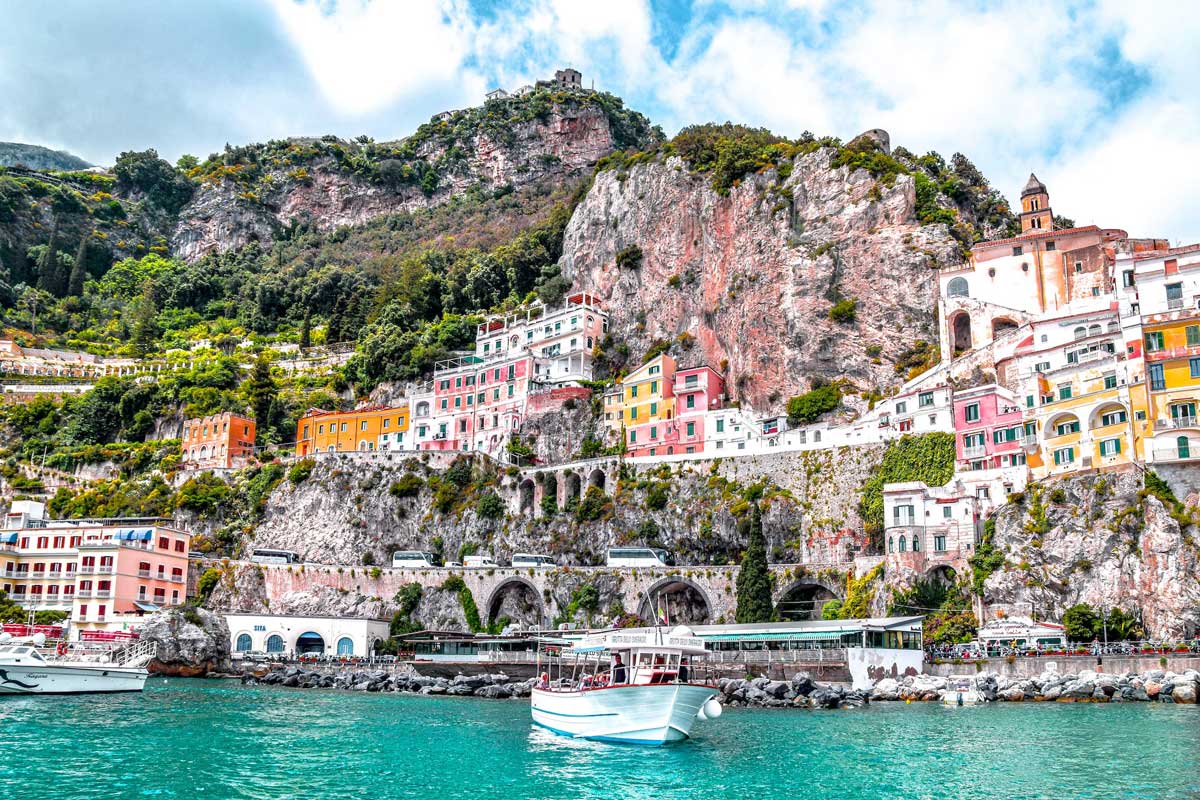 Are you looking for the perfect Italy trip? Look no further than the stunningly beautiful Almalfi Coast. This picturesque coastline along the southern edge of Italy's Sorrentine Peninsula offers breathtaking views, delicious cuisine, and unique experiences that you won't find anywhere else on the planet. Let us explore what this incredible region has to offer.
An Introduction to Italy
Italy is one of Europe's most popular tourist destinations, thanks to its vibrant cities, stunning landscapes, fascinating history and exquisite cuisine. From ancient ruins to modern-day metropolises, there truly is something for everyone in this gorgeous country. But if you're looking for a truly remarkable experience, then you must visit the Almalfi Coast.
The Almalfi Coast
The Almalfi Coast stretches along the southern edge of Italy's Sorrentine Peninsula from Salerno in the west to Vietri Sul Mare in the east. It includes some of Europe's most picturesque towns and villages, such as Positano, Amalfi, Ravello and Sorrento. The area is renowned for its breathtaking beauty with its winding coastal roads lined with lemon groves and stunning views of the Mediterranean Sea below.
What to See
If you're interested in a few Italy trips, check out the activities they offer and fill your days with adventure. Here are some highlights that we suggest adding to your itinerary:
• Sorrento: Visit this delightful seaside town with its cobbled streets and 16th-century churches or take a boat out into the Bay of Naples, where Mt Vesuvius looms large over Capri Island.
• Pompeii: Travel back in time to this ancient Roman city which was tragically destroyed by an eruption from Mt Vesuvius in 79 AD but whose ruins have been preserved for thousands of years.
• Ravello: Take a stroll through this charming hillside village perched high atop cliffs overlooking Amalfi Beach below.
• Capri: Enjoy some time on this idyllic island as it is home to some of Europe's most beautiful beaches, such as Marina Piccola Beach – or take a boat ride around its famous Faraglioni Rocks.
• Positano: Wander through this quaint fishing village renowned for its pastel-coloured buildings perched atop precipitous cliffs above a crystal-clear sea – be sure not to miss out on sampling their signature Spaghetti alle Vongole dish too.
When To Visit
The best times to visit are spring (April/May) or autumn (September/October) when temperatures are milder and crowds thinner than during summertime when it can get quite busy due to peak tourist season. Be sure also to avoid winter months (November/December) as many facilities may be closed due to inclement weather conditions.
With its stunning natural beauty, captivating culture and delicious cuisine, visiting the Almalfi Coast is an opportunity not to be missed on any trip to Italy. Whether you're looking for adventure or simply want relaxation amidst spectacular scenery, one thing is certain; you will leave feeling inspired by all that this spectacular region has offered up. So why wait? Start planning your dream Italian vacation today.
12 ways to make a positive impact on your travels
After a period of plummeting tourism numbers during the pandemic, tourism is having a resurgence. This is good news for many workers and businesses, but it could be bad for the planet. Here is a selection of ways tourists can ensure that their holidays don't harm the environment.There are many positive aspects to tourism. Around two billion people travel each year for tourism purposes. Travel and tourism connect people and bring the world closer through shared experiences, cultural awareness and community building. It provides jobs, spurs regional development, and is a key driver for socio-economic progress.
However, there is often a downside; Many popular destinations are threatened by increasing pollution, environmental hazards, damage to heritage sites and overuse of resources. And that's without factoring the pollution caused by travel to and from these destinations.
So, with that in mind here are some tips that will help you to enjoy your trip, and leave with the confidence that your favoured tourist destination will not be damaged by your presence, once you return home.
1. Ditch single-use plastics
Often used for less than 15 minutes, single-use plastic items can take more than 1,000 years to degrade. Many of us are switching to sustainable options in our daily lives, and we can take the same attitude when we're on the road. By choosing reusable bottles and bags wherever you go, you can help ensure there is less plastic waste in the ocean and other habitats.
2. Be 'water wise'
On the whole, tourists use far more water than local residents. With a growing number of places experiencing water scarcity, the choices you make can help ensure people have adequate access to water in the future. By foregoing a daily change of sheets and towels during hotel stays, we can save millions of litres of water each year.
3. Buy local
When you buy local, you help boost the local economy, benefit local communities, and help to reduce the destination's carbon footprint from transporting the goods. This is also true at mealtimes, so enjoy fresh, locally grown produce every chance you get.
4. Use an ethical operator
Tour operations involve people, logistics, vendors, transportation and much more. Each link in the chain can impact the environment – positively or negatively. If you prefer to leave the planning to someone else, be sure to pick an operator that prioritizes the environment, uses resources efficiently and respects local culture.
5. 'Please don't feed the animals'
Sharing food with wildlife or getting close enough to do so increases the chances of spreading diseases like cold, flu and pneumonia from humans to animals. Also, when animals get used to receiving food from humans, their natural behaviours are altered, and they become dependent on people for survival. In some cases, it can also lead to human-animal conflict.
6. And don't eat them either!
By creating the demand, consuming endangered or exotic animals leads to an increase in poaching, trafficking and exploitation of animals. Besides the harm done to the individual animal on your plate, irresponsible dining can contribute to the extinction of species already threatened by climate change and habitat loss. Keep this in mind when shopping for souvenirs as well, and steer clear of products made from endangered wildlife.
7. Share a ride
Transportation is a major contributor to the carbon footprint from tourism. Instead of private taxis, explore using public transportation like trains, buses and shared cabs. You can also ride a bicycle, which offers a convenient and cheaper way to explore and learn about a place.
8. Consider a homestay
Staying with a local resident or family is a nature-friendly option that allows you to get up close and personal with local culture and customs. Staying at local homestays can uplift communities by providing income while giving you a peek into different ways of life.
9. Do your homework
Before your travel, educate yourself about your destination. Doing so will allow you to better immerse yourself in local traditions and practices and appreciate things that might have gone unnoticed otherwise. With the right information, you can explore a destination in a more sensitive manner and surprise yourself with new adventures and discoveries.
10. Visit national parks and sanctuaries
Exploring nature and wildlife through national parks is an intimate way to learn about the animals and their ecosystems first hand. In some cases, your entrance fee supports conservation efforts that protect species and landscapes and preserve these natural spaces for future visitors to enjoy.
11. Don't leave a trace
You can make a mark by not leaving a mark on your vacation destination. Put garbage in its place to avoid litter, and don't remove or alter anything without permission. Let's make sure we leave only soft footprints, and not the environmental kind.
12. Tell your friends
Now that you're ready to travel in eco-friendly style, it's time spread the word! Inform fellow travellers, friends and family about how sustainable tourism benefits local people by enhancing their livelihoods and well-being, and helps all of us by safeguarding our beautiful environment.