With 550-million years of geological history and generations of mythical folklore, there is always something new for guests of Four Seasons Resort Langkawi to uncover on the island.
A paradise of panoramas, the Langkawi archipelago is an amalgam of mangroves and mountains, rainforests and rivers, wildlife and waterfalls, legends and local charm, tidal flats and coral reefs, cliffs and caves. Whether appreciated from the vantage point of a bike, kayak, boat, cable car, sky-bridge or simply on foot, the islands' thrilling topography ensures a truly breathtaking backdrop for myriad magical and memorable encounters.
Water Worlds
Beyond the beaches, water sports and diving, Langkawi offers visitors rainforests, mangrove "sea forests," cascading waterfalls, hidden lakes and glistening paddy fields to explore.
Outdoor enthusiasts will be spoiled for choice.  The uninhabited islet of Pulau Langgun offers an exhilarating rainforest immersion and lush wilderness trek to the hidden sanctuary of Tasik Langgun, a large freshwater lake.  Build an appetite biking through paddy fields to Durian Perangin Waterfall – 14-tiers of clear cascading water – perfect for a refreshing dip and picnic.  Or visit the island's tallest waterfall, Temurun (30 metres or 98 feet), for another scenic natural swimming pool.
A mangrove kayak get guests unobtrusively close to the magic and mystery of forests that straddle land and sea. Traverse small, dense tributaries and follow the natural ebb and flow of this fascinating ecosystem to uncover hidden delights behind each corner. Alternatively, take a coastal kayak along the emerald seascapes of Langkawi's less explored eastern rim, and paddle through a 15 metre (49 foot) cave tunnel for an unforgettable swim in a salt-water lake.
Mineral and Mystical  
Steeped in geological heritage, Langkawi has some of the world's oldest and most intriguing naturally formed gems.  Shaped by plate tectonics, volcanic activity, ocean submersion and erosion, Langkawi's many rock formations have evolved over millennia into exciting natural habitats, many animated by fantastical folklores and legends.
Adrenalin seekers can heed the call of the ancient limestone cliffs for an afternoon of rock-climbing and abseiling within the Resort's grounds. Just a short distance away, the Langkawi Sky Bridge – suspended 700 metres (2,300 feet) above sea level and accessed via the world's steepest cable car – offers an up close experience of Malaysia's oldest rocks (the Machinchang Formation), not to mention far-reaching views extending to southern Thailand.
Fuel for the imagination, Langkawi's craggy coastline of hidden coves, sunken caves and majestic peaks is straight out of a fairytale and sets the scene for a magical adventure. The intriguing Gua Cerita (Cave of Legends) is the mythical home of a giant phoenix, a captive princess and a deadly giantess. Tasik Dayang Bunting (Lake of the Pregnant Lady) was formed when a huge limestone cave collapsed, resulting in a figure resembling a pregnant woman lying on her back. Locals believe that the lake, famed for the legend of celestial princess Mambang Sari, possesses mystical powers.
Back at the Resort, Spa devotees will be entranced by the element-based offerings at the Geo Spa, where the ancient healing energies of the Geopark meet bespoke natural treatments by ila.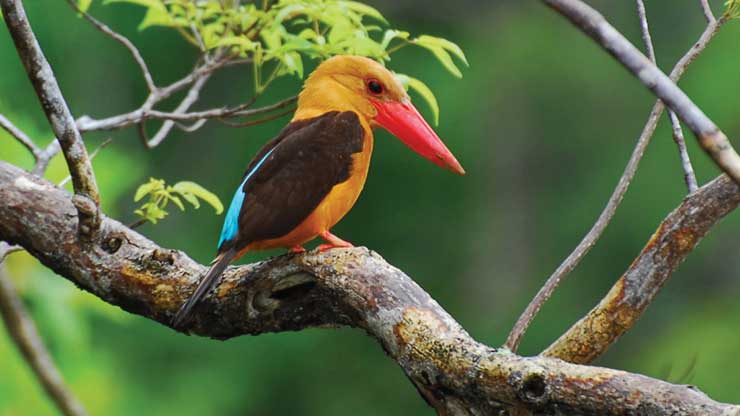 Wildlife and Local Life
A bird watcher's paradise – the open rainforest corridor, mist-covered Gunung Raya peak, and local village ponds provide the opportunity for ornithologists to tick a fair few flying friends off their must see list. Langkawi is home to approximately 200 species including: flower peckers, hills mynas, dollar birds, sun birds, eagles, woodpeckers, lesser whistling-ducks, little egrets, Chinese pond herons, striated swallows and the largest of them all, the great hornbill, measuring in at 1.3 metres (more than 4 feet).
Animal lovers will not want to miss the mangrove boat safari into the Kilim Karst Geoforest Park and its maze of meandering mangroves for exciting up-close encounters with majestic eagles and kites, mischievous macaques, fish that walk (mudskippers), colourful fiddler crabs, shy otters and sleeping bats.
Cultural connoisseurs will be enthralled by the Malaysian book village of Kampung Buku and the bucolic beauty of stilted wooden houses in local villages. A visit to the fishermen's village of Kuala Teriang enables visitors to quietly observe fisherfolk return with their day's catch, or sample delicious deep-fried banana fritters with local milk tea at wooden roadside stalls. Back at the Resort, relish local spices and ingredients during a Malay-cuisine cooking class – available as both adult and child-size experiences.