Indo-US 2+2 Strategic Dialogue: Threat for Regional Stability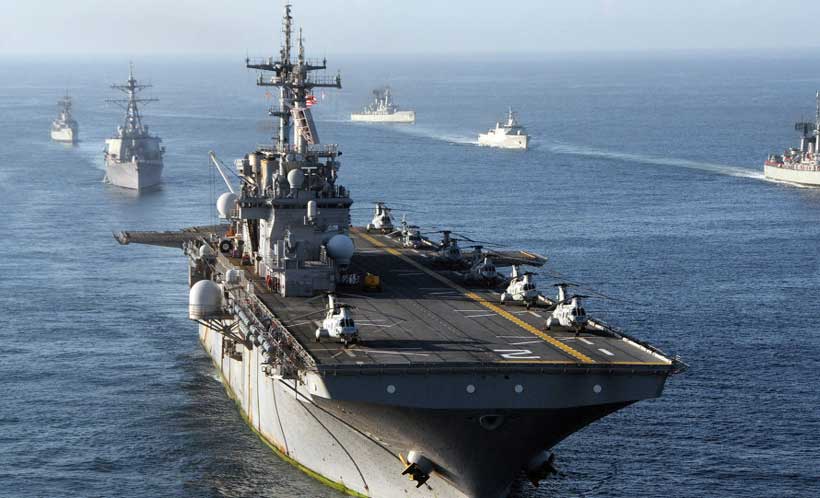 The Strategic Status of the Asia-Pacific Region is rising due to its significant role in the global economy. It has the third-largest body of water in the world and comprising of dynamic sea lanes. The sea lanes in the Indian Ocean are considered among the most strategically important in the world. According to the Journal of the Indian Ocean Region, more than 80 percent of the world's seaborne trade in oil transits through the Indian Ocean choke points, with 40 percent passing through the Strait of Hormuz, 35 percent through the Strait of Malacca and 8 percent through the Bab el-Mandab Strait.
US Interests in South Asia, especially tilted towards India for a decade is to secure its supremacy in the utmost Geo-Strategic and Geo-Economic region. The US wants to contain China and Russia who are spreading influence across Asia, notably in Pakistan, Southeast Asia, and the Indian Ocean. Consequently, the US has recognized India as Major Defense Partner with changing dynamics of security in regional and global great game.
On 6 September 2018, India and the United States of America have documented a new two plus two (2+2) Ministerial dialogue to enhance strategic coordination between them to expand their supremacy in the Indo-Pacific region. U.S. strategy in the Indo-Asia–Pacific is to advocate the US and India to work more closely together on maritime infrastructure in the Indian Ocean to balance China's Belt and Road Initiative (BRI).  It is in the national interests of US to assist India in building up its capacity in the increasingly important Indian Ocean Maritime Sphere and to sale American weapons and the transfer of sophisticated technologies to India.
The recent 2+2 dialogue joint statement is focused on 'strengthen Defense ties and promote Security cooperation' while Commercial Dialogue is now separated from that. External Affairs Minister Sushma Swaraj, Defense Minister Nirmala Sitharaman, US Secretary of State Mike Pompeo and US Defense Secretary James Mattis revitalized the deliberate engagement on cross-border terrorism, India's bid for membership of the Nuclear Suppliers Group.
Both democratic states shared interest to work more closely in Afghanistan, for the developments in the Asia Pacific, Indian Ocean and also in the Middle East (West Asia). Along with India, the US is enhancing its ties with Japan and Australia. The Quadrilateral Dialogue between India, US, Japan, and Australia significantly boosted security and defense cooperation, as evidenced by enhanced bilateral ties, regular trilateral dialogues, and expanded military exercises. The Quad is to boost basic incentives, levels of engagement, and as an instrument to balance against a strengthening Chinese role in the Indo-Pacific region vary for each of the grouping's members.
The USA has used India to revive its Pacific Command. To strengthen their mutual relations, US Foreign and Defense Ministers offered India for tri-Services joint exercise with the United States off the eastern coast of India in 2019.  The US will train Indian Air, Land and Naval Forces. They will assist India to boost their various sectors and grow the bilateral trade to $500-600 billion from the current $125 billion with a good strategy under a specified time. US Department of Defense will help them to address the procedural complexities and facilitate Indian companies to join the manufacturing supply chains of US defense companies.
Subsequently, in the 2+2 meeting, the two countries successfully maintained a mechanism. They agreed to set up a direct hotline between the foreign and defense ministers which includes the signing of Communications Compatibility and Security Agreement (COMCASA) and Basic Exchange and Cooperation Agreement (BECA).  The COMCASA will facilitate India to obtain critical defense technologies from the US, and access critical communication network to ensure interoperability between the US and the Indian armed forces. Indo-US also laid the foundation of agreement for mutual logistics support, the Logistics Exchange Memorandum of Agreement (LEMOA), which will be fully operationalized over the past few months. US recognized India STA-1 status which will make it easy for Indian and US companies to trade in Military hardware, while many technological items will not require licenses either. They agreed to work together regarding the entry of India in the Nuclear Suppliers Group (NSG). Superpower has made an exception for India.
But on the other hand, both countries are compelling Pakistan to 'do more' to eradicate terrorism and diminish the safe heavens of terrorist's organizations. US and India must overlook that the real terror in region is emanating from US and India Strategies as India is introducing dangerous weaponry in the region. The Indian military modernization and indigenization is emanating threats for peace and stability of the region. India rigid stance on Kashmir, violating LoC and modernization of dangerous weapons is making conflict-prone South Asia more vulnerable to uncertainty.
Pakistan has defensive policies, and to counter threats originate from India is overcome by Strategic Partnership with China and Russia. Pakistan decision makers gave a proposal of Strategic Restraint Regime to India for maintaining the deterrence stability in South Asia. Pakistan as a responsible nuclear state is more concentrating on China Pakistan Economic Corridor (CPEC) and Belt and Road Initiative for the economic prosperity of the region.
Unfortunately, the India-US convergence of interest to contain China and their Regional Hegemonic designs have instigated arms race in the region. For the sake of their dangerous national interest, regional peace and stability cannot be compromised. Such discriminatory Alliances and Partnerships instigates instability and undermine global Non-Proliferation Regime.
Instead of such perilous partnerships, new Economic Alliance and Partnerships should be introduced which can rehabilitate economic prosperity and resolute the deep-rooted conflicts. Superpowers should play their constructive role for Economic incentives of all developing South Asian state.
US-China Tensions in South China Sea
Following the end September incident in South China Sea when a Type 052 destroyer of Chinese Navy cut 'across the bow' of US Navy destroyer USS Decatur  when the US vessel was passing near the Gaven Reef in Spratly islands, Trump administration has taken a serious note of this incident . It was a very close encounter which reminded of the U.S. Navy EP-3 surveillance plane disaster in 2001 when Chinese navy plane rammed into the US surveillance plane, and what followed was a diplomatic crisis. Just a week later after the two destroyers crossed each other paths, President Trump made a very curt remark on the earlier Obama administration and called it "impotent" for its lackluster approach in containing Chinese activities in South China Sea. President trump added that as Obama administration did not undertake necessary counter measures, Beijing is posing serious challenges to US ships which are operating in the contested waters of South China Sea. The impending confrontation was expected but the problem for Trump is the magnitude and timing of such confrontation would jeopardize its deft maneuvers in diplomacy. Trump has held first summit meeting with North Korean dictator Kim Jong Un to manage the nuclear threat that the dictatorial regime poses to US, South Korea and Japan. Any escalation of maritime tensions would have a cascading effect on its peace initiatives with North Korea.
According to rough estimates South China Sea contains 17.7 billion tons of crude oil and more than 190 trillion cubic feet of natural gas. Given these large estimated reserves and also very rich fishing grounds in the shallow waters of South China Sea, many nations around its periphery have claimed sovereignty over the more than 80 islands /islets islands. South China Sea is also a commercial shipping route which witnesses $4.5tn of maritime trade passing through its waters. China claims more than 80 per cent of the maritime m area of South Chain Sea citing the nine dash line drawn by Chiang Kai Shek's nationalist government in 1949. South China Sea had a history of close encounters which were seen when Chinese navy killed 70 Vietnamese sailors in 1988 over occupation of Johnson South Reef, and thereafter when during confrontation with Philippines in 1995, it occupied Mischief reef. The features in South China Sea are islets and rocks which at times of low tide are barely 4-5 meters above the sea level and these get submerged during the high tide.
The island building process that China has undertaken has started threatening the safety and security of the sea lanes. In few of the islands under Chinese occupation in the South China sea, China has developed necessary infrastructure to support operations of the military aircraft and also missile defence batteries creating serious challenge to the US navy, and also challenging freedom of navigation for navies of other ASEAN countries as well as those of India, Japan and Australia. This assertive approach that China has adopted has resonated in the ASEAN multilateral meetings but a strong counter narrative, and criticism from the multilateral institution is missing. The ASEAN nations fearing Chinese riposte along with Chinese aggressive behaviour have tried to engage China so as to bring about a Code of Conduct in the disputed waters. China has imposed fishing ban in certain months each year in the third richest fishing grounds in the world, and also has intimidated the other claimant states fishing vessels in the past. Chinese navy had harassed Philippines Coast Guard and had snapped the undersea cables laid by a Vietnamese ship. In 2009 USS Impeccable also had to weather annoying tactics by Chinese fishing boats who have been acting as the third line of defence after Chinese navy and Coast guard. This aggressive behavior and demarcation of safe zones by the Chinese navy in and around the islands that China occupies, have threatened lives and livelihood of fishing communities of Malaysia, Indonesia, Vietnam and Philippines who make their living out of the fisheries that they catch in South China Sea.
In July2016, the Permanent Court of Arbitration (PCA) had given a verdict in favor of Philippines when the country took the issue of illegal Chinese occupation of features particularly islets and small islands in the EEZ of the Philippines to the international tribunal. It adjudicated that all those features which could not sustain human habitation have not right to seek an Exclusive Economic Zone(EEZ) of 200 nautical miles, and also declared that Chinese occupation and reclamation activities is illegal. The Philippines while awaiting an international support and US action given the fact that US and Philippines have a Visiting Forces Agreement (VFA) sought refuge with China to resolve the crisis. For a long time, China has been insisting on bilateral negotiations with other claimant states including Vietnam, Philippines, Malaysia and Brunei. Taiwan also occupies the largest island in South China Sea known as Itu Iba which is centrally located and it of immense strategic importance. The island building and the installation of military support and logistics structure has annoyed US and it has made very strong remarks with regard to Chinese construction activities. However, in terms of dissuading Chinese activities there has been a sublime response from US. As a result of US non–intervention, China has built nearly 2,000 acres of reclaimed land in and around its islands in South China Sea.
With South China sea heating up because of the recent incident, India will have to be cautious with regard to safeguarding its interest. The reported near confrontation between US and Chinese navy in the end of September 2018 is a matter of concern. India has also faced such intimidation tactics in the past when in July 2011 its naval ship AIRAWAT leaving the Vietnamese coast received radio message warning it of transgressing the Chinese territory in South China sea. Given this one off incident cannot be a parameter for the tension germinating in the disputed waters, India will have to be prepared for close encounters with the Chinese navy in future.
Israeli-Iranian Nuclear Standoff: So Far Only Verbal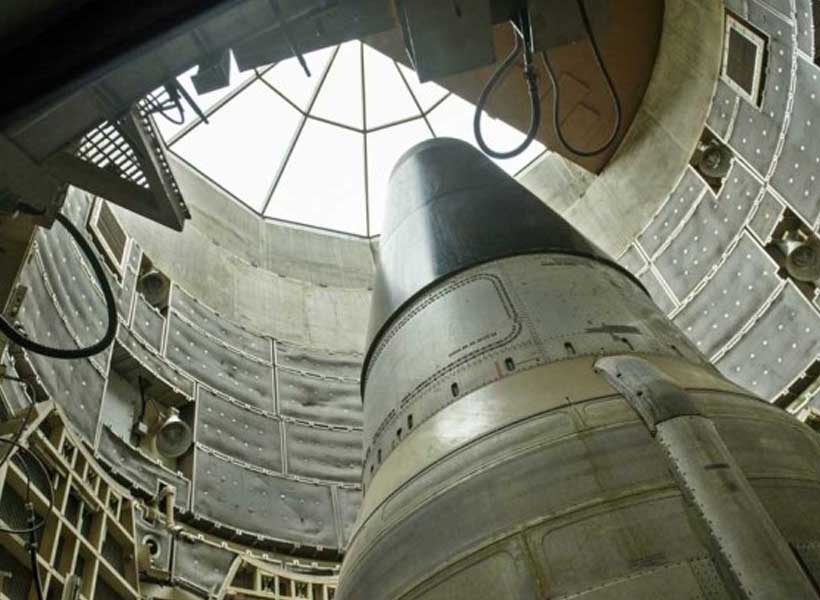 A few days ago Israel and Iran traded accusations of harboring nuclear ambitions. Speaking at the 73rd session of UN General Assembly, Israeli Prime Minister Benjamin Netanyahu spoke about nuclear materials and equipment allegedly stored somewhere in Tehran.
The Iranian response did not take long coming with an enraged Foreign Minister Mohammed Javad Zarif blaming Israel for covert production of nuclear weapons.
According to Zarif, Israel is the only country in the region with a "secret" and "undeclared" nuclear arms program, which allegedly includes "a real nuclear arsenal."
That the two countries have been engaged in a long-running cold war is no secret. Long before the 1979 Islamic revolution, the founder of the Islamic Republic of Iran, Ayatollah Khomeini, pursued a clearly anti-Israeli line in his speeches and sermons.
"I consider Israel's independence and its recognition as a catastrophe for Muslims undermining the activities of Islamic governments," he said over and over again.
"The Zionist regime must be wiped off the face of the earth, and with the help of Divine power, the world will soon live without the United States and Israel," he added.
Tehran's anti-Israel rhetoric hasn't changed much since Khomeini's death.
Today, Iran is the only country that does not recognize Israel's very right to exist.
In its 70-year history, the State of Israel has fought seven major wars with the Arabs and endless armed clashes with Palestinians and the pro-Iranian Lebanese Hezbollah movement.
Jerusalem's relations with many Arab states have generally returned to normal and when it comes to the confrontation with Iran, some of them have even allied with the Jewish state. Meanwhile, Iran is now seen by Israel as a major threat.
Israel's nuclear program was initiated by its founder, Prime Minister David Ben-Gurion. After the end of the Arab-Israeli war of 1948, in which Israel was confronted by the Egyptian and Jordanian armies, Ben-Gurion realized that an atomic bomb was the only way for Israel to survive in the face of the Arab forces that outnumbered the Israelis many times over.
The history of the creation and possession of Israel's nuclear weapons is interesting per se and reads like a detective story. What is really important, however, is Israel's ability to obtain nuclear capability in a short time and virtually without conducting any nuclear tests [1]. These days, the expertise gained over decades and the high performance of modern supercomputers make it possible to create realistic mathematical models of nuclear and thermonuclear warheads, which, in turn, makes it possible to avoid detonating a nuclear charge at a test site.
All this being said, however, Israel strictly adhered to the policy of "positive disguise" refusing to recognize the existence of its nuclear arsenal, hiding direct evidence of its existence and making veiled hints about its existence as a warning to enemies. Former Israeli prime ministers have made such hints more than once. In July 1998, Shimon Peres publicly admitted (without elaborating) that Israel possessed nuclear weapons. Ehud Olmert also indirectly confirmed that the Jewish state had an atomic bomb.
"Iran wants to possess nuclear weapons, following the example of Israel," Ehud Olmert said in a 2006 interview with SAT1.
Leading politicians, like former US President Jimmy Carter and ex-IAEA Director Mohammed ElBaradei, have mentioned the presence of nuclear weapons in Israel. In 2013, Britain's Bulletin of the Atomic Scientists asserted that Israel had about 80 nuclear warheads and possessed enough fissile materials to produce between 115 and 190 nuclear warheads. However, the production of nuclear warheads in Israel was "frozen" in 2004.
However, this "freeze" can quickly "thaw out," and the entire Israeli nuclear complex, consisting of several major nuclear infrastructure facilities, will get back to work.
These facilities include:
Sorek Scientific Nuclear Research Center was set up n the 1950s in Nagal Sorek settlement outside Tel Aviv. Israel's first 5 MW light-water nuclear reactor, brought in from the US as part of President Dwight Eisenhower's Atoms for Peace program, was installed there.
This low-power reactor could not produce weapons-grade plutonium, and was mainly used for training specialists and devising methods of handling radioactive materials, which later came in handy in more comprehensive  research. However, despite Israel's persistent requests, the Americans refused to provide nuclear fuel and equipment that could be used in a nuclear weapons program, so in the late-1950s, France became the main source of materials and nuclear technologies for Israel. The Sorek Center is monitored by the IAEA.
Nuclear Research Center at Dimona. A natural uranium heavy-water reactor, built and later modernized by French specialists, has been operating there since 1964. The 28 MW reactor has a capacity 40-60 kg of weapons-grade plutonium. Until 2003, Israel had produced  about 650 kg of plutonium – enough to build over 100 nuclear charges. (It takes between 3 and 8 kilograms of plutonium to produce a single nuclear warhead, depending on technology used). The Dimon Center of the IAEA is monitored by the IAEA.
Yodefat is a settlement in Galilee, where Israeli specialists reportedly assemble and dismantle nuclear weapons at the Raphael's enterprise, called "Division 20".
Kfar Zakharia – a missile base in the Judean Hills where strategic nuclear weapons and delivery vehicles are stored in warehouses.
Eylaban – a nuclear weapons site.
Israel's Jericho missiles are made in Beer-Yaakov, and their tests are carried out mainly at the army base in Palmachim. A considerable number of Israel's nuclear-capable aircraft are stationed at the nearby Tel Nof base. Israeli military commentator Joab Limor wrote about this in his article titled "Israeli Weapons of Mass Destruction" as early as in 2011, citing the British magazine Jane's Intelligence Review.
Israel's strategic nuclear forces are built around a classic nuclear triad, consisting of land-based intercontinental ballistic missiles, bomber-carried cruise missiles and cruise missiles on submarines. As a means of ground-based delivery, foreign experts consider the three-stage Jericho-3 missile (possibly 16 missiles), whose range is estimated at around 6,500 km with a payload of 350 kg payload (one nuclear warhead), and with a range of 4,800 km with a 1-ton nuclear warhead.
Two air squadrons of 18 F-15I Ra'am (Thunder) fighter-bombers each carrying a pair of Israeli-made Gabriel cruise missiles. This is the aerial component of the Israeli nuclear triad.
The naval component consists of five German-made Dolphin diesel electric submarines capable of carrying nuclear-tipped Gabriel cruise missiles.
In summation, it can be stated that Israel now has a wide range of non-strategic means of nuclear weapons delivery and an impressive nuclear arsenal by regional standards. The main emphasis is on the highly survivable maritime component of nuclear forces. This is deemed extremely important for Israel, which, being a small country, is very vulnerable to attacks weapons of mass destruction.
No so Iran, which has also been engaged in nuclear research since the 1950s. Over the years, the country has built up an impressive nuclear infrastructure.
However, no nuclear weapon has been created there, even though after the 1979 Islamic Revolution a secret directive on nuclear weapons development was adopted to ensure the survival of the Islamic regime, and a pertinent plan, dubbed "Ahmad" was drawn up with an eye to creating a nuclear warhead for a ballistic missile. By the way, it was the IAEA which, at the end of 2011, blew the whistle about the "Ahmad" project with a detailed twelve-page document titled "Possible military Dimensions to Iran's Nuclear Program."
According to the IAEA, the Amad project was abruptly scrapped at the end of 2003, as ordered by high-ranking officials in Tehran. Simultaneously, the personnel employed in various "Ahmad"-related jobs are believed to have initially remained at their workplaces in order to register and report on the results achieved by that moment. After that – from the end of 2003 to the start of 2004 – both the equipment and the workplaces of those engaged in the project were destroyed to leave as little evidence as possible that might point to the "delicate" nature of the work done there.
All this meaning that since 2004, Iran has not been engaged in any military nuclear activity. By amazing coincidence, Jerusalem froze its production of nuclear warheads in that very same year of 2004.
Israel insists that the military aspect of the Iranian nuclear program is still there. Even though the IAEA's latest reports point to the contrary, Israeli Prime Minister Benjamin Netanyahu claims that Iran is developing nuclear weapons at two secret sites in Tehran. Speaking at the UN, Netanyahu also recalled that in April he had produced tons of documents, which, according to him, had been obtained by Israeli intelligence in Iran.
"Since we raided [their] atomic archive, [the Iranians] have been busy cleaning out the atomic warehouse. Just last month, they removed 15 kilograms of radioactive material. You know what they did with it? They had 15 kilograms of radioactive material, they had to get it out of the site, so they took it out and they spread it around Tehran in an effort to hide the evidence," the Israeli prime minister told the UN General Assembly in September.
Benjamin Netanyahu also showed several photos from a map application pointing to an address in Tehran, where he claimed nuclear materials were stored.
"What Iran hides, Israel will find," Netanyahu and added, referring, to what he described as "the tyrants of Tehran": "Israel knows what you are doing and Israel knows where you are doing it."
"Israel will never let a regime that calls for our destruction develop nuclear weapons – not now, not in 10 years, not ever… We will continue to act against you in Syria. We will act against you in Lebanon. We will act against you in Iraq. We will act against you whenever and wherever we must act to defend our state and defend our people," Netanyahu warned.
Israel has always been an ardent opponent of the Joint Comprehensive Plan of Action (JCPOA) for Iran, adopted by international mediators in 2015, arguing that this will not stop Iran from developing nuclear weapons.
Netanyahu still pointed to a positive consequence of the agreement
"By empowering Iran, it brought Israel and many Arab states closer together," he said during his address to the UN General Assembly.
The recent mutual accusations of nuclear ambitions regularly leveled at each other by Tehran and Jerusalem are part of the war of words, elements of the Iran-Israeli Cold War, which has been going on for many years. The military-political tensions around Iran have been shooting up and the propaganda war between the two countries is heating up.
Undoubtedly, the Israeli politicians' anti-Iranian nuclear rhetoric is aimed at the complete destruction of the 2015 nuclear deal.
The JCPOA is in a state of limbo now that the US has walked out of it and the other signatories are making every effort to salvage it in one way or another. If the deal collapses then Iran is sure to resume its military nuclear program which, in turn, will reflect very badly on the situation in the Middle East and around the world as no international organization, including the IAEA, will be able to control Tehran's actions.
It looks like this is exactly what Jerusalem wants so that it can prove Tehran's nuclear militancy and the correctness of its anti-Iranian policy.
[1] Nothing is definitely known about Israel's nuclear tests. However, on September 22, 1979, a series of light bursts characteristic of a nuclear explosion of a 2–3 kiloton charge were recorded by the US satellite "Vela" 6911 near the Prince Edward Islands in the South Atlantic. It is widely believed that this was an Israeli nuclear test, possibly conducted jointly with South Africa.
First published in our partner International Affairs
The Vostok 2018 exercises and their strategic significance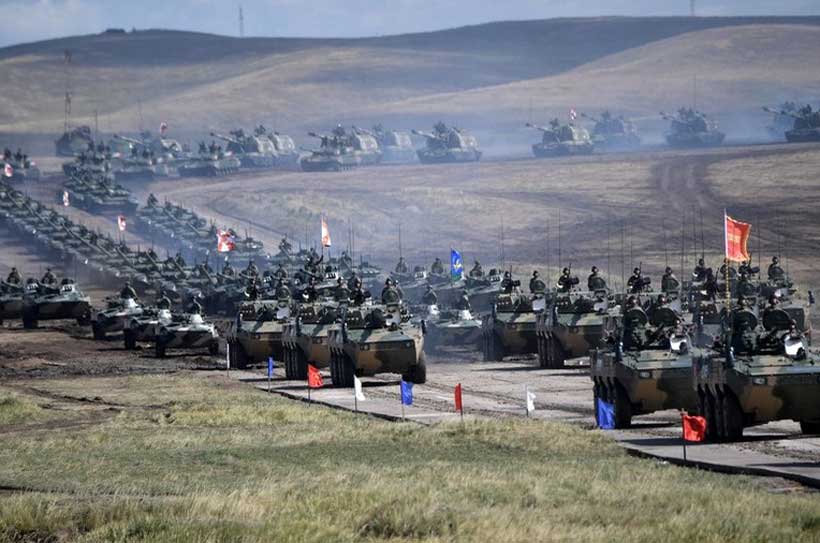 The Russian, Chinese and Mongolian exercises known as Vostok 2018 have been particularly important both from a military and tactical viewpoint and due to their geopolitical significance.
Vostok 2018 (a Russian term generally translated as "East") is an operation reaffirming the new strategic unity between Russia and China. Hence it conveys a very clear message to the West that it would be good for the Atlantic Alliance not to disregard or neglect.
The message is the following: if NATO wants to attack them or, in any case, enter the areas of Russian-Chinese interest in the Heartland, the response of the Sino-Slavic axis will be very harsh, to the point of raising the threshold of a possible Western attack to an intolerable level. Hence the unavoidable response from the "East" will be unbearable at technical, financial and political levels for the attacker alone.
With this really impressive operation – although the number of the forces on the field has not yet be fully defined ex post-Russia certainly wants to demonstrate that the United States cannot attack without expecting severe responses from the Russian Federation, probably capable of blocking the US itself – considering that, in this case, there would be an immediate reunification with the Chinese forces, with the Mongolian Armed Forces and probably also with other forces of the Central Asian region, which is certainly a fact not to be disregarded.
In this case, would Turkey accept a NATO action against the Russian-Chinese axis? It is unlikely. And what about Romania?
Meanwhile, the US theories and doctrines developed by the current Commands work on the assumption of a simultaneous war against the Russian Federation and China, with the deployment of vast land and maritime forces against Russia and mainly air forces against the People's Republic of China.
The wars on two fronts, however, have never brought good luck to anyone and certainly the deployment of the Vostok 2018 forces conveys a clear message to President Trump's America, where China is already taking revenge for the economic war unleashed against it by President Trump.
In particular, the Chinese revenge is taken through a strong secret and media commitment against the President in the upcoming midterm elections, while China knows its way around when taking actions in the Syrian region, certainly in agreement – once again – with the Russian Federation.
The Vostok 2018 exercises were above all a large-scale interforce military operation held from 11 to 17 September, involving the Central Russian military districts (Volga and Urals) and the Eastern one (Siberia) and at least 29 regions of the whole Federation, as well as the Russian Northern and Pacific fleets and finally the Aerospace and Aircraft Forces.
In the first stage of the Vostok 2018 exercises, which lasted two days, the Joint Strategic Operational Commands of the Eastern and Central Districts and the Northern Fleet were deployed throughout the Eastern operations theatre for combat preparation and training, in addition to fully deploying the Russian Navy between the North and the Far East.
The second stage, which lasted three days, was dedicated to the organization of the interforce groups to train and prepare the troops for escalating clashes and fights throughout the already defined theatre of operations.
There was a systematic use of the many firing ranges of the Eastern District, with defensive and counter-offensive actions particularly in the Trans-Baikal direction, as well as similar sea operations in the Pacific.
The idea was to support deep penetrations on the ground of naval infantry and specialized land brigades, with a strong protection from the air – a real air denial.
Six shooting ranges were used only for managing ground military operations, four of the Air Forces and the Anti-Air Defence, with actions also in the Sea of Japan, in the Bering Sea, in the Sea of Okhotsk, and then in the Avacinsky Gulf and in the Kronotsky Gulf.
Both Gulfs are located in the Kamchatka peninsula.
Considering the Russian and Chinese soldiers (who participated in all operations, even as mere observers), as well as the Mongolian soldiers, who specialized in land and counterattack actions, approximately 297,000 soldiers took part in the Vostok 2018 exercises, with 1,000 aircrafts and helicopters; 7,000 land vehicles, including 110 tanks; 36,000 guns and pieces of artillery, as well as over 80 ships. Numbers recorded after the operations, which are much greater than what officially expected initially by the Russian Defence Ministry.
It should be recalled that the previous exercises, namely Zapad 2017, focused on the West (in fact, Zapad is a Russian word meaning West), involved "only" 12,700 Russian and Belarusian soldiers.
In the framework of this year's exercises, China had approximately 3,500 soldiers; 1,100 vehicles; 30 aircrafts and 24 helicopters.
A Russian brigade in charge of communications, stationed in Samara and counting 1,000 soldiers, was, for example, transferred to the Trans-Baikal area, 5,500 kilometres away from Samara.
200 Russian troops were moved from Orenburg for additional 5,000 kilometres eastwards.
It is the operational implementation of the new Russian military doctrines of the Material-Technical Support and Combat Service Support (MTO) theories dating back to 2010, but put in place – in large quantities and at great distances – only with this operation.
Furthermore, while the various joint operations of China and the Russian Federation within the Shanghai Cooperation Organization (SCO) mainly regard counter-terrorist, counter-guerrilla operations and, in any case, asymmetric and non-conventional threats, Zapad 2018 only deals with conventional actions and hence war between States.
Moreover, as early as last year, Russia and China had carried out joint missile exercises.
However, why is the Russian Federation currently focusing on its Eastern flank?
History can help us to answer this question, as is always the case when it comes to strategic issues.
Russia has always been weak, often too weak, in the East.
Since that time, the Russian-Japanese war of 1904-1905 had placed the whole Siberian and Mongolian East out of the Russian framework, thus pushing Russia towards a disinterested West, towards which the majority of its people was already gravitating.
The current Russian leadership knows all too well how, in the early twentieth century, the British confidential documents considered Russia a "territory suitable for Socialist tests and experiments". To some extents, the Bolshevik Socialism itself was a largely unfavourable adaptation to the economies and economic systems of the West and, later, of the United States.
When the USSR spent everything possible in the strategic parity of the Cold War, Mao Zedong-who was certain he had to do with the usual "enemies of the North", namely the Russians -maintained instead that the Cold War was "a paper tiger". Nevertheless, now the global equilibria have changed, and – just to paraphrase Mao Zedong again – there will be a hundred Cold Wars, a hundred different peaces.
During the Bolshevik revolution, however, Japan, Great Britain, Italy, the United States, Canada and China had occupied the whole Siberia and, hence, were pushing Trotsky's Red Army to its Western borders, thus putting it in serious strategic difficulty. The Red Army was highly likely to be taken by surprise from the rear by the European countries.
The fact that the Bolshevik Russia defeated China in 1929 was at the origin of Japan's arrival in Manchuria, which became Manchu-kuo, the first axis of Japanese penetration into Central Asia.
It is in this context that also the ambiguity of Xinjiang- the future area of development of Islamism and jihad in China -between Bolsheviks and Chinese has arisen.
The old Manchu-kuowas an axis capable of fully destabilizing the Chinese set-up, as well as stopping Russia's economic and political expansion to Siberia and Mongolia – and it is currently still able to do so.
In fact, many Chinese leaders view the Republic of Taiwan as a "new imperial Japan".
Hence, in a phase of strong tension with NATO and substantial end of the post-Cold War equilibria between the United States and Russia, the latter secures at first its East, so as to avoid a sort of Western "knight move" that could lead to a regionalization of the Russian Federation and to its being relegated to the status of a mid-level power – the US dream since the fall of the USSR.
On the other hand, China needs to control its central terrestrial space well, with a view to securing the Belt and Road Initiative and avoiding the many encircling manoeuvres that the United States has tried so far between India, Pakistan and Iran itself, which the United States tends – often naively – to destabilize also from the inside.
It is also worth recalling the issue of raw materials: in Siberia, for example, the 2,750 kilometre pipeline bringing the Russian-Siberian oil to China is already operating – a tangible sign of Russian autonomy from the oil and gas sales to the West.
According to Russian estimates, Siberia owns 80% of the Russian oil reserves.
Moreover, still today China imports many minerals from Brazil or Africa, but Siberia is rich in gold, iron, manganese, copper, pyrite, aluminium, precious stones and mercury.
Hence defending the Asian axis of Russia and of China itself means securing the Heartland's future autonomous development.
At operational plan, Russia needed Zapad 2018 to check its forces' technological preparation, as well as to test the interforce command-control (the so-called C2) and to ensure and verify the strong coordination between the Army Ground Forces, the Navy and the Aerospace Forces.
Moreover, in this great exercise, an important role was also played by the Unmanned Aerial Vehicles (UAVs) and by the most advanced robotic technologies applied to Defence.
China participated in these latest joint exercises for some important reasons: firstly, China wants to convey to the West the message that it is allied with the Russian Federation – and not for fortuitous and contingent reasons.
It also wants to convey the message that it does not need the West for planning its defence towards Taiwan and the Pacific, which are US military reference areas eastwards.
During the exercises, however, China and Mongolia had the clear aim of stopping the conventional enemy's advance.
The strong and stable alliance between China and Russia, which the former wanted to underline, is a clear sign of China's markedly departing from Trump-led United States.
Secondly, China wants to demonstrate to Russia (and to those observing the political and military moves of two Asian and Euro-Asian countries) that its Armed Forces are efficient – so skilful to enable Russia to be projected onto the West without allowing encirclement or penetration from China towards Central Asia up to the Urals.
Thirdly, China wants to know well – in view of using them – the "hybrid warfare" techniques that the Russian Federation used and is still using in Syria and Ukraine.
It is also very likely that China has sent one of its spy ships between the Pacific and the Arctic – obviously without informing its allies.
Fourthly, China wants to assess how and to what extent the recent restructuring of its Armed Forces have negatively affected the fighting aptitude and the efficiency of its defensive system.
This must be certainly seen in relation to India – the future competitor for hegemony in Afghanistan and Central Asia- and also to Japan, which could thus be deterred from establishing a special relationship with Taiwan against the People's Republic of China.
Finally, despite playing a marginal, but important role in the Syrian region, China also wants to learn the lessons learned by the Russian Forces in that region, which will be increasingly important for China, both for its counter-terrorist actions in Xinjiang and for controlling the routes of Turkish expansion into Central Asia, as well as to finally prevent the fall of Iran, an essential ally for China both from the economic and geopolitical viewpoints.
Once broken Iran's defence arc, the US forces would be given free rein up to the Chinese borders, as well as in fighting and putting an end to the sword jihad in Southern and Central Russia.
It should also be recalled that, shortly before the Vostok 2018 exercises, there had also been the SCO operations called "Peace Mission 2018", focused particularly on the Celiabinsk region, together with the Indian, Pakistani and other SCO forces.
Russia, which is one of India's traditional ally, strongly wanted that country to be SCO member. Conversely Pakistan has always been China's best ally in the Asian Islamic world.
Furthermore, the parallelism between these two joint military operations is a clear sign that Russia wants to increasingly use the Shanghai Cooperation Organization as a valuable asset against its jihadist terrorism, between Chechnya and the Caliphate areas, considering that – as reported by its news agency Amaq – in 2018 ISIS has organized seven terrorist attacks in Russia.
Five Russian policemen have been killed by jihadists between Stavropol and Nizhny Novgorod, and the same holds true for other Russian soldiers as a result of terrorist operations in Dagestan.
Early this year the FSB is supposed to have prevented as many as six jihadist attacks and arrested 189 people for alleged participation in illegal armed actions.
Allegedly ISIS cells operate also in Rostov, as well as in the autonomous area of Yamalo-Nenets, and in Yaroslav, Dagestan and Ingushetia.
In the previous Vostok exercises held in 2010 and 2014 (whereas the two exercises known as Zapad had been held in 1981 and 2017), China had never been invited. The focus and substance of the operations regarded a generic enemy invasion from the East (also from China?) or the simultaneous presence of several terrorist groups along the Russian Federation's Eastern border.
Hence, by inviting the People's Liberation Army of China, Russia tested the combat preparation and the doctrinal and technological evolution of an Armed Force that has never fought for decades.
However, the alliance between Russia and China will be stable and lasting: while the Armed Forces of the two countries were involved in the Vostok 2018 exercises, Putin and Xi Jinping met on the margins of the Eastern Economic Forum underway in Vladivostok.
Hence the Russian-Chinese message to NATO is clear: currently Russia is not at all isolated and it can perform effective operations on both the Eastern and Western fronts, with absolute efficiency and rapidity. Moreover, Russia wants to show that its military alliances are strong and expanding.
While, in all likelihood, NATO cannot currently hold operations of the same size as Vostok 2018 and probably has not the political "glue" that China, Russia and Mongolia proved to have in these exercises.
Also Turkey had been invited to take part in the exercises, but it silently declined.
What were the results of the Vostok 2018 exercises? According to Russian Commands, there was an innovation in the success recorded by the new air assault techniques with final operations on the ground, featuring a combined action of heavy aircraft and light attack helicopters.
A mass airdrop with 700 paratroopers and many land vehicles and artillery pieces, was carried out successfully in the intermediate area between East and West Russia.
Furthermore, the Northern Fleet carried out an interforce exercise with its naval infantry and the Arctic Brigade, reaching targets on the ground up to 270 kilometers from the coast.
In short, there was the testing of a strong doctrinal, technological, tactical and logistic evolution of a great Armed Force like the Russian one.
There was also the reaffirmation – often reiterated by Russian Defence Minister Shoigu – that the military alliance with China is and will be stable and that ultimately Russia and its allies – unlike others – can credibly contain a war on two fronts.