The Curious Treaty of Kars
The Treaty of Kars, signed in the fall of 1921, established the borders between the Soviet Union and what was to become the Republic of Turkey, as well as clarifying the status of the orphan region of Nakhichevan with its mixed Armenian and Azerbaijani demographics. The Treaty of Kars also recognized the autonomous status of the region Adjaria with its Black Sea port of Batumi. The former region was placed under Soviet Azerbaijani patronage, the latter under Soviet Georgian suzerainty. The Treaty of Kars was a reiteration of the Treaty of Moscow, signed earlier in the same year between the Russian Soviet Federation Socialist Republic and the National Turkish Government (also known as the Turkish National Pact) except its the signatories included of Soviet governments of Azerbaijan, Armenian, and Georgia.
As with most treaties, the political wording may allow unusually broad interpretation, whereas border demarcations are nearly exact.  Take for example Article 2 of the Treaty of Kars. It states:
Article 2
The parties to the present agreement undertake not to recognize any peace treaty or other international pact to which any one of such parties may have been compelled by force to be a signatory.
Following on the above, the Governments of the Socialist Soviet Republics of Azerbaijan, Armenia and Georgia agree not to acknowledge any international Acts, regarding Turkey and which has not been acknowledged by the National Turkish Government, as represented by the Grand National Assembly.
In the purposes of the present agreement the term Turkey shall be held to comprise the territories included in the Turkish National Pact and Covenant of the 28th January, 1920 (1336), as drawn up and proclaimed in the Turkish Parliament in Constantinople, and subsequently communicated to the Governments of all the countries and the press.
The Government of the Grand National Assembly of Turkey, on the other hand, undertakes not to acknowledge any international Acts regarding Azerbaijan, Armenia and Georgia, which have not have not been actually acknowledged by the respective Soviet Governments of these States.
Article 2, paragraphs 2 and 4, state that neither Turkey on one side, and Armenia, Georgia, or Azerbaijan on the other will support "international Acts" deemed not in the interest of the other signatory states. Such support includes the territory which comprises Article 5 and Appendix 3 which geographically defines the borders of an autonomous Nakhichevan with Azerbaijan its designated patron. See Administrative map, above. The original Russian word used in Article 2 is покровительством, which translates as patronage.
A technical violation of the Treaty of Kars occurred upon the adoption of the independent constitution of the Republic of Azerbaijan in 1995. Azerbaijan declared itself in Article 7, paragraph 1 of their constitution, a unitary republic, while simultaneously claiming Nakhichevan an autonomous republic as referenced many times in the same document. Azerbaijan cannot simultaneously claim it is a unitary republic while declaring it has autonomous regions. Nakhichevan appears to be an autonomous in name only. Nakhichevan went from an autonomous region to an integrated part the unitary Republic of Azerbaijan, an act not recognized by the Treaty Of Kars.
Interestingly, the term unitary is not found in the Georgian constitution.
The wording in Article 2 does not state that Turkey has particular influence or even a protectorate role in Nakhichevan, a condition often declared in diplomatic circles. Regardless of the semantics, in May of 1992 Russian Marshal Yevgeny Shaposhnikov stated, "If there is military interference by another party, that will obviously place us on the verge of a third world war, and that cannot be allowed," when Turkey threatened to intervene on the side of Azerbaijan by placing its troops and arms in Nakhichevan. These Turkish threats came when the tide of the battle over Nagorno-Karabakh had tilted in favor of Armenians at the expense of Azerbaijan. Turkey, a signatory of the Treaty of Kars, would have engaged in an "international Act" against Armenia, violating Article 2, were it not for Shaposhnikov's response.
The tactical dynamics in 1992 are not the same as those today. However, one must note how fast the Kremlin reacted to 2015 Turkish shooting down of the Russian SU-25 over NW Syria and the Russian recalling the 1945-46 Armenian and Georgian land claims against Turkey and calling for the abrogation the Treaty of Kars. One should also note how fast the Turkish SU-25 attack was forgotten when Turkey and Russia resolved their immediate differences.
Turkish National Pact Map in Violation of the Treaty of Kars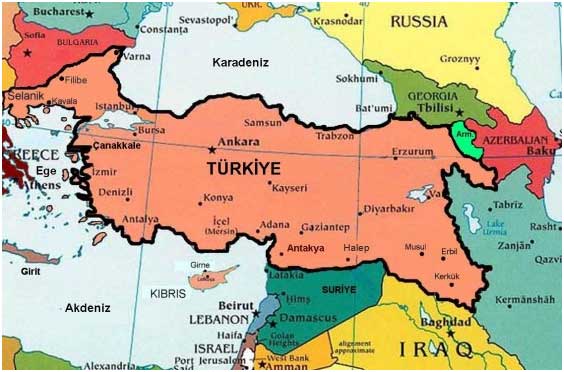 References began appearing about a year ago about a permanent Turkish military presence in Nakhichevan, especially after this past June when Azerbaijan claimed a massive capture of land in Nakhichevan without a shot fired. It turns out Azerbaijan decided to start using relatively barren land on their side of the border, yet made claims of liberating territory from Armenians. One may categorize recent reports about establishing a Turkish military base in Nakhichevan as a nationalist diversion from Turkey's economic downturn or diplomatic posturing. However, recent Turkish maps (see Turkish National Pact map) make claims over most of the Greek Aegean, parts of Greece proper, parts of Bulgaria, Idlib and Aleppo provinces across northern Syria into Iraqi's Mosul and Kirkuk provinces. These calls for reinstating what the Turkish National Pact claims belongs to them includes Nakhichevan, Batumi, and more than half of what remains of Armenia. On paper, Turkey is still a NATO member, and the balance of power in the Southern Caucasus would change dramatically for the worse with a base in Azerbaijan.
One should wait and see what transpires in Syria's Idlib province and the fallout of Turkey's receipt of  Russian S400 missiles before getting too excited about a Turkish base in Nakhichevan.
Also, if Article 2 of the Treaty of Kars is interpreted as written, Turkey cannot support Azerbaijan firing on villages within the Armenian border. This support would be an "international Act" not acknowledged by Armenia. In contrast, Turkey supports Azerbaijan unconditionally against Armenia. Turkey is violating the Treaty of Kars.
Article 6, paragraph 2 of the Treaty of Kars should be of significant concern to Georgia as it allows for unfettered Turkish access to the port of Batumi. This concern is even more critical considering that former Georgian President Saakashvili heavily encouraged Turkish investment specifically in Batumi and Adjaria in general.
Article 6, Paragraph 2
…following conditions:
Turkey to have the right to free transit of all goods to and from Turkey passing through the port of Batoum free of customs, duties or other taxation, or any form of obstruction, and to have free use of the port of Batoum without the payment of any special dues.
The Turkish and Azerbaijani economic blockade of Armenia is an "international Act" not in the interest of Armenia — a two decades long violation of the Treaty of Kars by half of its signatories. Perhaps treaties, such as Kars, are established to be broken and their tenets ignored.
Schweitzer's 'Reverence for Life' In the Age of Trump and Modi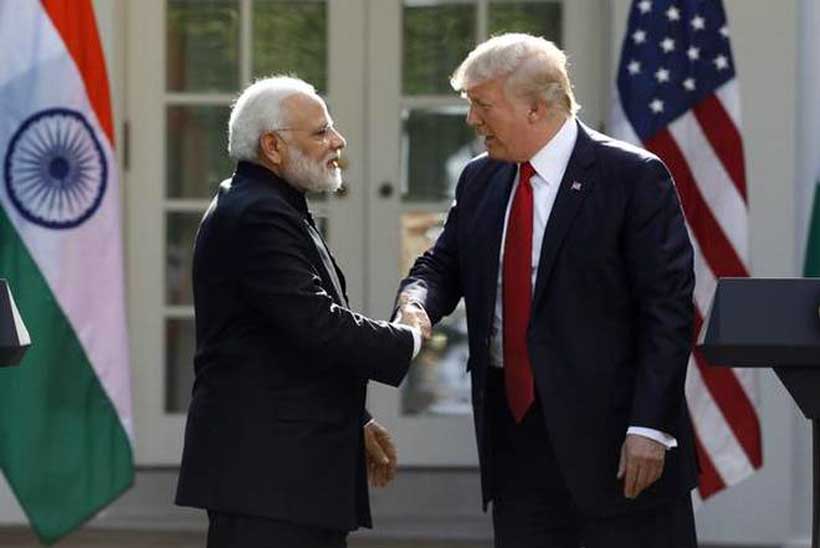 Forever known by his phrase 'reverence for life', Albert Schweitzer was a theologian, moral philosopher, physician and missionary. He was born in Alsace when it was German, and became a French citizen when it reverted back to France after the First World War.
To him this reverence implied regard for and a duty to all human beings, not "confined to blood relations or tribe" (The Teaching of Reverence for Life, Holt, Rinehart and Winston, 1965, p. 9). It is an inspiring thought for it leads naturally to peace and the end of wars. He did not claim originality for the idea, noting that Lao-Tse and Confucius among others had already preceded him in espousing it (pp. 9-10). He merely promoted it.
In this he was also of like mind with the 18th century Scottish philosopher, David Hume, who reminded us of conscience and the ability to distinguish between good and evil. We are strings, he said, "that vibrate in sympathy with others", endowed with a natural good that propels us to help our neighbors or the distressed (p. 20). I am reminded of my father who always said, "You don't treat a disease; you treat a patient."
And then one wonders if these instincts have been consciously suppressed in some human beings. One can think of two current leaders in particular: Donald Trump and Narendra Modi. Trump's assertion, "he died like a dog" grates even if one violently disagrees with al-Baghdadi's methods, wrenched as he was from the normal course of his life by a US invasion predicated on false charges.
Then there is Modi and his drumbeat of upper caste Hindu supremacy. As US Representative Ro Khanna noted forcefully in a tweet, "It is the duty of every American politician of Hindu faith to stand for pluralism, reject Hindutva, and speak for equal rights for Hindus, Muslims, Sikhs, Buddhists and Christians."
It was only a few days ago in India that a 27-year old Dalit man was beaten mercilessly and tossed in the river to die. He had been fishing. His crime: a refusal to give his catch to a nearby Brahmin who wanted an equal share. If it needs reminding, a Brahmin belongs to the highest caste, a Dalit or Untouchable to the lowest — someone who is frequently not allowed to use the village well. The Dalit man killed was the sole support of his family.
For the people of Kashmir there is little respite. A beautiful valley that could attract tourist dollars, instead is invaded by Indian troops. When the Kashmiris protest their humiliation through demonstrations, even children are blinded by pellet guns. Photos show decaying towns where empty streets are patrolled by sullen soldiers.
Then there are Palestinians, frequent casualties of the Israeli military, living the daily humiliations and frustrations of life between checkpoints — a life in prison in the case of Gaza where the soccer team is denied travel permits to play in a local tournament against a West Bank team. I
Gaza's native son Dr. Ramzy Baroud shines a frequent light on the dark horror of three-quarters of a century of occupation. Frequent articles and four books including the latest "These Chains Will be Broken" published this year– keep the world informed.
Dr. Izzeldin Abuelaish is a peace activist. His moving memoir I Shall not Hate followed a tragedy. During the 2008 – 2009 Gaza invasion, a tank stationed itself outside his home (well known to the Israelis) and fired a shell killing three of his daughters aged 13, 15 and 21, and seriously injuring another who was 17. In that war one of his nieces also died and another niece was grievously injured.
Who was it who said, "Power corrupts and absolute power corrupts absolutely." The good doctor's book is subtitled, "A Gaza Doctor's Journey on the Road to Peace and Dignity." It is a common quest across the world.
In Chile, protesters show no let-up and the country is unable to host the COP 25 climate change meeting. Spain has offered to step in, despite its own Catalan independence movement problems.
The Chile protests have so far resulted in 20 deaths and thousands injured. Starting with a student protest on October 18 over a rise in Metro fares, they have ballooned to a million at one demonstration, the largest in the country's history. Vandalism, looting, bus burning are often a consequence and clashes with security forces follow. President Sebastian Pinera has been obliged to reverse the fare increase, and is also promising higher taxes on the wealthy as well as an increase in the minimum wage.
Examples of human strife do not end here. Yet in the present era there is a common goal for humanity when it faces the existential threat of climate change. Surely then we can form a common bond, extend Schweitzer's reverence to include all life, and strive to save our one and only home. As Schweitzer observes (p. 31), "Reverence for life, arising when intelligence operates upon the will to live, contains within itself affirmation of the universe and of life."
Author's note: This article appeared first on Counterpunch.org
Salvaging international law: The best of bad options
These are uncertain times with trade wars, regional conflicts and increased abuse of human and minority rights pockmarking the transition from a unipolar to a multipolar world. What may be potentially the most dangerous casualty of the transition is the abandonment of even a pretence to the adherence to international law.
Violations of international law and abuse of human and minority rights dominate news cycles in a world in which leaders, that think in exclusive civilizational rather than inclusive national terms, rule supreme.
Examples are too many to comprehensively recount.
They include semi-permanent paralysis of the United Nations Security Council as a result of big power rivalry; last month's Turkish military incursion into northern Syria in a bid to change the region's demography; ethnic cleansing of the Rohingya in Myanmar; disenfranchisement of millions, predominantly Muslims, in India; and a Chinese effort to fundamentally alter the belief system of Turkic Muslims in the troubled north-western province of Xinjiang.
It's not that international law was adhered to prior to the rise of presidents like Donald J. Trump, Vladimir Putin, Xi Jinping, Victor Orban of Hungary, and Recep Tayyip Erdogan of Turkey or Indian Prime Minister Narendra Modi.
It wasn't. Witness, as just one instance, widespread condemnation of the 2003 US invasion of Iraq as a violation of international law.
The silver lining at the time was the fact that international law was at least a reference point for norms and standards by which leaders and governments were judged. It still is, at least theoretically, but it no longer is the standard to which leaders and governments necessarily pay lip service. Today, they do so only when opportunistically convenient.
Instead, violations of territorial sovereignty, as well as human and minority rights, has become the norm.
It also is the de facto justification for the creation of a new world order, in which a critical mass of world leaders often defines the borders and national security of their countries in civilizational and/or ethnic, cultural or religious terms.
The abandonment of principles enshrined in international law, with no immediate alternative standard setter in place, raises the spectre of an era in which instability, conflict, mass migration, radicalization, outbursts of popular frustration and anger, and political violence becomes the new normal.
Last month's killing of Kamlesh Tiwari, a Hindu nationalist politician in Uttar Pradesh, because of a defamatory comment about the Prophet Mohammed that he allegedly made four years ago, reflects the deterioration of Muslim-Hindu relations in Mr. Modi's increasingly Hindu nationalist India.
Perhaps more alarming is the recent declaration by Oren Hazan, a Knesset member for Prime Minister Binyamin Netanyahu's Likud party, that China's incarceration of at least a million Muslims in re-education camps, or what Beijing calls vocational education facilities, was a model for Israel in its dispute with the Palestinians.
Equally worrisome is last month's revocation by Mr. Putin of an additional protocol to the Geneva Conventions related to the protection of victims of international armed conflicts. Mr. Putin justified the revocation on the grounds that an international commission, set up in order to investigate war crimes against civilians, risks abuse of the commission's power "by the states, which are acting in bad faith."
Russia alongside Iran and the government of President Bashar al-Assad have been accused of multiple war crimes in war-ravaged Syria. So have anti-Assad rebels, irrespective of their political or religious stripe.
Russia's withdrawal from the Geneva protocol, Mr. Hazan's endorsement of Chinese policy and Turkey's intervention in Syria in an environment that legitimizes abandonment of any pretext of adherence to international law as well as ultra-nationalist and supremacist worldviews are indicators of what a world would look like in which laws, rules and regulations governing war and peace and human and minority rights are no longer the standards against which countries and governments are measured.
The fact that Mr. Al-Assad, a ruthless autocrat accused of uncountable war crimes, is increasingly being perceived as Syria's best hope after more than eight years of brutal civil war aggravated by foreign intervention, drives the point home.
"As depressing as it is to write this sentence, the best course of action today is for President Bashar al-Assad's regime to regain control over northern Syria. Assad is a war criminal whose forces killed more than half a million of his compatriots and produced several million refugees. In a perfect world, he would be on trial at The Hague instead of ruling in Damascus. But we do not live in a perfect world, and the question we face today is how to make the best of a horrible situation," said prominent US political scientist Stephen M. Walt.
The problem is that stabilizing Syria by restoring legitimacy to an alleged war criminal may provide temporary relief, but also sets a precedent for a world order, in which transparency and accountability fall by the wayside. It almost by definition opens the door to solutions that plant the seeds for renewed conflict and bloodshed.
International law was and is no panacea. To paraphrase Mr. Walt's argument, it is the best of bad options.
Abandoning the standards and norms embedded in international law will only perpetuate flawed policies by various states that were destined to aggravate and escalate deep-seated grievances, discord and conflict rather than fairly and responsibly address social, cultural and political issues that would contribute to enhanced societal cohesion.
Identifying the problem is obviously easy. Solving it is not, given that the players who would need to redress the issue are the violators themselves.
Ensuring that nations and leaders respect international law in much the same way that citizens are expected to honour their country's laws would have to entail strengthening international law itself as well as its adjudication. That would have to involve a reconceptualization of the United Nations Security Council as well as the International Court of Justice.
That may not be as delusionary as it sounds. But leaders would have to be willing to recognize that criticisms of the application of international law, like Mr. Putin's objections to the way the Geneva protocol is implemented, have a degree of merit.
In other words, like national laws, international law will only be effective if it is universally applied. Western legal principles insist that no one is exempt from the law. The same should apply to states, governments and leaders.
Rise of civilisationalists forces rethink of sovereign nation state
Shaping a new world order is proving to be about a lot more than power.
The rise of the civilizational state and of civilizational rather than national leaders is calling into question the concept of sovereign nation states.
That is evident in the consequences of the civilizationalist assault on minorities ranging from the Kurds in Syria and Turkey to Muslims in China, India and Myanmar to Islamophobia and mounting anti-Semitism in the United States, France and Hungary as well as sectarianism in the Middle East.
Democracies legally enshrined yardsticks of non-discrimination and equality irrespective of creed, ethnicity, colour, gender and religion but never succeeded in truly enforcing those principles.
As a result, civilisationalism's assault spotlights the long-standing failure of the nation state, evident from the moment it was conceptualized by the 1648 Treaty of Westphalia, to give true meaning to guaranteeing the security, safety and rights of all its inhabitants irrespective of creed, colour, race, ethnicity, faith or gender.
The rise of a critical mass of civilizational leaders, including China's Xi Jinping, Myanmar's Win Myint, India's Narendra Modi, Russia's Vladimir Putin, Hungary's Victor Orban and US president Donald J. Trump makes a rethink inevitable not only of the functioning of democracy but also of the concepts of the nation state and sovereignty that have structured world orders for close to 500 years.
Many of these leaders conceive of their societies and/or states as defined by civilization and its reach into akin Diaspora communities rather than by legally recognized borders, population within those borders, and language.
Civilisationalism has allowed China to extend its reach in the South China Sea beyond internationally recognized borders at the expense of other littoral states as well as to Diaspora communities across the globe.
It also provided the basis on which China has so far successfully imposed its views on others whether its acceptance of its one-China policy or silence, if not acquiescence, in repression in Xinjiang.
Civilisationalism has further enabled Russia to recognize breakaway states in Georgia, annex Crimea, and spark violent conflict in eastern Ukraine.
In some ways, the nation state, designed to put an end to religious wars in Europe, paved the way for a revival of civilisationalism by godfathering exclusionary politics that were based on a determination of who belonged and who did not belong to a nation, a question which civilisationalism answers by legitimizing supremacism, racism and prejudice.
From the outset, newly conceived European nation states sought to build nations by not fully embracing those it believed were not truly part of their nation.
The nation state's exclusivity, rather than as a result of the Westphalia treaty pulling the curtain on an era of European wars, sparked another round of armed conflict intended to fortify newly found national identities.
Today, reconceptualization of the nation state and the notion of sovereignty has become an imperative with civilisationalism adopting exclusivity as its battle cry and the nation state's centuries-long inability and unwillingness to negotiate mutually workable arrangements that take account of aspirations and identities of societal groups that feel excluded.
Reconceptualization would need to be geared towards guaranteeing individual and minority rights based on an international legal framework that is enforceable.
Failure to do so would likely usher in an era of disruptive societal tension, marginalization and disenfranchisement of minorities, flows of mass migration, radicalization and increased political violence.
A recent International Institute of Strategic Studies (IISS) report concluded that China was advising countries confronting political and economic instability, sometimes sparked in part by Chinese project-related corruption, to adopt its model of brutally cracking down on any expression of dissent like in Xinjiang.
China, according to the report, is also advocating implementation of its system of social control, involving the use of invasive Chinese artificial intelligence-based surveillance technology, reducing media to parrots of government policy, and firewalling the Internet. China is further training governments in ways of disrupting opposition activity.
China's view of economic development as a way of countering what it sees as cultural drivers of extremism underlies its effort to Sinicize Turkic Muslim Islam in Xinjiang and is implicit in Chinese aid to countries in the Middle East.
Mr. Xi announced in July of last year US$20billion in loans to Middle Eastern nations as well as US$106 million in financial aid for Palestine, Jordan, Lebanon, Syria and Yemen on the back of Chinese assertions that finance would help resolve the region's political, religious and cultural tensions.
"China is increasingly proactive in its response to instability in developing countries. It is now more forthright in its advice to partner countries and is proactive in promoting Chinese solutions to other countries' problems," said Nicholas Crawford, the IISS report's author.
China's policy prescriptions, elements of which are being adopted across the globe, is likely to perpetuate problems inherent to exclusivism propagated by both civilisationalists and nation states that are more concerned about perceived threats to their territorial integrity or constructed collective identities than aspirations of groups that are part of their societal fabric.
The rise of civilisationalists, autocrats, authoritarians and illiberals, including Mr. Xi, does not bode well for Eurasia, a region pockmarked by groups whose rights have been repeatedly violated by various civilizationalist leaders as well as exclusionary nation states concerned about challenges to their territorial integrity or constructed collective identities.
"Geopolitics is no longer simply about the economy or security… The non-Western world, led by Beijing and Moscow, is pushing back against the Western claim to embody universal values… The rejection of Western universalism by the elites in Russia and China challenges the idea of the nation state as the international norm for political organisation… The new pivot of geopolitics is civilisation," said political scientist Adrian Pabst.
A tour of the world's flashpoints proves the point.
The flashpoints include predominantly Kurdish south-eastern Turkey, what is left of the Kurdish enclave in northern Syria, Rohingya rotting away in Bangladeshi refugee camps after fleeing ethnic cleansing in Myanmar; the plight of Turkic Muslims in Xinjiang and Catalan efforts to democratically decide whether they want to remain part of Spain.
They illustrate the fact that the failure of the nation state to build truly inclusive and cohesive societies coupled with the rise of the civilizational state and civilizationalist leaders portends a new world order that is likely to be characterized by individual and collective rights abuse that heightens societal tensions and aggravates disputes and conflicts.
"The global order provides more mechanisms for states to deal diplomatically with each other than with the people inside them," noted scholar and author Malka Older.
The civilizationalist threat to individual and minority rights is enhanced by its insistence on collective adherence to an overriding ideology whether that is the Chinese communist party's concept of absolute control of anything and everything cloaked in ultra-nationalism and concepts of unique Chinese characteristics; Russian Orthodoxy cemented in the alliance between church and state; or Victor Orban's conceptualization of a Hungarian nation that is homogenously white and Christian.
In a recent study of religion and tolerance in the Middle East, widely viewed as perhaps the religiously most intolerant part of the world, political scientist Michael Hoffman concluded that it is not religion that in and of itself breeds intolerance and prejudice.
Instead, Mr. Hoffman suggested that Muslim attitudes towards the other differ sharply between believers who pray collectively in a mosque and those who worship in private.
Private prayer "does not contain the same sectarian content as communal prayer," Mr. Hoffman noted, implicitly pointing a finger at autocratic authorities who in the Middle East often exercise tight control of what is said in the mosque.
"The group identification mechanism is not present for private prayer; since private prayer is fundamentally an personal phenomenon, it does not cause believers to distinguish more sharply between their own sect and others and therefore does not produce the intolerant outcomes associated with communal worship," Mr. Hoffman went on to say.
Mr. Hoffman's research, despite its focus on the Middle East, spotlighted in an era of rising civilisationalism the risks to universal basic human dignity as well as individual and minorities rights in directly or indirectly imposing collectivist beliefs that drown out the political, ethnic or religious other.
The silver lining in what are bleak prospects may be Mr. Pabst's conclusion that "neither the Western cult of private freedom without social solidarity nor the totalitarian tendencies among China's and Russia's elites can nurture resilient societies against the disruptive forces of technology and implacable economic globalisation… (Yet) across different civilisations there is an inchoate sense that the purpose of politics is the free association of people around common interests and shared social virtues of generosity, loyalty, courage, sacrifice and gratitude. The practice of such virtues can bind us together as citizens, nations and cultures beyond colour, class or creed."