Turkic Muslims: China and the Muslim world's Achilles Heel
A list of 26 predominantly Muslim countries considered sensitive by China reflects Chinese concerns that they could reinforce religious sentiment among the People's Republic's Turkic Muslim population with potentially far-reaching consequences if the Islamic world were to take it to task for its crackdown in Xinjiang, the most frontal assault on Islam in recent history.
The list compiled by Human Rights Watch as part of a just published report on the crackdown in China's strategic north-western province details the roll-out of the world's most intrusive, 21st century surveillance state as well as an attempt to re-educate a population of 10 million that includes primarily Uyghurs, an ethnically Turkic Muslim group, as well as Muslims of Central Asian origin.
The re-education is designed to reshape the population's religious beliefs so that they adopt an interpretation of Islam that is in line with the Chinese Communist Party's precepts rather than prescriptions of Islamic holy texts in a bid to counter Turkic Muslim nationalist, ethnic or religious aspirations as well as political violence.
China worries that national and religious sentiment and/or militancy could challenge China's grip on Xinjiang, home to 15  percent of its proven oil reserves, 22  per cent of its gas reserves, and 115 of the 147 raw materials found in the People's Republic as well as part of its nuclear arsenal.
Included in the list of countries are former Soviet Central Asian nations as well as Afghanistan and Pakistan, many of which border on Xinjiang, Southeast Asian nations like Malaysia and Indonesia, and key Muslim countries such as Saudi Arabia, Iran and Turkey that has historic, ethnic and linguistic ties to China's Turkic Muslims and for decades was empathetic to Uyghur aspirations.
China's crackdown, according to a plan developed by the Baluntai Town government in north-central Xinjiang, involves targeting among others Turkic Muslims who remain in contact with family and friends abroad, people who have stayed abroad "too long" and those who have, independently and without state permission, organized Hajj pilgrimages to Saudi Arabia. China is particularly concerned about Uyghur contact with Muslim countries.
"It was 2 a.m. and my daughters (in a foreign country) were chatting with their father (in Xinjiang) on the phone. You know, they're daddy's girls and they were telling him all their secrets … when suddenly my daughters ran in to tell me, 'The authorities are taking away daddy!'" Human Rights Watch quoted Inzhu, a 50-year-old mother, who lives in an unidentified country, as saying.
The Muslim world's silence constitutes for China a double-edged sword. China's campaign in Xinjiang is effectively enabled by the silence, driven primarily by a desire of governments, many of which are deeply indebted to China, to preserve economic relations, and allows it to largely ignore criticism by Western nations, human rights groups as well as the Uyghur Diaspora.
On the flip side, silence potentially gives Muslim countries a degree of leverage. Malaysian prime minister Mahathir Mohamad seemingly exploited that leverage with China treading carefully in the face of an anti-Chinese election campaign that returned the 93-year old to office in May and Mr. Maharthir's subsequent suspension of US$22 billion of Chinese-backed, Belt an d Road-related infrastructure projects.
The leverage could also factor in financially troubled Pakistani intentions to review or renegotiate agreements related to the China Pakistan Economic Corridor (CPEC), a crown jewel in China's Belt and Road initiative and at US$50 billion plus, its single largest country investment.
The risk for China is that mushrooming publicity about its crackdown in Xinjiang that includes pressure on Uyghurs abroad to return to the Chinese province and risk incarceration and has led to countries like Egypt, Afghanistan the United Arab Emirates, and Malaysia, extraditing Uyghurs to China, will make it increasingly difficult for Muslim countries to remain silent.
The risk is also that the crackdown could have a boomerang effect, fuelling radicalization at home as well as abroad. A study, by Qiu Yuanyuan, a scholar at the Xinjiang Party School, where officials are trained, that was quoted in The New York Times, warned that "recklessly setting quantitative goals for transformation through education has been erroneously used.. The targeting is imprecise, and the scope has been expanding."
The risks are enhanced by black swans such as a recent court case in Kazakhstan that has forced the government in Astana to walk a fine line between avoiding friction with China and shielding itself from accusations that it is not standing up for the rights and safety of Kazakh nationals.
Kazakhs were taken aback when 41-year-old Sayragul Sauytbay, a Chinese national of Kazakh descent, testified in an open Kazakh court that she had been employed in a Chinese re-education camp for Kazakhs only that had 2,500 inmates. She said she was aware of two more camps reserved for Kazakhs.
Ms. Sauytbay was standing trial for entering Kazakhstan illegally. She said she had escaped to Kazakhstan after being told by Chinese authorities that she would never be allowed to join her family because of her knowledge of the camps. Ms. Sauytbay was given a six-month suspended sentence and allowed to stay in the country where her recently naturalized husband and children reside.
The inclusion of ethnic Kazakhs, a community in China of 1.25 million people, in the crackdown sparked angry denunciations in Kazakhstan's parliament. "There should be talks taking place with the Chinese delegates. Every delegation that goes there should be bringing this topic up… The key issue is that of the human rights of ethnic Kazakhs in any country of the world being respected," said Kunaysh Sultanov, a member of parliament and former deputy prime minister and ambassador to China.
Anti-Chinese sentiment in the Pakistani Chinese border province of Gilgit-Baltistan ran high earlier this year after some 50 Uyghur women married to Pakistani men were detained on visits to Xinjiang and China refused to renew the visas of Pakistani husbands resident in Xinjiang.
Beyond economic leverage, China has so far benefited from the fact that Muslim politicians and leaders see more political mileage in pushing causes like the Palestinians rather than ones that have not been in the Islamic world's public eye.
"You gain popularity if you show you are anti-Zionism and if you are fighting for the Palestinians, as compared to the Rohingya or Uyghurs," said Ahmad Farouk Musa, director of the Islamic Renaissance Front, a Malaysian NGO.
It's a bet Muslim countries and China could continue to win but could prove costly if they eventually lose.
Freedom, Sovereign Debt, Generational Accounting and other Myths
"How to draw the line between the recent and still unsettled EU/EURO crisis and Asia's success story? Well, it might be easier than it seems: Neither Europe nor Asia has any alternative. The difference is that Europe well knows there is no alternative – and therefore is multilateral. Asia thinks it has an alternative – and therefore is strikingly bilateral, while stubbornly residing enveloped in economic egoisms. No wonder that Europe is/will be able to manage its decline, while Asia is (still) unable to capitalize its successes. Asia clearly does not accept any more the lead of the post-industrial and post-Christian Europe, but is not ready for the post-West world." – professor Anis H. Bajrektarevic diagnosed in his well-read 'No Asian century' policy paper. Sino-Indian rift is not new. It only takes new forms in Asia, which – in absence of a true multilateralism – is entrenched in confrontational competition and amplifying antagonisms.  The following lines are referencing one such a rift.
At the end of 2017, Brahma Chellaney, a professor with the New Delhi-based Center for Policy Research, wrote an article titled "China's Creditor Imperialism" in which he accused China of creating a "debt trap" from Argentina, to Namibia and Laos, mentioning its acquisition of, or investment in the construction of several port hubs, including Hambantota in Sri Lanka, Piraeus in Greece, Djibouti, and Mombasa in Kenya in recent years.
These countries are forced to avoid default by painfully choosing to let China control their resources and thus have forfeited their sovereignty, he wrote. The article described China as a "new imperial giant" with a velvet glove hiding iron fists with which it was pressing small countries. The Belt and Road Initiative, he concluded, is essentially an ambitious plan to realize "Chinese imperialism". The article was later widely quoted by newspapers, websites and think tanks around the world.
When then United States Secretary of State Rex Tillerson visited Africa in March, he also said that although Chinese investment may help improve Africa's infrastructure, it would lead to increased debt on the continent, without creating many jobs.
It is no accident that this idea of China's creditor imperialism theory originates from India. New Delhi has openly opposed China's Belt and Road Initiative, especially the China-Pakistan Economic Corridor as it runs through Pakistan-administered Kashmir, which India regards as an integral part of its territory. India is also worried that the construction of China's Maritime Silk Road will challenge its dominance in South Asia and the Indian Ocean. Based on such a judgment, the Indian government has worked out its own regional cooperation initiatives, and taken moves, such as the declaration of cooperation with Vietnam in oil exploration in the South China Sea and its investment in the renovation of Chabahar port in Iran, as countermeasures against the Chinese initiative.
Since January, India, the United States, Japan and Australia have actively built a "quasi-alliance system" for a "free and open Indo-Pacific order" as an alternative to the Belt and Road Initiative. In April, a senior Indian official attending the fifth China-India Strategic Economic Dialogue reiterated the Indian government's refusal to participate in the initiative.
The "creditor imperialism" fallacy is in essence a deliberate attempt by India and Western countries to denigrate the Belt and Road Initiative, which exhibits their envy of the initial fruits the initiative has produced. Such an argument stems from their own experiences of colonialism and imperialism. It is exactly the US-led Western countries that attached their political and strategic interests to the debt relationship with debtor countries and forced them to sign unequal treaties. China's Belt and Road Initiative is proposed and implemented in the context of national equality, globalization and deepening international interdependence, and based on voluntary participation from relevant countries, which is totally different from the mandatory debt relationship of the West's colonialism.
It is an important "Chinese experience" to use foreign debts to solve its transportation and energy bottlenecks that restrict its economic and social development at the time of its accelerated industrialization and urbanization. By making use of borrowed foreign debts, China once built thousands of large and medium-sized projects, greatly easing the transportation and energy "bottlenecks" that long restrained its social and economic development. Such an experience is of reference significance for other developing countries in their initial stage of industrialization and urbanization along the Belt and Road routes.
In the early stage of China's reform and opening-up, US dollar-denominated foreign debt accounted for nearly 50 percent of China's total foreign debts, and Japanese yen close to 30 percent. Why didn't Western countries think the US and Japan were pushing their "creditor imperialism" on China?
Some foreign media have repeatedly mentioned that Sri Lanka is trapped in a "debt trap" due to its excessive money borrowing from China. But the fact is that there are multiple reasons for Sri Lanka's heavy foreign debt and its debt predicament should not be attributed to China. For most of the years since 1985, foreign debt has remained above 70 percent of its GDP due to its continuous fiscal deficits caused by low tax revenues and massive welfare spending. As of 2017, Sri Lanka owed China $2.87 billion, accounting for only 10 percent of its total foreign debt, compared with $3.44 billion it owed to Japan, 12 percent of its total foreign debt. Japan has been Sri Lanka's largest creditor since 2006, but why does no foreign media disseminate the idea of "Japan's creditor imperialism"?
In response to the accusation that China is pursuing creditor imperialism made by India and some Western countries, even former Sri Lankan president Mahinda Rajapaksa wrote an article in July using data to refute it.
Most of the time, the overseas large-scale infrastructure construction projects related to the Belt and Road Initiative are the ones operated by the Chinese government and Chinese enterprises under the request of the governments of involved countries along the Belt and Road routes or the ones undertaken by Chinese enterprises through bidding.
It is expected that with the construction of large-scale infrastructure projects and industrial parks under the Chinese initiative, which will cause the host country's self-development and debt repayment ability to constantly increase, the China's creditor imperialism nonsense will collapse.
An early version of this text appeared in China Daily
Arrogance of force and hostages in US-China trade war
Even before the ink on the comments made by those who (just like the author of these lines) saw the recent meeting between US President Donald Trump and his Chinese counterpart Xi Jinping in Buenos Aires as a sign of a temporary truce in the trade war between the two countries had time to dry, something like a hostage-taking and the opening of a second front happened. The recent arrest in Canada under US pressure of Meng Wanzhou, the chief financial officer of China's telecommunications giant Huawei, is unfolding into a full-blown international scandal with far-reaching consequences.
Meng Wanzhou faces extradition to the United States where she is suspected of violating US sanctions against Iran, namely by making payments to Tehran via the UK branch of the US bank HSBC. The question is, however, how come someone is trying to indict a Chinese citizen according to the norms of American law, and not even on US territory to boot?
China's reaction was extremely tough with Deputy Foreign Minister Le Yucheng summoning the Canadian and US ambassadors in Beijing and demanding the immediate release of the detainee, calling her detention "an extremely bad act." First of all, because this is yet another arrogant attempt at extraterritorial use of American laws.
Other countries, above all Russia, have already experienced this arrogance more than once; suffice it to mention the cases of Viktor Bout and Konstantin Yaroshenko, or of the alleged "Russian hackers," who, by hook or crook, were taken out to the United States to face US "justice".
Enough is enough, as they say. Russia's Foreign Minister Sergei Lavrov, who is usually careful in his choice of words, said that while Russia is not involved in the US-China trade war, it still regards Meng's arrest as "another manifestation of the line that inspires a rejection among the overwhelming majority of normal countries, normal people, the line of extraterritorial application of their [US] national laws."
"This is a very arrogant great-power policy that no one accepts, it already causes rejection even among the closest allies of the US," Lavrov said. "It is necessary to put an end to it," he added.
One couldn't agree with this more. But first, I would like to know who really is behind this provocation, even though China's reaction would have been much anticipated. The arrest of Meng Wanzhou sent US markets into a tailspin and scared investors, who now expect an escalation of the trade war between the United States and China.
The point here, of course, is Washington's displeasure about Huawei's activities, with The Wall Street Journal reporting that the US Justice Department has long been conducting a probe into the Chinese company's alleged violation of US sanctions against Iran.
There is more to this whole story than just sanctions though. The US accuses Huawei (as it earlier did the Chinese ZTE) of the potential threats the company's attempts to use tracking devices could pose to the security of America's telecommunications networks. The United States has demanded that its closest allies (primarily Canada, the UK, Australia and New Zealand, with whom it has set up a system for jointly collecting and using Five Eyes intelligence) exclude 5G Huawei products from their state procurement tenders.
I still believe, however, that the true reason for this is not so much security concerns as it is a desire to beat a competitor. Huawei has become a world-renowned leader in the development and application of 5G communications technology, which looks to the future ("Internet of Things", "Smart Cities", unmanned vehicles and much more.)
Since technology and equipment are supplied along with standards for their use, there is a behind-the-scenes struggle going on to phase out the 5G standard developed by Huawei from global markets.
As for the need "to put an end to this," the big question is how. Formally, detainees are extradited to the United States in line with national legislation, but at Washington's request (which often comes with boorish and humiliating pressure from the US authorities and is usually never mentioned in public).
Add to this the US Congress' longstanding practice of changing, unilaterally and at its own discretion, already signed international treaties and agreements as they are being ratified – another example of "arrogance of power" as mentioned before.
The question could well be raised at the UN Security Council, but its discussion is most likely to be blocked by the US representative. However, there is also a moral side to the assessment of any political practice the work on international legal norms usually starts with.
If China and Russia, as well as other countries equally fed up with the "arrogance of power" submit a draft resolution "On the inadmissibility of attempts at extraterritorial use of national legislation by UN member states" to the UN General Assembly, it would most likely enjoy the overwhelming support by most of the countries of the UNGA, maybe save for just a dozen or so of the most diehard advocates of Washington's policy…
First published in our partner International Affairs
Will China Save the Planet? Book Review
Barbara Finamore has been involved in environmental policy in China for decades.  Her new book, Will China Save the Planet?,is a succinct report (120 pg.) on the short, yet promising history of China's actions to address climate change and pollution.
Chapter 1 is about the recent global leadership role that China has taken in the fight against climate change.  At first, the PRC was hesitant to commit to specific pollution-reduction benchmarks.  After experiencing increasingly devastating bouts of industrial smog in the 1990s however, China began to take its environmental commitments more seriously.  It has set out to become the de facto leader in combatting climate change through ambitious domestic action and sponsoring international conferences.  The Trump Administration's withdrawal from the Paris Climate Agreement has only furthered China's dominance.
Chapters 2-4 give in-depth analysis on China's efforts to wean itself off of coal, develop its renewable energy capacity and become a global leader in electric vehicle production.  China has long used coal to fuel its unprecedented rate of industrialization.  In recent years, it has pledged to wean itself off of coal dependency by enforcing coal plant efficiency standards, enacting a cap-and-trade program, managing grid output, promoting local politicians based on their success in implementing green policies and supporting green energy developments.  China is now home to many of the world's top manufacturers of solar panels, wind turbines and commercial & private electric vehicles.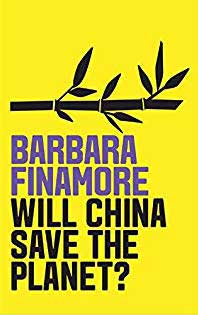 There is much to applaud China for in its efforts.  Finamore writes that, "After growing by an average of 10% annually from 2002-2012, China's coal consumption leveled off in 2013 & decreased in each of the following three years… Largely because of the dip in China's coal consumption, global CO2 emissions growth was basically flat between 2014-2016."  By moving away from coal, China has been able to, "Every hour… erects a new wind turbine & installs enough solar panels to cover a soccer field." As of last year, "Chinese solar manufacturers accounted for about 68% of global solar cell production & more than 70% of the world's production of solar panels."
Chapter 5 focuses on China's mission to export its green initiatives around the world, particularly through its Belt and Road Initiative (BRI).  The BRI is shaping up to be the largest international infrastructure plan in history, investing trillions of dollars in 65 countries in Asia, Europe, Africa and the Middle East.  China thus has a golden chance to help much of the developing world to adopt clean energy goals and foster economic growth.  The Chinese government is encouraging its citizens to invest in renewable energy initiatives in the BRI countries by implementing a "green finance" system.  Through its pivotal role in the G20, China can also help to lead the developed world by spearheading reports and policies among the 20 member nations.
Barbara Finamore has written a highly readable and informative overview of China's role in the global climate change battle.  She lists the Chinese government policies that have led the world's largest nation to meet and exceed many of the green benchmarks that it set for itself.  It would have been helpful if Finamore had written more about China's water instability and how that ties to the Tibetan occupation, as access to drinking water is one of the top environmental issues in the world today.  As a whole, Will China Save the Planet?is a good primer for environmental policy analysts and anyone else interested in studying feasible solutions to climate change, humanity's greatest threat.