Industrial Development Report 2018 launched in China
The development of green industries was at the core of the discussion today during the launch of the Industrial Development Report 2018 (IDR 2018) event organized by the United Nations Industrial Development Organization (UNIDO) together with the Beijing Normal University and UNIDO's Green Industry Platform – China Office.
Participants agreed that the move towards green industries requires major shifts in consumption patterns towards the purchase of environmental goods and that barriers to the widespread consumption of such goods – such as low consumer awareness of environmental concerns – need to be removed.
Cecilia Ugaz Estrada, Director of UNIDO's Department of Policy Research and Statistics, opened the event with a keynote speech on the main messages of the report, which highlights the importance of demand and consumption of manufactured goods as a catalyst for industrialization and also considers policies that can be implemented to steer demand towards the achievement of inclusive and sustainable industrial development. This was followed by a presentation by Alejandro Lavopa, UNIDO Research and Industrial Policy Officer, which drew out some key findings relevant to China. Professor GUAN Chenghua of the Beijing Normal University used the occasion to launch the China Urban Green Competitiveness Index Report.
A roundtable of experts from government ministries, academia and UNIDO further discussed issues related to industrialization, consumption and sustainable development. It was noted that while Chinese consumer demand for green products is increasing – even for goods at higher prices – it is important to establish environmental standards to ensure consumer trust in 'green' products.
The panel also discussed the value of sharing China's experience of development and environmental sustainability with other countries, praising platforms that allow for knowledge exchange. One such initiative, the UNIDO Green Industry Platform, was established in 2014 in cooperation with the Beijing Normal University with the aim of promoting the development of green industry in China by sharing global green development experiences and best practices.
Following the official unveiling of the IDR in November 2017 in Vienna, the findings of the report have been promoted in New Delhi and Geneva, as well as in Tokyo on the occasion of UNIDO Director General LI Yong's visit to Japan. Future launches will take place in Argentina and Peru later this month.
Scaling up climate finance in Asia-Pacific through Financial Centres for Sustainability
Financial Centres for Sustainability (FC4S) today launched its Asia-Pacific Centre, one of several important steps taken to scale up the financing required for climate action and sustainable development, at the 2nd meeting of the global network.
The new centre will be located in Shanghai Lujiazui Financial City, which will work with other cities in the Asia-Pacific region to promote the innovation and development of sustainable and green finance. Lujiazui is an international financial center with a high concentration of financial institutions, dynamic capital markets and a vast financial talent pool.
The most recent report of the Intergovernmental Panel on Climate Change (IPCC) concluded that an additional 1.5 per cent in global investment would be needed to hold global warming to 1.5 degrees Celsius. Mobilizing the world's financial centres will be crucial to achieving the system transition that the IPCC has recommended.
Lujiazui Financial City and Casablanca Financial City also signed an agreement to strengthen cooperation in sustainable finance, green finance and exchange of resources, while Lujiazui Financial City unveiled the Green Finance Integrated Development Platform, the first regional online green finance platform.
This platform provides a practical place to exchange information on green projects, capital and finance from home and abroad, enabling companies and institutions to match supply and demand, and integrate resources.
Meeting in Shanghai, the global network also appointed two co-chairs to provide strategic leadership: Pierre Ducret, board member of the Paris-based Finance for Tomorrow initiative and Kong Wei, chair of the Shanghai Green Finance Committee.
In addition, a new Wall Street Working Group on Sustainable Finance is being formed, and is considering joining the network to represent New York.
Quotes
"The IPCC report has shown more clearly than ever the need to mobilize the trillions for climate, and accelerating action is a priority for France,"  said Ducret. "I'm honoured to be appointed as a co-chair of the Financial Centres for Sustainability network – and view this as a great opportunity to strengthen international cooperation at a time of great uncertainty."
"Green finance is a national priority in China to develop a cleaner and more prosperous economy," said Kong Wei. " I feel privileged to take up the role of co-chair of the Network and will use this opportunity to promote practical measures that enable all financial centres to play their role in the transition that lies ahead."
Curtis Ravenel, Global Head of Sustainable Business & Finance, Bloomberg said: "To solve the climate challenge, we need more sustainable finance product innovation and scale across the U.S. and international capital markets. Along with the growing roster of global hubs that are part of the FC4S Network, Bloomberg is working with a number of financial institutions and others to explore the formation of a Wall Street Sustainable Finance working group to scale capital deployment aligned with the goals of the Paris Agreement."
Satya Tripathi, Assistant Secretary General, UN Environment said: "UN Environment works across the sustainability and finance agenda – and I see that the FC4S Network is having a significant impact on the international policy sphere. These moves will further consolidate the Network's leadership role."
Nick Robins, the founder of the FC4S network and Special Advisor on Sustainable Finance, UN Environment said: "We need financial centres to be fit for purpose in the rapid transition that lies ahead. With Pierre Ducret and Kong Wei as co-chairs, the network has the strategic leadership it needs for the next phase."
China, UNIDO collaborate to support the first China International Import Expo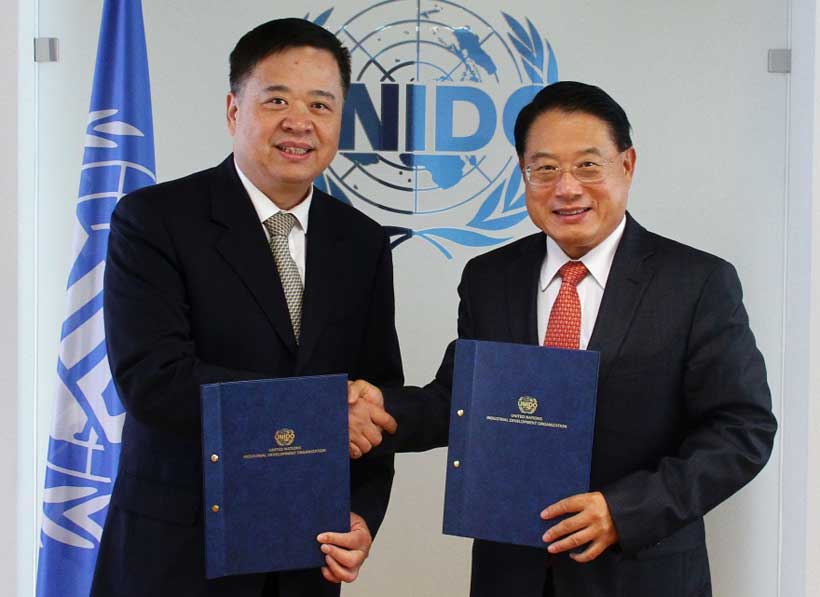 China will host the first China International Import Expo (CIIE) from November 5 to 10, 2018, in Shanghai, in cooperation with the United Nations Industrial Development Organization (UNIDO) and other international organizations.
Today, a project document was signed by UNIDO Director General LI Yong, and the Minister Counsellor YAO Shenhong of the Permanent Mission of China. UNIDO will assist relevant departments of the Government of China to organize the China International Import Expo, in order to promote international cooperation, facilitate imports to China from all countries and regions around the world, and increase the awareness and participation of the public and private sectors.
This project will contribute to increasing exports from other developing countries, middle-income countries (MICs) and least developed countries (LDCs), and promote their SME development by organizing international trade forums and exhibitions related to agro-industry value chain and high-end intelligent manufacturing.
"The objectives of the Expo are in line with UNIDO's mandate and support the realization of Sustainable Development Goals 9 and 17," said Li, "The CIIE will promote international cooperation and facilitate imports to China from the entire world, and will thus contribute to the advancement of inclusive and sustainable industrial development (ISID) and the 2030 Agenda for Sustainable Development."
Minister Counsellor YAO Shenhong of the Permanent Mission of China stated, "The CIIE is an important move for the Chinese government to give firm support to trade liberalization and actively open the Chinese market to the world. We believe that, with this project, UNIDO's expertise and experience will significantly contribute to the success of the Expo. We also sincerely welcome all stakeholders across the world to participate in CIIE and to explore the Chinese market.
UNIDO and CIIE will establish a mechanism for long-term cooperation that will include the launching of UNIDO investment-related reports, the sharing of results of the UNIDO Programmes for Country Partnership, and the fostering of the development of SMEs, for example through e-commerce. Environmental sustainability will be one of the core issues.
First Global Gastronomy Tourism Startup Competition Launched
The World Tourism Organization and Basque Culinary Center (BCC), have launched a pioneering initiative for the gastronomic tourism sector, with a global call for startups or companies, mature or emerging, technological and non-technological, with innovative ideas capable of revolutionizing and integrating gastronomy in tourism and inspiring tourists with new ways and reasons to travel.
The gastronomic tourism sector is moving towards innovation and the diversification of its offerings. UNWTO, in collaboration with its Affiliated Member, Basque Culinary Center (BCC), has launched the 1st UNWTO Gastronomy Tourism Startup Competition, the first and largest initiative in the world dedicated to identifying new companies that will lead the transformation of the gastronomic tourism sector.
Intangible cultural heritage has become the decisive factor that attracts and captivates tourists. Gastronomy tourism, as a component and vehicle of culture and tradition, is an indispensable resource that adds value and provides solutions for destinations that seek to stand out through unique product offerings.
The Competition will make it possible to identify the best solutions and projects that contribute the most to the sector through pioneering proposals in the implementation of emerging and disruptive technologies, as well as emerging companies or startups. It aims to identify challenges and projects, and to catalyse innovations that can transform the Gastronomy Tourism sector in the near future.
"Innovation and tourism investments are not ends in themselves, but are means to promote better tourism products, improve tourism governance and harness its proven capability to foster sustainability, create jobs and generate opportunities," said UNWTO Secretary-General, Zurab Pololikashvili.
"Education and innovation are essential for the development of sustainable gastronomic tourism. At Basque Culinary Center, we support entrepreneurship and the development of new business projects to ensure the future of the sector. In this regard, we are proud to once again team up with our partners at UNWTO in order to continue fostering entrepreneurship and innovation linked to gastronomy tourism through this initiative," said Joxe Mari Aizega, General Manager of Basque Culinary Center.
UNWTO and Basque Culinary Center have entrusted the process of finding startups to BCC Innovation through its Culinary Action! programme, which has accelerated nearly 50 startups by providing innovative, sustainable and high added value solutions to the gastronomy value chain.
Sustainability and technology
Startups are invited to pitch business models that are related to sustainability, respect the value chain, offer an authentic and coherent narrative, and add value to cultural and local heritage.
The winners of this competition will have the opportunity to present their projects at the 5th World Forum on Gastronomy Tourism (2-3 May 2019, San Sebastián, Spain), with the possibility of receiving personalized consulting and mentoring from the BCC experts  of project accelerator Culinary Action!