The "Russian Card" in the International Game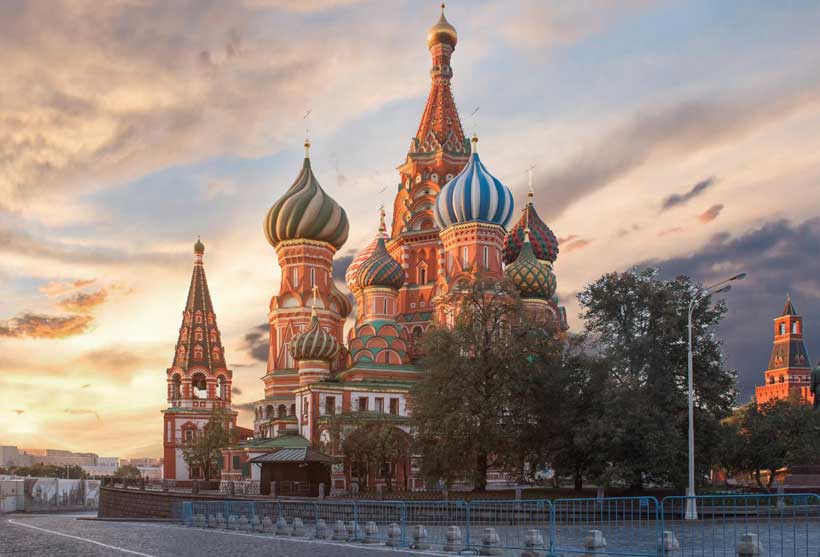 In recent years, Russia has unfailingly found itself the focus of the international community's attention: Russia makes newspaper headlines, appears in TV reports and is the topic of heated public debates throughout the world. It would seem that such popularity is reason to rejoice. However, this attention is becoming rather unhealthy: various political forces actively use the "Russian card" to achieve their domestic and foreign political goals, which are sometimes rather self-serving.
Russia needs to be clearly aware of the fact that they are indeed sharps, unconscionable and mostly unprincipled politicians attempting to make their play using the current political situation. These politicians are ready to paint themselves as either the enemies or best friends of Moscow; they can proclaim right-wing or left-wing slogans, appeal to the future or capitalize on the past. In any case, for them, Russia is nothing more than a convenient instrument for manipulating public sentiments at home or a lever to exert pressure on other global political actors.
In recent years, Russia has unfailingly found itself the focus of the international community's attention: Russia makes newspaper headlines, appears in TV reports and is the topic of heated public debates throughout the world. It would seem that such popularity is reason to rejoice. However, this attention is becoming rather unhealthy: various political forces actively use the "Russian card" to achieve their domestic and foreign political goals, which are sometimes rather self-serving.
While doing so, they sacrifice the interests of Russia and the interests of international stability and truth, and even neglect basic logic and common sense. Let us list but a few recent examples.
In Washington, amidst almost completely suspended Russia–U.S. relations, Republicans and Democrats routinely use the "Russian card" as an instrument in their power struggle. The parties are so taken with introducing various acts and bills and making other decisions intended to hurt the Russian leadership as much as possible that they are becoming oblivious to the interests of their own country, including its immediate security concerns.
In Kiev, the "Russian card" is nearly the principal trump card for national self-assertion, the key argument justifying the inability of the current Ukrainian leaders to make any kind of progress in resolving pressing socioeconomic problems. Therefore, it is vital for Kiev that the high level of tensions in their relations with Moscow is maintained. And we see over and over again that when it comes to achieving this goal, anything goes.
London, still haunted by the ghost of its former power, attempts to find a new place for Britain in the changing global power configuration. Who would be a good opponent for London? Brexit did major damage to Britain's relations with many European countries. Placing itself in the lead of an anti-Russian coalition and calling upon partners to show solidarity with the "victim of Russian meddling," London can divert attention away from the painful and thus far not entirely successful "divorce from Europe."
In many European countries, populist parties actively use the "Russian card," profiteering, in particular, from the costs of the anti-Russian sanctions to their countries. At the same time, however, they do not offer a well-thought-out, long-term vision of the development of their countries' relations with Russia. If they do come to power, they become less interested in the matter or use it as a trump card in their bargaining with Brussels on other issues that are of greater importance for them.
In Ankara, the "Russian card" emerges from the sleeve each time Turkey has a problem with the United States and its other NATO allies. A possible strategic partnership with Moscow is put forward as a possible alternative to Turkey's Atlantic orientation. However, there are no reasons to expect Ankara to make a strategic turn towards Moscow right now.
The list of countries and political forces that include the "Russian card" in their diplomatic arsenal can go on and, unfortunately, it is becoming longer. And the "Russian card" is being played not only along the Russian borders, but even in more faraway regions.
Why is the "Russian card" so popular today? We should bear in mind the fact that, in the coming years and maybe even decades, the shaping of a new stable world order will be incomplete, and international relations will be in a state of permanent turbulence. Such a state is fertile ground for politicians who are ready to use any means to achieve profits here and now.
The foreign policy of the current U.S. administration is the starkest example of this state of affairs. Violating international law and treaties, imposing unilateral sanctions, introducing protectionist measures and intervening in the domestic affairs of other countries has just about become the norm of U.S. international conduct. If playing the "Russian card" becomes a norm, too, it will do progressively greater damage to Russia's standing in the international community and will limit Russia's options in conducting an active foreign policy.
What about Russia? What should our response to the various games played by political card sharps be?
First, Russia needs to be clearly aware of the fact that they are indeed sharps, unconscionable and mostly unprincipled politicians attempting to make their play using the current political situation. These politicians are ready to paint themselves as either the enemies or best friends of Moscow; they can proclaim right-wing or left-wing slogans, appeal to the future or capitalize on the past. In any case, for them, Russia is nothing more than a convenient instrument for manipulating public sentiments at home or a lever to exert pressure on other global political actors. Therefore, it would be a big mistake to bet on those powers and count on long-term strategic collaboration with them.
Second, the best way to knock the "Russian card" out of the hands of political profiteers is to implement a well-balanced, long-term and consistent strategy of Russia's relations with a specific state or groups of states. The most instructive case is Russia–China relations. There have been and there will be many attempts to sow doubts or mutual suspicions, to resurrect old grievances and contradictions, but they all come to naught because of a solid edifice of bilateral relations that has been consistently constructed in recent years and which possesses clearly defined strategic benchmarks.
As far as Russia's relations with the European Union are concerned, attempts to force political manipulators to cease and desist have thus far been unsuccessful. In the early 2000s, Russia and Europe built their relations with the common goal of achieving strategic partnership. Over the course of several years, the parties created a solid legal framework for their relations, increased their trade turnover, reached a new level of mutually beneficial cooperation and expanded educational, academic and public contacts. As these positive trends shrank and the clear benchmarks in Russia–EU relations were lost, the temptation to exploit the topic of Russia began to rear its head. It is a known fact that fishing in troubled waters is a favourite pursuit of many, and this is what we are seeing today in various European countries.
The only way to pull the rug from under the feet of these political profiteers is to develop a constructive dialogue between Moscow and Brussels, define clear and unequivocally exactly what Russia's interests in Europe are, and abandon unconditionally all attempts to achieve tactical victories by playing on the contradictions between individual EU member countries. Such a principled approach is applicable in other areas of Russia's foreign policy as well.
Third, we see that all kinds of provocations are one of the main instruments used by those who attempt to play the "Russian card." These provocations include unilateral sanctions and illegal actions against Russian citizens, Russian businesses, and Russia's property, spreading false information, etc. The intent here is simple: to draw Russia into a fruitless discussion and an endless "exchange of blows," forcing it to divert significant political and material resources from resolving truly important problems in the country's internal development and promoting Russia's interests on the international arena.
How should Russia react to these provocations? We should remember here that a provocation is only successful when people take the bait. Once again, we could look at China here, whose resolve is also tested on a regular basis. In every instance, China does not react in an emotional manner; rather, its responses are always weighed and thought out thoroughly. In some cases, China will retaliate in kind (as with the United States unilaterally increasing tariffs). In other cases, when such a response is justified, China offers a token display of power. Sometimes, Beijing pretends not to pay any attention to the attacks, but the response may be forthcoming at an opportune moment.
Fourth, much in counteracting anti-Russian attacks depends on the reactions to those attacks in the Russian media. Sometimes, one gets the impression that certain printed media and TV channels are waiting for such provocations to engage in lengthy and aggressive discussions on the subject, provoke an international scandal and to call upon the Russian leadership to respond in the harshest possible manner. Such behaviour, on the one hand, instils the false impression in the public consciousness that Russia is surrounded by enemies and needs to brace itself for the worst and, on the other, it objectively prompts the authorities to take sometimes emotional and hasty actions. Of course, a response is necessary. However, this response should not consist of screaming wildly. It should instead consist of dignified and convincing arguments based on Russia's long-term interests. Haste in such matters is inappropriate at the very least.
Of course, there are no universal recipes that work in every situation. Every day, we are greeted by a new surprise. But it is important to be guided in every specific case by the key principle: nothing must be done today that could create even greater problems for Russia tomorrow. And let those who love using the "Russian card" passionately build their political houses of cards. Historical experience shows that those houses are unlikely to last.
First published in our partner RIAC
United States, Russia or China: The Struggle for Global Superpower
Despite its large population of 1.5 billion which many have considered as an impediment, China's domestic economic reforms and collaborative strategic diplomacy with external countries have made it attain superpower status over the United States. While United States influence is rapidly fading away, China has indeed taken up both the challenges and unique opportunities to strengthen, especially its economic muscles.
On October 22, Vladimir Putin took part, via videoconference, in the final plenary session of the 17th Annual Meeting of the Valdai International Discussion Club. The Valdai Discussion Club was established in 2004, with a goal is to promote dialogue between Russian and international intellectual elite, and to make an independent, unbiased scientific analysis of political, economic and social events in Russia and the rest of the world.
Putin touched on a wide range of different issues. What particularly interesting was his assessment of the changing politics and the economy, and rating of the global superpower. "The world has changed several times. Meanwhile, time increasingly and insistently makes us question what lies ahead for humanity," he said during his interactive speech with the participants.
In effect, the post-war world order was established by three victorious countries: the Soviet Union, the United States and Great Britain. The role of Britain has changed since then; the Soviet Union no longer exists, while some try to dismiss Russia altogether, according to Putin.
Indeed, the Soviet Union is no longer there. But there is Russia. In terms of its economic weight and political influence, China is moving quickly towards superpower status. Germany is moving in the same direction, and the Federal Republic of Germany has become an important player in international cooperation. At the same time, the roles of Great Britain and France in international affairs has undergone significant changes, he further explained.
The United States, which at some point absolutely dominated the international stage, can hardly claim exceptionality any longer. Generally speaking, does the United States need this exceptionalism? he asked rhetorically, and further cited that powerhouses such as Brazil, South Africa and some other countries have become much more influential in the world.
Amid the current fragmentation of international affairs, there are challenges that require more than just the combined capacity of a few states, even very influential ones. Problems of this magnitude, which do exist, require global attention. International stability, security, fighting terrorism and solving urgent regional conflicts are certainly among them; as are promoting global economic development, combating poverty, and expanding cooperation in healthcare. That last one is especially relevant today.
Arguably, China has worked on all that is now recorded as its grandiose achievements. It has systematically transformed its economy at the same time, maintained the political structure. Its major cities and coastal areas are far more prosperous compared to rural and interior regions. It brought more people out of extreme poverty than any other country in history. China reduced extreme poverty by 800 million.
As expected of any development process, there are still problems. Nonetheless, the level of public support for the government and its management of the country is high, with 80 – 95% of Chinese citizens expressing satisfaction with the central government, according to a 2019 survey.
That compared with Russia, Putin explained that Russia has to begin from the scratch. Lenin spoke about the birthmarks of capitalism, he reminded, and added that "It cannot be said that we have lived these past 30 years in a full-fledged market economy. In fact, we are only gradually building it, and its institutions. Russia had to do it from the ground up, starting from a clean slate. Of course, we are doing this, taking into consideration, developments around the world. After all, after almost one hundred years of a state-planned economy, transitioning to a market economy is not easy."
On other way round, it is necessary to take a closer look at, in fact a complete insight into the approach, economic capability and the services by the Chinese. China has such a diverse landscape, with investment and trade around the world. According to the World Bank, China has the largest economy and one of the world's foremost infrastructural giants. China is the world's largest exporter and second-largest importer of goods.
China holds 17.7% of the world's total wealth, the second largest share held by any country. It has the world's largest banking sector, with assets of $40 trillion and the world's top 4 largest banks all being in China. In 2019, China overtook the US as the home to the highest number of rich people in the world, according to the global wealth report by Credit Suisse. It has the highest number of rich people in the world's top 10% of wealth since 2019. There were 658 Chinese billionaires and 3.5 million millionaires.
China's Belt and Road Initiative has expanded significantly over the last six years and, as of April 2020, includes 138 countries and 30 international organization. Along with Brazil, Russia, India and South Africa, China is a member of the BRICS group of emerging major economies.
In recent years, the country has significantly strengthened bilateral ties with Asian countries such as China and India, with Latin American countries. An important aspect of Russia's relations with the West is the criticism of Russia's political system and over human rights. On the other hand, Putin's leadership over the return of order, stability, and progress has won him widespread admiration.
After the United States, the European Union and other countries imposed economic sanctions after the annexation of Crimea and a collapse in oil prices, the proportion of middle-class could decrease drastically.
The population moves forth and back, Russia has to support its economy with increasing population. Since 2006, the Russian government started simplifying immigration laws and launched a state program for providing assistance to voluntary immigration of ethnic Russians from former Soviet republics. In one of his previous speeches, Putin declared that Russia's population could reach 146 million by 2025, mainly as a result of immigration.
Sprawling from the Baltic Sea to the Pacific Ocean, Russia has more than a fifth of the world's forests, which makes it the largest forest country in the world. With it's extensive mineral and energy resources, Russia is a major great power and has the potential to become a superpower. Russia can regain part of its Soviet era economic power and political influence around the world.
Eight Principles of the "Greater Eurasian Partnership"
It is common knowledge that Eurasia is the largest continent on Earth, spanning over one-third of the planet's total area. It is also the most populous, with over two-thirds of the global population calling the continent home. Eurasia has tremendous natural resources, from oil and gas to freshwater and fertile lands. The peoples of Eurasia can be rightfully proud of the fact that it was here that the oldest human civilizations first appeared, that they have managed to settle in both scorching deserts and freezing tundra, built huge cities and wonderful architectural monuments, laid extensive networks of railways and motorways, and made an invaluable contribution to human culture in all its aspects.
It would only be natural for the sprawling spaces of Eurasia to become united in a single system, where different geographic components would organically complement each other. It would be natural for customs tariffs and visa restrictions dividing our countries to become a thing of the past, for mutual suspicions, long-standing grievances and endless disputes to give way to mutual understanding, a multilateral balance of interests, and an awareness of our common historical destiny. Such a union would primarily benefit the peoples of the Eurasian continent, who would be able to expand their horizons, shed their old fears and biases, and gain radically new opportunities for economic, social and spiritual prosperity. Eurasian unification would also benefit the rest of the world, which would be the beneficiary of a powerful development engine ready to pull other continents along with it and make a decisive contribution to resolving the global problems facing humanity.
Sadly, the Eurasian continent continues to be disjointed or, rather, split into a host of large and small fragments. This applies to Eurasian security, the Eurasian political space, the Eurasian economy, and science and culture. Right now, the concept of "Eurasian identity" does not even exist, and the numerous attempts to construct one have not brought anything particularly promising.
The current lack of unity in Eurasia can be put down to a number of factors – the continent's trying history, the tragic mistakes of national leaders, the nefarious activities of external forces, and so on. However, whatever the reasons for the current circumstances might be, it is crystal clear that radically changing the situation will take both strong political will and a generous helping of perseverance, patience and flexibility, as well as a readiness to deal with unexpected failures, irritating reversals of fortune and temporary setbacks. What is more, Eurasia will never be unified if it is something the continent's inhabitants do not seek. And right now, it is something that only the leaders of certain Eurasian states want. Success here also depends on selecting the right sequence of practical steps that would lead to a single Eurasian space.
The "Greater Eurasian Partnership Concept" first introduced by President of the Russian Federation Vladimir Putin in late 2015 proceeds from the premise that the first steps in this direction should be taken in the economic architecture of the Eurasian continent, rather than in the political or military spheres. The economy forms the base of modern society, even though politics frequently gain the upper hand over economics in terms of imposing priorities and precepts on states. Yet, ultimately, no one can ignore their economic interests. As a rule, these interests are more stable, more rational and less subject to the influence of subjective factors than political precepts. Comparing the two most memorable attempts to unite Eurasia in the past – one by force (the Mongol Empire) and one through trade (the Great Silk Road), we cannot but conclude that trade ties generally proved a more reliable unification tool than armed violence.
Consequently, Eurasian unification today should start with the economy. The Partnership envisions consistent progress towards a network of free trade areas and inter-regional trade and economic alliances, and connecting integration projects throughout the vast Eurasian space. It is crucial that the practice of politicizing economic ties be eliminated and unilateral economic sanctions or other forms of economic pressure as a foreign policy instrument be abandoned.
We are clearly talking about an extremely ambitious project here that will take decades to implement, at the very least. It would not be much of an exaggeration to say that the economic consolidation of Eurasia would be the most ambitious integration project of the 21st century. Nevertheless, we can already identify several basic principles that underlie this initiative and set it apart from other plans of Eurasian unification. Let us list of the most important of these principles.
First, the Partnership is not viewed as a potential competitor for regional integration structures (ASEAN, EAEU, RCEP) or trans-border economic projects (BRI) or organizations (the SCO, APEC, ASEM). On the contrary, all of those structures, projects and organizations are seen as nodes and individual parts of the future single Eurasian economic mechanism. The objective of the Partnership is to assemble these parts and nodes together without detriment to those elements that have already demonstrated their efficiency.
Second, the Partnership is not a union of the Eurasian East against the European West. Ultimately, Europe is a large peninsula in the north-west of the Eurasian continent, and it should not be opposed to Eurasia – rather, it should become an integral part of it. Therefore, the Partnership remains open for the European Union, which could join the activities of the Partnership in the forms and to the extent that it deems appropriate.
Third, when building the Partnership, the parties need to proceed from the understanding that significant differences will remain in the models of their social, political and even economic development. Eurasia has socialist states and liberal democracies, market and planned economies. The Partnership does not set itself the task of eliminating political plurality and imposing some common denominator or a single set of values. The activities of the Partnership should be based on universally recognized norms of international law and offer the best level of comfort for all participants. Equally, the Partnership should not have leaders and outsiders, "pilots" and "wingmen," a "central nucleus" and a "periphery," as is the case with many integration projects.
Fourth, unlike the rigid integration structures like the European Union, the Partnership envisages highly flexible forms of involving individual states or their regional groups in its activities. As they are ready, these countries may join individual dimensions of the Partnership (trade, finance, infrastructure, visa, etc.) with due account of their current needs and capabilities.
Fifth, even though the Partnership is focused on the economic unification of the Eurasian continent, the expansion of economic interaction will inevitably influence other areas of cooperation, such as science and education, culture and humanitarian contacts. Eurasian integration will fail if it is reduced to increasing trade and investment. Social interaction between the peoples of Eurasia and the economic cooperation between Eurasian states should supplement and stimulate each other.
Sixth, it is impossible to develop economic integration projects in Eurasia without simultaneously creating a parallel process of bolstering continental security and resolving problems inherited from the 20th century and earlier. These problems include territorial disputes, separatism, the "divided peoples" phenomenon, the arms race, the danger of WMD proliferation, international terrorism and religious extremism. Consequently, the building of the Partnership should go hand in hand with developing mechanisms for military and political cooperation on the continent, such as the Conference on Interaction and Confidence-Building Measures in Asia (CICA).
Seventh, implementing the Partnership project should never mean "Eurasian isolationism," i.e. closing Eurasian states off from partners in other regions, be it Africa, or North or South America. On the contrary, migration within the Eurasian space should serve as a powerful incentive for further developing economic ties in the basins of the Pacific, Atlantic and Indian oceans, and for achieving progress in resolving such universal human problems as climate change, combating pandemics, ensuring food and energy security, and managing migration.
Eighth, the building of the "Greater Eurasian Partnership" should proceed from the ground up, and not top-down, that is, it should be based on specific, even if very modest agreements between regional integration unions and individual states. Concluding the work on connecting the EAEU and the BRI should be the crucial first stage in building the Partnership. Creating independent Eurasian payment systems and rating agencies, decreasing dependence on the U.S. Dollar, establishing a Eurasian economic information centre like the OECD, etc., are other promising areas of activity.
Even though the idea of the "Greater Eurasian Partnership" was first put forward about five years ago, we are still in the very beginning of a lengthy historical project. At the moment, we can only talk about some very preliminary pencil sketches of the very complex Eurasian structure of the future. These sketches contain more questions about the future of our continent than they do answers. This is why broad international expert interaction to work out individual elements of the future roadmap for this colossal continental project is particularly important today. Bilateral cooperation between Russian and Chinese experts in international relations, economics, sociology and security could play a very important role in this process.
From our partner RIAC
Development of human capital is the key goal of BRICS: The outcomes of BRICS Civil Forum 2020
On September 23-25, the international multimedia press center of Russia hosted an online conference in Moscow, focusing on the results of the BRICS Civil Forum 2020.
Speakers listed the cases and measures pertaining to their implementation as part of previous groups, and announced the topics of their upcoming meetings.
Victoria Panova, co-chair of the BRICS Civil Forum and Managing Director of the National Committee on BRICS Research, said that a total of eight working groups were present at the forum, including dedicated groups on ecology, digital economy, culture, science and education. Panova pointed to the development of human capital as the primary goal of the forum.
"We all remember how, during a meeting by world leaders in Brazil, Vladimir Putin laid out measures aimed at boosting the living standards and quality of life of the peoples of the five BRICS countries as the main goal of this organization," she emphasized.
Each year, the BRICS organization is becoming more independent and cohesive across the board, including through the use of digital technologies.
Victoria Panova also enumerated the main recommendations and measures based on the results of the work done by some groups. For example, recommendations made by the Healthcare group in 2015 on measures to handle a global pandemic have been supplemented. As part of the Education and Science group, the BRICS Network University and the BRICS University League have been created and now start working together. The group on ecology, which faces a host of paramount and urgent tasks, deserved a special mention.
Oleg Zhiganov, co-chairman of the BRICS Civil Forum's Information Strategies and Society working group, said that they would concentrate on the issue of post-truth in the modern-day media of the BRICS countries.
"During this event, we agreed with our colleagues that we will speak the truth and nothing but the truth," Zhiganov said, having in mind critical approach and fact-checking in a rapidly developing information society.
"The main thing that we are going to discuss is providing support for educational projects in universities and schools in order to instill a sense of critical thinking in young people and the ability to assess the objectivity of certain facts," Zhiganov noted.
Natalia Tsaizer, co-chair of the BRICS Civil Forum's Women and Girls working group, shared the results of her group's meetings, highlighting the current issue of gender equality in the BRICS countries. She noted that her working group is out to eliminate gender imbalance and equalize men and women when it comes to career growth and their role in decision-making structures, including in the military.
"There are a huge number of areas in the economy, politics, and the social sphere, where women are underestimated in terms of their involvement in the processes, not only as observers, performers and 'beautifiers' of the working process, but as actors ready to make decisions, set goals and implement them," Tsaizer said.
The issue of gender equality is extremely relevant not only in the BRICS countries, but elsewhere in the world. However, while it is imperative to provide equal opportunities for men and women to be involved in various organizations, Natalia Tsaizer still warned against sliding into what she described as "militant feminism." The participants in the working group's meeting proposed involving women in the decision-making process in various areas, and setting up anti-crisis committees within BRICS where women would make up at least 50 percent of their membership.
"On the one hand, this is quotas, but on the other, this is something we just can't do without because we need to regulate our presence that we could rely on," Tsaizer argued. She also noted that right now the working group consists of women only, since men are not very actively involved in tackling such issues, even though achieving gender balance is high on the agenda of the Women and Girls group.
Stepan Kanakin, the coordinator of the BRICS Civil Forum, answered questions regarding the technical aspects of organizing the forum in conditions of a pandemic.
From our partner International Affairs