Why Treaty Protection is Needed for Migratory Pollinators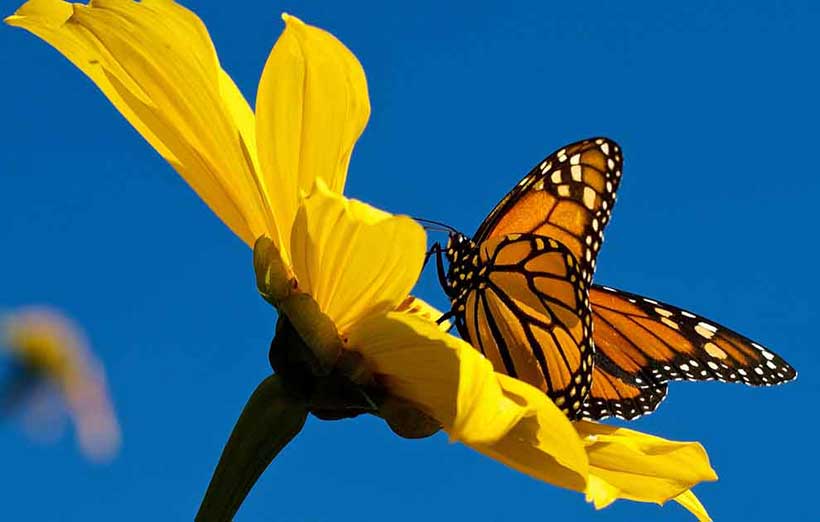 Imagine a state of laws where murder is illegal if the victim is clad in a blue shirt, but legal if the victim is not wearing blue.  A system where robbery is illegal if the victim has white skin but legal if the victim has dark skin.  Such a system would be an outrage in human society.  But this is the system of laws we have created for others.
Other species, that is.   For hundreds of years we have had treaties protecting migratory birds who traverse countries, but no similar protections for non-feathered fliers who also cross borders, such as butterflies.  Butterflies are not protected under any treaty, and consequently their populations are in danger.  Unlike birds, butterflies are a member of the class Insecta, along with bees and other pollinators.
When a German study reported last year a more than 75 percent insect decline in protected areas over 27 years, the news was particularly disturbing because insects are prodigious pollinators.  Perhaps even more concerning, scientists have determined that the Sixth Mass Extinction is underway.
On the American continent, we have the sad declining numbers of the beautiful monarch butterfly (Danaus plexippus). Striking in appearance, these orange-and-black-winged beauties are also a biological phenomenon: their migration covers a journey of 3,000 miles, three countries and multiple generations, from their winter home in Mexico to as far north as Canada . . . and then another 3,000 miles on the return trip.  A recent article in Science analyzes their plight and the complexity of threats against survival.  A population declining for decades, it is threatened by habitat loss, pesticides, extreme weather, disease, and much variation in migratory success.  Reproduction along the migratory route is particularly vulnerable as monarch caterpillars rely on milkweed for survival, and it has diminished.
In March this year counts by Mexican officials revealed a population decline for the second consecutive year.  Only nine colonies were found, reduced from 13 last year.  A declining population since 1994 has now made their migration an endangered biological phenomenon according to scientists.
A longitudinal study conducted over 38 years and recently published in Global Change Biology, has traced the birthplace of monarch butterflies in North America by examining chemical compositions of wing tissue samples.  Focused exclusively on the generation of monarchs born in North America that continue their migration to overwinter in Mexico, it established regional climate as the greatest predictor of change in natal origin.  Monarch caterpillars rely on milkweed, and the most important implication of this study is that planting milkweed hosts solely in the Midwest is not sufficient.  Climate change forces the butterflies to breed in other regions.
Thus, to sustain monarch populations, abundant milkweed is needed not only in the Midwest but throughout the United States.  In fact, the U.S. Geological Survey has concluded that as many as 1.8 billion additional milkweed stems are needed to return these butterflies to a sustainable population.
Unfortunately, despite these needs, international law promises little aid for the monarch.  The Convention on Migratory Species (CMS), backed by the U.N. Environment Program, aims to "conserve terrestrial, aquatic and avian migratory species throughout their range."  While the monarch butterfly has been added to the list of species for conservation, neither the U.S. nor Mexico nor Canada is a party to the convention.
In 2007, the Commission for Environmental Cooperation held a conference in Morelia, Mexico, leading to the creation of the North American Monarch Conservation Plan (NAMCP), which proposes multilateral action between Mexico, Canada, and the U.S.   The NAMCP is certainly a step in the right direction, outlining objectives for butterfly conservation, yet it does not have the ability to wield the power of enforcement mechanisms in a treaty, nor does it set forth specific mechanisms or measures to achieve its ends.  The need for an enforceable treaty thus remains.
There is also the Convention on International Trade in Endangered Species of Wild Fauna and Flora (CITES), entered into force on July 1, 1973.  It is designed to "ensure that international trade in specimens of wild animals and plants does not threaten their survival."  The United States, Mexico, and Canada are all parties.  Monarch butterflies are not currently listed under CITES for protection.  As CITES regulates trade, and monarch butterflies are generally not hunted in quantity, it is unlikely that CITES could ever help monarchs.
In 2014, a petition was filed to protect monarch butterflies under the Endangered Species Act.  The U.S. Fish and Wildlife Service's decision is due in June 2019.  If granted, protection under the Endangered Species Act would help monarchs in the U.S.  Yet this attacks only half the problem, as it does not cover Mexico where they return for the winter.
Monarch butterflies have essentially slipped in the cracks.  There is no treaty protecting them and they desperately need cross-border protection as has been afforded migratory birds for hundreds of years through the treaties in North America and Europe.
What is crucial is the creation of a carefully drafted Migratory Insect Treaty, tailored to address the unique challenges facing insects like the monarch butterfly.  Such a treaty would protect monarchs, whose cross-border travels span three countries – Mexico, Canada, and the U.S. – and who face challenges in each country from illegal logging of overwintering habitat in Mexico to lack of milkweed and flowers further north, and climate effects in all three.  Across the Atlantic, it could also protect the painted lady (Vanessa cardui), a cousin of the monarch.  Present on every continent except South America and the Antarctic, it is famous for one group's migration from North Africa to as far as the Arctic and back – an amazing round-trip of 9,000 miles.  A migratory treaty would include measures and enforcement mechanisms for each country, to ensure protection of a species with unique needs, and also allow other species to be added later.
Thus, in aid of monarch butterflies, the United States would be obligated to return native milkweed plants alongside highways, particularly those that previously housed native milkweed.  And Mexico would have to undertake measures to curb deforestation of the overwintering habitat in Mexico. Both are necessary for the monarch's survival.
In addition, the ecological and economic benefits due to insects are also profound.  Insects provide the US with $57 billion worth of ecological services, a figure thought by many to be an underestimate.  Humans have increased the rate of insect extinction exponentially, endangering the almost 80 percent of the world's crops that require pollination.  Consequently, treaty protection is also economically important.  Legal cover protects habitat for the insects in their countries of migration; in turn, the insects serve as necessary pollinators.
Insects also have been found to have immunological, analgesic, antibacterial, anesthetic, and anti-rheumatic properties.  Eight hundred species of terrestrial arthropods, the phylum that includes insects, show anticancer activity.  Promising anticancer drugs have been isolated from the wings of Asian sulfur butterflies (Catopsilia crocale).  Some insects might even have qualities as yet unknown, making it vital to ensure each species of insect survives.
Vladimir Nabokov, the author of "Lolita," was also a lepidopterist.  It was he who named the tiny Karner blue butterfly (now endangered), whose life cycle, and thus survival, depends on the blue lupine flower.  He described its stunning beauty in his novel "Pnin":
"A score of small butterflies, all of one kind, were settled on a damp patch of sand, their wings erect and closed, showing their pale undersides with dark dots and tiny orange-rimmed peacock spots along the hindwing margins; one of Pnin's shed rubbers disturbed some of them and, revealing the celestial hue of their upper surface, they fluttered around like blue snowflakes. . ."
When beauty is lost, the world is a diminished place.
Author's Note: This article first appeared in Common Dreams (http://www.commondreams.org).
Is the world living up to its climate commitments?
As the United Nations gears up for the September Climate Action Summit in New York, one of its most high-profile climate conferences in recent times, what progress is the world making in tackling the climate crisis, and how is that progress being measured?
Around three years ago, the global community gathered in Paris in order to build a common approach to fighting climate change. They agreed to make efforts to restrict the rise in global temperatures to "well below" 2 degrees Celsius above pre-industrial levels and, if possible, reach 1.5 degrees Celsius.
However, in July of this year the temperature measured 1.2 degrees Celsius above those levels – matching, and even breaking, the record for the hottest month since records began – and the trend is continuing upwards. Extreme weather events across the world mean the planet is on track to record the five hottest years on record, according to the UN Secretary-General, António Guterres.
Mr. Guterres says that we are engaged in a "race to limit climate change". So are we winning? UN News decided to take a closer look at one of the key international instruments used to measure the fight against global warming: Nationally Determined Contributions, or NDCs.
What are NDCs?
It should be stressed that the Paris Agreement on Climate Change is not legally binding in its entirety: it does not tell countries how they should reduce emissions or build climate resilience and adaptation, but encourages countries to write their own ticket: the NDCs.
These climate plans outline what a country promises to do, and how much they plan to reduce emissions. Recognizing that developing countries often lack the resources, finance, and technology, the Paris Agreement calls for developing countries to show what they can do on their own, and what they can do with assistance from the international community.
Why are they important?
Countries have many options on how they can pursue the goals of the Paris Agreement. This could involve legislation, financial incentives, or tax policies to promote activities that will reduce emissions. For example, countries can decide to put a price on carbon, through a tax or by building a carbon trading system.
The idea is that, if people have a clear idea of the cost of carbon pollution, they will invest and spend in areas, or fuels, that cost less. For the average citizen, this could affect what kind of car, or heating, or cooling system they use, among a myriad of other facets of life.
In addition, these policies can help regulate development in areas that are most vulnerable to the impacts of climate change, such as coastal areas that are facing rising sea levels.
Why are we talking about them now?
Under the Paris Agreement, countries are supposed to enhance their NDCs every few years to show increased ambition over time.
This is known as the "ratchet" mechanism, acknowledging that the initial submissions were nowhere near where we need to be: even if you added up the NDCs of all countries, we would only, at best, be a third of where we need to be, in order to achieve the Paris Goals.
So, countries are supposed to submit updated and enhanced NDCs in 2020, and it is important to mobilize now, to push for increased ambition and action: this is why the Climate Action Summit is being held in 2019.
Is it all doom and gloom?
No! We are seeing a surge of action around the world to move to renewable energy, with huge solar power plants being built in Morocco and the United Arab Emirates, Portugal receiving most of its energy now from renewables, and increasingly, many countries finding that they can power their grids entirely on renewable energy.
Investment in renewable energy is now outpacing that in fossil fuels, particularly in developing countries, and many countries and sub-regions have successfully enacted carbon pricing.
At the same time, the bottom line is that the world is not moving quickly enough: global emissions are increasing, and the temperature is rising.
Which regions are leading the way?
No region is clearly surpassing others, but there are countries, and cities, that are showing great progress. Many countries, including Pacific Island Small Island Developing States, have said that they are moving towards climate neutrality, or having a net zero carbon footprint.
In practice, that means they are able to balance carbon emissions, for example from industry or even just car usage, with carbon removal from the atmosphere, via such techniques as planting more trees, which absorb carbon.
It is a sad irony that these countries, among the most affected by climate change, have done little to contribute to the problem.
Climate action requires investment, and that often requires sound government policies to provide the incentive. Alongside Portugal, several other countries have invested heavily in renewables – including Chile, Ireland, Kenya and Costa Rica –and many European nations have made major advances in reducing their emissions.
How can we move faster?
We need to see greater political leadership and political will. Carrying on with business as usual will be disastrous and will lead to a global temperature rise of 3 degrees Celsius, or more, this century.
Bold leadership, on the part of government, business and civil society leaders, is critical for advancing climate action. People make a difference as well: changing consumer behavior is important in moving toward a low-carbon economy, which is why the UN has promoted the ActNow Campaign, to offer basic ideas on the steps we all can take.
So, can we solve the climate crisis?
Yes. We have the solutions that we need to address climate change, but we need to use them. We need to shift investment from the grey, dirty, economy, to the green economy. The money is there.
We have the technology, now we need to make it accessible to all people in all countries.
But we need to take action now. Every bit of warming matters, and the longer we wait, the greater the negative impact.
Towards a sustainable Blue economy: A Plan to restore the health of our oceans
Samba Lahy recalls the time when, as a young man, he used to go fishing with his parents off the coast of Tampolove, one of the fishing villages dotting the southwestern coast of Madagascar. Every time his family returned from the sea, their long and narrow canoe would be filled to the brim with fish. But things have changed.
Mr. Lahy, now with a family of his own, has seen his catches dwindle. As a result, like others in Tampolove, he can no longer rely on fishing as his main source of income. His story sounds familiar to many, in scores of fishing villages around the world.
Today, one third of the world's fish stocks are overfished, up from 10 per cent in the mid-1970s. Another 60% of fish stocks have been exploited at their maximum sustainable limit. But overfishing is only one of many problems affecting the oceans. Over the past 30 to 40 years, the world has lost half of its coral reefs. Other problems include a rise in ocean temperatures and acidity, both a result of the climate crisis.
Despite a growing awareness of these challenges, progress in tackling them has been slow. This is due to many factors, not least the perception that protecting the environment is costly and will therefore hinder economic growth and socio-economic development. However, the quest for a healthy environment can be compatible with a prosperous economy and a global trading system.
The ingenuity of rural producers like Lahy offers inspiration and assurance that the two are not inherently incompatible. Faced with dwindling catches, Lahy and others in the community began experimenting with seaweed farming with the help from non-governmental organizations. Soon this turned into a profitable economic activity, and the village soon started to sell their seaweed to foreign markets, where it is used to produce food, personal care products, cosmetics, paints, adhesives, dyes and gels.
Commercial ventures like seaweed farming can create new economic opportunities, particularly for women in rural communities, enhanced by the interconnectedness of the global economy. They can also be more environmentally friendly than other aquaculture activities. Part of the reason is that seaweed and other species of algae do not need fertilizers to grow—just sunlight, carbon dioxide and water. All these factors begin to show how economic prosperity, trade and the preservation of the environment can, in fact, reinforce each other.
In the context of the Paris Agreement, oceans-based economic diversification can enhance the nationally determined contributions of small island developing states, supporting the implementation of the agreement. This shows that trade can be an enabling factor in adaptation and in mainstreaming oceans-based economic activities, where domestic markets remain small and remoteness is an intractable hindering factor.
In other areas of the oceans economy, adapting trade policies can play a decisive role in making economic activities more sustainable. One example relates to fisheries subsidies, government support schemes for the fisheries sectors. "Despite the clear trend of declining fish populations, a majority of these subsidies further promote overfishing. Instead, support should be provided to improve the sustainability of the sector, or promote new sustainable economic activities."
explains Steven Stone, Chief of Resources and Markets at UN Environment. "Currently, countries are negotiating on a new set of trade rules at the multilateral level, that can put an end to these harmful practises. Successfully concluding these negotiations in 2020, at the 12th WTO Ministerial Conference will be crucial to move towards sustainable fishing practises. It is also a crucial part and parcel of the 2030 Agenda."
The oceans economy, climate and efforts to eliminate harmful fisheries subsidies are all headline topics of the Third Oceans Forum, an event on the sidelines of the September 2019 UN Trade, SDGs and Climate Forum in Geneva. The Oceans Forum is a unique global platform to take stock, exchange experiences and present options for the implementation of trade-related targets of Sustainable Development Goal 14 – Life below water – through the involvement of leading United Nations agencies, regional bodies, government institutions and civil society organizations.
This year's forum is particularly important, as it precedes the 2020 deadline to deliver on several trade-related Sustainable Development Goal targets on healthy oceans. To support countries to deliver on these targets, UNCTAD, FAO, and UN Environment have come together to develop a draft Inter-agency Plan of Action (the so-called 'IPoA'), on sustainable oceans and trade. Through this Plan of Action, the agencies are proposing a comprehensive instrument to support countries in their transition to sustainable ocean economies, and to align their trade policies with overall sustainable development considerations.
Hurricanes, Melting Ice Sheets, Rising Sea Levels and A 16-Year Old's Courage
When the Duke of Windsor, the former Edward VIII, was made governor of the Bahamas in 1940, he and his wife Wallis Simpson arrived to peaceful islands favored by a benign climate, away from the violent upheavals of a war-torn Europe.
Whatever the reasons — and many point to rising sea temperatures from climate change — the climate in the Caribbean is a little less benign as the unfortunate residents of Cuba, Haiti and Puerto Rico among others have noticed in the last few years.
And now hurricane Dorian, a category 5 monster when it made landfall on the northern island of Abaco and Grand Bahama on Sunday. The strongest storm on record to hit the islands with winds reaching 185 mph, it left not a single roof untouched in Abaco, some areas being completely obliterated as if nothing had ever existed.
How many dead? Nobody knows yet. Shelters designed to accommodate a few dozen are crammed with a thousand and more. Sarah St. George, the chairman of the Grand Bahama Port Authority experienced it first hand. "Grand Bahama is not in good shape at all because 70 percent of it is under water." If water is up to the second floor, then people have lost everything. Recovery will be long and arduous.
The islands need help and is owed it. Mia Mottley the prime minister of Barbados put it bluntly: "We are on the front line of the consequences of climate change and we don't cause it." Climate experts predict worse and more frequent storms in the future. Dorian, for example, formed in August, earlier than normal. Global warming is playing havoc with weather and warmer seas fuel more moisture-laden, powerful storms.
Sea levels are rising from higher temperature expansion and greater ice melt, increasing the danger to coastal communities. In Greenland, the melting ice caps and sheets by a record amount have surprised researchers, who say this summer's melt has been enough to raise global sea levels by one millimeter. The ice sheet is 2-3 km thick and covers an area six times the size of Germany. If all that ice melted, it would raise sea levels worldwide by 7 meters or almost 23 feet.
When greenhouse gases are causing global warming, responsibility lies with the largest producers/polluters. Would an international court find them liable to the small island nations suffering the consequences? But then, if it does, who is going to persuade them to pay up?
It is in everyone's interest to reduce global warming and since the powers that be do not listen to us, 16-year old Greta Thunberg is doing something about it. To prove her point on greenhouse gases she refused to take a transatlantic flight, crossing on a sailboat instead to attend the United Nations climate summit later this month. While she gears up for it, she is also preparing for the global strike on Friday September 20th preceding the climate summit on the Monday following. She chose Friday, a workday, because she is asking adults to join the action and stay away from their jobs.
Of course UN climate summit reports try to achieve consensus and in doing so have to appease fossil fuel producers. If caveats are multiplied and uncertainties magnified, it is all part of the game.
Then there are the unexpected consequences. As electric cars multiply and the demand for copper escalates, new sources must be developed. Thus a new copper mine is being dug in the pristine wilderness of northern Norway, north of the Arctic Circle. How well will reindeer and their Sami herders coexist with copper mining in the sparse wilderness is an open question.