Why Treaty Protection is Needed for Migratory Pollinators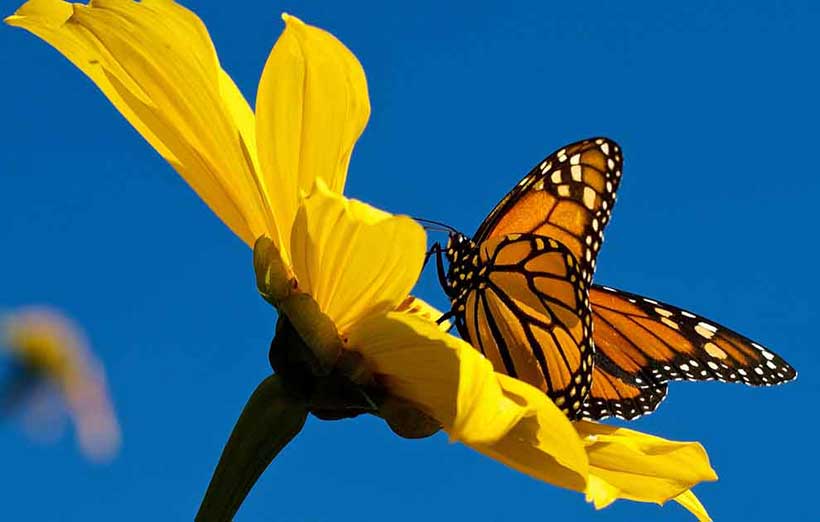 Imagine a state of laws where murder is illegal if the victim is clad in a blue shirt, but legal if the victim is not wearing blue.  A system where robbery is illegal if the victim has white skin but legal if the victim has dark skin.  Such a system would be an outrage in human society.  But this is the system of laws we have created for others.
Other species, that is.   For hundreds of years we have had treaties protecting migratory birds who traverse countries, but no similar protections for non-feathered fliers who also cross borders, such as butterflies.  Butterflies are not protected under any treaty, and consequently their populations are in danger.  Unlike birds, butterflies are a member of the class Insecta, along with bees and other pollinators.
When a German study reported last year a more than 75 percent insect decline in protected areas over 27 years, the news was particularly disturbing because insects are prodigious pollinators.  Perhaps even more concerning, scientists have determined that the Sixth Mass Extinction is underway.
On the American continent, we have the sad declining numbers of the beautiful monarch butterfly (Danaus plexippus). Striking in appearance, these orange-and-black-winged beauties are also a biological phenomenon: their migration covers a journey of 3,000 miles, three countries and multiple generations, from their winter home in Mexico to as far north as Canada . . . and then another 3,000 miles on the return trip.  A recent article in Science analyzes their plight and the complexity of threats against survival.  A population declining for decades, it is threatened by habitat loss, pesticides, extreme weather, disease, and much variation in migratory success.  Reproduction along the migratory route is particularly vulnerable as monarch caterpillars rely on milkweed for survival, and it has diminished.
In March this year counts by Mexican officials revealed a population decline for the second consecutive year.  Only nine colonies were found, reduced from 13 last year.  A declining population since 1994 has now made their migration an endangered biological phenomenon according to scientists.
A longitudinal study conducted over 38 years and recently published in Global Change Biology, has traced the birthplace of monarch butterflies in North America by examining chemical compositions of wing tissue samples.  Focused exclusively on the generation of monarchs born in North America that continue their migration to overwinter in Mexico, it established regional climate as the greatest predictor of change in natal origin.  Monarch caterpillars rely on milkweed, and the most important implication of this study is that planting milkweed hosts solely in the Midwest is not sufficient.  Climate change forces the butterflies to breed in other regions.
Thus, to sustain monarch populations, abundant milkweed is needed not only in the Midwest but throughout the United States.  In fact, the U.S. Geological Survey has concluded that as many as 1.8 billion additional milkweed stems are needed to return these butterflies to a sustainable population.
Unfortunately, despite these needs, international law promises little aid for the monarch.  The Convention on Migratory Species (CMS), backed by the U.N. Environment Program, aims to "conserve terrestrial, aquatic and avian migratory species throughout their range."  While the monarch butterfly has been added to the list of species for conservation, neither the U.S. nor Mexico nor Canada is a party to the convention.
In 2007, the Commission for Environmental Cooperation held a conference in Morelia, Mexico, leading to the creation of the North American Monarch Conservation Plan (NAMCP), which proposes multilateral action between Mexico, Canada, and the U.S.   The NAMCP is certainly a step in the right direction, outlining objectives for butterfly conservation, yet it does not have the ability to wield the power of enforcement mechanisms in a treaty, nor does it set forth specific mechanisms or measures to achieve its ends.  The need for an enforceable treaty thus remains.
There is also the Convention on International Trade in Endangered Species of Wild Fauna and Flora (CITES), entered into force on July 1, 1973.  It is designed to "ensure that international trade in specimens of wild animals and plants does not threaten their survival."  The United States, Mexico, and Canada are all parties.  Monarch butterflies are not currently listed under CITES for protection.  As CITES regulates trade, and monarch butterflies are generally not hunted in quantity, it is unlikely that CITES could ever help monarchs.
In 2014, a petition was filed to protect monarch butterflies under the Endangered Species Act.  The U.S. Fish and Wildlife Service's decision is due in June 2019.  If granted, protection under the Endangered Species Act would help monarchs in the U.S.  Yet this attacks only half the problem, as it does not cover Mexico where they return for the winter.
Monarch butterflies have essentially slipped in the cracks.  There is no treaty protecting them and they desperately need cross-border protection as has been afforded migratory birds for hundreds of years through the treaties in North America and Europe.
What is crucial is the creation of a carefully drafted Migratory Insect Treaty, tailored to address the unique challenges facing insects like the monarch butterfly.  Such a treaty would protect monarchs, whose cross-border travels span three countries – Mexico, Canada, and the U.S. – and who face challenges in each country from illegal logging of overwintering habitat in Mexico to lack of milkweed and flowers further north, and climate effects in all three.  Across the Atlantic, it could also protect the painted lady (Vanessa cardui), a cousin of the monarch.  Present on every continent except South America and the Antarctic, it is famous for one group's migration from North Africa to as far as the Arctic and back – an amazing round-trip of 9,000 miles.  A migratory treaty would include measures and enforcement mechanisms for each country, to ensure protection of a species with unique needs, and also allow other species to be added later.
Thus, in aid of monarch butterflies, the United States would be obligated to return native milkweed plants alongside highways, particularly those that previously housed native milkweed.  And Mexico would have to undertake measures to curb deforestation of the overwintering habitat in Mexico. Both are necessary for the monarch's survival.
In addition, the ecological and economic benefits due to insects are also profound.  Insects provide the US with $57 billion worth of ecological services, a figure thought by many to be an underestimate.  Humans have increased the rate of insect extinction exponentially, endangering the almost 80 percent of the world's crops that require pollination.  Consequently, treaty protection is also economically important.  Legal cover protects habitat for the insects in their countries of migration; in turn, the insects serve as necessary pollinators.
Insects also have been found to have immunological, analgesic, antibacterial, anesthetic, and anti-rheumatic properties.  Eight hundred species of terrestrial arthropods, the phylum that includes insects, show anticancer activity.  Promising anticancer drugs have been isolated from the wings of Asian sulfur butterflies (Catopsilia crocale).  Some insects might even have qualities as yet unknown, making it vital to ensure each species of insect survives.
Vladimir Nabokov, the author of "Lolita," was also a lepidopterist.  It was he who named the tiny Karner blue butterfly (now endangered), whose life cycle, and thus survival, depends on the blue lupine flower.  He described its stunning beauty in his novel "Pnin":
"A score of small butterflies, all of one kind, were settled on a damp patch of sand, their wings erect and closed, showing their pale undersides with dark dots and tiny orange-rimmed peacock spots along the hindwing margins; one of Pnin's shed rubbers disturbed some of them and, revealing the celestial hue of their upper surface, they fluttered around like blue snowflakes. . ."
When beauty is lost, the world is a diminished place.
Author's Note: This article first appeared in Common Dreams (http://www.commondreams.org).
Restoring the Caribbean to the paradise it used to be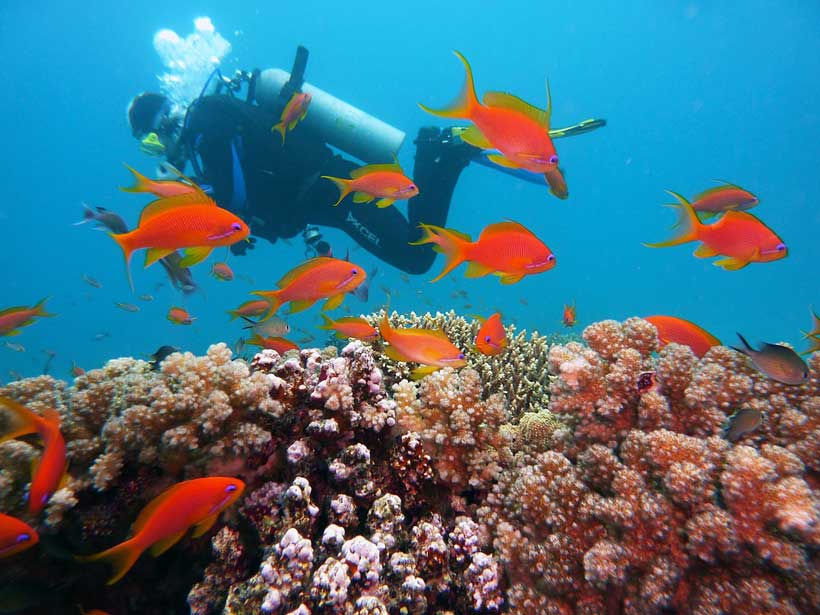 When people think of the Caribbean, it's the turquoise seas, clean beaches, coral reefs teeming with fish, turtles and balmy breezes that come to mind.
For us, this paradise is what we call home. We depend upon its riches for sustenance and, often, to make a living. It is the origin of much of the pride we feel when we say we are from the Caribbean.
Increasingly however, the reality does not live up to expectations—we may arrive at the seashore to find it covered with sargassum, the water cloudy and brown, and the horizon covered in trash; the coral reefs may look faded and tired and with barely enough fish to count on one hand…
For visitors, what version of the paradise they may find is becoming unpredictable and some may never return, depending on their experience.
For locals, it's a different matter—as seafood prices go up and children develop rashes after swimming in the ocean, and as houses flood after each storm and tourists turn their backs on the islands, the paradise is increasingly looking less idyllic.
Sounding a wake-up call to protect the reefs
More than 100 million people in the wider Caribbean region live on, or near the coast in a complex ecosystem with the highest number of marine species in the Atlantic Ocean.
Shallow-water coral reefs, mangroves, seagrass beds, lagoons, estuaries and beaches as well as coral banks and rocky outcrops in deep waters together make up the coral reef sub-ecosystem, the richest in biodiversity in the wider Caribbean region.
Almost 10 per cent of the world's coral reefs are found in the Caribbean Sea and Gulf of Mexico, and 45 per cent of the fish species and 25 per cent of the coral species are found nowhere else in the world. With an area of 10,429 square kilometres of mangrove forest, the adjacent North Brazil Shelf has the highest mangrove coverage of any large marine ecosystem.
This wide ecosystem supports three of the region's major fisheries—reef fish, spiny lobster and conch—and is the foundation of the region's tourism industry. Coral reefs, mangroves and seagrass beds also play an important part in coastal and shoreline protection under normal sea conditions as well as during hurricanes and tropical storms.
A 2016 study by the World Bank put the economic value of the Caribbean Sea alone at US$407 billion per year. Yet this precious ecosystem is at the heart of competing economic and social demands as well as natural stresses and threats.
Pollution from activities on land and at sea degrades and destroys the reef. Many once-abundant species are now threatened or endangered.
Hurricanes are becoming more frequent and more severe, resulting in great destruction and loss of lives, leaving both the coastline and local communities more vulnerable to future shocks.
A strategy to keep it pristine
Since 1981, UN Environment's Caribbean Environment Programme has been working with the region's national governments to better manage and use coastal and marine resources.
Following the establishment, in 1983, of the Cartagena Convention—the only legally binding agreement for the protection of the Caribbean Sea—the programme has relentlessly worked to gain acceptance of, and agreement upon, three protocols or agreements to combat oil spills [the Oil Spills Protocol] coastal and marine biodiversity [the Specially Protected Areas and Wildlife Protocol] and pollution [the Land Based Sources of Marine Pollution Protocol] among its 28 member states and 14 territories.
As a result of the analysis of the wider Caribbean region conducted between 2007 and 2011 by the joint United Nations Development Programme and Global Environment Facility's Caribbean Large Marine Ecosystem Project (2009–2014), the coral reef sub-ecosystem was given priority in a regional strategy to address transboundary problems that compromise the ability of the Caribbean Sea and the region's living marine resources to support social and ecological well-being and resilience.
In the last two years, the Specially Protected Areas and Wildlife Protocol, together with the Caribbean and North Brazil Shelf Large Marine Ecosystems Project 2015–2020, published the Report on the State of Marine Habitats in the Wider Caribbean, which then became the basis for the Regional Strategy and Action Plan for the Valuation, Protection and/or Restoration of Key Marine Habitats in the Wider Caribbean 2021–2030. The strategy recommends a series of measures to support the people, economies and ecology of the region, targeting coral reefs, mangroves and seagrass beds in particular.
Using an integrated approach, participating governments and stakeholders from academia, civil society, the private sector, and regional and global agencies are working together to enhance management and conservation of the coral reef sub-ecosystem in support of sustainable development.
UN Environment's Caribbean Environment Programme, as Secretariat of the Specially Protected Areas and Wildlife Protocol, has been working to revamp the Caribbean Marine Protected Areas Managers Network and establish a regional wildlife enforcement network, in efforts to improve marine biodiversity management. Assisting the region and its countries in co-executing the strategic action plan is another important step in this direction. The Caribbean Environment Programme is driving the process, building the alliances needed to ensure the integrity of Caribbean coral reefs, seagrass beds and mangroves, in the hope to bring back the paradise we all expect.
The Perilous Migration of Birds through Cities
How many birds flying into buildings die,
Thinking the glass reflection is the sky. — with a nod to Kansas poet Madeleine Aaron
Bird migration is a wondrous and majestic phenomenon. One may witness flocks of colorful songbirds sweeping the skies, geese gliding in a V-shape of beautiful symmetry, or a great hawk soaring above and diving for prey at 120 miles per hour.
About half of all birds in the world migrate, and even the smallest may travel remarkably long distances. Incredibly, the tiny hummingbird can fly nonstop 600 miles over the Gulf of Mexico. Some round-trip migrations can wind their way for as long as 44,000 miles.
Most songbirds migrate at night, and nocturnal travel makes their journey particularly perilous in light of human development. Birds face many obstacles along the way, including extreme weather events and lack of habitat. Yet, one particularly tragic and preventable peril remains: human-made structures.
Scientists estimate an astounding upper-level figure of 1 billion birds that die in the U.S. each year from building collisions. Making matters worse, 40 percent of the world's bird species are already in decline. In the last decade alone, four birds became extinct and four more are "on the verge of extinction." Nearly one in five bird species in Europe is at risk of extinction.
Artificial light from buildings draws migratory birds like a beckoning siren, luring them toward lit cities where skyscraper glass reflections are plentiful and deadly. What appear to be skies and trees turn out to be deceptive reflections, and as the birds glide toward the images, they slam into glass. Many are killed instantly, while some are seriously wounded.
Scientists at the Cornell Lab of Ornithology have investigated light pollution and bird migration patterns in major U.S. cities to determine where collision risks are highest. They report that the median light exposure to birds in cities is 24 times higher than the countrywide average. Chicago tops the list of dangerous U.S. cities for birds, followed by Houston and Dallas. This is true for both fall and spring migrations. Other dangerous metropolises include New York, Minneapolis, St. Louis and Los Angeles.
The central region of the U.S. happens to be a superhighway for bird migrations. Every spring and fall, over 5 million migrating birds comprised of 250 species pass over Chicago, where the city's glass skyscrapers and artificial light become a death trap. Scientists from the Field Museum in Chicago have been counting dead birds at just one building (McCormick Place) since 1978. By 2002, the numbers had totaled 29,842 birds from 140 species. Chicago clearly has to be a major focus for conservation efforts during migration periods, as should the other hazardous cities identified in the study.
Another useful lesson from the Cornell study is one of timing, and this can help birds in many geographic regions of the U.S. Particularly crucial is the ability to pinpoint specifically when the birds face the greatest risks in each region. Fine-tuning the weeks when help is most needed can have a substantial impact on saving birds.
Researchers discovered that while a migration may continue over a six-month period, it "occurs in sporadic waves," with the vast majority of birds passing through dangerous locales on just a few nights. Half of all migratory birds each season passed a metro location on approximately 7 to 10 nights during their migrations. This means helping birds, even for a period as short as a week, can have a significant impact. Really though, we must do more.
How Can We Lower the Rate of Bird Collisions?
For low-rises and high-rises, minimizing artificial window light is highly beneficial. This can be done by turning out the lights at night, drawing curtains and blinds, using a small lamp on a table rather than bright ceiling lights and introducing lights with motion sensors in office buildings.
Additionally, participating in Lights Out projects during peak migration times saves many birds. For the average reader, this is as simple as turning the lights out after 11 pm during fall and spring migration months. For building owners, minimizing exterior lighting is also essential. Lights Out programs are being organized in many major cities and have saved thousands of birds. A two-year study by the Field Museum using McCormick Place in Chicago found that turning off the lights resulted in an 83 percent reduction in bird window-collision deaths.
Chicago Bird Collision Monitors rescues injured birds and counts fatalities each morning during migration. Notably, they rescued an injured peregrine falcon (on the endangered list) that was restored to health and released. "We know that before all buildings were participating consistently in Lights Out, there was a foggy night in 2002 when many birds were migrating where a single building was reported to kill over a thousand birds in one evening," said Annette Prince, the program's director. "Chicago Bird Collision Monitors worked with buildings to get better participation in Lights Out and by 2004, saw 100 percent participation in light reduction so that subsequently we have never had a single building kill so many birds at once."
The Cornell Lab of Ornithology has a live bird migration map, so one can view in real time when birds are migrating through one's locale and be cognizant of light pollution during peak days. It is important to note that turning lights out whenever possible is also beneficial outside of migration periods, as scientists have shown that substantial numbers of collisions can and do occur outside of migration periods, even in winter.
Bird-friendly architecture for new construction is essential, as is mandatory legislation. Additionally, adding bird-safe architecture to green building certification standards is recommended by scientists. The extent to which architectural changes can affect bird collision incidence is illustrated by the recent renovation of New York's Javits Center – a building previously responsible for the most bird deaths per year in New York. To help mitigate the problem, architects replaced dark-mirrored glass with glass that had a subtle fritted pattern, and also added a green roof for nesting. The project was a remarkable success, reducing bird collisions by 95 percent. Other architectural strategies are installation of UV-coated glass, translucent glass and indented windows with shutters. Legislation requiring implementation of these strategies is crucial to saving birds from collisions.
Chicago proposed bird-friendly building legislation at the beginning of the year. The ordinance would limit the percentage of transparent or reflective glass that can be used in new and renovated construction exteriors. Specifically, it would require that from the ground to 36 feet up, at least 95 percent of the exterior cannot be covered in glass, or must use glass containing frosting, etching or screens. Nonessential exterior lighting would also be required to automatically shut off after 11 pm. Chicago's legislation was introduced by Alderman Brian Hopkins and is supported by Bird Friendly Chicago. It is expected that real estate developers will oppose the bill. Michael Cornicelli, executive vice president of the Building Owners and Managers Association of Chicago, communicated that the portion of the bill requiring adoption of bird-friendly architecture to renovations of existing buildings would be "a potential sticking point." San Francisco and Toronto already have bird-friendly legislation in place to serve as a model.
On a national level, U.S. Rep. Mike Quigley, a Democrat who is also a Chicago resident, has reintroduced the Bird-Safe Buildings Act (H.R. 919), which he has tried four times to pass since 2010. Dr. Christine Sheppard, director of American Bird Conservancy's Glass Collisions Program, notes, "The legislation would help address one of the greatest human-caused threats to birds. Although this legislation is limited to federal buildings, it's a very good start that could lead to more widespread applications of bird-friendly designs and use of bird-smart glass solutions."
When enacted, these bills will reduce bird collision deaths, and in the next few months, we will see how they fare.
In the meantime, researchers recommend that residents take a few of the following precautions to help minimize window collisions: angling windows to reduce reflection, keeping indoor vegetation away from windows, installing netting, ultraviolet-reflecting glass or decals spaced closely together. And of course, simply turning out the lights helps.
These same strategies can be used in any city around the world where migratory birds traverse. Collectively, we can reduce the incidence of bird collisions and help the many already threatened species to have a better chance of survival.
In the coming months, look to the sky and around you. Stop awhile and you will hear birdsong, more in the morning but also during the day; wee warblers with deceptively loud melodies, cardinals singing their sweet song, and if you look carefully you might catch a glimpse of a puff of bright yellow, the source of that surprising volume. These and others are growing families and enriching our lives before they prepare for the thousands of miles long autumn journey to their winter homes.
Author's note: first published in Truthout.org
How we unlock transformational change to save our Forests
Back in May, the Tropical Forest Alliance (TFA) hosted its Annual Meeting in Bogotá, Colombia's high-altitude capital, which brought together 300 leaders from the worlds of business, government and civil society. As well as having an acute awareness of the importance of forests in solving our global climate and biodiversity crises, they have a huge weight of collective influence.
The meeting was invigorating. It was upbeat. Yet it also zeroed-in on the considerable challenges we still face. And I think everyone left with a real sense of urgency and a determination to stop the ecocide.
If you were there, I need to thank you, once again, for contributing. If not, I want to give you a quick update on the tenor of the discussions, and three commitments we made.
So, first, the meeting itself.
It was great to be in Bogotá, to be co-hosted by the Colombian Government, and to hear directly from the President about his determination to address deforestation. The country has committed to a US$20 million fund to promote low-carbon investment, and to eliminate deforestation from meat and dairy production. And, beyond halting deforestation, there is a strong intention to reverse the process – by restoring hundreds of thousands of acres of degraded land and planting 180 million trees.
A central theme was the promise of jurisdictional or landscape-based approaches, which address the economic viability of rural economies. And we heard from stakeholders from several regions that are making real progress, like Indonesia's Siak district, and Colombia's Department of Caqueta.
These jurisdictional approaches are not new. But they have emerged as an effective way to complement the type of supply chain initiatives that have traditionally been the focus of the TFA community. We are therefore convinced that the most effective thing we can do going forward is catalyse collective action in the world's key production landscapes.
A clear pace setter is the Mato Grosso region in Brazil and its Produce, Conserve, Include (PCI) platform and strategy. First launched in 2015, the PCI is helping the region's vast but often impoverished agricultural economy to co-exist with the 60% of remaining forest cover. And a new innovation, supported by several NGOs, is the PCI "Pitch Book" – a menu of readymade, plug-and-play solutions for businesses to actively engage in the landscapes from which they are sourcing.
Of course, it wasn't all good news. The latest Global Forest Watch figures were shared, and the overall picture is not good. Although the 2018 rate of deforestation fell back from the 2016 and 2017 peaks, 12 million hectares of tree cover were lost, and the underlying three-year trend is still heading upwards, with some deeply worrying incursions into protected forest areas and indigenous lands. However, a reason to be optimistic is the situation in Indonesia, where deforestation has all but stopped – demonstrating the success of its national and regional initiatives and providing inspiration to the wider forest community.
China's attitude to commodity supply chains and deforestation was another strong theme, and we were delighted to announce that the TFA is launching a programme of activity to support the Chinese Government ahead of the UN Biodiversity Conference in Kunming in 2020. Against this backdrop, we believe there is a clear rationale and opportunity for the Chinese state to engage in the forest debate and wield its considerable influence.
Accelerating into 2020 and beyond
We closed the meeting with three commitments:
-The consensus from Bogotá was the need for system-level change. For example, there were clear calls for the creation of a Global Accord on Commodity Sourcing. Brokering such an agreement falls outside of the TFA's traditional remit, but we will explore what such an accord may look like and how it could be pursued.
-There was strong endorsement for the TFA to continue to catalyse collective action on jurisdictional initiatives. By complementing (but not substituting) supply chain actions, this promises to be transformational.
-We all need to accelerate towards 2020, making what progress we can, whilst also framing a compelling post-2020 agenda. For example, we will consult across our membership to broker a consensus. We will also continue to highlight the effectiveness of jurisdictional leadership – aiming for the subject to be high on the agenda at the UN Climate Action Summit in New York this September.
Finally, we confirmed that the next TFA meeting will take place in Indonesia – a country that has done more than any in the last few years to reduce deforestation, although significant challenges do remain.
A lot needs to happen in the intervening 12 months. Everyone in the forest community needs to be held to account, and we are only going to accelerate progress by working better together. So let's be humble about what we have achieved, let's be frank about the challenges, and let's agree on a compelling vision for a #ForestPositive future.