Why Treaty Protection is Needed for Migratory Pollinators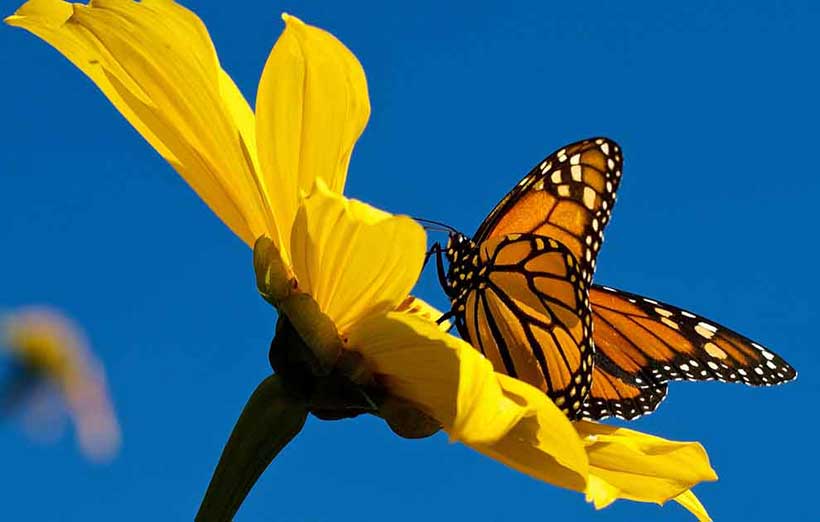 Imagine a state of laws where murder is illegal if the victim is clad in a blue shirt, but legal if the victim is not wearing blue.  A system where robbery is illegal if the victim has white skin but legal if the victim has dark skin.  Such a system would be an outrage in human society.  But this is the system of laws we have created for others.
Other species, that is.   For hundreds of years we have had treaties protecting migratory birds who traverse countries, but no similar protections for non-feathered fliers who also cross borders, such as butterflies.  Butterflies are not protected under any treaty, and consequently their populations are in danger.  Unlike birds, butterflies are a member of the class Insecta, along with bees and other pollinators.
When a German study reported last year a more than 75 percent insect decline in protected areas over 27 years, the news was particularly disturbing because insects are prodigious pollinators.  Perhaps even more concerning, scientists have determined that the Sixth Mass Extinction is underway.
On the American continent, we have the sad declining numbers of the beautiful monarch butterfly (Danaus plexippus). Striking in appearance, these orange-and-black-winged beauties are also a biological phenomenon: their migration covers a journey of 3,000 miles, three countries and multiple generations, from their winter home in Mexico to as far north as Canada . . . and then another 3,000 miles on the return trip.  A recent article in Science analyzes their plight and the complexity of threats against survival.  A population declining for decades, it is threatened by habitat loss, pesticides, extreme weather, disease, and much variation in migratory success.  Reproduction along the migratory route is particularly vulnerable as monarch caterpillars rely on milkweed for survival, and it has diminished.
In March this year counts by Mexican officials revealed a population decline for the second consecutive year.  Only nine colonies were found, reduced from 13 last year.  A declining population since 1994 has now made their migration an endangered biological phenomenon according to scientists.
A longitudinal study conducted over 38 years and recently published in Global Change Biology, has traced the birthplace of monarch butterflies in North America by examining chemical compositions of wing tissue samples.  Focused exclusively on the generation of monarchs born in North America that continue their migration to overwinter in Mexico, it established regional climate as the greatest predictor of change in natal origin.  Monarch caterpillars rely on milkweed, and the most important implication of this study is that planting milkweed hosts solely in the Midwest is not sufficient.  Climate change forces the butterflies to breed in other regions.
Thus, to sustain monarch populations, abundant milkweed is needed not only in the Midwest but throughout the United States.  In fact, the U.S. Geological Survey has concluded that as many as 1.8 billion additional milkweed stems are needed to return these butterflies to a sustainable population.
Unfortunately, despite these needs, international law promises little aid for the monarch.  The Convention on Migratory Species (CMS), backed by the U.N. Environment Program, aims to "conserve terrestrial, aquatic and avian migratory species throughout their range."  While the monarch butterfly has been added to the list of species for conservation, neither the U.S. nor Mexico nor Canada is a party to the convention.
In 2007, the Commission for Environmental Cooperation held a conference in Morelia, Mexico, leading to the creation of the North American Monarch Conservation Plan (NAMCP), which proposes multilateral action between Mexico, Canada, and the U.S.   The NAMCP is certainly a step in the right direction, outlining objectives for butterfly conservation, yet it does not have the ability to wield the power of enforcement mechanisms in a treaty, nor does it set forth specific mechanisms or measures to achieve its ends.  The need for an enforceable treaty thus remains.
There is also the Convention on International Trade in Endangered Species of Wild Fauna and Flora (CITES), entered into force on July 1, 1973.  It is designed to "ensure that international trade in specimens of wild animals and plants does not threaten their survival."  The United States, Mexico, and Canada are all parties.  Monarch butterflies are not currently listed under CITES for protection.  As CITES regulates trade, and monarch butterflies are generally not hunted in quantity, it is unlikely that CITES could ever help monarchs.
In 2014, a petition was filed to protect monarch butterflies under the Endangered Species Act.  The U.S. Fish and Wildlife Service's decision is due in June 2019.  If granted, protection under the Endangered Species Act would help monarchs in the U.S.  Yet this attacks only half the problem, as it does not cover Mexico where they return for the winter.
Monarch butterflies have essentially slipped in the cracks.  There is no treaty protecting them and they desperately need cross-border protection as has been afforded migratory birds for hundreds of years through the treaties in North America and Europe.
What is crucial is the creation of a carefully drafted Migratory Insect Treaty, tailored to address the unique challenges facing insects like the monarch butterfly.  Such a treaty would protect monarchs, whose cross-border travels span three countries – Mexico, Canada, and the U.S. – and who face challenges in each country from illegal logging of overwintering habitat in Mexico to lack of milkweed and flowers further north, and climate effects in all three.  Across the Atlantic, it could also protect the painted lady (Vanessa cardui), a cousin of the monarch.  Present on every continent except South America and the Antarctic, it is famous for one group's migration from North Africa to as far as the Arctic and back – an amazing round-trip of 9,000 miles.  A migratory treaty would include measures and enforcement mechanisms for each country, to ensure protection of a species with unique needs, and also allow other species to be added later.
Thus, in aid of monarch butterflies, the United States would be obligated to return native milkweed plants alongside highways, particularly those that previously housed native milkweed.  And Mexico would have to undertake measures to curb deforestation of the overwintering habitat in Mexico. Both are necessary for the monarch's survival.
In addition, the ecological and economic benefits due to insects are also profound.  Insects provide the US with $57 billion worth of ecological services, a figure thought by many to be an underestimate.  Humans have increased the rate of insect extinction exponentially, endangering the almost 80 percent of the world's crops that require pollination.  Consequently, treaty protection is also economically important.  Legal cover protects habitat for the insects in their countries of migration; in turn, the insects serve as necessary pollinators.
Insects also have been found to have immunological, analgesic, antibacterial, anesthetic, and anti-rheumatic properties.  Eight hundred species of terrestrial arthropods, the phylum that includes insects, show anticancer activity.  Promising anticancer drugs have been isolated from the wings of Asian sulfur butterflies (Catopsilia crocale).  Some insects might even have qualities as yet unknown, making it vital to ensure each species of insect survives.
Vladimir Nabokov, the author of "Lolita," was also a lepidopterist.  It was he who named the tiny Karner blue butterfly (now endangered), whose life cycle, and thus survival, depends on the blue lupine flower.  He described its stunning beauty in his novel "Pnin":
"A score of small butterflies, all of one kind, were settled on a damp patch of sand, their wings erect and closed, showing their pale undersides with dark dots and tiny orange-rimmed peacock spots along the hindwing margins; one of Pnin's shed rubbers disturbed some of them and, revealing the celestial hue of their upper surface, they fluttered around like blue snowflakes. . ."
When beauty is lost, the world is a diminished place.
Author's Note: This article first appeared in Common Dreams (http://www.commondreams.org).
Venice Is Flooded: A Look at Our Coastal Future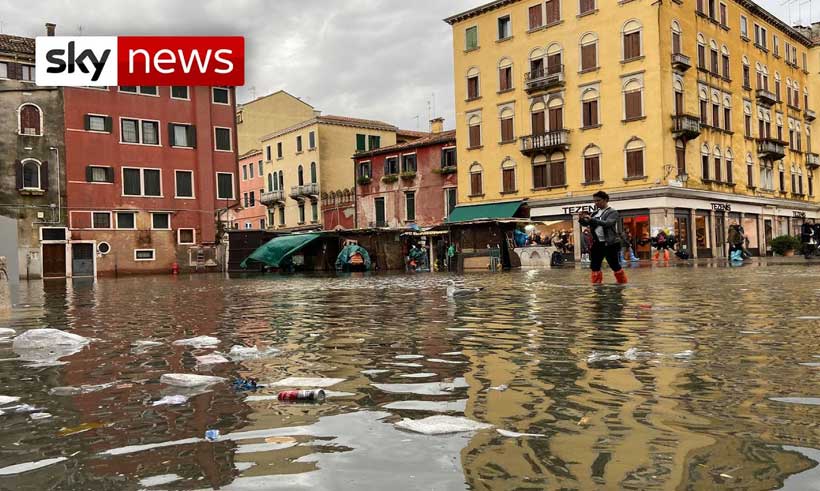 Authors: Arshad M. Khan and Meena Miriam Yust
If humans have been lucky, basking in the comforting warmth of an inter-glacial period for the last 10,000 years, that luck may be about to turn. Rest assured we are not entering a glacial period. No, our quest for greater comfort has us pumping fossil fuel residues in the air—particularly CO2—warming the earth beyond its natural trajectory. One consequence is melting Arctic (especially Greenland) ice and coastal flooding.
Problematic as that might be, new research holds worse in store… much worse, for the Antarctic has not been a passive bystander. It melted when the north was taking a rest allowing no let up.
The previous glacial age lasted from 125,000 to 118,000 years ago. A paper published November 6, 2019 in Nature Communications (Vol. 10, Article # 5040) has found the Greenland ice sheet melt insufficient to explain the highs of the rise then. In fact, it was the Antarctic ice sheet, previously thought to be inconsequential, that was key. It turns out the Southern Ocean warmed first at the start of the inter-glacial, leading to a change in the circulation pattern of the oceans and to a warming of the northern polar areas to start the ice melt in Greenland.
Temperatures then were up to 1°C higher than now but the same has been estimated for us in the future. However, this time climate changes on earth have been accelerated by greenhouse gas emissions over the industrial period, resulting in more extreme climate changes than in the last inter-glacial.
The research has also revealed that ice melt caused a 10 meter sea level rise above the present level at a rate of 3 meters (about 10 feet) per century, a rate that is 10 times higher than the rise observed in the last 150 years. If 10 ft. per century has a remote feel, try a foot every 10 years!
This is far greater than current projections of sea level rise that anticipate an increase at the most to about 3 feet above 2000 levels by 2100. The predictions, however, do not account for an important natural outcome of ice sheet melt, that of ice cliff instability. The ice cliffs form as the warm water melts their ice under the water, eating away until the cliff shears off and collapses into the sea.
The collapse is a sudden and unpredictable addition to the gradual melt in the ocean. It also means that polar ice sheet melt can affect sea levels far more intensely than has been projected so far, and it could account at least in part for the much higher rise found by the researchers in the prior inter-glacial. Are we in for a surprise!
If incoming solar radiation was greater in the last inter-glacial because of the earth's position relative to the sun, the CO2 levels were lower, at 280 parts per million as opposed to 410 plus today. Worse, in the former inter-glacial the two polar areas did not warm up simultaneously. Today's intensive climate change is propelled by greenhouse gases, and the warming is bipolar with the ice melting in both polar regions at the same time.
Another paper also published in Nature Communications a week earlier (Vol. 10, Article # 4844 October 29, 2019) examines global vulnerability to coastal flooding from rising sea levels given new metrics for measuring land elevation. The model currently in use for this measurement, developed by NASA, has a 2 meter vertical bias. Using a new Coastal DEM (Digital Elevation Model) and a mean estimate of sea level rise this century, the authors estimate 190 million people live below projected high tide lines at present. This rises to 630 million by century's end in the extreme case of high emissions. Increase the sea level rise to 3 meters (10 feet) projected in the other paper above and a billion people could be in jeopardy.
What can one expect? Well, the first signs of trouble will be when coastal flooding that used to happen once a decade becomes an annual event, or when unprecedented events occur. Venice is a current example. In a rare historic flood its iconic St. Mark's Square is hip-deep in water. The church itself and its priceless frescoes could be in danger if the water rises further.
The increased coastal flooding will be gradual of course. Our children, their children, and so on down the line will be the real innocent victims of our legacy/profligacy.
Note: This article appeared originally on CommonDreams.org
Thirty years on, what is the Montreal Protocol doing to protect the ozone?
The Montreal Protocol to protect the Earth's ozone layer is to date the only United Nations environmental agreement to be ratified by every country in the world. It is also one of the most successful. With the parties to the Protocol having phased out 98 per cent of their ozone-depleting substances, they saved an estimated two million people from skin cancer every year.
Following the thirty-first meeting of the parties in Rome during 4–8 November, Stephanie Haysmith, the communications officer for the Ozone Secretariat, explained why the Montreal Protocol has been so successful and what lies ahead for the treaty.
The 2019 ozone hole is the smallest on record since its discovery. How does the ozone repair and how long will it take?
The Montreal Protocol has been successful in reducing ozone-depleting substances and reactive chlorine and bromine in the stratosphere. As a result, the ozone layer is showing the first signs of recovery. It is expected that the ozone layer will return to pre-1980s levels by the middle of the century and the Antarctic ozone hole by around 2060s. This is because once released, ozone-depleting substances stay in the atmosphere for many years and continue to cause damage. The 2019 hole is indeed the smallest since recording of its size began in 1982 but the ozone is also influenced by temperature shifts and dynamics in the atmosphere through climate change. In 2019, the stratosphere was particularly warm during the Antarctic winter and spring.
The Kigali Amendment, which came into force January 2019, requires countries to limit hydrofluorocarbons in refrigerators and air-conditioners by more than 80 percent. Yet, there is a growing demand for cooling. How can the two needs be met?
While there is a growing global demand for cooling systems for personal well-being and in the commercial sector, improving energy efficiency with low or zero global-warming-potential will be needed to meet needs while minimizing adverse impacts on climate and environment. Research and development have kept pace: equipment design has changed and improved with the ozone-depleting substances phase-out.
At the Rome meeting, parties were made aware of an unexpected increase in global emissions of trichlorofluoromethane, or CFC-11. Why is that, and what is being planned to address it?
The issue of unexpected emissions of CFC-11 was brought to the attention of the parties in 2018. Global emissions of CFC-11 had increased in the period after 2012. This unexpected trend suggests that there is illegal production and consumption of CFC-11. The exact sources of these emissions have yet to be found. The parties take this very seriously and a decision was made at the MOP30 [30th Meeting of the Parties to the Montreal Protocol] to cooperate in further scientific research. In addition, the parties will assess the mechanisms of monitoring for the Montreal Protocol and the Multilateral Fund.
What is meant by "a sustainable cold chain" and how does it reduce food loss?
A cold chain is a connected set of temperature-controlled facilities (pack houses, cold stores, refrigerated transportation, etc.) that ensures perishable foods maintain their freshness and quality while in transit. Access to cold chain allows local producers to link with high-value markets locally, nationally and internationally. By enabling perishable food commodities to be stored and transported in a temperature-controlled environment not only ensures quality and safety, but reduces overall food loss, while improving economic gains and increasing sustainability.
From an environmental perspective, it is important that increasing demand for cold chain is sustainable with increased use of green fuels, energy efficiency and low or zero global warming potential technologies.
What do you hope the Montreal Protocol will inspire?
The Montreal Protocol is one of the world's most successful environmental treaties and since its adoption, it has encouraged countries to commit to phasing out the production and consumption of ozone-depleting substances. The parties to the Protocol, on realizing that the alternatives, known as hydrofluorocarbons, are potent greenhouse gases contributing to global warming, agreed to address this. After protracted discussions, in 2016 the parties adopted the Kigali Amendment. The global partnership, stakeholder involvement and overall commitment of the countries lent to the success of the ozone protection regime. A successful hydrofluorocarbon phasedown is expected to avoid up to 0.4°C of global temperature rise by 2100, while continuing to protect the ozone layer.
Consequences of U.S. formal exit from Paris climate pact: More isolation globally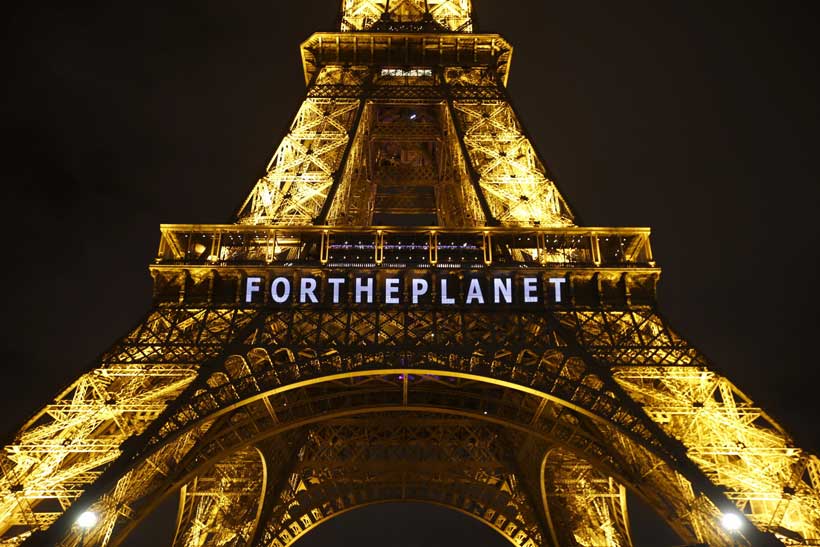 The U.S. has formally begun to exit the Paris climate agreement. Regardless of whether or not the Paris Agreement is legally binding, the U.S. has committed to cut 26-28% of its greenhouse gas emissions by 2025 from 2005 levels, and donate three billion dollars to poor countries by 2020.
The U.S. is now the world's second-largest emitter of greenhouse gases after China. In other words, U.S. greenhouse gas emissions in 2015 were about 7000 million metric tones, which is more than total emissions of the entire EU countries. However, the U.S. president claimed that he has decided to pull his country out of the Paris climate pact because his job is to "protect America and its citizens".
Commenting on the reason for withdrawing from the agreement, the U.S. president said that the pact is favorable for other countries not the United States, because it puts the country at a very big economic disadvantage. Trump also presented statistics showing that implementation of the agreement for the U.S. will result in losing 2.7 million job opportunities by 2025 as well as 440,000 industrial opportunities inside the country. The president added that this is not what the U.S. needed. This issue is not acceptable to Trump that China can continue to emit greenhouse gas for another 13 years, and India is able to continue its greenhouse gas emissions till 2020, while receiving billions of dollars.
The U.S. president also complains that his country has already donated about one billion dollar to Green Climate Fund, which is founded to help developing countries, while no other country has spent such a large sum in this field.
Trump, despite his decision to exit the Paris Agreement, has announced that he is ready to "begin negotiations to reenter either the Paris Accord or a really entirely new transaction on terms that are fair to the United States, its businesses, its workers, its people, its taxpayers". He also said that if they reach an accord, that will be great and if they do not, that will be fine.
Consequences of U.S. withdrawal
It should be noted that the withdrawal from the Paris climate accord by the U.S. is not its first unconventional action toward valid international documents. After coming to the White House, in one of his first moves, Trump ordered to pull the country out of the Trans-Pacific Partnership (TPP) that was signed in 2016. The TPP is the greatest trade agreement in the world, which was signed between 12 countries around the Pacific Ocean with the exception of China, and aimed to remove trade barriers to the countries that signed the agreement.
However, the Paris Agreement is of particular importance for the current generation and the world's future in terms of environmental and international rights. Obviously, legal and political consequences of the Paris accord is more serious than those of the TPP. The following is the summary of the effects of the U.S. withdrawal from the Paris climate pact:
1. U.S. political and legal isolation: the U.S. will be seriously isolated if it withdraws from the Paris accord, because besides Europeans, countries like Canada, Russia, and Asian countries such as China and Japan have signed the agreement. German Chancellor Angela Merkel and the Chinese president reaffirmed that they will be committed to the pact even after the U.S. withdrawal.
Jean-Claude Juncker, the president of the European Commission, at a meeting in Berlin, described the U.S. withdrawal as a completely wrong move. Juncker said that the U.S. cannot exit the agreement just like that. He added that Trump says he will exit the Paris climate pact because he is not well aware of this pact. This is while, he said, in 2015, about 200 countries signed an accord in 2015 in Paris, based on which they were committed to keep the increase in global average temperature to well below 2 °C to prevent global warming.
2. Lack of states' trust on the U.S. to reach an agreement on other issues: this move by Trump shows the U.S. non-compliance with international agreements that could disturb its prestige and position in the world. The move also will cause other Western partners, especially Europeans, lose their trust of the United States. Following the U.S. withdrawal from the agreement, other countries will hesitate to cooperate and sign contract with the White House on other issues.
3. Distrust of environmental rights: one of the important issues in legal subjects is environmental right, which is being taken into account at national and international level. The U.S. withdrawal from the pact means disregard to international documents related to environmental rights. This approach can be a serious threat to plans to control global warming. Furthermore, the approach indicates that the world's second largest polluter does not pay much attention to environmental protection, which has been one of most important challenges for environmental rights in recent decades.
From our partner Tehran Times