Why Treaty Protection is Needed for Migratory Pollinators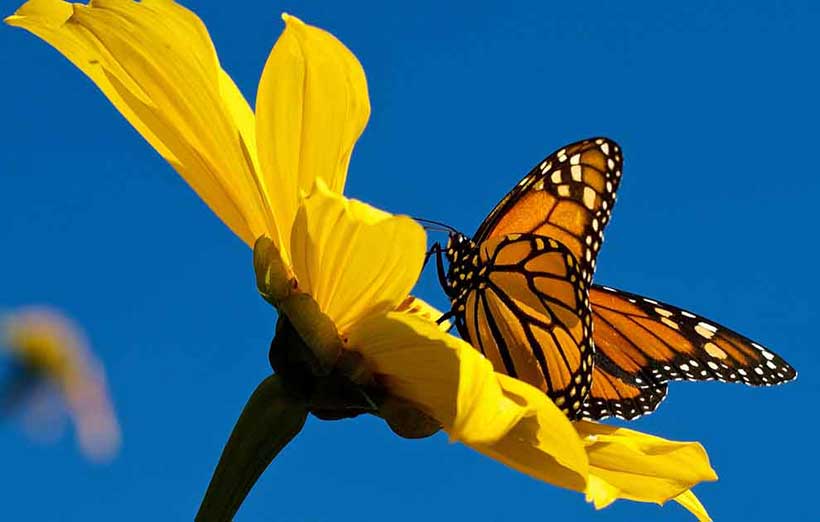 Imagine a state of laws where murder is illegal if the victim is clad in a blue shirt, but legal if the victim is not wearing blue.  A system where robbery is illegal if the victim has white skin but legal if the victim has dark skin.  Such a system would be an outrage in human society.  But this is the system of laws we have created for others.
Other species, that is.   For hundreds of years we have had treaties protecting migratory birds who traverse countries, but no similar protections for non-feathered fliers who also cross borders, such as butterflies.  Butterflies are not protected under any treaty, and consequently their populations are in danger.  Unlike birds, butterflies are a member of the class Insecta, along with bees and other pollinators.
When a German study reported last year a more than 75 percent insect decline in protected areas over 27 years, the news was particularly disturbing because insects are prodigious pollinators.  Perhaps even more concerning, scientists have determined that the Sixth Mass Extinction is underway.
On the American continent, we have the sad declining numbers of the beautiful monarch butterfly (Danaus plexippus). Striking in appearance, these orange-and-black-winged beauties are also a biological phenomenon: their migration covers a journey of 3,000 miles, three countries and multiple generations, from their winter home in Mexico to as far north as Canada . . . and then another 3,000 miles on the return trip.  A recent article in Science analyzes their plight and the complexity of threats against survival.  A population declining for decades, it is threatened by habitat loss, pesticides, extreme weather, disease, and much variation in migratory success.  Reproduction along the migratory route is particularly vulnerable as monarch caterpillars rely on milkweed for survival, and it has diminished.
In March this year counts by Mexican officials revealed a population decline for the second consecutive year.  Only nine colonies were found, reduced from 13 last year.  A declining population since 1994 has now made their migration an endangered biological phenomenon according to scientists.
A longitudinal study conducted over 38 years and recently published in Global Change Biology, has traced the birthplace of monarch butterflies in North America by examining chemical compositions of wing tissue samples.  Focused exclusively on the generation of monarchs born in North America that continue their migration to overwinter in Mexico, it established regional climate as the greatest predictor of change in natal origin.  Monarch caterpillars rely on milkweed, and the most important implication of this study is that planting milkweed hosts solely in the Midwest is not sufficient.  Climate change forces the butterflies to breed in other regions.
Thus, to sustain monarch populations, abundant milkweed is needed not only in the Midwest but throughout the United States.  In fact, the U.S. Geological Survey has concluded that as many as 1.8 billion additional milkweed stems are needed to return these butterflies to a sustainable population.
Unfortunately, despite these needs, international law promises little aid for the monarch.  The Convention on Migratory Species (CMS), backed by the U.N. Environment Program, aims to "conserve terrestrial, aquatic and avian migratory species throughout their range."  While the monarch butterfly has been added to the list of species for conservation, neither the U.S. nor Mexico nor Canada is a party to the convention.
In 2007, the Commission for Environmental Cooperation held a conference in Morelia, Mexico, leading to the creation of the North American Monarch Conservation Plan (NAMCP), which proposes multilateral action between Mexico, Canada, and the U.S.   The NAMCP is certainly a step in the right direction, outlining objectives for butterfly conservation, yet it does not have the ability to wield the power of enforcement mechanisms in a treaty, nor does it set forth specific mechanisms or measures to achieve its ends.  The need for an enforceable treaty thus remains.
There is also the Convention on International Trade in Endangered Species of Wild Fauna and Flora (CITES), entered into force on July 1, 1973.  It is designed to "ensure that international trade in specimens of wild animals and plants does not threaten their survival."  The United States, Mexico, and Canada are all parties.  Monarch butterflies are not currently listed under CITES for protection.  As CITES regulates trade, and monarch butterflies are generally not hunted in quantity, it is unlikely that CITES could ever help monarchs.
In 2014, a petition was filed to protect monarch butterflies under the Endangered Species Act.  The U.S. Fish and Wildlife Service's decision is due in June 2019.  If granted, protection under the Endangered Species Act would help monarchs in the U.S.  Yet this attacks only half the problem, as it does not cover Mexico where they return for the winter.
Monarch butterflies have essentially slipped in the cracks.  There is no treaty protecting them and they desperately need cross-border protection as has been afforded migratory birds for hundreds of years through the treaties in North America and Europe.
What is crucial is the creation of a carefully drafted Migratory Insect Treaty, tailored to address the unique challenges facing insects like the monarch butterfly.  Such a treaty would protect monarchs, whose cross-border travels span three countries – Mexico, Canada, and the U.S. – and who face challenges in each country from illegal logging of overwintering habitat in Mexico to lack of milkweed and flowers further north, and climate effects in all three.  Across the Atlantic, it could also protect the painted lady (Vanessa cardui), a cousin of the monarch.  Present on every continent except South America and the Antarctic, it is famous for one group's migration from North Africa to as far as the Arctic and back – an amazing round-trip of 9,000 miles.  A migratory treaty would include measures and enforcement mechanisms for each country, to ensure protection of a species with unique needs, and also allow other species to be added later.
Thus, in aid of monarch butterflies, the United States would be obligated to return native milkweed plants alongside highways, particularly those that previously housed native milkweed.  And Mexico would have to undertake measures to curb deforestation of the overwintering habitat in Mexico. Both are necessary for the monarch's survival.
In addition, the ecological and economic benefits due to insects are also profound.  Insects provide the US with $57 billion worth of ecological services, a figure thought by many to be an underestimate.  Humans have increased the rate of insect extinction exponentially, endangering the almost 80 percent of the world's crops that require pollination.  Consequently, treaty protection is also economically important.  Legal cover protects habitat for the insects in their countries of migration; in turn, the insects serve as necessary pollinators.
Insects also have been found to have immunological, analgesic, antibacterial, anesthetic, and anti-rheumatic properties.  Eight hundred species of terrestrial arthropods, the phylum that includes insects, show anticancer activity.  Promising anticancer drugs have been isolated from the wings of Asian sulfur butterflies (Catopsilia crocale).  Some insects might even have qualities as yet unknown, making it vital to ensure each species of insect survives.
Vladimir Nabokov, the author of "Lolita," was also a lepidopterist.  It was he who named the tiny Karner blue butterfly (now endangered), whose life cycle, and thus survival, depends on the blue lupine flower.  He described its stunning beauty in his novel "Pnin":
"A score of small butterflies, all of one kind, were settled on a damp patch of sand, their wings erect and closed, showing their pale undersides with dark dots and tiny orange-rimmed peacock spots along the hindwing margins; one of Pnin's shed rubbers disturbed some of them and, revealing the celestial hue of their upper surface, they fluttered around like blue snowflakes. . ."
When beauty is lost, the world is a diminished place.
Author's Note: This article first appeared in Common Dreams (http://www.commondreams.org).
Diving into a cleaner blue ocean in 2019
When Miao Wang started diving, she was shocked at the deterioration of the ocean ecosystem around her. Now, three months after winning the Young Champions of the Earth prize for Asia and the Pacific, she has made great strides in addressing ocean protection.
"About eight million tonnes of plastic waste enter the ocean every year, causing 15 million deaths among marine life," she explains. "Divers, who as a group stay long enough with the ocean, witness the degradation of the ecosystem while touched by its beauty."
Her Better Blue initiative has already forged relationships with new donors, and she has signed agreements with the Professional Association of Diving Instructors, the watch manufacturers Rossini and The Paradise Foundation.
As well as looking for further funding to support her projects going forward, she has trained many others to become divers and was selected to participate in a "speed incubator programme," which trains young people in diving and collecting information about the ocean.
Wang has also developed a prototype for an education programme on sustainable consumption, which can be shared among people visiting popular cafes. Already, she has implemented the education programme in 10 cafes across Shanghai.
The cooperation among various popular cafes in Shanghai and soon other cities in China too, will advocate for providing alternatives to single-use plastic straws, and encouraging the cafes to replace their plastic cups with degradable ones.
Miao and Better Blue also attended the Xiamen Marathon – the first international marathon to join UN Environment's Clean Seas campaign – and had a stand in the exhibition hall during the week leading up to the marathon.
"We continue to focus on the most essential job of organizing ourselves internally to handle operations and logistics. We are a small team and need to constantly prioritize to ensure we can deliver on all our goals. Going forward in 2019, this is an aspect of our business that we aim to strengthen, to keep Better Blue heading in the right direction."
"Next year, we hope to engage in more cross-border collaboration, especially with some major brands, to convey key messages about sustainable living, turning marine protection into a way of life. We also hope to inspire other people to protect the ocean too, as that is where all life begins," she said.
"The Young Champions of the Earth prize has been a major support for Better Blue, helping us to take our mission from strength to strength.
"In addition to participating in the Professional Association of Diving Instructors annual gala and providing trainings to diving centers, Better blue will continue to work on its development strategy and financial risk management, as we look forward to a successful 2019," she said.
Lessons from China on large-scale landscape restoration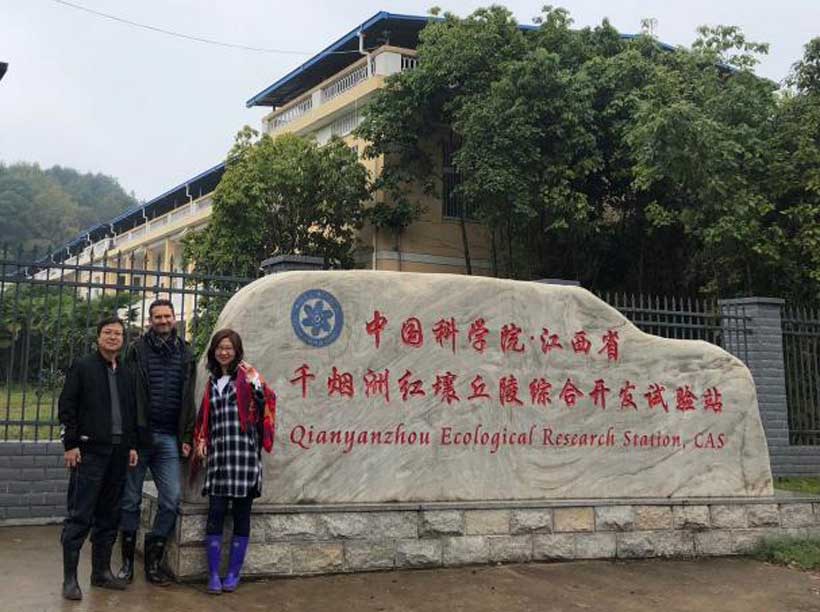 In the 1980s, the hilly Qianyanzhou region in Jiangxi Province, southern China, faced severe soil erosion due to deforestation and unsustainable farming practices. Fertile red soil was being washed away causing crop yields to tumble.
But a remarkable change has taken place in the last 30 years thanks to a government-backed land-use plan which has seen the upper hills reforested, citrus orchards planted on moderate slopes, and rice paddies in valley bottoms. Within a few years, this mosaic of sustainable land use was yielding higher incomes. Biodiversity and environmental quality, as well as the microclimate, improved.
In early November 2018, the head of UN Environment's freshwater, land and climate branch, Tim Christopherson, together with his colleague Xiaoqiong Li, visited several sites in the area to better understand how large-scale ecological restoration works.
Huimin Wang, the director of an ecological research station in Ji'an, Qianyanzhou region, briefed UN Environment on the problem and the centre's role in restoring the landscape.
"Thirty years ago, this area was denuded of trees and vulnerable to landslides. Erosion gullies washed fertile red soil away," says Wang.
"We set up this ecological research station to work out how best to restore the land. We brought together experts from around the world, including from the Federal Agency for Nature Conservation in Germany."
Research focused on forest structure optimization and how to improve ecosystem services from the forest; the structure and functions of forest ecology; carbon, water and nutrient cycling in forest ecosystems under climate change; and the Qianyanzhou upgrade model to be achieved by improving ecological and economic benefits in the watershed.
Another key element of the restoration process was agroforestry, supported by the local government: farmers continued to grow cash crops such as peanuts, sesame and vegetables among the restored orchards, and breed Silkie chickens (black-boned with fluffy plumage) in orchards and forest plantations. This ensured economic returns in the early stages of the project and helped improve soil fertility. As well as building dams and ponds, government agencies provided loans to households to help them get started.
"Success story"
According to the Food and Agriculture Organization of the United Nations, about 21.9 per cent, or 206,861,000 hectares of China, was forested in 2010. In just one decade, the Qianyanzhou restoration drive has increased China's total forest area by 74.3 million hectares. Qianyanzhou's forest coverage has increased from 0.43 per cent to nearly 70 per cent.
Qianyanzhou restoration efforts have helped the region and the country take a big step towards implementing the UN Sustainable Development Goals, in particular Goals 1 (No Poverty), 6 (Clean Water and Sanitation), 8 (Good Jobs and Economic Growth), 12 (Responsible Consumption), and 15 (Life on Land), as well as the Bonn Challenge and the New York Declaration on Forests, all of which fall under UN Environment's programme of work.
Forests are a major, requisite front of action in the global fight against catastrophic climate change, thanks to their unparalleled capacity to absorb and store carbon. Forests capture carbon dioxide at a rate equivalent to about one-third the amount released annually by burning fossil fuels. Stopping deforestation and restoring damaged forests, therefore, could provide up to 30 per cent of the climate solution.
The United Nations Collaborative Programme on Reducing Emissions from Deforestation and Forest Degradation in Developing Countries (The UN-REDD Programme) was launched in 2008 and builds on the convening role and technical expertise of the Food and Agriculture Organization of the United Nations, the United Nations Development Programme and UN Environment.
Plastic recycling: An underperforming sector ripe for a remake
While there is no silver-bullet solution to the toxic tide of plastic surging into our oceans, recycling must form part of the answer. The problem, many experts say, is that current processes are not fit for purpose.
The world produces around 300 million tonnes of plastic waste each year. To date, only 9 per cent of the plastic waste ever generated has been recycled, and only 14 per cent is collected for recycling now.
The reasons are complex. Not all plastic can be recycled and a lack of public awareness means plastic collections are often contaminated. This can increase the cost of recycling.
In the United States, for example, the introduction of single-stream recycling—where recyclables are not separated in household collections—led to a huge surge in recycling rates, but as plastics became more complex, people started placing the wrong things in their bins. Waste Management, the largest processor of residential recycling in North America, says that one in every four items in recycling bins today is not recyclable.
"Chemicals added to plastic polymers, products made of mixed materials and food packaging contaminated with food waste make recycling difficult and costly," wrote the authors of UN Environment's The State of Plastics report.
The need to rethink recycling became more apparent when China, which has imported nearly half the world's waste since 1992, stopped taking foreign plastic waste this year. China's decision exposed weaknesses in recycling facilities in many other countries.
There are financial reasons for the shortfalls. Depending on the oil price, it is often cheaper to make virgin plastic while the market for recycled plastic is notoriously volatile, making investors reluctant to commit to the sector.
For years, activists have argued that packaging producers and retailers should pay more to cover the cost of dealing with their waste. While many brands have committed to using more recycled plastic, the pressure is growing for them to do more.
In Britain, the government is said to be planning to charge supermarkets, retailers and major drinks brands tens of millions of pounds more towards the cost of recycling. The strategy would include plans to increase contributions from retailers and producers from an average of about 70 million pounds a year to between 500 million pounds and 1 billion pounds a year. There are also plans to include smaller producers.
The European Commission unveiled a Plastics Strategy in January, saying that its drive to make all plastic packaging recyclable or reusable by 2030 could create 200,000 jobs but only if recycling capacity was multiplied fourfold. The European Union recycles less than 30 per cent of its 25 million tonnes of plastic waste each year, and half of that used to be sent to China.
As part of its strategy, the European Union will develop new rules on packaging to improve the recyclability of plastics and increase demand. It wants to see improved and scaled up recycling facilities and a more standardized system for the separate collection and sorting of waste.
UN Environment, which started its Clean Seas campaign in 2017 to push for the elimination of unnecessary single-use plastics, also supports the implementation of integrated waste management systems through its International Environmental Technology Centre in Japan.
There is clearly a need to support waste management strategies in poorer countries, where municipal authorities often do not have the capacity to implement suitable policies. Some of these countries are also among the biggest marine polluters: 90 per cent of the plastic in our oceans comes from just 10 rivers, with eight of those in Asia.
Some of the industry's top players have spotted the gaps. In October, waste management company Veolia and consumer goods giant Unilever said they would work together to invest in new technologies to increase recycling and move towards a circular economy.
The three-year partnership will focus, at first, on India and Indonesia where the firms will work to scale up waste collection and recycling infrastructure.
Circulate Capital, an investment management firm dedicated to preventing ocean plastic, said in October that it expected US$90 million in funding from some of the world's leading consumer good groups and chemical companies, including PepsiCo, P&G, Dow and Coca-Cola.
Created in collaboration with Closed Loop Partners and the Ocean Conservancy, Circulate Capital aims to demonstrate the value of investing in waste management and recycling in South and Southeast Asia. It uses philanthropic and public funds, as well as technical assistance, to support and develop public and nonprofit entities to implement new approaches and build capacity that can support large institutional capital commitments.
"We have recognized that financing is a key barrier—as people always want to know 'who is going to pay for it?' By removing capital for infrastructure and operators as a barrier, we believe we can accelerate solutions to policy, education, supply chains and more," said Rob Kaplan, the founder and CEO of Circulate Capital.
Big name corporations are not the only players. In many developing economies, recycling is carried out by millions of waste pickers, often women, children, the elderly and the unemployed. They may be on the frontline of sustainability but their own lives are often marred by unhealthy working conditions, lack of rights and social stigma.
The World Bank said in its What a Waste 2.0 report that when waste pickers are properly supported and organized, informal recycling can create employment, improve local industrial competitiveness, reduce poverty and decrease municipal spending.
Citizens also have a role to play but education and information are essential. The World Bank cites the example of Jamaica, where environmental wardens, employed by the National Solid Waste Management Authority, teach their neighbours about environmentally friendly disposal of waste. The communities involved collect plastic bottles and remove plastic litter from shared spaces and drains. They then sell the collected bottles to recyclers.
"There is no silver bullet to solving ocean plastic and scaling global recycling—investing in public education without infrastructure won't achieve results, and vice versa," said Circulate Capital's Kaplan. "It is a systems challenge that requires systems solutions."