Indigenization: Reliable way towards Invincible Self- Defense
Both arms procurement and build-up are used in negative connotations and are discouraged in international systems. But even than states build arms and if they cannot build them, they procure them. But, the question arises why states have to build-arms if these weapons are portraying negative image of a state or emptying its reserves. The reason to afore mentioned question can be many; one of them is security concerns and threat perception of a state. States from volatile regions with history of wars and conflicts with their neighboring states invest huge amounts on procurement and development of state of the art weaponry for their security.
In South Asia two historical arch rivals are involved in arms build-up. According to recent estimates India is world largest arms importer with share of 12% in the global arms import. On the other hand, according to recent estimates by SIPRI Pakistan is world 9th largest arms importer. Even though Pakistan's security concerns largely arises from India but decrease in expenditure on arms import is witnessed.
Pakistan is a small country, engulfed in many internal and external threats and also has limited budget allocated for defense in comparison to India's defense budget. Even though Pakistan is small state yet it has invested in very expensive and difficult to acquire nuclear technology to acquire invincible defense. So far, defense acquired on the all spectrums of conflicts has stopped war between Pakistan and India. However, with evolution and emergence of new threats, new technologies are in urgent need to be acquired by Pakistan. What is pertinent to mention here is that no state can acquire invincible defense without self-reliance and self-sufficiency.
Pakistan is not totally beginner in the production of weaponry. In 1951 Prime Minister, Liaquat Ali Khan inaugurated the Pakistan Ordinance Factory for building the self-sufficiency in the nation that did not have the single military unit to produce weaponry at the time of Independence in 1947. Afterwards, in 1970, Pakistan defence production unit strived hard to maintain indigenization process in country despite international sanctions against Pakistan. In all this time indigenization was never totally stopped but few high end quality products are always imported.
Reason behind the import of jet fighter, submarines, ships, tanks and surveillance technology is the inadequate research and development, funds and access to raw materials. If emerging security concerns are analyzed properly one can identify few areas that are in dire need of self-sufficiency. To curb the cancer of terrorism that has damaged the society and economy of Pakistan, surveillance technology that includes drones and satellites must be built in Pakistan to monitor its western porous borders. Recently, Burraq (UAV) is made by Pakistan's National Engineering and Scientific Commission (NESCOM) and Air Force (PAF) to fulfill the growing security needs.
Sea is another arena where Pakistan must build its own submarines and ships that must include SSBNs and SSNs. Moreover, to build such kind of ships and submarines, it is necessary to enhance the capabilities of existing ship yards and build new ship yards. At the moment Karachi Ship yard has the capacity 7881 tons ship lift and is producing state of the art navy vessels, tuggers and submarines (Augusta 90B class). But to build bigger submarines and ships with nuclear reactor Pakistan need to build ship yards with more sophisticated technology and capability of ship lift.
Importance of secure skies after incidents like 9/11 is not lost on any country. Pakistan's Air force most treasured possession in jet fighter is J-F17 Thunder, which is state of the art technology that is now assembled in Pakistan and will also be exported to other states. But it is high time that new generation of fighter planes must be acquired by Pakistan to ensure its security.
Indigenization in defense production is necessary not only for saving foreign reserves but also job production, rise of income level and increase in industrial and trade activities. Moreover, it is necessary that government should take steps to ensure the participation of private sector in defense production. However, quality must not be compromised.
Though Pakistan is located in volatile region and has to invest great amount on weapons but through self-sufficiency in defense production it can convert its crisis situation into blessing and strengthen its economy.
Beating The Drums Of War Against Iran And Pakistan
As countries continue their squabbles, their home the earth is going to hell in a handbasket.  A new review paper in Biological Conservation reports 40 percent of insect species are threatened with extinction.  Guess who pollinates our plants where we get our food?
All of which is of little concern to President Trump, who disdains science and experts of any kind.  His vice president has been at the Munich Security Conference where an awkward silence prevailed as he conveyed greetings from Trump and waited for the customary applause.  His speech, focused on hounding Iran, met with polite, muted applause.
Angela Merkel in contrast defended the Iran agreement (which the US has unilaterally abrogated) and talked of maintaining lines of communication without giving up gains already achieved.  Her ambit included Russia and Mr. Putin, and her critique of Trump and his policies received thunderous applause in what was seen as a striking rebuke to 'America First'.  Some said it was one of her best and thoughtful speeches.
In India, it's Kashmir again.  Poor Kashmiris.  They tried trusting Nehru and waited … and waited for the promised vote for self-determination; of course Pakistan's headstrong responses did not help.  They tried peaceful demonstrations and received blinding and sometimes fatal shotgun pellets — not for them just tear gas or the famed Israeli rubber bullets.  What's left but militancy for which Mr. Modi blames Pakistan his convenient scapegoat.  All too convenient with elections round the corner, he has the country awash in jingoism.  Communal assault often follows in this his tried-and-true election tactic.
Rahul Gandhi the jejune opposition leader is out of his depth as usual.  His only hope is for Mr. Modi to overplay his hand.  All of this despite a general dissatisfaction because the promised economic benefits for the majority have not materialized, and as cell phones multiply, people can actually see the extravagances of the rich.
Mr. Modi threatens to isolate Pakistan and Muhammad bin Salman signs projects and loans worth $20 billion — at the beginning of his visit to Pakistan, the figure touted was $10 billion.  As Theodore Roosevelt used to say, 'Speak softly and carry a big stick' not the reverse.
A rational answer to the Indian subcontinent is a loose confederation of independent states in a cooperative scenario, accruing the benefits of free trade and the particular resources of individual members — not the copycat US 'most favored nation status' to be yanked like a toy from a recalcitrant child.  All this when Pakistan has just introduced the very short range Nasr low-yield nuclear-tipped missile designed to decimate a cold start attack.
Instead of the frenetic jumping up and down and undiplomatic meaningless threats, how about a calm and rational peace?
A lie about an allegation of the IRGC's support for terrorism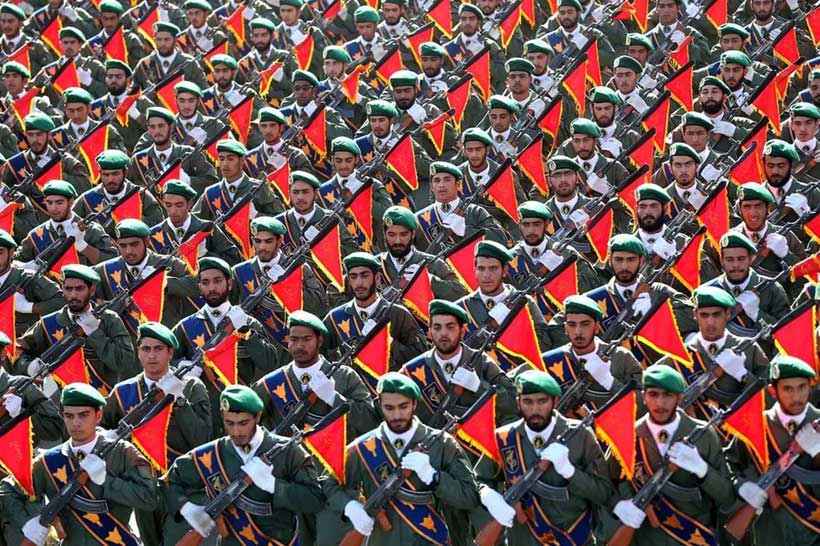 Recent attacks on the Revolutionary Guards can be viewed from two perspectives. The first perspective is historically and the second, in terms of the behavioral model of regional and sub-regional actors in the current pattern of Western-Asian regional order.
It seems that recent pressures on the Revolutionary Guards as a revolutionary entity are rooted in the fears of Washington and its allies from a revolutionary force. A force whose members go beyond the military equations or even beyond the logic of power in the region to survive the ideals of the revolution and defend oppressed nations.
History has clearly shown that Washington is afraid of IRGC. The force that presents figures such as the martyr Hojaji and a picture of him, while willingly and resolutely prepared for martyrdom, affects the world.
In the past three decades since the Revolutionary Guards have lived, the West has always been afraid of a force that has been inspired by soft power along with its hard power. It is the same force that can bring nations and quickly become a native force in different countries.
The White House knows well that if Hezbollah-Lebanon, Ansarullah-Yemen and many other popular forces were formed on the regional level, they all had the power to influence the pattern of the Revolutionary Guards. The dependence of the classical armies in different countries on the national government does not allow them to operate with flexibility at all times and places, and even if these operations are carried out people in other countries do not welcome the presence of an army that is alien to it.
Territorial frontiers, in terms of modern Islamic civilization, defend the borders of the Islamic Revolution, which are Islamic ideals. It is inevitable that, in the soft power, the IRGC has the power to help not only the oppressed people in Iraq and Syria, but also to meet the people in these countries.
Accordingly, over the past years, Washington has repeatedly tried to use various methods to weaken the popular position of the Revolutionary Guards and to prevent its increasing popularity in the region and beyond.
Soft power strategists in the United States who are well aware that the concept of power in the new age is not only the result of hard power and the soft power of the countries, have so far been attempting to deal with psychological or media methods To disrupt the Revolutionary Guards and scare the peoples of the region from the influence of the Revolutionary Guards. The propaganda included a Shia-based pseudo-propaganda, a lie about the IRGC's anti-Semitic tendencies, an allegation of the IRGC's support for terrorism, an illusion about the role of the IRGC in the development of the Persian Empire, and sometimes with numerous contradictory propositions. For example, while the Revolutionary Guards are falsely accused of stirring up ethnic or religious disputes and are being reduced to an ideological force, this rumor is spreading that the Iranian people's budget is spending on the other people! At the same time, that is an allegation the IRGC want to expand and increase its dominance over Western Asia.
These media never tell their audience that the IRGC is finally the source of Iran's resources to other countries, or vice versa, seeking to use other countries for the benefit of the Iranian people. In fact, they are not obliged to explain to themselves the obvious fact that unless a powerful force such as the Revolutionary Guards is acting simultaneously in the language of its nation, it is also considering developing the power of this nation.
But along with the historical roots of the Revolutionary Guard, regional realities must also be taken into account. Today, under the circumstances, the Revolutionary Guards are accused of developing ballistic missiles and supporting terrorism, in which Western-backed terrorists have been in the weakest position in the last decade. Unlike a decade ago, the United States is now forced to withdraw its troops from the region. London's policies have failed to fill the United States in the region due to domestic problems, including the clashes with the European Union, and the Arab-American allies-Saudi Arabia and Qatar.
The result of Iran's resilience to its positions in the region, which is nothing but serious support for the oppressed nations, has caused Iranian regional rivals like Riyadh to seek to modify their behavior towards our country and to improve the areas for improving relations to provide with Iran. Under such circumstances, the Donald Trump administration has concluded that it has lost all its winning leaves to pressure the Revolutionary Guard, and now it cannot impose its power on the Revolutionary Guards even in the Persian-Gulf tensions.
Therefore, the government of Trump tries to launch a wave of economic pressure against this revolutionary institution along with negative propaganda against the IRGC and use this method to weaken the IRGC. However, the principle of the self-sufficiency of the Revolutionary Guards and the lack of dependence of this force on global capitalism has made any sanctions on the Revolutionary Guards ineffective and a scenario for compelling the IRGC to negotiate and retreat has failed.
In such a situation, it seems that maintaining internal cohesion in support of the Revolutionary Guard is the only hope for the people of the region to be able to overcome the domination of foreigners with the help of the soft and hard power of Iran, and to make deep changes in the region.
Nasr Missile and Deterrence Stability of South Asia
Pakistan has conducted successful test of short range surface to surface ballistic missile 'Nasr' on January 24th, 28th and 31st respectively, as part of the Army Strategic Forces Command training exercise, which included quad salvo on 24 January and single shots on 28 & 31 January, 2019. Quad salvo means that the four missiles were fired together from AR1A/A100-E Multiple Launch Rocket System (MLRS) to enhance the operational efficiency of Army Strategic force Command. While single shots means one missile was fired from the vehicle. The aimed of letter tests were for testing in flight maneuverability, including the end flight maneuverability. Nasr has shoot and scoot attributes which mean that the system has a capability of firing and moving away quickly to avoid counter targeting which would be contributing to the weapon's survivability.The speed and low apogee of the Hatf-IX missile would make it difficult to intercept by all the Indian existing Ballistic Missile Defence system and could defeat S-400 air defence system which is in process.
As South Asia region is consider unstable because of ongoing hostility between India and Pakistan. Though hostility between both states is unending but nuclear weapons have brought stability to a great extent. As India decided to take the nuclear weapons route, Pakistan followed because through nuclear weapons Pakistan successfully neutralized Indian conventional superiority.
In South Asia, security competition between India and Pakistan has been characterised by an action-reaction spiral. Pakistan took the path of nuclear weapons development in order to create balance against militarily superior India. In 2004, India adopted aggressive military doctrine, Pakistan rationally responded by developing Short Range Ballistic Missile Nasr which further strengthen the existing deterrence equation of the region. As Pakistan is not able economically to compete India conventionally, so it always took necessitating reactionary steps to maintain deterrence stability of South Asia.
The purpose of the development of Nasr is defensive because Pakistan would use it to secure its border from Indian conventional aggression. Pakistan Short Range Ballistic Missile Nasr has been criticized by international community that it would increase arms race in South Asia.  But Pakistan developed Nasr to overcome the growing threats from the Indian offensive military doctrine. Cold Start Doctrine forces Pakistan to increase its dependence on nuclear arsenals. General Bipin acknowledged CSD in 2017, was followed by Pakistan's Nasr test by improving its range from 60 to 70 km which puts cold water on Cold Start. Before official acknowledgement of CSD, Pakistan did not conduct any training tests of Nasr. Pakistan inducted the Nasr missile in its strategic arsenal in 2017and its first training launch was held in July 2017 after the official acknowledgment of CSD from Indian side,  shows that Pakistan developed Nasr only to deter India from initiating a conventional assault against Pakistan. Pakistan does not want to indulge in an arms race rather react to those Indian developments which are threatening its sovereignty. This weapon system has augmented Full Spectrum Deterrence in line with Credible Minimum Deterrence, which means that Pakistan would deter conventional forces (India) by employing nuclear deterrence. Pakistan adopted assertive command and control system on Nasr which means it is centrally controlled which minimize the chances of accidental or unauthorized use.
The latest series of Nasr training tests were response to General Bipin10th January 2019, statement, that the military is launching war games next month to test 'structures geared towards sudden and swift offensives into enemy territory by Integrated Battle Groups (IBGs). These new structures will be "validated" in military exercises on the ground in May, 2019. As IBGs are the center of Indian offensive military doctrine, which involves initiating rapid military offence from multiple fronts by exploiting the element of surprise and leaving Pakistan with neither the time to respond nor the defensive resources to stop those multiple attacks. Nasr tests are in response to this Indian military announcement as Pakistan solely developed Short Range Ballistic Missile Nasr to deter India from initiating conventional conflict. The recent Nasr tests have frightened Indian commanders because of its capability to defeat all Indian existing Ballistic Missile Defence systems and S-400 air defence system. Hence, deterrence is often in the minds of adversary. As long as Indian leaders continue to be deterred by Nasr, it will continue to be effective.