Defense Day: 'Moral Force' of the Pakistan Armed Forces
The 6th of September is celebrated every year as the Defense Day by every Pakistani, as on this very day, Pakistan's courageous Armed Forces and the entire nation stood united in 1965 for the defense of the homeland in thwarting the nefarious designs of the enemy which had threatened the territorial integrity of our beloved country through an all-out war. This time, Defense Day has come at a time when Pakistan Pakistan's Armed Forces are successfully facing all external and internal challenges which are worrying all the citizens. Military thinkers agree that although the physical force will determine the type and scale of war, yet it is the 'will to fight' or 'moral force' which determines the outcome of war. Clausewitz puts it this way, "One might say that the physical force seems little more than the wooden hilt, while moral factors are the precious metal, the real weapon."In his book, "Fighting Power: German and U.S. Army Performance, 1939-1945", Creveld identifies the elements of 'moral force', whom he calls "fighting power, the willingness to fight and the readiness, if necessary, to die". The greater these elements, the less vulnerable an armed force will be to demoralization. 'Moral force', then, is the crucial factor in determining the combat power of any belligerent.
During the 1965 war 'moral force' was more found in the personnel of Pakistan's Armed Forces then those of India. When, on September 6, 1965, India started the war, and its forces crossed the international border, on the western front in Lahore, Pakistan's Armed Forces quickly responded. Indian Regiment had also crossed the BRB canal and captured the town of Batapore (Jallo Mur). The same day, a counter offensive by Pakistanis soldiers, consisting of an armored division and infantry division forced the Indian 15th Division to withdraw to its starting point. In this regard, the huge credit goes to the all men of Pak Army, who were deployed in the Lahore areas of Wahgah, Burki etc. Without bothering for their lives, they fought bravely. Among them, Major Raja Aziz Bhatti played a vital role in the outcome of the Lahore battles and was martyred (Shaheed).Similarly, in case of Sialkot, several soldiers of the Pak Army sacrificed their lives to stop advancement of Indian tanks. The 1965 war witnessed some of the largest tank battles since World War II, and was fought at Chawinda in Sialkot sector—The Battle of Chawinda resulted into victory of Pakistan whose armored forces destroyed 120 tanks of India. As regards aerial warfare between Pakistan Air Force (PAF) and Indian Air Force (IAF), the latter emerged as victorious in the I965 war because, at the cost of their personal safety, the personnel of Pakistan Air Force defeated India. During that war, PAF had destroyed 100 Indian aircraft on ground and in the air, while damaged more than 10—not counting the undermined losses inflicted by PAF's night bombing. In this respect, Squadron Leader M. M. Alam set new records in history of air warfare on 7th September by defending Pakistan's airspace, and shot down five Indian aircraft in less than sixty seconds at Sargodha.
In relation to the sacrificing spirit, let us take the example of Flight Lieutenant YunusHussain who fought in air battles fearlessly. During one such engagement, he fought singly against 6 enemy aircraft and shot down 2 Hunters. On 6 September, while attacking Halwara airfield, his small formation was intercepted by a large number of enemy, and although his aircraft was hit, he refused to break off the engagement by disregarding his personal safety, and was martyred. The role of Pakistan Navy in the Indo-Pak war of 1965 is also appreciable. Securing Pakistan's coasts, it played a vital role in defeating India. The Operation Dawarka marked was launched by Pakistan on September 7. Indian town of Dwarka was chosen to be a target of the attack. The Pakistani operation was successful and its warships harboured in Bombay, making the Indian Navy unable to sortie. In this context, Ghazi, the only submarine successfully attacked heavy ships of the Indian Navy, aiding Operation Dwarka. However, there were many national heroes like Brigadier Ahsan Rashid, Major Raja Aziz Bhatti, SQN LDR M. M. Alam, SQN LDR Sarfaraz Ahmed Rafiqui etc. who fought courageously with the Indian forces.
In fact, it was due to the 'moral force' that despite Indian surprise invasion in 1965 and the qualitative and numerical superiority over Pakistan, while showing courage, and by sacrificing their lives, the Pakistani forces not only recaptured the territories from India, but also took Khem Karan from Indian forces including various regions of Rajastan, Sindh, and Chumb in Kashmir. Indian defeat was owing to demoralization of its soldiers. By imbibing the same spirit of the 1965 war, Pakistan's Armed Forces, during the successful military operations, Zarb-e-Azb, Radd-ul-Fasaad and Operation Khyber 4 have killed many terrorists through ground offensive and many of them surrendered before the Army. And during street to street fighting, without bothering for their lives, and by air-dropping commandos at the risky places, our forces made a great headway in disrupting the Taliban supply routes and links.
During these operations, Pak Army and country's premier intelligence agency ISIalso recovered a huge cache of arms and ammunition from the possession of the terrorists. Undoubtedly, the Pakistan's Armed Forces have successfully broken the backbone of the foreign-backed terrorists by the military operations Zarb-e-Azb and Radd-ul-Fasaad which have also been extended to other parts of the country, including Balochistan province and Karachi. Army and ISI have broken the network of these terrorist groups by capturing several militants, while thwarting a number of terror attempts. These operations are obtaining their objectives effectively and rapidly.
It is due to the capabilities of the Pak Army that many insurgents of Balochistan and their leaders have surrendered their arms and decided to work for the development of Pakistan. However, owing to the successful operations of Pak Army and the Rangers, peace has been restored in Balochistan and Karachi, including other vulnerable regions, especially the tribal areas.But, in the recent past, terrorism related events in Balochistan and other regions of the country show that the US-led India, Afghanistan and Israel have again started acts of sabotage to destabilize Pakistan and to damage the China-Pakistan Economic Corridor (CPEC).In this respect, in the recent past, new wave of terrorism in Pakistan, killed several innocent people, while various terrorist outfits, particularly the Islamic State group (Also known as Daesh, ISIS, ISIL), and the affiliated faction of the Tehreek-e-Taliban Pakistan (TTP), the Tehreek-e-Taliban Pakistan Jamaat-ur-Ahrar (TTP-JA also known as JuA) claimed responsibility for these brutal acts. TTP based in Afghanistan has its connections with ISIL and other terrorist organizations and affiliated terror groups, including Baloch separatist elements, and all these outfits are promoting the anti-Pakistan agenda of the foreign entities against Pakistan. As part of the double game, CIA, RAW, Mossad and Afghan intelligence agency, National Directorate of Security (NDS) which are in collaboration, are using these terror outfits in weakening Pakistan and especially Balochistan in order to fulfill the covert strategic aims of the US-led India and Israel against Pakistan, China, Russia and Iran.
These external secret agencies are especially supporting the TTP which is hiding in Nuristan and Kunar provinces of Afghanistan and is behind many terror activities inside Pakistan, as the latter has also become center of the Great Game due to the ideal location of Balochistan. Nevertheless, Pakistan's Armed Forces have been facing a different war, while enemy is also different, which employs subversive activities of various kinds which also include internal and external challenges. In these terms, Pakistan is in the state of new war, being waged by the Armed Forces and intelligence agencies against terrorists. Externally, from time to time, Pak Army has, boldly, been responding to India's unprovoked firing at the Line of Control(LoC) in Kashmir. While, the fundamentalist party BJP led by the Indian Prime Minister Narendra Modi is implementing anti-Muslim and anti-Pakistan agenda.
It is of particular attention that Chief of Army Staff (COAS), General Qamar Javed Bajwa said on August 17, 2017 that Pakistan Army was capable to meet all internal and external challenges. In this context, the statement of the DG of Inter Services Publication Directorate (ISPR) Maj. Gen. Asif Ghafoor pointed out that during a visit to the office of ISPR "where he addressed and interacted with youth, undergoing annual internship programme…Pakistan Army has achieved great successes to rid country of violence and terrorism. However, for enduring peace, the COAS said, each Pakistani had to contribute in respective bit. Every Pakistani is soldier of Operation Rudd-ul-Fasaad".In response to a question that how did he maintain his morale amid so much of challenges and pressures, "the COAS replied that selfless motivation of his outfit (Pak Army) and hope he sees in future of Pakistan (the youth) keeps him motivated and committed to the cause." He also assured the students that Pakistan Army was committed to providing them a safe, secure and stable Pakistan." The COAS advised the students "to remain mindful and vigilant of hostile narratives through social media, as "educated youth is prime target of ISIS and affiliates, be extra cautious."Earlier, the corps commanders' conference was held in Rawalpindi on August 7, 2017. According to the press release of the ISPR, "The conference was presided over by General Qamar Javed Bajwa, chief of Army staff (COAS)—undertook a comprehensive review of internal and external security environment—Forum was also briefed about situation along the Line of Control. The Forum acknowledged positive long term effects being achieved through Operation Radd-ul-Fasaad. COAS especially appreciated successful conduct of Operation Khyber 4[Which has been completed now] in a most inhospitable terrain of Rajgal with minimal own casualties which is made possible through high standards of professionalism. Expressing full satisfaction on Army's commitment to national defence and security, COAS directed that efforts must continue, in concert with other elements of national power to defeat terrorism/militancy in order to establish Rule of Law and uphold supremacy of constitution."
Evidently on July 6, this year, National Accountability Bureau (NAB) awarded 10 year rigorous imprisonment (RI) along with 8 million pounds fine to former Prime Minister Nawaz Sharif in the Avenfield graft reference. The court awarded 7 year imprisonment to his daughter Maryam Nawaz along with two million pound fine. The court also sentenced Maryam to one year in prison for submitting false documents in court. It awarded one year RI to her husband Captain (retd) Safdar. Afterwards, they were arrested and sent to Adiala Jail.
Following the verdict, Maryam and Safdar stood disqualified from contesting the July 25 general elections 2018.In this respect, on July 28, 2017, five-member larger bench of the Supreme Court of Pakistan had announced its verdict in connection with the Panama Papers case and disqualified the Prime Minister Nawaz Sharif in relation to the charges of corruption. It said that Nawaz Sharif is not honest as he failed to disclose un-withdrawn salary as chairman of Capital FZE Jebel Ali, the UAE, London flats etc., while filing nomination papers in the 2013 general elections. Supreme Court had also issued directives to the NAB to file references against the Sharif family on the basis of material collected and referred to by the Joint Investigation Team (JIT) in its report and other such material as may be available with the Federal Investigation Agency.
On the other side, deposed Prime Minister Nawaz Sharif and head of the Muslim League-Nawaz (PML-N) who started a procession from Rawalpindi to Lahore via GT road on August 9, last year, said that the huge rally had proved that the people of Pakistan have rejected his disqualification. Nawaz Sharif, while forgetting Supreme Court's various decisions of the past, which went in their favour, declared the verdict of the apex court—conspiracy against his family and government. While, leaders of the mainstream political parties such as Pakistan Tehreek-e-Insaf (PTI), Pakistan People's Party (PPP) and Jamaat-e-Islami had emphasized the former Prime Minister Sharif to accept the verdict of the Supreme Court. The then PTI Chairman Imran Khan had remarked that by criticizing the decision of the apex court and Pakistan Army in this respect and through rallies of the PML-N, the disqualified P.M. Nawaz Sharif wanted to create rift between his party workers and the key institutes of the country. Some other political leaders, renowned persons and analysts have also expressed similar thought by opining that Nawaz Sharif seems determined to create anarchy in the country. Referring to the meeting of corps commanders held at the GHQ in Rawalpindi on August 7, 2017, ISPR DG stated that Army Chief Gen. Qamar Javed Bajwa has said that Pakistan Army will uphold "supremacy of Constitution and rule of law."
Besides, it was due to the role of Army that free and fair elections became possible in 2018. In this regard, the Chief Observer, Michael Gahler of the European Union Election Observation Mission (EU EOM) to Pakistan expressed satisfaction on overall conduct of the general elections, saying "efforts of Election Commission of Pakistan (ECP) were impressive and appreciable…EU observers noted the presence of security personnel inside and outside the polling stations did not interfere in electoral process…voting was assessed as well-conducted and transparent." Apart from many other countries, in a statement, the Spokesman for UN Secretary-General António Guterres, also congratulated the people of Pakistan for free and fair elections. At this critical moment, the Defense Day demands practical national unity, instead of verbal statements. This significant day emphasizes that our political leaders must pledge that they will not manipulate their regional and provincial differences at the cost of the national interests so as to grab political power. In this connection, a blind dedication to one's own race, tribe and creed should not be allowed to create hatred in one group against the other. They must avoid exploiting present thorny issues in order to increase their vote-bank at the cost of the integration of the country. If any controversy arises, it can better be settled in consonance with the constitution, law, mutual understanding of the government and political parties. In this context, in order to castigate the conspiracy of the external enemies against the integrity of the country, our political leaders, media and human rights groups must also stop manipulating any crisis against Pak Army and ISI whose image are deliberately being tarnished by the external plotters.
True and selfless unity against the external enemies requires that our leaders of political parties must create national cohesion among various segments of society. Especially, our electronic media should give a matching response to malicious propaganda of the US-led some western countries including India and Israel which are distorting the image of Pakistan, its Army and ISI. Nonetheless, the Defense Day demands that by imbibing the spirit of 1965 war, the entire nation must stand with Pakistan's Armed Forces which have been facing all external and internal challenges courageously and boldly for defense and integrity of the homeland by thwarting the nefarious designs of the country's enemies.
Effectiveness of Nuclear Deterrence of India and Pakistan in Pulwama incident
The recent 'Pulwama crisis were triggered by a suicide attack byAdil Ahmed Dar a 19 years old young Kashmiri from the Indian Occupied Kashmir (IoK). He was highly distraught from the brutalities committed on him and on other Kashmiris of IoK by the Indian security forces. On 14 Feb 2019, a convoy of vehicles transporting Indian security forces from Jammu to Srinagar was attacked by a suicide bomber driving a vehicle rigged with explosives, killing at least 40 Central Reserve Police Force Reserve (CRPF) personnel. Jaish-e-Mohammad (JeM) claimed responsibility. It is generally believed that it is not possible to bring such a massive amount of explosives by infiltrating the borders. India alleged that Intelligences agencies of Pakistan had control over the perpetrators of the attack but Pakistan had strongly denied these accusations, reiterating that JeM is banned in Pakistan. Moreover, Pakistan is itself sufferer of terrorism how can it support this heinous crime elsewhere.
United States and Western countries offered support to India by condemning the Pulwama attack and asking Pakistan to deny safe havens to terrorists. However, US president called on both sides to exercise restraint. In the opinion of the author there is no sufficient evidence to interpret that US was in favor of military action by India. Moreover, Indian elections were scheduled from 11 April to 19 May 2019, therefore it was not in the favor of India to go for a major conflict. There were no other indicators that India has started deploying its military might on our eastern borders and activated important forward air bases and moved her naval units from her Eastern and Southern fleets to Western fleet. India in 2001 subsequent to terrorist attack on the Indian parliament on 13 December, in which 14 people were killed including terrorists, deployed her armed forces on war footing on our borders. In response Pakistan did the same. The armed forces of both the countries remained deployed ready for war for about one year (2001-2) but hostiles did not break out mainly because of possession of weapons of mass destruction by both states.
In another incident, on 18 September 2016, a terrorist attack at an Indian army camp near Uri by militants left 19 Indian soldiers dead. Government of Narendra Modi promised retaliation at a time and place of its choosing. On 29 September, Indian government announced that it had undertaken 'surgical strikes' across the Line of Control (LoC) and destroyed a number of terrorist launch pads and also killed a number of militants who were present and intended to be infiltrated into India. Details about casualties and targets remained sketchy. Pakistan strongly denied that any 'surgical strike' had taken place. It is considered that Indian government had shifted from a policy of 'strategic restraint' which she exercised after the 26 November 2008 terrorist attack in Mumbai to militarily response in the form of surgical strike in 2016.
After 14 Feb Pulwama incident the tension between the two countries started intensifying. India used this opportunity to malign Pakistan as a supporter of terrorist activities which was vehemently denied by Pakistan at every forum.
This occurrence provided an opportunity to BJP government to prove, her 'nationalist' credentials at the political level to please Hindu community and denounce Pakistan as a supporter of terrorist outfits. Politically, there was extraordinary support among India's influential strategic community for exercising a military option that could test deterrence stability and escalation dominance between the two nuclear weapons states.
Indian Air Force carried air strike at Balakot (Khaibar Pakhtoon Khawa)in side Pakistan territory on 26 Feb19 under the garb of destroying terrorist camp. However there was no physical damage to any building nor any human casualty. Beyond visual range precision weapons were used. The intruder managed to escape unhurt. This was first air strike by Indian Air Force across the international borders of Pakistan after 1971 war. Pakistan decided to respond at the time and place of its choosing. The next morning( 27 Feb 19), Pakistan's Ministry of Foreign Affairs announced that Pakistan Air Force has conducted six airstrikes at non-military targets in IoK. The aircraft were able to lock onto the target with great accuracy but they were ordered to drop their bombs in open field in order to avoid any human loss and collateral damages. Two Indian aircraft were also shot down in the dog fight. One pilot fell in the territory of Azad Jammu and Kashmir who was apprehended and later handed over to Indians after two days. This gesture of Pakistan of handing over of pilot was widely appreciated by the world and acted as a source of de- escalation of tension.
In another incident Pakistan Navy surveillance aircraft detected an Indian German built Scorpion submarine in the international waters about 98 nautical miles south of Gwadar on 5 March. She was tracked till left the area. It was a conventional submarine equipped with medium range cruise missiles (750 Km) which can be used against ships and land targets. With this background it is evident that both nuclear powers avoided any major military action. Some intellectual view this episode as a punch in nuclear deterrence which occurred on 26 Feb and was plugged the next day by Pakistan. The critical analysis reveal that nuclear deterrence prevailed because the tension did not escalate to meaningful and major military action.
The Indian action of 26 Feb maybe termed as "New Normal" which was first conceived and then employed by the US and Israel in their foreign policy or geopolitics, especially after 9/11. Under the garb of fighting terrorism, Americans and Israelis justified the breach of sovereignty of other states, such as Iraq, Lebanon, Palestine and Syria. Using their superior military and technological power, Washington and Tel Aviv turned the abnormal act of breaching the sovereignty of these states into their New Normal. However Indian New Normal has not been successful because of swift, timely, accurate and befitting response given by Pakistan the next day. Response of Pakistan Air force on 27 Feb and detection of Indian submarine on 5 March by Pakistan Navy has abundantly highlighted the importance of modern conventional war machines equipped with state of the art weapons, equipment and professional training. Principal outcome of this event is that Pakistan needs to emphasize on quality rather quantity of its conventional weapons and equipment. Keeping in view prevalent unhealthy economic conditions of the country arms race with India may be avoided. It is pertinent to mention that at the time of Cuban missile crisis of 1962 former USSR had 300 nuclear warheads as compared to USA which had 3000. Even then because of huge destruction envisaged, the war between the two nuclear states did not break out.
A new world without "old" rules?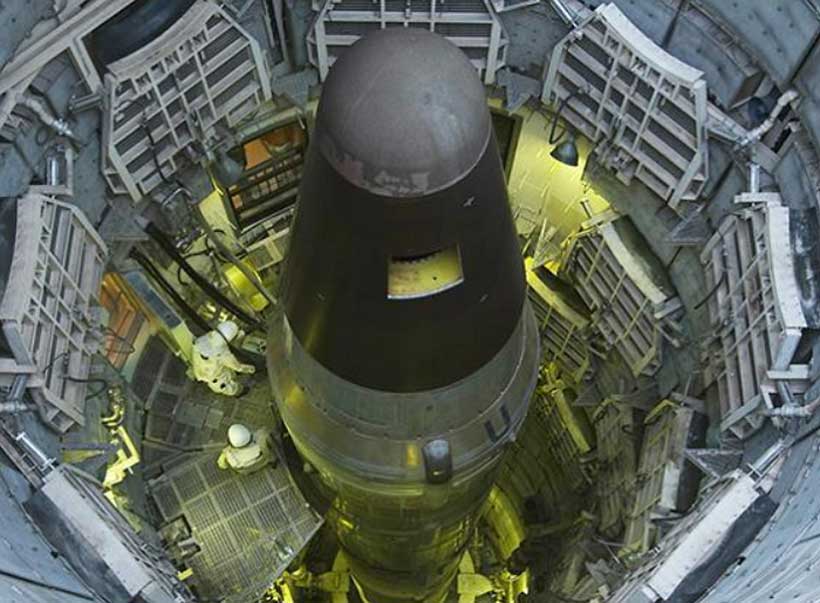 On May 30, President Vladimir Putin submitted to parliament a bill on suspending the Treaty on the Elimination of Intermediate and Shorter-Range Missiles (INF). With Washington having failed to respond to Moscow's proposals to resolve existing differences concerning the treaty, Russia has been forced to respond to President Donald Trump's February 1 announcement about the start of the US exit from the 1987 accord. How dangerous is Washington's irresponsible behavior to global strategic stability?
Over the course of the past three decades, the INF treaty has faced a great deal of pressure from changing realities of a political, military and technological nature, earning the unofficial status of the "most vulnerable" agreement in the field of nuclear arms control. For example, the treaty is pretty vague about the status of the US combat drones, whose characteristics mirror those of the ground-based cruise missiles it bans. And also about the ballistic target launch vehicles used in the development and testing of missile defense systems, and which are similar to short- and medium-range missiles. And, finally, about launchers of the US missile defense system being deployed in Europe since 2015, which are also capable of firing medium-range Tomahawk cruise missiles. The INF treaty thus effectively constrains Washington's attempts to maintain military-strategic, "escalation" supremacy in a number of key regions around the globe.
Therefore, the Trump administration apparently thought that it was the right time for it to walk away from the INF treaty, which is fraught with a serious strategic destabilization and increased uncertainty for America's main rivals (which, according to Trump's National Security Strategy, are Russia and China), without posing any immediate strategic threat to the US itself.
Scrapping the INF accord is also fraught with unraveling the existing system of global strategic stability, with the START-3 treaty (also known as New START, and set to expire in 2021) remaining the only bilateral agreement limiting the two countries' nuclear missile arsenals. The START-3 treaty is particularly important in that it is open to extension without the need to obtain parliamentary consent in both Russia and the United States, which is especially important in view of the current standoff between Democrats and Republicans in the US Congress. Besides, this could throw in doubt the future of the Treaty on the Non-Proliferation of Nuclear Weapons (NPT) and the Comprehensive Nuclear-Test-Ban Treaty (CTBT).
With the US and Russia already differing on the size of their nuclear armories, a formal exit from the INF treaty is a clear demonstration of Washington's refusal to engage in a dialogue about a specific nuclear issue. However, all nuclear-related issues are closely intertwined, so if the US withdrawal from the INF treaty results in the termination, or even just a suspension of the START-3 treaty, this would be the end of the legally binding mechanism of mutual checks agreed upon by the parties. This would throw the dialogue on nuclear disarmament back decades and force the parties to get back to square one and start negotiations on the limitation and reduction of nuclear arms virtually from scratch.
Geopolitically, Washington's actions are changing the strategic landscape throughout the Eastern Hemisphere. If the United States decides to bring medium-range or short-range missiles back to Europe, this would inevitably lead to a new spike in tensions with Russia. Washington is bending enormous political, diplomatic, and media efforts to put the "blame for the breakdown of the INF treaty" at Russia's doorstep, and is looking for a new source of cohesion for NATO, namely to force America's European allies to adopt the new rules of the game proposed by Washington, which is explicitly insisting on a "monetization" of allied relations. What we see are attempts to dismantle the system of strategic stability by economic means, portraying Russia's responsive measures to European allies as "aggressive plans," which necessitate an increase in their defense outlays so that they can buy expensive US weapons designed to defend against an imaginary "Russian threat."
Meanwhile, the US withdrawal from the INF treaty could further undermine trust between Washington and other NATO allies, bringing back memories of the political crisis over the deployment of Pershing-2 missiles in the late 1970s – early-1980s, when "bloc discipline" within NATO was still strong. Today, Europe will have to choose between ensuring continued US loyalty at the cost of resuming its role of a hostage to Washington's short-term tactical intentions and pursuing a much more European-oriented defense policy. Some experts believe that the latter option could deepen the already existing split in the EU and even lead to its collapse. Above all due to the intractable contradictions between those who view the US not merely as a guarantor "against external threats," but also as a counterbalance to a number of leading EU countries that are beginning to see the continuously diverging interests of the United States and continental Europe.
As for the impact the elimination of the INF treaty could have on European security, it would be of a truly comprehensive nature as NATO's deterrence strategy hinges on a strategic nuclear potential that will not be directly affected by the termination of the treaty. Hiding behind the Trump administration's openly negative view of the START-3 agreement is a much greater threat to Europe because, according to Western analysts, the negative developments around this treaty would seriously undermine NATO's nuclear deterrence capability.
While admitting that the recent events have forced Europe to "wake up from hibernation," the experts wonder exactly what the increasingly divided European Union will do "in a situation of increasing danger."
The impact of all this on Asia will be even more destabilizing, as the White House often justifies pulling out of the INF treaty by imaginary threats from China and North Korea. However, most experts consider a complete elimination of Pyongyang's nuclear missile potential as "unrealistic" in the foreseeable future for the simple reason that nuclear weapons are the most reliable, if not the only, guarantor of the preservation of the political system currently existing in North Korea. Therefore, sooner or later, "the United States will revert to a purely forceful policy towards North Korea," including by deploying medium-range missiles in the region. However, this would pose a serious security threat to China, because these missiles would endanger "the political decision-making centers and the military administration of China, as well as many of the most important military installations of the People's Republic."
Apparently not so sure about its ability to defeat China in the emerging global rivalry, Washington now wants to draw Beijing into the costliest of all arms races – a race of nuclear missiles.
Moreover, scrapping the INF treaty would only exacerbate the problem of nuclear non-proliferation in Asia. Many US experts believe that in the event of a new arms race – now between the United States and China, Beijing could, at least within the next decade, "overtake" the United States in the number of deployed new land-based medium- and short-range missiles. Given the current tensions between the two countries, chances for them to engage in a meaningful dialogue on military-strategic matters look pretty slim. With the Trump administration trying to water down its commitments pertaining to regional security, a buildup of these two leading powers' military might could force Washington's Asian allies, including Japan, South Korea and Australia, to make independent decisions on strategic security. India, and probably Pakistan too, would have to respond to China's growing strategic potential, and in the worst scenario, this could kick-start a nuclear arms race in Asia.
Russia has always been firmly and consistently opposed to attempts to "dismantle the instruments of strategic stability," which would only stoke up mistrust between nuclear powers and "militarize their foreign policy thinking." Therefore, Moscow has consistently reaffirmed its desire to continue "work to save the INF treaty, despite the US position."
Hating to get involved in an all-stops-out arms race, Russia keeps reminding the United States and the whole world of its readiness to "engage in meaningful and across-the-board negotiations on all aspects of disarmament." However, the US leaders, just like in the bad old times, are doing exactly the opposite, looking for ways "to dismantle the already established system of international security."
The draft law on suspending the INF treaty submitted for parliamentary consideration reserves President Putin "the right to renew the treaty." Commenting on the issue, Franz Klintsevich, a member of the Federation Council, the upper house of the Russian parliament, noted that Russia "leaves the door open." Moscow is ready to "resume its commitments under the INF treaty any time," and gives the United States "a chance to think again." Moscow has also reaffirmed its strong commitment to upholding the principles of strategic stability, with presidential spokesman Dmitry Peskov calling the START-3 treaty "the cornerstone of international security and disarmament architecture." Russia's unconditional interest in promoting a constructive and meaningful dialogue was thus emphasized again.
Meanwhile, the prospects of global strategic stability are getting increasingly vague. Optimists say that since formal agreements mainly fix the level of mutual trust, the existing model of strategic stability is becoming a thing of the past for objective reasons. To avoid "strategic chaos," the leaders of the world's three leading nuclear powers need to look for new formats of stability indirectly, independently, and even "unilaterally. Pessimists, for their part, believe that having signed treaties is always better for security than not having them at all. Treaties are indispensable as they stand in the way of escalations inherent in the realm of nuclear deterrence. A collapse of the INF treaty can easily dismantle "the entire system of nuclear arms control" and lead to chaos with disastrous consequences "for the security of … superpowers and the whole world". Thus, consistent efforts to resume the dialogue between Russia and the United States would be the best way out in the current situation, because it would at least help find a new understanding of strategic stability shared not only by our two nations but, ideally, by all the other nuclear powers. Otherwise, at the end of the day, those who wish to "re-deal" the cards of strategic stability for their own benefit will have to realize the futility of their effort. Better sooner than later.
From our partner International Affairs
Grab your Coats: Can America succeed in the Arctic?
Authors: Mathieu Barron and Dr. Jahara Matisek*
It should not be a surprise that the Arctic is melting: climatic warming was identified by the scientific community in 1979.More alarming, though, is that 58% of Arctic sea ice has melted since 1980. Besides being troubling for environmental reasons, the melting of the Arctic opens a Pandora's Box of geopolitical disputes over ownership of economic resources and newly navigable sea lanes. Chief among the dispute is the claiming of Economic Exclusion Zones (EEZs) as dictated by the United Nations (UN) Convention on the Law of Sea. Such EEZ areas grant a country 200 nautical miles of exclusive access and rights to resources, such as fishing, natural gas, oil, minerals, etc. In the Arctic, there are valuable mineral resources, to include, nickel, copper, coal, gold, iron, natural gas, oil, uranium, tungsten, and diamonds, and then there are vast biological resources (e.g. fish, etc.).
The treasure trove of resources would be incredibly useful to any state, whether it be Russia or Norway. More importantly, numerous sea lanes are soon to open, to include the Bering Strait and the Transpolar Sea Route, which cuts directly through the Arctic Circle. With the Arctic being a dynamic environment, how should the United States (US)act to promote American prosperity to advance influence in the region?
Before identifying "success," it is imperative to get a grasp of the region as a whole – who the main actors are, what the primary issues are, what the history of the region is. In the Arctic's case, the Arctic Council is a who's who in the northernmost portion of the planet. The Arctic Council is an intergovernmental forum with eight members: Canada, Denmark, Finland, Iceland, Norway, Russia, Sweden, and the US. In addition, there are six permanent participants, each representing indigenous Arctic peoples. The Council was founded to promote cooperation, coordination, and interaction between its members. Generally, this means working together to respond to oil spills, management of fisheries, scientific research, and search and rescue operations.
When the Soviet Union collapsed in 1991, there were multilateral operations in icebreaking and search and rescue, to include founding of the Arctic Council in 1996. However, the current Arctic environment in the 21st century is framed by great power competition from Russia and China, who are deviating from norms of conduct regarding the region. Moreover, these two countries are contriving new ways of boxing the US and other Western allies out of the region by signing trade deals with one another and building up Arctic military capabilities that are outpacing the West.
A Russian Arctic?
Russia is America's biggest competitor in the realm of the Arctic for good reason. About a half of the Arctic – its people, and coastline, and likely a half of its hidden resources – belong to Russia. Even more, the Arctic sea ice on the Russian end melts faster and fuller than the ice on the Canadian end, allowing for more access to resources and shipping lanes. Outside of their geographic advantage, Russia maintains a significant edge in military assets in the Arctic Circle, showing no intention of reducing this footprint.
A 2017reportshowed that Russia stationed 19 warships and 34 submarines in the Arctic, compared to one American warship and no submarines. From a 2018estimate, there are six Russian bases in the Arctic, each equipped with S-400 anti-aircraft weapons systems alongside forty icebreakers between the bases. More troubling, a Canadian report claims that Russian military investments are increasing in the Arctic, leading to the development of four brigade combat teams, 14 operational airfields, 16 deep-water ports, and11 icebreakers. Each of these investments are essentially a Russian proclamation of their own Monroe Doctrine in the Arctic.
Finally, more than ever, Russian bombers are flying over the Arctic, with NORAD reporting 20 sightings and 19 intercepts last year. These developments are in no way shocking – they are even partly expected – given their Cold War antecedent of behavior in the region. However, the Russian government believes it has a valid claim to the Arctic and its resources, and are signaling a strong intent to defend this claim with military force. After all, this is the same state which invaded and annexed Crimea in 2014. In shaping US plans for the Arctic, there is no bigger concern than Russian desires for increased influence and access to resources.
An American Response to Russian Arctic Hegemony?
So how should the US respond to this emerging threat in an oft-ignored theater? The first step lies in making the Arctic a policymaking priority. As of now, the Arctic is given almost no legislative or military attention, and exists mostly in the periphery of policy debates. The word 'Arctic' appears once in the National Security Strategy (NSS) and a whopping zero times in the National Defense Strategy (NDS).From a strategic standpoint, the last thing the US wants is a conventional war with a near-peer adversary in the Arctic Circle. This harsh environment has limited infrastructure, narrow logistical networks, and austere operating conditions for humans and machinery alike.
It is important to establish a geopolitical environment similar to NATO's position on Russia in continental Europe: a careful balance with an enforceable red line. As preferable as it would be to maintain the Arctic Circle as a paragon of international cooperation, it is ignorant to assume that the region exists in a vacuum free of maneuvering for personalist gain. Additionally, making the Arctic a cooperative bubble may only encourage Russian aggression elsewhere if the fear of punitive actions in the Arctic is close to non-existent. Would we see another annexation, or other indirect actions by Russia to capture land and resources in the Arctic?
A careful US and allied militarization focused on flexibility in the Arctic theater is the key to showing signs of strength at the North Pole. By developing airstrips and forming infrastructure in the Arctic region to protect newly-melted sea lanes and land routes, allied forces will gain a logistical foothold in an undeveloped region. Even more, building new icebreakers to replace the two remaining US Coast Guard vessel will ensure continued capability in forward presence and sea control as well as signaling commitment in the form of personnel and appropriations. Finally, increasing multilateral arctic training exercises amongst northern NATO allies, forming a joint interagency task force – while also continuing cooperative efforts across the Arctic Council is needed to demonstrate US resolve to prevent China and Russia from asserting de facto control of the North Pole.
While not a panacea, actionable measures – besides words – by the US and her allies will breathe fresh air into Cold War-era Arctic policies. This will demonstrate that the West will not permit this dynamic and valuable region to fall prey to bellicose Russian behavior. Working with international partners through the Arctic Council and NATO and by revamping US efforts in the Arctic, it is possible not only to enforce the UN Convention on the Laws of the Sea, but to ensure American prosperity across the entire region. Guaranteeing the Commons of the Arctic, especially EEZs, will ensure American hegemony for the 21st century. If not, Arctic spoils will go to those, like Russia, that militarize it first.
The views expressed in this article are those of the authors and do not reflect the official policy or position of the US Air Force, Department of the Air Force, Department of the Army, Department of Defense, or the US government.
Dr. Jahara Matisek (Major, U.S. Air Force) Assistant Professor, Department of Military & Strategic Studies, U.S. Air Force Academy. Non-Resident Fellow, Modern War Institute, West Point, U.S. Military Academy