UNIDO-China cooperation on green industry and statistics further strengthened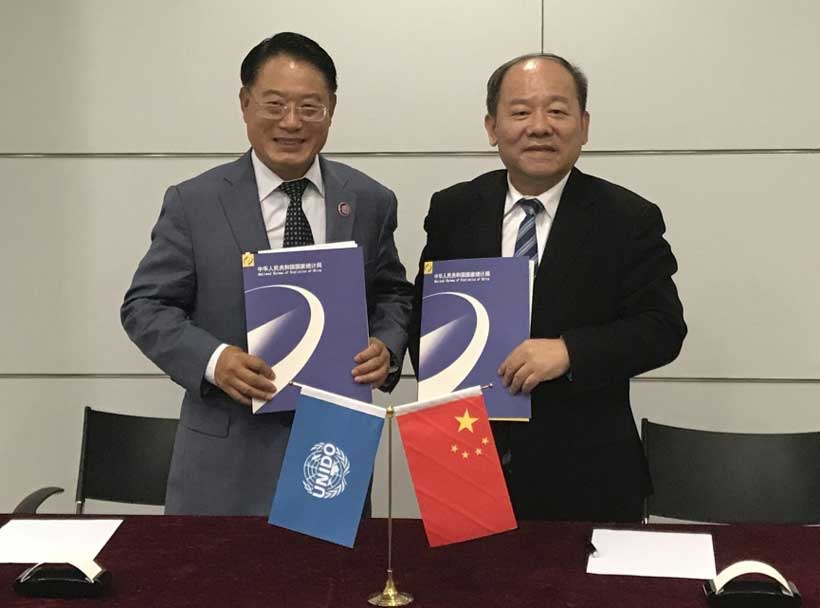 The Director General of the United Nations Industrial Development Organization (UNIDO), LI Yong, met with LUO Wen, Vice-Minister of Industry and Information Technology, and NING Jizhe, Commissioner of China's National Bureau of Statistics, to further strengthen the ongoing UNIDO-China cooperation on green industry and statistics.
During the meeting with Luo, Li reiterated UNIDO's commitment to work with the Ministry of Industry and Information Technology (MIIT) in the areas of green industry, innovation, and international cooperation, as confirmed in the China-UNIDO Strategic Cooperation Framework 2018-2021. The discussions also covered joint projects aligned with key policy initiatives of the Chinese Government, including 'Made in China 2025', the Belt and Road Initiative, new energy vehicles, and South-South cooperation on energy conservation. The cooperation between UNIDO and MIIT is well established, and started with the signing of the 2013 Memorandum of Understanding (MoU) to promote green industry, which culminated in the 2013 Guangzhou Green Industry Conference. The Conference, which attracted over 700 participants, discussed the uptake of green technologies and circular economy principles through resource efficiency and effective environmental management and policy. During the meeting, LI Yong and LUO Wen explored the possibility of establishing a permanent venue for the Green Industry Conference in China – on an alternating basis with a developed country host.
During the meeting with Ning, Li underscored the importance of statistics and data to achieve the Sustainable Development Goals (SDGs). The two parties also agreed to work together in the areas of national and international statistician training, the development of statistical methods, and the exchange of statistical staff. The anticipated collaboration will build upon the ongoing joint UNIDO-NBS work on SDG indicators and will lead to a related training programme at the NBS' International Statistical Training Centre.
During his visit to China, the UNIDO Director General is holding several bilateral meetings with Chinese ministers and senior officials to discuss various initiatives and activities to boost cooperation between UNIDO and China. The meetings took place on the sidelines of the 7th Ministerial Conference of the Forum on China-Africa Cooperation (FOCAC) and the Beijing Summit of the Forum on China-Africa Cooperation, taking place from 2 to 4 September 2018, in Beijing.
World Bank Provides $100 Million to Accelerate Rwanda's Digital Transformation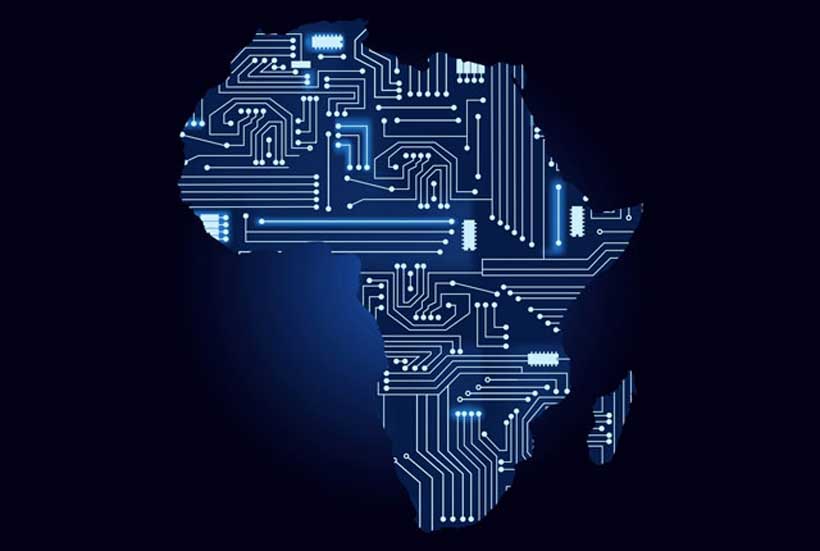 The World Bank Group today approved $100 million in financing under the International Development Association's (IDA) Scale Up Window to help the Government of Rwanda increase access to broadband and selected digital public services, and strengthen the digital innovation ecosystem in Rwanda.
The new Digital Acceleration Project will support the government to expand digital access and adoption by spearheading a series of innovative digital access and inclusion initiatives, including supporting 250,000 households with financing to help acquire smart devices as well as training three million people in basic digital literacy (with targets for girls and women).
The project will also enhance the government's digital service capabilities by equipping it with the ability to harness the power of big data and develop at least 30 new or upgraded digital services through large-scale investments in shared digital standards, platforms, and infrastructure. These will enable the government to safely scale more fully transactional and remote service delivery, including enrolling and issuing new digital ID credentials to 75 percent of the population. Finally, the project will increase Rwanda's capacity to support digitally enabled innovation by strengthening the local entrepreneurship ecosystem, developing Rwanda's digital talent base and helping tech firms to move from startup to growth. At least 300 digital start-ups will be directly supported by the project, with a focus on those that are female-owned.
"Expanding digital access and adoption, enhancing digital public service delivery and promoting digitally enabled innovation are essential for Rwanda's digital transformation which can in turn help drive a robust post-COVID-19 recovery," said Rolande Pryce, World Bank Country Manager for Rwanda. "The Rwanda Digital Acceleration Project encompasses all these elements and will contribute to Rwanda's vision to become a knowledge-based economy and upper middle-income country by 2035, by leveraging digital technologies to accelerate growth and poverty reduction."
The project will also support Rwanda's efforts to crowd in private sector investment in digital inclusion initiatives, digital infrastructure and through support for digital innovation and entrepreneurship – with the goal of preparing the country for a data-driven and e-service based economy capable of supporting sustainable recovery in a post-COVID-19 context.
"For Rwanda to leverage digital transformation as a driver of growth, job creation and greater service delivery, digital adoption needs to markedly improve. This project will help Rwanda tackle the affordability of digital devices and services, but also bridge lingering basic digital literacy gaps, to increase local demand for digitally-enabled services and platforms," said Isabella Hayward, World Bank Digital Development Specialist, and Task Team Leader of the project. "The project will also support the GoR's aspirations of providing 24-hour, cashless, paperless and fully transactional Government-to-Government, Government-to-Business, and Government-to-Person e-services both at the central government and sectoral levels."
The project will be co-financed in the amount of $100 million by the Asian Infrastructure Investment Bank (AIIB), of which Rwanda is a non-regional member. This will be the AIIB's second investment in Rwanda, and the first digital project investment financing to be co-financed with the AIIB.
Women and girls at high risk of being pushed into modern slavery
Women and children are at high risk of being pushed into contemporary forms of slavery, UN-appointed independent rights experts said on Wednesday.  
In an alert to coincide with the International Day for the Abolition of Slavery on 2 December, they warned that global challenges such as COVID-19, climate change and armed conflict have amplified existing vulnerabilities. 
According to figures released by UNICEF and ILO in June, almost 80 million children aged 5 to 17, are subjected to hazardous work which is classified as a contemporary form of slavery.
Now, according to the experts, these children may be working longer hours or under worsening conditions as a result of the economic recession and school closures caused by the pandemic.  
Many others may have been forced into the worst forms of child labour, owing to job and income losses among their families.  This includes the forced recruitment of youngsters into armed and criminal groups.
Women and girls
According to unofficial estimates cited by the experts, one in every 130 women and girls is subjected to contemporary forms of slavery such as child and forced marriage, domestic servitude, forced labour and debt bondage.
"High levels of exploitation also prevail in global supply chains, which often rely on and reinforce labour exploitation and deepen gender inequality", the experts said.
They argue that "gender inequalities lie at the heart of contemporary forms of slavery", but note that these practices are also fuelled by intersecting forms of discrimination, such as race, social and economic status, age, disability, sexual orientation, and migration status, among others. 
The experts urge Member States to establish safe migration pathways, along with easier access to decent work and more cooperation with the business sector, civil society organisations and trade unions.  
For them, "accountability of perpetrators must be strengthened as a matter of priority, as currently impunity prevails in far too many instances."
"Slavery in all its forms needs to end for everyone, including women and children in contexts of armed conflict. Slavery is a disgrace to humanity which in the 21st century cannot be tolerated", they conclude.
This year marks the 30th anniversary of the UN Voluntary Trust Fund on Contemporary Forms of Slavery. This year alone, 18,000 victims received vital assistance from organizations supported by the Fund.
To mark the International Day for the Abolition of Slavery, the experts appeal to all Member States to increase their contribution to the Fund, or to make one for the first time.
The Special Rapporteurs are part of what is known as the Special Procedures of the Human Rights Council. They work on a voluntary basis; they are not UN staff and do not receive a salary for their work. They are independent from any government or organization and serve in their individual capacity. 
Best Extracurricular & After-School Activities to Reduce Stress
Being a student is a fun and exciting experience. However, it is also tightly connected with constant stresses. The lack of free time, stressful exams, tight deadlines – these and other challenges often make students' lives unbearable and lead to various health issues. And, unfortunately, there is no way to eliminate stress from your college life completely.
So, since stress is an integral part of a student's life, are there any ways to ease it? Living in a constant state of stress is definitely not an option. But, luckily, there are ways to prevent and reduce stress. One way to do this is to do my essay cheap and take a break from your academic issues. But, there is also another way.
In this article, we have collected the top seven activities that are proven to reduce stress levels and can help students survive in their intensive, busy college lives.
1. Meditation
Meditation is one of the most widely known stress relief activities. Even a 10-minute session can provide you with short-term stress relief, and, apart from this, mediation is proven to deliver long-term stress management benefits too.
So, if you are feeling tired and anxious, try meditating. There are plenty of different practices, so everyone should find something to suit their needs. Be sure to give it a try.
2. Sports
Another activity students can try to improve overall well-being and get rid of stress is any kind of sport. Doing sports regularly will keep you fit and provide a long list of physical and mental health benefits, including stress relief.
If you are wondering how to get started, the easiest way to make sports a part of your everyday life in college is to join one of your school's sports teams. It can be anything that feels right for you. The only thing to keep in mind is that being on a team will most likely take lots of your free time. So, if you don't want your academic performance to drop, you might need to enlist the help of DoMyEssay to have someone who can take care of your assignments in any situation.
3. Arts
For decades, different forms of art were considered to be effective stress-relievers. Not without reason, psychologists often use art therapy as a tool to help patients cope with a variety of mental health issues. And, the good news is that you don't even need to go to a therapist to feel the positive effects of art on your well-being.
To try this activity, choose a form of art that suits you best. It can be anything from coloring a coloring book to painting or making music. Try different options to find what works for you and devote at least a bit of time a day to your art therapy, and soon, you will notice the first positive effects.
4. Yoga
We've already told you that sports and meditations are good for your mental health. Yet, yoga deserves to be a separate point on our list because it has a bit of both. Regardless of the chosen type of yoga, such practices are all about breathing, meditating, and finding a balance. All these things are powerful in terms of stress relief.
In addition to this, yoga is known to boost mood. So, if you feel like you are lacking tranquility and a feeling of happiness, be sure to try practicing yoga. We bet that once you get used to it, you will never want to go back.
5. Dancing
The next after-school activity that can boost your mood and reduce stress is dancing. This activity involves two powerful stress-relievers – music and physical activity. Together they can have an effect much more powerful than anything else.
Want to give it a try? It is easy to get started. Try joining some dance classes or, if you don't have much free time, just dance at home like no one is watching. One way or another, the benefits will be felt straight away.
6. Stretching
Stretching your body is one more activity that will boost your well-being. According to numerous studies, physical flexibility is closely interlinked with mental flexibility. Therefore, stretching is known to reduce tension, help fight anxiety, reduce stress and depression, and trigger positive emotions.
Just like in the case with other activities we've mentioned in this article, stretching can be done right at home. All you need is a bit of free time, some soothing music, and a knowledge of some basic exercises. However, if you have time to join a stretching class, it would be even better because this way, you will also get an additional opportunity to socialize, which is also good for your well-being.
7. Crafting
Different types of crafting are also good for fighting stress. Whether it is knitting, needlework, ceramics, or any other activity, it will definitely bring its benefits as long as you are enjoying the process.
The key trick here is to get distracted from your daily routine and get deeply involved in doing something creative. Just like it is in the case of arts, connecting with your creative side with the help of crafting can help you prevent and cope with a variety of mental health issues.
To Sum Up
So, now you know about the top seven most stress-relieving activities that you can do after studies to boost mood and ensure overall well-being. All you need to do is to find the best option for you and make it a part of your life!