Culture and Behavior May Clue Climate Change Response
Behavior acculturated to ancestral norms, originally necessitated by occupation, is the focus of a new study in China with interesting ramifications for climate change.  In general, farming requires more stable relationships than, say, herding with the constant movement of animals.  Now the authors have taken farming a step further:
They observed that northerners were three times more likely than southerners to push an obstructing chair in a Starbucks out of the way; southerners eased themselves around in order not to inconvenience whosoever had placed the chairs.  The behaviors were true to type as northerners are considered brash and aggressive, while southerners are conflict averse and deferential.
The authors ascribe the behavior to ancestral occupation.  Wheat is farmed in the north, and such dry-land farming is more individualized than rice farming in the south.  The latter requires complex irrigation systems for paddies and forces cooperation and coordination among multiple families.  The interdependence also means it is crucial not to offend anyone.  This ancestral culture prevailed despite the fact that most descendants were no longer farmers.
The question of which people change their environment and who change themselves is an important one at a time when the world has to face the existential challenge of climate change.  In the last couple of years we have seen a cooperative Europe facing a quintessential maverick, as in Donald Trump.
Mr. Trump lives in his own world ignoring the mounting research and irrefragable evidence for climate change with its human fingerprint that can no longer be disputed.  Worse still are the consequences and the inevitable danger of conflict fueled by resource needs.  Thus the melting of Arctic ice has made possible new sea pathways, opening up oil and gas exploration, and pitting Russia, the U.S., Canada and other Arctic countries against each other.
China is now in virtual control of solar panel manufacture through a heavily subsidized industry against which producers in other countries are unable to compete.  The U.S. imposed tariffs in 2017 and India might follow suit.
As electric car use increases, the demand for the rare minerals necessary for their batteries has begun to soar.  Unfortunately the Congo with its incessant tribal wars is by far the largest producer of cobalt.  Nickel has varied sources including Indonesia and the Philippines although the largest reserves are in Australia, Brazil and Russia.  Chile has the highest reserves of Lithium followed by China, while Australia is the top current producer.  The scramble for these resources is underway and producer countries have begun to guard their reserves through tariffs and controls.
Perhaps the most fraught issue is that of sharing water.  For millennia one country has relied on the Nile.  The annual flooding in ancient Egypt brought new alluvial soil yielding rich harvests.  Even now more than 95 percent of the country's mostly farmer population lives on the river's banks in an area approximately 5 percent of Egypt's land mass.  That whole way of life could be in jeopardy depending on how quickly Ethiopia chooses to fill a huge reservoir behind a vast damn it is constructing.
China shares the Mekong with six other countries and is the only one not a member of the Mekong River Commission.  The problem is upstream dams and delicate negotiations for the equitable treatment of downstream farmers and fishermen.
Then there are India and Pakistan, perennial enemies, now nuclear supercharged.  They share the Indus and some of its tributaries.  Thanks to the 1960 Indus Waters Treaty, they have never fought a water war although there have been others.  Now India is planning upstream dams.  The situation can only worsen if the sources in the Himalayas diminish with global warming.
How should humans respond to these environmental challenges?  Should diffuse bodies deal with associated problems, and/or should there be a world environment court as a last resort against individualistic mavericks?
The Paris Agreement deals with greenhouse gas emissions and continues to function. It has added new members, despite the US withdrawal, which, by the way, is not effective until November 2020 leaving open the possibility of a newly elected president rescinding it.
The Montreal Protocol, dating back to 1987, protected the depleting ozone layer through the control of substances, chlorine and bromine,  causing the problem.  The culprits hydrochlorofluorocarbons (HCFCs) and chlorofluorocarbons (CFCs) were to be phased out and replaced by hydrofluorocarbons (HFCs).  The latter lacking chlorine are safe in this regard.
Governor Jerry Brown is independently hosting the Global Climate Action Summit in San Francisco (Sept. 12-14) next month to "put the globe back on track to prevent dangerous climate change and realize the historic Paris Agreement."
Then there is the New York Declaration on Forests (2014) which pledges to halve the rate of deforestation by 2020 and to end it by 2030.  It resulted from dialogue among governments, corporations and civil society following the UN Secretary-General's Climate Summit in New York.
Meanwhile, China produces 20 percent of emissions and it will need to address the consequences of its Belt and Road Initiative.  However, an agreement between China and the US, the two largest polluters, could open the intriguing possibility of the US returning to the Paris accord.
Such diffuse bodies dealing with the myriad problems emanating from climate change and the evident cooperation of different actors relegate an out-of-sync Trump into a discordant minority.  While the US remains a hugely important party responsible for 18 percent of global emissions, a hopeful sign is that other politicians in the country are clearly not following President Trump's lead.
These ad hoc arrangements might work for the present.  But what of the future?  What of environmental degradation leading eventually to mass migrations, even wars for scarce resources?  We have the benefit of Europe's experience with large numbers of refugees from America's wars in Libya, the Middle East and Afghanistan; the welcome mat has been gradually rolled back.  How effectively will the UN Security Council counter environmental wars, particularly those involving China or other countries with veto power ?  That all such questions need to be addressed and soon is a no-brainer, and COP 24 (Dec 3-14, 2018) could be an appropriate venue to begin the discourse.
Author's Note:  Aside from minor changes, this article first appeared on Counterpunch.org.
Climate Risks: Wildfires, Glacier Melt, Coastal Flooding … A Beautiful Antelope
California wildfires are again in the news as the Kincade Fire now raging risks 50,000 people, who have been evacuated. It might come as a surprise but there have been 41,074 wildfires compared to 47,853 in 2018 for the first nine months of the year. Blame the downslope Santa Ana winds for fanning them. Fires can occur naturally through lightning strikes but these days some 90 percent are due to human carelessness: discarded cigarettes, unquenched campfires and the like, all exacerbated by a warming climate. Killing 85 people, the deadliest wildfire in the state's history seemed to have been caused by Pacific Gas and Electric power lines (although it is still under investigation), and they are suspected in the present Kincade Fire. Wildfires do clear brush — 4.4 million acres burned off this year — ensuring a worse fire will not occur in the future.
As can be expected, such fires also place property at risk. California, Texas and Colorado have the highest numbers of properties at risk, while Montana and Idaho are tops in percentage terms; in Montana 29 percent and in Idaho 26 percent of properties are in the danger zone.
If the west is prone to wildfires, the east has an opposite problem: flooding. Sea levels are rising. The Greenland ice sheet holding enough water to raise the water line by 7 meters is melting. Scientists estimate two-thirds of the ice loss is due to glacier calving as chunks of ice detach from the 300 odd outlet glaciers that end in the fjords. As reported in Science magazine recently, (October 11, 2019), Helheim, a major glacier responsible for 4 percent of Greenland's annual ice loss is being observed by a team headed by Fiamma Straneo of the Scripps Institution.
In severe retreat since 2014, the glacier has reduced "by more than 100 meters, leaving a tell-tale ring on the rock around the fjord." This summer its water temperature is 0.2C above the previous high in a relentless rise. Also the data collected will improve mathematical modeling to predict future consequences.
Coastal flooding on the East Coast has been noted by the New York Times (October 8, 2019) in a feature article, As Sea Levels Rise, So Do Ghost Forests. Trees in coastal areas are dying off due to frequent total incursions of saltwater.
An excellent estimate of coastal flooding on the East and Gulf coasts, Encroaching Tides, was prepared by the Union of Concerned Scientists a few years ago. Sober reading, it forecasts coastal innundation over the next three decades. It talks about adaptation to the new norms, the responsibility of Municipalities, States and the Federal Government, sea walls, economic consequences, and a retreat from heavily impacted areas. Is anybody listening, and when they called for reducing emissions was the US listening?
When more than 190 countries signed up to almost all of the rulebook buttressing the 2015 Paris Agreement, it made the 24th International Climate Conference in Katowice, Poland (Dec 2018) a major success. This December the 25th International Climate Conference will convene in Santiago, Chile. A primary issue before it is how to avoid double counting i.e. counting the same emission reduction more than once. Countries have so far failed to reach common ground on how to avoid it despite the threat to carbon markets underpinning the Paris Agreement. Is bashing heads together in Santiago one answer?
Meanwhile on the top of the world, inhabiting the Tibet plateau, the beautiful and majestic chiru or Tibetan antelope, once in trouble from excessive poaching and then recovering, is at risk again. This time it is due to climate change. It has caused excessive melt and a burst natural dam that used to surround Lake Zonag right beside their calving site.
Satellites record second lowest Arctic sea ice extent since 1979
The polar oceans are among the most rapidly changing oceans in the world. The yearly cycle of the build-up and melting of Arctic sea ice is one of the earth's vital signs and a key climate variable monitored by scientists.
While they may be far from the world's major population centres, changes in the polar regions have global implications: they affect the world's climate through carbon storage and/or release, heat balance, and other environmental and ecological impacts.
One of the most visible indicators of this change is the reduction in the extent of Arctic sea ice by the end of September each year.
Since 1979, scientists have observed a decrease in the extent of Arctic sea ice in all months of the year. The September minimum extent is 36.5 per cent smaller in the period 2010–2019 than it was in the 1980s.
In a recent Intergovernmental Panel on Climate Change report (IPCC, 2019), scientists observed a reduction trend of 12.8 per cent (± 2.3 per cent) per decade. With 4.1 million square kilometres, the 2019 minimum arctic sea ice extent is the second lowest (after the record low of 2012) since the beginning of satellite monitoring in 1979. This rate of decline is likely (between a 66 per cent and 90 per cent probability) to be unprecedented in at least the past 1,000 years.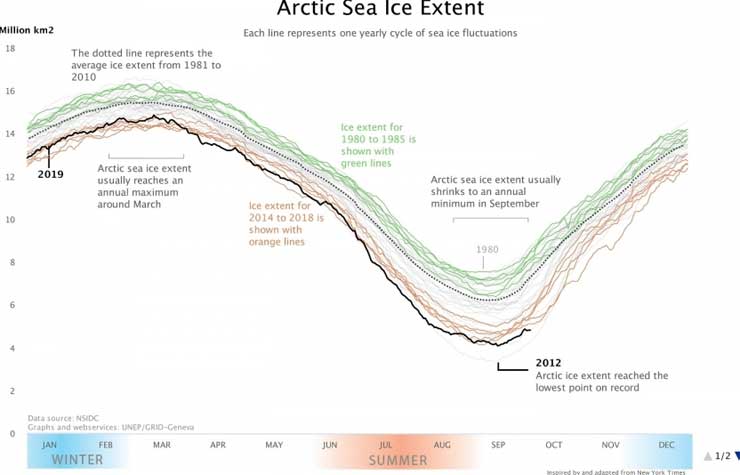 Under a scenario of global heating of 1.5°C above pre-industrial levels, by the end of the 21st century, the Arctic ocean would only be ice-free in September once in every 100 years. Under a global warming scenario of 2°C, this would occur as much as one year in three, according the IPCC.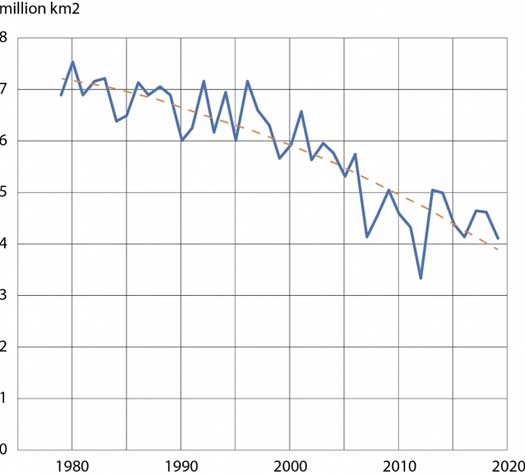 Loss of sea ice increases global heating. White snow reflects sunlight, whereas water absorbs it. Declining Arctic sea ice, therefore, amplifies the warming up of the Arctic. Temperatures increased by around 0.5°C per decade between 1982 and 2017, primarily due to increased absorbed solar radiation accompanying sea ice loss since 1979. This is twice as fast as the global average.
Thinner ice
Not only is the extent of Arctic sea ice reducing, but it is also much thinner, and scientists observe a transition to younger ice. Five-year-old sea ice has declined by about 90 per cent since 1979.
This has several impacts. It reduces the reflection of light, thus contributing to thermal expansion of the oceans. The change in Arctic sea ice extent may influence mid-latitude weather, and it may affect the regional composition of species, their spatial distribution, and the abundance of many marine species, with impacts on the structure of ecosystems.
For instance, reduced ice cover is adversely affecting the habitat of polar bears which now need to travel greater distances and swim more than previously, particularly threatening young cubs.
While the science tells us that global heating is happening, the exact impacts on fragile habitats and ecosystems are much harder to predict.
"There is an urgent need to reduce our greenhouse gases emissions," says Peduzzi.
Dying Wildlife on a Warming Planet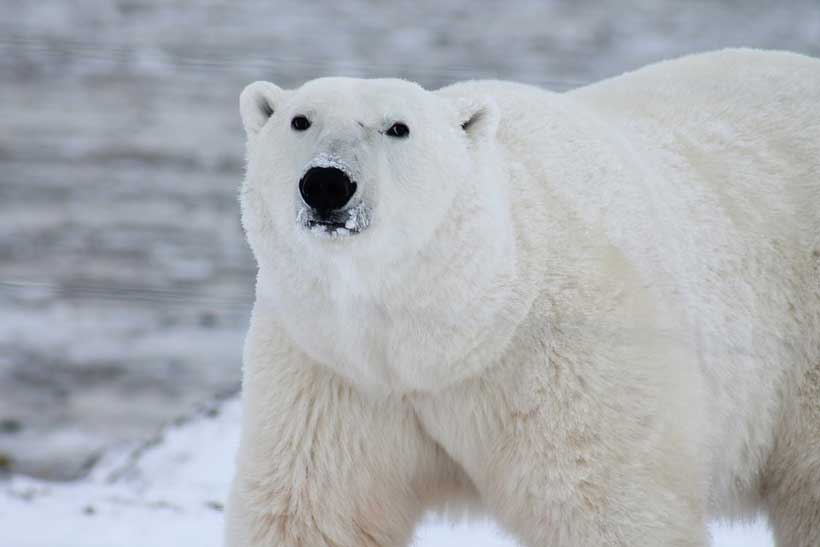 Authors: Meena Miriam Yust and Arshad M. Khan
The emaciated polar bear, a sorry remnant of magnificence, raiding garbage cans in an iconic, even infamous photo, is one consequence of global warming. As the September (2019) National Geographic cover story displays depressingly, Arctic ice collected over winter is sparser, thinner, and now disappears completely during summer in parts of Canada. If the effects of global warming are staring us in the face, then only the woefully or willfully ignorant – like Trump – can ignore them.
One more aspect of warming on Arctic ice has been reported recently. As we know, two-thirds of an iceberg lies under water. As sea water warms, melt increases and scientists have made measurements to discover that submerged parts of icebergs and glaciers entering the sea are melting significantly more than was previously believed, contributing to rising sea levels.
Researchers are warning that permafrost collapse in the Arctic is releasing nitrous oxide, methane, and carbon dioxide. The store is vast: nearly 1,600 billion tonnes of carbon lies trapped in the frozen soils of the permafrost region as a result of decaying organic matter over millennia. That is almost double the quantity in the atmosphere.
The environmental costs of global warming appear in yet other unexpected ways. A new paper in Science reports the threat to coral reef reproduction. Free-spawning marine species synchronize spawning as a way to ensure reproduction. In this way the gametes developed are so numerous that some escape their predators, ensuring species survival. Global warming is now affecting this reproductive synchrony, threatening coral reef recovery.
Rising ocean temperatures impact fish, plankton and crustaceans, in turn affecting the creatures that feed on them. So now sea birds, like the puffin, are struggling to stay alive. These are striking birds with black and white plumage, bright orange legs and feet, and, during the mating season, orange beaks. This past May, it was estimated that between 3,150 and 8,500 puffins starved to death in the Bering Sea, their emaciated bodies washing ashore on the Pribilof Islands, some 300 miles west of mainland Alaska. Prior to the mass deaths, there was a documented period of elevated sea surface temperatures in the eastern Bering Sea according to scientists. The unfortunate result was a shift in zooplankton composition and in forage fish distribution, both food sources for the puffin.
In Iceland, too, puffins are in trouble. Researchers discovered that thousands of puffin chicks had died from starvation in the summer of 2018. It turns out rising ocean temperatures have pushed cold-water fish farther north leaving the baby pufflings with little to eat. The International Union for the Conservation of Nature (IUCN) has categorized the Atlantic puffin (Fratercula arctica) as vulnerable on its red list.
Rising ocean temperatures are also affecting food availability and the habitat of many Arctic creatures, including the walrus, polar bear, gray whale, arctic fox, and ice seal. Some are starving to death, some wandering long and far in search of food. Polar bears rely on sea ice to hunt seals at their breathing holes. When the sea is not covered in ice, breathing holes become unnecessary as the seals can come up anywhere for air, and are no longer easy for polar bears to snatch up. The World Wildlife Fund has reported a 40% drop in number of the southern Beaufort Sea polar bears between 2001 and 2010. Worse still, scientists forecasting global polar bear populations estimate a high probability that 30% of polar bears worldwide will be gone by 2050.
Declining sea ice is also harming seals. Baby harp seals lie on the ice during their fragile first few weeks of life. Without a thick and stable span of ice, seal pups may drown or be crushed by broken ice. In 2007, a then surprising 75 percent plus of pups died due to thin ice conditions; in 2010, nearly all. "Some years, when there's poor ice in a given pupping ground, essentially all of the pups don't make it," says Duke marine biologist David Johnston. As temperatures continue to rise, seal survival becomes precarious.
The Pacific walrus population is in decline with only 129,000 animals left. Due to climate change, the floating summer ice that walruses used to haul themselves upon to rest is now way up north. Consequently the animals are swimming ashore and taking to land in huge numbers. Unfortunately their feeding grounds are far away from shore, forcing a 250 mile round trip. In addition to exhaustion from traveling long distances and food scarcity, walruses also face threats from being on the beach in vast crowds. In 2014, 35,000 walruses were seen together on the shore near Point Lay, Alaska. The animals, which can weigh as much as 1.5 tons, can be frightened easily by loud noises like airplanes, causing stampedes and mass deaths by trampling, especially of young calves – as many as 500 in one incident. If ice continues to diminish, their future looks bleak.
Then there are the gray whales. Their favorite crustacean is the amphipod – a small flat morsel with segments and antennae resembling a grasshopper. These lipid-rich crustaceans are devoured by whales in bulk. Over the past 30 years, as currents have warmed and sea ice has melted, amphipod populations have declined in the Bering Sea whale feeding area. As a result, gray whale mothers and babies have had no choice but to swim north through the Bering Strait and far into the Arctic Ocean in search of an alternate food supply. They are so hungry they are eating krill and mysid shrimp, but as it takes an enormous quantity to match the calories of lipid-rich amphipods, the whales remain hungry.
The North Atlantic right whale, a species federally classified as endangered, is also affected by the rising ocean temperatures. The Smithsonian reports that right whales eat more than 2,000 pounds each day, mostly copepods. Their favorite copepod, the Calanus finmarchicus, has dramatically declined because some of the deep waters of the north Atlantic have warmed almost 9 degrees Fahrenheit since 2004, forcing right whales to migrate elsewhere in search of food. Several right whales have been found dead in Canadian waters in recent months, and a sixth dead whale was found in the Gulf of St. Lawrence in July of this year. The steep rise since 2010 in the deaths of these whales from shipping vessel strikes as well as entanglement with fishing gear is attributed to the animals moving into new and unexpected areas where speed restrictions for vessels are not in place. With some 400 right whales left (out of 500 in the early 2000s) and about 100 breeding females, the species may face extinction if these trends continue. Researchers are hoping to use satellite technology to detect whales in new territory, allowing for faster responses in moving fishing nets and large vessels.
Creatures large and small face threats from melting ice. Lemmings are like hamsters of the tundra – small, furry rodents with faces and whiskers as adorable as the childhood pet. In winter, northern Norway lemmings burrow under the snow for insulation and protection from prey. During good snow seasons, they reach population peaks and their young prosper. But in Norway in recent years, rising temperatures are causing repeated thawing and icing periods resulting in poor snow conditions for the lemmings. The resulting altered and reduced population cycles mean lemmings are no longer reaching population peaks.
The arctic fox relies on lemmings as a primary food source, and scientists believe lemming decline has contributed to sharp declines and breeding failures in the arctic fox population of Norway. Arctic foxes also face threats from the red fox, a larger more aggressive animal, which historically lived south of the arctic fox habitat. Due to climate change and warming of the Arctic, however, the red fox is encroaching on arctic fox areas. Warming is also converting the tundra to shrublands, a habitat the red fox desires. The poor arctic fox faces loss of habitat, decreased food availability, increased competition for food, and possible displacement by the red fox. And with the Arctic continuing to warm, these changes will only become more extensive. Small wonder then that the arctic fox often has to travel long and hard to find food. One female captured all our hearts as it traveled 3,500 km from Norway to Canada in 76 days, its remarkable journey including 1,512 km on sea ice.
These few examples demonstrate the impact of global warming on diverse forms of life — from coral reefs and lemmings to the right whale. We learn that changes in plankton and tiny crustaceans can starve a giant whale and diminishing ice cover can cause polar bears to lose their primary food source, and we begin to register the intimate interconnectedness in the web of life. Human well-being too is tied to this chain of life. If fish decline, so does a food source for humans and the water birds that feed on fish, and as insect pollinators decline, so do our crops and the plants around us. A study suggests that 40% of insect species are in decline. And the U.S. and Canada have lost three billion birds since 1970. In this anthropocene age, humans are not rapacious owners but stewards of our planet, holding it in trust for succeeding generations. It is what the young led by Greta Thunberg are forcefully making clear to their elders.
Author's note: This piece first appeared in CommonDreams.org.