Reasons for US fear of Idlib operation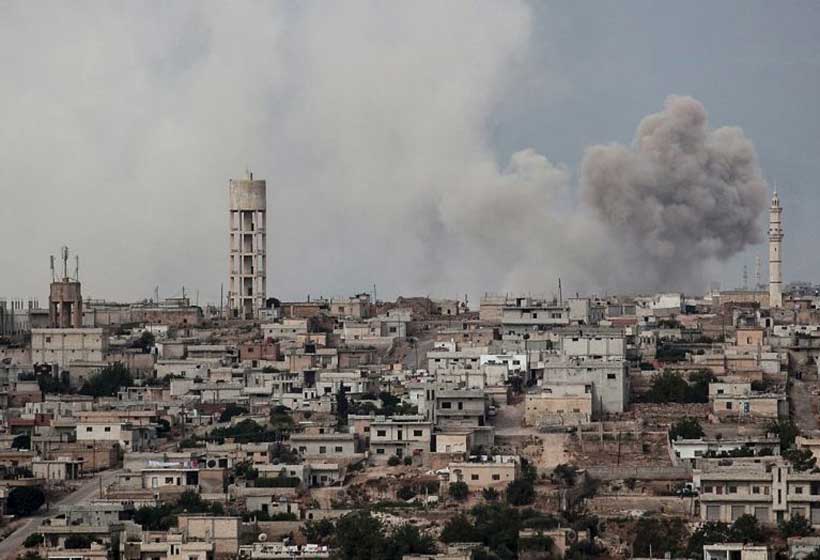 Developments in Idlib are accelerating and Damascus and its allies are ready to attack the terrorists. The Syrian army has deployed its forces and equipment around Idlib during recent weeks.
Meanwhile, three Western countries, the US, France and Britain have threatened to launch a military strike against Syria, and plan to use a potential false flag chemical attack as a pretext to launch an offensive against Syria.
Meanwhile, some analysts believe that if Hay'at Tahrir al-Sham has been dissolved, that there is no need for military operations in Idlib. It has been argued that Turkey may be involved in convincing Tahrir al-Sham (called also Jabhat al-Nusra) to merge with other armed groups.
"We would probably dissolve Tahrir al-Sham because it faces the pressure of Russia and even Turkey. If the Russians and the Syrian government attack Idlib, the door to Hell will open in the region because of all the Syrian dissident terrorists gathered in Idlib and its suburbs," said one of Syrian. But Hayat Tahrir al-Sham spokesperson Emad Eddin Mujahid, denied any intention to dissolve Tahrir al-Sham.
At joint news conference, Syrian Foreign Minister Walid al-Moualem met his Russian counterpart Sergei Lavrov in Moscow on August 30, and said, "We will go all the way" in Idlib. Lavrov also warned the western powers against military action in Syria.
Abdel Bari Atwan, an analyst of the Arab world, wrote, "The sudden emergence of Staffan de Mistura, the UN Special Envoy for Syria, and his position regarding the complex crisis in Idlib suggests a repetition of the eastern Aleppo scenario, with the difference that there will be no other Idlib situation afterwards. Two years ago, at a news conference in Geneva, he made a similar offer to terrorist groups in Aleppo. He announced his readiness to go to Idlib to help provide safe passage out for civilians.
The danger, said de Mistura, is that al-Nusra terrorists number 10,000 or more fighters, and that they deserve to be destroyed. Two points can be drawn from the words of the UN Representative for the Syrian affairs: first, the description of the Tahrir al-Sham (Jabhat al-Nusra) group as a terrorist group, which can be considered a green light to break them up and exclude them from any settlement plans.
Second is the position of de Mistura about chemical weapons. He sees the use of chemical weapons as a dangerous ploy to justify a US, UK and French attack as insane.
On June 23, 2014 all of Syria's chemical weapons had been destroyed. However, the official announcement by the Organization for the Prohibition of Chemical Weapons on the extensive cooperation of the Damascus government with the organization has not prevented continued western allegations. The US has deployed its navy in the Mediterranean to attack Syria with Tomahawk missiles while Russia has also deployed its warships in front of the US warships.
The terrorists have said that there will be no dialogue with the Russians and the Syrian government to give up Idlib and its suburbs.
The US is worried that the Syrian army will eliminate all the weapons that it and its regional allies can use to exert pressure on Damascus, especially since the battle of Idlib is the last stage of the liberation of Syria's entire geography. With the liberation of Idlib, the Syrian government will return to pre-crisis conditions, and those who launched the war over Syria for seven years will be defeated and Damascus will be victorious.
Russian analyst Andrei Ontikov spoke with Sputnik about Russia's reaction to a possible strike and said, "Russia has equipped the Syrian army with advanced missiles. In addition, Russian experts are among the Syrians. In particular, most of the US missiles were destroyed in the previous attacks."
The former commander of the Baltic Fleet Adm. Vladimir Valuev has announced in speaking with Sputnik, "Russian forces in the Mediterranean aim to counter a possible missile strike against Syrian government forces. The massive presence of the Russian Navy is a necessary step in preventing an attack on Syria."
It is certain in any event that the battle for the liberation of Idlib by the Syrian army and its allies will begin soon.
First published in our partner MNA
The Mediterranean: Will Turkey be successful in pulling Egypt to its side?
The Mediterranean acts as a channel connecting Europe, the Middle East and Asia. The region has, however, become a bone of contention due to varying political setups, religions and cultural values, economic resources, and the existence of crisis situations. The maritime dispute between Turkey and Greece is highly contentious, developing new complexities that worries the international community. Greece prefersinternational arbitrationwhile Turkey favors the option of bilateral negotiationsconstituting asthe main cause of friction between the two countries.
Historically, root of the crisis also lies in conflicting claims by Turkey and Greece concerning maritime boundaries and Exclusive Economic Zones (EEZ), threatening Ankara's "Blue Homeland"doctrine. To further aggravate the situation, the dispute has now been intertwined withdisputes in the eastern Mediterranean among Turkey and a coalition of countries including France, Egypt and the United Arab Emirates that are doused in geopolitical tensions, energy disputes and Libyan conflict.
Gas discoveries in eastern Mediterranean have increased Turkey's greed for hydrocarbon exploration. Turkey aims to solve its longstanding economic challenges and reduce its energy dependency due to which the country has increased its energy-related exploration activities in the region resulting in a major gas discovery thus shaping the region towards resource competition. Moreover, Turkey seeks to establish itself as an energy hub for Europe and has signed several oil and gas pipeline deals with Azerbaijan, Iraq, Iran, and Russia. However, its aspirations have significantly remained unsuccessful, and the gas discoveries have deepened its concerns of being left out from the region's emerging energy and security order due to the creation of the Eastern Mediterranean Gas Forum (EMGF).
Conflict in the Mediterranean has unwittingly pushed Libya into a proxy war. Scuffle between Libyan National Army (LNA) and Government of National Accord (GNA) has pushed Turkey to increase its support for GNA by sending troops and weapons to Libya which is a move directly affecting the ongoing situation in the region. GNA signing its EEZ agreement with Turkey while Greece turning to LNA and signing an agreement with Egypt have contributed to exacerbating the dispute. Not only this, but major European powers have shown keen interest in the region that patently require Turkey's support in terms of migration and counterterrorism. If the conflict between the Turkish-backed GNA and the LNA stabilizes, this would result in an ordered flow of migrants to Europe.
Moreover, Europeans do not wish to abandon a 2016 German-brokered deal between Turkey and the European Union (EU) that allows Turkey to maintain a considerable control over refugee movements into Europe. On counterterrorism, France to fight against the terrorism in southern Libya and Benghazi, allied with Haftar against Turkey, despite recognizing the GNA's sovereignty. France has developed security partnerships with UAE and Egypt, who are opponents of Turkey in the region.
Egypt's possession of two liquefication facilities, making the country act as both an exporter and re-exporter of LNG including a potential Cyprus-Egypt pipeline beneficial to Egypt in terms of economic stability, and help establish itself as a regional power. Cyprus-Egypt pipeline will allow Cyprus to export gas from the Aphrodite gas field to Egypt for liquefaction and Egypt would then reexport LNG to the European market. Turkey, however, argues that revenue generated from the process must be shared with the Turkish Republic of Northern Cyprus (TNRC). Turkey's continuation on the belligerent course will bring consequences for Egypt making its support for Greece more prominent. Turkey also stands with Mediterranean cooperation through initiatives like the Eastern Mediterranean Gas Forum that focuses on exploitation and regional energy resource sale.
Turkey is keen to become a regional gas trade hub thus looks forward to the initiative of a Trans-Anatolian Natural Gas Pipeline (TANAP) which transfers from Azerbaijan to Europe through Turkey. Reducing the region's reliance on Russian gas could certainly achieve the goals. Talks between Israel and Turkey of a pipeline from Israel to Europe were also initiated, however relations between Turkey and Israel have deteriorated following Erdogan blatantly supporting Palestine. This led Israel to work with Cyprus and Greece on the EastMed pipeline, stemming in devaluation of the Trans-Anatolian pipeline.
Most of the Middle Eastern countries have recalibratedtheir foreign policy following Joe Biden's presidential win in the United States. Similarly, both Turkey and Egypt have begun to revise their foreign policies as well. The two countries have initiated a series of new diplomatic dialogue including Turkey and Greece signing a maritime delimitation agreement in August 2020.Nonetheless Egypt did not accept Greece's thesis of having claims over islands in the south of Aegean Sea and it also announced a new oil and gas exploration bid with taking Turkey's coordinates of the continental shelf into consideration. Moreover, Egypt began to change its Libya policy and improve relations with GNA. Turkey has stated that it is willing to negotiate dialogue with Egypt and focus on common interests.
Understanding the new developments, it is suggested to continue to alleviate tensions as the two countries enjoy same moral values at cultural level, given their shared past and historical ties. That is only possible if the expansionist pan-Islamistproject stops with Erdogan and does not continue with future Turkish governments. Cairo and Ankara must move together on the issues concerning Palestine, Libyan conflict, and the eastern Mediterranean. Despite possible pressure from the Democrats in the Biden administration, Egypt seems reluctant to consider convergence on Islamic synthesisand integration of Muslim brotherhood. Complete normalization of relations between the two sides may take time therefore to establish trust in one another, all parties must take certain confidence-building steps.
Israel and Turkey in search of solutions
Twelve and eleven years have elapsed since the Davos and Mavi Marmara incidents, respectively, and Turkey-Israel relations are undergoing intense recovery efforts. They are two important Eastern neighbours and influence regional stability.
Currently, as in the past, relations between the two countries have a structure based on realpolitik, thus pursuing a relationship of balance/interest, and hinge around the Palestinian issue and Israel's position as the White House's privileged counterpart. However, let us now briefly summarise the history of Turkish-Jewish relations.
The first important event that comes to mind when mentioning Jews and Turks is that when over 200,000 Jews were expelled by the Spanish Inquisition in 1491, the Ottoman Empire invited them to settle in its territory.
Turkey was the first Muslim country to recognise Israel in 1949. Israel's first diplomatic Mission to Turkey was opened on January 7, 1950 but, following the Suez crisis in 1956, relations were reduced to the level of chargé d'affaires. In the second Arab-Israeli war of 1967, Turkey chose not to get involved and it did not allow relations to break off completely.
The 1990s saw a positive trend and development in terms of bilateral relations. After the second Gulf War in 1991 -which, as you may recall, followed the first Iraqi one of 1980-1988 in which the whole world was against Iran (with the only exception of the Democratic People's Republic of Korea, Syria, Libya and the moral support of Enver Hoxha's Albania) – Turkey was at the centre of security policy in the region. In that context, Turkey-Israel relations were seriously rekindled.
In 1993, Turkey upgraded diplomatic relations with Israel to ambassadorial level. The signing of the Oslo Accords between Palestine and Israel led to closer relations. The 1996 military cooperation agreement was signed between the two countries in the fight against the Kurdistan Workers' Party (PKK) in Turkey, which provided significant logistical and intelligence support to both sides.
In the 2000s, there was a further rapprochement with Israel, due to the "zero problems with neighbours" policy promoted by Erdoğan's Justice and Development Party. I still remember issue No. 3/1999 of the Italian review of geopolitics "Limes" entitled "Turkey-Israel, the New Alliance".
In 2002, an Israeli company undertook the project of modernising twelve M-60 tanks belonging to the Turkish armed forces. In 2004, Turkey agreed to sell water to Israel from the Manavgat River.
Prime Minister Erdoğan's visit to Israel in 2005 was a turning point in terms of mediation between Palestine and Israel and further advancement of bilateral relations. In 2007, Israeli President Shimon Peres and Palestinian President Mahmud Abbas spoke at the Turkish Grand National Assembly one day apart. High-level visits from Israel continued.
On December 22, 2008, Israeli Prime Minister Ehud Olmert came to Ankara and met with Prime Minister Recep Tayyip Erdoğan. In that meeting, significant progress was made regarding Turkey's mediation between Israel and Syria.
Apart from the aforementioned incidents, the deterioration of Turkish-Israeli relations occurred five days after the above stated meeting, i.e. Operation "Cast Lead" against Gaza on December 27, 2008. After that event, relations between the two sides were never the same as before.
Recently, however, statements of goodwill have been made by both countries to normalise political relations. In December 2020, President Erdoğan stated he wanted to improve relations with Israel and said: "It is not possible for us to accept Israel's attitude towards the Palestinian territories. This is the point in which we differ from Israel – otherwise, our heart desires to improve our relations with it as well".
In its relations with Israel, Turkey is posing the Palestinian issue as a condition. When we look at it from the opposite perspective, the Palestinian issue is a vital matter for Israel. It is therefore a severe obstacle to bilateral relations.
On the other hand, many regional issues such as Eastern Mediterranean, Syria and some security issues in the region require the cooperation of these two key countries. For this reason, it is clear that both sides wish at least to end the crisis, reduce rhetoric at leadership level and focus on cooperation and realpolitik areas.
In the coming months, efforts will certainly be made to strike a balance between these intentions and the conditions that make it necessary to restart bilateral relations with Israel on an equal footing. As improved relations with Israel will also positively influence Turkey's relations with the United States.
Turkey seeks to avoid the USA and the EU imposing sanctions that could go so far as to increase anti-Western neo-Ottoman rhetoric, while improved relations with Israel could offer a positive outcome not only to avoid the aforementioned damage, but also to solve the Turkish issues related to Eastern Mediterranean, territorial waters, Libya and Syria. Turkey has no intention of backing down on such issues that it deems vital. Quite the reverse. It would like to convey positive messages at the level of talks and Summits.
Another important matter of friction between Turkey and Israel is the use of oil and gas in the Eastern Mediterranean reserves between Egypt, Israel, Greece and Cyprus (Nicosia).
This approach is excluding Turkey. The USA and the EU also strongly support the current situation (which we addressed in a previous article) for the additional reason that France has been included in the equation.
The alignment of forces and fronts in these maritime areas were also widely seen during the civil war in Libya, where Turkey, Egypt, the United Arab Emirates, France, as well as other players such as Russia, Italy, etc. came into the picture.
Ultimately, a point of contact between Turkey and Israel is the mediation role that the former could play in relations between Iran and Israel, especially after the improvement of Turkish-Iranian relations.
Indeed, in the aftermath of the U.S. airstrike in Baghdad – which killed Iranian General Qassem Soleimani on January 3, 2020 -the Turkish Foreign Minister stated that the U.S. action would increase insecurity and instability in the region. He also reported that Turkey was worried about rising tensions between the United States and Iran that could turn Iraq back into an area of conflict to the detriment of peace and stability in the region. There was also a condolence phone call from President Erdoğan to Iranian President Rouhani, urging him to avoid a conflictual escalation with the United States following the airstrike.
Consequently, it is in the Turkish President's interest to maintain an open channel with Iran, so that he himself can soften the mutual tensions between Israel and Iran, and – in turn – Israeli diplomacy can influence President Biden's choices, albeit less pro-Israel than Donald Trump's.
Turkey is known to have many relationship problems with the United States – especially after the attempted coup of July 15-16, 2016 and including the aforementioned oil issue – and realises that only Israel can resolve the situation smoothly.
In fact, Israel-USA relations are not at their best as they were under President Trump. President Erdoğan seems to be unaware of this fact, but indeed the Turkish President knows that the only voice the White House can hear is Israel's, and certainly not the voice of the Gulf monarchies, currently at odds with Turkey.
Israel keeps a low profile on the statements made by President Erdoğan with regard to the Palestinians- since it believes them to be consequential – as well as in relation to a series of clearly anti-Zionist attitudes of the Turkish people.
We are certain, however, that President Erdoğan's declarations of openness and Israeli acquiescence will surely yield concrete results.
The 25-year China-Iran agreement
On March 27, 2021, a document entitled "Comprehensive Document of Iran-China Cooperation" was signed by Javad Zarif, Iran's Foreign Minister, and his Chinese counterpart. The Iranian regime's Supreme Leader Ali Khamenei had previously called "the agreement between the presidents of Iran and China correct and wise." However, the Iranian people have widely criticized it as entirely against their national interests. Iranian officials have not even publicized the document's contents yet probably because it is highly contentious.
In 2019, excerpts from this document were revealed by the Economist Petroleum news site. The details included:
China invests $460 billion in Iranian oil and transportation sectors. China will get its investment back from the sale of Iranian crude during the first five years.
China buys Iranian petroleum products at least 32% cheaper.
The Chinese can decide before other companies whether to participate in completing all or part of a petrochemical project.
50,000 Chinese security personnel will be deployed to protect Chinese projects in Iran.
China has the right to delay the repayment of its debts for up to two years in exchange for Iranian products' purchase.
At least one Russian company will be allowed to participate in the Tabriz-Ankara gas pipeline design together with the Chinese operator.
Every year, 110 senior Revolutionary Guards officers travel to China and Russia for military training. 110 Chinese and Russian advisers will be stationed in Iran to train Revolutionary Guards officers.
Development of Iranian military equipment and facilities will be outsourced to China, and Chinese and Russian military aircraft and ships will operate the developed facilities.
Even some circles within the regime have criticized the agreement. The state-run Arman newspaper wrote, "China has a 25-year contract with Iran and is investing $460 billion in Iran. It is somewhat ambiguous. Presently, China is holding the money it owes us and blames it on the U.S. sanctions. How can we trust this country to invest $460 billion in Iran?"
Last year, Iran and China had the lowest trade in the previous 16 years, and according to statistics, by the end of 2020, the volume of trade between Iran and China was about $16 billion, which, including undocumented oil sales, still does not reach $20 billion.
Jalal Mirzaei, a former member of Iran's parliament, said: "If in the future the tensions between Tehran and Washington are moderated, and we see the lifting of some of the sanctions, China can also provide the basis for implementing the provisions of this document, but if the situation continues like today, Beijing will not make any effort to implement the document, as it is essentially unable to take concrete action on the ground because of the sanctions."
China's objectives
Iran is vital to China in two ways, through its geopolitical location and its geo-economic importance. China knows that it does not have enough natural resources and is currently having a hard time supplying them from Russia and Saudi Arabia. Saudi Arabia supplies its energy needs from oil giant Aramco, half of which is owned by the United States. That is why China is looking for a safe alternative that the United States will not influence, and the only option is Iran. They may also have a two-pronged plan in Iran, which involves using Iran's profitable market and making Iran into a lever of pressure against the United States for additional concessions.
The Iranian regime's objectives
The deal could deepen China's influence in the Middle East and undermine U.S. efforts to isolate the Iranian regime. While the international dispute over the Iranian regime's nuclear program has not been resolved, it is unclear how much this agreement could be implemented. The regime intends to make it a bargaining chip in possible future nuclear negotiations. However, some of Iran's top authorities believe that China and Russia cannot be trusted 100 percent.
Due to the sanctions, the regime has a tough time to continue providing financial support to its proxy militias in the region. The regime also faced two major domestic uprisings in 2017 and 2019. Khamenei's regime survived the widespread uprisings by committing a massacre, killing 1,500 young protesters in the 2019 uprising alone, according to the Iranian opposition, the National Council of Resistance of Iran (NCRI) and later confirmed by the Iranian regime's Interior Ministry officials. Now with the coronavirus pandemic, Khamenei has been able to delay another major uprising.
Iran's economy is on the verge of collapse. Khamenei must bow to western countries' demands regarding the nuclear issue, including an end to its regional interventions and its ballistic missile program. Khamenei will struggle to save his regime from s imminent uprisings and a deteriorating economy that will undoubtedly facilitate more protests by the army of the unemployed and the hungry at any moment.
Unlike the 2015 JCPOA, the Iranian regime in 2021 is in a much weaker position. In fact, by many accounts, it is the weakest in its 40-year history. By signing the recent Iran-China agreement and auctioning Iranian resources, Khamenei wants to pressure the United States to surrender and restore the 2015 JCPOA as quickly as possible. But in the end, this pivot will not counteract domestic pressures that target the regime's very existence.