Reasons for US fear of Idlib operation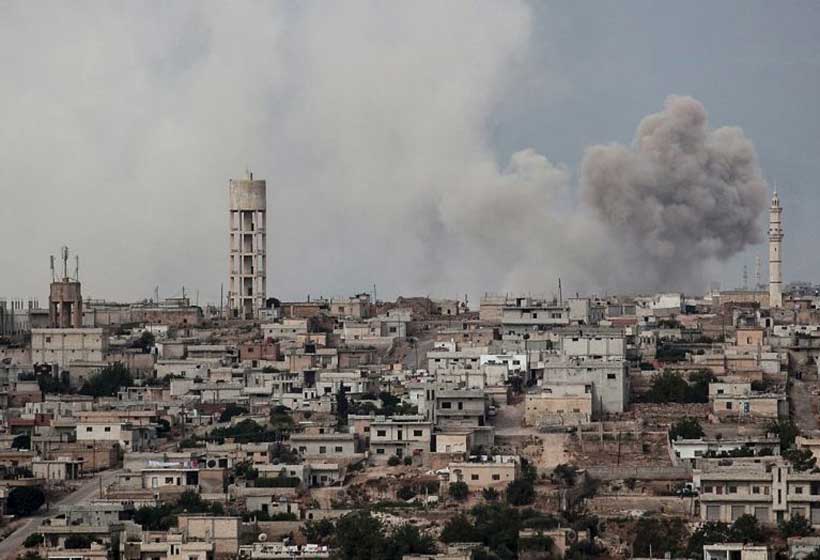 Developments in Idlib are accelerating and Damascus and its allies are ready to attack the terrorists. The Syrian army has deployed its forces and equipment around Idlib during recent weeks.
Meanwhile, three Western countries, the US, France and Britain have threatened to launch a military strike against Syria, and plan to use a potential false flag chemical attack as a pretext to launch an offensive against Syria.
Meanwhile, some analysts believe that if Hay'at Tahrir al-Sham has been dissolved, that there is no need for military operations in Idlib. It has been argued that Turkey may be involved in convincing Tahrir al-Sham (called also Jabhat al-Nusra) to merge with other armed groups.
"We would probably dissolve Tahrir al-Sham because it faces the pressure of Russia and even Turkey. If the Russians and the Syrian government attack Idlib, the door to Hell will open in the region because of all the Syrian dissident terrorists gathered in Idlib and its suburbs," said one of Syrian. But Hayat Tahrir al-Sham spokesperson Emad Eddin Mujahid, denied any intention to dissolve Tahrir al-Sham.
At joint news conference, Syrian Foreign Minister Walid al-Moualem met his Russian counterpart Sergei Lavrov in Moscow on August 30, and said, "We will go all the way" in Idlib. Lavrov also warned the western powers against military action in Syria.
Abdel Bari Atwan, an analyst of the Arab world, wrote, "The sudden emergence of Staffan de Mistura, the UN Special Envoy for Syria, and his position regarding the complex crisis in Idlib suggests a repetition of the eastern Aleppo scenario, with the difference that there will be no other Idlib situation afterwards. Two years ago, at a news conference in Geneva, he made a similar offer to terrorist groups in Aleppo. He announced his readiness to go to Idlib to help provide safe passage out for civilians.
The danger, said de Mistura, is that al-Nusra terrorists number 10,000 or more fighters, and that they deserve to be destroyed. Two points can be drawn from the words of the UN Representative for the Syrian affairs: first, the description of the Tahrir al-Sham (Jabhat al-Nusra) group as a terrorist group, which can be considered a green light to break them up and exclude them from any settlement plans.
Second is the position of de Mistura about chemical weapons. He sees the use of chemical weapons as a dangerous ploy to justify a US, UK and French attack as insane.
On June 23, 2014 all of Syria's chemical weapons had been destroyed. However, the official announcement by the Organization for the Prohibition of Chemical Weapons on the extensive cooperation of the Damascus government with the organization has not prevented continued western allegations. The US has deployed its navy in the Mediterranean to attack Syria with Tomahawk missiles while Russia has also deployed its warships in front of the US warships.
The terrorists have said that there will be no dialogue with the Russians and the Syrian government to give up Idlib and its suburbs.
The US is worried that the Syrian army will eliminate all the weapons that it and its regional allies can use to exert pressure on Damascus, especially since the battle of Idlib is the last stage of the liberation of Syria's entire geography. With the liberation of Idlib, the Syrian government will return to pre-crisis conditions, and those who launched the war over Syria for seven years will be defeated and Damascus will be victorious.
Russian analyst Andrei Ontikov spoke with Sputnik about Russia's reaction to a possible strike and said, "Russia has equipped the Syrian army with advanced missiles. In addition, Russian experts are among the Syrians. In particular, most of the US missiles were destroyed in the previous attacks."
The former commander of the Baltic Fleet Adm. Vladimir Valuev has announced in speaking with Sputnik, "Russian forces in the Mediterranean aim to counter a possible missile strike against Syrian government forces. The massive presence of the Russian Navy is a necessary step in preventing an attack on Syria."
It is certain in any event that the battle for the liberation of Idlib by the Syrian army and its allies will begin soon.
First published in our partner MNA
China-US and the Iran nuclear deal
Iranian Foreign Minister Hossein Amir Abdollahian met with Chinese Foreign Minister, Wang Yi on Friday, January 14, 2022 in the city of Wuxi, in China's Jiangsu province. Both of them discussed a gamut of issues pertaining to the Iran-China relationship, as well as the security situation in the Middle East.
A summary of the meeting published by the Chinese Foreign Ministry underscored the point, that Foreign Ministers of Iran and China agreed on the need for strengthening bilateral cooperation in a number of areas under the umbrella of the 25 year Agreement known as 'Comprehensive Cooperation between the Islamic Republic of Iran and the People's Republic of China'. This agreement had been signed between both countries in March 2021 during the Presidency of Hassan Rouhani, but the Iranian Foreign Minister announced the launch of the agreement on January 14, 2022.
During the meeting between Wang Yi and Hossein Amir Abdollahian there was a realization of the fact, that cooperation between both countries needed to be enhanced not only in areas like energy and infrastructure (the focus of the 25 year comprehensive cooperation was on infrastructure and energy), but also in other spheres like education, people to people contacts, medicine and agriculture. Iran also praised the Belt and Road Initiative (BRI) and said that it firmly supported the One China policy.
The timing of this visit is interesting, Iran is in talks with other signatories (including China) to the JCPOA/Iran nuclear deal 2015 for the revival of the 2015 agreement. While Iran has asked for removal of economic sanctions which were imposed by the US after it withdrew from the JCPOA in 2018, the US has said that time is running out, and it is important for Iran to return to full compliance to the 2015 agreement. US Secretary of State Antony Blinken in an interview said:
'Iran is getting closer and closer to the point where they could produce on very, very short order enough fissile material for a nuclear weapon'
The US Secretary of State also indicated, that if the negotiations were not successful, then US would explore other options along with other allies.
During the course of the meeting on January 14, 2022 Wang Yi is supposed to have told his Chinese counterpart, that while China supported negotiations for the revival of the Iran nuclear deal 2015, the onus for revival was on the US since it had withdrawn in 2018.
The visit of the Iranian Foreign Minister to China was also significant, because Foreign Ministers of four Gulf Cooperation Council (GCC) countries – Saudi Arabia, Kuwait, Oman and Bahrain — and Secretary General of GCC, Nayef Falah Mubarak Al-Hajraf were in China from January 10-14, 2022 with the aim of expanding bilateral ties – especially with regard to energy cooperation and trade. According to many analysts, the visit of GCC officials to China was driven not just by economic factors, but also the growing proximity between Iran and Beijing.
In conclusion, China is important for Iran from an economic perspective. Iran has repeatedly stated, that if US does not remove the economic sanctions it had imposed in 2018, it will focus on strengthening economic links with China (significantly, China has been purchasing oil from Iran over the past three years in spite of the sanctions imposed by the US. The Ebrahim Raisi administration has repeatedly referred to an 'Asia centric' policy which prioritises ties with China.
Beijing is seeking to enhance its clout in the Middle East as US ties with certain members of the GCC, especially UAE and Saudi Arabia have witnessed a clear downward spiral in recent months (US has been uncomfortable with the use of China's 5G technology by UAE and the growing security linkages between Beijing and Saudi Arabia). One of the major economic reasons for the GCC gravitating towards China is Washington's thrust on reducing its dependence upon GCC for fulfilling its oil needs. Beijing can utilize its good ties with Iran and GCC and play a role in improving links between both.
The geopolitical landscape of the Middle East is likely to become more complex, and while there is not an iota of doubt, that the US influence in the Middle East is likely to remain intact, China is fast catching up.
Egypt vis-à-vis the UAE: Who is Driving Whom?
"Being a big fish in a small pond is better than being a little fish in a large pond" is a maxim that aptly summarizes Egyptian regional foreign policy over the past few decades. However, the blow dealt to the Egyptian State in the course of the 2011 uprising continues to distort its domestic and regional politics and it has also prompted the United Arab Emirates to become heavily engaged in Middle East politics, resulting in the waning of Egypt's dominant role in the region!
The United Arab Emirates is truly an aspirational, entrepreneurial nation! In fact, the word "entrepreneurship" could have been invented to define the flourishing city of Dubai. The UAE has often declared that as a small nation, it needs to establish alliances to pursue its regional political agenda while Egypt is universally recognized for its regional leadership, has one of the best regional military forces, and has always charmed the Arab world with its soft power. Nonetheless, collaboration between the two nations would not necessarily give rise to an entrepreneurial supremacy force!
Egypt and the UAE share a common enemy: political Islamists. Yet each nation has its own distinct dynamic and the size of the political Islamist element in each of the two countries is different. The UAE is a politically stable nation and an economic pioneer with a small population – a combination of factors that naturally immunize the nation against the spread of political Islamists across the region. In contrast, Egypt's economic difficulties, overpopulation, intensifying political repression, along with its high illiteracy rate, constitute an accumulation of elements that serves to intensify the magnitude of the secreted, deep-rooted, Egyptian political Islamists.
The alliance formed between the two nations following the inauguration of Egypt's President Al Sisi was based on UAE money and Egyptian power. It supported and helped expand the domestic political power of a number of unsubstantiated Arab politicians, such as Libya's General Khalifa Haftar, Tunisia's President Kais Saied and the Chairman of Sudan's Transitional Sovereignty Council, Lieutenant-General Abdel-Fattah Al-Burhan. The common denominator among these politicians is that they are all fundamentally opposed to political Islamists.
Although distancing political Islamists from ruling their nations may constitute a temporary success, it certainly is not enough to strengthen the power of the alliance's affiliates. The absence of true democracy, intensified repression by Arab rulers and the natural evolution of Arab citizens towards freedom will, for better or for worse, lead to the re-emergence of political Islamists. Meanwhile, Emirati wealth will always attract Arab hustlers ready to offer illusory political promises to cash in the money.
The UAE has generously injected substantial amounts of money into the Egyptian economy and consequently the Egyptian State has exclusively privileged Emirati enterprises with numerous business opportunities, yet the UAE has not helped Egypt with the most critical regional threat it is confronting: the Grand Ethiopian Renaissance Dam. Meanwhile, Egyptian President Abdel Fatah El Sisi's exaggerated fascination with UAE modernization has prompted him to duplicate many Emirati projects – building the tallest tower in Africa is one example.
The UAE's regional foreign policy that hinges upon exploiting its wealth to confront the political Islamist threat is neither comprehensible nor viable. The Emirates, in essence, doesn't have the capacity to be a regional political player, even given the overriding of Egypt's waning power. Meanwhile, Al Sisi has been working to depoliticize Egypt completely, perceiving Egypt as an encumbrance rather than a resource-rich nation – a policy that has resulted in narrowing Egypt's economic and political aspirations, limiting them to the constant seeking of financial aid from wealthy neighbors.
The regional mediating role that Egypt used to play prior to the Arab uprising has been taken over by European nations such France, Germany and Italy, in addition of course to the essential and ongoing role of the United States. Profound bureaucracy and rampant corruption will always keep Egypt from becoming a second UAE! Irrespective of which nation is in the driver's seat, this partnership has proven to be unsuccessful. Egypt is definitely better off withdrawing from the alliance, even at the expense of forgoing Emirati financial support.
Kurdish Education in Turkey: A Joint Responsibility
Turkish elites often see Kurds as posing a mortal threat to their homeland's territorial integrity. Kurdish elites often harbor pan-Kurdish dreams of their own.
Modern Turkish nationalism based its identity on statist secularism practiced by Muslims who are Turks. The secularist paradigm of a "Turkish Nation" struggled hard with accommodating Christians (Armenians, Greeks, Assyrians) and Kurdish-speaking Muslims. Kurdish coreligionists were expected to become Turks, i.e., to abandon their cultural heritage for the "greater good" of a homogenous Turkish nation.
This cultural-identity conundrum led to a century-long violent conflict, but also to genuine efforts by many Kurds and Turks to reach a common vision that would accommodate both Turkey's territorial integrity and Kurdish cultural rights.
The rise to power of Erdogan's Islamist Justice and Development Party (AKP) in 2002 appeared to imply a watershed, bringing about a measure of cultural liberalization toward the Kurds. More Islam seemed at first to signal less nationalistic chauvinism.
IMPACT-se, a think tank focusing on peace and tolerance in school education, pointed out in "Two Languages One Country," a 2019 report that showed liberal elements being introduced in the Turkish curriculum by the AKP government. These "included the introduction of a Kurdish language elective program, the teaching of evolution, expressions of cultural openness, and displays of tolerance toward minorities."
And while no open debate was permitted, IMPACT-se noted "a slight improvement over past textbooks in recognizing the Kurds, although they are still generally ignored." Yet, the name "Kurd" is no longer obliterated from the curriculum. Kurdish-language textbooks were authored as part of a wider Turkish-Kurdish rapprochement.
In June 2012, the Turkish government announced for the first time, that a Kurdish elective language course entitled: "Living Languages and Dialects" (Yaşayan Diller ve Lehçeler), would be offered as an elective language for Grades 5–7 for two hours per week.
IMPACT-se studied these textbooks (published in 2014 and 2015 in Kurmanji and Zazaki) in its report and found that the elective Kurdish-language program strengthens Kurdish culture and identity, while assuming a pan-Kurdish worldview devoid of hate against Turks. Included are Kurdish-historic places in Turkey, Iran and Iraq (but not Syria). The textbooks cover issues such as the Kurdish diaspora in Europe, the Kurdish national holiday of Newroz, with the underlying revolutionary message of uprising against tyranny. Children's names are exclusively Kurdish. Turks and Turkey are not represented in the elective Kurdish books (but are obviously present across the rest of the curriculum).
The latter is a surprising and counter-intuitive finding. Textbooks published by Turkey's Ministry of Education focus solely on the Kurdish side, with pan-Kurdish messaging, and no Turkish context. There could be several explanations for this, but the fact remains that Turkish-Kurdish relations are still not present in Turkey's Kurdish language program.
The overall conclusion of IMPACT-se has been that this program is pioneering and generally excellent. There are some problems, however. One problem is that the elective program is minimalistic and does not meet Kurdish cultural needs. However, the program ignores the Turkish-Kurdish dilemma, hence projecting an inverted mirror image of the Turkish curriculum at large, which ignores the Kurdish question. There is no peace education in either curriculum. Therefore, IMPACT-se recommended enhancing the Kurdish-language program, while adding a healthy dose of pertinent peace education to the curriculum's Turkish and Kurdish textbooks.
Sadly, the last few years have also seen broader moves by the Turkish government to quash Kurdish cultural and educational freedoms. The armed conflict between separatist groups and the Turkish military resumed in 2015, followed by the 2016 detention of high-ranking officials of the peaceful pro-minority People's Democratic Party (HDP). By 2020, 59 out of 65 elected Kurdish mayors on the HDP ticket in previous years had been forced out or arrested by security forces.
Simultaneously, elective programs such as Kurdish have been neglected and largely replaced by religious "elective" courses, which are often mandatory. Specifically, elective Kurdish courses are being clamped down or de facto erased in certain schools (despite being originally offered in 28 cities and with an expected enrollment as high as 160,000).
And then there is the question of full education in Kurdish. Article 42 of the Turkish Constitution bans the "teaching of any language other than Turkish as a mother tongue to Turkish citizens at any institution of education." And yet, Turkish authorities looked the other way between 2013 and 2016, as five fully Kurdish elementary private schools were opened in the southeastern provinces of Diyarbakır, Şırnak and Hakkari. The last of these schools, Ferzad Kemanger in Diyarbakır, was closed on October 9, 2016. Apparently these schools conveyed pan-Kurdish messaging (Ferzad Kemanger was an Iranian-Kurdish elementary school teacher. He was wrongly accused of being a terrorist and executed by Tehran in 2010).
There can be no Kurdish heritage without Kurdish languages, making the current situation untenable. Kurdish education should become a priority again.
But this is not enough. A common Turkish-Kurdish vision should be developed. Educationally, a serious effort should be directed toward educating both Turks and Kurds about the other's identity, culture, shared history, commonalties, conflicts and interactions.
Two ethnicities sharing one homeland in a volatile region pose a great challenge for both. A careful educational plan can lay the groundwork for peace and prosperity. Kurdish education in Turkey should be considered a joint responsibility leading to a common vision.
The views and opinions expressed in this article are those of the author and do not necessarily reflect an official position of IMPACT-se.