Improving Media Reporting on Terrorism and Violent Extremism
UNESCO's Assistant Director-General for Communication and Information, Mr Moez Chakchouk, will participate in the OSCE Media and Terrorism conference organized on 1 and 2 September 2018 in Bosnia and Herzegovina (BiH).
As part of UNESCO and the OSCE's ongoing efforts in this area, the event will gather local and international journalists and media professionals to discuss the latest trends, issues and professional standards on reporting about terrorism and violent extremism online, in print and electronic media. The main goal of the conference is to develop the capacity of journalists to prevent the unintentional fostering of hate and division in the aftermath of a terrorist attack.
The Bosnian version of the UNESCO publication "Terrorism and the Media: a Handbook for Journalists" will also be launched. The handbook, prepared by international expert Jean-Paul Marthoz, aims to raise journalists' awareness of the need to exercise caution and examine carefully who they quote, what messages they relay and how they contextualize their information, despite the pressures to win readers, viewers and listeners.
With several examples taken from recent events, the handbook also addresses issues relating to the way journalists report on the victims of terror, handle rumors, report on the authorities' investigations, conduct interviews with terrorists and report on their trials. The publication is already available in English and French. Spanish and Arabic will be on-line soon.
The Assistant Director-General's visit to Bosnia and Herzegovina is an opportunity to reinforce UNESCO's strategic partnership with the OSCE. It will also strengthen the fruitful relationship with partners in Bosnia and Herzegovina, notably in the context of the joint UNESCO and European Commission project Building Trust in Media in South East Europe and Turkey, aimed at reinforcing media accountability mechanisms and enabling citizen's media and information literacy.
With 1.3 million annual road deaths, UN wants to halve number by 2030
Road accidents are still responsible for 1.3 million annual deaths and 50 million injuries all over the world, but the United Nations has a Global Plan to halve road deaths and injuries by 2030.
The plan is a key part of the Decade of Action for Road Safety 2021-2030 and was discussed, on Friday, at an event supporting the High-Level Meeting on Global Road Safety at the General Assembly in New York.
Opening the discussion, the President of General Assembly, Abdulla Shahid, said that the world needs to address this "unnecessary and tragic burden on families, communities and economies."
"Road accidents are entirely preventable, and our priority must be exactly that, to implement preventive measures", he continued.
Necessary action
Mr. Shahid highlighted the importance of the Global Plan, but warned that "unless it is implemented, it is nothing more than a plan of action."
Looking ahead, he said implementation by national and local governments will require two main elements: financing and the engagement of relevant actors.
With a notable funding gap in most countries, 90% of road deaths happen in low and middle-income countries.
For Mr. Shahid, this means that achieving the targets will require increased support to these countries.
Road traffic crashes are also the leading killer of children and young people worldwide, aged five to 29.
As things stand, they are set to cause a further estimated 13 million deaths and 500 million injuries during the next decade.
Personal stories
During Friday's event, Member States heard from families who lost loved ones, politicians that led the way, grassroot youth working on advocacy programs, and both government and non-governmental organizations.
For the President of the General Assembly, "each is a story that will foster greater understanding and knowledge on how we can better engage on global road safety."
Mr. Shahid invited Member States, civil societies, and the international community to use these exchanges "as an opportunity to build collective commitments and strengthened partnerships".
"Global road safety is a shared responsibility that must be prioritized and integrated", he argued.
For him, achieving safety would contribute to the achievement of Sustainable Development Goals under education, health, and the environment, among others.
The High‑Level Meeting on the topic will be held in July next year, under the theme "The 2030 horizon for road safety: securing a decade of action and delivery".
Strong Producer Organizations Key to a Vibrant Farming Sector
Scaling up agricultural production among small farmers through clustering and organizing them into cooperatives and various types of producers' organizations, and forging partnerships with agribusiness firms can help raise their incomes and subsequently spur the socio-economic transformation of the Philippine countryside.
A report titled "Realizing Scale in Smallholder-Based Agriculture: Policy Options for the Philippines" – launched jointly by the World Bank and the Department of Agriculture (DA) – said that there are rich lessons in the country and abroad for these clustering and consolidation of activities on-farm and along the value chain to succeed and transform the agricultural sector.
One notable example of this approach, the report said, is the Philippine Rural Development Project (PRDP), which is currently implemented by the DA. The PRDP clusters or organizes producers into enterprises that take a business-oriented approach to farming and fishing, supported through complementary investments in infrastructure such as farm-to-market roads, irrigation, post-harvest facilities, and cold storage.
"To succeed, efforts at clustering and consolidation needs to be voluntary, built on trust and confidence, and collaborative relationships among stakeholders—whether they are farmers, communities, municipalities, other local government units, or small and larger agribusiness enterprises," said Ndiame Diop, World Bank Country Director Brunei, Malaysia, Thailand, and the Philippines.
"Where different approaches to clustering land management are not feasible, support for the mechanization of farming and post-harvest operations may be an alternative or complementary strategy for smallholder-based systems to increase farmer productivity and incomes, both on and off the farm," Diop said.
Philippine agriculture is dominated by small farmers and fishers who operate independently, mostly using traditional production practices and earning low incomes. A typical farmer earns an average of P100,000 pesos each year, well below the poverty line (based on 2015 PSA figures).
Average farm size declined from three hectares (ha) per family per holding in the 1980s to only 0.9 ha per family per holding in 2012. These increasingly smaller farms are often split into more fragmented blocks. The country has some 5.56 million farms, totaling 7.2 million hectares, of which more than half (57 percent) are one ha or less, 32 percent are one to three ha, 9 percent are three to seven ha, and only two percent are seven ha or larger.
Agriculture Secretary William Dar has highlighted that using modern technology, schemes like block farming, trust farming, and contract farming can make farming more efficient and profitable for farmers and their partners in agribusiness ventures. With higher and better-quality production, linking agriculture to the domestic and global manufacturing sectors and accessing markets become easier, he said.
"Finding opportunities for clustering and consolidation of small and medium-sized farms as well as partnerships with agribusiness enterprises – to bring about economies of scale (and lower per-unit cost of production), particularly for crops that require mechanization and extensive use of technology – is part of the 'new thinking' of the Department of Agriculture," said Secretary Dar.
"We want to collectively empower farmers, fisherfolk, and the private sector to increase agricultural productivity and profitability, taking into account sustainability and resilience," the DA chief added.
Global experience shows that forcing collaboration among farmers and agribusiness enterprises through decree or subsidies (top-down approach) usually does not work but those that emerge from farmers' bottoms up collective initiatives yield good results.
The report says that the country can explore various arrangements based on global experiences, including:
Realizing scale in primary production. In the Philippines, perhaps the most promising areas to pursue clustering can be among selected irrigation schemes where water user associations are already well established; and within Agrarian Reform Communities supported by the Department of Agrarian Reform.
Supporting market-oriented producer organizations. Encouraging the growth of cooperatives and producer organizations. In the East Asia region, Japan, South Korea, and Taiwan have had especially rich experiences promoting farmer groups or cooperatives.
Fostering contract farming, productive alliances, or other linkages between farmers groups and agricultural enterprises. These are well understood in the Philippines and can be scaled up.
Elsewhere in the region, contract farming has become increasingly common in some value chains, including value chains for specialized rice varieties or rice production systems.
Renewable electricity growth is accelerating faster than ever worldwide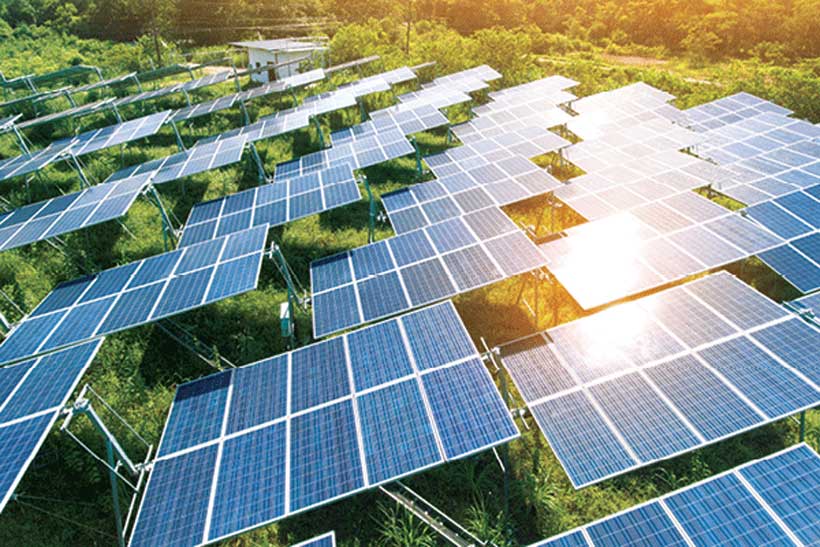 The growth of the world's capacity to generate electricity from solar panels, wind turbines and other renewable technologies is on course to accelerate over the coming years, with 2021 expected to set a fresh all-time record for new installations, the IEA says in a new report.
Despite rising costs for key materials used to make solar panels and wind turbines, additions of new renewable power capacity this year are forecast to rise to 290 gigawatts (GW) in 2021, surpassing the previous all-time high set last year, according to the latest edition of the IEA's annual Renewables Market Report.
By 2026, global renewable electricity capacity is forecast to rise more than 60% from 2020 levels to over 4 800 GW – equivalent to the current total global power capacity of fossil fuels and nuclear combined. Renewables are set to account for almost 95% of the increase in global power capacity through 2026, with solar PV alone providing more than half. The amount of renewable capacity added over the period of 2021 to 2026 is expected to be 50% higher than from 2015 to 2020. This is driven by stronger support from government policies and more ambitious clean energy goals announced before and during the COP26 Climate Change Conference.
"This year's record renewable electricity additions of 290 gigawatts are yet another sign that a new global energy economy is emerging," said IEA Executive Director Fatih Birol. "The high commodity and energy prices we are seeing today pose new challenges for the renewable industry, but elevated fossil fuel prices also make renewables even more competitive."
The growth of renewables is forecast to increase in all regions compared with the 2015-2020 period. China remains the global leader in the volume of capacity additions: it is expected to reach 1200 GW of total wind and solar capacity in 2026 – four years earlier than its current target of 2030. India is set to come top in terms of the rate of growth, doubling new installations compared with 2015-2020. Deployments in Europe and the United States are also on track to speed up significantly from the previous five years. These four markets together account for 80% of renewable capacity expansion worldwide.
"The growth of renewables in India is outstanding, supporting the government's newly announced goal of reaching 500 GW of renewable power capacity by 2030 and highlighting India's broader potential to accelerate its clean energy transition," said Dr Birol. "China continues to demonstrate its clean energy strengths, with the expansion of renewables suggesting the country could well achieve a peak in its CO2 emissions well before 2030."
Solar PV remains the powerhouse of growth in renewable electricity, with its capacity additions forecast to increase by 17% in 2021 to a new record of almost 160 GW. In the same time frame, onshore wind additions are set to be almost one-quarter higher on average than during the 2015-20 period. Total offshore wind capacity is forecast to more than triple by 2026.
The IEA report expects this record growth for renewables to take place despite today's high commodity and transport prices. However, should commodity prices remain high through the end of next year, the cost of wind investments would go back up to levels last seen in 2015 and three years of cost reductions for solar PV would be erased.
Despite rising prices limiting growth, global biofuel demand in 2021 is forecast to surpass 2019 levels, rebounding from last year's huge decline caused by the pandemic. Demand for biofuels is set to grow strongly to 2026, with Asia accounting for almost 30% of new production. India is expected to rise to become the third largest market for ethanol worldwide, behind the United States and Brazil.
Governments can further accelerate the growth of renewables by addressing key barriers, such as permitting and grid integration challenges, social acceptance issues, inconsistent policy approaches, and insufficient remuneration. High financing costs in the developing world are also a major obstacle. In the report's accelerated case, which assumes some of these hurdles are overcome, average annual renewable capacity additions are one-quarter higher in the period to 2026 than is forecast in the main case.
However, even this faster deployment would still fall well short of what would be needed in a global pathway to net zero emissions by mid-century. That would require renewable power capacity additions over the period 2021-26 to average almost double the rate of the report's main case. It would also mean growth in biofuels demand averaging four times higher than in the main case, and renewable heat demand almost three times higher.