FATF Greylist: Any Way To Get Out!
Money laundering (concealment of illegally gained money then appear legal) and terror financing (activities which provide finance to individual terrorists or militant groups) nowadays is a big and dire problem. Many countries are engulfed in these problems and trying to get rid of it. Many steps have been taken to overcome these problems but all were in vain. When realized that it is a hard nut to crack a force was set up to root out terror financing and money laundering known as Financial Action Task Force (FATF). Financial Action Task Force commonly known as FATF is a global task force formed in 1989. This task force consists of 37 countries, with its headquarter in Paris, France. It is currently under the presidency of Mr. Marshall Billingslea who was appointed on July 1, 2018. Three main FATF observers are Indonesia, Israel, and Saudi Arabia. The main purpose of this force is to develop policies to combat money laundering and terror financing.
FATF has provided a series of recommendations which can be followed to stop money laundering and terror financing. Countries are monitored worldwide by the task force to examine if they have acted upon its recommendations to restrain the flow of funds to banned organizations (mafias, terrorist outfits, militant groups etc.). Since this is a serious threat at an international level to the integrity of an international financial system, this task force laid down the foundation of a list of those countries which are affected by or who are involved in money laundering and terror financing is known as greylist.
Pakistan's history in the FATF greylist
It was 2009 when first time Pakistan was put into the Grey List. At that time Government of Pakistan People Party (PPP) was on the run. Later, the name of Pakistan was excluded from the greylist. After that, Pakistan's name was again included in greylist in 2012 for the second time. In 2013 government of PPP ended and Pakistan Muslim League-Nawaz's (PML-N) supremo Nawaz Sharif's Government tenure started. Amid inclusion of Pakistan's name in the grey list, Chief of Army Staff (COAS) launched an operation on June 15, 2014, against terrorism and militant groups called Operation Zarb-e-Azb. As this operation was on the run to hunt down the terrorists, world's fourth-deadliest Army Public School (APS) massacre happened after which operation against terrorists intensified more. This operation helped a lot in a decimation of terrorism. When witnessed by FATF watchdogs that terrorism has been reduced to the much extent, name of Pakistan was excluded from the greylist in 2015.
As we know after 2015, terrorism has reduced more as compared to previous years and can be seen that it has almost vanished in Pakistan then what are the reasons that Pakistan's name is again included in the greylist?
These were the aggressive tweets of Donald Trump in the month of January which pointed out that "the US has foolishly given $33bn to Pakistan to curb terrorism but Pakistan has done nothing in return except lies and deceit. Pakistan has failed to hunt down the terrorist and is providing safe haven to them."
As a result of Trump's tweets, a meeting was conducted and a petition was launched in which Pakistan needed three votes to stay out of the greylist and Pakistan did grasp the required number of votes (Turkey, China, and Saudi Arabia) and abstained itself to be placed to the list. After this, Khawaja Asif erupted and tweeted that we have thwarted the US's agenda to put Pakistan to the list due to which Donald Trump jointly by Modi led Indian Lobby after two or three weeks again pressurized FATF for an unprecedented second discussion on Pakistan. Pakistan again needed three votes to stay out of the list. By then, the US convinced Saudi Arabia to give up its support to Pakistan in return for full membership of FATF. Then there left only two, China and Turkey. China, which is known to be all weather friendly and whose friendship is higher than the mountains, deeper than the ocean informed Pakistan that they are "opting out as they don't want to lose face by supporting a move that's doomed to fail" and thus voted against Pakistan. Turkey voted in favor of Pakistan. So, this time only one vote goes in favor of Pakistan and thus Pakistan was officially placed in the greylist on June 28, 2018 regardless of the 26-points action plan formulated by the International Cooperation Review Group (ICRG) of the Asia Pacific Group (APG) which was also submitted to the FATF to choke terror financing, money laundering, ban militant groups including mastermind behind the Mumbai attack Hafiz Saeed-led JuD and its affiliates and totally freeze their assets.
Pakistan is the ninth country to be placed on the Paris based FATF's grey list while other eight states with strategic deficiencies are Ethiopia, Serbia, Sri Lanka, Syria, Trinidad and Tobago, Tunisia and Yemen. The plan to put Pakistan into the greylist was jointly moved by the US and three key powers of Europe (the UK, France, and Germany) in February. Finance Minister Dr. Shamshad Akhtar represented Pakistan and argued to remove Pakistan from the greylist but they did not hear a word of her sayings.
Consequences of non-implementation of action plan
As being placed on the greylist. It is now worth exploring that what could this mean for Pakistan. How its placement can affect Pakistan's efficiency at national and international level.
Mainly Pakistan's inclusivity in greylist can squeeze its economy and could make it harder for the country to meet its ascending foreign financing needs. This could also lead to a downgrade in Pakistan's debt rating. Pakistan may also suffer a risk downgrade by multilateral lenders like the International Monetary Fund (IMF), Asian Development Bank (ADB), World Bank and European Union (EU). Currently, these are the major risks which are expected can be inflicted on Pakistan.
In case of blacklisted
If Pakistan fails to comply with its 26-points action plan then there is no doubt that no one can save Pakistan to be placed on the blacklist of the FATF which means total disaster of the country. Currently, FATF blacklist features Iran and North Korea.
Being blacklisted means direct sanctions on Pakistan's major international transactions, imports and exports, foreign loans, can distort its international standing, banks can pull out, can be a fall in foreign currency inflow, further fall in Pakistan's large current account deficit (CAD), Pakistan's stock market can fall at a greater speed. These are few disturbing factors for Pakistan if it ends up blacklisted.
In case of a blacklist, above cited sanctions might also result up as a chaos at a national level in Pakistan leaving no jobs for the masses of Pakistan, increase in debts, increase in taxes, inflation and would be directly and constantly scrutinized by FATF's financial watchdogs. All confidential transaction will go through under watchdog's surveillance.
By putting all these risks aside, the factual evidence, both historic and current, demonstrates the incorrectness of these mentioned assertions. Pakistan was on the FATF grey list from 2012 to 2015. A period in which Pakistan's imports and exports remained stable and grey listing did not prove to be a significant barrier to trade.
Recently, a delegation of FATF came to Pakistan to review the implementation of the action plan and asked Pakistan to maximize the penalty and imprisonment period for those who proved to be involved in such offenses.
What to do to get out of greylist?
The only way for Pakistan to get out of the grey list is to focus on the 26-point action plan. Implementation of action plan effectively by taking enforcement action against illegal money and value transfer services (MVTS), control on illicit movement of currency, identifying and investigating terrorist financing activity and target designated persons and entities, and persons and entities acting on behalf or acting at the direction of designated persons or entities, prevention of moving funds to designated terrorists including freezing of their assets (both movable and immovable) and demonstrate enforcement against TFS (targeted financial sanctions) violations.
Pakistan's peace-loving gestures are considered its weakness, unfortunately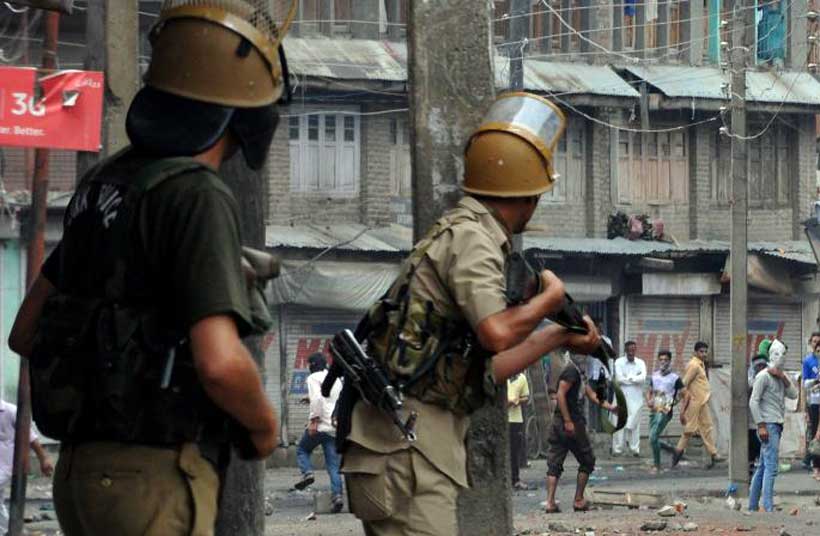 Pakistan is a peace-loving nation and a responsible state. The leadership, civil and military. Both are visionary and rational very much. Pakistan was the hub of western tourists in the 1950s, 1960s, and 1970s, due to its natural beauty, friendly and hospitable environment, and affordable living. Economic growth was one of the highest in this part of the world. But suffered a lot since the 1980s, due to the situation in Afghanistan. It was not our war, but unfortunately, we were pushed into this war. As a result, Pakistan offered 80,000 precious lives of Pakistani nationals, an economic loss of estimated up to 250 billion US dollars. In addition to it, extremism, terrorism, trafficking, smuggling, ethnicity, intolerance, gun, and drug culture, etc. were a gift. Due to the war-like situations during the last 4 decades, nations spared all resources, including human resources, financial resources etc on imposed war-front. As a result, industrial agriculture, infrastructure development, education, SW&T, R&D, Innovation, Commercialization, Health Sector, etc all walks of life suffered a lot and as result, today facing the worst economic crisis with over 100 billion foreign debt.
But, after having so many bitter lessons, the nation is even more mature and trained to survive under any circumstances. In fact, has emerged one of the most resilient nation. India staged the drama of "Pulwan" on 14 February this year, and without collecting evidence and investigation, just within hours, blamed Pakistan and threatened Pakistan. Pakistan offered to extend full cooperation in investigation and punish the responsible. But, India, according to pre-plan, attacked Pakistan on the 25th of February and dropped bombs in Balakot a city deep inside Pakistan. The leadership of Pakistan is very much sensible and rational and noticed that India is pushing Pakistan into full-scale war. The visionary leadership in Pakistan realized the consequences of war, especially when, both India and Pakistan, both are nuclear states, possessing enough piles of lethal weapons to destroy each other completely, and its impact on the region as well as global. Formulated a smart strategy to respond on the 27th of February, giving a message to India, that although Pakistan has capabilities and enjoys supremacy over India, it still sticks to "Love-For-Peace" and does not wish to opt for war, successfully averted to escalate to a full-fledged war. Even that, Pakistan released the captured pilot of Indian air force inside Pakistan territory, as a good-will gesture.
India revoked its own constitution on the 5th of August and imposed curfew in Kashmir. It is an act of war and violation of UN charter, Simla Agreement and all norms & practices of civilized world. Siege of Kashmir, complete black-out by suspending Internet, mobile phone services. Cutting all modes of communication, evacuating all foreigners and visitors from Kashmir. Keeping people under house arrest. Occupying forces are killing, arresting, detaining and raping on a mass scale and draconian laws imposed empowered the security forces to shot at a spot on suspicion only, with any judicial process. After 42 days of curfew, people are facing a severe shortage of food, fuel, electricity, medicines, and life is completely at a halt, stand-still status. It is the largest curfew in the known-history of human beings, as around 8 million people are under siege, and Kashmir has been turned into a big jail, people are treated as prisoners. India's atrocities and brutalities have crossed all records of human rights violations.
UN, Human Rights Organizations, Mainstream Media, International organizations, NGOs, the whole International community have shown deep concerns on Indian atrocities. Protests, agitations, rallies, and demonstrations, all around the world as solidarity with the people of Kashmir have been witnessed. European Parliaments, UNSC, OIC, SCO, and all other international organizations are worried about the deteriorated situation of humanity in Kashmir.
Kashmir is a dispute between China, Pakistan, and India. India has illegally occupied a part of Kashmir known as Indian Occupied Kashmir. But people of Kashmir are spread all over three parts, i.e in Pakistan known as Azad or Free Kashmir and China. Kashmir is one nation and having blood relations in all three parts. They are charged at peak to enter into India Occupied Kashmir and help their brothers and sister in Indian Occupied Kashmir. They wanted to provide them food, medicines and basic necessities of life. The government of Pakistan is trying its best to stop them to march toward Indian Occupied Kashmir, as they are unarmed and simple villagers, they might have the high spirits to rescue the lives of their brothers and sisters in Indian Kashmir but might face firing by Indian Army. I am afraid, the public pressure is growing with passing each day and they might march toward Indian Occupied Kashmir, and Pakistani Security Forces may not be able to stop them, then they might come under the Indian forces firing range. It might complicate the situation. The government of Pakistan is committed to observing restrains and avert any war, with India, but if its civilians are killed, it may create an unexpected situation, difficult to predict the reaction.
On the other hand, Indian military deployment along the line of control and frequent violations of line of control, use of cluster bombs on civilian population inside Pakistan, and war-preparations are alarming. Indian Army Chief announced that The Indian Army is well prepared to Attack Pakistan and just waiting for a signal from its Government in Delhi.
Pakistan is trying its best to observe restrains and showing maximum tolerance and patience. But India considers Pakistan "Love-For-Peace" as its "weakness", Unfortunate! Very Unfortunate!
Webinar: Kashmir Outside the Crosshairs- Does Anyone Care about Kashmir?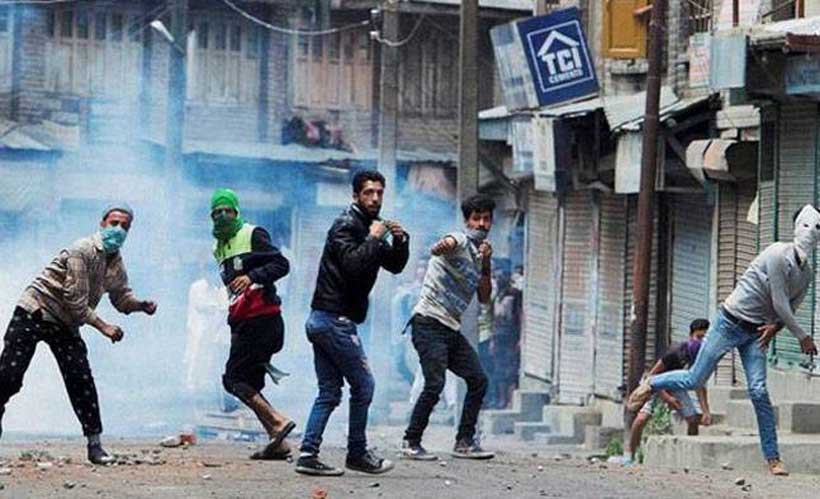 Join Modern Diplomacy and our Executive Vice Chairman, Prof. Matthew Crosston, for a Live Intelligence briefing / Webinar, on Sunday September 29 at 18:30 (IST) to learn:
* Why does the US continue to ignore Kashmir but give loads of attention to every country around it?
* Is it necessarily a positive if the US DOES start paying attention to it?
* What would be GOOD attention and what be BAD? Which one is the US likely to give?
* Can Kashmir ever be left alone to develop independently and not be a pawn of regional neighbors?
These and other controversial but critically important questions will be covered in an exciting intelligence briefing that will still allow for a dynamic, open discussion exchange with one the world's most recognized, accomplished and sought after Intelligence experts, Dr. Prof. Matthew Crosston, Executive Vice Chairman of Modern Diplomacy.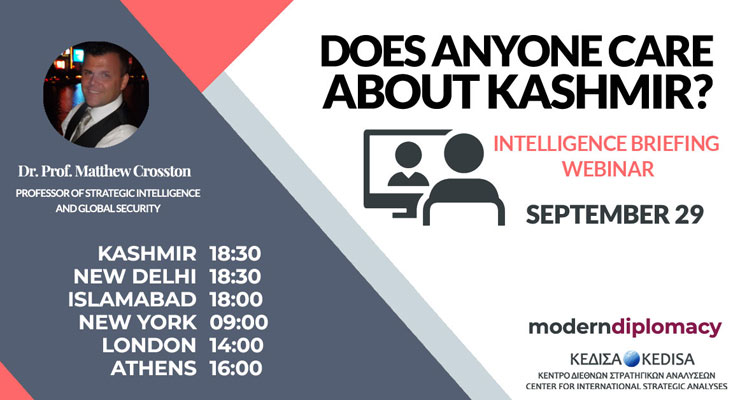 Dr. Matthew Crosston is Director over all Intelligence programs and Professor of Strategic Intelligence and Global Security in the School of Security and Global Studies at the American Military University. He is an acclaimed author and international speaker who consults with governments, media organizations, and academic institutions on a range of issues covering peace mediation, human rights conflicts, resource dilemmas, intelligence, change leadership, and education innovation. His works overall have been translated into Russian, Arabic, Chinese, Indonesian, Hebrew, Spanish, Turkish, Farsi, Greek, and Uzbek. He has a BA from Colgate University, MA from the University of London, PhD from Brown University, and completed his Post-Doctoral Fellowship at the University of Toronto.
Modern Diplomacy and Center for International Strategic Analyses
Secularism in India: Disparity in theory and practice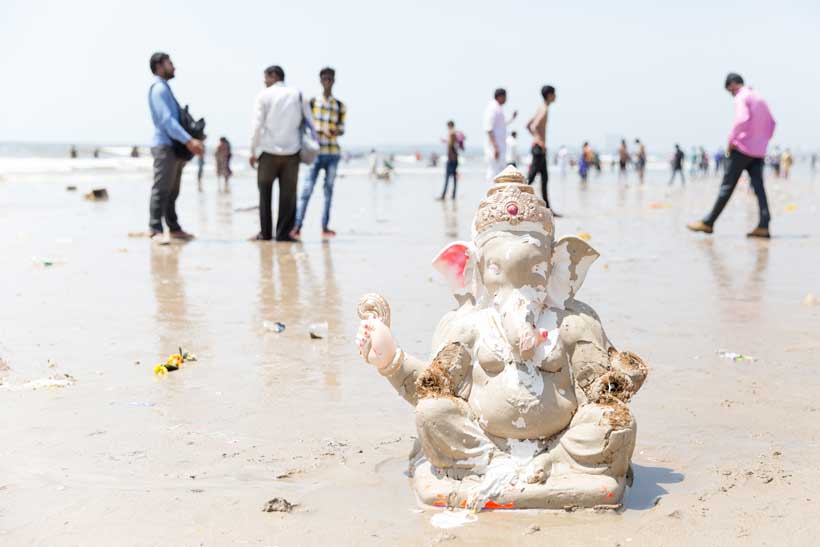 Authors: Areeja Syed and Kinza Shaheen*
Secularism is adopted by most of the contemporary states. The three intrinsic principles of secularism are freedom of belief, that every person living in that particular state has his own belief system and he can believe and worship any God, second is the institutional separation and third is the 'no discrimination' on the basis of religion. The largest democracy of the world, India claims to be a secular state. There were various reasons to declare a state as a secular, in which one was domestic reasons and other was global. If we talk about the internal reason, we know that most of the people in India follow the religion of Hinduism, but apart from Hinduism there are many religions such as the Islam, Sikhism and Buddhism etc. The state of India declares itself as a secular to get the support of the heterogeneous population. As far as the global reason is concerned, India proclaims itself as a secular state to portray a positive image in the world.
Secular means equality, so in western states it depicts a positive image that these particular states have equality for every individual. For that reason, India following the notion of the western states declared itself as a secular state. However, the record of India in religious bigotry is quite disappointing. Minorities are not enjoying equal rights as enjoyed by the Hindus in India. It is adopting the policies of 'Hindutva' which shows the dominance of Hindus in every walk of life. On one hand it portrays a secular image to the world and on the other hand minorities like Muslims are beaten and even killed to eat the beef. Beef is one of the favourite hilal meals of Muslims. Moreover, most of the Muslims have businesses that are directly and indirectly related to the livestock. They slaughter the cows and make a living. Ironically, Muslims are being beaten by the Hindus either on the slaughter of cow and eating of beef. A lot of beef shops had been burned by the radical Hindus. They generate limitations on the Muslims to slaughter cows. How India could claims to be a secular state if a minority individual could not practice his own religion. The Indian media also added fuel to the fire by just giving biased and one sided stories in favour of extremist Hindus.
The ruling government of BJP is also silent over that biasness for the cause that there is Hindu majority in India and if they do anything to protect the rights of minorities, it will make Hindu fanatics discontented and they will lose their vote banks, they think rational too in terms of political gains. Francis Schaeffer says that just showcasing secularism is a more dangerous than the clear-cut discrimination. There are exceptionally stumpy numbers of political representations of Muslims in the politics.
Question arises that being the 2nd highest population of India, why much Muslims are not representing the Indian government? Kashmir is one of the major examples of human rights violation. Each day Muslims have been targeted by the radical Hindus. Indian military is killing the Kashmiri youth on daily basis. Most of the time, Kashmiris have to live under the curfew. However, curfew is the element of a dictator and an authoritative regime. The democratic and secular states view curfew as a violation of human rights. Since 1947, India remained unsuccessful to establish it writ over the Jammu & Kashmir. And so, India is adopting barbaric tactics to get hold of Jammu &Kashmir. Indian forces are making use of Pallet guns against the civilians. Incidents of braid chopping and rape of Muslim girls by the extremist Hindus and Indian forces are rising up. But the world has closed its eyes over the human rights violation in Jammu & Kashmir because India is emerging as an economic giant in the international forum. The International community is quiet interested in India due to its growing economy, its geopolitical location and a number of other elements. That is why; states are silent over the atrocities of India in Jammu & Kashmir.
The human rights violation in Kashmir gives an incentive to the freedom fighters to take up weapons to defend their rights. One can analyze this from two dissimilar perceptions. One is the discriminative behaviour of the state with that individual (who became freedom fighter later) which compel him to be a freedom fighter and fight for himself and his family, and second refers to the historical background of that individual, from how much sufferings he sees in his childhood on him n his family, that psychologically disturbed him and he had that thinking from his childhood that he will take the revenge when he grew up. In both of situations, India is solely accountable and responsible for creating Freedom Fighters in the Region.
Dissatisfied with the curfew and killing India is taking the territory of Jammu and Kashmir under the legal pretext to maintain its image as a democratic and secular state. On August 5, the President of India Ram Nath Kovind issued a presidential order to make applicable the provision of the constitution in the Jammu & Kashmir. The presidential order was approved by the parliament in a resolution. On August 6, 2019 the president nullify the article 370 of the Indian constitution that provides special status to the Jammu& Kashmir territory. With the nullification of the article 370, non-Kashmiris will be allowed to purchase land in the disputed territory which is likely to change the demographic of the Jammu Kashmir. India is targeting the minorities through such kinds of tactics to serve the interests of the Hindus. Democracy and Secularism gives equal rights to the citizens without creating discrimination on the basis of religion, colour and creed. If India continued the policies of persecution against the minorities than it will create further security problems for it. More and more people will take up weapons against the state when they see that state is backing the atrocities. It will lead India at the brink of collapse. If India treat everyone equally then it will also diminish the anger of freedom fighter and there will be no reason for unequally treated people to struggle against government. Hence Indian government need to look into this state of affairs in a quiet serious method or else in the Indian government will be responsible for the disputes and which will deteriorate their international image too.
*Kinza Shaheenhas done M.phil in International Relations from Comsats University Islamabad.