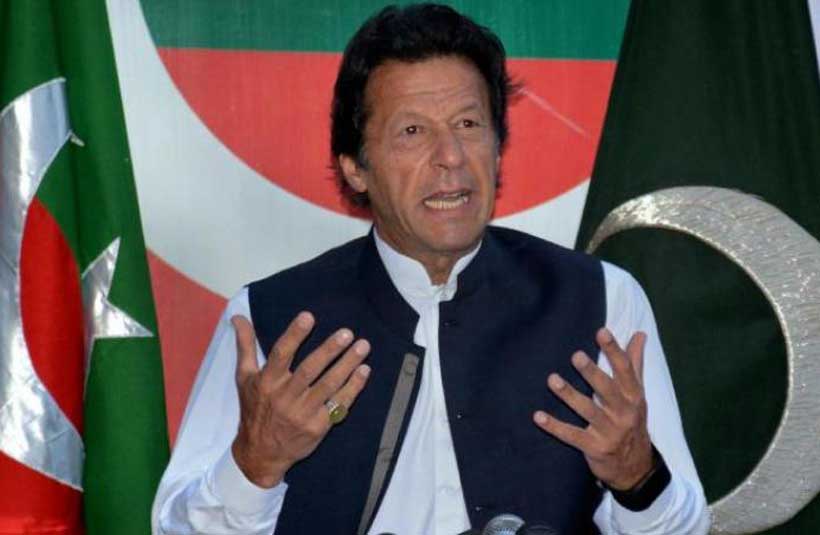 It's crunch time in Pakistan. Resolving Pakistan's financial crisis is likely to require newly appointed prime minister Imran Khan to not only accept an International Monetary Fund (IMF) straightjacket but tackle his and Pakistan's convoluted relationship to militancy.
With the breeding ground for militancy built into the country's DNA and Mr. Khan owing his electoral victory in part to the spoiler role played by militants in Pakistani elections, tackling militancy is a tall order. Add to that Mr. Khan's ultra-conservative social attitudes as well as his abetting of militant concerns.
Mr. Khan, who was once dubbed Taliban Khan because of his support of the Afghan Taliban, advocacy for the opening in Pakistan of an official Taliban Pakistan office, allowing government funds to go to militant madrassas, and enabling Islamists to dictate the content of public school textbooks, is nonetheless likely to find that he has no choice.
To secure IMF support, Mr. Khan will have to avoid blacklisting by an international watchdog, the Financial Action Task Force (FATF), and ensure removal from the group's grey list by not only reinforcing anti-money laundering and terrorism finance measures but also rigorously implementing them.
That would require both the acquiescence of Pakistan's powerful military and a reversal of Mr. Khan's publicly espoused positions. In many ways, Mr. Khan's positions have been more in line with those of the military, including his assertion that militancy in Pakistan was the result of the United States' ill-conceived war on terror rather than a history of support of militant proxies that goes back to Pakistan's earliest days, than he has often been willing to acknowledge.
"If terrorism is not indigenous to Pakistan, and merely imported, then it follows that no larger reckoning of the state's and society's relationship with religion can or should take place — a convenient conclusion for religious hardliners," said South Asia scholar Ahsan I. Butt.
Juggling the demands of multi-lateral agencies and Pakistan's reality is likely to trap Mr. Khan in a Catch-22 of centrifugal forces that include the roots of militancy enhanced by what Spanish sociologist Manuel Castells termed "the rise of the networked society."
The appeal of the militants' intolerance and supremacism, rooted in a literal interpretation of the Qur'an and the teachings the Prophet Mohammed, is reinforced by advances in information technology and proliferation of media that in Mr. Castells' approach created "a world of uncontrolled, confusing change" that compelled people "to regroup around primary identities; religious, ethnic, territorial, (and) national."
Mr. Khan's harsh reality is nonetheless likely to be also shaped by Pakistan's handling of men like Abdul Rehman al-Dakhil, a probable litmus test of the seriousness of its anti-terrorism measures.
An alleged operational leader of Lashkar-e-Taiba, a group sanctioned by both the United Nations and the United States that openly operates through proxies despite being banned in Pakistan, Mr. Al-Dakhil together with two "financial facilitators" was last month identified by the US State Department as a globally designated terrorist.
"Today's action notifies the U.S. public and the international community that Abdul Rehman al-Dakhil has committed, or poses a significant risk of committing acts of terrorism," the State Department said.
Hafez Saeed, the alleged mastermind of the 2008 attacks in Mumbai and leader of Lashkar-e-Taiba and its front organization, Jamaat-ud-Dawa, constitutes a similar litmus test as Mr. Khan seeks to demonstrate to FATF compliance with agreed measures to counter money-laundering and terrorism finance.
The fact that Mr. Saeed despite having been designated a global terrorist by the United Nations Security Council and the State Department, which put a US$10 million bounty on his head, remains a free man and was able to field candidates in last month's election figured prominently in FATF's decision to put Pakistan on a grey list .
To demonstrate its sincerity, Pakistan in advance of the election passed the Anti-Terrorism Ordinance of 2018, which gave groups and individuals, including Mr. Saeed, designated by the UN as international terrorists the same status in Pakistan for the first time.
Pakistan also sought to curtail the ability of Mr Saeed's organizations' to perform social and charity work, a pillar of their popularity, by confiscating ambulances operated by his charity,  closing Jamaat-ud-Dawa offices and handing control of its madrassas to provincial governments.
The fact that Mr. Saeed's candidates and other militants did not bag National Assembly seats in last month's election would suggest at first glance that it would be easier for the military and Mr. Khan to radically alter their approach to militancy.
That, however, ignores the significance of the militants capturing almost ten percent of the vote and helping deprive Mr. Khan's main rival, ousted prime minister Nawaz Sharif's Pakistan Muslim League-Nawaz (PML-N), of votes in crucial electoral districts, according to an analysis of the Pakistan Election Commission's results by constituency as well as a Gallup Pakistan survey.
It also fails to take into account the extra-parliamentary influence militants garner from their role as spoilers as well as their societal roots.
"In Pakistan, parliamentary seats alone do not a victory make. The religious political parties, particularly the newcomer extremist variety, may not have won big, but they have much to celebrate. Primarily, they can revel in their successful hijacking of this election's political narratives. Rather than moderate their positions in order to compete, they managed to radicalise part of the mainstream political discourse," said journalist Huma Yusuf.
Exploiting what governance expert Rashid Chaudhry dubbed "the politics of emotion," Tehreek-i-Labbaik Pakistan (TLP), campaigning on a platform calling for strict implementation of Islamic law as well as Pakistan's draconic blasphemy law, emerged from the election as Pakistan's fifth largest party.
TLP, headed by Islamic scholar Khadim Hussain Rizvi, garnered four percent of the vote even if it only won two seats in Sindh's provincial assembly and one in Khyber Pakhtunkhwa. The Gallup survey said anecdotal evidence showed that TLP votes pushed PML-N to second position in many districts, "one reason for the loss of PML-N seats."
Not surprisingly, Mr. Khan has echoed TLP's insistence on the principle of Khatam-i-Nabuwwat, or the finality of Mohammed's prophethood, that pervades Pakistan's body politic. "We are standing with Article 295c and will defend it," Khan said referring to a clause in the constitution that mandates the death penalty for any "imputation, insinuation or innuendo" against the Prophet Muhammad.
Mr. Khan's newly appointed human rights minister, Shireen Mazari, a controversial academic, who two decades ago advocated nuclear strikes against Indian population centres in the event of a war, condemned on her first day in office a Dutch government decision to support an exhibition of cartoons depicting the Prophet Mohammed by a member of parliament.
TLP supporters ransacked an Ahmadi mosque in the city of Faisalabad less than a week after Mr. Khan was sworn in, shooting and wounding six people. Supporters of TLP and Mr. Khan's Pakistan Tehreek-e-Insaf (PTI) targeted an Ahmadi house of worship in Sialkot in May.
Mr. Khan's backing of the blasphemy clause that has served as a ramming rod against minorities and a means to whip crowds into a frenzy and at times turn them into lynch mobs and inspired vigilante killings came as no surprise to Mr. Butt, the South Asia scholar, who noted shortly after the election that "Khan's ideology and beliefs on a host of dimensions are indistinguishable from the religious hard-right."
Yet, securing international support for inevitable structural reform of the Pakistani economy will have to involve breaking with militancy, implementing international standards in anti-money laundering and terrorism finance, and pushing concepts of pluralism and tolerance that are anathema to the religious hard-right. For Mr. Khan to succeed, that seemingly will amount to having to square a circle.
The Rise of Non-State Actors in Afghanistan: A Consequence of Political Vacuum
In recent years, Afghanistan has witnessed a surge in the influence of non-state actors such as the Taliban and Tehrik-i-Taliban Pakistan (TTP). These groups have exploited the political vacuum in the country to carry out acts of violence and terrorism, creating instability and insecurity for the Afghan people and neighboring countries.
Introduction:
The history of Afghanistan is marked by political instability and conflict. In the 1990s, the country was torn apart by a civil war between rival factions, which created a power vacuum that was eventually filled by the Taliban. The Taliban regime was eventually overthrown in 2001 with the help of international forces, but the country has since struggled to establish a stable and effective political administration.
The absence of a recognized political administration in Afghanistan has led to a power vacuum that has allowed non-state actors, such as the TTP, to exploit the situation and use Afghan soil to launch attacks against Pakistan, thereby threatening its security and stability.
The Political Vacuum in Afghanistan:
In the absence of a recognized political administration, non-state actors have been able to take advantage of the situation to establish themselves as power brokers in the country. The Taliban, for example, has been able to regain control over large swathes of territory and carry out acts of violence and terrorism against the Afghan government and international forces. The TTP, which operates primarily in Pakistan, has also taken advantage of the political vacuum in Afghanistan to use the country as a base for launching attacks against Pakistan.
The situation in Afghanistan highlights the importance of having a recognized political administration in place. A stable and effective political administration is essential for maintaining peace and security in the country and preventing the rise of non-state actors like TTP. It is also essential for preventing the country from being used as a base for launching attacks against neighboring countries.
Furthermore, the lack of a recognized political administration in Afghanistan has made it difficult for the international community to effectively address the challenges facing the country. The international community has been working to support the Afghan government in its efforts to establish a stable and effective political administration, but progress has been slow. The rise of non-state actors like TTP has only added to the challenges facing the international community and made it more difficult to find a solution to the conflict in Afghanistan.
To address the challenges facing Afghanistan, the international community needs to continue to support the Afghan government in its efforts to establish a stable and effective political administration. This can be achieved through providing financial, technical, and diplomatic support, as well as through helping to build the capacity of Afghan institutions and encouraging the development of civil society. The international community must also work to address the root causes of the conflict in Afghanistan, such as poverty, lack of access to education, and political instability.
The international community must take a firm stance against non-state actors like TTP, who seek to destabilize the region and carry out acts of violence and terrorism. This can be achieved through targeted sanctions, diplomatic pressure, and military operations if necessary. The international community must also work to disrupt the networks and financing mechanisms that these groups use to carry out their activities.
The Threat to Pakistan:
Pakistan, a country with a rich history and culture, is facing a serious threat from non-state actors operating within its borders. One such group is the Tehrik-i-Taliban Pakistan (TTP), which has been using the soil of Afghanistan to launch attacks against Pakistan. This has had a severe impact on the security and stability of the country, making it imperative for a coordinated effort to be made to address this issue.
The TTP, a militant group based in Afghanistan, has been using the country as a safe haven to launch attacks against Pakistan. From Afghanistan, TTP has been able to plan and coordinate attacks on Pakistan, causing death and destruction. The porous border between Afghanistan and Pakistan has made it easy for TTP to cross over and carry out these attacks. This has resulted in a serious threat to the security and stability of Pakistan, putting the lives of its citizens in danger.
The actions of TTP have had a profound impact on the security and stability of Pakistan. The group's attacks have resulted in the loss of innocent lives, causing grief and distress to families and communities. TTP's actions have also had an impact on the economy, as businesses and industries have been forced to shut down due to the insecurity. This has resulted in job losses and economic instability, putting a strain on the country's already fragile economy. The threat posed by TTP has also had a negative impact on the country's reputation, as it is seen as a country unable to control its own territory and protect its citizens.
The threat posed by non-state actors like TTP cannot be addressed by a single entity. A coordinated effort between the government, military, and other relevant organizations is necessary to address this issue. The government and military must work together to secure the border between Afghanistan and Pakistan to prevent TTP from crossing over. The government must also take steps to tackle the root causes of extremism, such as poverty and ignorance, to prevent the rise of such groups. International organizations must also play their part in addressing this issue, by providing support and resources to help combat the threat posed by TTP.
Conclusion:
In conclusion, the rise of non-state actors like TTP in Afghanistan is a direct result of the political vacuum in the country. The use of Afghan soil by TTP to launch attacks against Pakistan has had a severe impact on the security and stability of the country. The situation highlights the importance of having a recognized political administration in place to maintain peace and security and prevent the rise of these dangerous groups. The international community must continue to support the Afghan government in its efforts to establish a stable and effective political administration, and work together to prevent the country from becoming a breeding ground for non-state actors like TTP.
Kashmir – Beyond Solidarity
Kashmir, a region located in the northern part of India and southeastern part of Pakistan, has a long history of conflict and political disputes. One of the core issues in the region is denial of peoples Right of self-determination guaranteed by 13 UNSC resolution. The situation in Kashmir has further escalated in recent years,when India revoked the autonomous status Under Article 370 and Article 35-A of Constitution in August 2019 and initiated a demographic changes of Muslim majority region. After this unilateral and illegal annexation of occupied territory, India has doubled the war crime and crimes against humanity in the region.
The Islamic Republic of Pakistan- a party to the Kashmir dispute marks February 5th, the annual Kashmir Solidarity Day, to express support for the people of Kashmir and their Just struggle for self-determination. The right to self-determination is a principle enshrined in international law that recognizes the right of a person to freely determine their political status and pursue economic, social, and cultural development. To achieve this fundamental Right of Self-determination, the people of Kashmir have been struggling for more than seven decades and the Indian government has used excessive force and resorted to war crimes against the Kashmiri for suppression of this inalienable right.
In last 75 years and particularly since 1989 when Indian occupational authorities closed the peaceful and democratic means seeking UN guaranteed Right of self-determination for region. India started mass massacres and multiple abusive mechanization against the civilians and pro freedom politicians. Human rights organizations have documented the widespread use of torture, extrajudicial killings, and other forms of violence by Indian armed forces in Indian-occupied Kashmir. These actions have resulted in the death of thousands of Kashmiri civilians and the displacement of many others. The Indian occupying forces have also imposed strict restrictions on freedom of speech and assembly in the region, leading to the suppression of dissent and the stifling of Pro freedom political activism.
The new war strategy against the Kashmiris by Indian government is a massive demographic engineering by settling non-Kashmiri Indians in the territory, confiscating their land ,properties and the ongoing demolition to pave the way for outside industrialist with the aim to change the disputed status of Kashmir, which has been guaranteed Plebiscite by UN and then Indian parliament.
The situation in Kashmir remains a complex and volatile issue that requires the international community's attention and action. The people of Kashmir have the right to self-determination and must be protected from violence and human rights abuse perpetrated by 900,000 Indian armed forces occupying the territory . Moreover, the selective approach of international organization on Kashmir & Palestine questions the basic structure of UN Charter which pledges to safeguard the 'Humanity' from the wrath of aggressor. The international community has largely been silent on the issue of Kashmiri self-determination and violence committed by Indian armed forces in the region. Some international organizations and countries have called for an end to violence and for the protection of the human rights of the Kashmiri people, but these calls have been rhetoric which has been rejected by the Indian government.
The responsibility of Pakistan towards Kashmir must be beyond diplomacy and geo-economic interest. On this Kashmir Solidarity Day, we must come together to draw a new road map liberating the people of Kashmir from the Illegal occupation of India and also support their Just Struggle for justice, freedom, and self-determination.
The majority of Kashmirs in the IIOJK consider their struggle against India for the unfinished agenda of Partition and it is a moral responsibly of every Pakistani to become part of their legitimate struggle.
The U.S. raising Engagement in South Asia: New Battlefield of Sino-US rivalry
With the new year 2023, the visits of top American diplomats to South Asian countries have increased. These recent visits are concluded as the counter steps of the US against the Chinese influence in the region.
Recently, from the end of January to a few days in February, the American Under Secretary Victoria Newland visited three countries in South Asia and headed toward Gulf. Recently, Under Secretary of State for Political Affairs Victoria Nuland visited to three South Asian nations including Nepal, India, Sri Lanka, and the gulf nation Qatar for a week starting from Jan 28-Feb 3.
Before her, Assistant Secretary of State for South and Central Asian Affairs Donald Lu had traveled to India and Bangladesh from January 12-15. Within the span of a week, another senior official from the Biden Administration, Samantha Power, administrator of the USAID is scheduled to Visit Nepal.
Soon after Power's return, Afreen Akhter, Deputy Assistant Sectary in the Bureau of South and Central Asian Affairs (SCA) for Nepal, Sri Lanka, Bangladesh, Bhutan, and the Maldives, as well as the Office of Security and Transnational Affairs set to visit Nepal.
These engagements and activisms by the US in Nepal and South Asian Region are focused on Countering Chinese influence and encircling from the South.
Review of Recent Visits
Under Secretary of State for Political Affairs Victoria Nuland, the visit was centralized with US-Indo Pacific Strategy and its framework. It was the first visit of any senior US official after the formation of a Leftist dominated government led by Puspa Kamal Dahal 'Prachand', the Chair of CPN (Maoist Center). During her Stay in Nepal, she met with Prachanda, foreign minister Bimala Paudel Rai, former Prime Minister, Sher Bahadur Deuba, and KP Sharma Oli. During these meetings, she proposed a collaboration to fight against China and Russia.
Let me quote her from the meeting with the press in Kathmandu, "We can see authoritarians from all over the world trying to force them to enforce the rules around the world." Though she didn't mention China, her indication was toward China. "So we have to work together to protect democracy," she purposed to the leaders in Kathmandu. In the term "Urgent Global Issue" all her meeting was focused on China and obviously on Russia too.
In New Delhi, Under Secretary Victoria co-chaired the annual meeting of the India-US Foreign Office Association (FOC). Within the umbrella term "India-US Comprehensive Global Strategic Partnership" the meeting was focused on US's Indo-Pacific Strategy.
The statement by the Ministry of External Affairs mentioned that both sides have made their commitment to a free, open, and equitable Indo-Pacific region and discussed in the Quad, Indo-Pacific Economic Framework (IPEF), Indo-Pacific Maritime Domain Awareness Initiative (IPMDA). All these forums are led by the US against China.
The Quad is an informal security alliance comprising India, Japan, and Australia, led by the US. While The IPEF and IPMDA are the 'framework' unveiled by US President Joe Biden during his visit to Japan on May 23 last year. The White House's fact sheet states that the United States is an economic power in the Indo-Pacific region and aims to expand American leadership in the area. India, Japan, South Korea, Australia, New Zealand, and other countries are included in this framework.
China had strong opposition to such a framework. On the geopolitical strategy, these frameworks are designed as the new weapon by the US to counter China.
"The IPEF is designed to advance US geopolitical strategy. In the name of cooperation, the framework seeks to exclude certain countries, establish US-led trade rules, restructure the system of industrial chains, and decouple regional countries from the Chinese economy," Foreign Ministry Spokesperson Wang Wenbin's Regular Press Conference on May 25, 2022, had lamented the framework.
Mahathir Mohamad, Former Prime Minister of Malaysia, a member nation of the IPEF had criticized a new U.S.-led economic grouping, saying it is intended to isolate China, and won't benefit regional economic growth without Beijing. This show that the visit of Under Secretary Victoria was solely focused on US-IPS, and rheostat the Chinese influence in the region.
Colombo was the third and last stop of this visit in South Asia. It was the second visit of Under Secretary Victoria to Sri Lanka, which they called the victims of China's "Debt Trap". She with Assistant Secretary Donald Lu and Principal Deputy Assistant Secretary of Defense for Indo-Pacific Security Affairs Amanda Dory visited Colombo last year in March.
Sri Lank a member of BRI, had rejected the US assistance program MCC. The US used to accuse Chines investment in Sri Lank as a "Debt Trap". the cause of the "debt-trap diplomacy", Sri Lanka lost Control of a major port- read the report entitled "The Elements of the China Challenge" state. But, Sri Lank had rejected the western accusations of the "Debt Trap".
On January 12-15, the US Assistant Secretary of State Donald Lu had his visit to India and Bangladesh. This visit was also aimed at expanding bilateral relations and preventing Chinese influence from the relevant countries.
It is a controversial interview with an Indian Television, Lu directly accused China of being Aggressive towards Indian Border. "We have said that the border dispute between India and China Should be solved peacefully through negotiations directly between the two parties. Having said that we haven't seen PRC has taken good faith steps to resolve this border conflict," he stated.
His Next Stop was Dhaka, where the Newly appointed Chinese Foreign Minister Qin Gang was stepped in a week before. Though it was called "Technical Stopover" by China, it was his first foreign stop after holding the position. They stopped after a day, US Senior Director for South Asia, National Security Council Rear Admiral Eileen Laubacher landed for four days visit to Dhaka.
Bangladesh, with close ties with China holding an election next year. The United States has imposed sanctions on the Bangladesh Paramilitary Forces 'Rapid Action Battalion (RAB)' on charges of human rights violations since 2021. Previously, Bangladesh was not invited on the Summit for Democracy held by US President Joe Biden on December 9 and 2021. During this visit to Dhaka, US Assistant Secretary of State Lu praised the RAB and hinted to lift the ban.
He also held talks with Bangladesh to participate in the Indo-Pacific Strategy.
South Asia as New Battlefield of Sino-US rivalry
These high-ranking US officials' visits to South Asian countries are in line with the strategy to encircle China, while Taiwan Straits Crisis is ragging the Sino-US tension. The US has a clear interest in South Asia with its defense strategy of IPS. In this case, it seems that the small countries of South Asia will be in the strategic grip of the power centers. India is competing with China as a member of the IPS. The three-tier economy and the Power Centre are competing against south Asia.
The rise of China has challenged the US's hegemony in global affairs. China plans to overtake the position of the US by 2050. The US fears that Beijing could overtake the US's global leadership role. To stop China from achieving its goals of 2050, the US has deployed its IPS toward South Asia too.
The center stage of the global affair is shifting towards Asia. And, when the world is divided into two poles, it will have an adverse effect on the small countries of South Asia directly. The US is talking about peace and stability in the region, isolating China, with the largest population in the globe. China is also moving forward to expand its influence in the Asian region. India is an emerging economy in itself, which has supported the US to stop China. India wants to maintain its domination in South Asia by stopping China.
In the rivalry between the three-tier economy and the two polar power centers, underdeveloped South Asian countries have opportunities to gain economic and infrastructure development. Side by side the three are chances of losses of balance and risk of becoming the battlefield of Sino-US rivalry.