Why young people are becoming more youthless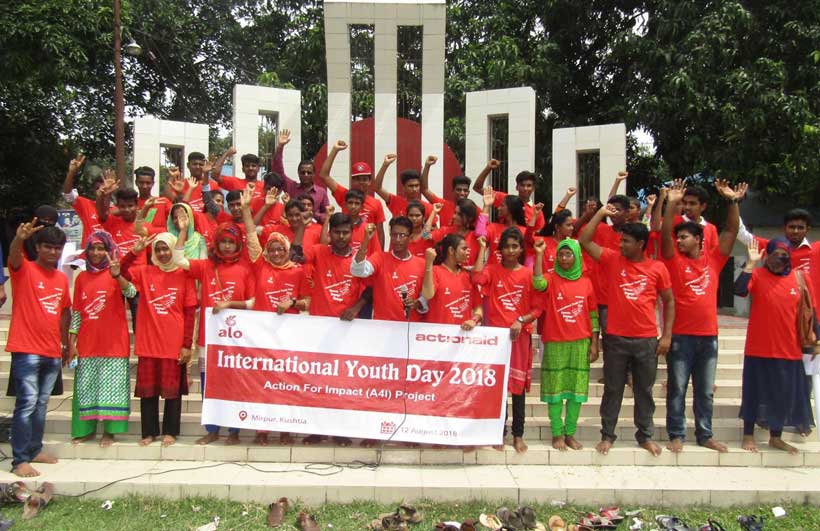 Pondering for the reason why 'youth' remains one of the most complex term in human experience is because you can never really put your finger on it. Categorizing people by age is the most obvious demarcation that sets the young apart from their adult counterpart. The young aged between 15 and 24 have been classically defined as youth at the global stage, in line with the official UN definition, paving the way for specific policy designs and implementation based on the understanding that specific needs arising from this segment of the population beg for specific solutions. As a global society, we are weakening the power of the youth by treating them as a separate, "human-becoming" category. As a result, young people's respect could never be earned, their true potential could never be realized and their voice could never be taken seriously.
Established personas and perceptions around youth already exist, which can be reduced to a characteristic that someone is simply chronologically young. Some of the common amplifiers you most likely have seen in the youth word clouds of labels associated with youth may include 'youthful', 'idealistic', 'energetic', 'creative' – and even less positive ones – 'inexperienced', 'immature', 'violent' or 'troublemakers'.
Are these word clouds doing any good or are they in fact still relevant?
Take 'Safe Spaces of Youth' as this year's theme for International Youth Day for example. The presence of 'safe spaces' has been understood as an environment in which people individually or collectively can identify themselves, conduct activities or exercise their rights without fear of reprisal, whether online of offline. It must be noted that there are specific risks associated with being age15 or 24, which is mainly due to the fluid intersecting identities developed during this stage; the perceived fear of persecution and actual punishment received, which is not unique to young people.
If you look at the previous themes of the youth day, you will soon realize that they do not necessarily have a specific relevance restricted to young people. The different focus on peace building (2016), mental health (2014), migration (2013) were there not because they are unique to young people, but rather they are part of different global priorities that affect young people in similar ways as they affect those above the age of 24, women, refugees, migrants, politicians and domestic workers. One might say that the challenges facing the youth of today really mirror the broader, seismic shifts in the social, political, and economic climate of the world.
At the foundational level there appear to be more similarities, than differences, between young people and adults. The International Youth Day in turn conveniently creates the youth bubble that further distances them from the rest of the population. Tens of thousands of events were organized around the world by young people to commemorate the occasion. A highlight among the events, 100 young people organized a bicycle rally and public speaking in Kushtia district, South-west of Bangladesh on the occasion. The objective of the rally was ultimately to raise their voice against state violation of social-safety related issues. Events such as this are necessary and can be an effective tool for certain political environments. However, when an issue is campaigned on youth day, it is all too often perceived as a 'youth problem', coming to no surprise that this is when those word clouds come in handy. While making the case for safe spaces is needed, the struggle is not specific to young people. These mentioned Bangladeshi youth are in fact part of a local organization called ALO, mandated to promote participatory democracy and social cohesion—the issues that concern us all. In the end, the International Youth Day designated by the United Nations in 1999 may seem noble as an effective symbolism and good political gesture, but in reality, it serves no practical purpose for young people.
In fact, the situation of many young people, particularly in certain geographies, represent rather different set of word clouds due to the different realities that have evolved around them.
At the end of 2017, 628 million young people (aged 15-24 years old) were not in education or in employment. Almost 90% of this number lived in developing countries, and 40% of these are three times more likely to be in a more vulnerable form of employment than adults. These are young people who have to struggle daily, who would need to do the last menial tasks available to make ends meet and often find themselves in self-employment or involuntary part-time jobs, with little or no access to social protection, and high levels of job insecurity. For the great majority of young people in Palestine, Kosovo, South Africa, most parts of Africa and a large segment of Europe, their current word clouds are likely to consist 'unemployed', 'hopeless', 'unprotected', 'economically frustrated', 'precarious' and 'informal'. Although they may be part of the same digital natives, the traditional 'youthful' filters do not necessarily reflect this segment of youth population.
This simplistic categorization of youth which have been perpetuated both by mass media and political discourse no longer represents the global youth today. The stereotypical traits do not offer a full look of what it is like to be a young person in today's world. Indeed, a broader definition of today's youth as 'youthless' may be closer to the truth. Youthlessness has become a global phenomenon caused by the increasing economic inequality and political instability. Many young people – in similar ways as adults in both developing and developed economies – increasingly experience fear of uncertainty and the knock-on effect caused by the lack of access to opportunity, basic income and social protection.
Ultimately, the growing state of youthlessness reminds us that this global cohort needs not be treated as an age group against another. In essence, International Youth Day should not be an awareness day that raises an awareness of youth as their own grouping who are purportedly fighting their own battle. There is no benefit in claiming that certain situations or struggles are specific to young people when they are experienced by the rest of population as well. It may seem convenient to frame certain issues as "youth issues" when what this does is actually separating and demeaning young people from the bigger crowd they too have the right to membership of with its commonalities.
Essentially, young people are unique because there are in their present ages experiencing the stages in their transition from childhood to adulthood, with a unique set of challenges and vulnerabilities that the generation above only too experienced themselves. However, problems faced by young people cannot be eliminated through the pre-existing lens of assigned perception, because it is the very lens that has inadvertently caused young people to be excluded from many processes that would otherwise benefit them. The International Youth Day can never be justified if it is celebrated on the basis that young people's experiences and strengths are singled out by adult establishment, taking away their legitimacy. 'Youth' need to be removed from any bubbles the present-generational young people themselves did not create, needing to be understood for who they truly are and what they truly represent.
Women outnumber men in higher education but gender stereotyped subject choices persist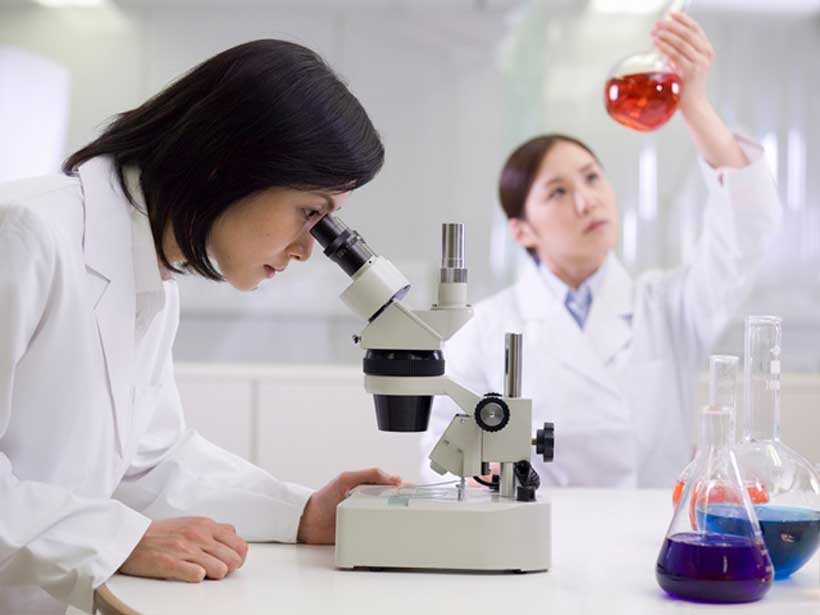 Education is essential to achieving gender equality. From the earliest schooling to the highest levels of post-graduate study, education influences the opportunities that can shape people's lives.
This is why education and training of women is one of the 12 critical areas of concern in the Beijing Platform for Action, while target 4.5 of the Sustainable Development Goals (SDGs) calls for the elimination of gender disparities in education by 2030.
In the UNECE region girls tend to outperform boys in terms of learning outcomes in schools, and women outnumber men in tertiary education (university level and beyond) in almost all countries of the region.
Women remain in the minority, however, as students of stereotypically "masculine" subjects such as ICT and engineering, although in recent years they have begun slowly gaining ground.
Tertiary level graduates
In 39 out of the 47 UNECE countries with data, more than 55 per cent of tertiary graduates are women. Iceland has the highest share, with 66 per cent women. Seven countries are close to gender parity, with the share of women ranging from 48 to 55 per cent, and only in Uzbekistan are women in a clear minority, with 38 per cent of tertiary graduates.
After decades of increase in women's participation in higher education, women substantially outnumbered men among tertiary level graduates in most countries by 2012. Since then, women's share has declined in 32 out of the 47 countries with data. Whilst in Azerbaijan and Turkey fewer than half of tertiary graduates were women in 2012, more women have entered tertiary education in these countries since and the 2017 data already show gender parity there.
Subject choices of women and men
The subjects studied at tertiary level by women and men can reflect stereotypes of "masculine" and "feminine" subject areas. Some subjects may be preferred by potential employers and may affect occupational segregation once graduates enter the labour market. Information and Communication Technologies (ICT) and Engineering, Manufacturing and Construction (EMC) are two broad groups of subjects where male students have historically predominated.
Women remain a minority among ICT students in the UNECE region, with percentages ranging from 11 in Belgium to 33 in Greece. The four countries with the largest share of women among ICT students are all in the Balkan region. Among students of EMC, the share of women is somewhat higher, but still falls far short of parity, ranging from 14 per cent in Georgia to 44 per cent in North Macedonia.
In both of these subject groups, the recent trend shows small gains for women in some countries but reductions in others. Overall, progress towards gender equality in these two typically male-dominated subject areas is uneven and slow.
UNECE Beijing+25 Regional Review Meeting
Progress in achieving gender equality in education will be one of the areas in focus at the upcoming Beijing+25 Regional Review Meeting for the UNECE region, with a particular emphasis on how women and girls can enter currently male-dominated fields.
The Beijing Declaration and Platform for Action of 1995 (Beijing Platform for Action) is the most ambitious road map for the empowerment of women and girls everywhere. In 2020, it will be 25 years since the Beijing Platform for Action outlined how to overcome the systemic barriers that hold women back from equal participation in all areas of life.
The Beijing+25 Regional Review Meeting (29-30 October 2019) will take stock of where the UNECE region stands on keeping the promises of the Beijing Platform for Action. Bringing together government representatives and key stakeholders from the UNECE region, the meeting will tackle a number of obstacles that keep girls and women from realizing their full potential. UNECE is joining forces with the UN Women Regional Office for Europe and Central Asia to deliver a two-day multi-stakeholder meeting to exchange concrete policies to accelerate the realization of gender equality. The outcomes of the meeting will feed into the global review of the Beijing Platform for Action taking place at the sixty-fourth session of the Commission on the Status of Women in New York from 9 to 20 March 2020.
Call for Action from Leaders and Business on Violence against Women
Spiralling levels of violence against women in Africa require immediate action from governments and businesses, including tangible measures to create safe spaces, experts from across the continent told the World Economic Forum on Africa today.
Protesters in South Africa have taken to the streets and social media to demand action, following the rape and murder of a Cape Town university student who was attacked in a post office. Uyinene Mrwetyana was just the latest of many victims of brutal assaults in a region where approximately 45% of women and girls over 14 years have experienced physical or sexual violence.
"I'm dumbfounded by the idea that we can continue with business as usual," said Namhla Mniki-Mangaliso, Director of African Monitor, who urged technology companies to take a lead in delivering solutions. "It would take a click of a finger for a tech company to say we are going to deploy a software that can assist us with an emergency response system for poor women in South Africa free of charge."
The potential for technology to help in the fightback highlights the need for businesses to think creatively, given that cyberbullying can also contribute to discrimination in the first place. Mniki-Mangaliso said the wider business community should also step up to the plate by backing a gender-based fund to address the deep-rooted problems behind the rising tide of physical and sexual assaults.
Hafsat Abiola-Costello, President and Chief Executive Officer of the Women in Africa Initiative, said Africa could learn from China, where decisive action was taken to ban harmful practices like foot binding and polygamy. African governments, by contrast, too often fail to enforce bans on polygamy or genital mutilation, thereby reinforcing a culture of discrimination against women that becomes embedded from childhood.
The failure to protect women is not just a moral issue; it also comes with a high economic cost. "Who drives African communities? It's our women. Our women can drive Africa's development, if given the chance, if protected, if their rights are respected," Abiola-Costello said. "Africa missed the first industrial revolution, we missed the second, we missed the third. If we don't address this issue, we will miss the fourth."
Obiageli Katryn Ezekwesili, who spearheaded the #BringBackOurGirls campaign in Nigeria and is a fellow of the Robert Bosch Academy, said calls for women to help drive African development will simply ring hollow if violence is not addressed. "The world lacks the moral pedestal to stand on to ask girls to aspire if we cannot have the back of those who are vulnerable," she said.
With 16,000 deaths due violence against in women every year in South Africa alone, Akudo Anyanwu, Associate Dean at Johns Hopkins University, said: "Our presidents and the leaders in government need to come out and take a position. We need to have our leaders come out and call crimes a crime."
Young women learn government fundamentals in nationwide leadership program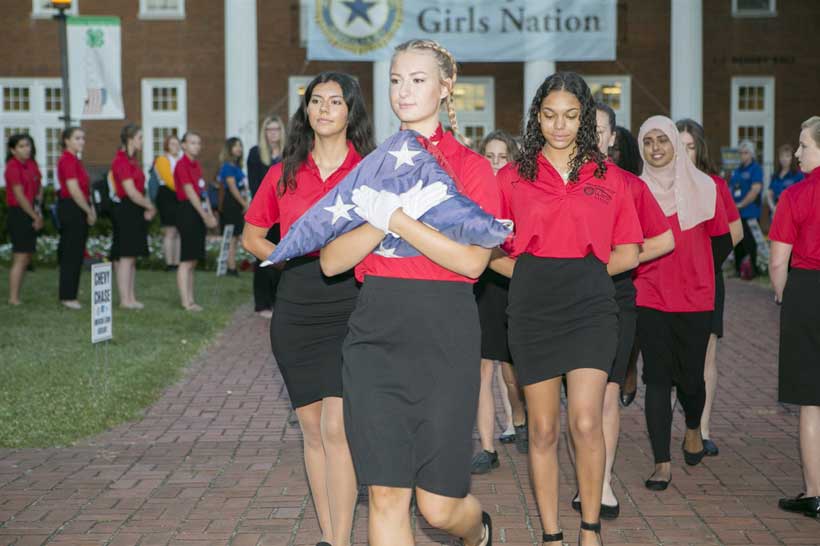 This July, two teenage girls from every state in the country met in Washington, D.C., for the 73rd annual American Legion Auxiliary Girls Nation. This one-week government-in-action leadership development program is designed to educate future leaders on U.S. government fundamentals and the rights, privileges and responsibilities of citizens.
The girls selected to go to ALA Girls Nation are chosen from week-long ALA Girls State programs in each state. The young women become "senators" for a week and participate in mock political campaigns and debates, visit historical sites, and meet their real-life counterparts on Capitol Hill. For a number of the participants, the program's impact extends beyond the weeklong event: Many go on to serve in the military and credit ALA Girls Nation as their source of inspiration.
New ALA member and U.S. Army Capt. Virginia Clark, stationed at Fort Benning in Georgia, is an ALA Girls Nation alumna. Though she says she has always been patriotic, her experiences at ALA Girls State and ALA Girls Nation helped her realize she wanted to serve her country. "Being around really motivated people made me realize I wanted to be around people who were spending their time doing things rather than looking for the next great party," Clark said.
Reflecting on where she has been and where she is going, Clark says she owes it all to the American Legion Auxiliary. "I wouldn't have gotten into West Point without ALA Girls State and ALA Girls Nation … I 100 percent owe, I think, my current life and my career — I met my husband at West Point — to the fact that I went to ALA Girls State and ALA Girls Nation."
For some girls, the Washington, D.C., leadership program is their first opportunity to connect with peers with common interests. For others, it is the first time they encounter students whose perspective differs from their own. For all, it is a moment in time where similarities and differences come together to symbolize strength, democracy and freedom.
Former ALA Girls State and ALA Girls Nation attendee Allyson Snelling, who is attending the U.S. Military Academy at West Point, chose a career in the military because she "loves everything it represents." She adds, "The values and lessons I've learned during my short time at West Point have made me a better person and leader." Snelling said the program taught her the power of one voice and the importance of communicating with others. "Being able to communicate with someone you may completely disagree with is becoming a lost art," she said. "ALA Girls Nation taught me that it doesn't matter if you agree; it matters that you understand."
ALA Girls Nation alumnae have gone on to hold leadership roles in industries spanning government, media, education and law, and many have become high-ranking members of the military.
Notable alumnae include Jane Pauley, national media personality; Susan Bysiewicz, lieutenant governor of Connecticut; retired Lt. Gen. Michelle D. Johnson, former superintendent of the U.S. Air Force Academy and former Air Force aide to the President; Ann Richards, former governor of Texas; and Susan Porter-Rose, former chief of staff to First Lady Barbara Bush, among many others. ALA Girls Nation is proud to be a foundation of support to the future strong women of this great nation.
The American Legion Auxiliary (ALA) is a nonpartisan organization committed to advocating for veterans' issues, mentoring America's youth and promoting patriotism. They advance the mission of The American Legion, incorporated by Congress in 1919 as a patriotic veterans organization founded on four pillars: Veterans Affairs & Rehabilitation, National Security, Americanism and Children & Youth.