RCA to Support Elpidophoros as Next Greek Orthodox Archdiocese Primate
Today the Greek Orthodox Archdiocese in America (GOA) faces hard times. Complicated financial situation, misunderstandings between hierarchs and critical statements from the donors – all these mark a serious crisis in the GOA. Patriarch Bartholomew is said to be displeased with Archbishop Demetrios and is seeking a person to replace him. Some weeks ago there appeared pieces in the media (both positive and negative) in which Metropolitan Elpidophoros (Lambriniadis) of Bursa was claimed to become Demetrios' successor.
According to the supporters of Elpidophoros becoming Primate of the Archdiocese, he is an effective crisis manager capable of setting the things straight and building a productive team to solve the crisis.
The opponents of the Metropolitan of Bursa say that he would take draconian measures to reach complete obedience, would make opposition shut up, get rid of the ideas of the GOA's autocephaly and stick to the policy of ecumenism.
However, despite the criticism, the number of those wishing to see Met. Elpidophoros as Archbishop steadily grows. Thus, according to unofficial information from several sources, some members of the Retired Clergy Association (RCA) of the Greek Orthodox Archdiocese are ready to support the metropolitan.
This organization was founded in 1988 by Fr. John Zanetos. Its goals include: to guide and help those who are about to retire to plan their retirement, to continue and promote the fellowship of retired the priests and to encourage the utilization of the retired priests' expertise as a resource. The Association has its own Fund, it participates in the GOA's annual Clergy-Laity Congresses.
In the opinion of the Association members, Met. Elpidophoros would renew the list of hierarchs, deal with funds mishandling, create an effective system of Archdiocese's management. They believe he would help the GOA return its popularity and reputation and drive it out of a series of scandals.
Although the Archdiocese has got a loan for the construction of St. Nicholas church in New York (on the site of the church destroyed on 9/11) recently, this sum won't be enough to complete the project. Besides, contractors who worked at the Ionian Village Camp Center of the Greek Orthodox Archdiocese have sued the GOA demanding the payment, the National Herald reported on August 7. Things are going bad at the Hellenic College Holy Cross Greek Orthodox School of Theology, which is said to be on the brink of bankruptcy.
Patriarch Bartholomew has quite a lot of reasons to be displeased with the 90-year-old Archbishop Demetrios. The question is whether his substitute has been found. Considering the popularity Elpidophoros is gaining (intentionally or not) in the USA, he can indeed be chosen to become the primate of the GOA on September 1-3, when the Synaxis of the Hierarchy of the Throne will take place. Meanwhile, I think, we should closely watch the Greek Orthodox Archdiocese-linked organizations which could express their opinion on supporting this or that candidate.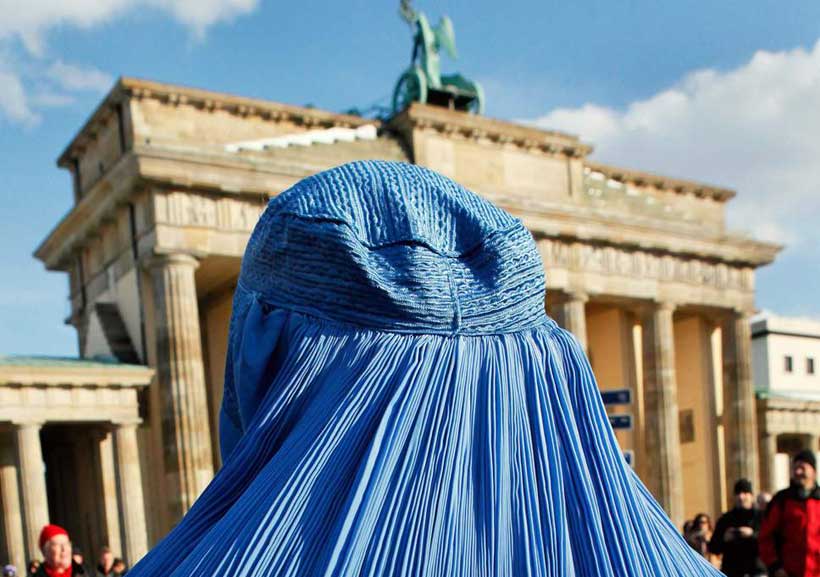 In the beginning of December 2016, Angela Merkel called for a burka ban during the conservative Christian Democratic Union (CDU) party's congress. Specifically, she said "The full veil must be banned, wherever legally possible. Showing your face is part of our way of life," and "Our laws take precedence over honor codes, tribal customs and sharia."
It is really interesting to demonstrate a case where the cross as a European value has the dominant position: the Lautsi case. Lautsi case proved us that religion still travels hand by hand with politics and that political coalitions are still very powerful when cultural memory has to be protected. An Italian national, Ms Soile Lautsi accused Italian Republic for the compulsory display of crucifixes in Italian public schools. According to ECHR's decision there was no violation of any right derived from the Convention. As Marco Ventura has pointed out: "The Grand Chamber has designed a Europe in which every country is free to decide which place to give to religion and to favor Christianity, or rather the dominant churches. For this reason, Italy has been supported by the more confessional of European countries, Russia and Greece, Bulgaria and Cyprus, which the European Court has repeatedly condemned for the oppression of minority religions." The coalition of Vatican State — Italian governments with other Eastern States formed a new ecumenical movement against radical secularism which according to the religious leaders, ECHR tried to promote during its first decision on Lautsi case. His Holiness Patriarch Kirill in a letter to Italian Prime Minister Silvio Berlusconi expressed the following opinion: "Christian religious symbols present in the public space in Europe are part of the common European identity without which neither the past nor the present or the future of this continent are thinkable".
However, does this new ecumenism of Christianity or ultra — secularism lead to Islamophobia? Religious pluralism a new social fact with which European states have yet to come to terms, and, country by country, they are plunging into national debates about religion and public policy. Indeed, Europe has made many efforts to cultivate the interreligious dialogue and to bridge (at least, a theoretical) gap between the relations between Christianity and Islam. The Vatican's effort to reach Islam culminated in a March 2001 visit to Damascus where John Paul spoke about the neighborly relations over the centuries between Christianity and Islam and delivered a message of interfaith peace. On 16th April, Pope Francis with the Ecumenical Patriarch visited the island of Lesvos in show of support to refugees. Leaving for Vatican, the Pope was accompanied by some families of Syrian refugees as a symbolical gesture towards Europe and its strict policies for asylum seeking and the closing of borders. An anti — Muslim sentiment is increasing by placing the blame on Islam's antiliberal tenets and Muslims presumed obedience to those doctrines. Muslims feel that they are second class citizens and victims of discriminatory attitudes and that their religion becomes more important than their education, personal and professional skills, qualifications and virtues in the eyes of the Western community. Are they really free and first class citizens when their religious leaders cannot be educated in Western and national institutions such as Christian clergy? Is this a true religious expression? Many imams are educated in Muslim countries and most probably they have traveled abroad before their religious mission to Europe. This may cause a lot of problems as the majority of those imams does not speak the national language and brings in his suitcase attitudes and traditions totally incompatible with Western values. In many cases, these imams come to carry fundamentalist and extremist messages which may find very welcome ears from disappointed, conservative or marginalized individuals. Beginning in September 2004, New Home Office rules for "overseas ministers of religion" came into effect in Britain. The rules require "imams and priests..to show knowledge of, and engagement, with British civic life, including an understanding of other faiths."
Inside Muslim communities various attitudes towards the position of sharia have been formed. Many scholars, especially Muslim scholars have tried to strike a balance between the implementation of sharia in private affairs and of National Laws in their public life and activities. Furthermore, a movement within Islam, called "Moderate Islam" sees the today context as an opportunity for an Islamic revival movement that focuses on jihad-the individual's believers efforts to master scriptural reading and reinterpretation and aims to redefine all core Islamic concepts, in particular the balance between religious law and individual spiritualism. As Tariq Ramadan, a representative of Moderate Islam writes in his article "Europe's Muslims find a place for themselves" in "Le Monde Diplomatique": Five basic principles were arrived at, and these now provide the basis of a virtual consensus among both Islamic experts and the Muslim communities of Europe : 1) a Muslim, whether resident or citizen, should see himself as involved in a contract, both moral and social, with the country in which he lives, and should respect that country's laws, 2) European legislation (which is secular in nature) allows Muslims to practice the basics of their religion, 3) the old concept of the dar al harb — which does not derive from the Koran, and is not part of the prophetic tradition — is seen as outdated; other concepts have been suggested as ways of reading the Muslim presence in Europe in more positive terms, 4) Muslims should see themselves as citizens in the full sense of the term, and should participate (while at the same time seeking respect for their own values) in the social, organizational, economic and political life of the countries in which they live, 5) in European legislation as a whole, there is nothing to prevent Muslims, or any other citizens, from making choices that accord with their religion.
Our secular societies found themselves in front of a big challenge: the revival of religion and the un-secularization of the world. The most crucial problem is the balance that both individuals and societies have to create in order to avoid a situation of "survival of the fittest". The priority is a society where human rights will not be crucified in the name of religion and where individual spirituality will not be beheaded in the name of National Law or in the name of media.
Recognition of Macedonian schism by Constantinople – Threat Remains
After the publication in Macedonian news agency Sloboden Pecat, many believers of Serbian Orthodox Church gave a sigh of relief supposing that the common sense prevailed and Ecumenical Patriarch Bartholomew discarded his intention to grant autocephaly to the schismatic Macedonian Orthodox Church (MOC). But it appeared that such hopes were premature.
The article in Sloboden Pecat reads that Patriarch of Constantinople had sent a letter to MOC that admitted Serbian Orthodox Church's (SOC) jurisdiction over Macedonian archdioceses and thus he had no rights to satisfy Skopje's request for autocephaly. Ironically Greek mass media used this as an pretext to accuse Fanar of bribery.
A few days ago Ecumenical Patriarchate issued a refutation on its official cite, claiming that they didn't sent a letter to the MOC and haven't even heard of the Serbian gold.
While Serbians keep praying, Constantinople continues secret negotiations with the MOC. According to some sources this is why Metropolitan Amphilochios of Adrianople carries out frequent trips to Macedonia. At the same time statements of Fanar's clergymen and Patriarch Bartholomew demonstrate phyletic intentions with a purpose of establishing the superiority of "Greek" church over all others as "the first without equals". So the threat of the recognition of Macedonian schism by Constantinople is still relevant.
But the Fanar's primary aim now is to force SOC into recognizing the autocephaly of Ukrainian Orthodox Church (UOC) – such a precedent will path the way for Macedonian tomos of autocephaly in the future.
Obviously our Church shouldn't trust fake publications of the mass media. On the other hand there's no point in passive expecting of "His All-Holiness" Bartholomew to declare his will. Considering that the community temporarily believed in a possibility of a "fair verdict" from the Fanar, Serbian Patriarchate's position must be based not only on historical truth and church canons but on public opinion as well. In this regard the separatists' worst nightmares of Constantinople going back to the canonical path can come true.
Constantinople has the right to revoke the tomos of autocephaly of any Slavic church at any time. Recently Archbishop Job of Telmessos. In the same interview he said that the name "Serbian Orthodox Church" is uncanonical and is a sign of ethnophyletism. If it's not a declaration of war, then it's at least a direct threat to Serbian Patriarchate. History shows that accusations of ethnophyletism sound when Greeks need to infringe the rights of Slavic Churches or deprive them of independency.
The Ukrainian example proves that Constantinople easily revokes the historical signatures of its patriarchs and no matter how much gold they were paid and how long ago the papers were signed – 100 or 300 years ago. Will Constantinople be allowed to go on rejecting its own decisions unilaterally and broaden its borders in the future? It mostly depends on the position of Local churches including ours. If we don't react now then Serbian Church will face the fate of Moscow which is losing its territories land by land.
Patriarch Irinej needs Constantinople to officially recognize that the tomos of 1922 still has legal power despite the changing historical circumstances and that the extension of SOC jurisdiction over Macedonian archdioceses is no discussion point. We need a document that will be undoubtedly canonical and impossible to cancel at a moment's notice. At least personal signatures of patriarch Bartholomew are still more trustworthy than fake mass media publications.
"When we returned, we had no bed to sleep, no pots to cook, nor clothes to dress. We went to our house and it was confiscated by others. We rented a room in our house and the whole family lived there."
At Kotsou Street
Mair Maissis is in the Synagogue of Halkida, eager to guide anyone who passes itsdoor and wants to learn more about the Jewish community and the Jewish cemetery of Chalkida. Willing and full of energy, he would start explaining me the architecture of the — the Romaniote type — Synagogue.
"The two columns of our Synagogue prove its antiquity. A large number of scholars regard the Synagogue of Chalkis as the oldest of Europe and many believe that the first presence of Jews in Evia dates back to 586 BC. Around the Synagogue was the Jewish ghetto, the Jewish quarter where most Jews lived until the end of the Ottoman domination.
"On Good Friday in 1854, a great fire broke out which destroyed the biggest part of the Synagogue. Of course it was an arson. Nearly all community archives, books, heirlooms and manuscripts were destroyed. Only three Torah scrolls of the 13th & 14th century have survived until today. The Synagogue was rebuilt in 1855 with the donation of the Dutchess of Plakentia. Luckily today, we do not have any anti-semitic incidents here in our city. We are completely asssimilated."
The families
"We came from Italy. We were doing business with cornflakes and in italian mais means corn. So we were named after the profession. We left when the persecutions of Ferdinand and Isabella began. We crossed the city of Patras, then Mystras and finally Chalkis. At that time, we were traveling in enormous groups. They did not leave each other back. "
With the annexation of Thessaly to the newly established Greek state, several Jews in Chalkida moved to Volos. There, they found a new dynamic community. The mother of Mr Mair came from this community.
"My mother was Sephardi and she was speaking Ladino. Of course, at our house in Chalkida we only spoke Greek, neither Ladino nor Hebrew."
He was born in 1935 a few years before the great disaster. His father Solomon was a merchant like most of the Jews at that time.
"Then the Community consisted of about 300 people. All merchants, spinners, craftsmen, etc. The weekly market in Kriezotu street was 90% Jewish. "
When the war broke out, he had only been able to go to school for a few weeks. The Jewish community had its own Jewish school where students were taught all the lessons and additionally the Hebrew language and Jewish religion.
"We were only able to learn about two or three songs and to dig out some scribbles. Nothing else we've got. "
The Partisans and the Orthodox Church
"We were almost all saved. With the help of the partisans and of the local Bishop Gregory. Without them we would have followed the others. The Bishop saved Jews whohad been prisoned and hide the Sacraments of the Synagogue in a place of the Central Church.
The partisans mobilized the Jewish families to leave Chalkida and go to the mountains. They were hidden in villages such as Steni and Gides.
"We left before the invasion of Germans. We had already been aware for the incidents in Thessaloniki and Athens, and there was no possibility to follow the same fate. The partisans told us to pick up things and by horses, we went up to the mountains. We were hidden in Steni like many other Jews, although this was extremely dangerous. There we stayed in Christian homes. But we knew these Christians. They have been our customers for so many years, we have had personal contact with them. "
Even the Italian Commander urged them to leave as soon as possible. On March 24, 1944, the Germans announced that all the Jews would gather in the synagogue to give them flour to make the enzymes for their Easter. They opened the door and they only saw Rabbi.
"They believed we would follow Rabbi and stay there. But we had chosen to be mobilized and save ourselves. "
22 Jews were lost from the Chalkida community. But how did they get lost?
"Mainly by German traitors", Lili Kosti answered to me.
"So they captured my father and his sister. My father stayed in Chalkida to look after his parents who could not move. A Nazi partner betrayed him and caught him immediately. His sister descended from the mountain to take him out and so caught her. We could not leave our families."
Who were the traitors, I wondered? I asked her to describe me the profile without telling me the name.
"Everything is now publicly available. I can tell you the name if you want. But do not imagine that their traitors and associates were reputable individuals, with family and educated. They were just criminals."
Jews entered the guerrilla I asked them?
"Of course, havent't you heard about Sarika?" And I had never heard her.
"17, 5 year old girl. Sarah or else Sarica Geoshoua. At first she entered the guerrilla and helped with chores. She slowly became a leading figure and propagated in the villages to get everyone into the guerrilla. She focused on girls and after a while she got teamed and had her own team of 12 young girl partisans. "
After the end of the Occupation and with the civil war, Sarica was led to the prosecutor. He told the prosecutor, "I am not with either communists or the right side. I went up there to fight the Germans. "The prosecutor released her with the condition of leaving Greece for ever. She left for Israel and never returned to Greece.
After the Occupation
"When we returned we had no bed to sleep, no pots to cook, nor clothes to dress. We went to our house and they were already others. We rented a room in our house to stay the whole family, "says M. Maisis.
America was first helped by the first time. Huge balls with clothes, beds, kitchen utensils, books for children.
"Many left for Athens, others for Thessaloniki because they thought they would find opportunities there. Others fled for Israel. As early as 1944, 160 people of ours had left for Israel. We then had a Chalkidiki lawyer, Sotiris Papastratis. He organized the mission for Israel. Free spirit, democrat. Later, he was honored with the Yad Vashem Prize for the Law of Nations. "
His family had nothing when he turned from the mountain to Chalkida.
"We went with my father to Athens to get some goods and start over again. As soon as he entered the shop and saw him the merchant shouted: Solomon lives! Download and give whatever he wants. "He knew his money was for sure. We had such a relationship of trust between us."
The community saw a significant reduction in the number of its members. The day-to-day operation of the Jewish school ceases, and the rabbi was stopped in the early sixties.
The current community
"Today we are about 50–60 people. All older in age and we have only 2–3 children. Of course we keep all traditions and customs. We do it as we did before. "
When does the synagogue come to life?
"Every Friday we normally do our Shabbat service. We gather about 20–25 people. For the needs of the function we have a hazzan, that is, a cantor.
But in the great feasts, Ross Ashana, Pesach and Kippur, we bring a rabbi. "
Entering the Synagogue, my eye fell on a shelf with his books. He writes about the history of the Jewish community and the Synagogue and in a few days he will present his second book entitled "The History of the Jewish Community of Halkida since 580 BC. until 2001 The Cemetery. "
" Do tourists and people visit the place in order to learn more about the Jewish community?" I asked.
"In recent years we have a lot of people to visit us. This month, you are the fourth who comes to learn information. Not just tourists. Many local Halkidians are coming too. "
We are preparing to lock down the Synagogue and go tothe exit where we would say goodbye.
"This year, on the anniversary of the Holocaust on January 27, I went to talk to 7 schools. Halls were filled with 350–400 children and neither one stood up. They first heard about all this. Teachers are now mobilized. If nothing is done through education and school, nothing can be done. "