Asia-Pacific Business Environment Improves 7.3%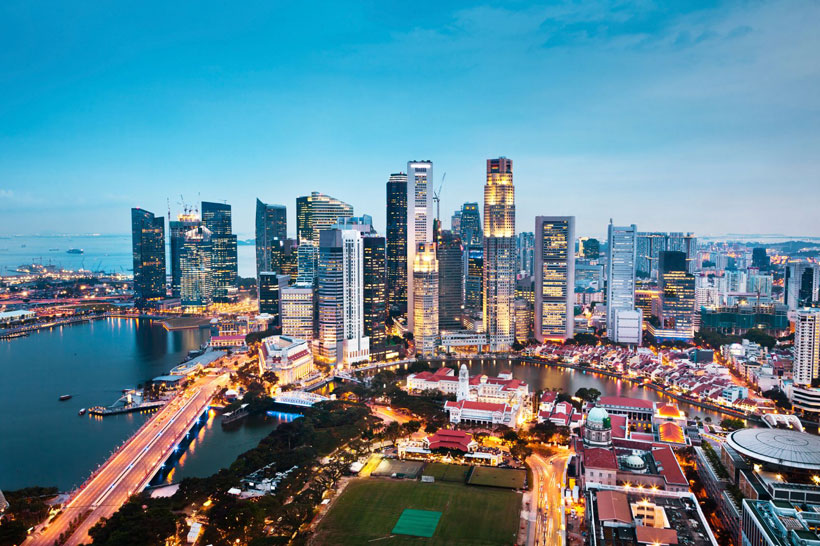 Doing business in APEC member economies continues to get easier, according to a new report, helping to open up trade and growth opportunities in the Asia-Pacific against the backdrop of rising uncertainty.
An analysis of business conditions in APEC economies by the APEC Policy Support Unit reveals a 7.3 per cent improvement over the last two years, boosted by their ambitious ease of doing business initiative being taken forward by economic officials in Port Moresby.
The initiative is focused on five priority areas: 1) Getting credit; 2) starting a business; 3) dealing with construction permits; 4) enforcing contracts; and 5) trading across borders.
"APEC region officials' efforts to raise the quality of their regulations are steadily making it cheaper and more efficient to do business in the Asia-Pacific," explained Carlos Kuriyama, a Senior Analyst with the APEC Policy Support Unit and report co-author.
"Getting credit is the area where APEC has had the biggest business environment breakthrough, driven by stronger legal rights and credit information systems," Kuriyama noted. "The average availability of credit information in the region increased from about 74 per cent to over 77 per cent of adults."
Starting a new business meanwhile improved 11.8 per cent, taking nearly three fewer days and with all but one APEC economy eliminating minimum capital requirements.
Other measures employed in select instances which contributed to this trend included halting the need for a company seal to register a business as well as the introduction of an e-platform to expedite business permit applications.
Progress in trading across borders was marked by a 6.5 per cent reduction in the average time it takes businesses in APEC economies to export, from 70 to just over 65 hours. Dealing with construction permits took one less day to obtain.
"The move in the APEC region towards smarter, more modernized regulations is timely as digital development creates new avenues for businesses to engage in cross-border trade, including small and micro enterprises with limited resources," said Kuriyama.
APEC economies are targeting a 10 per cent improvement in the region's business environment by the end of 2019, based on 2015 levels in the five APEC Ease of Doing Business initiative priority areas. The initiative is inspired by the World Bank's Doing Business program.
The exchange of good regulatory practices and implementation guidance, drawing upon experiences and recommendations garnered from public-private sector engagement in APEC, is at the center of the initiative's work.
"Collaboration across APEC economies to improve their ease of doing business has achieved good results so far," said Kuriyama. "The area with the most room for improvement is in enforcing contracts, with gains mostly stemming from higher quality of judicial processes."
"Sustained reform and capacity building activities in APEC that focus on qualitative aspects of regulation like sustainability are critical to ensuring the momentum of business development and trade in the region at this challenging juncture," Kuriyama concluded.
Raw materials use to double by 2060 with severe environmental consequences
The world's consumption of raw materials is set to nearly double by 2060 as the global economy expands and living standards rise, placing twice the pressure on the environment that we are seeing today, according to a new OECD report.
A preview of The Global Material Resources Outlook to 2060 released today sees global materials use rising to 167 Gigatonnes in 2060 from 90 Gigatonnes today as the world population soars to 10 billion people and average global income per capita rises to converge with the current OECD level of USD 40,000.
Without concrete actions to address these challenges, the projected increase in the extraction and processing of raw materials such as biomass, fossil fuels, metals and non-metallic minerals is likely to worsen pollution of air, water and soils, and contribute significantly to climate change. The increase comes despite a shift from manufacturing to service industries and continual improvements in manufacturing efficiency, which has lessened the amount of resources consumed for each unit of GDP. Without this, environmental pressures would be worse. The projection also takes account of flattening demand in China and other emerging economies as their infrastructure booms end.
The preview report, presented at the World Circular Economy Forum in Yokohama, Japan by OECD Deputy Secretary General Masamichi Kono, says the biggest rises in resource consumption will be in minerals, including construction materials and metals, particularly in fast-growing developing economies.
Non-metallic minerals, such as sand, gravel, limestone and crushed rock account for more than half of total materials consumed today in Gigatonne terms. Adding other materials, the total raw materials consumed by an average family in a day would fill up a bathtub. These volumes will only become larger between now and 2060.
The recycling industry, currently a tenth the size of the mining sector in terms of GDP share, is likely to become more competitive and grow, but it will remain a much smaller industry than mining primary materials.
The report's global environmental impact analysis of the extraction and production of seven metals (iron, aluminium, copper, zinc, lead, nickel and manganese) plus building materials concrete, sand and gravel shows significant impacts in areas like acidification, air and water pollution, climate change, energy demand, human health and toxicity of water and land.
Within this group of metals and minerals, copper and nickel tend to have the greatest per-kilo environmental impacts, while iron, steel and concrete have the highest absolute impacts due to the large volumes used.
The extraction and burning of fossil fuels and the production of iron, steel and building materials are already major contributors to air pollution and greenhouse gas emissions. In the absence of new emissions-cutting policies, the report says overall emissions from materials management will grow from 28 to 50 Gigatonnes of CO2-equivalent by 2060.
Asia and the Pacific grows in importance for Global Tourism
The World Tourism Organization (UNWTO), in partnership with the Global Tourism Economy Research Centre (GTERC), presented its Asia Tourism Trends Report today at the Global Tourism Economy Forum in Macao (China). The report shows Asia and the Pacific outperforming all world regions in growth in international arrivals since 2005.
'UNWTO/GTERC Asia Tourism Trends – 2018' shows that international tourist arrivals in Asia and the Pacific grew 6% in 2017 to reach 323 million, around a quarter  of the world's total. Of all world regions Asia and the Pacific, the second-most visited after Europe, has grown the fastest in international tourist arrivals since 2005. Arrivals increased an average of 6% per year, above the world average of 4%.
Rapid economic growth in a region with over half the world's population, coupled with rising air connectivity, travel facilitation and large infrastructure projects, have boosted international travel in the region. This has had a large impact on Asian destinations' tourism earnings, which have steadily increased from 17% of the world total in 2000 to 29% in 2017. This is equivalent to US$ 390 billion in tourism receipts.
Asia and the Pacific plays a vital role as a source market as well, fuelling much growth in both regional and long-haul destinations. The region produced 335 million international travellers spending US$ 502 billion in 2017, 37% of the world total. Around 80% of these visits were concentrated in Asia destinations. Outside the region, 56% of the long-haul trips were to Europe.
EU-China Tourism Year
To celebrate the EU-China Tourism Year 2018, the report looks at international tourism between China, the largest economy in Asia, and the block of 28 European Union (EU) countries.
It finds that 5.7 million Chinese tourists travelled to Europe in 2016, of which 3.5 million went to the EU. In reverse, 5.5 million Europeans travelled to China in 2016, 3.1 million of whom from EU countries.
China's Greater Bay Area – a major outbound area
The last chapter of 'UNWTO/GTERC Asia Tourism Trends – 2018' provides an insight into the Greater Bay Area of China, a project to create a large socio-economic zone and tourism area comprising the two Special Administrative Regions of Hong Kong and Macao, as well as nine cities in Guangdong Province. According to the report, the Greater Bay Area is China's fastest-growing tourism region and the Pearl River Delta home to several cities with high tourism development including Guangzhou, Shenzhen, Zhuhai and Foshan.
Energy efficiency is the cornerstone for building a secure and sustainable energy system
A global effort to deploy the right energy efficiency policies could, on its own, see greenhouse gas emissions peak quickly and then fall even as the global economy doubles between now and 2040, according to the IEA's latest analysis on energy efficiency.
Energy Efficiency 2018 examines the opportunities for improving global energy efficiency to 2040, and finds that efficiency gains alone could allow the world to extract twice as much economic value from the energy it uses compared to today. Doing so would reduce energy bills for consumers by more than $500 billion dollars per year, lower energy imports and cut air pollution in cities – a key issue for many countries.
The report sets out a vision for 2040 with 60% more building space and 20% more people, and double global GDP, while using only marginally more energy than today and cutting greenhouse gas emissions by 12%. Delivering this vision requires an immediate step up in policy action. For example, countries would need to continue to push up the efficiency of both cars and trucks, building on the progress made in recent years.
Another priority is the efficiency of air conditioners, as highlighted in the IEA's recent report The Future of Cooling. This demonstrated that air conditioners could be twice as efficient as they are today with the right policies in place. Global investment in energy efficiency will need to rise significantly, but this investment will pay back threefold through energy savings alone.
This new analysis comes in the wake of the new report by the Intergovernmental Panel on Climate Change (IPCC) that reminds us that global greenhouse gas emissions need to peak quickly and then decline for the world to meet its commitments under the Paris Agreement. Energy efficiency and bioenergy – two areas where the IEA has been shining a light recently – are both critical to this effort.
Energy Efficiency 2018 outlines a global strategy focused on what governments can do to capture the economic, social and environmental benefits of enhanced energy efficiency. IEA's global analysis of energy efficiency has identified the key actions that can deliver the most positive impact. This includes improving the efficiency of buildings and industry. It also highlights the importance of areas such as aviation and shipping, where energy efficiency is becoming increasingly important.
"While various countries are endowed with different energy resources – whether it's oil, gas, wind, solar or hydropower – every single country has energy efficiency potential," said Dr Fatih Birol, the IEA's Executive Director. "Efficiency can enable economic growth, reduce emissions and improve energy security. Our study shows that the right efficiency policies could alone enable the world to achieve more than 40% of the emissions cuts needed to reach its climate goals without requiring new technology. Thanks to the critical importance of energy efficiency in building a secure and sustainable future, the IEA considers it the 'first fuel' and facilitates the exchange of best practices among advanced and emerging economies."
Recent trends show that policy efforts have weakened in recent years. In other words, the improvements in energy efficiency that were seen in recent years are now slowing down as fewer new standards and policies were introduced in the past two years. This has contributed to the acceleration in energy demand growth that was observed in 2017.
This weakening of efficiency progress is concerning at a time when global energy demand is growing, especially as the new IEA analysis shows just how much potential gains remain. To answer this question, the report asks what would happen if all energy efficiency opportunities were taken up. All the opportunities identified are fully cost effective and use only technologies already available today.
The report introduces the IEA's Efficient World Strategy, which identifies where the efficiency opportunities exist and sets out the policies required to be put in place to capture them. It offers a blueprint to Governments to improve their economies and lower their emissions. It also maps out how to meet key elements of the UN's Sustainable Development Goals relating to energy.
"The IEA is working actively with Governments across the world to enact the right policies for enhancing energy efficiency," said Dr Birol. "We know there is an appetite for focused solutions, and this is what the Efficient World Strategy offers. We look forward to working with countries to deliver the benefits of energy efficiency, and we call on governments to prioritise the actions that can help them meet their energy and climate goals."