UN mourns death of former Secretary-General Kofi Annan, 'a guiding force for good'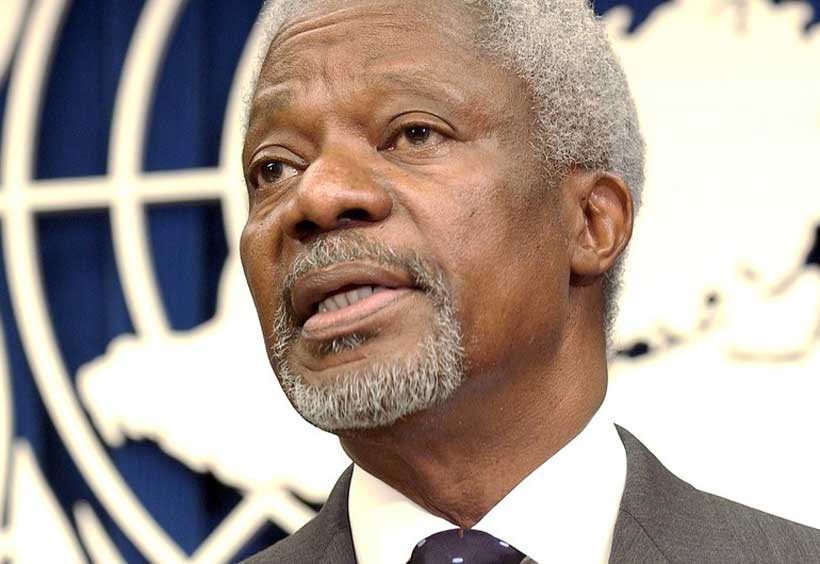 The United Nations is mourning the death of former Secretary-General Kofi Annan, who passed away peacefully after a short illness, according to a statement published on his official Twitter account on Saturday. The renowned Ghanain diplomat was 80 years old.
The current UN chief, Antonio Guterres hailed him as "a guiding force for good" and a "proud son of Africa who became a global champion for peace and all humanity."
"Like so many, I was proud to call Kofi Annan a good friend and mentor. I was deeply honoured by his trust in selecting me to serve as UN High Commissioner for Refugees under his leadership. He remained someone I could always turn to for counsel and wisdom — and I know I was not alone," Mr. Guterres said in a statement.
"He provided people everywhere with a space for dialogue, a place for problem-solving and a path to a better world.  In these turbulent and trying times, he never stopped working to give life to the values of the United Nations Charter. His legacy will remain a true inspiration for all us."
Kofi Annan was born in Kamasi, Ghana, on 8 April 1938.
He joined the UN system in 1962 as an administrative and budget officer with the World Health Organization in Geneva, rising through the ranks to hold senior-level posts in areas such as budget and finance, and peacekeeping.
He served as UN Secretary-General for two consecutive five-year terms, beginning in January 1997.
Mr. Annan joined the UN system in 1962 as an administrative and budget officer with the World Health Organization (WHO) in Geneva, rising to hold senior-level posts in areas such as budget and finance, and peacekeeping.
As Mr. Guterres noted: "In many ways, Kofi Annan was the United Nations. He rose through the ranks to lead the organization into the new millennium with matchless dignity and determination."
From his beginnings in Geneva, Mr. Annan held UN posts in places such as Ethiopia, Egypt, the former Yugoslavia and at Headquarters in New York.
Following Iraq's invasion of Kuwait in 1990, he was tasked with facilitating the repatriation of more than 900 international staff as well as the release of Western hostages.
He later led the first UN team negotiating with Iraq on the sale of oil to fund purchases of humanitarian aid.
Immediately prior to his appointment as Secretary-General in January 1997, Mr. Annan headed the UN Department of Peacekeeping Operations during a period which saw an unprecedented growth in the Organization's field presence.
His first major initiative as UN chief was a plan for UN reform, presented to Member States in July 1997.
Mr. Annan used his office to advocate for human rights, the rule of law, development and Africa, and he worked to bring the UN closer to people worldwide by forging ties with civil society, the private sector and other partners.
As Secretary-General, he also galvanized global action to fight HIV/AIDS and combat terrorism.
Mr. Annan and the United Nations jointly were awarded the Nobel Peace Prize in 2001.
In his farewell statement to the UN General Assembly in December 2006, Kofi Annan expressed emotion over leaving what he called "this mountain with its bracing winds and global views."
Although the job had been difficult and challenging, he admitted that it was also "thrillingly rewarding" at times.
"And while I look forward to resting my shoulder from those stubborn rocks in the next phase of my life, I know I shall miss the mountain," he said.
However, Mr. Annan did not rest, taking on the role of UN Special Envoy for Syria in the wake of the conflict which began in March 2011.
He also chaired an Advisory Commission established by Myanmar in 2016 to improve the welfare of all people in Rakhine state, home to the minority Rohingya community.
His homeland, Ghana, established an international peacekeeping training centre that bears his name, which was commissioned in 2004.
UN rights experts call for decisive measures to protect 'fundamental freedoms' in China
The repression of "fundamental freedoms" by the Chinese Government prompted nearly 50 UN independent experts on Friday to express their continuing alarm, urging the country to "abide by its international legal obligations".
After having "repeatedly communicated" their concerns, they highlighted the repression of protests and democracy advocacy in the Hong Kong Special Administrative Region (SAR); impunity for excessive use of force by police; the alleged use of chemical agents against protesters; the alleged sexual harassment and assault of women protesters in police stations; together with the alleged harassment of health care workers.
The experts also raised their "grave concerns" on issues ranging from the collective repression of specific communities – "especially religious and ethnic minorities, in Xinjiang and Tibet" – to the detention of lawyers and prosecution – in addition to disappearances – of human rights defenders across the country.
Moreover, they expressed alarm over allegations of forced labour in both formal and informal sectors of the economy, as well as arbitrary interferences with the right to privacy, cybersecurity laws that authorise censorship; and anti-terrorism and sedition laws, applicable in Hong Kong.
The independent experts also voiced their concern for journalists, medical workers and those speaking out about COVID-19 online inside China, who have allegedly faced retaliation from the authorities, including being charged with "spreading misinformation" or "disrupting public order."
'Violation' of legal obligations
Most recently, say the experts, and without meaningful consultation with the people of Hong Kong, China has drafted a national security law that would undermine the right to a fair trial, and open the door to a "sharp rise in arbitrary detention", undermining the "one country, two systems" governance framework that was introduced at the end of British rule; enabling the Chinese Government to establish "agencies" in Hong Kong "when needed."
If adopted, the law would "violate China's international legal obligations and impose severe restrictions on civil and political rights in the autonomous region", according to the independent experts.
"The draft law would deprive the people of Hong Kong…the autonomy and fundamental rights guaranteed them under the 1984 Sino-British Joint Declaration", they maintained.
The experts urged China to "withdraw the draft national security law for Hong Kong".
Standing up, speaking out
After actions taken by the Government towards Hong Kong, Xinjiang minorities, the Tibet Autonomous Region, and rights defenders across the country, the independent experts are calling for "renewed attention on the human rights situation in the country".
They urged China to invite civil and political rights monitors to conduct independent missions "in an environment of confidentiality, respect for human rights defenders, and full avoidance of reprisals" and encouraged the UN Human Rights Council (HRC) to urgently monitor Chinese human rights practices.
Click here for the full list of names of the UN experts.
Special Rapporteurs and independent experts are appointed by the Geneva-based HRC to examine and report back on a specific human rights theme or a country situation. The positions are honourary and the experts are not UN staff, nor are they paid for their work.
US sanctions against international court staff a 'direct attack' on judicial independence
The decision by the United States to authorize sanctions targeting staff at the International Criminal Court (ICC) is "a direct attack to the institution's judicial independence", UN human rights experts said on Thursday.
Washington announced this month that it would launch an economic and legal offensive against ICC officials investigating alleged war crimes committed by all sides in the conflict in Afghanistan, including US troops.
"The implementation of such policies by the US has the sole aim of exerting pressure on an institution whose role is to seek justice against crimes of genocide, war crimes, crimes against humanity, and the crime of aggression", said Diego García-Sayán, UN Special Rapporteur on the independence of judges and lawyers, speaking on behalf of the 34 experts.
"It's a further step in pressuring the ICC and coercing its officials in the context of independent and objective investigations and impartial judicial proceedings."
Afghanistan probe 'important'
The ICC, which is based in The Hague, in the Netherlands, prosecutes the most serious crimes of concern to the international community, including cases related to conflict in the Central African Republic, Darfur and the Democratic Republic of the Congo.
It was established in July 1998 under a treaty known as the Rome Statute, which more than 120 countries have signed. The US is not a party.
The ICC's Appeals Chambers authorized the Afghanistan probe in March, overturning an earlier decision.
Speaking at the time, Prosecutor Fatou Bensouda called it "an important day for the cause of justice in the situation of Afghanistan, for the Court, and for international criminal justice more broadly."
Assets blocked, visas revoked
In response to the court's decision, US President Donald Trump issued an Executive Order on 11 June, blocking the financial assets of certain ICC staff and imposing visa restrictions on them and their immediate family members.
Speaking at a press conference that day, US Attorney-General William Barr said the measures "are an important first step in holding the ICC accountable for exceeding its mandate and violating the sovereignty of the United States."
The president of the body which overseesthe ICC, O-Gon Kwon, has denounced the measures, stating "they undermine our common endeavour to fight impunity and to ensure accountability for mass atrocities."
'Broad spectrum' of rights violated
The UN experts said sanctions targeting international judges and international civil servants violate their privileges and immunities, as well as "a broad spectrum" of rights.
Specifically, the Executive Order "would result in the violation of the prohibition of punishment for acts that did not constitute criminal offences at the moment of their commission, the right to a fair trial, the right to freedom of movement and the right to privacy and family life," they added.
They also recalled that the US has warned it would "exact consequences" against the ICC for any "illegitimate" investigations into Israeli practices in the occupied Palestinian territory.
The experts, who are neither UN staff nor paid by the Organization, have been in contact with the US authorities on these issues.
Digital tools being used to track people as never before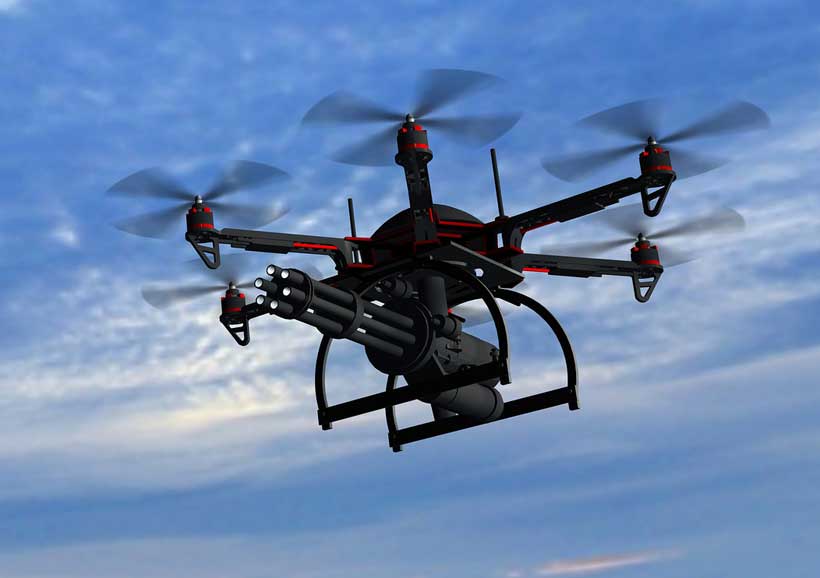 The internet and new digital tools are being manipulated as never before to infringe on people's right to free assembly, the UN's top rights official said on Thursday, in a call for a moratorium on the use of facial recognition technology during peaceful demonstrations.
Amid global protests against systemic racism, corruption and economic woes exacerbated by the COVID-19 crisis, High Commissioner for Human Rights Michelle Bachelet also expressed concern about the use of non-lethal weapons against demonstrators.
These emerging devices include pepper ball launchers, acoustic weapons and drones and other "autonomous systems" that release tear gas, Ms. Bachelet's Office, OHCHR, said in a report, mandated by the UN Human Rights Council.
The High Commissioner urged States and businesses to ensure that these and other fast-developing technologies are developed and used in ways that do not disrupt and prevent people's participation in public affairs.
"New technologies can be used to mobilize and organize peaceful protests, form networks and coalitions…thus driving social change", Ms. Bachelet said, a former two-term president of her native Chile. "But, as we have seen, they can be – and are being – used to restrict and infringe on protesters' rights, to surveil and track them, and invade their privacy."
Training call
In a call for mandatory training for law-enforcement personnel on the use of crowd control weapons – and accountability for rights violations related to their misuse – the High Commissioner explained that they "can kill if …improperly used, whether deliberately or accidentally".
According to OHCHR protests took place in some 80 countries around the world in 2019, with many grievances at the core of the 2030 Agenda for Sustainable Development.
This year, people in thousands of cities worldwide took to the streets in the wake of the death in the U.S. of George Floyd, whose death on 25 May in Minneapolis was captured on video, while a police officer knelt on his neck for over eight minutes.
More facial recognition
In a worrying development, more States are increasingly using facial recognition technology to identify protesters, "sometimes in real time", said OHCHR's Peggy Hicks, Director of Thematic Engagement.
This was despite the fact that the technology was allegedly "prone to errors", she continued, urging its proportionate use.
"That means in this context that misidentification could lead to wrongful arrest for example, or prosecution. These risks we know are substantially greater for women and people of colour, raising the likelihood that facial recognition technology may perpetuate and amplify discrimination."
Calls blocked, accounts hacked
It was also deeply concerning that protesters faced having their cell phone calls intercepted or blocked by "many" police forces, or their social media accounts hacked and systematically monitored.
"Too often authorities have viewed peaceful assemblies as something that needs to be controlled or managed, rather than as critical vehicles for public participation in democracy", Ms. Hicks told journalists via video conference in Geneva.
Among its recommendations, the OHCHR report urged States to avoid resorting to internet shutdowns, which happened during at least 65 protests in 2019.
Addressing the fact that only around half of the world's people have access to the internet today, Ms. Bachelet also insisted that it was "crucial" that States ensure secure and affordable online access for everyone.
"Given the importance of the enjoyment of the right of peaceful assembly for democracies, and the role Internet-based technologies can play, it is crucial that States close the digital divide and ensure the greatest number of people possible can get secure, affordable Internet access", the High Commissioner said.