All sanctions against Russia are based on lies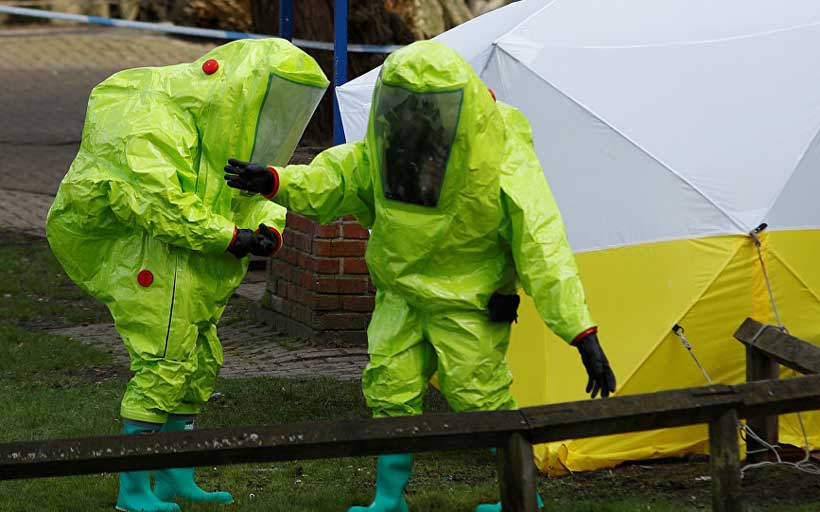 All of the sanctions (economic, diplomatic, and otherwise) against Russia are based on clearly demonstrable intentional falsehoods; and the sanctions which were announced on August 8th are just the latest example of this consistent tragic fact — a fact which will be proven here, with links to the evidence, so that anyone who reads here can easily see that all of these sanctions are founded on lies against Russia.
The latest of these sanctions were announced on Wednesday August 8th. Reuters headlined "U.S. imposes sanctions on Russia for nerve agent attack in UK" and reported that, "Washington said on Wednesday it would impose fresh sanctions on Russia by the end of August after it determined that Moscow had used a nerve agent against a former Russian agent and his daughter in Britain." This was supposedly because "Sergei Skripal, a former colonel in Russia's GRU military intelligence service, and his 33-year-old daughter, Yulia, were found slumped unconscious on a bench in the southern English city of Salisbury in March after a liquid form of the Novichok type of nerve agent was applied to his home's front door. European countries and the United States expelled 100 Russian diplomats after the attack, in the strongest action by President Donald Trump against Russia since he came to office."
However, despite intense political pressure that the UK Government and 'news'media had placed upon the UK's Porton Down intelligence laboratory to assert that the poison had been made in Russia (labs in several countries including the UK have also manufactured it), the Porton Down lab refused to say this. Though the U.S. Government is acting as if Porton Down's statement "determined that Moscow had used a nerve agent," the actual fact is that Porton Down still refuses to say any such thing, at all — this allegation is merely a fabrication by the U.S. Government, including its allies, UK's Government and other Governments and their respective propaganda-media. It's a bald lie.
On March 18th, the great British investigative journalist and former British diplomat Craig Murray had headlined about UK's Foreign Secretary, "Boris Johnson Issues Completely New Story on Russian Novichoks" and he pointed to the key paragraph in the Porton Down lab's statement on this matter — a brief one-sentence paragraph:
Look at this paragraph:
"Russia is the official successor state to the USSR. As such, Russia legally took responsibility for ensuring the CWC [Chemical Weapons Convention] applies to all former Soviet Chemical Weapons stocks and facilities."
It does not need me to point out, that if Porton Down had identified the nerve agent as made in Russia, the FCO [Foreign and Commonwealth Office — UK's foreign ministry] would not have added that paragraph. Plainly they cannot say it was made in Russia.
Murray's elliptical report, which unfortunately was unclearly written — it was rushed, in order to be able to published on the same day, March 18th, when the UK's official response to the Porton Down lab's analysis was published — was subsequently fully explained on March 23rd at the excellent news-site Off-Guardian, which specializes in investigating and interpreting the news-media (in this case, Craig Murray's article, and the evidence regarding it); they headlined "Skripal case: 'closely related agent' claim closely examined'," and concluded their lengthy and detailed analysis:
In short, the ruling cited above, even if read in the most improbably forgiving way possible, shows the UK government does not have the information to warrant any of the claims it has so far made about Russian state involvement in the alleged poisoning of the Skripals. It shows the UK government is currently guilty of lying to Parliament, to the British people, and to the world.
Nothing has been published further about the Skripal/Novichoks matter since then, except speculation that's based on the evidence which was discussed in detail in that March 23rd article at Off-Guardian.
On the basis of this — merely an open case which has never been examined in more detail than that March 23rd analysis did — the Skripal/Novichok case has been treated by the UK Government, and by the U.S. Government, and by governments which are allied with them, and by their news-media, as if it were instead a closed case, in which what was made public constitutes proof that the Skripals had been poisoned by the Russian Government. On that blatantly fraudulent basis, over a hundred diplomats ended up being expelled.
The Porton Down lab still refuses to say anything that the UK Government can quote as an authority confirming that the Skripals had been poisoned by the Russian Government.
All that's left of the matter, then, is a cold case of official lies asserting that proof has been presented, when in fact only official lies have been presented to the public.
The UK Government prohibits the Skripals from speaking to the press, and refuses to allow them to communicate even with their family-members. It seems that they're effectively prisoners of the UK Government — the same Government that claims to be protecting them against Russia.
This is the basis upon which the U.S. State Department, on August 8th, issued the following statement to 'justify' its new sanctions:
Imposition of Chemical and Biological Weapons Control and Warfare Elimination Act Sanctions on Russia
Press Statement
Heather Nauert 
Department Spokesperson
Washington, DC
August 8, 2018
Following the use of a "Novichok" nerve agent in an attempt to assassinate UK citizen Sergei Skripal and his daughter Yulia Skripal, the United States, on August 6, 2018, determined under the Chemical and Biological Weapons Control and Warfare Elimination Act of 1991 (CBW Act) that the Government of the Russian Federation has used chemical or biological weapons in violation of international law or has used lethal chemical or biological weapons against its own nationals.
Following a 15-day Congressional notification period, these sanctions will take effect upon publication of a notice in the Federal Register, expected on or around August 22, 2018.
U.S. law is supposed to be "innocent until proven guilty" — the opposite of legal systems in which the contrary assumption applies: "guilty until proven innocent." However, regarding such matters as invading and destroying Iraq in 2003 upon the basis of no authentic evidence; and invading and destroying Libya in 2011 on the basis of no authentic proof of anyone's guilt; and on the basis of invading and for years trying to destroy Syria on the basis of America's supporting Al Qaeda in Syria against Syria's secular government; and on the basis of lying repeatedly against Russia in order to load sanction after sanction upon Russia and to 'justify' pouring its missiles and thousands of troops onto and near Russia's border as if preparing to invade 'the world's most aggressive country' — the U.S. federal Government routinely violates that fundamental supposition of its own legal system ("innocent until proven guilty"), whenever its rulers wish. And yet, it calls itself a 'democracy'.
Donald Trump constantly says that he seeks improved relations with Russia, but when his own State Department lies like that in order to add yet further to the severe penalties that it had previously placed against Russia for its presumed guilt in the Skripal/Novichok matter, then Trump himself is publicly exposing himself as being a liar about his actual intentions regarding Russia. He, via his Secretary of State Mike Pompeo's State Department, not only is punishing Russia severely for this unproven allegation, but now adds yet further penalties against Russia for it. Trump is being demanded by the U.S. Congress to do this, but it is his choice whether to go along with that demand or else expose that it's based on lies. He likes to accuse his opponents of lying, but, quite obviously, the members of Congress who are demanding these hiked rounds of sanctions against Russia are demanding him to do what he actually wants to do — which is now clearly demonstrated to be the exact opposite of exposing those lies. If Trump is moving toward World War III on the basis of lies, then the only way he can stop doing it is by exposing those lies. He's not even trying to do that.
Nothing is being said in the State Department's cryptic announcement on August 8th that sets forth any reasonable demand which the U.S. Government is making to the Russian Government, such that, if the reasonable demand becomes fulfilled by Russia's Government, then the United States Government and its allies will cease and desist their successive, and successively escalating, rounds of punishment against Russia.
Russia is being offered no path to peace, but only the reasonable expectation of escalating lie-based American 'justifications' to perpetrate yet more American-and-allied aggressions against Russia.
There have been three prior U.S. excuses for applying prior rounds of sanctions against Russia, and all of them have likewise been based upon lies, and varnished with many layers of overstatements.
First, in 2012, there was the Magnitsky Act, which was based upon frauds (subsequently exposed here and here and here) which assert that Sergei Magnitsky was murdered by the Russian Government. The evidence (as linked-to there) is conclusive that he was not; but the U.S. Government and its allies refuse even to consider it.
Then, in 2014, Crimea broke away from Ukraine and joined the Russian Federation, and the U.S. and its allies allege that this was because Russia under Putin 'seized' Crimea from Ukraine, when in fact America under Obama had, just weeks prior to that Crimean breakaway, seized Ukraine and turned it against Russia and against Crimea and the other parts of Ukraine which had voted overwhelmingly for the democratically elected Ukrainian President whom the Obama regime had just overthrown in a bloody coup that had been in the planning ever since at least 2011 inside the Obama Administration. Several rounds of U.S.-and-allied economic sanctions were imposed against Russia for that — for the constant string of lies against Russia, and of constant cover-ups of "the most blatant coup in history,"  which had preceded and caused the breakaway.
These lies originated with Obama; and Trump accuses Obama of lying, but not on this, where Obama really did lie, psychopathically. Instead, Trump makes those lies bipartisan. On what counts the most against Obama, Trump seconds the Obama-lies, instead of exposing them. And yet Trump routinely has accused Obama as having lied, even on matters where it's actually Trump who has been lying about Obama.
Then, there have been the anti-Russia sanctions that are based upon Russiagate and 'Trump is Putin's stooge and stole the election.' That case against Russia has not been proven, and Wikileaks' founder Julian Assange says that what he had published were leaks from the DNC and Podesta's computer, not hacks at all; and yet the sanctions were imposed almost as soon as the Democratic Party's accusations started. Those sanctions, too, are utterly baseless except as being alleged responses to unproven (and likely false) allegations. Furthermore, even in the worst-case scenario: the U.S. Government itself routinely overthrows foreign governments, and continues tapping the phones and electronic communications of foreign governments, and manipulating elections abroad. Even in the worst-case scenario, Russia hasn't done anything that historians haven't already proven that the U.S. Government itself routinely does. That's the case even if Russia is guilty as charged, on all of the U.S-and-allied accusations.
So: Who wants World War III? Apparently, both the Democratic and the Republican Parties do. Obama called Russia the world's most aggressive nation. Trump joins with him in that bipartisan lie. Outside of America itself, most of the world consider the United States to be actually the "greatest threat to peace in the world today." Therefore, why isn't the NATO alliance against America? The NATO alliance is America and most of its vassal-nations: they're all allied against Russia. Their war against Russia never stopped. That 'Cold War' continued, even after the USSR and its communism and its Warsaw Pact mirror-image to NATO, all ended in 1991; and now the intensifying 'cold war' threatens to become very hot. All based on lies. But that seems to be the only type of 'justifications' the U.S.-and-allied tyrants have got.
Either the lies will stop, or else we all will. Trump, as usual, is on the wrong side of the lies. And he seems to be too much of a coward to oppose them, in these cases, which are the most dangerous lies of all. This is how we could all end. Doing something heroic that would stop it, seems to be way beyond him — he doesn't even try. That's the type of cowardice which should be feared, and despised, the most of all. Trump has taken up Obama's worst, and he runs with it. Trump had promised the opposite, during his Presidential campaign. But this is the reality of Trump — a profoundly filthy liar — at least insofar as he has, thus far, shown himself to be. What he will be in the future is all that remains in question. But this is what he has been, up till now.
Author's note: this piece first posted at strategic-culture.org
Why Economic Sanctions Mean Little to Moscow
Realpolitik, a German term for politics based on day-to-day calculations regarding the military and economic balance of power among major states, should be used and discussed more often in the modern world, though we often discuss Russia and the ways to influence its actions over the long-term especially in its immediate neighborhood.
Economic sanctions are a common tool for the West, and many, particularly in the former Soviet space, believed that western measures would cripple Russia and make Moscow change its foreign policy with regards to Ukraine and perhaps Georgia. Others thought the economic sanctions would do no more than influence some aspects of Russian policies, though in such a way as to limit to a certain degree Russia's projection of power.
But Russian politicians giving in to European pressure would be humiliating from a nationalistic point of view.
Instead of (or on top of) those sanctions, what the West lacks is a quiet military and economic build up along the Russian borders so that Moscow starts seeing the changing geopolitical landscape. Again, those western actions would not be based on loud bombastic statements such as "we'll change if you do," but on a real shift in the balance of power. This is what is happening now when Europe demands Russian concessions on Ukraine in exchange for lifting financial restrictions. But for the Russian leadership, it will be self-destructive to radically abandon its current policy on Ukraine and Georgia.
That there is a larger western economic and military presence in the Russian neighborhood is what matters to the Russians. For Vladimir Putin, a master practitioner of realpolitik, western notions of the democratic development of Ukraine, Moldova and Georgia, and thus Russia's non-interference, is a flagrant misconception. The leadership in Moscow does not genuinely believe that the West is so interested in Ukraine and Georgia. From the Russian perspective, the spread of democracy cannot be a viable explanation and the West's purely geopolitical calculations should be considered.
Putin, like his predecessors from the Soviet era or even the Romanov dynasty, believes that any Western moves in the Russian neighborhood are anti-Russian per se. He is not to blame; there is simply a different civilizational approach to foreign relations in Moscow compared to Western countries. In studies on geopolitics, this factor is often missed, but it is deeply important.
There is also a distinct way in which the Russian leadership responds to foreign threats. In Europe, governments of countries facing problems can easily resign, while in Russia, bending to foreign pressure is tantamount to an unravelling of the state apparatus, leading to elite infighting and even possibly something close to troubles on the periphery of the state. This is a product of Russian geography, ethnic composition and culture.
On the contrary, faced with direct pressure, the Russians usually make moves which better show off their military strength. Consider what happened in Ukraine. Facing a total loss of Ukrainian territory in 2014, a distinctively Russian reaction to this coming disaster was taking the pieces which Moscow could still take.
To counter Russian moves, a larger US and European presence in Ukraine, Moldova and Georgia could arguably be the only viable solution to the problems with Russia in the former Soviet space. Moscow will have to consider more acutely the changing geopolitical landscape, while it will serve as a good further pointer to various Russian elites that the state's foreign policy for the past 20 years has been counterproductive.
This will be a good representation of realpolitik towards Russia. In a way, the time is ripe for reinvigoration of this 19th century German foreign policy concept. The US recently reformulated its foreign policy, while its latest national strategy document clearly outlined the rise of power competition in Eurasia. To strengthen its positions across the continent, Washington ideally would need to work in Japan, South Korea and other traditional US allies. In this atmosphere, direct US support for Georgia and Ukraine might be logical and could be more practical than time-consuming NATO procedures.
It will be costly, but still not as much as the US is spending on its larger allies. In the era of the Cold War and later in the 1990s, when notions of world democratic world order were a driving motor of the US foreign policy, in a world based on realpolitik there will more avenues for direct, bolder and balance-changing moves.
This brings us back to Russia and how the economic sanctions have had only a limited impact on Moscow. Imposition of sanctions alone failed to produce viable results: instead, they should have been propped up by other actions, such as changing the economic and military landscape of Georgia and Ukraine.
Author's note: first published in Georgia Today
Russia and Italy: No Breakthroughs
The official visit of Russian President Vladimir Putin to Italy on July 4, 2019, the first in the past four years, became yet another confirmation of the "special relationship" between Rome and Moscow, but did not, however, signal a breakthrough. For Italy, the meeting came as another attempt to restore its role of a "protagonist" on the international scene, a role the country has been dreaming of playing for over two decades. It was not by chance that Guiseppe Conte, during his recent visit to Moscow, "rebuked" Vladimir Putin for not paying sufficient attention to the Italian people. In Italy, this lack of attention is seen as a sign that the country is not coping well with its role of a "protagonist" and a "bridge" between the West and the East. For Russia, a dialogue with Italy is more than just a conversation with a partner who is willing to listen and establish relations based on mutual trust — it is an opportunity to convey Russian opinions on key issues related to cooperation between Russia and countries of the Euro-Atlantic bloc.
The visit of Guiseppe Conte to Moscow in October 2018, and now Vladimir Putin's visit to Rome, the "friendly" meetings of Guiseppe Conte and Donald Trump in July 2018 during a period of acute tension in the Euro-Atlantic bloc, Deputy Prime Minister Matteo Salvini's visit to Washington in June 2019, and the signing of a memorandum of cooperation under the Belt and Road Initiative reached with Xi Jinping all testify to Rome's ambitions for a more independent and autonomous foreign policy. Italy, under the leadership of the new "government of change," is trying to play its own foreign policy game, guided by the principles of national sovereignty and national interests. However, at the moment, the hands of the yellow-green coalition are tied by the threat of sanctions from the European Commission for non-compliance with financial discipline. Naturally, this imposes significant restrictions on the potential of Italian foreign policy. In addition, the elections to the European Parliament in May 2019 and the subsequent distribution of top posts in the EU testify to Italy losing a significant share of its say in relations between Russia and the EU. In this context, the visit served as a confirmation of the two parties' intentions but did not produce any practical solutions to problems of mutual concern.
Bilateral political dialogue: dreams and reality
Improving relations with Russia is a separate clause of the "government contract" concluded between the two parties that form the governing coalition in Italy. This is the first time that such an agenda is set at such a high level. Generally speaking, this is evidence of the consistency of Italian foreign policy which was formed in the post-war years,the purpose of which is to fulfill the role of a "bridge" between the North and the South, the West and the East. Perhaps, the historical peak of this strategy occurred when Italy carried out active mediation to establish the Russia-NATO Council in 2002. Nevertheless, the Italian foreign policy is still following this strategy.
According to experts, the status of "privileged partnership", which was repeatedly voiced at the level of heads of state and by official representatives of Russia and Italy, does not match the real level of relations. A more realistic description of relations between Russia and Italy is "the best among the worst" compared to other partners in the EU, or a pragmatic cooperation that is still a problem to implement at the European level. This time, the leaders of the two states, speaking of existing relations, used such epithets as "excellent", "constructive" and "businesslike", and several times addressed each other using the word "friends".
Meanwhile, we can be confident that a political dialogue between Russia and Italy is gradually regaining strength after the crisis of 2014–2015, particularly following the arrival of the yellow-green coalition in Italy. In October 2018, the Italian Prime Minister Giuseppe Conte visited Moscow. On the eve of his visit, Deputy Prime Minister and leader of the League Party, Matteo Salvini, arrived in Moscow too to meet with representatives of Italian businesses working in Russia. In 2019, Vladimir Putin and Giuseppe Conte met at the "One Belt – One Road" forum, and also at the G20 summit in Osaka. Bilateral contacts are gradually being restored between the defense and interior ministries, consultations are under way on international information security, and an inter-parliamentary dialogue is back on track too.
Even though Moscow highly values Russian-Italian relations, Russian leaders regularly emphasize that Italy could do more in the EU to improve relations with Russia. In a report on Russian-Italian relations, which was recently released by the Russian International Affairs Committee of the Federation Council, Italy is systematically criticized for following the general course of the Euro-Atlantic partnership, be it NATO's bombings in Yugoslavia in 1999, the U.S. operation and coalition in Iraq in 2003, the bombing of Libya in 2011, or the adoption of anti-Russian resolutions on Crimea. In all these cases, the report says, Italy, even though it is not completely in agreement with the United States and other European leaders, did not come out actively against them. Similarly, in 2015, Italy did not protest against the lowering of the status of Russia-EU relations, which had previously been known as a "strategic partnership". In addition, Italy, whose political leaders often publicly speak in favor of the lifting of sanctions, has never used its right of veto when voting in the EU to extend sanctions.
In particular, Russia points out that, having burned its fingers on the situation in Libya in 2011 and still paying for hasty decisions back then, Italy has been acting more carefully in Middle Eastern conflicts. It refused to participate in ground operations in Syria. Instead, it opted for providing humanitarian and logistical support. In Libya, Rome is actively trying to establish a dialogue between key warring parties, including with the help of Russia. In November 2018, Italy invited Russia to a conference on Libya in Naples, hoping to win the support of the Russian leadership, who at that time had better negotiating positions with Marshal Haftar than their Italian counterparts. On the issue of refugees, the Italian leadership took a number of independent measures and decisions to restrict migrants' access to the territory of Italy ("porti chiusi", or closed ports), and adopted a security law changing the rules for granting refugee status. This triggered criticism not only in Brussels, but also in the UN. Italy refused to recognize self-proclaimed Juan Guaido as the new president of Venezuela, thereby making it difficult for the EU to strike a common approach on this issue. On March 23, 2019, during Xi Jinping's visit, Italy and the People's Republic of China signed a memorandum of cooperation within the One Belt One Road Initiative, despite the numerous warnings against the move from Brussels. Such "independence" of the Italian leadership in foreign policy shows that Italy is at the epicenter of the conflict of national and supranational sovereignty in the EU, articulating this conflict as clearly and consistently as possible.
Italy-EU-Russia: not a love triangle
Such independence on the part of Italian leadership and their desire to assume some of the decision-making has triggered controversy domestically in Italy. On the one hand, these moves contribute to the status of Italy, both within the EU and on the international scene. On the other hand, some Italian experts say there is the risk of the country becoming isolated within the EU. Brussels, Paris and Berlin tend to view Rome's moves in a negative way – as detrimental to European solidarity and hindering the development of further supranational integration.
The EU systematically criticizes Russia for prioritizing bilateral relations above dialogue with Brussels. As for Italy, the situation is aggravated by the fact that, from the point of view of Brussels, the "anti-system" forces have developed a special liking for the Russian leader, while Russia, in turn, uses them as agents of influence in the EU. In February 2019 the leader of the "League" Matteo Salvini was reported to have received 3 million euros from the Kremlin for running the election campaign in the European Parliament. Therefore, on the eve of his visit, Vladimir Putin said in an interview with Italian news agency Corriere della Sera that Russia is ready for dialogue with any political forces that come to power by legitimate means, "regardless of their political affiliations." However, after Vladimir Putin's interview with The Financial Times, one cannot but notice that the Russian president's criticism of liberalism, being addressed, above all, to U.S. president Donald Trump, echoes the rhetoric of the Italian "government of change". Both in matters of migration management and in terms of governments' ability to respond to people's needs, the views of the Russian and Italian leadership are fairly close. In this context, Vladimir Putin's visit to Italy should certainly be considered not only as a bilateral dialogue, but also as an attempt to get across to leaders of the Western world the need to establish a dialogue with those political forces that express a different point of view on further socio-political and economic development in Europe and the United States.
The recent developments in the EU show, however, that the political mainstream is not prepared to heed alternative political groups. After the May 26, 2019 elections, Matteo Salvini, together with representatives of the "sovereignists" of Poland, France and a number of other countries, succeeded in building the largest coalition of "populists" in the entire history of the European Parliament – 73 deputies. This, however, did not provide them with enough say to affect the choice of candidates for key posts in the EU. The results of the EU summit on July 2, 2019, in which appointments to senior positions were made, testifies to Rome losing its influence in the EU. Unlike before, when representatives of Italy had occupied three key posts in the EU (Antonio Tajani – President of the European Parliament, Mario Draghi – Chairman of the ECB, Federica Mogherini – High Representative of the European Union for Foreign Affairs and Security Policy), now only one Italian – a representative of the opposition Democratic Party Divid Sassol – is part of the EU top management, having been given the position of President of the European Parliament. This yet again demonstrates that Paris, Berlin and Brussels are not ready for a serious dialogue with representatives of the yellow-green coalition of "sovereignists" and continue to rely on center-leftists.
In addition, the appointment of Ursula von der Leyen, German Minister of Defense with extensive experience in foreign policy and defense, as President of the European Commission is likely to lead to attempts at greater EU integration in the sphere of foreign policy, which may narrow the window of opportunity for more independent foreign policy initiatives of EU countries, including Italy.
What also restricts Italy in its efforts is the looming threat of EU sanctions for breaching fiscal discipline and exceeding the budget deficit. After the EU summit on June 2, Giuseppe Conte said that he had reached an agreement that sanctions would not be applied if Italy cut down the previously planned budget expenditures. However, the threat of sanctions is still there, and this is likely to be one of the most effective instruments of influence from Brussels on the country's position on many issues, including relations with Russia. Any harsh statements during the visit of Vladimir Putin or any so-called "big deals" would certainly cause even more irritation in Brussels, which means they could lead to a tougher policy towards Italy. Therefore, Vladimir Putin's visit was, of course, an important confirmation of Italy's proactive foreign policy but was not a breakthrough, since Italy is connected with the EU not only by the historical bonds of Euro-Atlantic solidarity, but also by tangible economic mechanisms that allow the EU to impose sanctions against the Italian economy.
The economy depends on politics
The economic dialogue between Russia and Italy does not correspond to the declared high level of bilateral relations. In 2017, after a three-year decline (from 2014 to 2016), bilateral trade regained momentum but is still far from the pre-crisis level ($ 27 billion in 2018 against 54 billion in 2013). Russia maintains a clear lead in Italian exports, being the fifth among top importers. The Italian presence is felt in almost all sectors of the Russian economy. About 500 Italian companies operate in Russia, which, however, holds no candle to Germany (4.7 thousand). Even though about 100 Russian-Italian joint ventures were set up during the period of sanctions as part of a program to move Italian production to Russia ("made with Italy"), this figure does not yet correspond to the existing potential. As for an economic dialogue, Italy is considerably behind Germany and France. While in Germany and France there have been functioning "Petersburg Dialogue" and "Trianon Dialogue" respectively, and the Sochi Dialogue has recently been launched with Austria, the Russian-Italian economic dialogue has yet to acquire an appropriate status. The Council for Economic, Industrial, Monetary and Financial Cooperation, which last gathered in Rome in December 2018, is still little known to both countries' general public. The "Russian-Italian Forum-Dialogue on Civil Society", which Vladimir Putin and Guiseppe Conte attended in course of the visit, has not received support from the Italian authorities since 2014. Only now is it approaching a new level of development. In addition, during the visit, the two parties agreed that the Russian Export Center and Vnesheconombank (VEB) would set up a bureau to support Russian exporters in Italy. Thus, the economic dialogue, which for a long time needed a new impetus, has finally received it following Vladimir Putin's visit to Rome. It is worth noting that the Italian leadership is acutely concerned about competition with Germany and France in two vast markets – Russia and China.
Russia, however, is waiting for more decisive steps from Italy to secure the lifting of the sanctions. However, according to Pasquale Terraciano, Ambassador Extraordinary and Plenipotentiary of the Italian Republic to Russia, "Italy has never considered sanctions a smart decision, but Italy is part of the Western bloc and cannot stand against it alone."[1]. Italy's agenda, he said, is to change the EU's opinion through the use of consistent steps. At the same time, as a practical measure aimed at expanding economic cooperation, Italy proposes to unfreeze the funding of small and medium-sized enterprises at the level of the EBRD and the European Investment Bank. As he addressed a press conference after the meeting, Giuseppe Conte pointed out that Italy is ready to assume the role of a consistent promoter of the idea of ​​lifting the sanctions but the conditions for this lifting had to be "ripe".
Energy is a major area of ​​cooperation between Italy and Russia. Russia is the fourth most important supplier of oil and the first of natural gas to Italy. Supplies from Moscow account for more than 40% of the total gas consumption. However, as Italian experts remark, Italy expects an increase in prices in connection with the construction of the Nordstream 2 gas pipeline, which will make Germany the number one transit country for Russian gas in Europe, bypassing Ukraine. Therefore, negotiations on the development of southern transportation routes are more than relevant for Italy. The meeting, however, yielded no breakthroughs on this issue either.
Regional cooperation: identifying problems, lack of solutions
Italy, just like Russia, sees a great potential for dialogue not only on issues related to bilateral cooperation, but also on those of the regional and global agenda. The priority for Italy is the Mediterranean, which produces the greatest number of challenges and threats to the country's national security. Simultaneously, Italy is fully aware of the fact that the country will not be able to cope with these challenges alone, although it is taking independent measures, in particular, in matters of migration. Quite recently, Matteo Salvini held talks with the Libyan leadership in Tripoli to curtail illegal migration. However, Rome knows only too well that the solution to the problem lies not so much in reaching agreements with specific countries as in assisting the development of countries the migrants come from and in settling regional conflicts. Italy greatly appreciates the role of Russia as a non-regional player whose influence has increased significantly in recent years. During a press conference following the elections, Vladimir Putin, however, said that Russia is not ready to plunge head-on into resolving the Libyan crisis, and that forces that destroyed Libya's statehood during the armed operation in 2011 should be involved;that is, NATO and the EU coalition. In solidarity with the Russian president, the Italian Prime Minister emphasized that Italy had warned from the very beginning that a military solution would not lead to peace. Under current conditions, the parties have indicated their readiness to participate in fostering a dialogue between all political forces in Libya.
As for Ukraine, Italy's official position should be in line with the EU policy providing for no new opportunities to change the situation. In an interview before Vladimir Putin's visit to Italy, Giuseppe Conte directly linked the issue of lifting of the sanctions with the observance of the Minsk agreements, implicitly suggesting that Russia is a party to the conflict and urging both sides to demonstrate more understanding. In an interview with Corriere della Sera, and during a press conference following the meeting, President Putin reiterated that the new leadership of Ukraine should fulfill its election promises and enter a direct dialogue with representatives of the Donetsk People's Republic and Lugansk People's Republic. Guiseppe Conte repeatedly pointed out that, although Italy is not part of the Normandy format (a negotiation apparatus designed to resolve the Ukrainian conflict), it is nevertheless ready to play a role in resolving the conflict if necessary, which once again confirms the country's willingness to play a greater role on the international scene.
The Russian president and the Italian prime minister also hold similar views on the situation in Venezuela, expressing concerns over foreign interference, which in their opinions will only aggravate the situation inside the country.
On the whole, it is essential to emphasize that Vladimir Putin's visit to Italy did not bring any breakthroughs, either in bilateral relations or in formulating common positions on issues of regional and global concern. Although the parties demonstrated identical views on the causes and nature of some of the issues on the international agenda, they proved unprepared to suggest concrete practical solutions. For Italy, the meeting provided yet another opportunity to identify its own national interests in promoting relations with Russia and to demonstrate its readiness to act as a "bridge" in the development of a dialogue between Russia and the Euro-Atlantic bloc. At the same time, it has revealed limitations in Italian foreign policy, linked to the economic situation in the country and the weak positions of the current leadership in the renewed European institutions.
1. Speech by the Ambassador Extraordinary and Plenipotentiary of the Italian Republic to the Russian Federation Pasquale Terracciano at the conference, at the Institute of Europe RAS, June 19, 2019
From our partner RIAC
Putin: Russia Ready to Work with Legitimate Leaders
President Vladimir Putin accepted the credentials of 18 newly appointed foreign ambassadors, among them seven from Africa, in a traditional ceremony in the St. Alexander Hall of the Great Kremlin Palace on July 3, and tasked them to facilitate the development of multifaceted relations between their individual states and Russia.
He reiterated that "Russia is open to mutually beneficial cooperation with all states without exception based on equality and respect for each other's interests, non-interference in internal affairs and strict compliance with international law."
Putin used the opportunity to outline upcoming key events as follows:
In the near future, Russia will host a series of major international events. In June, Russia assumed the presidency of the Shanghai Cooperation Organization, and will also preside on BRICS (Brazil, Russia, India, China and South Africa) from early 2020. Russia is steering towards a joint-partnership, and aims to advance common priorities in such areas as politics, security, economy, finance, culture and humanitarian ties.
In September 2019, Vladivostok will host a regular Eastern Economic Forum. Prime Minister of India Narendra Modi and Prime Minister of Japan Shinzo Abe will be the guests of honor.
Russia is planning to review cooperation prospects and the implementation of major joint investment projects in the Asia-Pacific region and to exchange opinions on ways of merging various integration processes so as to create a major Eurasian partnership.
In early October, Moscow will host Russian Energy Week, whose participants will discuss ensuring global energy security, providing all-round energy access and reducing volatile prices on global energy markets.
Russia is preparing actively for the first Russia-Africa Summit late October in Sochi and will be preceded by the Russian-African Economic Forum. President of Egypt and incumbent Chairman of the African Union, Abdel Fattah el-Sisi, will co-chair the Sochi forum together with Putin.
Accordingly, invitations have been sent to all heads of the African states, as well as the leaders of major sub-regional unions and organizations. It is, however, expected that this summit to propel a dialogue between Russia and Africa to a qualitatively new level, help ensure peace and security in the region, as well as a stable development on the African continent.
Further in his address, Putin told Ambassador Denis Kalume Numbi, Democratic Republic of the Congo, that Russia was interested in further developing cooperation with the Democratic Republic of the Congo in politics, trade, and international affairs, and would continue assisting Congolese partners in improving the socioeconomic situation in their country.
He noted that Russia's relations with Sierra Leone has been based on the traditions of friendship and mutual understanding, and Russia hoped for joint work in such sectors as mining, agriculture and fishing. Sierra Leonean Ambassador is now Mohamed Yongawo.
At the ceremony was Alemayehu Tegenu Aargau from the Federal Democratic Republic of Ethiopia. Putin expressed satisfaction on the level of cooperation with Ethiopia.
Last year, Russia and Ethiopia marked the 120th anniversary of diplomatic relations. Over the years, bilateral dialogue has covered a range of important political, economic, research and education topics. Besides, Russia and Ethiopia continue to strengthen cooperation in international and regional affairs.
Russia satisfied with cooperation with Namibia. "Cooperation with Namibia is successfully developing in such sectors as mineral resource development and uranium mining, as well as in the energy, fisheries, agriculture, tourism, military-technical and cultural areas," Putin told Clemens Handuukeme Kashuupulwa from the Republic of Namibia.
Namibia pursues a balanced policy in international affairs and plays an active role in peace-making efforts of the Southern African Development Community. Russia has a long history of bilateral engagements with the Southern African countries, which constitute the Southern African Development Community.
"We work together with Mauritania in marine fishing and hydrocarbon production. Our Mauritanian partners make a significant contribution to the fight against terrorism in the Sahara-Sahel zone," the Russian leader said while receiving Ambassador Hamid Hamouni.
Louis Sylvestre Radegonde (Republic of Seychelles) and Ms. Chandapiwa Nteta (Republic of Botswana) presented their credentials. Russia maintains friendly relations with the Republic of Seychelles. It counts on further joint work to expand cooperation including tourism.
Relations with Botswana encompass the trade, economic and humanitarian spheres; the intergovernmental agreement on military-technical cooperation is currently in force. Last year, Russia and Botswana signed an intergovernmental agreement on cooperation in defence.
Russian authorities have pledged to help and offer necessary assistance to the foreign envoys in pursuit of their official assignments in the Russian Federation. Present at the ceremony were Sergei Lavrov, Foreign Minister of Russia and Yury Ushakov, Aide to President Vladimir Putin.