Trump to Netanyahu: Palestinians Must Be Completely Conquered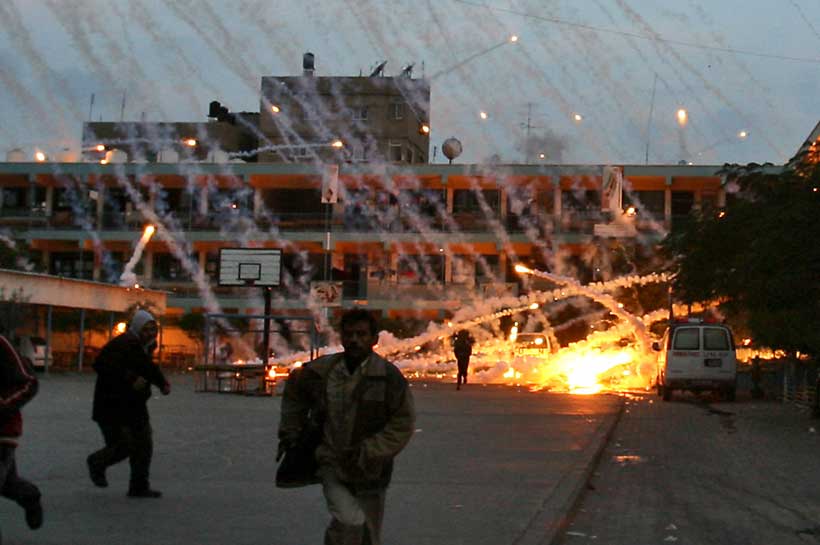 The Washington correspondent of Israel's Haaretz newspaper, Amir Tibon, headlined on the night of Tuesday, August 14, "Trump Administration Wants to See a Gaza Cease-fire 'With or Without the Palestinian Authority'," and he reported that, "The Trump administration wants to see a long-term cease-fire in Gaza, with or without the support of the Palestinian Authority, a spokesperson for the White House's National Security Council told Haaretz on Monday."
In other words: U.S. President Donald Trump is not angling for Palestinians to become ruled by the more moderate of the two political entities that are contesting for control over Palestine — he's not favoring The Palestinain Authority, Mahmoud Abbas, over Hamas, Ismail Haniya. He is, instead, aiming for Jews inside Israel to conquer completely the non-Jews, not only inside Israel, but also in the adjoining areas, Palestine.
Trump has now officially placed the United States on the side of Israel's Jews, for them to conquer and subdue Palestine, for Jews to rule over Palestinians, and for the residents in Palestine not to be allowed to participate in Israel's elections.
This will be very good for American firms such as Lockheed Martin, Northrop Grumman, Boeing, and General Dynamics, which depend wholly or primarily upon sales to the U.S. Government and to its allied governments, including Israel, for their profits and their net worths, their stock-market valuations. More war is essential for these firms, which sell only to these governments — governments which seek to control more land, regardless of what the residents there want, and which need to buy more weapons in order to do it.
Trump's foreign policies have been very effective.
Trump's biggest success, thus far into his Presidency, has been his sale of $400 billion (originally $350 billion) of U.S.-made weapons to the Saudi Arabian Government, which is owned by its royal family, after whom that nation is named. This sale alone is big enough to be called Trump's "jobs plan" for Americans. It is also the biggest weapons-sale in all of history. It's 400 billion dollars, not 400 million dollars; it is gigantic, and, by far, unprecedented in world-history. Consequently, anyone who would allege that he has been anything other than an extraordinary success for his constituency, the people who will be funding his 2020 re-election campaign, would be wrong. America is controlled by dollars, not by people; everything is geared to maximizing the return on investment, for the people who have invested in Trump. Increasing their net worths is his goal, and he has been stunningly successful at achieving it.
The individuals who control those corporations are also in control of those governments, via political corruption, such as the "revolving doors" between 'government service' and the private sector. If they can't control those governments, then they can't control their own finances. But if they do control those governments — and especially their own Government, the U.S. Government — then they control the very source of their own wealth. They are totally dependent upon the U.S. Government. Trump has, regarding U.S. military and diplomatic policies — the Pentagon and the State Department, and the intelligence agencies — been just as effective as the neoconservatives, the people who actually run both Parties on behalf of those firms, for those firms' owners, could have hoped. This does not mean that they won't in 2020 back an opponent of Trump, but only that Trump is issuing as many IOUs to these people as he can, and as fast as he can, and that he has been remarkably successful (unprecedented, actually) at doing that. Whereas Democrats such as Joe Biden and Eric Swalwell might contest against him for their support, no one can reasonably say that Trump has been a disappointment to the proponents of American conquest and control over the entire world — the people commonly called "neoconservatives," and all other agents of what Dwight Eisenhower called "the military-industrial complex." While those people might criticize him in order to push him even farther to the right on foreign affairs than he has been, he has been very effective for them, and he clearly is hoping that, at least regarding military policies, in America's militarized economy, those people will be satisfied for him to remain in power. That's his hope. That's his goal. It's shown by his actions, not by his mere words.
America's alliance with Israel is almost as important as America's alliance with the owners of Saudi Arabia, the Saud family. Both of those allies want the Palestinians to be conquered. And so does Trump. And, of course, so too do the people who are rotating constantly through those revolving doors, the other agents for America's rulers.
On August 9th, as reported by Amjad Jaghi of 972 Magazine, "the Israeli Air Force bombed Al-Meshal, one of the Gaza Strip's most important cultural facilities. They claim that the building — which comprises two theaters, three large halls, and a department serving the Egyptian community living in the Strip — was being used by Hamas."
On August 14th, Reuters headlined "Israeli minister confirms Netanyahu met Sisi over Gaza" and reported that "The two leaders discussed the easing of an Israeli-Egyptian blockade of Gaza, rehabilitation of its infrastructure and terms for a ceasefire." Israel said that "everything that will happen in Gaza will be done with Egyptian mediation and involvement." This means that the setting-up of Israel's control over Gaza will "be done with Egyptian mediation and involvement," but the operation of Israel's control over Gaza won't be — it'll be 100% Israeli.
For example, Sisi might be able to get Netanyahu to agree to increase the current, 85 truckloads of food daily into Gaza so as to raise Gazans' food-intake above its current "subsistence" level. Although he might try, Israel's record of violating its international agreements is even stronger than America's record for that is. But to serve PR purposes, Sisi might try. Ever since 2007, when Israel was allowing into Gaza 106 truckloads daily, that number was reduced down to this "subsistence" level.
On 1 January 2008, was secretly issued from Israel's Ministry of Defense, a document "Food Consumption in the Gaza Strip – Red Lines", in which the Ministry of Health informed them that the then-current 106 trucks daily was too much for "subsistence":
"The Ministry of Health is conducting work for calculating the minimal subsistence basket based on the Arab sector in Israel. The 'minimum basket' allows nutrition that is sufficient for subsistence without the development of malnutrition."
"The Ministry of Health estimates that the new basket will be 20% lower than the current basket [85 trucks instead of 106]."
And so it was, until 2010, when "Israel has not imposed any restrictions on the entrance of food to the Gaza Strip." And, after that, as of at least 2012, "the current policy remains shrouded in secrecy." However, (as shown at that link, where is printed a "Table 1. Entrance of trucks into Gaza"), the actual count of trucks, during the second half of 2010, was around 150 per day.
A U.N. publication "Gaza Ten Years Later", issued in July 2017, reported that: Import of goods to Gaza also dropped significantly with the imposition of the blockade in mid-2007. By 2008, the monthly average of truckloads entering Gaza had decreased by 75%17. The amount of imports slowly increased as import restrictions were gradually relaxed, with the number of trucks entering in 2015 and 2016 reaching levels similar to those prior to 2007. It is difficult to draw a parallel between 2015/2016 and 2007 however, given that due to the vast needs for post-hostilities reconstruction as well as recovery of Gaza's deteriorating infrastructure, coupled with rapid population growth, demand for import into Gaza was much higher in 2015/16 than it was prior to 2007.
The needs today are even higher than that.
Sisi might be able to win some voters if he can brag to them that he has gotten Israel to increase that number above whatever it currently has been, but it will be only for show, anyway.
Egypt is heavily committed both to the Saudi regime and to the American regime. To say that the fate of the Gazans is in the hands of Israel and of Egypt, would be to say that it's in the hands of the rulers of America and of the rulers of Saudi Arabia (the Saud family, who own that country). The rulers of Israel won't have any international backing, at all, if they don't have America's rulers supporting them. For Donald Trump to tell Benjamin Netanyahu that not only will Israel be allowed to ignore Hamas but it will even be allowed to ignore the Palestinian Authority, means that Netanyahu now has America's support no matter what Israel might do to the Gazans — and to the non-Jewish inhabitants of the West Bank.
This is excellent news for the holders of U.S. 'Defense' stocks. The more that America's 'enemies' suffer, the better it is for America's owners. This is how capitalism actually functions. Inequality is natural. That's true not only between nations, but within nations. In the natural world, losers get eaten. Justice doesn't naturally occur anywhere. To the extent that it exists anywhere, it is imposed, by the public, against the aristocracy. Within nations, justice is almost non-existent. Between nations, it is entirely non-existent. For examples: were George W. Bush and Tony Blair executed for invading and destroying Iraq in 2003? Of course not. Neither of them was even imprisoned. Nor were Obama and Sarkozy and Cameron executed for invading and destroying Libya in 2011. Those are only examples, of the basic reality.
This news-report is written so as to place a news-event into its actual context, not divorced from that, as is normal. In other words: it's news instead of propaganda (the latter of which, avoids the relevant context behind the reported event).
The role of social responsibility in the policies and economic development of Iran
Authors: Sajad Abedi and Ghazaleh Aghaei*
Today, social responsibility goes beyond its old concepts, such as altruism and humanitarian aid, and covers the range of government activities at the local, national, and international levels. Since the social responsibility of the government exists in different areas; Therefore, economic policy-making should be done in relation to issues such as social rights, health, private sector activity and the role of companies in economic development. Each of these areas is part of the process of social responsibility and economic policy of governments. Therefore, the government can take more responsibility in the social sphere if, first, it has infrastructural capabilities; Second, to be able to use its capabilities in relation to its social responsibility to society and the power structure in the country.
Moreover, economic development, driven by the promise of eradicating poverty and increasing the well-being of societies, not only failed to overcome poverty, according to statistics; Rather, it had trapped many social classes and nations in the trap of institutionalized and structured poverty. The wealth of the world is increasing by year; But this increase in wealth is not something that is felt by all sections of society, and often, certain groups benefit from it. Another problem of economic development related to social issues has been and is the destruction of the environment. In the 1970s, various voices were heard in human societies about another scandal involving economic development. In fact, it has become widely known that this growth, dependent on increased production and consumption, requires more use of "natural resources" and produces a vicious cycle that results in the destruction of natural resources, environmental pollution, population growth, and so on. It will reduce the quality of life and endanger life on earth, which is contrary to the three principles of sustainable development. Levels related to social responsibilities in a developed society, starting from the individual, reach large government departments, and as we move from individual responsibilities to government social responsibilities, these responsibilities go from components and micro-indicators to Towards the components and macro indicators are inclined.
Levels related to social responsibilities in a developed society
The first level of involvement of social responsibilities in a developed society is individual levels: Individual social responsibility includes the participation of each individual in the society in which he lives and can be attributed to the interest in what happens in society and active participation. Defined to solve some local problems. Citizenship is a concept that is associated with the responsibility and accountability of individuals in society. In civil society, every citizen realizes that the irresponsibility of the people around him puts him on a path of fluctuation, and if he is irresponsible about the phenomena of the environment, he damages his own environment and the lives of others. The most beautiful pleasant feeling in the category of citizenship is the effort to cooperate and bear the responsibility of oneself and others.
Being socially responsible; That is, individuals and organizations must be ethical and sensitive to social, cultural, and environmental issues. Striving for social responsibility helps individuals, organizations, and governments make a positive impact on achieving sustainable development. The life-giving school of Islam, as a complete religion, has moral laws and advice for various aspects of human life, including social life, which every Muslim is required to follow in social relations and behaviors. "Purposefulness", "being responsible", "authority", "having eternal life" and "being two-dimensional" are among the most important anthropological foundations in the school of Islam that make a Muslim a responsible and committed citizen to society can be one of the most important elements in improving the quality of life in the urban structure or sustainable urban development. Of course, every society is changing and has its own life, and every human being can determine his / her responsibility in the society according to the beliefs and culture of his / her society, available hardware and software facilities, governing laws and other variables.
The second level of involvement of social responsibilities in a developed society is the corporate and organizational levels: In many developed countries of the world, companies are more successful that value their corporate social responsibility. These companies are always striving to create shared value by implementing creative and practical ideas. These ideas are implemented with the support of long-term and very accurate plans that these companies have in the past set goals related to their corporate social responsibility. Sometimes these programs are made available to citizens so that they know what happen, for example, a company will create a common value for society in the next five years and what interests will protect society. The role of companies in sustainable development is divided into three categories: social, environmental and economic. In fact, it is a "sustainable" development in which, in addition to the economic dimension, its environmental and social consequences are also positively managed. With such a view, the exploitation of natural resources and human capital today should not jeopardize the earth, life, benefit and happiness of present and future generations. In fact, demanding organizations to "act responsibly" towards society is an issue that, as their influence grows on the pillars of sustainable development; That is, "economy", "society" and "environment" intensified in the last decades of the twentieth century and led to the emergence of a concept called corporate social responsibility (CSR) in the world of management to understand the impact of organizations and businesses on sustainable development, it is enough to note that among the top 100 economies in the world, there are more than ten companies. Therefore, the issue of "corporate social responsibility" or CSR has become particularly important in guiding the development process towards sustainability. CSR in a nutshell; That is, organizations are accountable to the community in which they operate; Because they use its human, natural and economic resources. Contrary to the traditional view of management and business, organizations are no longer responsible only to shareholders and should not look only at the profitability of shareholders and based on short-term benefits. Thus, organizations that are in contact with other stakeholders are expected to consider their legitimate demands as well. Beneficiaries; Entities are groups and individuals that affect or are influenced by the organization and cover a wide range; From employees, customers, business partners and local communities to the environment, the media, public institutions, citizens and the government. From this perspective, CSR can be called the integration of social and environmental goals with the organization's operations and the inclusion of those issues in interactions between the organization and related groups. In general, corporate social responsibility, in a simple definition, includes the responsibilities that firms have towards the community in which they operate. Thus, social responsibility is a voluntary activity based on the ethics of an organization or institution that goes beyond the legal requirements and aims to meet the expectations of stakeholders. In addition, one of the most important features considered for this concept is the emphasis that organizations place on the social system of communities. On the other hand, activities should be such that they have the least adverse effect on society.
The third level of involvement of social responsibilities in a developed society is government levels and the involvement of politics in social responsibilities to create a developed society: The attractiveness of government social policy has no boundaries and relates to all aspects of life at the local level. National, regional and global are considered. All issues related to social security, housing, education, health and social care fall into this area. Planning to achieve such goals will not be achieved through social processes alone. The economic components must also be formed in parallel with the social goals of the government. Topics such as health, education, livelihoods, jobs and money are vital issues that, with the help of government, officials, companies, social groups, economic groups, charities, local associations and other non-governmental are research groups.
In general, the government is not only concerned with social welfare; Rather, it is accountable to economic classes, the mechanism of action of multinational corporations, trade unions, financial institutions, importers, exporters, shareholders, owners of economic enterprises, and other social forces. Theorists believe that economic policy-making in the present age is formed by various government authorities and groups. In other words, various sectors are involved in the economic policy-making process. Each of these sections is a symbol of social activities in communities. Therefore, economic policy-making must be done in a way that meets social needs. Any possible scenario in social policies that lead to the welfare, comfort and cooperation of different social strata; It is part of the governance necessity. In other words, for the welfare of the society, the economic growth of the country, the promotion of the income of various industrial and economic complexes, as well as the reconstruction of the national and global economy, there is no choice but to play the role of government in economic policy; Therefore, it is not possible to consider conditions in which social welfare, economic development and technological advancement can be done without considering the role of government in social accountability and economic policy-making.
If the government fails to pay effective attention to goals such as social welfare and the promotion of national incomes in the economic policy-making process, then there will be manifestations of a welfare state as well as a non-developmental government. In such a process, some theorists emphasize that the main function of the state can not be overshadowed by any other issue. If economic development takes shape; In those conditions, a platform will be provided to increase the level of welfare of the society. That is why in the period of economic growth, the income of the government, society and economic groups increases in parallel. Also, the reduced government budget deficit provides a platform for economic prosperity, investment and the of development infrastructure.
*Ghazaleh Aghaei, Master of Accounting and Audit, Islamic Azad University
Turkish Strengthened Parliamentary System
"Corrected" or "enhanced" system of parliamentary debate, thoroughly sat on Turkey's agenda in recent days. There are two reasons for this. First, it is unclear what, all from a single source power is collected, brought Turkey no balance-point of the current regime where there is no monitoring mechanism. Of democracy, of freedom, which abolished the rule of law, both inside and outside the war which, as all institutions of workers pouring connected to a single person, the economy of bottoming out, which is a record level of unemployment, inequality of well increase as a Turkey. Undoubtedly, the first step to get out of this darkness and tidy up the wreckage is to get rid of the one-man regime called the "Presidential Government System". The question then arises of what kind of management system to replace. The second reason is the increasing signs that the MHP-backed AKP government is about to end. A transition period will begin after the end of AKP rule. But where is the transition? This question should be discussed and an answer should be sought.
The parliamentary system has led to the domination of the majority over the minority in Turkey. Since there are no mechanisms to prevent the executive from dominating the legislature, the power is meeting in the hands of the prime minister, who is the head of the ruling majority party. The end of the independence of the judiciary, the silencing of the press, the pressure on the opposition, the arbitrary administration all took place in the parliamentary system.
Such a new democracy changes the focus of politics. The subject of politics, political parties cease to be party heads, but become the people themselves. However, in order to create a grassroots popular movement, people need to unite within the framework of a project and not be a "mass", but turn into a "people" that decide their future. Such "people" make decisions about their own problems and demand that governments implement these decisions. Such a people does not leave their future to the rulers, they take control of their future. Such a people becomes the engine of change in society, creates a libertarian, egalitarian, new society.
One of the most important features of participatory democracy is that it is based on equality. Equality in income distribution as well as in participation can be achieved in this way. We have seen the concrete application of this in the example of Porto Allegre in Brazil.
There are many different models of participatory democracy. These models cover a wide spectrum, from the budgeting powers of local units to different decision-making platforms. It is necessary to discuss these and, according to the results, the construction of local democratic institutions.
However, no matter what model is adopted, participatory democracy has some unchangeable basic principles:
Participation is open to all who live in that place.
Participatory democracy institutions are independent from the state. The aim of the system is to realize a power sharing between representative democracy institutions and local democracy institutions. Representative democracy institutions will lose their power as they will transfer some of their powers to local institutions.
But considering that representative democracy is not working well anyway, this weakening is not a loss for democracy.
Informing the public correctly. For this, there is a need for effective use of social media as well as the prevalence of freedom of expression and press in the country.
Participatory democracy leads to deepening democracy and creating a culture of participation. However, the main problem here is that the people adopt this culture with an active citizenship awareness. Successful pilot project implementations are required for this.
Let's not forget that my imagination of the future determines what we will do now.
The Battle for Jerusalem: Turkey's Erdogan stakes his claim
Turkish President Recep Tayyip Erdogan didn't mince his words at this month's opening of parliament. In his first assertion of a claim to a lost non-Turkic part of the Ottoman empire, Mr. Erdogan declared that Jerusalem is Turkish.
"In this city, which we had to leave in tears during the First World War, it is still possible to come across traces of the Ottoman resistance. So Jerusalem is our city, a city from us," Mr. Erdogan said.
He went on to say that "the current appearance of the Old City, which is the heart of Jerusalem, was built by Suleiman the Magnificent, with its walls, bazaar, and many buildings. Our ancestors showed their respect for centuries by keeping this city in high esteem."
Mr. Erdogan was referring to the 16th century Ottoman sultan, a sponsor of monumental architectural development, who is widely viewed as having protected his Jewish subjects.
In July, Mr. Erdogan described that month's return of Hagia Sophia in Istanbul, a sixth century Orthodox-church-turned-mosque-turned-museum, to the status of a Muslim house of worship as paving the way for the "liberation" of Jerusalem's Al-Aqsa mosque, Islam's third holiest site.
Mr. Erdogan's office released a month later a four-minute video clip suggesting that Turkey's quest for leadership of the Islamic world was as much a military and nationalist endeavor as it was a religious drive. Laced with martial music, the clip meshed religious and Ottoman symbolism. Entitled Golden Apple, the clip ended with a panorama view of Al-Aqsa.
The president, who embeds his often raw nationalism in a religious mantle, can have no illusion that Jerusalem would return to Turkish rule.
Yet, by putting forward his claim, Mr. Erdogan hopes to put his quest for leadership of the Muslim world on par with that of one Turkey's staunchest rivals, Saudi Arabia. The kingdom is home to Islam's two most sacred cities, Mecca and Medina.
Rather than seeking to regain lost Ottoman territory, Mr. Erdogan is staking a claim to custodianship of Jerusalem's Haram ash-Sharif or Temple Mount and Al Aqsa mosque compound that currently rests with a Jordanian-controlled religious endowment known as the Waqf.
The president escalated his rhetoric at a moment that the Palestine Authority has reached out to Turkey as well as Qatar in the wake of the normalization of relations between Israel, the United Arab Emirates and Bahrain and a series of statements by prominent Saudi and other Gulf leaders taking President Mahmoud Abbas' administration to task for squandering opportunities for peace with the Jewish state.
Mr. Erdogan's claim adds to Jordan's worries that Israel, in the wake of the formalization of its ties to Gulf states, could support Saudi ambitions to join the Hashemite kingdom, if not replace it, as the holy site's administrator.
Israel Hayom, Israel's most widely read newspaper that is supportive of Prime Minister Binyamin Netanyahu, quoted an unidentified Arab diplomat as saying that Saudi funds were needed to counter Turkish influence in Jerusalem.
"If the Jordanians allow the Turks to operate unhindered at the Al-Aqsa Mosque compound, within a matter of years their special status in charge of the Waqf and Muslim holy sites would be relegated to being strictly 'on paper,'" the diplomat was quoted as saying in June.
Raed Daana, a former director of preaching and guidance at the Al-Aqsa Mosque Directorate, said in 2018, in the wake of US President Donald J. Trump's recognition of Jerusalem as Israel's capital, that Saudi Arabia had secretly invited Palestinian Muslim dignitaries in a bid to garner support for a Saudi role in the Waqf.
Mr. Daana attributed the secrecy in part to a refusal to accept the invitation by a number of Palestinian religious figures.
Jordan last year increased the number of members of the Waqf from 11 to 18 in a bid to give it a more a more Muslim rather than exclusively Jordanian flavour and to fend off attempts by regional powers to muscle their way into the body.
The new members included officials of Palestinian President Mahmoud Abbas' Palestine Authority as well as figures with links to Turkey and Gulf states like Sheikh Ekrima Sabri, a former grand mufti of Jerusalem and Holocaust denier who has defended Mr. Erdogan's militancy regarding Jerusalem; and Mr. Sabri's successor, Muhammad Hussein, who had close ties to the United Arab Emirates until he last month barred Emiratis from visiting Al Aqsa in protest against the UAE's recognition of Israel.
Mr. Erdogan has in recent years been laying the groundwork for his claim with millions of dollars in donations to local Islamic organizations as well as Turkish religious activists and pilgrims in Jerusalem whom Israel has accused of instigating Palestinian protests.
Turkey's Directorate General for Religious Affairs (Diyanet), that is part of Mr. Erdogan's office, lists Al-Aqsa as a site for the umrah, the lesser Muslim pilgrimage.
Israeli sources say Turkey's cultural center in Jerusalem as well as a Turkish renovated coffeeshop two minutes from the city's Western Wall that is adorned with Turkish and Palestinians flags as well as portraits of Mr. Erdogan and Ottoman Sultan Abdul Hamid II serve as a meeting point for activists and pilgrims.
"Turkey is working diligently to deepen its involvement and influence on the Temple Mount, in the Old City of Jerusalem, and in east Jerusalem neighbourhoods. It is encouraging welfare-religious (dawa) activities…aimed at drawing the Palestinian public toward the Turkish-Islamic heritage and at weakening Israel's hold on the Old City and east Jerusalem," said conservative Israeli journalist and analyst Nadav Shragai.