Trump to Netanyahu: Palestinians Must Be Completely Conquered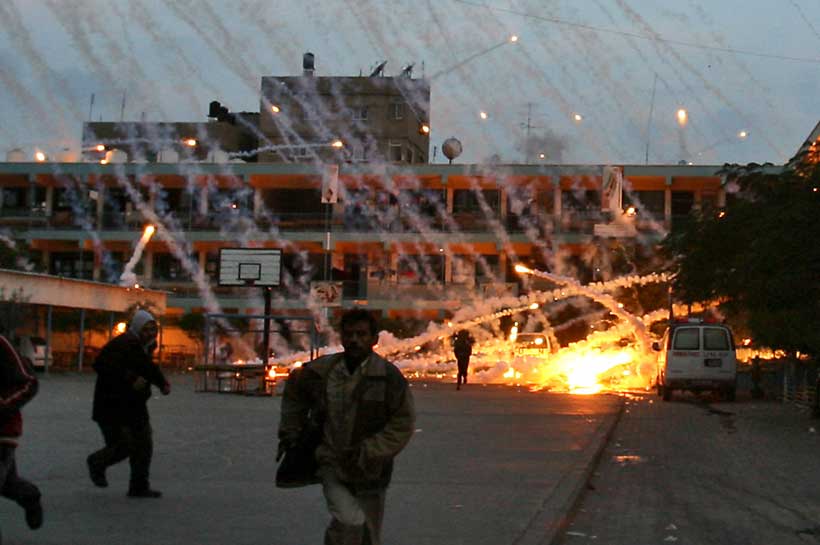 The Washington correspondent of Israel's Haaretz newspaper, Amir Tibon, headlined on the night of Tuesday, August 14, "Trump Administration Wants to See a Gaza Cease-fire 'With or Without the Palestinian Authority'," and he reported that, "The Trump administration wants to see a long-term cease-fire in Gaza, with or without the support of the Palestinian Authority, a spokesperson for the White House's National Security Council told Haaretz on Monday."
In other words: U.S. President Donald Trump is not angling for Palestinians to become ruled by the more moderate of the two political entities that are contesting for control over Palestine — he's not favoring The Palestinain Authority, Mahmoud Abbas, over Hamas, Ismail Haniya. He is, instead, aiming for Jews inside Israel to conquer completely the non-Jews, not only inside Israel, but also in the adjoining areas, Palestine.
Trump has now officially placed the United States on the side of Israel's Jews, for them to conquer and subdue Palestine, for Jews to rule over Palestinians, and for the residents in Palestine not to be allowed to participate in Israel's elections.
This will be very good for American firms such as Lockheed Martin, Northrop Grumman, Boeing, and General Dynamics, which depend wholly or primarily upon sales to the U.S. Government and to its allied governments, including Israel, for their profits and their net worths, their stock-market valuations. More war is essential for these firms, which sell only to these governments — governments which seek to control more land, regardless of what the residents there want, and which need to buy more weapons in order to do it.
Trump's foreign policies have been very effective.
Trump's biggest success, thus far into his Presidency, has been his sale of $400 billion (originally $350 billion) of U.S.-made weapons to the Saudi Arabian Government, which is owned by its royal family, after whom that nation is named. This sale alone is big enough to be called Trump's "jobs plan" for Americans. It is also the biggest weapons-sale in all of history. It's 400 billion dollars, not 400 million dollars; it is gigantic, and, by far, unprecedented in world-history. Consequently, anyone who would allege that he has been anything other than an extraordinary success for his constituency, the people who will be funding his 2020 re-election campaign, would be wrong. America is controlled by dollars, not by people; everything is geared to maximizing the return on investment, for the people who have invested in Trump. Increasing their net worths is his goal, and he has been stunningly successful at achieving it.
The individuals who control those corporations are also in control of those governments, via political corruption, such as the "revolving doors" between 'government service' and the private sector. If they can't control those governments, then they can't control their own finances. But if they do control those governments — and especially their own Government, the U.S. Government — then they control the very source of their own wealth. They are totally dependent upon the U.S. Government. Trump has, regarding U.S. military and diplomatic policies — the Pentagon and the State Department, and the intelligence agencies — been just as effective as the neoconservatives, the people who actually run both Parties on behalf of those firms, for those firms' owners, could have hoped. This does not mean that they won't in 2020 back an opponent of Trump, but only that Trump is issuing as many IOUs to these people as he can, and as fast as he can, and that he has been remarkably successful (unprecedented, actually) at doing that. Whereas Democrats such as Joe Biden and Eric Swalwell might contest against him for their support, no one can reasonably say that Trump has been a disappointment to the proponents of American conquest and control over the entire world — the people commonly called "neoconservatives," and all other agents of what Dwight Eisenhower called "the military-industrial complex." While those people might criticize him in order to push him even farther to the right on foreign affairs than he has been, he has been very effective for them, and he clearly is hoping that, at least regarding military policies, in America's militarized economy, those people will be satisfied for him to remain in power. That's his hope. That's his goal. It's shown by his actions, not by his mere words.
America's alliance with Israel is almost as important as America's alliance with the owners of Saudi Arabia, the Saud family. Both of those allies want the Palestinians to be conquered. And so does Trump. And, of course, so too do the people who are rotating constantly through those revolving doors, the other agents for America's rulers.
On August 9th, as reported by Amjad Jaghi of 972 Magazine, "the Israeli Air Force bombed Al-Meshal, one of the Gaza Strip's most important cultural facilities. They claim that the building — which comprises two theaters, three large halls, and a department serving the Egyptian community living in the Strip — was being used by Hamas."
On August 14th, Reuters headlined "Israeli minister confirms Netanyahu met Sisi over Gaza" and reported that "The two leaders discussed the easing of an Israeli-Egyptian blockade of Gaza, rehabilitation of its infrastructure and terms for a ceasefire." Israel said that "everything that will happen in Gaza will be done with Egyptian mediation and involvement." This means that the setting-up of Israel's control over Gaza will "be done with Egyptian mediation and involvement," but the operation of Israel's control over Gaza won't be — it'll be 100% Israeli.
For example, Sisi might be able to get Netanyahu to agree to increase the current, 85 truckloads of food daily into Gaza so as to raise Gazans' food-intake above its current "subsistence" level. Although he might try, Israel's record of violating its international agreements is even stronger than America's record for that is. But to serve PR purposes, Sisi might try. Ever since 2007, when Israel was allowing into Gaza 106 truckloads daily, that number was reduced down to this "subsistence" level.
On 1 January 2008, was secretly issued from Israel's Ministry of Defense, a document "Food Consumption in the Gaza Strip – Red Lines", in which the Ministry of Health informed them that the then-current 106 trucks daily was too much for "subsistence":
"The Ministry of Health is conducting work for calculating the minimal subsistence basket based on the Arab sector in Israel. The 'minimum basket' allows nutrition that is sufficient for subsistence without the development of malnutrition."
"The Ministry of Health estimates that the new basket will be 20% lower than the current basket [85 trucks instead of 106]."
And so it was, until 2010, when "Israel has not imposed any restrictions on the entrance of food to the Gaza Strip." And, after that, as of at least 2012, "the current policy remains shrouded in secrecy." However, (as shown at that link, where is printed a "Table 1. Entrance of trucks into Gaza"), the actual count of trucks, during the second half of 2010, was around 150 per day.
A U.N. publication "Gaza Ten Years Later", issued in July 2017, reported that: Import of goods to Gaza also dropped significantly with the imposition of the blockade in mid-2007. By 2008, the monthly average of truckloads entering Gaza had decreased by 75%17. The amount of imports slowly increased as import restrictions were gradually relaxed, with the number of trucks entering in 2015 and 2016 reaching levels similar to those prior to 2007. It is difficult to draw a parallel between 2015/2016 and 2007 however, given that due to the vast needs for post-hostilities reconstruction as well as recovery of Gaza's deteriorating infrastructure, coupled with rapid population growth, demand for import into Gaza was much higher in 2015/16 than it was prior to 2007.
The needs today are even higher than that.
Sisi might be able to win some voters if he can brag to them that he has gotten Israel to increase that number above whatever it currently has been, but it will be only for show, anyway.
Egypt is heavily committed both to the Saudi regime and to the American regime. To say that the fate of the Gazans is in the hands of Israel and of Egypt, would be to say that it's in the hands of the rulers of America and of the rulers of Saudi Arabia (the Saud family, who own that country). The rulers of Israel won't have any international backing, at all, if they don't have America's rulers supporting them. For Donald Trump to tell Benjamin Netanyahu that not only will Israel be allowed to ignore Hamas but it will even be allowed to ignore the Palestinian Authority, means that Netanyahu now has America's support no matter what Israel might do to the Gazans — and to the non-Jewish inhabitants of the West Bank.
This is excellent news for the holders of U.S. 'Defense' stocks. The more that America's 'enemies' suffer, the better it is for America's owners. This is how capitalism actually functions. Inequality is natural. That's true not only between nations, but within nations. In the natural world, losers get eaten. Justice doesn't naturally occur anywhere. To the extent that it exists anywhere, it is imposed, by the public, against the aristocracy. Within nations, justice is almost non-existent. Between nations, it is entirely non-existent. For examples: were George W. Bush and Tony Blair executed for invading and destroying Iraq in 2003? Of course not. Neither of them was even imprisoned. Nor were Obama and Sarkozy and Cameron executed for invading and destroying Libya in 2011. Those are only examples, of the basic reality.
This news-report is written so as to place a news-event into its actual context, not divorced from that, as is normal. In other words: it's news instead of propaganda (the latter of which, avoids the relevant context behind the reported event).
Syria: 10 years of war has left at least 350,000 dead
A decade of war in Syria has left more 350,200 people dead, High Commissioner Michelle Bachelet told the Human Rights Council on Friday, noting that this total was an "under-count of the actual number of killings".
These are a result of a war that spiralled out of the 2011 uprising against President Bashar al-Assad's rule.
Based on the "rigorous work" of the UN Office for the Coordination of Humanitarian Affairs (OCHA), she said that the tally, which includes civilians and combatants, is based on "strict methodology" requiring the deceased's full name, the date of death, and location of the body.
People behind the numbers
In the first official update on the death toll since 2014, Ms. Bachelet informed the Council that more than one in 13 of those who died due to conflict, was a woman – 26,727 in all – and almost one in 13 was a child – a grim total of 27,126 young lives lost.
The Governorate of Aleppo saw the greatest number of documented killings, with 51,731 named individuals.
Other heavy death tolls were recorded in Rural Damascus, 47,483; Homs, 40,986; Idlib, 33,271; Hama, 31,993; and Tartus, 31,369.
"Behind each recorded death was a human being, born free and equal, in dignity and rights", reminded the High Commissioner.
"We must always make victims' stories visible, both individually and collectively, because the injustice and horror of each of these deaths should compel us to action."
More accountability needed
Her office, OHCHR, is processing information on alleged perpetrators, recording victims civilian or combatant status and the type of weapons used, Ms. Bachelet said.
To provide a more complete picture of the scale and impact of the conflict, the UN agency has also established statistical estimation techniques to account for missing data.
The High Commissioner explained that documenting deaths complements efforts to account for missing people and that her office has been helping the families of the missing, to engage with international human rights mechanisms.
Given the vast number of those missing in Syria, Ms. Bachelet echoed her call for an independent mechanism, with a strong international mandate, to "clarify the fate and whereabouts of missing people; identify human remains; and provide support to relatives".
No end to the violence
Today, the daily lives of the Syrian people remain "scarred by unimaginable suffering", the UN human rights chief said, adding that they have endured a decade of conflict, face deepening economic crisis and struggle with the impacts of COVID-19.
Extensive destruction of infrastructure has significantly affected the realization of essential economic and social rights, and there is still no end to the violence.
"It is incumbent upon us all to listen to the voices of Syria's survivors and victims, and to the stories of those who have now fallen silent for ever", the High Commissioner concluded.
Lessons Learned: US Seek to Salvage their Relations with the Syrian Kurds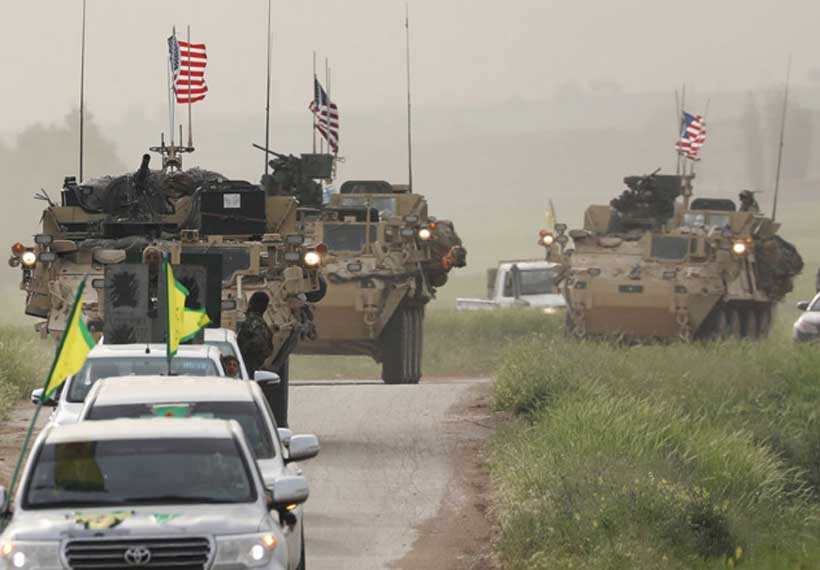 The hasty retreat of the US troops from Afghanistan has left a sizeable dent in the reputation of the White House among the American public, in the Middle East and the world in general. Washington was criticised heavily for the betrayal of the Afghan government, which paved the way for Taliban to storm to power.
It's only natural that such events created a breeding ground for uncertainty among US allies in the region. Some of them started to reevaluate their relationship with the White House after the Afghan fiasco; others were having doubts about the US' commitment beforehand. Current situation forces Washington to take firm actions to validate their status as a powerhouse in the region. There are indicators that US leadership has found a way to regain trust from its allies starting with Kurdish armed units in Syria.
The Kurds became a key ally to the US in their quest to defeat ISIS in Syria. Washington helped to create the predominantly Kurdish Syrian Democratic Forces (SDF), who consequently established control over oil-rich regions in the north-eastern Syria. However the rapid rise of Kurdish influence triggered discontent from other parties of the Syrian conflict: the Assad government and Turkey, who considers SDF an offshoot of the PKK, designated as a terror group by the Turkish authorities. Under this pretext Ankara conducted three full-scale military operations against the Kurds in spite of its membership in the US led coalition.
Turkey remains a major headache for the US in northern Syria as it obstructs the development of a Kurdish autonomy. US failure to act during the Turkish offensive on Al-Bab and then Afrin is still considered one of the most agonizing experiences in the recent history of American-Kurdish partnership. On the flip side, this relationship had its bright moments. US forces were persistent in their cooperation with the Kurds despite Donald Trump's efforts to withdraw US military presence from Syria. Furthermore, former Pentagon's chief James Mattis increased funding of SDF in 2019 to a record high of $300 million.
Although the US cut back its support for the Kurds after proclaiming victory over ISIS, it's still sufficient for SDF to stay among the most combat-capable forces in Syria. US provide machinery, equipment and ammunition, but most importantly teach the Kurds the skills to profit from their resources. Besides training SDF rank soldiers, the American troops prepare their special forces HAT (Hêzên Antî Teror, Anti-Terror Forces) primarily tasked with establishing security on oil facilities as well as detection and elimination of terrorists. In terms of their equipment they practically hold their own even against US troops. During their operations HAT fighters use standardized weaponry, night goggles and other modern resources.
Regardless of all the US aid military capabilities of SDF have one critical vulnerability, namely the lack of air defense. This weakness is successfully exploited by Turkey who uses their drones to bomb Kurdish positions. For the last couple of months the number of air strikes has significantly increased, which brought SDF to find new methods of deflecting air attacks.
There are good grounds to believe that Washington accommodated their partner's troubles. Thus a source from an US air-base in Middle-East who asked to keep his name and position anonymous told us that on the 18th of September three combat-capable trainer aircraft T-6 Texan have been deployed to Tell Beydar air-base in Hasakah province, Syria. According to the source American instructors have begun a crash course in air pilotage with the candidates picked form the SDF ranks long before the airplanes arrived to their destination. This is implicitly confirmed by the large shipment of US weaponry, machinery and ammunition to Tell Beydar delivered on the 17th of September that included missiles compatible with Texan aircraft.
The sole presence of airplanes, even trainer aircraft, prompts a change in the already existing power balance. T-6 Texan can be used not only for air cover but also as a counter tool to Turkish "Bayraktar" UAVs especially if US grant Kurds access to intel from the radars situated on US air bases. Ultimately, from Turkey's standpoint it must look like an attempt from the US military to create PKK's own air force.
This being said the US are better off using political means rather than military if the goal is to handicap Turkish interests in Syria. The groundwork for this has been laid thanks to a reshuffle in the White House under Biden administration. First came the resignation of former US Special Representative for Syria Engagement James F. Jeffrey infamous for his soft spot for Turkey, who has been openly promoting pro-Turkish views in the White House during his tenure. In addition to the loss of their man in Washington, Turkey has gained a powerful adversary represented by the new National Security Council coordinator for the Middle-East and North Africa Brett McGurk. McGurk is a polar opposite to Jeffrey and has sided with the Kurds on numerous occasions. He is well respected among the leaders of SDF because of his work as Special Presidential Envoy for the Global Coalition to counter ISIS.
The only yet the most important question that is yet to be answered is the position of US president Joe Biden. So far Biden's administration has been avoiding radical shifts regarding its Syria policy. Development of cooperation with the Kurds considering they have proven their reliability might come as a logical solution that will also allow the White House to show their teeth. Washington cannot endure another Afghanistan-like fiasco that will destroy their reputation figuratively and their allies literally. Even with all possible negative outcomes taken into account the enhancement of cooperation with the Kurds outweighs the drawbacks and remains the optimal route for the US.
Turkish Geopolitics and the Kabul Airport Saga
The Taliban's ultimate agreement to a prominent Turkish security presence at Afghanistan's only airport completes an important power-play for the latter. Ankara wishes to establish itself as a dominant player in the post-U.S. withdrawal Afghan affairs, ensuring that the U.S. looks to it as an ideal partner for its future policies in Afghanistan. It is in this context that Turkey having overcome the formerly heated rejections by the Taliban of its proposed role at the airport is highly significant as it portends the closer integration of Afghanistan into familiar Turkish geopolitical agendas.
Turkey's Afghan power-play and the U.S.
Turkey's announcement in June of plans to militarily manage the security at Kabul's Hamid Karzai International Airport with U.S. financial support incensed the Taliban.
By not consulting or informing the powerful Islamist group on such a major issue in a post-withdrawal Afghanistan, Turkey signaled its view of the Taliban as inimical non-state actors lacking the stature to act upon the pretext of Afghan sovereignty. Indeed, President Tayyip Erdogan accused the Taliban of the 'occupation' of the Afghan territory in response to their warnings that Turkey's airport plan violated the Doha Accords in terms of the exit of all foreign forces from Afghanistan and that they would harshly react to it.
The Taliban's near-effortless takeover of Kabul in mid-August seemed to close the chapter on the airport saga, but deadly ISIS bombings near the airport two weeks later forced the new regime to consider external help in filling the Afghan security vacuum.
Consequently, Turkey gained not only an acquiescence from Afghanistan's strongest faction to its desired role at the airport but also an affirmation of its capacity to face down and override local actors as a foreign power seeking to guide its Afghan initiatives to fruition.
This may appeal strongly to the U.S., which has increased its geoeconomic interests in Afghanistan in parallel with the process of its military disengagement from the country. These interests take the form of large infrastructure trade projects of a regional scale and would benefit if shielded from the whims of domestic Afghan factions that tend to cripple governance and policy implementation. Ankara's assertive posture during the airport tussle with the Taliban helps it pitch itself to Washington as capable of doing precisely this.
The Central Asia factor
These trade infrastructure projects in Afghanistan aim to develop it as a transit hub for Central Asian trade to extra-regional markets as outlined in the U.S. 'Strategy for Central Asia 2019-25'. The U.S. affords considerable importance to this strategy both as a means of rebuilding Afghanistan and providing the Central Asian states with new trade routes that do not need to transit the territory of Russia, their former Soviet patron and America's great-power rival.
Turkey shares the goal of increasing Central Asia's global connectivity, whilst envisioning itself the natural leader and conduit for the Turkic Central Asian states' growing socio-economic bonds with the outside world. By acting as a lead-from-the-front partner for the U.S. in the post-withdrawal Afghanistan, Turkey can persuade the U.S. to entrust it with the Afghan leg of the Strategy for Central Asia.
Turkey could then inculcate the progress of its own connectivity projects for Central Asia into the U.S. priorities as a premium of sorts for its services tackling Afghanistan-based risks and hazards to the U.S. Strategy for Central Asia. These Turkish-led projects include the East West Trans-Caspian Middle Corridor (connecting Turkmenistan-Kyrgyzstan-Uzbekistan or Kazakhstan to Europe via the Caspian Sea-South Caucasus-Turkey route) and its Eastern spur for Afghanistan, the Lapis Lazuli Corridor (connecting northwest Afghanistan via Turkmenistan to the same Caspian Sea-South Caucasus-Turkey route to Europe).
The text of the US Strategy for Central Asia does mention and pledge favourable visa and customs policies for the Lapis Lazuli Corridor, but does not mention the Middle Corridor or Turkey at all. The absence of the latter two key names indicates that U.S. backing for the Lapis Lazuli Corridor likely owed to the simple fact that it directly includes Afghanistan and has already been functional since December 2018. Thus, the U.S. does not formally endorse the East-West connectivity for Central Asia—which Turkey specializes at—under the rubric of its Strategy for Central Asia.
"Senior [Trump] administration officials have expressed support for specific infrastructure projects—such as, notably, Georgia's deep-water port project in Anaklia—but without having cast them as part of a broader regional agenda," commented Middle East Institute scholar Dr John Calabrese on the erstwhile Donald Trump administration's position on the Middle Corridor months before the Strategy on Central Asia's release.
All this greatly limits the pool of U.S. financial and political support that Turkey could tap into for developing and expanding the Middle Corridor, which is the lynchpin for its push for pan-Turkic leadership. Ankara's remedy for this problem, however, may lie in gaining the mentioned lead-from-the-front ally status vis-a-vis the U.S. in Afghanistan.
As observed by the Central Asia-Caucasus Institute's Chairman and Director Frederick Starr and Svante Cornell, the present U.S. approach represents important shifts in the American conceptualization of Afghanistan and Central Asia relative to each other. These are a departure from the long-standing tendency to 'view Central Asia as an appendix to Afghanistan policy' and an embrace of Central Asia as a bloc. Both these shifts laid the basis for the U.S. Afghan policy to take its cue from Central Asia's development. Officially mandating the development of an East-West transport corridor from Central Asia to Europe—in short, Turkey's Middle Corridor—is the next logical step in this paradigm.
Starr and Cornell, leading proponents in the U.S. policy advocacy community for treating Afghanistan as part of Central Asia, identify the East-West transport corridor as crucial to the Strategy for Central Asia and criticize the document for not mentioning it.
Thus, from its position in Afghanistan, Turkey can orient the inputs it feeds back to its diplomatic and military partners in Washington around the case for the merger of the U.S. Afghanistan and Central Asia policies that Starr and Cornel advocate. The U.S. will expect actionable suggestions from its top consultative partner for Afghanistan to actualize this merger, paving the way for Turkey to impactfully pitch the Middle Corridor as the solution.
This could well become an elusive opening that Turkey has long needed to bridge the chasm between the Middle Corridor's innate appeal to the U.S. great-power sensitivities underpinning its Central Asia posture and the U.S. seeming disinterest in the corridor. After all, the Middle Corridor bypasses Russia, challenging its monopoly over Central Asia's trade routes. It also acts as what Starr describes as a 'Land Suez' for China to connect to Europe—reducing China's reliance on transiting Russia for this purpose and offsetting, from Washington's perspective, the prospect of its two great-power rivals' geoeconomic priorities aligning too closely.
Subsequent U.S. endorsement of the Middle Corridor would stimulate greater U.S. investment in the mega-project, hitherto limited by the Strategy for Central Asia's non-mention of East-West connectivity as explored prior.
In addition to this, the Middle Corridor could become an agenda item in multilateral platforms for Central Asia, such as the C5+1, set up by the U.S. with a focus on the Afghan-Central Asian connectivity. This would prop up advocates in Turkic Central Asia for a formal embrace of an Ankara-led Turkic bloc by enabling them to present this as part of the institutionalization of Central Asian affairs as opposed to a pro-Turkish tilt which might alarm Russia, who has a past record of reacting forcefully to external powers engaging in bloc-building in its former Soviet backyard in Eurasia. This will greatly benefit Turkey.
Restoring balance with the West
Afghanistan can arguably bring Turkey's ideologically-driven desire to carve a Turkic bloc from Central Asia and its more general desire to mitigate the strains in bilateral ties with the U.S. closer together than any other foreign policy file in Ankara.
Linked to Central Asia or not, Afghanistan stands out as a vacuum left by American strategic miscalculations at the regional doorstep of several U.S. rivals. Turkish initiatives, such as the Kabul airport project, clearly designed to preserve U.S. stakes in Afghanistan—at a time when Russia, Iran and China appear poised to capitalize on the U.S. shrinking presence there—can inject fresh credibility into Turkey's historical image as the West's Eurasian vanguard.
This will help President Erdogan as he tries to stabilize relations with the U.S. against their list of disputes, from Turkey's purchase of Russian air defense systems to the U.S. support for Kurdish groups near the Turkish-Syrian border and beyond. Additionally, President Joe Biden faces mounting public and political pressure at home over the rapid collapse of the former U.S.-backed Kabul government in the Taliban's wake; in this context, Turkey volunteering itself as a new and coherent vehicle for U.S. interests in Afghanistan may prove the very ice-breaker Erdogan needs for his notably bleak relationship with Biden.
However much progress Ankara makes in these endeavours, its headstrong approach and eventual success in securing a role at Kabul's airport points to strategic clarity and an expectation of Afghanistan's seamless integration into Turkish geopolitics.
From our partner RIAC