The bitter truth for mullahs' regime in Iran
Ali Khamenei, Iranian regime's supreme leader finally broke his silence and spoke on August 13th on a number of hot political issues facing the nation. He was awfully quite these days. Yet the country is boiling in dissent. Listening to his speech leaves no doubt that he is desperate. He talked about problems his regime has no clue how to tackle. On the top of the list was the recent protests in cities like Tehran, Karaj, Shiraz, Esfahan, Mashhad, Ghahdarijan, and many other cities with such slogans as "Death to Khamenei" and "Death to Dictator." He was off balance since people in the streets had him in their crosshair.
Khamenei wasted no time and took the bull by the horns. He called his cronies "cowards" and not trustworthy at hard times. Considering the recent unrests as the extension of January protests, Khamenei once again branded the protesters as agents of foreign powers such as the United States, Israel and Saudi Arabia. He said that "they had planned for years to disrupt the country's security in January this year, but the people came out with admirable awareness, and stopped the enemies' years-long plans."
He added: "The enemies then set their hearts on this (Persian) year, with some US officials saying that there'll be some news from Iran in the next six months. They were clearly pointing to the events earlier this month which turned out to be so limited despite the enemies' huge financial and political investments."
Iranian citizens have pushed the regime to the edge before. The difference this time is that the regime has gone too far in putting pressure on all citizens. The gap between rich and poor is at its highest level in 40 years. It is a recipe for disaster and the top officials of the regime publicly confirmed it.
He used his admission of the guilt as a temporary band aid and admits that he made a "mistake" in the nuclear deal.  "With regard to the nuclear deal, what I did was wrong, allowing some officials' insistence to give a shot at nuclear talks, in which our red lines were not respected," said Khamenei, according to regime's official news agency.
He made it clear to his power base: the Revolutionary Guards and Bassij Forces that he has no intentions of taking the risk of going to war with the US. The mullahs' supreme leader said: "There'll definitely be no war. In Short, I have to inform the Iranian people that there'll be no war and we will not negotiate, either."
The leader of theocratic regime in Iran admits the deadly state of the country's economy. But he makes sure to leave out his own massive financial conglomerate feeding off Iran's poor economy. There is a rough estimate that Khamenei is sitting on top of a 95 billion dollars trust found. He is not the only one; there are other sharks in the tank related to his powerhouse that are taking their lion's share of dying Iranian market.
Khamenei in his speech pictured himself as the champion of fighting corruption. A claim hardly anyone in his right-mind would take it seriously. He said: "The main cause of such problems is not sanctions, but domestic policies. This is what many officials and experts alike have confirmed. That however doesn't mean that the sanctions have nothing to do with this situation. Of course they do, but the main factor is rooted in our performance. Among the measures that must definitely be taken into account is fighting against corruption. This was also reflected in the letter that the reverend head of judiciary wrote to me two days ago, in response to which I underlined that the proposed measures are an important and positive step toward fighting against corruption and punishing those who are involved."
Fighting crime has never been a priority for the regime because the top criminals are well connected individuals with strong ties to Khamenei. To make it somewhat believable the security forces targeted some small-time currency dealers in the midst of currency crisis driven by a sharp decline in the value of Rial (the official currency). Khamenei and top Revolutionary Guards know better that Iranian citizens will not easily fall for their theatrics anymore and some heads needed to roll. The first to be sacked was the head of Iran's Central Bank, Valiollah Seif.
Alarmed by public frustration with the way economy is run in Iran, Khamenei tried in his address to pour some cold water on the matter. He promised swift actions against fat cats. But people know full well that he is not willing to clip former Revolutionary Guards turned businessmen. They are running the country in a mafia style gang.
The bitter truth for the theocratic regime in Iran is plain and simple; the people are fed up with the mullahs and the regime is no longer able to force itself on them. This is the story of all dictators toward the end and Iran is no exception.
Why no global outcry over Saudi war in Yemen?
On Sunday, the US intelligence agency confirmed that the brazen killing of Saudi journalist Jamal Khashoggi was ordered by the Saudi crown prince Mohammad Bin Salman, which must have finally given some comfort to his restless soul. The truth was not hidden from the world, as it was already established by the Turkish authorities, but now we have the word straight from the horse's mouth.
Khashoggi's killing led to unprecedented global outcry against the Saudi regime because of its wanton disregard for human rights. It dominated newspaper headlines and primetime TV discussions for weeks as the mystery surrounding the dissident journalist's killing grew.
To their credit, Turkish government authorities left no stone unturned to unravel the murder mystery and expose the masterminds of the most diabolical crime. The whole world waited with bated breath because suddenly something had stirred people's conscience.
Today everyone knows about Khashoggi and everyone knows his murderer. Everyone is talking about it and tweeting about it. But, hold on, this is not the only crime his murderer has committed. His murderer has the blood of thousands of Yemenis on his hands and he is directly responsible for the starvation of millions of people in Yemen. Does the world know about it? Does it care?
A much-anticipated UN Security Council resolution calling for a cessation of Saudi-led war in Yemen and for the humanitarian aid to be allowed to reach millions of starving people was reportedly "stalled" this week after British Foreign Secretary Jeremy Hunt, who had moved the resolution, met the Saudi crown prince in Riyadh.
The prince, reports say, 'threw a fit' about the resolution. He didn't like the idea of food reaching the starving Yemenis because he wishes to see them killed either through bombardment or with starvation. Hunt surrendered tamely because UK happens to have arms trade with the Saudi regime.
Saudi-led war in Yemen has stretched into its third year now, killing more than 10,000 people and leaving the country completely devastated. The humanitarian situation in the war-ravaged country has been termed 'catastrophic' by aid groups. And the world has chosen to be a mute spectator.
The blockade of the country means around 18 million people don't have access to food, which could eventually and inevitably lead to the worst famine in more than a century. Already 2.2 million children are acutely malnourished and fighting for their lives. The World Food Program warned this week that the country was "marching to the brink of starvation".
Why has the world chosen to be silent even as warnings of famine have assumed alarming proportions? Akshaya Kumar, a senior Human Rights Watch official, says it's because of the "sway" Saudi has over some members of the UN Security Council, which has prevented the UN in naming and shaming the regime in Riyadh. "At this point, vague appeals to 'all parties' to improve their behavior won't work; Any resolution that doesn't specifically mention the Saudi-led coalition by name and call it out for its role in the carnage in Yemen won't have the required effect in Riyadh," he said in an interview.
The patronage of world powers like the United States and United Kingdom has ensured that Saudi rulers escape culpability for their war crimes in Yemen. Their support for the Saudi-led coalition in the form of arms, training, intelligence, and refueling of bombers has compounded the misery of Yemenis. The two countries continue to sell billions of dollars in arms to the Saudi regime, thus are directly complicit in the war crimes being committed against the Yemenis.
While bombings by the Saudi-led coalition have devastated the country, US drones have also been flying in the air. A new report by AP documenting civilian deaths in Yemen reveals that the US drones have contributed to several civilian killings this year, while pretending to be fighting Al-Qaeda's local franchise. What Americans did in Iraq and Afghanistan previously, they are now doing that in Yemen, directly and indirectly.
Today millions of children in Yemen weigh less than an average American's weekend lunch. One of them dies every ten minutes due to acute malnutrition and various diseases. United Nations has already estimated that 10 million people may starve to death, majority of them children, due to the Saudi-led war and blockade. Yet, there is no anger, no outrage, no vigils, no street demonstrations, no primetime TV debates, no editorials. It is a forgotten war.
Human rights have been reduced to a joke by the Saudi-led coalition and its international sponsors involved in Yemen war. The only way to end this war is to stop arms sale to the Saudi regime and to hold all parties – which includes Saudi Arabia, UAE, Kuwait, Bahrain, Qatar, Sudan, Egypt, Jordon, Morocco, US and UK – accountable for their war crimes.
First published in our partner MNA
Gulf countries pivot towards Israel: Can Arab recognition be foresighted?
The visit of Israeli Prime Minister Benjamin Netanyahu to Oman surprised the entire world and delivered a message of smoothening of relations between Oman and Israel. This event has marked the first ever visit by any Israeli leader to Oman in 22 years. The Israeli Prime Minister and the Sultan discussed 'Ways to enhance the peace process in the Middle East' as well as other issues of 'joint interest'. For Netanyahu, a milestone was achieved in the form of Oman recognition of Israel as normalizing relations with fellow regional states is one of the important clause of Netanyahu's policy. Moreover, an Israeli Minister Yisrael Katz attended an International Transport Conference in Oman and proposed a railway link to connect Persian Gulf with the Mediterranean Sea. However, the railway link isn't confirmed yet, it was just proposed in the conference. In parallel, Israeli Culture and Sports Minister Miri Regev attended Abu Dhabi Grand Slam 2018 in United Arab Emirates, where for the first time in history the national anthem of Israel was played. Similar approach was adopted by Israel towards Qatar. These changing dynamics can foresight the future of Gulf politics, that is, gulf countries can align with Israel to counter the influence of Iran in the region and for this purpose gulf countries may recognize Israel.
An important thing to notice is that the countries smoothening their relations with Israel are members of GCC, where Saudi Arabia is at the top of hierarchy- the major decision maker in Middle East- which means without Saudi Arabia's willingness and its interests, GCC countries cannot take such a big decision. Now here a question arises, why would Saudi Arabia allow this approach?
The main reasons are; firstly, the crown prince Mohammad Bin Salman have cordial relations with Israel's top leadership and he(MBS) is seen as a potential ally by Israel in Middle East, the major reason why Israel demanded US to side by Saudi Arabia in Khashoggi murder case. Second, it would be very difficult for Saudi Arabia- the self-proclaimed leader of the Sunni Muslim world- to recognize Israel while other states in the region still oppose the existence of a Jewish state in Middle East. Recognition of Israel by other GCC countries would make it far easier for Saudi Arabia to recognize Israel or at least to melt ice. Lastly, the Khashoggi murder case have already deteriorated the international image of Saudi Arabia, at this point of time the country cannot afford to bear another blame as Muslim countries think it would be injustice to Palestinians if Israel is recognized.
So will Saudi Arabia follow the suit and recognize Israel? The question still remains ambiguous, but since Saudi Arabia haven't opposed these action of GCC countries and a continuous diplomatic support from Israel to Saudi Arabia have been visible although both countries do not have diplomatic relations, it can be predicted that something is going on, between both of these states which they have chosen  not to disclose now. Coming to Qatar, since Qatar is also involved in this process of developing diplomatic relations with Israel, it can prove to be a catalyst in the troubled Saudi/Qatar relations as helping Saudi Arabia to develop relations with Israel while other Arab states are doing the same can lift up the entire blame from Saudi Arabia. Maybe the sanctions over Qatar will be lifted or just become less intensified. Qatar sees it as an opportunity to regain the similar status in the region as well as to reconstruct relations with the other Arab countries.
Turkish Newspaper Implicates UAE's Crown Prince in Covering Up Murder of Khashoggi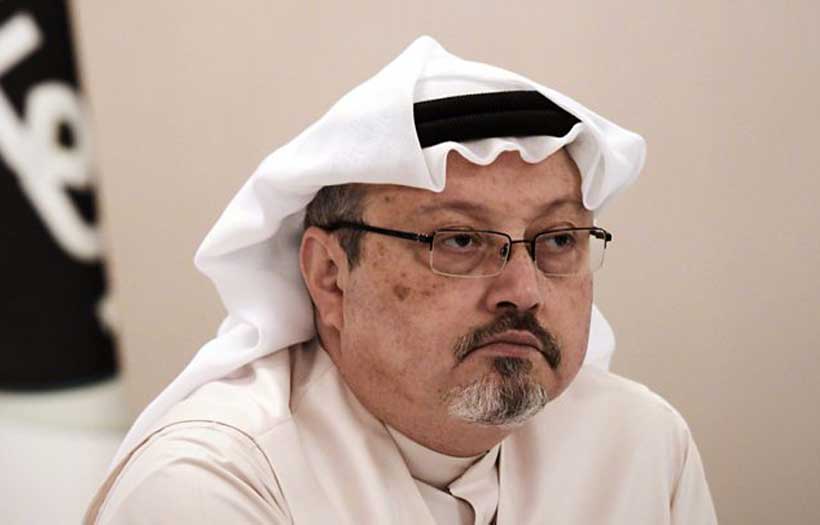 Saudi Crown Prince Mohammed bin Salman al-Saud, and UAE Crown Prince Mohammed bin Zayed al-Nahyan, are close friends and allies, who jointly lead the war against Houthi-led Yemen. On Sunday afternoon, November 18th, a leading Turkish newspaper, Yeni Şafak, reported the two leaders to have also collaborated in hiding the murder on October 2nd in Istanbul of Washington Post columnist Jamal Khashoggi.
Yeni Şafak headlined "Dahlan 'cover-up team' from Lebanon helps hide traces of Khashoggi murder" and reported that on October 2nd, "A second team that arrived in Istanbul to help cover-up the murder of Saudi journalist Jamal Khashoggi was dispatched by Muhammed Dahlan, UAE Crown Prince Muhammed bin Zayed's chief hitman in the region, … according to an informed source who spoke to Yeni Şafak daily on the condition of anonymity."
On November 16th, the Washington Post had headlined "CIA concludes Saudi crown prince ordered Jamal Khashoggi's assassination".
Bin Salman and bin Zayed are U.S. President Donald Trump's closest foreign allies other than, possibly, Israel's Prime Minister Benjamin Netanyahu. All four men are determined that there be regime-change in Shiite Iran. This anti-Shia position bonds them also against the Houthis, who are Shiites, in Yemen, where bin Salman and bin Zayed lead the war, and the United States provides the training, logistics, and weapons. Both bin Salman and bin Zayed are fundamentalist Sunnis who are against Shia Muslims. Israel and the United States are allied with these two princes. Saudi Arabia's royal family have been committed against Shia Muslims ever since 1744 when the Saud family made a pact with the fundamentalist Sunni preacher Mohammed ibn Wahhab, who hated Shia Muslims. Thus, Saudi Arabia is actually Saudi-Wahhabi Arabia, with Sauds running the aristocracy, and Wahhabists running the clergy.
In 2017, in Saudi Arabia's capital of Riyadh, Trump sold, to the Saudi Crown Prince, initially, $350 billion of U.S.-made weapons over a ten-year period (the largest weapons-sale in world history), and $110 billion in just the first year. That deal was soon increased to $404 billion. For Trump publicly to acknowledge that Salman had "ordered Jamal Khashoggi's assassination" would jeopardize this entire deal, and, perhaps, jeopardize the consequent boom in America's economy. It also would jeopardize the U.S. alliance's war against Shiites in Yemen.