Why public transit is a key economic issue for growing cities
We'd love to take our daily commute for granted. Except, we can't. It is essential that we continue to make public transportation as efficient as possible for commuters.
Over the decades, as a nation we have put investing in our transportation infrastructure, particularly our bus and rail systems, on the back burner. The result: Today's public transit backlog sits at $90 billion, according to the U.S. Department of Transportation. This is a missed opportunity to make our public transportation systems more efficient and our cities more productive, and it has serious economic implications.
For instance, a lack of investment in our public transportation infrastructure costs the U.S. economy $340 billion in revenue over a six-year period, according to the study, "The Economic Cost of Failing to Modernize Public Transportation." The study was conducted by the Economic Development Research Group Inc. for APTA.
"Our failure as a nation to address America's public transit modernization needs has wide-ranging negative effects," says APTA president and CEO Paul P. Skoutelas, "because lost time in travel makes a region's economy less productive."
Failing to meet growing public transit needs
As the number of U.S. workers continues to rise, so do the pressures on all areas of our infrastructure.
Since 1995, the U.S. has seen a 42 percent rise in public transit miles traveled. Despite that, needed improvements to our bus and rail assets have not kept pace with growth, the study concludes. Furthermore, the study shows how, as the U.S. fails to invest in the upkeep and maintenance in the nation's public transit assets, it leads to service interruptions and lost time, which leads to lost wages.
Dorval R. Carter Jr., president of the Chicago Transit Authority, oversees a legacy rail system that's more than 100 years old, and faces the challenge of fixing or replacing aging infrastructure.
"Parts of our rail system date back to the late 1800s," Carter says, "we are facing an unmet — and growing — capital need of nearly $13 billion and meeting it has become even more challenging given funding constraints not only at the federal level, but especially at the state and local levels."
The impact of public transit on local economies
Service interruptions and delays because America has not kept up with transit investments have a direct and immediate effect on the economy. If workers can't get to work on time, it affects their productivity.
When an aging road and rail system adds time and delays to commutes, that puts the brakes on economic output.
"Based on recent surveys of our riders in Central Ohio, we know 70 percent of our customers rely on our service to reach work," says Joanna Pinkerton, president and CEO of the Central Ohio Transit Authority. "This is just one example of why it is vital to continue investment in public transportation infrastructure to support residents and the economy."
Pinkerton adds that over the next 30 years, Central Ohio's public transit system will have to evolve to prepare for 1 million additional residents and 600,000 jobs.
The quality of a city's public transportation system is an important factor for companies that are looking to expand or relocate. For example, in 2014, Atlanta's public transportation system played a role in State Farm Insurance's bid to locate 8,000 new jobs there. One year ago, when Amazon asked cities to create proposals for its second headquarters, the online retailer indicated that it wanted to hear from cities with access to public transit.
The good news is, Congress has allocated a spending increase for the 2018 fiscal year budget for public transit.
"While this is a positive step forward in helping to address the nation's aging public transit infrastructure," Skoutelas says, "this momentum must be maintained by providing similar funding levels for 2019."
Bridge for Cities 2020: Mayors discuss urban development during COVID-19 crisis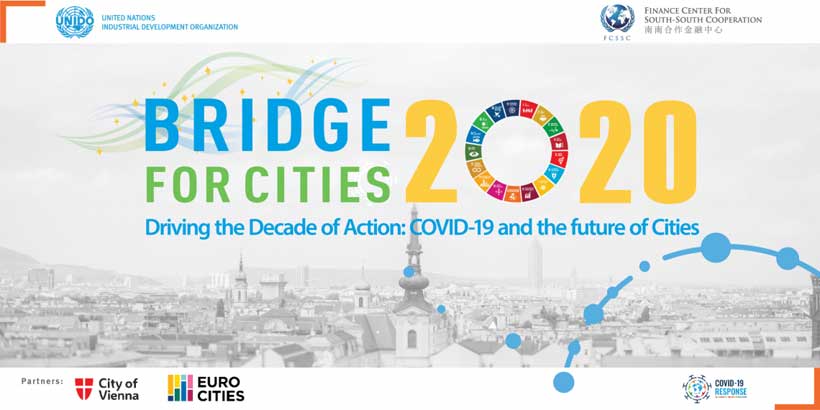 The Bridge for Cities 2020 event provided a forum for mayors and other urban stakeholders to discuss and exchange views on relevant experiences, challenges and opportunities related to the COVID-19 pandemic. The event placed particular emphasis on green, social and technological innovations which can assist cities to recover from the crisis and act as an accelerator for the Sustainable Development Goals.
Organized jointly by the United Nations Industrial Development Organization (UNIDO) and the Finance Center for South-South Cooperation (FCSSC), in close collaboration with the City of Vienna, the event attracted more than 500 attendees.
In his opening statement, UNIDO's Director General, LI Yong, stressed that "the pandemic has forced us to think outside-the-box and identify innovative solutions. It is important for us all to work collaboratively towards an inclusive and climate-resilient recovery. Bridge for Cities aims to facilitate long-lasting city-to-city partnerships in the course of the COVID-19 crisis and beyond.".
CAI E-Sheng, Chairman of the FCSSC, added that "in the post-pandemic era, urban development should be resilient. Resilient cities should have both the ability to deal with the crisis, and the ability to recover from the crisis."
Discussing how digitalization can help to promote behavioral shifts in designing and imagining cities in the context of the COVID-19 crisis, Professor Carlo Ratti, Director of the MIT Senseable City Lab, highlighted that "to respond to the pandemic, cities must act fast, try new innovations, and obtain citizens feedback, as this constant feedback loop will allow the transformation of cities for the future."
The first Mayors' Roundtable brought together representatives from Almaty, Antananarivo, Dortmund, Manama, Shenzhen, Vienna, Zamboanga and Zhengzhou to present their cities' response in ensuring an inclusive recovery from the crisis. The discussion focused on solutions to protect peoples' jobs, especially those of vulnerable groups, and to support measures for MSMEs that will assist urban development in the long term.
The second Mayors' Roundtable moved the spotlight onto the topic of a green economic recovery. Mayors and representatives from Amman, Budapest, Colombo, Damietta, Manizales, Sarajevo, Sihanoukville and Tunis offered diverse perspectives on the issue, including opportunities to decouple industrial production and urban infrastructure growth from environmental degradation by making the necessary investments now.
The event was enriched by a series of workshops and exhibition booths organized by partner cities, international organizations and innovative start-ups, showcasing ground-breaking solutions for the future of smart cities' development.
Rebuilding Cities to Generate 117 Million Jobs and $3 Trillion in Business Opportunity
COVID-19 recovery packages that include infrastructure development will influence the relationship between cities, humans and nature for the next 30 to 50 years. With the built environment home to half the world's population and making up 40% of global GDP, cities are an engine of global growth and crucial to the economic recovery.
Research shows that nature-positive solutions can help cities rebuild in a healthier and more resilient way while creating opportunities for social and economic development. The World Economic Forum's new Future of Nature and Business Report found that following a nature-positive pathway in the urban environment can create $3 trillion in business opportunity and 117 million jobs.
"Business as usual is no longer sustainable," said Akanksha Khatri, Head of the Nature Action Agenda at the World Economic Forum. "Biodiversity loss and the broader challenges arising from rapid urban population growth, financing gaps and climate change are signalling that how we build back can be better. The good news is, there are many examples of nature-based solutions that can benefit people and planet."
Cities are responsible for 75% of global GHG emissions and are a leading cause of land, water and air pollution, which affect human health. Many cities are also poorly planned, lowering national GDP by as much as 5% due to negative impacts such as time loss, wasted fuel and air pollution. However, practical solutions exist that can make living spaces better for economic, human and planetary health.
The study, in collaboration with AlphaBeta, highlighted examples of projects deploying nature-positive solutions and the business opportunities they create.
Cape Town: Cape Town was just 90 days away from turning off its water taps. Natural infrastructure solutions (i.e. restoring the city's watersheds) were found to generate annual water gains of 50 billion litres a year, equivalent to 18% of the city's supply needs at 10% of the cost of alternative supply options, including desalination, groundwater exploration and water reuse

Singapore: Singapore's water leakage rate of 5% is significantly lower than that of many other major cities thanks to sensors installed in potable water supply lines. Globally, reducing municipal water leakage could save $115 billion by 2030. Returns on investment in water efficiency can be above 20%.

Suzhou: Suzhou Industrial Park's green development in China has seen its GDP increase 260-fold, partially through green development. The park accommodates 25,000 companies, of which 92 are Fortune 500 companies, and is home to 800,000 people. The park has 122 green-development policies, including stipulations on optimizing and intensifying land use, improvement of water and ecological protection, and the construction of green buildings. As a result, 94% of industrial water is reused, 100% of new construction is green, energy is dominantly renewable and green spaces cover 45% of the city.

San Francisco: San Francisco requires new buildings to have green roofs. The "green" roof market is expected to be worth $9 billion in 2020 and could grow at around 12% annually through 2030, creating an incremental annual opportunity of $15 billion.

Philippines: The loss of coastal habitats, particularly biodiverse and carbon-rich mangrove forests, has significantly increased the risk from floods and hurricanes for 300 million people living within coastal flood zones. A pilot project in the Philippines, one of the countries most vulnerable to climate change, is monetizing the value of mangroves through the creation of the Restoration Insurance Service Company (RISCO). RISCO selects sites where mangroves provide high flood reduction benefits and models that value. Insurance companies will pay an annual fee for these services, while organizations seeking to meet voluntary or regulatory climate mitigation targets will pay for blue carbon credits. Overall, restoring and protecting mangrove forests in human settlements can reduce annual flood damage to global coastal assets by over $82 billion while significantly contributing to fighting climate change.
The report identifies five complementary transitions to create nature-positive built environments and outlines the business opportunities and potential cost savings for programmes targeting urban utilities for water, electricity and waste, land planning and management, sustainable transport infrastructure and the design of buildings.
Office space the size of Switzerland
Global examples call out areas to be improved. For example, an estimated 40 billion square metres of floor space is not used at full occupancy during office hours – an area roughly equivalent to the size of Switzerland. The COVID-19 upheaval has prompted a surge in flexible and remote working models in many countries – greater application of such models could help reduce the need for private office space in the future.
Governments' role to raise and steer finance
The report calls for both government officials and businesses to play their part in raising and steering finance for sustainable urban infrastructure. "Regulations in areas including urban master planning, zoning and mandatory building codes will be critical to unlocking the potential of net-zero, nature-positive cities and infrastructure," said Khatri. "We are at a critical juncture for the future of humanity. Now is the time to treat the ecological emergency as just that. A net-zero, nature-positive path is the only option for our economic and planetary survival and how we choose to use COVID-19 recovery packages might be one of our last chances to get this right."
City Climate Finance Gap Fund Launches to Support Climate-smart Urban Development
Today, the City Climate Finance Gap Fund ("The Gap Fund") was launched jointly by ministers and directors of the Governments of Germany and Luxembourg together with the World Bank, European Investment Bank, and Global Covenant of Mayors. It paves the way for low-carbon, resilient, and livable cities in developing and emerging economies by unlocking infrastructure investment at scale.
The Gap Fund will support city and local governments facing barriers to financing for climate-smart projects. Filling a gap in available project support, the Gap Fund offers technical and advisory services to assist local leaders in prioritizing and preparing climate-smart investments and programs at an early stage, with the goal of accelerating preparation, enhancing quality, and ensuring they are bankable.
With a target capitalization of at least €100 million, the Gap Fund will accelerate investments supporting cities in developing and emerging economies, as they determine goals and objectives for low-carbon and well-planned urbanization. The Gap Fund investment is aiming to unlock at least €4 billion of final investment in climate-smart projects and urban climate innovation.
"What cities do today will forever shape our climate tomorrow," said Mari Pangestu, World Bank Managing Director for Development Policy and Partnerships. "Cities in developing countries urgently need resources to realize their climate ambitions. Through the Gap Fund, the World Bank is supporting low-carbon, resilient, inclusive, healthy, creative, and sustainable communities for all."
Cities are on the frontlines of the climate emergency and currently account for around 70 percent of global CO2 emissions. Urban centers' share of emissions is expected to grow as 2.5 billion people migrate from rural to urban areas by 2050. Before the COVID-19 pandemic struck, it was estimated that more than $93 trillion in sustainable infrastructure investment was needed by 2030 to meet climate goals. As cities strive to recover from the economic impacts of COVID-19, investments in clean energy, climate-resilient water and sanitation, and urban regeneration projects will play an important role in eliminating pollution, improving local food systems, and creating green jobs. They will also lead to cleaner, healthier, and more equitable communities – conditions that can help prevent future pandemics.
Climate investment projects are an indispensable opportunity to improve lives of the millions who live in cities around the world. However, cities frequently lack the capacity, finance, and support needed for the early stages of project preparation – especially in developing and emerging economies. This leads to impasses where cities cannot move project ideas to late-stage preparation and implementation. This hurdle is frequently overlooked by national and international support – a challenge the Gap Fund will seek to overcome.
The Gap Fund is an initiative of the governments of Germany and Luxembourg together with the Global Covenant of Mayors for Climate and Energy (GCOM), in partnership with several other key players in the climate finance arena (including C40, ICLEI – Local Governments for Sustainability, and Cities Climate Finance Leadership Alliance). It will be implemented by the World Bank and the European Investment Bank. The Gap Fund was announced at the UN Climate Action Summit 2019 as a key initiative of LUCI, the Leadership for Urban Climate Investment, which promotes financing for ambitious urban climate action until 2025. Core donors to the Gap Fund are Germany (€45 million – including €25 million from the Ministry for the Environment, Nature Conservation and Nuclear Safety, and €20 million from the Ministry for Economic Cooperation and Development) and Luxembourg (€10 million).