Why public transit is a key economic issue for growing cities
We'd love to take our daily commute for granted. Except, we can't. It is essential that we continue to make public transportation as efficient as possible for commuters.
Over the decades, as a nation we have put investing in our transportation infrastructure, particularly our bus and rail systems, on the back burner. The result: Today's public transit backlog sits at $90 billion, according to the U.S. Department of Transportation. This is a missed opportunity to make our public transportation systems more efficient and our cities more productive, and it has serious economic implications.
For instance, a lack of investment in our public transportation infrastructure costs the U.S. economy $340 billion in revenue over a six-year period, according to the study, "The Economic Cost of Failing to Modernize Public Transportation." The study was conducted by the Economic Development Research Group Inc. for APTA.
"Our failure as a nation to address America's public transit modernization needs has wide-ranging negative effects," says APTA president and CEO Paul P. Skoutelas, "because lost time in travel makes a region's economy less productive."
Failing to meet growing public transit needs
As the number of U.S. workers continues to rise, so do the pressures on all areas of our infrastructure.
Since 1995, the U.S. has seen a 42 percent rise in public transit miles traveled. Despite that, needed improvements to our bus and rail assets have not kept pace with growth, the study concludes. Furthermore, the study shows how, as the U.S. fails to invest in the upkeep and maintenance in the nation's public transit assets, it leads to service interruptions and lost time, which leads to lost wages.
Dorval R. Carter Jr., president of the Chicago Transit Authority, oversees a legacy rail system that's more than 100 years old, and faces the challenge of fixing or replacing aging infrastructure.
"Parts of our rail system date back to the late 1800s," Carter says, "we are facing an unmet — and growing — capital need of nearly $13 billion and meeting it has become even more challenging given funding constraints not only at the federal level, but especially at the state and local levels."
The impact of public transit on local economies
Service interruptions and delays because America has not kept up with transit investments have a direct and immediate effect on the economy. If workers can't get to work on time, it affects their productivity.
When an aging road and rail system adds time and delays to commutes, that puts the brakes on economic output.
"Based on recent surveys of our riders in Central Ohio, we know 70 percent of our customers rely on our service to reach work," says Joanna Pinkerton, president and CEO of the Central Ohio Transit Authority. "This is just one example of why it is vital to continue investment in public transportation infrastructure to support residents and the economy."
Pinkerton adds that over the next 30 years, Central Ohio's public transit system will have to evolve to prepare for 1 million additional residents and 600,000 jobs.
The quality of a city's public transportation system is an important factor for companies that are looking to expand or relocate. For example, in 2014, Atlanta's public transportation system played a role in State Farm Insurance's bid to locate 8,000 new jobs there. One year ago, when Amazon asked cities to create proposals for its second headquarters, the online retailer indicated that it wanted to hear from cities with access to public transit.
The good news is, Congress has allocated a spending increase for the 2018 fiscal year budget for public transit.
"While this is a positive step forward in helping to address the nation's aging public transit infrastructure," Skoutelas says, "this momentum must be maintained by providing similar funding levels for 2019."
Net-Zero Buildings: Global CEOs Pledge 50% Cut in Real Estate Emissions by 2030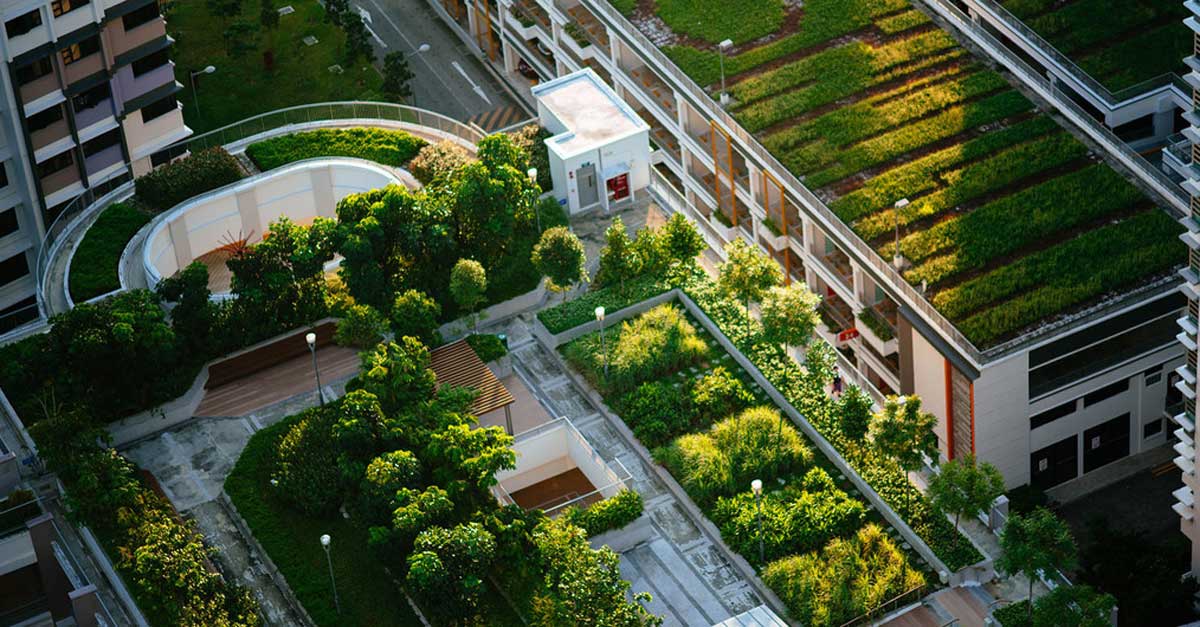 Leading CEOs made a pledge today to reduce their real estate emissions by 50% by 2030 and reach net-zero carbon no later than 2050.
With buildings contributing 38% of all energy-related greenhouse gas emissions, leaders across all industries have a critical role to play in lowering their global real estate emissions.
"While real estate represents nearly 40% of all energy-related GHG emissions, the sector is frequently an afterthought when it comes to an organization's decarbonization and sustainability strategies," said Matthew Blake, Head of Financial and Monetary Systems, World Economic Forum. "Leaders across all industries have a responsibility to take action on their real estate GHG emissions to ensure progress in the fight against climate change."
The following companies have pledged to halve their buildings-related emissions by 2030 and reach net-zero building emissions by 2050:
Avison Young
Edge
GPFI Group
Ivanhoé Cambridge
JLL
Majid Al Futtaim Properties
Schneider Electric
Signify
These firms will meet these targets by implementing the Forum's Green Buildings Principles. Released last year, the Green Building Principles: The Action Plan for Net-Zero Carbon Buildings provides a clear sequence of steps to deliver net-zero carbon real estate portfolios:
1. Calculate a robust carbon footprint of your portfolio in the most recent representative year to inform targets
2. Set a target year for achieving net-zero carbon, by 2050 at the latest, and an interim target for reducing at least 50% of these emissions by 2030
3. Measure and record embodied carbon of new developments and major refurbishments
4. Maximize emissions reductions for all new developments and major refurbishments in the pipeline to ensure delivery of net-zero carbon (operational and embodied) by selected final target year
5. Drive energy optimization across both existing assets and new developments
6. Maximize supply of on-site renewable energy
7. Ensure 100% off-site energy is procured from renewable-backed sources, where available
8. Engage with stakeholders with whom you have influence in your value chain to reduce scope 3 emissions
9. Compensate for any residual emissions by purchasing high-quality carbon offsets
10. Engage with stakeholders to identify joint endeavours and equitably share costs and benefits of interventions
Developed in collaboration with JLL, the World Green Building Council and the Forum's Real Estate community, the Green Building Principles can be formally adopted by firms and include an Action Plan detailing implementation.
The Action Plan provides globally applicable guidance on best practices to implement the principles for every stakeholder, from owners to occupiers to investors. Signatories will report progress annually as part of their public sustainability reporting and participate in a Practitioners Group to identify solutions around implementation.
Signatories share why they have pledged the Principles:
"More sustainable real estate is essential," said Coen van Oostrom, Founder and Chief Executive Officer, Edge. "The Principles offer a clear roadmap to help all building stakeholders tackle their emissions and deliver better buildings. The world deserves better buildings and it is entirely possible to significantly reduce the impact of both existing and new buildings."
"It's imperative that we address real estate related emissions," said Christian Ulbrich, Global Chief Executive Officer and President, JLL. "Getting started is often the hardest part and the Principles offer a simple set of steps to do so. We believe it is easier to get to net zero in the built environment than for many companies to get to net zero in their core businesses and the business case is there to support action."
"The emphasis on bringing together the world's leading businesses and public figures to collectively address issues like climate change and driving social change is fundamental to what Avison Young stands for. ESG considerations across the board must be addressed by the real estate sector — buildings have a huge impact on our everyday lives and the planet," said Mark E. Rose, Chairman and CEO, Avison Young. "We are thrilled to adopt the Green Building Principles and demonstrate to our peers that reaching net zero is not only possible but essential for a better built environment and more resilient and successful cities."
"By nature, real estate requires long-term thinking and so we have a duty to invest with conviction and build a legacy for future generations," said Nathalie Palladitcheff, President and CEO, Ivanhoé Cambridge. "We have a collective opportunity and responsibility to decarbonize the built environment and this ambitious commitment will require a transformation of practices across the whole real estate value chain."
"The industry has traditionally looked at investments in sustainability as a trade-off with other aspects like customer experience, but it's very clear that we need to shift our mindset," said Ahmed Galal Ismail, CEO, Majid Al Futtaim Properties. "Sustainability is actually a trade-on and sustainable assets are more valuable. We are committed to transitioning our portfolio and proving what is possible in alignment with the Principles."
"We have the innovation to both transform the current building stock through electrification and digitalization and develop smart, green buildings of the future," said Philippe Delorme, Executive Vice President, European Operations, Schneider Electric. "Schneider Electric is proud to adopt the Principles and demonstrate how we can transition buildings to be healthier, more efficient and ultimately net-zero carbon."
"We continue to be committed to the planet and addressing our real estate footprint" said Harsh Chitale, CEO, Digital Solutions Division, Signify. "The Principles are an ideal way to help every type of company address emissions from the buildings they own and/or occupy."
"As a facility management company, we play a major role in the drive for adoption and implementation of emission reduction programs," said Dr. MKO Balogun, Group CEO, GPFI Group. "Our role working with occupiers, owners, and developers of real estate gives us the leverage to drive that commitment, and we are glad to be joining other global leaders on this journey."
Traditional building practices offer sustainable solutions as African cities grow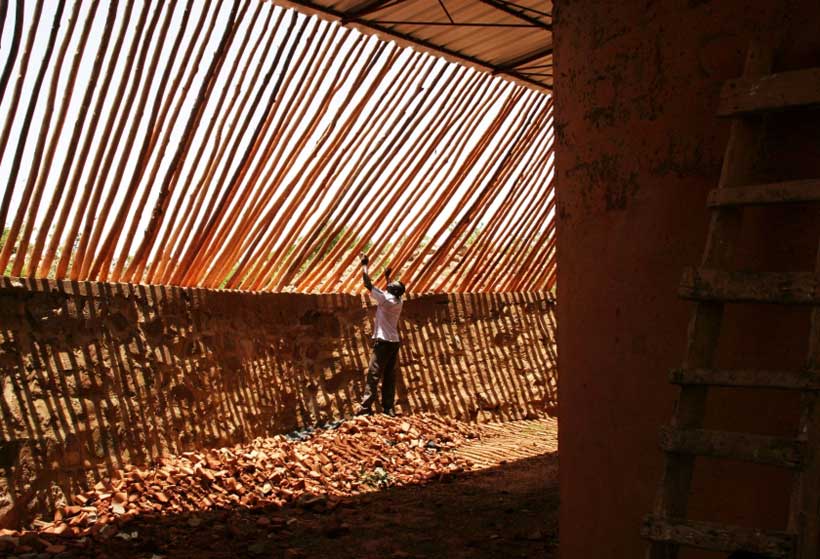 Located on the dusty outskirts of the Burkina Faso town of Koudougou, the Lycée Schorge Secondary School shows what is possible when you mix traditional techniques and new materials.
The school consists of nine modules arranged around a central courtyard, protecting the central space from wind and dust. Each module is built out of locally sourced laterite which is cut into bricks and left in the sun to harden. These bricks absorb the heat during the day and radiate it at night.
A secondary façade made of local eucalyptus wood wraps around the classrooms like a transparent fabric and creates various shaded spaces to protect students from stifling daytime temperatures.
The building, designed by the Berlin-based, Burkinabè founded architecture firm Kéré Architecture, is an example of how countries on the continent are using traditional building techniques to lessen the carbon footprint of their buildings.
Research shows that these techniques can help prevent the need for air conditioning, the long-range transport of building materials and concrete production, all of which contribute to the greenhouse gas (GHG) emissions driving the climate crisis.
With 70 per cent of Africa's building stock that will exist in 2040 still to be constructed, experts say these energy-saving techniques are crucial.
"Traditional sustainable construction and building practices are a cornerstone of African cultural heritage," says Jonathan Duwyn, from the United Nations Environment Programme's (UNEP's) Buildings and Construction, Cities Unit.
"Locally adapted sustainable design, construction, practices, and materials coupled with renewables and innovation represent a great opportunity for both mitigation and resilience in Africa's rapidly growing building stock."
The continent accounts for roughly 6 per cent of global energy demand, with more than half of this coming from its buildings. Given that Africa's population is expected to reach 2.4 billion people by 2050, with 80 per cent of this growth occurring in cities, it is clear that sustainability needs to be a core principle of all future buildings.
With the launch of UNEP's 2022 Global Status Report for Buildings and Construction at the UN Climate Conference (COP27) today, the focus is on how Africa can manage this urban growth and increase the resilience of its housing stock while avoiding an increase in GHG emissions.
It is a tall order, yet inspiration can be found in Africa's past. Travel through Africa today, and hints of this past can be found everywhere, from Eswatini's beehive huts to the Drogon cliff villages of Mali to the mud-brick mosques of West Africa.
"Africa is rich in renewable energy sources, solar and wind, with nearly half of the planet's total renewable energy technological potential," Duwyn says. "Locally adapted sustainable design, construction, practices, and materials coupled with renewables and innovation represent a great opportunity for both mitigation and resilience in the face of Africa's rapidly growing building stock," he adds.
This is particularly important given the projected demand for air conditioning units as more people get access to electricity and temperatures rise. "We expect cooling to be a major challenge when it comes to residential energy demand in Africa in the future," says Duwyn. "This is why it is so important to ensure new buildings use natural cooling systems wherever possible."
Only 43 per cent of the population had access to electricity in 2021, and the International Energy Agency estimates that African household energy demand by 2030 for cooling will increase the most.
Another Kéré Architecture project utilizing sustainable design and building practices is the Gando primary school. It is constructed of clay/cement hybrid bricks for a dry-stacked brick ceiling – instead of the more common corrugated metal roof – allowing maximum natural ventilation.
"These projects show that sustainable building practices are possible when innovative techniques are used," says Duwyn. "And as Africa's climate warms even more, it is vital that we embrace sustainable building designs that do not need costly and damaging cooling systems."
As the Building Global Status Report highlights, Africa is rich in natural, sustainable materials such as adobe, laterite, termite mound soil, timber, stone, bamboo, sand and dry vegetation. While traditional construction techniques include rammed earth, sun-dried bricks, compressed earth blocks, wattle and daub, cob, timber-framed construction, sandbag construction and thatched roofs.
Ensuring sustainable materials are used is particularly important, given that according to UNHabitat, more than half the population (excluding in North Africa) live in overcrowded informal settlements, which are particularly vulnerable to the impacts of climate change.
"Quality, sustainable housing is an important way of ensuring vulnerable populations are more resilient to the effects of the climate crisis," Duwyn says. Particularly the frequency of natural disasters has tripled in the past 30 years, with Sub-Saharan Africa home to nearly three-quarters – 393 million – of the global number of children living in countries affected by emergencies.
As the report makes clear, there is no one-size-fits-all answer to tackling Africa's future building needs. But, as it is rich in renewable energy sources, and most of its building stock over the next two decades still needs to be built, the continent is well placed to be a leader in sustainable design practices.
Advanced forecasting to help millions on coasts and in cities cope with climate-change impacts
By SARAH WILD
In the freezing reaches of Greenland, fissures in the ice sheet mark the battle lines in the fight against climate change. Greenhouse gases (GHG) are driving up global temperatures, melting the ice and pushing more and more icebergs to break away from glaciers and ice sheets. When the ice melts and the water enters the ocean, it adds to rising sea levels, putting millions of people who live in low lying coastal areas across the globe at risk.
The Greenland ice sheet stores the equivalent of seven metres of sea-level rise, while the Antarctic ice sheet contains about 60 metres, and their rate of melting depends on a variety of factors, including how quickly humans reduce GHG.
'It is more or less certain that we will not escape from a two-metre sea-level rise,' said Gaël Durand, an ice-sheet specialist at the Université Grenoble-Alpes in France. 'The question is now "When will it happen?" Will it be in 100 years or in 2000 (years)?'
This question, of how much and when, is not a simple one –– but the answer is vital for humanity to adapt to climate change. Unlike mitigation, which means reducing GHG emissions, climate adaptation aims at building resilience to the inevitable effects of a changing climate. But in order to adapt, decision makers need reliable information on what will happen to the climate in different regions.
This is where climate predictions and projections from scientific research play a crucial role: predictions attempt to provide estimates in the short-term — for example, the average annual or seasonal temperature in five years; whereas projections extrapolate what could happen in the long-term, under different possible futures, determined by more or less ambitious mitigation responses.
In the EU-funded PROTECT project, Durand and colleagues are working on projections, to more accurately determine what will happen to the ice sheets in a world of rising temperatures and how this will impact communities living in coastal areas.
Coastal users
'We want to provide projections, but we want to be sure that these projections fit the needs of users, particularly coastal users,' said Durand.
More than 200 million Europeans live within 50 km of the coastline, but rising sea levels will affect them all differently. 'Typically the needs are very different, depending on the use you have of coastal land,' explained Durand.
Using satellite and remote sensing data, as well as ice sheet data, the PROTECT project models how the ice sheet behaviour in Greenland and the Antarctic, as well as glaciers, will impact people on a regional and even local scale, with case studies in France, the Netherlands, Greenland, and the Maldives (in the Indian Ocean). 'We work with stakeholders and practitioners to better understand what type of projections they need,' Durand says.
Co-design with users is a feature of another EU-funded project, the European Climate Prediction System (EUCP), this one focusing on predictions. In the past, 'it was often the climate scientist speaking and the user listening', said Jason Lowe, science lead for the project and the UK Met Office's principal fellow and head of climate services for government. 'But we realised that the successful projects were when the user speaks more and the climate scientist listens and adapts to that.'
Innovation in knowledge production
For example, users were asking, 'What does (climate change) mean for adaptation of cities? What does it mean for water availability? What does it mean for coastal protection?' Lowe said.
'You need different types of information to inform the solution.'
The EUCP brought together users and organisations interested in climate predictions, as well as superusers which had specific problems to solve, to see how climate science could bolster their adaptation strategies.
With their needs in mind, the project developed new methods to create more accurate decade-timescale forecasts. EUCP contributed to the World Meteorological Organization's decadal forecasts exchange and produced new data that informed the sixth assessment of the Intergovernmental Panel on Climate Change (IPCC).
Flash flooding
'So if they're looking at flash flooding, if they're designing drainage systems, for instance, this data is available as a result of EUCP.'
While the project mostly focused on temperature and rainfall, it was also able to forecast storm tracks through the Caribbean and investigate wind droughts, which is when the wind speed is low, in France.
However, beyond the successful predictions, it's the new methods that may become the project's most important legacy, said Lowe.
One new method was the ability to combine different global climate models, giving more accurate models greater weight than those which were less precise in a given scenario. 'We produced the first comparison of different methods to weight the projections,' Lowe said.
The EUCP Atlas of climate projections provides pre-processed projections for Europe, and facilitates a comparison between them.
Bridging predictions and projections
The project team also developed a way to link predictions to longer-term projections. This method, allowing people to link decadal forecasts to longer-term climate projections, will also be one of the enduring legacies of the project, according to Lowe.
With more work to be done in decadal climate forecasting and projections, the EUCP will be succeeded by the ASPECT project (which stands for Adaptation-oriented Seamless Predictions of European ClimaTe), due to start next year. This continued effort is expected to improve our ability to forecast far into the future.
'We also think we can take the idea of joining predictions to projections, and move it from something that's academically interesting to something that can be used in climate services,' he said. Climate services provide climate information which allows people and organisations to organise their activities and adapt to climate change.
Even if humanity cuts its emissions drastically, the climate is already changing and people around the world need to adapt. To do this, they need the vital and impartial information that projects such as PROTECT and EUCP provide.
Research in this article was funded via the EU. This material was originally published in Horizon, the EU Research and Innovation Magazine.
EU MISSION: ADAPTATION TO CLIMATE CHANGE
Whether it's forest fires, floods or droughts, the consequences of climate change are already with us, and Europe is warming twice as fast as the world average.
Adapting to climate change means taking action now to prepare for both the current effects of climate change and future ones.
The Mission on Adaptation to Climate Change focuses on supporting EU regions, cities and local authorities in their efforts to build resilience against the impacts of climate change.