Multilateralism: The only path to address the world's troubles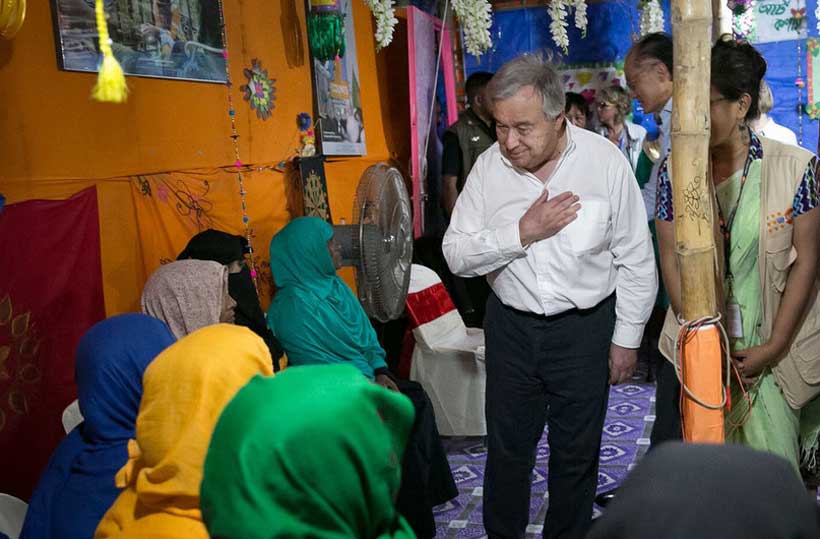 As the world's problems grow, multilateralism represents to best path to meet the challenges that lie ahead, said United Nations Secretary-General António Guterres on Tuesday, launching his annual report.
The Report of the Secretary-General on the Work of the Organization  for 2018, also tracks the progress made over the last year in maintaining peace and security, protecting human rights, and promoting sustainable development.
"I started my tenure calling for 2017 to be a year of peace, yet peace remains elusive," said the UN chief in the report's introduction, noting that since January last year "conflicts have deepened, with grave violations of human rights and humanitarian law; inequality has risen, intolerance has spread, discrimination against women remains entrenched and the impacts of climate change continue to accelerate."
"We need unity and courage in setting the world on track towards a better future," stressed Mr. Guterres, crediting the Sustainable Development Goals (SDGs) for generating coordinated efforts by Member States and civil society to "alleviate poverty and build peaceful, prosperous and inclusive societies."
Wide-ranging reform
The most comprehensive reform of the UN development system in decades already underway, led by Mr. Guterres and his deputy, Amina Mohammed, aims to strengthen the Organization's capacity to support Member States in achieving the 17 SDGs.
While the report points to gains, such as increased labour productivity, access to electricity and strengthened internet governance, it also illustrates that progress has been uneven and too slow to meet the 2030 Agenda for Sustainable Development Goals within the given time frame.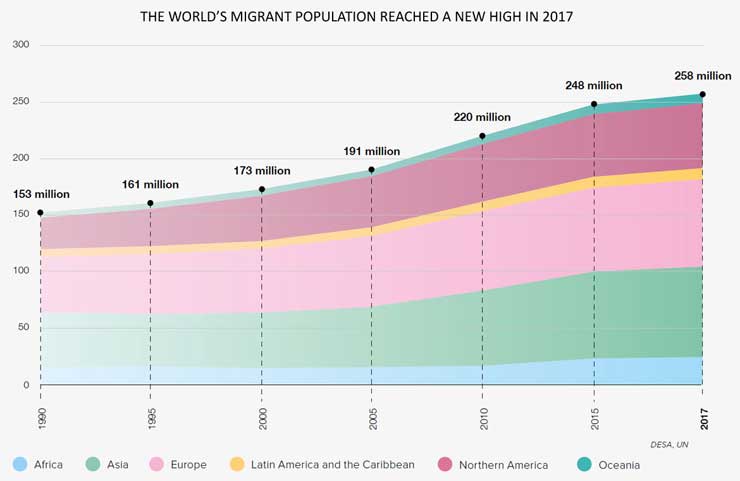 For example, in 2015, three out of 10 people did not have access to safe drinking water, and  60 per cent lacked safe sanitation. Moreover conflicts, disasters and climate change are also adversely affecting populations.
The report underlines the importance of building stronger multilateral partnerships with Member States; regional and international organizations; and civil society; to "find solutions to global problems that no nation alone can resolve."
Although the 2018 High-Level Political Forum on Sustainable Development of 2018 reflected some positive initiatives, it also showed the urgent need to step up efforts in areas such as energy cooperation, water and terrestrial ecosystems.
According to the report, "partnerships are key to achieving the SDGs" – and as of June, 3,834 partnerships had been registered with the Partnerships for the SDGs online platform from different sectors across all the 17 goals.
With regard to technology, last October a joint meeting of the Economic and Social Council (ECOSOC) and the Second Committee welcomed Sophia, the first robot to sit on a UN panel. This gave a glimpse into the advances being made in the realm of Artificial Intelligence.
Turning to young people, UN Youth Envoy, Jayathma Wickramanayake, of Sri Lanka, is continuously advocating for their needs and rights, including in decision-making processes at all levels, and in strengthening the UN system's coordination on delivering for youth, and with their increased participation.
The UN report also spoke to the growing scale, complexity and impact of global migration. In July, the General Assembly agreed a Global Compact for Safe, Orderly and Regular Migration, which will be presented for adoption in December at an Intergovernmental Conference in Morocco.
A share of stock, sometimes known as equity or security, is a form of legal ownership in a company. Corporations normally issue stock to raise money and they issue stock in two varieties mainly common stock and preferred stock.
Common stock also ordinary shares are shares that entitle the holder to dividends that vary in amount and at times these dividends are not issued and this depends on the company's fortunes. Preferred stock on the other hand is stock that entitles the holder to a fixed dividend whose payment is prioritized over ordinary shares.
When it comes to investing in stocks there are top stocks to buy. Identifying a portfolio can be as easy as looking at trends in the top companies and identify those that you are likely to gain from. For instance, Tesla shares were going for $420before announcing their cyber truck. After the announcement the shares rose to $680 so this was a good investment opportunity.
Professional tips for stock market investing
Set long-term goals
When investing in the stock market you ought to have long term goals. By this I mean you need to establish your purpose definitively and the exact time in future you will need your investment. If the period of time until the first investment matures is long, consider making another.
You can calculate the amount to invest and the return on investment needed to produce the desired result. It is crucial to note that the growth of a portfolio is dependent on three factors: the capital invested, the net amount of annual earnings on the capital, and the period of your investment.
Comprehend your risk tolerance
Tolerance of risk is a psychological trait majorly influenced by wealth, income and knowledge. Old risk tolerance is on the downward trend, but wealthier an individual, the more their risk tolerance will increase because of the sense of security that wealth imparts.
Perception is very important in investing. As one acquires more knowledge on investing example how to buy and sell stocks and how to practically liquidate an investment it makes you consider stocks to have less risk than you thought at the time of purchase. As a result, anxiety about investing drops.
Diversify your investment portfolio
Diversifying your investment portfolio is the most common way to manage risk. Shrewd investors own shares in various organizations and in different sectors and at times even in different states. Doing this comes with the expectation that a single bad event such as an economic recession will not negatively impact all their holdings.
Diversification of a portfolio allows a person to negate the loss of his/her total investment whereby some of the investments are doing well and the rest are performing badly. Even if the entire value of the portfolio drops it is better than losing everything.
Control your emotions
In stock trading individuals lose money due to not making logical decisions which is spurred by inability to control emotions. An organization's share prices on the short term reflect integrated emotions of the entire investment faction.
Individuals who approach the market with a negative perspective are termed as bears whereas those who approach with a positive perspective are bulls. During market hours the disparity between bears and bulls is portrayed by the constant change in price of stocks. Short term movements are spurred by emotions rather than logic
Keep away from leverage
Leveraging is the use of borrowed finances to enact ones stock market strategy. Possession of a marginal account can prompt brokerage firms and banks alike to loan you money to invest in stocks. Normally, they afford you up to 50% of the total value of your portfolio.
That said if stock price plummets, rather than doubling your investment assuming if it shoots up, you will lose 100% of the original stake plus the interest to the broker.
Conclusion
Finally investing in stocks has a good shot at accumulating an enormous asset value for those willing to be steady savers. The earlier one begins their investment venture, the greater the possible outcome will be.
ABAC Release: Achieving Integration and Inclusion in the Age of Disruption
Business leaders from around the Asia-Pacific met in Sydney, Australia, last week to discuss the year ahead, including engaging with APEC senior officials on how best to advance shared goals around integration, innovation and inclusion in the region.
"We are seeing disruption and volatility in the geopolitical situation, in trade and markets, in economic inequality, in the digital economy and even in our physical environment," commented ABAC Chair Dato Rohana Tan Sri Mahmood. "One thing is clear: to overcome these challenges, we need more regional cooperation, not less. This was our key message to senior officials in our annual dialogue this week," Dato Rohana added.
The chair said that ABAC would be looking to find durable solutions to those issues as part of the post-2020 vision for the region, which is due to be finalized by APEC this year. ABAC would be seeking a seamless, dynamic, resilient, inclusive and sustainable Asia-Pacific economic community, underpinned by a Free Trade Area of the Asia Pacific, and with people at its heart.
In the meantime, ABAC members reiterated their strong support for the World Trade Organization (WTO). "The mid-year WTO Ministerial Conference represents a crucial opportunity to make progress on reforming WTO rules and resolving the impasse on dispute settlement. As we see our small businesses and developing economies exporting more, this is critical. This will mean that the multilateral rules-based system remains relevant to and effective for all in our modern economies," added Dato Rohana.
Chair Dato Rohana also emphasized the importance of business leadership to mitigate climate change impacts and spearhead the transition to a low-emissions economy. "Business has an important role to play in helping shape the path ahead here. As businesspeople, we are adept at simplifying complex issues and finding innovative solutions," said Dato Rohana. "We have a real contribution to make here."
On the digital economy, the chair said that ABAC remained convinced that fostering an innovation-friendly, resilient and cyber-secure digital ecosystem was the best way to help unlock growth for underserved groups including women, indigenous communities and micro-, small and medium-sized enterprises (MSMEs) in the region. "As we face the emergence of new technologies such as artificial intelligence, we need to equip APEC economies to create an environment for successful development and ethical uptake of AI," added Dato Rohana.
Underpinning these efforts was a need for ongoing structural reform to increase the resilience of all APEC economies
"In Sydney we set out an ambitious forward agenda and work program which will lead us through the year to the APEC Summit in Kuala Lumpur in November, where we will present our advice directly to APEC Economic Leaders," concluded Dato Rohana.
For more information on the APEC Business Advisory Council, click here.
Year-old peace agreement must be implemented for 'lasting peace' in Central African Republic
Following a visit to the Central African Republic, a UN independent expert said that everyone must take all measures necessary to effectively implement the peace agreement that was signed in Bangui a year ago.
"The first anniversary of the Khartoum Peace Agreement, celebrated on 6 February, provided an opportunity for all parties to review its implementation, which will lead to a lasting peace", Yao Agbetse, Independent Expert on the situation of human rights in the Central African Republic, said on Thursday.
In pointing out that the agreement allowed armed groups to join the Government, he said it is considered "a symbol of the unification of the Republic".
"But", he maintained, "for the agreement to be effective, all parties must sincerely implement its provisions, and justice measures must be taken".
Minding the security situation
During his visit, Mr. Agbetse took note of ongoing reform of the security sector as well as the beginning of the Disarmament, Demobilization, Reintegration and Repatriation (DDRR) process whereby weapons are physically removed from ex-belligerents, armed groups are disbanded, and former combatants are reintegrated into civilian society.
He urged all involved to mobilize the necessary technical and financial resources to implement the nationwide process as early as possible.
Despite the steps already taken to improve the security situation, much remains to be done to prevent a resurgence of violence, keep young people at home, support the peace process, and punish Peace Agreement violations, according to the UN expert.
He observed that despite laudable efforts by local actors, school closures, especially in the countryside, forces children out of the education system, making them vulnerable to human trafficking and recruitment by armed groups.
Transitional justice
Mr. Agbetse called on the National Assembly to promptly adopt several bills required by the Agreement, including on freedom of communication and the creation of a Truth, Justice, Reparation and Reconciliation Commission.
Upon being informed of the establishment of transitional justice institutions, he underscored the importance that they be "provided with appropriate resources to carry out their mission".
"Swift and substantial assistance from international partners is essential," he said.
He upheld that the international community continue to support the organization of presidential elections within the constitutional time frame, saying "all actors, including political parties and the media, must refrain from any hate speech and avoid inciting hatred".
"Necessary action for a peaceful election must be taken now," concluded the UN expert.
Mr. Agbetse will present his findings to the UN Human Rights Council during a high-level interactive dialogue scheduled for 18 March.
Independent experts are appointed by the Geneva-based Council to examine and report back on a specific human rights theme or a country situation. The positions are honorary and the experts are not UN staff, nor are they paid for their work.