Confronting the Shadow of Colonialism in Trump's America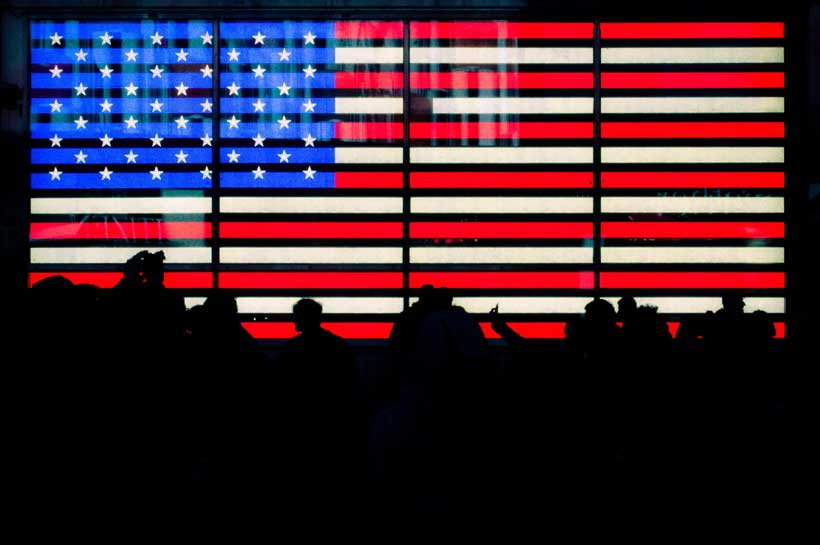 August 2018 marked the anniversary of civil unrest in Charlottesville, Virginia where white nationalists clashed with counter-protesters. Then, President Donald Trump in his response to this event empowered ultra-right and racist groups by blurring the line of responsibility with the rhetoric of "blame on both sides." Now, in condemning the horrific tragedy that took place last year, he maintained his stance with wording of "all types of racism and acts of violence."
The victory of Trump in the 2016 presidential election brought a demise of the U.S. political establishment. As the legitimacy of institutions weakened, the veil of reality has now been lifted. Like the scenery kept hidden in the darkness of night, what was condemned, denied and kept secret in this society was now freed, entering the light of day.
Trump's campaign slogan 'make America great again' captured the minds of many who are disenfranchised by the system. Patriotism that was quickly harnessed is now summoned for all to obey the rules of patriarchy and worship the glory of military might. As Trump administration carries on the legacy of U.S. imperialism, American exceptionalism of the Obama era appeared to gain another meaning.
The rhetoric of 'putting the nation first' also struck a chord with white supremacist groups that till now were more on the fringe. With Trump's xenophobia and racism manifested in the Muslim ban as well as transgender military exclusion and deportation of Mexicans with a policy of separating families at a border, the notion of American superiority in the world became white exceptionalism.
Barbarians inside civilization
How did we get here? While many people were caught by surprise by the growing power of extremists that try to regress America into a pre-Civil War era, this return of European identity was not created overnight.
White supremacy has been a fabric of the political, economic and cultural system of the U.S., woven into every aspect of our lives. In fact, it has been a dominant force that shaped the world of past centuries. Since the Age of Discovery, civilization of the earth has become synonymous with European colonization of the world. Frantz Fanon, who studied the black psyche in the white world in the context of the Algerian resistance to French colonialism shared his own experience of colonial identification. In Black Skin, White Masks he made a sad predicament, saying "There is but one destiny for the black man. And it is white."
The law of conquest of the Old World crept its way into the New World. As early settlers of North America were trying to free themselves from Great Britain and its king, Europe's ambition to enlighten ignorance and bring order to an archaic force of nature became a new mission of Manifest Destiny to master the American continent.
The history of America carries contradictions manifested in hypocrisies of the original framers of country. Here we find the seed for Trump's America that tries to create a republic for a few, who are deemed superior to humanity. On one hand, the U.S. Constitution laid the foundation for the rights of individuals, halting the rule of monarchy of that time. On the other hand, this new nation of law, with democratic principles contained the darkness of genocide of Native Americans, slavery of blacks and the oppression of women and minorities.
The idea of equality in the Declaration of Independence that inspired the hearts of many, has remained as empty words and for some appeared as blunt lies. The light-skinned men asserting themselves as God's chosen race crusaded to civilize Turtle Island. In their self-righteousness, they were blind to their own barbarian within that slaughtered natives, enslaved blacks by treating them as subhumans, while subjugating women as objects.
American dream and the myth of equality
The savage beast inside America has been made invisible, covered up by a symbol of flags and legends that turned European colonists into pioneers, heroes and patriots. In the post-industrial era, the primitive man within civilization seemed to have found its vehicle in the new brand of national identity.
Psychologist Philip Cushman observed the emergence of a particular configuration of self in the post WWII United States. He characterized it as a self that "has specific psychological boundaries, a sense of personal agency that is located interiorly, and a wish to manipulate the external world for its own personal ends."
He defined it "a kind of masterful, bounded self: the empty self" and described it as a psychological condition "that experiences a significant absence of community, tradition, and shared meaning" and that "embodies the absence, loneliness, and disappointments of life as a chronic, undifferentiated emotional hunger." Then, he pointed out how this internal emptiness was used to fuel "the mindless, wasteful consumerism of the late twentieth century."
The beast entered a vacuum at the core of individual identity, channeling people' desires into the consumer economy to feed itself. Through beautiful images of affluent life displayed in ads, TV commercials and Hollywood movies, the glamour of American upper-middle class was created. This life style image was sold like a new product promised to make us whole. The narrative of the American dream was used as a sales pitch. It was the idea that with basic hard work and talent, anyone can succeed economically, regardless of their class or race. Enticed by this promise of social meritocracy, people entered into a market to compete in the pursuit of happiness defined by material wealth.
Individual's urge to fulfill endless personal desires now merged with the unbridled greed of capitalism. Many began chasing after status, careers, and money to climb up the ladder of success that preserves the colonial hierarchy in a form of an economic class.
Crumbling illusion of democracy
The American dream and its myth of equal opportunity further erased awareness of racial injustice and colonial oppression. The virtue of liberty that is now uprooted from its foundation of equality became an ideology of neoliberalism. Along with it came the birth of corporate America that enshrines white supremacy through radical deregulation and expands its power under a façade of democracy.
In Empire of Illusion: The End of Literacy and the Triumph of Spectacle, journalist and author Chris Hedges described how "the America we celebrate is an illusion" where "the words consent of the governed have become an empty phrase."Hiding behind the anonymity of a corporate state, a master oligarchic class orchestrates the lesser of two evil politics to control citizens who are now turned into obedient consumers. They make sure with both Democrat or Republican presidents, that no matter who gets elected, white privilege always remains as a Washington consensus.
Obama, the first black president was installed as a symbol of progress and racial equality to make people entangle with empire's illusion and keep the status quo of white color domination.Consumed by their own desires, Americans became self-absorbed, not being able to see the oppression created by their own government around the world. They became blind to colonization enacted under the name of globalization with exploitative economic practice of sweatshop labor, trade agreements like WTO and NAFTA and military intervention for resource grabs. By not being able to see the empire's predation, people no longer feel burdened with the suffering of others. Silence becomes complacency and the sense of morality becomes dull.
Now, economic stagnation is shrinking the middle class. This consumer nation has begun to starve, losing means to soothe its internal emptiness. As the illusion of democracy starts to crumble, many people are gradually waking up from the American dream to see the ugliness that surrounds them. James Baldwin said, "I imagine one of the reasons people cling to their hates so stubbornly is because they sense, once hate is gone, they will be forced to deal with pain." Some react to Trump's rhetoric of hate with similar hate. They direct anger to others, blaming each other for sabotaging the supposed beautiful life that they once thought they had.
Transforming outrage into courage
Trump and the resurgence of white supremacy opened eyes to the forbidden scenery that has long remained unseen, by keeping all in a fantasy of illusory light. We are now beginning to see ourselves surrounded by a corporate wasteland where depravity of conscience fails to tame unruly cowboys, who under the banner of profit at any cost continue this plunder.
In this moral desert, we are visited by phantoms of our own shadow. The new face of this American leader presents a mirror through which we see our culture's own nothingness, masking insecurity and inadequacy in a façade of a 'masterful self'. Reflected in this is our unknown self, forgotten and denied. It is that which compels us to grab power, while demanding and demeaning others in order to fulfill our narcissistic desire, promoted by this consuming corporate capitalism.
From refugees, gays, blacks and the poor, we begin to hear cries of those who have been exiled from an American middle class bubble of insulated reality. Standing next to victims of systemic oppression is the colonizer within each of us. Enslaved by internal hunger, they acquiesce to a system of patriarchy that binds all to shadows from the past.
For so long, we have been made to feel powerless and conditioned to seek approval from outside authority. Instead of finding answers within, many look to teachers and politicians who pretend to offer solutions to problems. We succumb to the orders of corporate masters for financial security and try to find value and meaning in commercial goods, seeking for validation in expert opinion. By doing so, we lose touch with our authentic selves and give away our own power.
The Trump presidency unsealed the demon inside the history of America that has been devouring the heart that remembers our intrinsic connection. The darkness we face now challenges all to find strength to fill the void inside ourselves that predators have been latching onto. Austrian philosopher Rudolf Steiner elucidated the role of evil and how it helps educate us to freedom and love:
"Love would be impossible for man and freedom would be impossible for man without the possibility of sailing down into the abyss. A man unable of his own free decision to choose good or evil, would be a being only led on a leading string to a good which must be attained of necessity and who had no power to choose the good of his own fully purified will, by the love which springs from freedom."
Within days of Trump's inauguration, people took to the streets to protest against this new commander in chief. While fear spreads across U.S. cities, people's will to stand united against his hateful ideology is creating a nationwide movement. With slogans of 'love', people march arm in arm, trying to defeat hatred. Yet in order for this solidarity to become real resistance, our love has to go beyond passion, indignation and even compassion for the oppressed. Love that overcomes hate is an act of courage, chosen by each of us out of our own free resolution, to eradicate all terror that tries to freeze our hearts and govern our actions under the dictate of the mind. Courage is not an absence of fear, but is an act carried out despite that fear.
This love resuscitates the breath of life that inspired the truth held to be self-evident by the founders. We discover the wisdom that has always been there, guarded by the First Nations. It is supremacy of the heart—the love for our brothers and sisters that can overcome the love of power.
This transition to new political power brings us to a time of decision. We now have a choice. Outrage toward injustice can become the fire to destroy, fueling civil wars between one another. Or, it can be transformed into courage to dethrone the corporate aristocracy and restore the reign of the heart. A new light emerges that could truly enlighten the world. It is a light drawn from the darkness, dissolving the illusion of colonial hierarchy and illuminating the way for all to come home.
Biden: No More "Favourite Dictators"
Former US President Donald Trump shared a strong personal rapport with Turkish President Recep Tayyip Erdogan, Saudi Crown Prince, Mohammed Bin Salman (MBS) and Egyptian President Abdel Fattah Al Sisi. Trump made no bones about the fact, that he got along well with authoritarian leaders – especially in the Middle East. At the G7 Summit in 2019, Trump while looking for Egyptian President had even said, "Where's my favourite dictator?"
Statements made by Biden before taking over as US President
On the other hand, Joe Biden before taking over as US President had repeatedly criticized Erdogan, MBS and Sisi for their poor human rights record, and had unequivocally stated that none of them would have a free pass in a Biden Presidency. Biden had on numerous occasions flagged the dismal Human Rights record of Saudi Arabia, especially MBS' involvement in the murder of Saudi Journalist Jamal Khashoggi, and lashed out at Trump for soft pedaling on the issue because of his personal rapport with MBS. Similarly, in August 2020, Biden had dubbed Erdogan as an 'autocrat' and also expressed the view that the US needed to lend support to opposition parties in Turkey. Biden had also issued a warning to Sisi, saying that there would be "no more blank checks for Trump's 'favourite dictator'."
How President Biden has approached relations with the three leaders
During the Biden Administration, ties with Saudi Arabia have witnessed a change. A report which clearly points to MBS' role in the murder of Saudi journalist Jamal Khashoggi was released (Trump had refused to release this report). The US has withdrawn support for the Saudi war in Yemen, and defence agreements signed between the US and Saudi Arabia, during the Trump Administration have been put on hold. Yet, Biden while sanctioning Saudi officials in connection with the Khashoggi case, in addition to those sanctioned by the Trump administration, refused to impose sanctions on MBS owing to the strategic importance of Saudi Arabia in the Middle East (Saudi support is essential for the revival of the Iran Nuclear Deal/Joint Comprehensive Plan of Action-JCPOA) and the strong US-Saudi relationship. It would be pertinent to point out, that Biden's decision not to impose sanctions on MBS has drawn strong criticism from many including members of his own party.
If one were to look at the case of Turkey in recent months, the Turkish President has himself toned down his Anti-West rhetoric and described his meeting with Biden on the sidelines of the recent NATO Summit as fruitful. While commenting on the meeting with Biden, Erdogan stated that ' We believe there is no problem that cannot be resolved in Turkey-US relations,'
The US President also said, that the meeting with Erdogan was positive and expressed hope that the bilateral relationship would improve in days to come.
While the meeting between Biden and Erdogan was positive, differences between both sides still persist over Turkey's purchase of S400 missiles (the Trump administration had imposed sanctions in its final days and Turkey had also been removed from its F-35 fighter jet program)
Turkey's strategic relevance
Turkey has stated that it is willing to play a role in security in Afghanistan, and guard Kabul airport, after the US troop withdrawal from Afghanistan. The Turkish President did say that Turkey would require diplomatic, logistic and financial support that the United States. The Biden administration's outreach to Turkey indicates that in spite of differences over key issues, Istanbul's potentially important role post the US troop withdrawal from Afghanistan is something, the US will not ignore. Erdogan on his part needs to have a reasonable relationship with US, given the fact that the Turkish economy has slowed down significantly.
If one were to look at the case of Egypt, Egyptian President Abdel Fattah Al-Sisi role in the ceasefire between Israel and Palestine, was acknowledged by the Biden Administration. While the US President during a telephonic conversation hailed Sisi for his 'successful diplomacy' in the Israel-Palestine ceasefire, the Secretary of State Anthony Blinken said:
'We have had in Egypt a real and effective partner in dealing with the violence, bringing it to a close, relatively quickly. And now, we are working closely together to build something positive'
It would be pertinent to point out, that during his telephonic conversation with Sisi, in May 2021, Biden did flag the need for a 'constructive dialogue' on human rights in Egypt
Conclusion
While it is easy to criticise Joe Biden, he has the onerous responsibility of striking a balance between values, which he has repeatedly referred to even after taking over as President, with US interests. Given the complex geopolitics of the Middle East, Biden while refraining from taking steps, which may be counterproductive has flagged his concerns with regard to Human Rights, and sent out a strong message that bilateral relations will be dictated by substance and not mere personal chemistry or optics. At the end of the day it is important not to forget Miles's law — 'where you stand depends upon where you sit'.
The liberal international order has not crumbled yet
Since 2017 when Donald Trump took office, the "liberal international order" erected in 1991 has been under serious challenges raised by the United States' relative decline, the Trump administration's isolationist policy, and on top of that, the outbreak of COVID-19. Indeed, this order is greatly plagued, which is evidenced by its dysfunction. Against this backdrop, its endurance in the upcoming time is questionable. Nevertheless, the liberal international order has not collapsed yet. It will even revive, and endure in the post-pandemic era.
The victory of Biden
Notwithstanding facing great threats, the liberal international order is far from crumbling. On the contrary, it is gradually reviving. In the Western world, countries are making effort to reform their order that is on the verge of collapse. This is true in the US – the world democracy's leader. Joe Biden's victory against Donald Trump may be a positive signal for the US and the global democracy. As a strong advocate for values including democracy, multilateralism and international trade, at no doubt, President Biden will be opposite to Trump in his policy, both domestic and foreign ones. Indeed, during his first 100 days, Mr.Biden has implemented some meaningful things. Regarding the pandemic, he has a stricter approach than his predecessor's: Mandatory mask wearing, a $1.9-trillions bill, historical vaccination campaign, to name a few. All of Biden's actions have been so far effective, when the new cases and deaths are steadily declining, and the number of vaccinated people is substantially high. This lays a foundation for Biden to reinvigorate his country's ruined democracy and governance system, as his efficiency in countering COVID-19 may help him regain American people's trust on the future of American democracy.
In terms of foreign policy, President Biden has some radical changes compared to that of Trump, which might be favorable to the Western world. At first glance, Biden embraces multilateralism much more than his predecessor, with the hope of saving the American global leadership. He supports Washington's participation in international institutions, which is illustrated by the rejoining of WHO, Paris Agreement and several multilateral commitments. In tandem with this, Biden values the US' alliances and strategic partnership as vital instruments for the US' hegemony. Unlike Trump's transactional approach, Biden prioritizes early and effective engagement with allies to tackle regional and global issues, especially major ones like NATO, G7. In Asia, he also seeks for further cooperation with traditional allies such as Japan, Australia, New Zealand and deepening partnership with Vietnam, Singapore, India and ASEAN countries.
More importantly, President Biden's policies towards the US' competitors and "rogue states" are far different from Trump's. Granted, despite seeing China as the biggest threat to the American global leadership, Biden adopts a more flexible and multilateral policy. His administration looks to cooperate and compete with China, which implies a different trajectory of the US-China relationship in the upcoming time. Additionally, as noted above, instead of unilaterally escalating tensions with China as Trump did, Biden has been forging relations with traditional and potential Asian allies to contain China together, given China's increasing assertiveness. With regard to Iran, Washington is now working on the Iran Nuclear Deal with other six parties, promising a potentially positive future on the relations of Iran with the US and the West. The bottom line is, a radical change in Biden's foreign policy will be a clear message to the world that the US will still try to save the liberal international order and make this world safer for democracy.
The European Union is recovering
Things are happening in the same pattern in Europe. European leaders are also closely cooperating, both inside and outside the bloc, to defeat COVID-19. That said, they are ardently supporting multilateralism. So far, the EU has spent billions of dollars in vaccine development as well as humanitarian support, demonstrating its solidarity in the battle against COVID-19. As such, if EU leaders can successfully lead their bloc out of the current crisis, they can reform this currently plagued institution in the post-pandemic era. Not only seeking further intra-bloc cooperation, but also European leaders are working with other major actors around the world to substantiate the global battlefront against COVID-19. Recently, German Chancellor Angela Merkel urged her country and China to jointly develop COVID's vaccine in an open, transparent way, and to a further extent, maintain good and stable bilateral partnership, regardless of two sides' differences.
Similarly, the EU has been putting the Transatlantic relationship among the priorities of its foreign policy agenda. After Biden's election, the European Commission has proposed refreshing the US-EU alliance and establishing a Transatlantic Trade and Technology Council, being seen as an informal tech alliance with the US to prevent China from dominating this critical sector. The Transatlantic relationship is perhaps one of the pillars for the liberal international order, given its long history and its contribution to maintain the global stability. In the last decades, this axis has been damaged by numerous issues, from economic to security, which is one of the main causes for the decline of liberal international order. Thus, a fresh Transatlantic relationship is conducive to the re-emergence of this order. In this respect, the EU's effort to strengthen the Transatlantic alliance, despite being questionable in terms of feasibility and outcome, is still paving the way for reinvigorating of liberal international order. More notably, the most recent G7 Summit has illustrated the Western's solidarity, when there is a convergence in most issues related to global governance and maintaining the Western-based order. This may be a harbinger of the liberal international order's revival, at least in a foreseeable future.
Non-Western world is struggling
The dynamics outside the Western world is also changing in a more favorable direction. Many non-Western countries, once were effective in combating against the pandemic, are now struggling with a greater threat. Taiwan, in spite of being praised as one of the most successful states in the battle against COVID-19, is currently facing another wave of pandemic when the new cases in this island are surging recently. Other successful stories, let us say Thailand, Japan or South Korea, are questionable of maintaining their momentum in preventing the virus, showcased by their relatively inefficiency during this new wave, in implementing strong measures and getting their people vaccinated. This raises question about these countries' model of governance, which was used to be praised as a better alternative for a plagued, dysfunctional Western one, thanks to its merits in helping those above-mentioned states contain COVID-19.
Major non-Western blocs are in the midst of COVID-19 crisis as well. The clearest example is the BRICS. Except China, all other countries in this bloc have been tremendously suffering from the pandemic. Due to this, they are far from being recovered quickly. This failure in dealing with the virus undermines the bloc's previous effort in establishing its position as a major, effective one, not to mention building a new, non-Western international order. This is also the case with ASEAN, as the organization was sharply divided by COVID-19. There are countries doing well with controlling the pandemic such as Vietnam, Singapore, but the Philippines and Indonesia are unable to do so, making this bloc suffering from institutional sclerosis without having any coherent COVID-19 policy. Therefore, non-Western blocs and countries are far from being more efficient than Western ones, implying they are unable to come up with any better international orders than the current liberal international one.
More importantly, Western values underpinning the liberal international order are universal. This is noteworthy when arguing for the long-lasting of Western order, as its existence and endurance mainly hinge on the universality of Western values. These values have been embraced by many countries for a very long time. Hence, despite being deteriorated in recent years, they cannot be easily changed. On the other hand, non-Western values are also not as highly embraced as Western ones. China, desiring to topple the US, is initiating numerous projects and agreements to spread its values around the world, making the world less Western and more Chinese/Asian. Nonetheless, Beijing has yet achieved any remarkable achievements in making their values more widespread and embraced by the rest of the world. Even worse, its image has been tarnished due to its rising assertiveness. Its projects in developing countries, especially BRI-related projects, have been notorious for a large number of problems related to environment or local corruption, and it is raising strategic uncertainty in the region by its increasing militarization, particularly on the South China Sea. These movements have turned China into a "malevolent" major power, hindering its process of disseminating and socializing its values to the world.
It is also worth noting that although Western values have declined, they have been proven to be benevolent for this world. Most recently, it is Western countries that have successfully developed good COVID-19 vaccines to save themselves and save the world from this unprecedented health crisis. Non-Western countries, for instance China and Russia, have their own vaccines, but they are not as welcome as other developed countries in the West in the vaccine race, because their vaccines are relatively less effective than Western-produced ones. Democracy, liberty, lassaiz faire are values that help Western countries or ones embrace such things able to produce massive amount of effective vaccines, and more broadly to develop a strong science and technology foundation. Producing and distributing vaccine for the rest of the world would make the West become a savior, which is good for saving the liberal international order.
Without doubt, the liberal international order has been in its worst time since 1991 when it reached its heyday. However, thanks to its merits, the liberal international order will not die. Instead, most countries will jointly save it, because they have been benefitting from this order for a long time, and will be so in the future. The order's founding members are recovering, and cooperating closely to reform it, as well as there are no better international orders that can replace the existing one. Given these circumstances, the liberal international order would re-emerge as a dominant form of ordering this world after the pandemic, and would be perpetuated.
Who benefits more from the Biden-Putin summit in Geneva?
With the Putin-Biden summit in Geneva around the corner, the question is who actually benefits more from the meeting in the small Swiss town.
Mainstream media and right-wing foreign policy thinkers alike have argued that a joint press conference would "elevate" President Putin to the level of the American President.
Ivana Strander, the Jeane Kirkpatrick fellow at the American Enterprise Institute in Washington DC, argued that the upcoming Geneva summit is actually "a gift" to Putin.
In a CNN story, Kaitlan Collins and Kevin Liptak mention that "officials who have been involved in arranging past US meetings with Putin say the Russian side often pushes for a joint press conference, hoping to elevate Putin's stature by having him appear alongside the American leader".
Whether as a subconscious bias or an actual reflection of attitudes, prevalent is the idea that coming close to the US President is a privilege that other leaders can only dream about. But who gains more from the upcoming summit?
In fact, it is the American President who is vying for other leaders' approval and acceptance once again after a humiliating period – not the other way around. American is emerging from Trumpism, which revealed the other, ugly face of America. Trumpism is not gone and the other face of America is still there.
This week, US President Joe Biden is eager to show the world that America is "back". In meetings with the G7, NATO countries' top leaders, the NATO Secretary General, the Queen of England, and President Putin in the same week, Biden is asking the world to forget the last four years. And he is not doing this from the position of power or superiority. That's why assuming that other heads of state, be it Putin or anyone else really, can only gain by coming close to the superiority of the American President is a misplaced and misguided. The US President is asking the international community to take America back – not the other way around.
President Putin doesn't need the US President's acceptance – Putin already got that. That happened back in 2018, in Helsinki, when President Trump sided with Putin over the US government's own intelligence agencies, by rejecting the idea of Russia's meddling in the US presidential elections. Trump slapped across the face and humiliated the US intelligence community in front of the whole world. Ever since, the US intelligence community has tried to figure out ways to prove Trump wrong and show him otherwise. And they have gone to incredible lengths, only so that they can get their pay pack of a sort, and prove Trump wrong. So, Putin already got what he wanted. He doesn't need more "elevation".
What's also striking is that in Geneva, the UN is absolutely missing from the action. Geneva is the home of numerous UN agencies and international organizations, and not one is actually involved, which speaks volumes to questions of relevance. It is the Swiss government from Bern which is organizing the Summit. The UN is nowhere to be seen which is also indicative of the current Biden priorities.
If Trump was about "America First", then Biden is about "America is still number one, right?". But as the United Kingdom learned the hard way recently, it is sometimes best for a declining power to perhaps elegantly realize that the rest of the world no longer wants to dance to its tune, or at least not to its tune only. Discussions about how much Putin gains from coming close to the presence of the US President are misguided. In trying to climb back on the international stage on crotches and covered up in bruises, America is not in a position to look down on other big powers. And as regards who benefits more from the Summit, it seems like one side is there with a clear request asking for something. My understanding is that it is Biden who wants Putin to hand cyber criminals over to him. Putin still hasn't said what he wants from Biden, in return.