Caribbean Aims to Become World's First Climate-Smart Zone
A ground-breaking partnership to support the Caribbean's ambition to become the world's first 'climate-smart zone' launched today. 8 Times Olympic Gold Medal Winner Usain Bolt was in attendance to help fire the starting pistol for the Caribbean ClimateSmart Accelerator, which will be led by the Caribbean leaders to create the world's first climatesmart zone.
The Accelerator has created an unprecedented coalition including 26 countries and over 40 private and public sector partners which will implement climate solutions for resilience, renewable energy, development of sustainable cities, oceans and transportation. This climate-smart zone will not only protect the region but create jobs and a new economy in climate-smart infrastructure.
The Caribbean Accelerator has a vision which builds from the strategies of regional governments and agencies, including CARICOM and OECS. Although it has only just launching, it has already started to lay the foundations for success with initial Caribbean Climate-Smart projects including:
IDB's US$1billion commitment to climate-smart investments: The Inter-American Development Bank announced that it will partner with the Accelerator to program and implement the additional $1 billion in funds that it pledged for climate smart-investments across the Caribbean region at the Paris One Planet summit. This additional funding will build on an existing portfolio of over $200 million to support innovative solutions focusing on low carbon emissions, sustainable infrastructure and energy efficiency projects in the wake of natural disasters, drawing from low-cost blended finance and contingent credit facilities.
The IDB also announced that they will provide $3 million as start-up funds to the Accelerator to help get this important initiative successfully up and running, with the first $1.5 million available this year.
Grenada Climate Smart City: The Government of Grenada announced the start of the implementation of a $300m project to create the world's first "climate-smart city" with initial support from the Green Climate Fund (GCF) to help catalyse the project. Closely following a recent GCF investment into Grenada for a $48.7m climate-smart water project
Ocean Resiliency: An anonymous entrepreneur is investing $2m to support the Belize government's ocean protection efforts, ocean advocacy across the Caribbean, and entrepreneurs deploying business solutions to benefit the ocean like Algas Organics, which is turning the sargassum nightmare into a business opportunity creating fertilizer to support a thriving agricultural sector in the Caribbean.
The World Bank Group: The World Bank announced a three-year commitment of $1 million annually in in-kind services for the Accelerator, and is supporting Caribbean countries with an almost US$2 billion portfolio focused on strengthening resilience and financial protection against disasters – including US$1 billion in concessional financing from the International Development Association (IDA).
Airbnb: In partnership with the Accelerator, Airbnb is helping to weave a community of hosts who are ready to respond and build a more resilient Caribbean. The company is doing this by allowing hosts to open their homes to disaster survivors and relief workers free of charge.  Hosts waive their fees and Airbnb waives theirs. To date, over 11,000 people in need have been housed through the Open Homes program and it's now expanded to the Caribbean.
Zero Mass Water, a member of Breakthrough Energy Coalition, are solving the drinking water problems for the pediatric wards of 2 major hospitals in Jamaica, through the installation of 20 of their Source Hydropanls, which will make clean, filtered drinking water out of air for the next fifteen years.
Accelerator Speed Award: Usain Bolt announced an annual climate-smart "Speed Award".
Identifying the best initiatives across countries, companies, communities and individuals.  The first winners will be announced in June 2019.
Sean Paul a Grammy award winning Jamaican Musician, was announced as an official Ambassador of the Accelerator, with a focus on Oceans.
The TIDES Foundation announced a generous grant of $200,000 to the Accelerator.
Caribbean institutions and agencies – including governments, CARICOM and the OECS – have already started to use the Accelerator's unique platform of public and private stakeholders to make a difference.
Speaking at the launch, Prime Minister of Jamaica, Andrew Holness said: "Being climate-smart means putting the people of the Caribbean at the centre of all we do – to protect them from the challenges of climate change. The Caribbean Accelerator will also encourage job creation, social inclusion and economic growth. These benefits will only come when Governments, the international community and the private sector work together to overcome barriers and generate the investment that will benefit us all. That is why I am excited by the potential of the Accelerator to join the Caribbean with global partners who share our vision to see investment grow in the years ahead." Luis Alberto Moreno, President of the Inter-American Development Bank has played a key role in bringing together a multinational coalition of public and private partners to fast track public and private investments over the next five years.
Luis Alberto Moreno, the President of the Inter-American Development Bank, stated: "The IDB Group reaffirms its continued and historical commitment to the Caribbean and will work with leaders of the region to improve lives by creating climate-smart and vibrant economies, where people are safe, productive, and happy. We hope that through this Climate Smart Coalition, in addition to offering new affordable financing, we will use the IDB's extensive regional experience and presence on the ground to work closely with the people of the region to design their Caribbean of the future, today."
Speaking at the event today Sir Richard Branson said: "Our goal is ambitious and bold: we are creating the world's first climate-smart zone. We have a vision of a Caribbean which is greener, stronger and more resilient than ever before – built on innovation, powered by clean, sustainable energy and accelerated by public and private investment."
Jorge Familiar, World Bank Vice President for Latin America and the Caribbean, said: "We are committed to a stronger, more resilient, and climate-smart Caribbean.  Working together, bringing in international partners and increasing private sector participation will be key to maximize financing for development and create opportunities for all."
The coalition was first announced in Paris last December (https://www.caribbeanaccelerator.org/)  and since then it has grown from 11 to 26 Caribbean countries, with over 40 private sector partners to implement informative climate action across the Caribbean region.
Global Warming And The Future Of Food
While there may be uncertainty as to the level of global warming, there is little to none about its reality and its anthropological basis. Even if the warming ceased today, the accumulated energy in the system will continue to raise the average global temperature 0.2C per annum or 2C in a decade.
Add this inexorable rise to another, that is the continued increase in population, and scientists have been exploring foods that may fare better in the new environment. The six below were the focus of a recent article in Science News (May 21, 2022).
For animal protein, mussels and other bivalves could comprise about 40 percent of our seafood by 2050. Super-nutritious, they are also easier to scale up in production for the simple reason they do need to be watered or fertilized, or even require land, a scarce resource. And unlike land-based aquaculture, it is not handicapped by environmental issues.
All in all, edible food from the sea has the potential for an estimated 36-74 percent increase to help feed the 9.8 billion people expected to be living on earth by 2050.
The United Nations has declared 2023 the International Year of Millets following a proposal by India. A staple in parts of Asia and Africa, it is a hardy crop that is more resilient than wheat to climate change and can grow in poor soil. It does not require as much water and thrives in a warmer, drier environment. It can also be turned into beer. The UN hopes the focus on it in 2023 will raise awareness, encourage global production and increase research investment and extension services.
The Bambara groundnut is native to sub-Saharan Africa. A drought tolerant legume, it grows well in poor soil without the need for fertilizers. Bacteria on the plant convert atmospheric nitrogen into ammonia making it self-sufficient in crucial nitrogen. Like all legumes, it is rich in protein and is also a source of fiber and the minerals, iron, magnesium and potassium. It is more drought tolerant than soybeans but has less yield per acre. However in a warming, harsher climate, it could, unlike soybeans, continue to yield a decent legume crop.
Enset is native to Ethiopia. Dubbed the false banana because it resembles a banana tree, its starchy stems can be harvested at any time of the year making it a reliable buffer food between crops. Its processing though is complex and an indigenous art, so any expansion would necessarily have to be led by communities possessing that knowledge.
Cassava is a starchy root vegetable from South America noted for its tolerance to drought and salt. An added plus is that higher atmospheric CO2 enhances its ability to withstand stress and can result in greater yields.
Kelp grows in water and is rich in vitamins and minerals, particularly iodine, calcium and iron. Also, by taking in CO2 it of course aids the environment, but it also lowers the acidity of the water which helps bivalves. Thus farmers in Maine tend to grow them together. Kelp is eaten widely in Asia and dried sheets are common in sushi rolls even in the US.
The above has been a brief summary of what some scientists foresee as food staples of the future. It is also something to ponder for the rest of us.
Healthy planet needs 'ocean action' from Asian and Pacific countries
As the Second Global Ocean Conference opens today in Lisbon, governments in Asia and the Pacific must seize the opportunity to enhance cooperation and solidarity to address a host of challenges that endanger what is a lifeline for millions of people in the region.
If done right ocean action will also be climate action but this will require working in concert on a few fronts.
First, we must invest in and support science and technology to produce key solutions. Strengthening science-policy interfaces to bridge practitioners and policymakers contributes to a sound understanding of ocean-climate synergies, thereby enabling better policy design, an important priority of the Indonesian Presidency of the G20 process. Additionally policy support tools can assist governments in identifying and prioritizing actions through policy and SDG tracking and scenarios development.
We must also make the invisible visible through ocean data: just three of ten targets for the goal on life below water are measurable in Asia and the Pacific. Better data is the foundation of better policies and collective action. The Global Ocean Accounts Partnership (GOAP) is an innovative multi-stakeholder collective established to enable countries and other stakeholders to go beyond GDP and to measure and manage progress towards ocean sustainable development.
Solutions for low-carbon maritime transport are also a key part of the transition to decarbonization by the middle of the century. Countries in Asia and the Pacific recognized this when adopting a new Regional Action Programme last December, putting more emphasis on such concrete steps as innovative shipping technologies, cooperation on green shipping corridors and more efficient use of existing port infrastructure and facilities to make this ambition a reality.
Finally, aligning finance with our ocean, climate and broader SDG aspirations provides a crucial foundation for all of our action. Blue bonds are an attractive instrument both for governments interested in raising funds for ocean conservation and for investors interested in contributing to sustainable development in addition to obtaining a return for their investment.
These actions and others are steps towards ensuring the viability of several of the region's key ocean-based economic sectors, such as seaborne trade, tourism and fisheries. An estimated 50 to 80 per cent of all life on Earth is found under the ocean surface. Seven of every 10 fish caught around the globe comes from Pacific waters. And we know that the oceans and coasts are also vital allies in the fight against climate change, with coastal systems such as mangroves, salt marshes and seagrass meadows at the frontline of climate change, absorbing carbon at rates of up to 50 times those of the same area of tropical forest.
But the health of the oceans in Asia and the Pacific is in serious decline: rampant pollution, destructive and illegal fishing practices, inadequate marine governance and continued urbanization along coastlines have destroyed 40 per cent of the coral reefs and approximately 60 per cent of the coastal mangroves, while fish stocks continue to decline and consumption patterns remain unsustainable.
These and other pressures exacerbate climate-induced ocean acidification and warming and weaken the capacity of oceans to mitigate the impacts of climate change. Global climate change is also contributing to sea-level rise, which affects coastal and island communities severely, resulting in greater disaster risk , internal displacement and international migration.
To promote concerted action, ESCAP, in collaboration with partner UN agencies, provides a regional platform in support of SDG14, aligned within the framework of the UN Decade of Ocean Science for Sustainable Development (2021-2030). Through four editions so far of the Asia-Pacific Day for the Ocean, we also support countries in identifying and putting in place solutions and accelerated actions through regional dialogue and cooperation.
It is abundantly clear there can be no healthy planet without a healthy ocean. Our leaders meeting in Lisbon must step up efforts to protect the ocean and its precious resources and to build sustainable blue economies.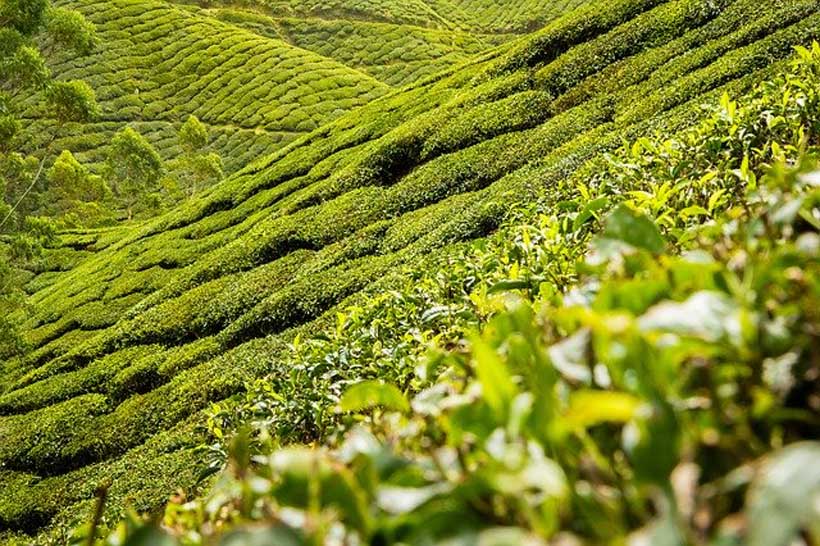 There is nothing quite like that first cup of tea (or coffee) in the morning. The aroma swirls about in the nostrils and a sip of the hot brew, then another, quickly readies body and mind for the day that awaits.
Whoever gives a thought to the long journey of the tea leaf from its birthplace to a kitchen in the West. The tea bush is unusual in that it requires an abundance of water but not in its roots. So it is grown on the windward side on foothills as in Darjeeling and Assam.
The workers picking tea are mostly women because men prefer the harder work in the fields for it pays more. The wages paid to the tea pickers can be illegally low, that is below the minimum wage requirements, and the workers dare not file any complaints because the wealthy landowners and tea merchants are too powerful.
Since they are not earning a living wage, workers usually forage to supplement their diet relying on mushrooms and other edibles. So it was (BBC report, May 20, 2022) that Anjali Kharia sat down with her daughter to a meal of mushrooms — a special treat thanks to her father-in-law Rajesh Kharia, who had found a good-sized lot in a nearby forest. They were enough for his family plus friends and neighbors to share with, as is their custom.
Unfortunately growing among their batch was a particularly tasty — and poisonous — variety indistinguishable from the rest. And Anjali's daughter Sushmita and others soon began to feel sick. Many went to hospital including Anjali's son and father-in-law. Sushmita seemed to improve so everyone assumed she was over the worst.
It was only a temporary respite for she soon started vomiting again, grew steadily worse and died. They have been eating mushrooms for years; it is a treat and fairly regular part of their diet, and no one suspected the cause.
Local officials say warnings are not heeded for they do not reach the illiterate workers. In 2008, more than 20 people died from poisonous mushrooms, the highest numbers recorded. Most were tea workers or their family members. The government set up a panel to study the problem. And there have been campaigns to teach people to distinguish the poisonous types.
As long as Ms. Kharia is paid 130 rupees ($1.67) a day, far below the unenforced minimum wage, it is unlikely such problems will recede. She has to feed a family of six. There are public welfare schemes for the poor but Ms. Kharia says she has never received any free food grain rations. Meanwhile, prices of vegetables and essential commodities continue to rise.
It is not just tea. From the 1906 Upton Sinclair book, "The Jungle," an expose of the meatpacking industry to Eric Schlosser's "Fast Food Nation" published just two decades ago, the problem may be revisited but U.S. meatpacking continues to remain a dangerous place to be. A 2018 Guardian article's headline "Two Amputations a Week" illustrates the point.
And tea pickers will have to forage as long as their government does not enforce minimum wage laws. Fighting against entrenched economic interests is not just India's problem.