World Economic Forum on ASEAN in VietNam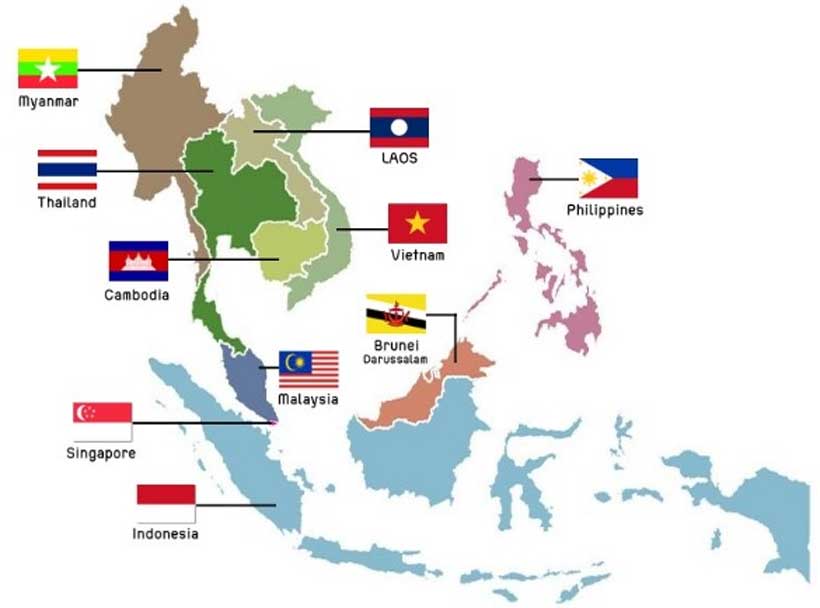 A record number of regional heads of state or government will participate in the World Economic Forum on ASEAN in Ha Noi, Viet Nam on 11-13 September. The meeting will take place under the theme ASEAN 4.0: Entrepreneurship and the Fourth Industrial Revolution. In all, eight ASEAN countries will be represented by their prime minister, president or state counsellor.
Among the registered heads of state or government are President Rodrigo Roa Duterte of the Philippines; newly elected Prime Minister Tun Dr Mahathir bin Mohamad of Malaysia, meeting his regional peers for the first time on the international stage, and Aung San Suu Kyi, State Counsellor of Myanmar, participating for the first time since the meeting took place in her home country in 2013. They and four more ASEAN government leaders will be hosted by Prime Minister Nguyễn Xuân Phúc of Viet Nam.
"We are honoured to be welcoming this record delegation of regional government leaders," said Justin Wood, Head of Asia Pacific and Member of the Executive Committee at the World Economic Forum. "The ASEAN region is currently one of the world's bright spots for economic growth, and their presence shows the commitment they have to ensure this remains the case as the Fourth Industrial Revolution expands in economic scope and impact, and the geopolitical environment around them changes rapidly."
The full list of ASEAN heads of state or government who have confirmed their participation so far are:
Cambodia: Prime Minister Samdech Techo Hun Sen
Indonesia: President Joko Widodo
Laos: Prime Minister Thongloun Sisoulith
Malaysia: Prime Minister Tun Dr Mahathir bin Mohamad
Myanmar: State Counsellor Aung San Suu Kyi
Singapore: Prime Minister Lee Hsien-Loong
The Philippines: President Rodrigo Roa Duterte
Viet Nam: Prime Minister Nguyễn Xuân Phúc
They are joined by Prime Minister Ranil Wickremesinghe of Sri Lanka, as well as several senior cabinet ministers from the Republic of Korea, Thailand and other countries.
More than 800 leaders from business, government, civil society and media will join these heads of state and senior ministers to discuss issues ranging from the region's geopolitical friction points to entrepreneurship and employment in the Fourth Industrial Revolution. They will do so with the help of leaders of 100 early-stage start-ups, whose companies represent the dynamic nature of entrepreneurial spirit of ASEAN.
Issues to be discussed at the meeting include Asia's New Balance of Power, Factory Asia's Next Frontier, the Future of Jobs in ASEAN, Asia Economic Outlook, Accelerating the ASEAN Economic Community, ASEAN Pluralism and Designing Cities 4.0. Topics surrounding the Fourth Industrial Revolution, including emerging technologies like autonomous vehicles, blockchain, drones and fintech, will be highlighted. The meeting will also include workplace sessions on topics such as Sexual Harassment at Work, and Workplace 4.0.
The meeting Co-Chairs are Anne-Birgitte Albrectsen, Chief Executive Officer, Plan International, United Kingdom; Mulyani Indrawati, Minister of Finance of Indonesia; Kang Kyung-Wha, Minister of Foreign Affairs of the Republic of Korea; Nguyen Manh Hung, Acting Minister of Information and Communications of Viet Nam; Nazir Razak, Chairman, CIMB Group Holdings, Malaysia; and Kevin Sneader, Global Managing Partner, McKinsey & Company, Hong Kong SAR.
AfDB presents findings of the Angola Green Mini-Grid Market Assessment
The African Development Bank hosted a webinar to present the findings and recommendations of the Angola Green Mini-Grid Market Assessment report, implemented through the Sustainable Energy Fund for Africa.
The assessment was conducted with the technical assistance of Carbon Trust, in collaboration with the Government of Angola, and in consultation with key stakeholders such as development partners and private sector representatives. The report assesses key enabling factors required for large scale mini-grid development, as well as the overall potential of the mini-grid market in Angola, in alignment with the country's energy sector development strategy.
The report estimates that 9.9 million people, representing 32% of Angola's total population, and 47% of the non-electrified population, could be best served by mini-grid solutions. It also highlighted the regulatory gaps that exist in the mini-grid market, including insufficient incentives for private sector participation. Overall, the assessment recommends that addressing the gaps could unlock an estimated demand for mini-grids of approximately $252.5 million in Angola, based on the average annual electricity expenditure per capita, in rural areas.
The webinar held on 23 July 2020, provided a platform for over 100 participants to discuss opportunities and challenges relating to the development of green mini-grids in Angola, as well as enhanced coordination and partnerships towards the advancement of sustainable expansion of clean energy in the Southern African country.
Among participants were representatives of the government, from the Ministry of Energy and Water, the Ministry of Culture, Tourism and Environment, and the Ministry of Economy and Planning. Development partners, private sector actors, and national and regional associations in the sector also took part.
In his opening remarks, the African Development Bank Country Manager for Angola, Joseph Ribeiro, noted that the energy sector plays a vital role in national efforts towards poverty reduction and sustainable socio-economic development, as per the country's economic diversification agenda.
Angola's National Director for Rural Electrification in the water and energy ministry, Serafim Silveira, underscored the importance of mini-grids to the government's rural electrification objectives. The other speakers were Executive Director of the Lusophone Renewable Energy Association, Isabel Abreu, and the representative of the Establishment Committee of the Angolan Renewable Energies Association, Pedro Torres.
The Bank's Division Manager for Renewable Energy, João Cunha, said the report will inform the design of technical assistance by the Bank to the Angolan government in preparation for the rollout of a mini-grid scale-up program
Ten Years to Midnight: Four urgent global crises and their strategic solutions
The world has 10 years to solve its urgent challenges or it will be too late. In his new book, TEN YEARS TO MIDNIGHT: Four Urgent Global Crises and Their Strategic Solutions (August 4, 2020; Berret-Koehler), Blair Sheppard sets out why that timeline is so crucial, what the most urgent challenges are and the key elements of a solution.
He argues that the 70-year period of economic and social progress kicked off by the Marshall Plan has now unraveled. Instead of a steady story of progress, the world faces four crises:
A crisis of prosperity, with rising inequality, poor life choices for young people, the squeezed middle class and a mass of people on the brink of retirement but lacking the savings to sustain them;
A crisis of technology, as our economic system drives innovation but fails to manage unintended negative consequences which pollute key elements of life support, from our atmosphere to our news;
A crisis of institutional legitimacy, as traditional institutions try to maintain their existing structures in the face of major global forces, and find themselves buckling and warping rather than adapting; and,
A crisis of leadership, as those who should help us manage these crises instead focus on narrow priorities rather than leading the world towards holistic solutions.
Drawing on new data and analysis conducted in Sheppard's role as Global Leader for Strategy and Leadership for the PwC network, the author argues that businesses, governments and civil society should adopt a fundamentally different approach to the one that drove 20th Century economic development. He argues for greater emphasis on local economies (local first) as well as on scaling innovative solutions quickly (massive, fast), a fundamental reshaping of innovation policy to bake societal outcomes into technological development, greater use of public private partnerships with clear goals, and more inclusive measures of success.
Having worked with global leaders across a range of fields, Sheppard argues this change requires a new approach to leadership that embraces apparently contrasting elements – to be humanly and technologically savvy, heroic and humble, rooted in tradition as a ballast but also innovative.
The book began with a question: What are the world's most pressing global concerns and how can they be solved together? What he and his team discovered is a new path to rebuilding and reinvigorating institutions, redefining what it means to be a nation or economy, forging shared cultural and social bonds, and rekindling innovation for social good instead of harm. To press these solutions forward as the clock ticks toward a global unwinding, Sheppard also calls for a new level of imagination, cooperation and urgency from the world's leaders in every sector and every country.
For more information, please visit the book's webpage.
Blair Sheppard is the Global Leader for Strategy and Leadership at PwC, a network of professional services firms committed to building trust in society and solving important problems. He is also the Dean Emeritus and Professor Emeritus of Duke University's Fuqua School of Business, where he taught for thirty-three years. He was the principal force behind opening Duke's campus in China, and the founder and CEO of Duke Corporate Education. He was born in Hamilton, Ontario (Canada) and lives in Durham, North Carolina (US).
Global Top 100 companies bounce back from March 2020 lows but volatility remains elevated
Global equity markets have seen a strong bounce back from the low points seen in March 2020, but volatility remains elevated, according to a new quarterly update to the Global Top 100 companies by market capitalisation rankings, released today by PwC.
The report notes that, most immediately, a disappointing reporting season for H1 2020 earnings could cause a re-evaluation of recession risks and associated stock valuations.
Having decreased by 15% ($3,905bn) from December 2019 to March 2020, the market capitalisation of the Global Top 100 as at June 2020 was only 1% ($335bn) behind December 2019.
By comparison as at 30 June 2020 the MSCI World Index (representing large and mid-cap equity performance across 23 developed markets) was 7% behind December 2019, having recovered most of the ground lost in the first quarter of 2020.
Ross Hunter, IPO Centre Leader at PwC, says,
'With the significant volatility in financial markets, the world's largest companies provide relative security for investors. The concentration of Technology and Consumer Services companies is a key driver of the Global Top 100 outperforming the wider market index.
'This is a challenging environment for all companies, but there are clear distinctions in the relative performance of different regions and sectors. I hope this quarterly review will provide interesting insights into how the markets are viewing the world's largest businesses as they adapt to this uncertain landscape.'
Regional analysis
Global Top 100 companies from the US and China and its regions recovered first quarter losses in March to June 2020 – Europe and the rest of the world did not recover the lost ground.
Technology companies contributed to a 21% market capitalisation increase for US companies from March to June 2020.
The performance in China and its regions since December 2019 benefitted from a combination of being further advanced in recovering from the effects of COVID-19 and a strong Technology and e-commerce (Consumer Services) component.
Companies highlights
Eighty seven of the Global Top 100 companies as at June 2020 saw an increase in market capitalisation from March to June 2020, compared with just ten from January to March 2020
10 companies included in the Global Top 100 as at March 2020 have dropped out and did not qualify for the June 2020 list.