Rajiv Gandhi's Foreign Policy: Diplomacy in Tough Times
The end of the World War II in 1945 gave the birth to Cold War among the two superpowers. The U.S. and the USSR had respectively been spreading their ideologies (Capitalism and Socialism) across the globe. This was continued till the disintegration of the Soviet in 1991. International relations scholars described 1980s as the peak period of bipolar competition which had already expanded to the Indian Sub-continent. Shri Rajiv Gandhi was the Prime Minister of our country during that time (1984-89).
Throughout the Cold War many developing countries were on the hinge, had stuck without moving either side but wedged with Non-allied Movement (NAM). Moreover, at that time India was leading the NAM, a trustful head for the Third World countries. Further, throughout the Cold War playoffs, building relations with other countries were not only a hard task but getting a new partner would be seen as suspicious in our old friend's camp. Hence, in the Cold War era reaching out to new friends while keeping the old friends close to us was one of the difficult jobs and challenging. In general, articulating strategy and diplomacy would be really a tough choice but necessary. If a single word is spelt out wrongly would have greater consequences in the international stage. However, the neorealist thinker Kenneth Waltz "believes that bipolar systems are more stable and thus provide a better guarantee of peace and security" (Jackson & Sorensen, 2003).
In this article let us discuss his important visits and how Rajiv Gandhi's state visits were received by the major-powers at the time of the Cold War and what India has gained from his diplomacy.
Since the end of the World War II (apart from the five established 'major powers' – the U.S., Soviet Russia, France, UK and China) India was the only country has been expected and has the required potential to become a major power. Surely, this would not be a sweet tune to neither the U.S. nor China. So both the countries worked against India with the strategy of containment policy supporting Pakistan in South Asia. As we said, the various U.S administrations have their strategy to contain to keep India within the Sub-continent, have been well working with the help of puppet regimes in Pakistan. On the other hand, China was blindly helping India's adversary Pakistan to build nuclear arsenals and was then waiting to consider if Islamabad would lose the support of Washington at any point of time in a situation when the Soviet Union withdraws its forces from Afghanistan. Presuming the "U.S. inaction in the face of the Pakistani acquisition of nuclear weapons with the assistance of China, Rajiv Gandhi took the plunge and secretly authorized going nuclear, notwithstanding his personal sentiments to the contrary. The Agni was successfully test-fired in May 1989" (Baldev Raj Nayar & T.V.Paul, 2003).
During the Cold War period the international politics was tough but Rajiv Gandhi's visits brought new friends and breakthrough in India's diplomacy. Under his leadership it was a proud moment for India in the international system. The young Prime Minister Rajiv Gandhi's new approaches were received by the world leaders. He never goes for the state visits without having solutions for the long outstanding issues. Some of the divergent issues were converted into convergent because of fresh thoughts pouring in the Indian foreign policy making. It has strengthened India's authority in the Indian Ocean and particularly gave a turning point in India's relations with the U.S. and China. His diplomatic visits to Sri Lanka or Australia – there were new lessons to be learned. Therefore, the international relations scholars described, "Indeed, his period in office saw India become more assertive in power terms in the region. At the same time Rajiv Gandhi's government "walking on two legs: Economic reform and nuclear weaponisation" (Baldev Raj Nayar & T.V.Paul, 2003). In May 1988, under the leadership of Atal Bihari Vajpayee, India detonated her second nuclear test. But it was built, a decade ago under the able administration of Rajiv Gandhi. He was the architect of pro-poor liberal economy. Moreover, modernization in telecommunication sector, reforms in education, science & technology took place under his leadership. He introduced computer in consultation with Shri Sam Pitroda, the communication wizard and Rajiv is the builder of the 21st century India.
Rajiv Gandhi always looks at our neighbors in two dimensions. First, when they are in need of our help he immediately reaches out to them. Through this approach he always makes them feel comfortable but at the same time keeps India's interest alive. Second, his policies are formulated to make the neighbors to stay close to New Delhi. Also he never keeps quite in Delhi by sending a statement through the diplomatic channel while our neighbors were facing troubles.
In 1988, 'The Operation Cactus' in Maldives to thwart the coup against President Abdul Gayoom's government would be seen as the best example for his realist approach. However, he always gave room for 'mutual cooperation.' Thus his foreign policy had the mixture of realism and liberalism, maintains India's power balance in the Indian Ocean Region. Particularly in the Male crisis before the superpowers turn their focus on Gayoom's invitation, Rajiv Gandhi "responded with an overwhelming speed and efficiency. With less than 16 hours since President Gayoom's call – Indian troops were deployed in one swift motion" and saved the Maldives government (Vishnu Gopinath, The Quint, Feb 06, 2018). At the same time since Feb 2018, 16 weeks had gone; the new political crisis in Maldives is seeking India's help. The department of external affairs has sent few statements regarding the Male issue and then kept mum. These approaches indicate that Modi's government is not in a position to enhance India's power projection in the Indian Ocean Region, but extending an olive branch to cool down China. These are the policy differences of the then Prime Minister Rajiv Gandhi and the present Prime Minister Narendera Modi.
It would be understandable that the relations between India and Pakistan were never in comfortable course. During his visit to the SARC Summit in Islamabad the 'mutual effort' of Rajiv Gandhi and Benazir Bhutto brought a new twist in 'normalization of bilateral relations' between India and Pakistan. "Both prime ministers pledged not to attack or assist foreign powers to attack either country's nuclear installations and facilities. This summit was described as the dawn of a new era in Pak-India ties" (Shaikh Aziz, The Dawn, August 2016). Further, both the leaders applied step by step approach and "widened their official contacts initiating unprecedented military – to military talks to ace tensions on their northern border, where Indian and Pakistani troops have skirmished for years" (Steve Coll, The Washington Post, July 17, 1989). These developments suggest us that the visits of the state heads are not only mandatory but it should demonstrate some valuable output.
Rajiv Gandhi's intervention in the Island-nation of Sri Lanka was the striking example for bringing peace and unity in Sri Lanka, and India's articulation of power. This was also with the aim of keeping the U.S. out of the Indian Ocean especially not to get a foothold in Colombo in the time of Cold War. For the same cause, he lost his life at the very young age but he never folded his hands nor sat quite when our neighbor was in need. R. Hariharan a military intelligence specialist wonderfully writes, "The Rajiv Gandhi – Jayewardene Accord, signed in the Cold War era in 1987 was undoubtedly strategic – collectively address all the three contentious issues between India and Sri Lanka: strategic interests, people of Indian origin in Sri Lanka and Tamil minority rights in Sri Lanka. The Accord was unique with respect to India's beginning with respect to India's articulation of power, set a strong message to its neighbors, global powers and delineated India's strategic zone of influence in the Indian Ocean region" (R. Hariharan, July 28, 2010, The Hindu)..
These are indications of his presumption on the importance of the Indian Ocean Region (IOR) for our security and our responsibility in maintaining the freedom of navigation. Rajiv Gandhi was well presumed of China's interest in the Sub-continent. Hence, he had formulated India's policies toward in keeping our neighborhood closer to us. The whole of his tenure as the prime minister he thwarted the Chinese entry from the Indian Ocean.
The war with China in 1962 had completely stalled the ties between New Deelhi and Beijing. Accepting the then Chinese Premier Li Pang invitation in 1988 he landed in Beijing. Prof. Harsh Pant from the Department of War Studies, Kings College, London says "A new leaf in Sino-Indian ties" (Harsh V. Pant, 2016). "This visit was followed by a flurry of high-level diplomatic exchanges" (David M. Malone, 2011).  Further, Baldev Raj Nayar commenting about this visit a 'turning point', "When the two countries agreed to set up a joint working group to resolve the border dispute. A key element in the forward movement was the Indian concession not to insist on prior resolution of the border dispute, though without shelving it, but to move on to improve relations in other areas" (Baldev Raj Nayar & T.V.Paul, 2003). Further, both the countries come to an understanding of in realizing to initiate the trust building and set up a border management mechanism. Today, the Doklum crisis or Chinese troops crossing into India in the Himalayan border has been managed under this institutional framework. Thus changes were made in the Indo-China relations. However, Rajiv Gandhi never promised to the Indian voters that he would do miracles if he voted for power. But Modi has promised to the Indian public if voted to power he would do wonders in six months. Does he bring breakthrough in India's border talks with China? Or does he raise the Doklum issue with China's president often meeting him in various bilateral and multilateral forums? Further, in recent times Modi had to snub Dalai Lama to pacify China was not a policy mistake, but deliberately performed. He knows since the general elections are just ten months away from now if "China-triggered flashpoint would be more harmful for his political future" (Rajeev Sharma, dailyo.in). Hence, for his short-term political gains he decided to turning his back on Dalai Lama. Further, his 'strategic restraint' exposed in the case of crisis in Maldives also.
Rajiv's first foreign state visit was to the longtime friend, the former Soviet Union. Commentators viewed the first destination was deliberately chosen. Apart from the usual bilateral ties between India and Soviet Union, various areas from military procurements to civil nuclear technology, and mutual agreements in other sectors, Rajiv had always maintained India's 'Special Relations' with the Soviet Union. Because "Soviet Union consistently gave India valuable political, diplomatic and strategic support bilaterally as well as in international forums on Kashmir and other vital issues affecting India's national interests" (Rajiv Sikri, 2009). However, in every meeting he raised the universal concern of the danger of nuclear weapons with President Mikhail Gorbachev. He stood against the illusion of 'limited nuclear war.' His presumption was at any moment nuclear weapons would not and should not be as a guarantor of global peace. At that time since India was the leader of the NAM obviously criticisms were poured out against India's 'Friendship Treaty' with the Soviet. However, Rajiv Gandhi bravely raises the global concern on nuclear arsenals equally with the U.S. and the USSR. At this point the young prime minister's articulation of foreign policy toward the West was sometimes concern for the Soviet leaders, but Rajiv comfortably expressed India's view. Meanwhile, the USSR understood India's rise through the prism of Rajiv Gandhi. Hence, the Soviet Union gave Rajiv Gandhi the 'status of a world leader.'
In the Cold War climate Rajiv Gandhi and his predecessors were compelled to manage the U.S.'s regional containment strategy. For the U.S., they well know India's leadership and major power aspirations. So they don't want to give a path for the Soviet's best friend India to rise out of the Sub-continent. At this juncture Rajiv decided to bring down the hostility nature of India-U.S. relations. He visited the U.S. in June 1985. "That trip has been hailed by many as likely to contribute to a new era of cooperation between New Delhi and Washington (Steven R. Weisman, The New York Times, 1985). He gave a wonderful speech which was sweet and short by carrying a hint in his hand which had the strategy for both the countries to have greater understanding. At the Joint session of the US Congress he said, "I am young and I too have a dream. I have no doubt this visit will help to bring about greater understanding between our countries" (Youtube). In his reply President Ronald Regan said, "Today we opened up personal channels of communication." Further, signing a "memorandum of understanding" with the U.S., he promotes technological cooperation between both the countries (Baldev Raj Nayar & T.V.Paul, 2003). Hence, we should understand our present relations with the U.S. or China are the continuation of Rajiv's breakthrough made during his visits to those countries in his premiership. Modi went to the U.S. several times in the last four years. What happened to the India-U.S. seriously negotiated nuclear deal? Are there any changes in the position of India and U.S. in the liability issue to implement the nuclear deal?
Conclusion
The 1980s has registered the crucial period in the history of Cold War. But each of Rajiv Gandhi's visits was well planned in advance; policies were made with sufficient consultations, and had definite trajectories to strengthen India's interest globally. His visits to Pakistan, China and the U.S., further, the way he was handling the crisis in the Indian Ocean islands would tell us how much is he committed in keeping not only India's ambition in the international system but also have delivered India's moral responsibility to help our neighbors while they required our support. Under Modi's leadership our capabilities are not properly demonstrated. Modi even evaded in visiting Maldives in his Indian Ocean Islands tour in 2015, the reason for his evasion was stated by his office as 'the time was not favorable for the prime minister to visit'. Rajiv Gandhi visited Pakistan in a crucial time of the Cold War. His office does not say that Pakistan' situation was not conducive to the prime minister to visit that country.
Though he was advised about the thereat for his life but never shied away from facing the challenges. He involved in 'making India 'strong, independent and self-reliant'. Further, he never yields to any sentiments. He knew that there was no room for sentiments while making foreign policy. He was ready to sacrifice anything in the interest of the country. Thus 'moral and physical courage' were the central part of his foreign policy making. He carefully chooses his foreign visits as well as his policy had brought positive implications on India's diplomacy. His breakthroughs have been standing today as good examples and as a guiding pillar for us to formulate policies with respect to many countries. It would be sure the present day diplomatic circle cannot articulate policy without pronouncing the name 'Rajiv Gandhi.'
Hence, his achievements in the area of India's foreign policy would not be wiped out or to be erased. The imprint of his legacy in the making of Indian foreign policy will stay longer in shaping of India's diplomacy and ever lingers in our memory.
A significant portion of the world is recovering from Covid-19, however there is a place where people not only fears corona virus but also the brutal human right abuse. Its been more than 9 months and Kashmir's future is still dawdling questioning the whole world that in times of global freedom why they don't have any? The constitutional genocide which was done on 5th of the August of last year is still in force and there is no one either internally or any international community who can question the Indian authorities over Systematic and serious human rights violation which are taking place.
Moreover Covid-19 has been seen as an opportunity by Modi and his government in order to inflict more sever pain to the Kashmiri's. For India Covid-19 has been seen as a weapon through which they can agonize the Kashmiri people while going unnoticed.
Even in time of such despair the gross human rights violation has been continued by the Indian forces. This ranges from mass killings, force disappearances, torture, rape and sexual abuse to political repression and suppression of freedom of speech. Human rights group Amnesty claim that thespecial powers under (AFSPA) gives the security force immunity from violations committed and condemn it. In other words Indian forces have carte blanche in Indian Occupied Kashmir and there is no oversight on it. There was journalists oversight but that also was barred after 5th August.
According to a September 6 report of the Indian government, nearly 4,000 people have been arrested in the disputed region. According to a September 6 report of the Indian government, nearly 4,000 people have been arrested in the disputed region. Among those arrested were more than 200politicians,including two former chief ministers of Jammu and Kashmir (J&K), along with more than 100 leaders and activists from All Parties Hurriyat Conference. Forced disappearances, rapes, killings are new norm in Occupied Kashmir as Indian law enforcement authorities rule with guilty pleasures.
While mainstream India becoming mouth piece of Delhi Government and sewed its lips to object and even mention Kashmir in their news, social platforms reveals the reality. With passage of every day new stories of heinous acts dusts the previous. Use of pallet guns inflicted eye injuries to more than 3000 people, BBC file reported. Disturbing videos and images often circulate on social platforms unveiling the lies of Delhi.
These lies are not restricted only Kashmir, but inside India situation is also murky. Conditions of Muslims inside India more or less emulates that of Kashmir. In 2013, a government survey found that the largest minority group which accounts for 14% of the total population lives on an average of 32.6 rupees ($ 0.43)per day. The government in Maharashtra—the state with the biggest concentration of corona virus cases—said Muslim-majority areas had a "paucity of health facility" in a 2013 report. It said the "threat of communal riots" forced Muslims to "live together in slums and ghettos" where social distancing is often impossible. The Covid-19 gave another reason to spew hate to Muslims and pursuit Islamophobia to new heights. The Organization of Islamic Cooperation's human rights body has strongly condemned the "unrelenting vicious Islamophobic campaign in India maligning Muslims for spread ofCOVID-19.
A report published by Business Recorder in April 19, 2020 revealed that Delhi is exploiting Covid-19 to hump the subjugation of Muslims in a genocidal manner. The Muslim population is suffering not just from COVID-19, but from a crisis of hatred, from a crisis hunger. The situation of the minorities has been serious especially during the COVID-19 pandemic. When Covid-19 spiked in India, New York Times Reported that Indian authorities have blamed Muslim groups for spreading the virus. Despite the fact the Indian atrocities against Muslims are clearly visible international community is quite.
Pakistan has been supporting its Kashmiri brothers from very first day and had been voicing the Kashmiri case at every international fora. Recently Pakistan wrote a letter to United Nations Human Rights Council against Indian atrocities on Kashmiri Muslims. Former Prosecutor General Punjab, Senior Advocate Syed Ihtesham Qadir Shah along with other renowned lawyers and Social Activists wrote the letter to UNHCR. It highlighted every aspect of how India is waging gross violent acts against Muslims of India as well as Kashmir. The letter is supported by many local and international legal firms and organizations working for Human Rights as well. It also highlighted that India is not only abusing its own Human rights values but also violating basic values of International Human Rights values i.e. Article 25 (1) of the Universal Declaration of Human Rights (UDHR).
As the world moves there is a society which is static in its every aspect. It becomes more painful when that society sees the world watching in silence.
NOTA: A Step Forward Or Just A Toothless Tiger?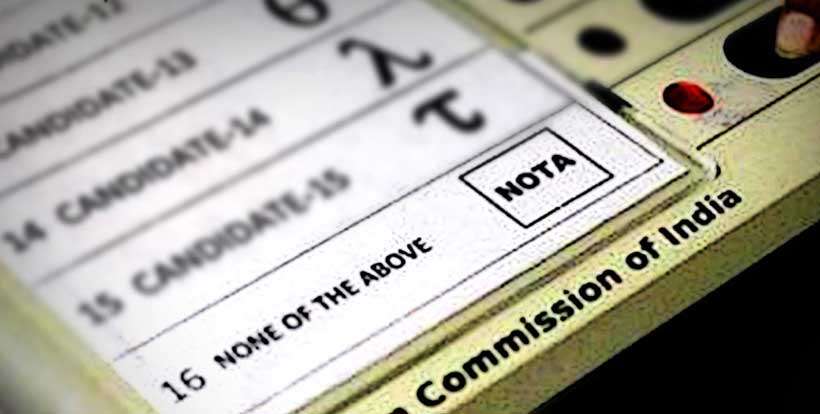 Authors: Nakul Chadha and Abhay Raj Mishra*
" I went to vote once, but I got too scared. I couldn't decide whom to vote for."[1]–Andy Warhol
The above-mentioned statement by an American artist to a certain extent defines the situation of almost every voter while casting his vote in a democracy. Every voter gets stuck in the dilemma that to whom he should vote so that it can be in a best interest for him as well as for the nation. Democracy is something which provides the citizens to participate and help in the formation of a good governance with their choice of change. It is essential that best of the men should be chosen for the survival of a democracy in a country.[2] Thus sometimes there comes a situation when voter has no confidence in the candidates that are standing in the fray, so he does not want to cast his vote to any of them.
Before NOTA, if a person wanted to abstain from voting to show his rage against the candidates, he has to go through a process that annihilated his secrecy. Hence, it pushed a need for a provision that allowed secrecy of every voter intacted even if he does not want to vote to any of the candidtes standing in the fray.
Hence, NOTA was introduced in the year 2013 keeping above points in mind by the Supreme Court through People's Union for Civil Liberties v. Union of India[3] judgement. Although, It does not provide the Right to Reject and thus candidate who has got the maximum vote eventually wins the election irrespective of the number of NOTA votes. Still, India became the 14th country to introduce a concept of negative voting.
The authors have critically analyzed the situation for which NOTA was required. The purpose of this article is to evaluate whether this reform in election process i.e. introduction of NOTA has contributed to strengthen the democracy or not. The authors have criticallly analysed the judgement of the Supreme Court in the case of PUCL v. UOI, 2013 and it also takes into consideration the belief and opinion of ECI about NOTA. It reviews the role of NOTA in the election process.
The authors have taken into account the issues like flaws and loopholes that are present in the provision and thus analyzing it and suggesting some of the measures that can be taken to make it more helpful in conduction of free and fare election and thus strengthening the backbone of democracy.
Background – Need For The NOTA
India stands as a paragon in front of many arising democratic countries and is also designated as one of the spirited democracy across the globe. One of the principle virtues of a democratic state is its free and fare elections. It is the fundamental principle for every democratic state to have Right to Vote as a constitutional right for the citizens and conduction of election in free and fair form. Although we are proud of our democratic system but there are many area that has to be strenghtened or renewed and in such a large country it cannot be done in one go but through a gradual development until we realize the true potential of a well-operative democracy.[4]
The main objective of NOTA was to increase the number of voters in the election and for maintaining the secrecy of a voter in an election. As secrecy of voting is one of the pivotal factor that keeps up the purity of a election. Introduction of Electronic Voting Machine (EVM) and implementation of rule 49-0 of The Conduct of Election Rules, 1961 raised the foremost concern for the Election Commission of India (ECI) as it made impossible to protect the privacy of voters who wanted to abstain from voting.
In order to fix the critical flaw regarding the secrecy of voters with respect to Right to Reject,
the Election Commission on 10.12.2001, addressed a letter to the Secretary, Ministry of Law and Justice. The letter declared subsequent opinions that the electoral right present under Section 79(d) also includes a right not to cast vote. It also suggested to provide a panel in the EVMs so that an elector may indicate that he does not wish to vote for any of the aforementioned candidate and at last gave the viewpoint that Such number of votes expressing dissatisfaction with all the candidates may be recorded in a result sheet. Although no actions were taken by the ministry in this regard.[5]
The fate of the Right to Privacy while voting was finally decided in the case of Peoples's Union For Civil Liberties v. Union of India. In the afore-mentioned case, the Apex court stuck down Rules 41(2) and (3) and 49-O of the Election Rules as being ultra vires section 128 of the Representation of the People Act, 1951 and Article 19(1)(a) and Article 21 of the Constitution to the extent they violated the secrecy of voting.[6]
Rule 49-O – Elector deciding not to vote – "If an elector, after his electoral roll number has been duly entered in the register of voters in Form 17A and has put his signature or thumb impression thereon as required under sub-rule (1) of rule 49L, decides not to record his vote, a remark to this effect shall be made against the said entry in Form 17A by the presiding officer and the signature or thumb impression of the elector shall be obtained against such remark."[7]
Citing section 128 and section 79(d) of RPA, court duly quoted that 'secrecy of casting vote is duly recognised and is necessary for strengthening democracy' to maintain the purity of elections.
Section 79(d) defines electoral right of a person to vote or refrain from voting at an election whereas section 128 of the Act obliges any person performing any duty in connection with the recording or counting of votes at an election to maintain secrecy and penalizing in failure.
If the international provisions would be taken in consideration then Article 21(3) of Universal Declaration of Human Rights (UDHR) and Article 25(B) of the International Covenant on Civil and Political Rights (ICCPR) provides for secret vote for ballot for guaranteeing the unbound expresssion of the will of the electors.
Court said that no distinction can be drawn between the voter for the right of secrecy, regardless of the fact voter decides to cast vote or or to not cast vote in the fray.[8]
With this it was fully ensured that voter's may or may not cast vote with maintenance of their secrecy and purity but without the fear of being victimized if his vote is disclosed.
NOTA – As A Provision
NOTA is basically an option which gives voters a right to reject all the candidates. It is present at the bottom of the Electronic voting machines (EVMs) after all the contesting candidates and the voter can cast his NOTA vote by pressing it. Provided that democracy is all about choices and furthermore it is a essence of democracy, NOTA made it easier for voters to have a choice without being victimized.
Earlier, if the voter wants to cast a negative vote then he had to inform the presiding officer which surely was infringment of the Right to secrecy of the voter thus making him stand in a position of being victimized but this does not requires any involvement with any officer on duty and one has to give no information even if he do not want to vote to any of the candidate contesting in the fray.
'NOTA' or None of the above came into existence in September, 2013 when the Supreme Court, in the case of PUCL v. Union Of India upheld the right of the voter to reject all candidates contesting elections saying it would help in cleansing the political system of India as it would lead to political parties contesting clean participants in election. So, Supreme Court in its judgement said "We direct the Election Commission to provide necessary provision in the ballot papers/EVMs and another button called 'None of the Above' (NOTA) may be provided in EVMs so that the voters, who come to the polling booth and decide not to vote for any of the candidates in the fray, are able to exercise their right not to vote while maintaining their right of secrecy"[9]
The NOTA option was first introduced in 2013 assembly election in four states Chhattisgarh , Mizoram , Rajasthan and Madhya Pradesh and one Union Territory, i.e., Delhi.
Positive Aspects Of NOTA
Addition of NOTA option on EVMs has helped in several ways in the election process such as by giving voters their freedom of expression, preserving their Right to Secrecy and with all this making a systematic change in elections.
NOTA as a tool for protest:
NOTA preserves freedom of Expression by allowing voters to express dissent or their right to reject all the contesting candidates. This would lead to potentially improve the voter turnout by providing an option to disapprove all the candidates, by this it can encourage more participation in the democratic process i.e. Elections. It also prevents bogus voting as a result of higher voter turnout.
Someone would go for NOTA option only if the ruling party has not done enough work in their previous election term and the opposition party is very weak. For e.g. we can take Gujarat legislative assembly election 2017, there seemed to be an incumbency on the part of Bharata Janata Party(BJP) rule in the state due to several factors and people wanted to change the ruling party but the opposition was Indian National Congress (INC) which has lost its significance in Gujratover the years due to Modi government .
So, it would have been a different scenario if voters chose NOTA option, there was a possibility that BJP would not have won the election in the first place or won it with a very little margin, helping them realise that the party has not done enough and thus encouraging them to work hard for the next election.
NOTA as a tool to protect secrecy:
NOTA also preserves voters Right to secrecy because before NOTA if a voter wants to reject all the candidates i.e. give a blank vote then according to rule 49-O of Conduct of Election Laws, 1961, voter had to sign a form with their name on it which would lead to violation of their right to secrecy and the blank voters could be traced and punished for their choice but with this there was no disclosure of any names to anyone helping voter to have his secrecy.
NOTA as a tool for change in politics :
After, NOTA there is a possibility that most of the candidates selected are honest because after NOTA the contestants representing the parties are also with good and clear public image as the political parties have fear that voters can give votes to the NOTA option.
By utilizing this power, electorates can send a clear signal to the political parties that some people are not happy regarding the candidates that are contesting in the election and thus creating extreme pressure on the parties to only field those candidates who are more acceptable to the electorates. This empowerment of the voters may also result to more systematic change in the election process.[10]
Negative Aspects:
Although NOTA to a certain extent has fulfilled its major cause, that is, to protect the voters of the country from being victimized by safeguarding their Right to secrecy but no rule or provision comes without flaws.
No significant increase in participation:
NOTA seems to fail in increasing the participation of voters in the elections, which signifies the strength of democracy as the court implied that turning up to booths and voting on NOTA is far better that not voting at all.
Not equal to Right to Reject:
The observation behind it was to give the voters a feeling of empowerment. But the meaning of the order has not been taken correctly. It in no way provides a Right to Reject. The Supreme Court just assserted that as people have right to show the liking for a candidate to be elected, in the same way they should have a choice for the Negative voting.
Yet, as former CEC, S.Y. Qureshi, points out by giving a example that even if 99 votes out of 100 total votes goes to NOTA still the candidate who has got that 1 vote will be treated as a winner, as he has got the highest number of valid votes. The rest of votes given to the NOTA are considered to be invalid or as no vote.[11]
Only a moral obligation to parties:
It only bounds the political parties to nominate a better and more ethical and moral valued candidate as larger number of votes going to NOTA shows a kind of disafffection towards the candidates that are present in the fray. But in general, it only puts a moral pressure on the parties rather forcing them by rules and regulations which in some ways is a bit more optimistic and thus political parties refuse to stop the candidates from contesting in the election making NOTA a tool of participation for voters and nothing more than that.
S.Y. Qureshi along with Mr. Rajeev Dhawan and Subhash Kashyap, Former Secretery General of Lok Sabha also believed that Supreme Court is in some way too optimistic in thinking that NOTA will by-product in a cleaner politics. While K.K. Venugopal and Association for Democratic Reforms (ADR) forced to elongate it a Right To reject.[12]
NOTA by far can be said said as toothless tiger as it does not result in re-election or disqualification of the candidates that once have got less vote than NOTA itself and thus, in no way it influences the result of elections. It is not a direct substitute to a bad governance but only is a motivation to change and improvement. Candidates also began to campaign against NOTA and said it be a wastage of vote and thus influencing the voters against it who may not have a full knowledge about the provisions.[13]
Conclusion And Suggestions:
With this, a conlusion can be drawn that a country like India having vibrant democracy, adding NOTA button in the EVM will certainly increase the political participation but only if, it is provided with more power and is implemented in better way. In order to further strengthen the NOTA, there are several suggestions.
There should be addition of rules that votes casted to NOTA should also be counted and if in an election where NOTA has got the most number of votes, none of the contestants should be elected and all the candidate contesting in that particular election would be barred from contesting again as they have already been opposed by voters.
Other than that, political parties should also think about the fact that they should only field such contestants in the election who have a certain qualification, experience in public service rather that by seeing his ability to spend money or to which caste or religion he belongs.
Also door to door campaigning should be stopped as it can help in manipulation of voters and mal-practice and corruption. Above all there is dire need of awareness programs to make voters more cognizant of the concepts of NOTA as one can only take a decision about certain things when he is fully aware of its repercussions and keeping in mind the fact voters are backbone of a democracy in a country.
*Raj Mishra, Maharashtra National Law University, Nagpur
---
[1] Edward D. Powers, "Third-Party Politics: Andy Warhole's 'Vote McGovern', 1972, Zeitschrift Für Kunstgeschichte, vol.75, no. 3, pp. 391–416, 2012< www.jstor.org/stable/41642670 >Accessed May 3, 2020
[2] Ms. Mamta D. Awariwar, 'Supreme Court Guidelines on Right to Reject and its Implication : A Study', University Grants Commission, Pune, July 2017
<http://bvpnlcpune.org/Results%20PDF/Executive%20summary.pdf>
Accessed May 3, 2020
[3] AIR 2003, SC 2363
[4] Sanjeev Kumar Chaswal 'A Paradox of Right to Recall and Reject- A boon or a bane' The Institute of Constitutional and Parliamentary Studies
<https://www.academia.edu/8249541/_A_Paradox_of_Right_to_Recall_and_Reject_-_A_boon_or_bane_> Accessed April 29, 2020
[5] Report No. 255 , Electoral Reforms, 'Nota and the Right To Reject', ch.1, pp.190, March 2015,
<http://lawcommissionofindia.nic.in/reports/Report255.pdf>
Accessed April 29, 2020
[6] People's Union for Civil Liberties v. Union of India, AIR 2003, SC 2363
[7] The Conduct of Elections Rules, 1961, Rule 49-O
[8] Pooja pandey, ' The NOTA Judgement in India: A Bigger Narrative'
<https://www.academia.edu/35272294/NOTA_Judgement_in_India_Bigger_Narratives.pdf
Accessed April 30, 2020
[9] PUCL v. Union Of India, 2003, SC 2363
[10] Arindam Mandal, Biswajit Mandal, Prasoon Bhatthacharjee, 'Does NOTA Affect Voter Turnout? Evidence From State Legislative Elections in India', Asian Journal of Economic Modelling, Vol. 5, No. 3, August 17, 2017<https://www.researchgate.net/publication/318008834_Does_Nota_Affect_Voter_Turnout_Evidence_from_State_Legislative_Elections_in_India>
Accessed April 30, 2020
[11] S.Y. Qureshi, Pressure of a Button, The Indian Express, October 3, 2013
<https://indianexpress.com/article/opinion/columns/pressure-of-a-button/>
Accessed May 3, 2020
[12] Katju Manjari, 'The None of the Above Option', Economic and Political Weekly, vol. 48, no. 42, October 19, 2013 <https://www.epw.in/journal/2013/42/commentary/none-above-option.html>
Accessed May 3, 2020
[13] Dr. Vijaya Laxshmi Mohanty, Ms. Ramneet Kaur, NOTA- A Powerful Opponent or a Toothless Tiger?- In Perspective of General Election 2014, Institute of Public Policy Studies and Research, Odisha, December 14 2014<https://www.academia.edu/9787108/NOTA-A_powerful_opponent_or_a_toothless_tiger_-in_perspective_of_General_elections_2014>
Accessed April 30 2020
Populism: Effects on Global Politics and Pakistan
Populism is a concept in political science that postulates that the society is divided into two groups that are at odds with each other. According to Cas Mudde who is the author of Populism: A Very Short Introduction, these two groups consist of: 'the pure people' and 'the corrupt elite'. The term 'populism' is often used as a kind of a political insult. For instance, Jeremy Corbyn, Leader of the Labour Party in Britain has often been accused of invoking populism over his party slogan 'for the many not the few', but it's not actually the same thing. According to Benjamin Moffitt, author of The Global Rise of Populism, the word "is generally misused, especially in a European context." A populist leader in the true sense of the word claims to represent the uniform will of the people, stands in opposition to the enemy – that is often embodied by the current system which is aimed at either 'draining the swamp' or 'tackling the liberal elite'. Dr. Moffitt continues, "It generally attaches itself to the right in a European context… but that's not an iron rule."
In the contemporary world, Populism is everywhere in the political spectrum: there are politicians like Marine Le Pen in France, Donald Trump in the US, Viktor Orbán in Hungary, and Narendra Modi in India. Political scientists believe that populism is not a new phenomenon but in the past decade it has certainly accelerated, and has taken many forms in the 2010s – which were often overlapping. In some countries a socioeconomic version was observed, where the working class pitted against big businesses and cosmopolitan elites who were believed to be benefitting from the capitalist system, such as, in countries like France and the US. While others saw an overwhelming focus on the cultural form thrive with emphasis on issues like immigration, national identity and race, for instance, in countries like Germany and India. However, the most common type of populism was the anti-establishment populism that pits the common masses against the political elites and the mainstream political parties represented by them. These forms of populism are likely to also continue into the next decade, although the main focus may probably shift from immigration to climate change.
Associate professor of comparative politics at the University of Reading in England, Daphne Halikiopoulou opines, "If the 2010s were the years in which predominantly far-right, populist parties permeated the political mainstream, then the 2020s will be when voters are going to see the consequences of that." Although in some ways the results are already beginning to manifest in some states, a case in point being the 2016 vote in Britain to exit the European Union – Brexit – and the consequent political fallout that led to the resounding victory of the populist Prime Minister, Boris Johnson in the general election. Moreover, in other countries also the populist parties are beginning to make their impact in various ways – if not through directly passing legislation then by exerting pressure in the opposition.
In the near future i.e. the 2020s, many populist political figures are expected to rise to power and prominence. For example, Italy's Matteo Salvini, who is the leader of the far-right and nativist League party has sworn to return to government as the prime minister, and if successful he is likely to forge alliances with his fellow populist leaders, inter alia, Boris Johnson and Donald Trump. Such alliances could herald a reinvigorated wave of populism in the world. On the other side of the globe, Narendra Modi, the Indian Prime Minister, has also signaled to continue his quest of deepening his Hindu-nationalist agenda. It is in this context that his government enacted a controversial Citizenship Amendment Act – which grants citizenship to refugees belonging to every major South Asian religion except Muslims – leading to weeks of protests and unrest across the country, in addition to continuing his policy of political repression and harsh lockdown in Kashmir.
Pakistan is, of course, not immune to the global move towards populism. Imran Khan is viewed by many political science experts as a populist prime minister. Ever since coming to power he has pursued divisive politics by sometimes silencing and at other times discrediting dissenters. The arrest and imprisonment – often on groundless allegations – of many opposition leaders can be viewed in this context. Moreover, on more than one occasion certain quarters of the media have been targeted and demonized in a bid to kill the messenger if you can't kill criticism. These policies of the incumbent government led by Prime Minister, Imran Khan, to stifle opposition negate principles of pluralism and democratic tolerance. Pakistan is indeed on a slippery slope vis-à-vis the rise of populism in politics.
Populism is likely to persist as a fixture of politics for the foreseeable future. How countries choose to respond to it may become the defining feature of the remaining part of the twenty-first century. Propagation of values of democracy such as international cooperation, religious tolerance, pluralism and diversity seem to offer the only ray of hope in this, otherwise, dark tunnel of populism.