Rajiv Gandhi's Foreign Policy: Diplomacy in Tough Times
The end of the World War II in 1945 gave the birth to Cold War among the two superpowers. The U.S. and the USSR had respectively been spreading their ideologies (Capitalism and Socialism) across the globe. This was continued till the disintegration of the Soviet in 1991. International relations scholars described 1980s as the peak period of bipolar competition which had already expanded to the Indian Sub-continent. Shri Rajiv Gandhi was the Prime Minister of our country during that time (1984-89).
Throughout the Cold War many developing countries were on the hinge, had stuck without moving either side but wedged with Non-allied Movement (NAM). Moreover, at that time India was leading the NAM, a trustful head for the Third World countries. Further, throughout the Cold War playoffs, building relations with other countries were not only a hard task but getting a new partner would be seen as suspicious in our old friend's camp. Hence, in the Cold War era reaching out to new friends while keeping the old friends close to us was one of the difficult jobs and challenging. In general, articulating strategy and diplomacy would be really a tough choice but necessary. If a single word is spelt out wrongly would have greater consequences in the international stage. However, the neorealist thinker Kenneth Waltz "believes that bipolar systems are more stable and thus provide a better guarantee of peace and security" (Jackson & Sorensen, 2003).
In this article let us discuss his important visits and how Rajiv Gandhi's state visits were received by the major-powers at the time of the Cold War and what India has gained from his diplomacy.
Since the end of the World War II (apart from the five established 'major powers' – the U.S., Soviet Russia, France, UK and China) India was the only country has been expected and has the required potential to become a major power. Surely, this would not be a sweet tune to neither the U.S. nor China. So both the countries worked against India with the strategy of containment policy supporting Pakistan in South Asia. As we said, the various U.S administrations have their strategy to contain to keep India within the Sub-continent, have been well working with the help of puppet regimes in Pakistan. On the other hand, China was blindly helping India's adversary Pakistan to build nuclear arsenals and was then waiting to consider if Islamabad would lose the support of Washington at any point of time in a situation when the Soviet Union withdraws its forces from Afghanistan. Presuming the "U.S. inaction in the face of the Pakistani acquisition of nuclear weapons with the assistance of China, Rajiv Gandhi took the plunge and secretly authorized going nuclear, notwithstanding his personal sentiments to the contrary. The Agni was successfully test-fired in May 1989" (Baldev Raj Nayar & T.V.Paul, 2003).
During the Cold War period the international politics was tough but Rajiv Gandhi's visits brought new friends and breakthrough in India's diplomacy. Under his leadership it was a proud moment for India in the international system. The young Prime Minister Rajiv Gandhi's new approaches were received by the world leaders. He never goes for the state visits without having solutions for the long outstanding issues. Some of the divergent issues were converted into convergent because of fresh thoughts pouring in the Indian foreign policy making. It has strengthened India's authority in the Indian Ocean and particularly gave a turning point in India's relations with the U.S. and China. His diplomatic visits to Sri Lanka or Australia – there were new lessons to be learned. Therefore, the international relations scholars described, "Indeed, his period in office saw India become more assertive in power terms in the region. At the same time Rajiv Gandhi's government "walking on two legs: Economic reform and nuclear weaponisation" (Baldev Raj Nayar & T.V.Paul, 2003). In May 1988, under the leadership of Atal Bihari Vajpayee, India detonated her second nuclear test. But it was built, a decade ago under the able administration of Rajiv Gandhi. He was the architect of pro-poor liberal economy. Moreover, modernization in telecommunication sector, reforms in education, science & technology took place under his leadership. He introduced computer in consultation with Shri Sam Pitroda, the communication wizard and Rajiv is the builder of the 21st century India.
Rajiv Gandhi always looks at our neighbors in two dimensions. First, when they are in need of our help he immediately reaches out to them. Through this approach he always makes them feel comfortable but at the same time keeps India's interest alive. Second, his policies are formulated to make the neighbors to stay close to New Delhi. Also he never keeps quite in Delhi by sending a statement through the diplomatic channel while our neighbors were facing troubles.
In 1988, 'The Operation Cactus' in Maldives to thwart the coup against President Abdul Gayoom's government would be seen as the best example for his realist approach. However, he always gave room for 'mutual cooperation.' Thus his foreign policy had the mixture of realism and liberalism, maintains India's power balance in the Indian Ocean Region. Particularly in the Male crisis before the superpowers turn their focus on Gayoom's invitation, Rajiv Gandhi "responded with an overwhelming speed and efficiency. With less than 16 hours since President Gayoom's call – Indian troops were deployed in one swift motion" and saved the Maldives government (Vishnu Gopinath, The Quint, Feb 06, 2018). At the same time since Feb 2018, 16 weeks had gone; the new political crisis in Maldives is seeking India's help. The department of external affairs has sent few statements regarding the Male issue and then kept mum. These approaches indicate that Modi's government is not in a position to enhance India's power projection in the Indian Ocean Region, but extending an olive branch to cool down China. These are the policy differences of the then Prime Minister Rajiv Gandhi and the present Prime Minister Narendera Modi.
It would be understandable that the relations between India and Pakistan were never in comfortable course. During his visit to the SARC Summit in Islamabad the 'mutual effort' of Rajiv Gandhi and Benazir Bhutto brought a new twist in 'normalization of bilateral relations' between India and Pakistan. "Both prime ministers pledged not to attack or assist foreign powers to attack either country's nuclear installations and facilities. This summit was described as the dawn of a new era in Pak-India ties" (Shaikh Aziz, The Dawn, August 2016). Further, both the leaders applied step by step approach and "widened their official contacts initiating unprecedented military – to military talks to ace tensions on their northern border, where Indian and Pakistani troops have skirmished for years" (Steve Coll, The Washington Post, July 17, 1989). These developments suggest us that the visits of the state heads are not only mandatory but it should demonstrate some valuable output.
Rajiv Gandhi's intervention in the Island-nation of Sri Lanka was the striking example for bringing peace and unity in Sri Lanka, and India's articulation of power. This was also with the aim of keeping the U.S. out of the Indian Ocean especially not to get a foothold in Colombo in the time of Cold War. For the same cause, he lost his life at the very young age but he never folded his hands nor sat quite when our neighbor was in need. R. Hariharan a military intelligence specialist wonderfully writes, "The Rajiv Gandhi – Jayewardene Accord, signed in the Cold War era in 1987 was undoubtedly strategic – collectively address all the three contentious issues between India and Sri Lanka: strategic interests, people of Indian origin in Sri Lanka and Tamil minority rights in Sri Lanka. The Accord was unique with respect to India's beginning with respect to India's articulation of power, set a strong message to its neighbors, global powers and delineated India's strategic zone of influence in the Indian Ocean region" (R. Hariharan, July 28, 2010, The Hindu)..
These are indications of his presumption on the importance of the Indian Ocean Region (IOR) for our security and our responsibility in maintaining the freedom of navigation. Rajiv Gandhi was well presumed of China's interest in the Sub-continent. Hence, he had formulated India's policies toward in keeping our neighborhood closer to us. The whole of his tenure as the prime minister he thwarted the Chinese entry from the Indian Ocean.
The war with China in 1962 had completely stalled the ties between New Deelhi and Beijing. Accepting the then Chinese Premier Li Pang invitation in 1988 he landed in Beijing. Prof. Harsh Pant from the Department of War Studies, Kings College, London says "A new leaf in Sino-Indian ties" (Harsh V. Pant, 2016). "This visit was followed by a flurry of high-level diplomatic exchanges" (David M. Malone, 2011).  Further, Baldev Raj Nayar commenting about this visit a 'turning point', "When the two countries agreed to set up a joint working group to resolve the border dispute. A key element in the forward movement was the Indian concession not to insist on prior resolution of the border dispute, though without shelving it, but to move on to improve relations in other areas" (Baldev Raj Nayar & T.V.Paul, 2003). Further, both the countries come to an understanding of in realizing to initiate the trust building and set up a border management mechanism. Today, the Doklum crisis or Chinese troops crossing into India in the Himalayan border has been managed under this institutional framework. Thus changes were made in the Indo-China relations. However, Rajiv Gandhi never promised to the Indian voters that he would do miracles if he voted for power. But Modi has promised to the Indian public if voted to power he would do wonders in six months. Does he bring breakthrough in India's border talks with China? Or does he raise the Doklum issue with China's president often meeting him in various bilateral and multilateral forums? Further, in recent times Modi had to snub Dalai Lama to pacify China was not a policy mistake, but deliberately performed. He knows since the general elections are just ten months away from now if "China-triggered flashpoint would be more harmful for his political future" (Rajeev Sharma, dailyo.in). Hence, for his short-term political gains he decided to turning his back on Dalai Lama. Further, his 'strategic restraint' exposed in the case of crisis in Maldives also.
Rajiv's first foreign state visit was to the longtime friend, the former Soviet Union. Commentators viewed the first destination was deliberately chosen. Apart from the usual bilateral ties between India and Soviet Union, various areas from military procurements to civil nuclear technology, and mutual agreements in other sectors, Rajiv had always maintained India's 'Special Relations' with the Soviet Union. Because "Soviet Union consistently gave India valuable political, diplomatic and strategic support bilaterally as well as in international forums on Kashmir and other vital issues affecting India's national interests" (Rajiv Sikri, 2009). However, in every meeting he raised the universal concern of the danger of nuclear weapons with President Mikhail Gorbachev. He stood against the illusion of 'limited nuclear war.' His presumption was at any moment nuclear weapons would not and should not be as a guarantor of global peace. At that time since India was the leader of the NAM obviously criticisms were poured out against India's 'Friendship Treaty' with the Soviet. However, Rajiv Gandhi bravely raises the global concern on nuclear arsenals equally with the U.S. and the USSR. At this point the young prime minister's articulation of foreign policy toward the West was sometimes concern for the Soviet leaders, but Rajiv comfortably expressed India's view. Meanwhile, the USSR understood India's rise through the prism of Rajiv Gandhi. Hence, the Soviet Union gave Rajiv Gandhi the 'status of a world leader.'
In the Cold War climate Rajiv Gandhi and his predecessors were compelled to manage the U.S.'s regional containment strategy. For the U.S., they well know India's leadership and major power aspirations. So they don't want to give a path for the Soviet's best friend India to rise out of the Sub-continent. At this juncture Rajiv decided to bring down the hostility nature of India-U.S. relations. He visited the U.S. in June 1985. "That trip has been hailed by many as likely to contribute to a new era of cooperation between New Delhi and Washington (Steven R. Weisman, The New York Times, 1985). He gave a wonderful speech which was sweet and short by carrying a hint in his hand which had the strategy for both the countries to have greater understanding. At the Joint session of the US Congress he said, "I am young and I too have a dream. I have no doubt this visit will help to bring about greater understanding between our countries" (Youtube). In his reply President Ronald Regan said, "Today we opened up personal channels of communication." Further, signing a "memorandum of understanding" with the U.S., he promotes technological cooperation between both the countries (Baldev Raj Nayar & T.V.Paul, 2003). Hence, we should understand our present relations with the U.S. or China are the continuation of Rajiv's breakthrough made during his visits to those countries in his premiership. Modi went to the U.S. several times in the last four years. What happened to the India-U.S. seriously negotiated nuclear deal? Are there any changes in the position of India and U.S. in the liability issue to implement the nuclear deal?
Conclusion
The 1980s has registered the crucial period in the history of Cold War. But each of Rajiv Gandhi's visits was well planned in advance; policies were made with sufficient consultations, and had definite trajectories to strengthen India's interest globally. His visits to Pakistan, China and the U.S., further, the way he was handling the crisis in the Indian Ocean islands would tell us how much is he committed in keeping not only India's ambition in the international system but also have delivered India's moral responsibility to help our neighbors while they required our support. Under Modi's leadership our capabilities are not properly demonstrated. Modi even evaded in visiting Maldives in his Indian Ocean Islands tour in 2015, the reason for his evasion was stated by his office as 'the time was not favorable for the prime minister to visit'. Rajiv Gandhi visited Pakistan in a crucial time of the Cold War. His office does not say that Pakistan' situation was not conducive to the prime minister to visit that country.
Though he was advised about the thereat for his life but never shied away from facing the challenges. He involved in 'making India 'strong, independent and self-reliant'. Further, he never yields to any sentiments. He knew that there was no room for sentiments while making foreign policy. He was ready to sacrifice anything in the interest of the country. Thus 'moral and physical courage' were the central part of his foreign policy making. He carefully chooses his foreign visits as well as his policy had brought positive implications on India's diplomacy. His breakthroughs have been standing today as good examples and as a guiding pillar for us to formulate policies with respect to many countries. It would be sure the present day diplomatic circle cannot articulate policy without pronouncing the name 'Rajiv Gandhi.'
Hence, his achievements in the area of India's foreign policy would not be wiped out or to be erased. The imprint of his legacy in the making of Indian foreign policy will stay longer in shaping of India's diplomacy and ever lingers in our memory.
International Peacekeeping Day: Pakistan's Case
29th May marks the 75th anniversary of International Peacekeeping Day. In conflict studies, Peacekeeping as term defines those activities and actions that tend to keep conflict and conflicting parties under control and involve such activities that serve as pathway to uproot conflict as a whole and reduce battlefield deaths. UNN Peacekeeping Missions recently have undergone several reforms and evolution to better their efficacy, coherence, and responsiveness for which they have been criticized for. While effectiveness of the very purpose of these missions is highly debated, May 29 calls for commemorating and honoring the services of all those countries and people coming together with a vision to ensure peace, stability, and sustainability across the world. Pakistan is no exception.
The image of Pakistan has, in the international politics has highly revolved around security and strategic realms. Considering that image, Peacekeeping Missions are just one of the many features where Pakistan has carved out its identity as a state that is committed to the security of not only its own but the entire world. Since its fist Peacekeeping Mission in Congo in 1960, Pakistani blue helmets have served with honor and valor in 48 United Nations missions in almost all continents of the world.
While endorsing Action for Peace (A4P) and Action for Peace Plus (A4P+) initiatives-that tend to improve efficacy and consolidate security of Peacekeeping Missions-Pakistan, being one of the few states, institutionalized peacekeeping by such structural initiatives as that of Centre for International Peace and Stability (CIPS). To date CIPS has run 175 courses, training 2853 Peacekeepers, including 407 officers from other states. In this way, CIPS stands as an embodiment to Pakistan's efforts of consolidating regionalism and Internationalism and standing as a responsible and capable state thinking for all and common peace and prosperity.
Besides working towards peace and security in war-torn communities, Pakistan has been on the forefront of peacebuilding and humanitarian efforts. Pakistan's Field Hospital established as part of UN Mission Mali, is providing premium healthcare services, including lifesaving surgeries to the dependent clientele of 3500 UN Peacekeepers besides facilitating affected civilians of the warn-ravaged region. In April 2023, services of Pakistan's hospital were appreciated at various levels in mission as well as UN headquarters for its constant quest for excellence and being in line with the needs of mission dynamics.
Through professionalism and dedication, Pakistani Peacekeepers have remained pivotal in UN's efforts to reform and strengthen the Peacekeeping Architecture. Pakistani Engineers are maintaining 1430 kms of main Communication Arteries connecting 45% of the total land territory in the Central African Republic (CAR) and providing assured connectivity to 60% of the population of CAR even during worst climatic conditions.
Pakistan has exercised resolve and manifested resilience and courage in working in some of the most dangerous war-ravaged regions of the world. Not only it has paved the way in ensuring peace and preventing full-fledged war in such regions but its commitments towards humanitarian appeal are no hidden reality. From 2022 South Sudan floods whereby Pakistani engineers constructed for them dyke system to provision of 60 metric tons of various stores in northern part of Abyei to Pakistani doctors and Engagement Teams running awareness and hygiene campaigns to psychological counselling to contributing in education field in various missions, Pakistan has proved resolve and promptness of its security architecture in the region and beyond.
Pakistan also hosts one of the oldest UN Peacekeeping Mission i.e., UN Mission Observer Group for India and Pakistan (UNMOGIP) to monitor the ceasefire violations on Line of Control and has committed to it unlike the other stakeholder in the domain.
This day, hence, is a time to commemorate the services of Pakistan's 225, 000 peacekeepers who have served uptil now, as well as honor the martyrdom of 171 Pakistani peacekeepers in the process.
29 May, on one end, is reminisce of Pakistan's advancing role in UN's agenda of maintaining peace and security around the world and on the other, it is a contemplating point at the structural amendments still needed in the peacekeeping apparatus of the world so that peace and prosperity is ensured for all nations and people of the world, once and for all.
Striving for Balance: Pakistan's Climate Equity Drive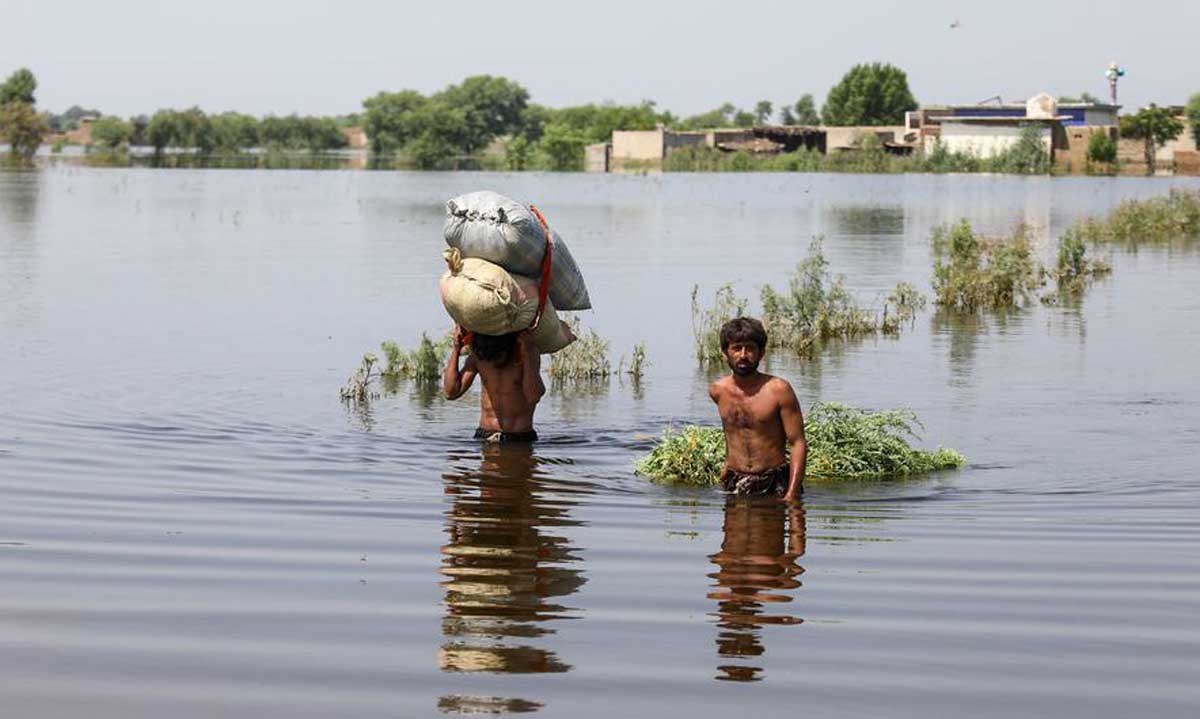 The world's population of 1.8 billion people between the ages of 10 and 24 represents the largest group of young people ever recorded in human history. A startling portion of this startling total—710 million children—live in nations that are horribly situated to bear the brunt of the catastrophic effects of the climate crisis. Every newborn child in the modern era faces numerous dangers as a result of the extensive effects of climate change, including dangers to their health and the stability of the economy. Even though they bear the least blame for the current environmental crisis, young people must now deal with an increase in the frequency of extreme weather phenomena.
Since many families, especially those living in developing countries, have been severely impacted by the rising temperatures, there has been a rise in cases of malnutrition and a decrease in food supplies as well as access to safe drinking water. The immune and respiratory systems of the human body have been severely compromised by the rapid decline in air quality, which has resulted in widespread damage and distress.
Therefore, the need for a fundamental paradigm shift within the framework of global climate change governance necessitates a firm embrace of the resounding cry for climate justice at its very core. To effectively reduce their greenhouse gas emissions (GHG), strengthen their resilience against the numerous effects of climate change, and, most importantly, deal with the enormous losses incurred as a result of the more frequent and intense occurrences of droughts and floods brought on by the irreversible progression of climate change, developing countries and economies in particular stand in dire need of significant financial assistance.
Regardless, nearly 13,000 people have been injured and over 1,600 have died as a result of the recent catastrophic floods in Pakistan, which have devastated about one-third of the country since the disaster began on June 14, 2022. According to the Pakistan Meteorological Department (PMD), the precipitation in July 2022 showed a strikingly disproportionate increase in Balochistan, rising by a staggering 450 percent, and in Sindh, rising by a remarkable 307 percent. These levels represent the highest levels seen in the previous 62 years. These areas, which have been severely impacted, are frequently arid or semi-arid.
Moreover, the findings of the World Weather Attribution Report (WWA) confirm that climate change has been a significant factor in the escalation of this unprecedented flooding, which has resulted in an incredible estimated economic loss of about US$32 billion. Therefore, it is necessary for the international community to pay attention to the call for climate justice and to show unwavering support for those countries coping with the numerous difficulties brought on by climate change.
However, the pressures brought on by climate change are putting Pakistan under a lot of stress right now, making it more susceptible to future changes in the climate and limiting its ability to adapt. The responsibility of wealthy states as outlined in Article 8 of the Paris Agreement must be emphasized, and Pakistan must emphasize the urgent need for adaptation measures. This particular article requires developed countries to contribute financial resources to support developing countries' efforts at adaptation. Pakistan can effectively advocate for more funding and resources to strengthen its resilience to the effects of climate change by using this platform, while also highlighting the necessity of global cooperation and shared responsibility.
Shortly put, Pakistan's participation in COP27 offers a significant platform to address the intertwined issues of climate change and sustainable development. Pakistan can highlight its distinct vulnerabilities and the need for increased support from more developed nations through a well-reasoned argument focused on climate adaptation, industry decarbonization, water management, food security, and resource conservation. These initiatives are essential for directing the country toward a trajectory of all-encompassing growth, the eradication of poverty, and ecological equilibrium in the face of a changing climate.
An important turning point for Pakistan was taking control of the COP27 agenda, which strengthened its position as a leader in the international discussion of climate change. Pakistani officials vehemently argued that developing countries should intensify their efforts to advance the cause of climate justice. They emphasized the dire need to deal with climate-related problems with unwavering resolve and the dangerous repercussions of doing nothing, warning that the nation would continue to bear the brunt of climate change's negative effects. Pakistan's persistent and thorough approach to addressing climate change unquestionably qualifies as a good foreign policy.
Concludingly, in order to fully address this complex problem, Pakistan must adopt a holistic approach that takes into account all aspects of climate change, from minute details to complex global issues. Additionally, it must work to embrace the positive aspect of climate security, which states that when problems are securitized, they become security conundrums. Through a three-tiered framework that includes local, global, and structural dimensions, policymakers can perceptively examine Pakistan's environmental quandaries by using securitization as a lens.
Political Crisis, Power Distribution and Taliban in Pakistan
The political crisis in the Islamic Republic of Pakistan tends to evolve. Elite groups in the government and the opposition will be unable to find proper means to resolve the issue. The economic crisis and financial problems will also prevent Islamabad from stabilizing the political situation in the country. In addition, interethnic contradictions between Punjabis and Pashtuns are actively developing in the country, which tends to escalate. The Taliban's power in neighboring Afghanistan does not contribute to solving the political crisis in Pakistan but contributes to its deterioration. This was stated in a note to Modern Diplomacy by political scientist Georgi Asatryan.
The political scientist also noted that the Pakistan army would give former prime-minister Imran Khan no chance to regain his political standing. "The opposition and political circles close to Khan will attempt to perform protest activity in the country. There will be continued nationwide unrest. The traditional control of the Pakistani military and the ISI over political processes will be raised, and human rights, democratic processes, and freedoms will, unfortunately, be limited. Overall, Pakistan will remain a center of instability in the region", Georgi Asatryan noted. The political scientist added that the Pashtuns in Pakistan, representing the second largest ethnic group, see Imran Khan as their man and will support him. The same goes for the Taliban in Afghanistan, whose sympathies are also on the side of the Pakistani opposition leader.
Georgi Asatryan does not rule out the possibility of a new military coup but estimates its possibility in the short-term as unlikely. When a country's institutions become ineffective, anyone can suspect a situation developing a coup d'etat. This was apparent during the spring protests led by Imran Khan, where Khan's supporters fought with paramilitary police.
It is also worth citing that the country's economic situation is complicated and can be described as a full-fledged economic and financial crisis. According to the data, Pakistan has a debt of $ 125 billion, and 25% of this amount is owed to China. The rapid growth of inflation – 36.4% in April, demonstrates the difficult economic circumstances of Pakistan. This indicator is noted as the highest in the last sixty years. Concerning the country's foreign reserves, Pakistan has only 4.3 billion dollars, which is enough to cover imports for a month. In order to temporarily mitigate the financial situation of the state, Saudi Arabia extended the term of the deposit in foreign currency for $ 3 billion deposited as a loan in 2021. Also, China extended a $2 billion loan to Pakistan at the end of March. Islamabad's external debt has been plunged by more than $10 billion. This reduced the current account deficit from July 2022 to April 2023 to $3.3 billion, significantly lower than $ 13.6 billion for the same period 2021-2022. This indicator decrease is due to a reduction in imports to $ 47 billion from July 2022 to April 2023 compared to the previous period – $ 65.5 billion.