The EXODUS begins: Access the first blockchain phone by HTC
Context and meaning are being destroyed by copyright and privacy laws that were written for a bygone era. Join the Exodus of people who will take back control of the value that exists in their personal identity and data.
HTC, the leading innovator in smart phone devices, is spearheading a movement and it starts in the third quarter with the launch of early access to the world's first major blockchain phone – the Exodus.
HTC has a vision to expand the blockchain ecosystem by creating the world's first phone dedicated to decentralized applications and security. With the release of the HTC Exodus, which includes an all-important cold storage wallet, we can now make this a reality.
"In the new internet age people are generally more conscious about their data, this a perfect opportunity to empower the user to start owning their digital identity. The Exodus is a great place to start because the phone is the most personal device, and it is also the place where all your data originates from. I'm excited about the opportunity it brings to decentralize the internet and reshape it for the modern user" said HTC's Chief Crypto Officer Phil Chen.
The advent of Bitcoin and Ethereum brought with it the idea of digital scarcity and non-fungible tokens (NFTs). Today, HTC has partnered with the world's first and most popular NFT game on the blockchain, CryptoKitties, to exclusively distribute it on mobile via selected HTC devices, starting with the U12+ (Available markets to be confirmed). This is a significant first step in creating a platform and distribution channel for creatives who make unique digital goods. Mobile is the most prevalent device in the history of humankind and for digital assets and dapps to reach their potential, mobile will need to be the main point of distribution.
The partnership with CryptoKitties is the beginning of a non fungible, collectible marketplace and crypto gaming app store.
"We understand the potential of digital scarcity and uniqueness. With Exodus, HTC aims to be a general blockchain asset marketplace. We are here to invite all developers to distribute their blockchain game, collectible and NFT concept through us. We believe there is a paradigm shift and the pendulum is swinging back to ownership and the value of content." said Phil Chen.
HTC is also announcing two partnerships to accelerate advancement in the space – Animoca, the distributor of CryptoKitties and Bitmark, the crypto based digital ownership project.
This is just the start of HTC helping to combat the commoditization of humanity.
Multilateralism: The only path to address the world's troubles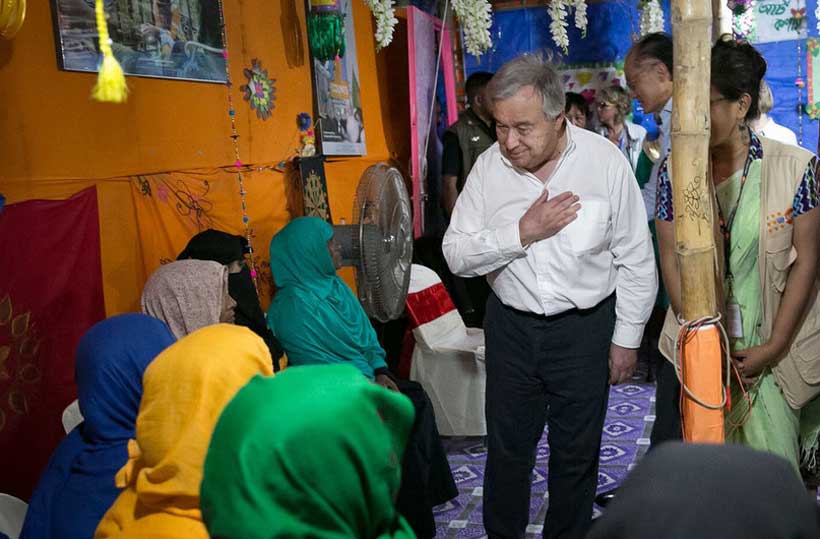 As the world's problems grow, multilateralism represents to best path to meet the challenges that lie ahead, said United Nations Secretary-General António Guterres on Tuesday, launching his annual report.
The Report of the Secretary-General on the Work of the Organization  for 2018, also tracks the progress made over the last year in maintaining peace and security, protecting human rights, and promoting sustainable development.
"I started my tenure calling for 2017 to be a year of peace, yet peace remains elusive," said the UN chief in the report's introduction, noting that since January last year "conflicts have deepened, with grave violations of human rights and humanitarian law; inequality has risen, intolerance has spread, discrimination against women remains entrenched and the impacts of climate change continue to accelerate."
"We need unity and courage in setting the world on track towards a better future," stressed Mr. Guterres, crediting the Sustainable Development Goals (SDGs) for generating coordinated efforts by Member States and civil society to "alleviate poverty and build peaceful, prosperous and inclusive societies."
Wide-ranging reform
The most comprehensive reform of the UN development system in decades already underway, led by Mr. Guterres and his deputy, Amina Mohammed, aims to strengthen the Organization's capacity to support Member States in achieving the 17 SDGs.
While the report points to gains, such as increased labour productivity, access to electricity and strengthened internet governance, it also illustrates that progress has been uneven and too slow to meet the 2030 Agenda for Sustainable Development Goals within the given time frame.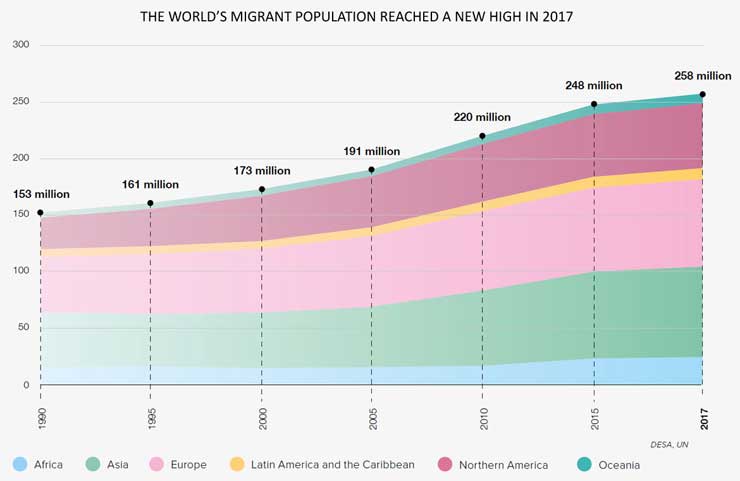 For example, in 2015, three out of 10 people did not have access to safe drinking water, and  60 per cent lacked safe sanitation. Moreover conflicts, disasters and climate change are also adversely affecting populations.
The report underlines the importance of building stronger multilateral partnerships with Member States; regional and international organizations; and civil society; to "find solutions to global problems that no nation alone can resolve."
Although the 2018 High-Level Political Forum on Sustainable Development of 2018 reflected some positive initiatives, it also showed the urgent need to step up efforts in areas such as energy cooperation, water and terrestrial ecosystems.
According to the report, "partnerships are key to achieving the SDGs" – and as of June, 3,834 partnerships had been registered with the Partnerships for the SDGs online platform from different sectors across all the 17 goals.
With regard to technology, last October a joint meeting of the Economic and Social Council (ECOSOC) and the Second Committee welcomed Sophia, the first robot to sit on a UN panel. This gave a glimpse into the advances being made in the realm of Artificial Intelligence.
Turning to young people, UN Youth Envoy, Jayathma Wickramanayake, of Sri Lanka, is continuously advocating for their needs and rights, including in decision-making processes at all levels, and in strengthening the UN system's coordination on delivering for youth, and with their increased participation.
The UN report also spoke to the growing scale, complexity and impact of global migration. In July, the General Assembly agreed a Global Compact for Safe, Orderly and Regular Migration, which will be presented for adoption in December at an Intergovernmental Conference in Morocco.
Youth Calls for Action to Build the Workforce of the Future
Over 400 youth representatives from Asia and the Pacific launched the Incheon Youth Declaration on the Future of Work, which calls upon the international community to invest in more inclusive, large-scale, and market-relevant solutions for youth employment and entrepreneurship.
The declaration, launched during the 6th Asian Youth Forum (AYF6) and coinciding with the celebration of the International Youth Day on 12 August, reflects the shared vision, commitments, and calls to action of the youth to inform future policy strategies and project initiatives to promote decent work. AYF6, with the theme "Building the workforce of the future," was organized by the Asian Development Bank (ADB), Incheon Metropolitan City, Incheon Tourism Organization, Plan International, and AIESEC.
"We at ADB commit to continue investing in youth through our operations, including through our work in education, and in many other sectors we are supporting. We appreciate that the declaration today covers various issues including partnerships, entrepreneurship, as well as environment," said Special Senior Advisor to the ADB President Mr. Ayumi Konishi, who also emphasized that the declaration will help guide ADB in advancing efforts to invest in education and empowering youth as key development partners in the region.
"Incheon will further boost its efforts to support youth employment and startups through various policies, such as the establishment of youth policy organization, cluster for startup incubators, funds, and forum for startups," said Vice Mayor of Incheon Metropolitan City Mr. Jong Sik Heo. Acting President of the Incheon Tourism Organization Mr. Yong Sik Lee also attended the event.
The declaration highlights several key issues affecting youth employment and the future of work and what several stakeholders including governments, private sector, civil society, multilateral institutions, academe, and the youth themselves can do to address them. These issues include ensuring decent work and inclusion; transitioning from education and training to work; fostering youth entrepreneurship; and preparing for jobs of the future.
Youth delegates from 20 developing member countries of ADB have expressed their commitment in carrying out the efforts outlined in the declaration. Ms. Priscilla Caluag, a delegate from the Philippines, shared that the Asian Youth Forum has given her and other young people from the region a unique opportunity to act in ways beyond their own personal interests but ultimately for the betterment of society.
Are Real Estate CEOs missing out on the technology opportunity?
In its 21st annual survey of CEOs from around the world PwC found that technology does not top the agenda for real estate CEOs either as a threat or an opportunity.
Only 17% of real estate CEOs cite cyber threats as a danger to their growth prospects, compared with 40% of all CEOs who took part in the survey.  While even fewer, only 10% of real estate CEOs, view the speed of technological change as a threat to their organisations compared with 38% of all CEOs.
Looking at opportunities only 20% of real estate CEOs said they clearly understood how robotics and artificial intelligence can improve customer services compared with 47% of all CEOs.
Real estate also appears to be a bit behind the curve when it comes to future talent with  just 43% of real estate CEOs rethinking their human resources function to attract digital talent compared with 60% of CEOs overall.
"For most of its history, the capital-intensive real estate industry has had good reason to be slow moving and conservative. But times are changing.  Technology, urbanisation and social changes are transforming how we live, work and play and therefore how we use real estate, meaning business leaders need to be bold and innovative if they will continue to succeed", said Craig Hughes, global real estate leader, PwC.
"Our survey results suggest that real estate CEOs have some way to go if they are to meet digital disruption head on and reap the benefits.  In our view, this process should start through building a more diverse group of talent, including data scientists and behavioural experts, to work alongside their existing talent and build the real estate champions of tomorrow."