Climate Week to New York City
Mayor de Blasio and NYC & Company—New York City's official destination marketing organization—announced today that they will welcome Climate Week to New York City from September 24-30, 2018. Organized by The Climate Group, an international non-profit organization, Climate Week NYC will gather international leaders from across the public, private and government sectors to showcase and discuss global climate action in New York City, with support from NYC & Company.
"We are honored to again welcome The Climate Group and Climate Week NYC for the 10th year," said Mayor Bill de Blasio. "Here in New York, we're taking bold action on climate. Through our ground breaking OneNYC strategy and our ambitious 1.5˚C Plan, we've committed our city to hit the highest goals of the Paris climate agreement. We're divesting from fossil fuels, mandating that our largest buildings cut their emissions, and investing in electric vehicles. Through investments in resiliency and sustainability, we are building a fairer city for all."
"Climate Week NYC is the largest climate week in the world and as one of the key summits in the international calendar—which runs alongside the United Nations General Assembly—has been driving climate action forward since its launch in 2009," said Helen Clarkson, CEO of The Climate Group. "We are thrilled to be hosting our 10th Climate Week NYC and to appear on the world's stage, to continue to advance climate action to the top of the global agenda."
"Our goal is to leverage the City's significant and growing sustainability efforts to position the destination as 'the capital city of a responsible world," said Fred Dixon, President & CEO of NYC & Company. "From our most iconic parks becoming permanently car-free, plans for Jacob K. Javits Convention Center to house one of the City's largest rooftop farms, and many of our leading hotels embracing the City's Carbon Challenge, events such as Climate Week NYC are the perfect platform to engage our City and the world to demonstrate their pledge to better protect the planet."
Approximately 10,000 people from over 40 countries are expected to attend 150 events—including panel discussions, concerts, exhibitions and seminars. An opening ceremony on September 24—featuring key speakers and dignitaries including Patricia Espinosa, Executive Secretary of the United Nations Framework Convention on Climate Change, Edmund G Brown, Governor of California, and President Jovenel Moïse of Haiti—is planned for The Times Center in Manhattan.
Along with Climate Week NYC, New York City has recently attracted high-profile, large-scale events including WorldPride in 2019. These monumental events will help fuel record breaking visitation numbers. In 2017, there were a 62.8 million visitors.
"New York City is thrilled to host the 10th annual Climate Week to showcase the climate leadership happening all across the five boroughs," said Daniel Zarrilli, NYC's Senior Director of Climate Policy and Programs and Chief Resilience Officer. "In the absence of federal leadership in Washington, cities all across the country are stepping up their ambition to achieve the Paris Agreement. Here in NYC, we are accelerating our GHG reductions, adapting our city, and divesting from fossil fuels as part of our comprehensive OneNYC strategy.  Congratulations to the Climate Group for building an effective and successful platform for climate action over the last decade and we look forward to the next 10 years of partnership."
"From protecting our coastlines, buildings, and infrastructure to making our neighborhoods safer and more vibrant, New York City is dedicated to confronting climate change head-on and protecting our city and its citizens from the associated threats," said Jainey Bavishi, Director of the Mayor's Office of Recovery and Resiliency. "Climate Week NYC brings together some of the most brilliant innovators around the world to do just that."
"Climate change is here and this moment requires decisive, ambitious, and collaborative action," said Mark Chambers, Director of the Mayor's Office of Sustainability. "Climate Week NYC is an opportunity to inspire and embolden us all to deliver necessary solutions."
"As the Ranking Democratic Member on the State Senate Committee on Energy and Telecommunications, I am excited to celebrate Climate Week NYC. This is a great initiative and effective way to engage all stakeholders as we work to protect the environment," said Senator Kevin Parker.
A New Generation of Sustainable Hotels
New York City's evolving hotel scene is embracing eco-conscious design and practices. Overall, 19 properties are currently committed to the NYC Carbon Challenge. 1 Hotel Brooklyn Bridge opened in 2017 as part of the eco-friendly 1 Hotels brand. The Grand Hyatt New York and The Peninsula New York have vowed to shrink their carbon footprints through upgrades like high-efficiency boilers and LED lighting. The Pierre participates in EarthCheck, a program which measures the property's impact on the environment, and boutique Crosby Street Hotel was awarded the City's first LEED Gold Certified building.
Park Preservation and Honoring Horticulture
As of June 2018, Central Park—the world's most iconic greenspace, which welcomes more than 42 million visitors yearly—joined Brooklyn's Prospect Park in becoming entirely car-free. Suspended above the City streets, The High Line—an abandoned elevated rail line transformed into a horticultural oasis—opened its first section in 2009 as a habitat for birds, insects and humans seeking respite. At Battery Park City, horticulturists manage the neighborhood's park without pesticides and engage in large-scale composting.
This summer, New York City welcomed new green spaces at Hunter's Point South in Long Island City, Domino Park in Williamsburg, and Pier 3 at Brooklyn Bridge Park.
Green Roofs and Urban Farms
The Jacob K. Javits Convention Center is currently home to a 6.75-acre green roof, completed in 2014, which attracts wildlife, provides insulation that cuts the building's energy use by 26 percent, and absorbs storm water. The Javits Center's latest initiative is to cultivate a nearly 1 acre rooftop farm on the roof of the expansion, with the intention to grow produce to serve delegates.
Atop Brooklyn's Barclays Center—famed for its sporting events and concerts—is a 3-acre green roof with another sloping over its subway entrance. Brooklyn Grange keeps bees in over 30 naturally-managed, rooftop hives citywide and operates the world's two largest rooftop soil farms in Long Island City, Queens and the Brooklyn Navy Yard.
New to the Bronx, The New York Botanical Garden introduced Edible Academy this spring. The three-acre campus features a green roof, demonstration kitchen, technology lab, teaching greenhouse, solar pavilion, vegetable gardens, teaching and performance spaces and more.
Established in 2012 to help feed, inspire, and educate the local community, Snug Harbor's 2.5-acre Heritage Farm on Staten Island produces fresh fruits and vegetables in an environmentally sustainable manner. In 2017 Heritage Farm staff worked with over 100 volunteers and educated over 2,280 children on sustainable farming, food sources, and plant biology.
Roosevelt and Governor's Island
Roosevelt Island is home to Cornell Tech's in-progress campus, featuring cutting-edge green buildings the "net-zero" Bloomberg Center and "The House", the world's largest LEED-Platinum passive house structure. On Governors Island, eco highlights include an urban farm with resident goats, a composting center and the Billion Oyster Project, an ecosystem restoration and education initiative which has already planted 25 million oysters of a 2035 goal of one billion oysters, to create waterway filtration in New York Harbor.
City's Top Attractions LEED The Way
The City's LEED buildings are models of sustainable urban architecture. In 2009, the Empire State Building underwent a green-focused retrofit of the iconic 1931 skyscraper while One World Trade Center was constructed as one of the world's tallest LEED-certified buildings. At Hudson Yards—the largest private real estate development in the history of the US—14 acres of gardens and public spaces, rainwater-collection infrastructure to reuse 10 million gallons per year and an on-site hyper-efficient power plant are leading green features. Of note, the first completed building in the emerging neighborhood, 10 Hudson Yards, is LEED Platinum certified.
Brooklyn's Children's Museum earned a Silver LEED certification after it was built in 2008 for solar-generated electric power, recycled rubber flooring and geothermal heating and cooling, while the venue also teaches children about ecology through hands-on exhibits. The Whitney Museum of American Art is also LEED Gold certified for its energy-saving measures, recycled materials used in construction, and green roof which is home to two beehives.
Shining examples of the NYC theater industry's commitment to sustainability include the creation of The Broadway Green Alliance.
The Rothschild Family's Art de Vivre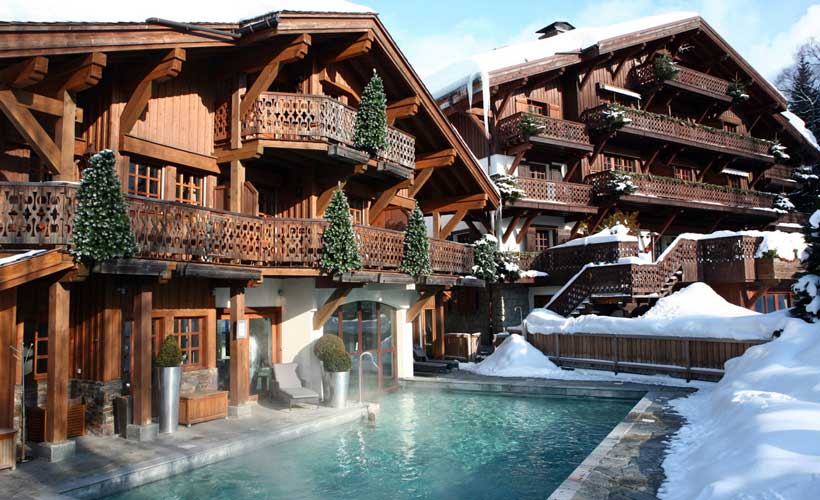 At the end of WWI, Noémie de Rothschild, wife of Baron Maurice de Rothschild decided to spend some time in St. Moritz, Switzerland. There, she dreamt of creating a similar ski resort in France, one with an exclusive atmosphere and a distinctly French character. On the advice of her ski instructor Try Smith, she discovered Megève, a small village dating back to the 13th century. She was immediately captivated by its charming character, as well as the splendid panoramic views from the Mont d'Arbois plateau above the village.
The Baroness was convinced that this picturesque site could easily rival St. Moritz, and decided to move forward with the creation of a ski resort at the Domaine du Mont d'Arbois. In 1920, construction began on her first hotel, Le Palace des Neiges (no longer in existence). With the Baroness's support, Megève quickly became a favourite with the aristocracy and other celebrities as well as famous names from the world of business and finance.
Gradually, more infrastructures and facilities were built in order to ensure the resort's long-term success. The first ski lifts and an airfield were constructed under the Baroness's watchful eye. A few golf holes were created in the 1920s, but her son, the Baron Edmond de Rothschild, was the real golf enthusiast and went on to create the Mont d'Arbois Golf Course in 1964, entrusting the layout to British golf champion Sir Henry Cotton.
Les Chalets du Mont d'Arbois, Megève, A Four Seasons Hotel
Only a two-minute drive from the Mont D'Arbois ski slopes, in the upper part of Megève, and only two kilometres from the existing Four Seasons Hotel Megève, Les Chalets du Mont d'Arbois are named after Benjamin and Ariane de Rothschild's first three daughters. The main chalet, renamed Chalet Eve, was bought by Edmond de Rothschild in 1960 to host select guests from an exclusive 100-hour party celebrating the newly renovated Palace des Neiges. Chalet Eve also features the restaurant Prima by Chef Nicolas Hensinger, which now boasts one Michelin Star, a stellar addition to the exceptional dining experiences available in Megève.
Chalet Noémie was built in 1927 for Baroness Noémie de Rothschild by the French architect Henry Jacques Le Même, and was initially the family's private chalet. Its location offers ultimate privacy, yet features large windows from which to enjoy the idyllic forest surroundings. The chalet has all the charm of an old farmhouse with a modern twist.
Chalet Alice, built in 2005 as an extension to Chalet Noémie, is the most recent of the three chalets. It includes a common living room, with a dining table and kitchen, as well as a private spa with hammam and 2 treatment rooms. The overall decor is bohemian and chic featuring pieces of modern art.
Both Chalet Noémie and Chalet Alice can be fully privatized, and are the perfect option for those travelling with their family or a larger group of friends. In fact, each addition, every detail, contributes to the rise of Megève as an elegant, stylish and authentic resort, embracing the history and local traditions the Baroness cherished.
From generation to generation, the Rothschild family's role in the development of Megève has never wavered. This personal involvement is now taken on by the Baron and Baroness Benjamin de Rothschild, who remain great connoisseurs of Megève.
Today, the Domaine du Mont d'Arbois extends over some 450 hectares (1,112 acres) and includes hotels, restaurants, the golf course and ski facilities. Ariane de Rothschild has personally assisted with the interior design of Les Chalets du Mont d'Arbois, Megève, A Four Seasons Hotel and Four Seasons Hotel Megève, to ensure that both Hotels reflect the family's long heritage and art de vivre.
7 Must Visit Sites in Chiang Rai
"Chiang Rai is steeped in culture and tradition, with so much to explore and a lot to be discovered," says Tobias Emmer, Camp Manager at Four Seasons Tented Camp Golden Triangle, "Don't leave Chiang Rai without seeing these sites!" These seven must-do experiences journey through the culture, tradition and rich history of this region.
Hall of Opium: Located close to the very fields where millions of poppies once bloomed, the Hall of Opium museum offers a comprehensive look at the historical opium trade in the region, the characters involved, and the lives of addicts. "The dark reality of this period in Chiang Rai's history and revival is brought alive through modern interactive displays and multimedia presentations," explains Tobias.
Royal Legacy Tour: Home to the Princess Mother's Royal Villa, these beautiful grounds are a horticultural masterpiece, with over 70 species of cool-climate flowers flourishing alongside native plants and trees. The garden blooms all year round, forming a splendid hillside tapestry that changes with the seasons. With the recent addition of the Tree Top Walk, guests can stroll along a 30 metre (90 feet) high walkway, bordered by lush treetops and exceptional views.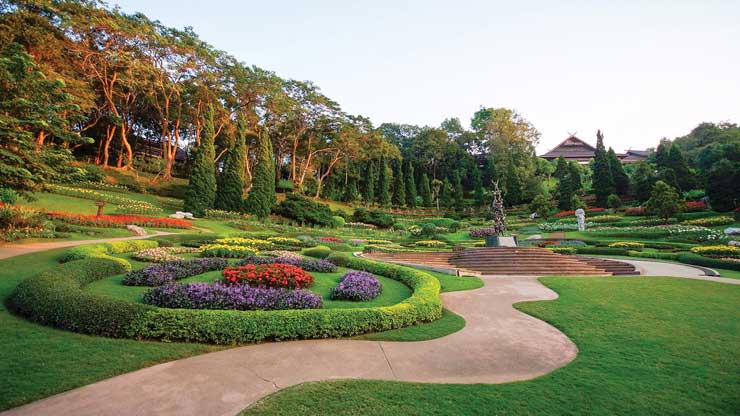 Golden Triangle Excursion: This experience begins with a cruise down the majestic Mekong River on-board a traditional, custom-designed long-tail boat. Making its way to the heart of Golden Triangle, where Thailand, Myanmar, and Laos converge, the spectacular view that encompasses three different countries are unmatched. "Guests can soak in the sights and sounds of the Golden Triangle, as they get from one place to another like a local, hopping onto a 'songtaew,' followed by a tuk-tuk, to visit a vibrant local market and a revered ancient temple, Chedi Luang. Our Camp Guides are very knowledgeable and will relate fascinating stories and interesting facts along the way," says Tobias.
Colour of Chiang Rai: A curated experience by Four Seasons Tented Camp Golden Triangle, guests can explore the vibrant culture of Chiang Rai through its most striking sights. "We recommend to start your journey at the Chinese Temple (Wat Huay Pla Kung), a dragon-flanked staircase leads you to a nine-storey golden pagoda, while a massive white statue of the Buddha offers blessings," he shares. Next, guests can discover the bizarre beauty of the White Temple (Wat Rong Khun), designed by renowned Thai visual artist, Chalermchai Kositpipat. "This is one of the most visited temples in Chiang Rai!" confirms Tobias. At Singha Park, lush greenery takes center stage: guests can stroll through tropical gardens and rolling plantations, while enjoying a cup of coffee. Before returning to the Camp, witness three countries coming together on the banks of Mekong River and enjoy the view of the Golden Triangle.
Doi Mae Salong Chinese Village & Tea Plantation: The Mandarin speaking residents have preserved their cherished customs for generations, such as the cultivation of 'high mountain oolong tea' – perfectly suited to the high altitude and cool climate of their village. "Your Camp Guide will reveal the fascinating political history of the region as you drive through the gorgeous mountain scenery that gives this areas its other name 'Little Switzerland'," explains Tobias.
Chiang Rai Kaleidoscope: Besides vividly-coloured temples, this curated itinerary includes other intriguing spots. "Guests can marvel at the Blue Temple (Wat Rong Suea Ten), an intricate masterpiece wrought in blue and gold which remains hidden from most tourists," says Tobias. Guests can then take a tour of the Black House (Baan Dam Museum), a cluster of 40 black 'houses' showcasing a private collection of provocative art. At Doi Din Dang Pottery, guests get a up-close-and-personal experience with potters at work, while browsing their lovely wares, made from the red clay, native to this region.
Craft Route: For an immersion into Northern Thailand's rich crafts heritage – including textiles, weavings, carvings, silverwork and paper-making – Tobias recommends a visit to Doi Tung Cottage Industries Centre. "This is a Royal Project initiative, where artisans make mulberry paper and roast locally-grown coffee on site." At the Doi Dung Daeng Centre, guests can witness the creation of stunning ceramics, "We'll take you to an excellent local shop, renewed for its high-quality antique textiles, hilltribe artifacts, beadwork and carvings," smiles Tobias.
Steps from the River Thames, the gentle hillside where Ten Trinity Square now stands was first populated over 2,000 years ago by the Romans, who formed the settlement of Londinium. This was the centre of the city, around which the great capital has grown.
Recognising the significance of this point on the river, William the Conqueror built the Tower of London nearby after his invasion of England in 1066. Today there is a sign in the lobby marking the distance of an arrow's flight – the boundary where people had to stop or risk being shot by archers on the Tower.
During the Middle Ages, this became one of London's most important neighbourhoods. As a royal residence, the Tower attracted the nobility and gentry to the surrounding area. With the city's ongoing growth, this riverside location became the province of medieval merchants who set up their guilds to look after the interests of tradesmen and their families.
In 1666, much of the city was destroyed by the Great Fire of London, which started just west of the Ten Trinity Square site. The fire was witnessed by Samuel Pepys, the great diarist, who worked in the Navy Office adjoining the property and lived in the adjacent street, now Pepys Street. It is said that he rushed outside to bury his highly prized Parmesan cheese to protect it from the approaching fire, while Sir William Penn (later the founder of Pennsylvania) buried a bottle of wine. The location was the site now occupied by Seething Lane Gardens.
Growth Of Riverside Business
After the fire, London was rebuilt and the port extended downstream to the east. By the 19th century, London had become the beating heart of world trade, as ships offloaded their cargo. The docklands grew into a major source of wealth and power. Tea and pottery arrived from China, silks from Arabia, and coffee and spices from the East Indies.
The docks were being run by private enterprises, leading to many conflicting interests. In 1908, full control of the River Thames and docking management was given to the Port of London Authority, created by Prime Minister David Lloyd George.
Building Ten Trinity Square
The headquarters of the Port of London Authority was opened in 1922 at Ten Trinity Square. Designed by renowned architect Sir Edwin Cooper – who won the project through a design competition – the building was constructed at a then-astronomical cost of EUR 1 million.
Built in the Beaux-Arts style, which was fashionable for civic buildings in the Edwardian era, the quality of Ten Trinity Square represented the status of the organization. Its majestic façade hints at trade links going back to Roman times, while the original central rotunda was topped by a magnificent glass dome, created to emulate that of nearby St. Paul's Cathedral. Rising atop the building at the front entrance, a sculpture of Old Father Thames stands proudly, holding his trident and pointing east, paying homage to the trade between nations.
In the peak days of the Port of London Authority, more than 1,200 people each day came to the rotunda to pay port dues for all the boats that were arriving in London. Such was the importance of the building that, in 1946, the General Assembly of the United Nations held its inaugural reception here, in what is now known as the UN Ballroom.
A key feature of the building is its view of the lush greenery of Trinity Square Garden, laid out in 1795 as the setting for Trinity House. Ringed with pieces of the wall from the ancient Roman settlement, the garden was preserved as open space under a Special Act of Parliament in 1797. This unique sunken garden now features the Tower Hill War Memorial, including the WWI Mercantile Marine Memorial and the WWII Merchant Seamen's Memorial.
During the Blitz in World War II, Ten Trinity Square was badly damaged by enemy bombing and the domed rotunda was destroyed. In the 1970s, after the Port of London Authority moved to its current location in Tilbury, the building was renovated and the central courtyard was filled in with office space. The building was then occupied by the European headquarters of the insurance broker Willis Faber Limited and continued to serve as offices until 2008. When Willis Faber moved on to a new location, the building lay vacant for several years.
Vision For The Future
Ten Trinity Square was purchased in 2010 by Reignwood, the Chinese investment company. The firm brings a deep respect for London's history and culture, and began the process of restoring the building as a hotel and residences. It took six months to secure conditional planning permission before conversion work could begin on this Grade II*-listed building. (The "Grade II*" designation from Historic England reflects "particularly important buildings of more than special interest.")
During excavations to support the original foundations, a number of significant Roman archaeological finds were made, including chalk-walled cellars, cesspits, animal remains and a well. All of these items were given to the Museum of London Archaeology.
Rather than create reproduction interiors, Reignwood chose to restore and preserve as many surviving original features as possible. A team of stone-restoration experts spent years on the exterior stonework and carvings. Inside, specialist restorers have brought new life to the original plasterwork, wood carvings, marble floors, and the soaring grand staircase.
Following this six-year, multi-million-pound renovation – and now with the renowned management of Four Seasons Hotels and Resorts – Ten Trinity Square stands once again as one of London's most desirable addresses.