Climate Week to New York City
Mayor de Blasio and NYC & Company—New York City's official destination marketing organization—announced today that they will welcome Climate Week to New York City from September 24-30, 2018. Organized by The Climate Group, an international non-profit organization, Climate Week NYC will gather international leaders from across the public, private and government sectors to showcase and discuss global climate action in New York City, with support from NYC & Company.
"We are honored to again welcome The Climate Group and Climate Week NYC for the 10th year," said Mayor Bill de Blasio. "Here in New York, we're taking bold action on climate. Through our ground breaking OneNYC strategy and our ambitious 1.5˚C Plan, we've committed our city to hit the highest goals of the Paris climate agreement. We're divesting from fossil fuels, mandating that our largest buildings cut their emissions, and investing in electric vehicles. Through investments in resiliency and sustainability, we are building a fairer city for all."
"Climate Week NYC is the largest climate week in the world and as one of the key summits in the international calendar—which runs alongside the United Nations General Assembly—has been driving climate action forward since its launch in 2009," said Helen Clarkson, CEO of The Climate Group. "We are thrilled to be hosting our 10th Climate Week NYC and to appear on the world's stage, to continue to advance climate action to the top of the global agenda."
"Our goal is to leverage the City's significant and growing sustainability efforts to position the destination as 'the capital city of a responsible world," said Fred Dixon, President & CEO of NYC & Company. "From our most iconic parks becoming permanently car-free, plans for Jacob K. Javits Convention Center to house one of the City's largest rooftop farms, and many of our leading hotels embracing the City's Carbon Challenge, events such as Climate Week NYC are the perfect platform to engage our City and the world to demonstrate their pledge to better protect the planet."
Approximately 10,000 people from over 40 countries are expected to attend 150 events—including panel discussions, concerts, exhibitions and seminars. An opening ceremony on September 24—featuring key speakers and dignitaries including Patricia Espinosa, Executive Secretary of the United Nations Framework Convention on Climate Change, Edmund G Brown, Governor of California, and President Jovenel Moïse of Haiti—is planned for The Times Center in Manhattan.
Along with Climate Week NYC, New York City has recently attracted high-profile, large-scale events including WorldPride in 2019. These monumental events will help fuel record breaking visitation numbers. In 2017, there were a 62.8 million visitors.
"New York City is thrilled to host the 10th annual Climate Week to showcase the climate leadership happening all across the five boroughs," said Daniel Zarrilli, NYC's Senior Director of Climate Policy and Programs and Chief Resilience Officer. "In the absence of federal leadership in Washington, cities all across the country are stepping up their ambition to achieve the Paris Agreement. Here in NYC, we are accelerating our GHG reductions, adapting our city, and divesting from fossil fuels as part of our comprehensive OneNYC strategy.  Congratulations to the Climate Group for building an effective and successful platform for climate action over the last decade and we look forward to the next 10 years of partnership."
"From protecting our coastlines, buildings, and infrastructure to making our neighborhoods safer and more vibrant, New York City is dedicated to confronting climate change head-on and protecting our city and its citizens from the associated threats," said Jainey Bavishi, Director of the Mayor's Office of Recovery and Resiliency. "Climate Week NYC brings together some of the most brilliant innovators around the world to do just that."
"Climate change is here and this moment requires decisive, ambitious, and collaborative action," said Mark Chambers, Director of the Mayor's Office of Sustainability. "Climate Week NYC is an opportunity to inspire and embolden us all to deliver necessary solutions."
"As the Ranking Democratic Member on the State Senate Committee on Energy and Telecommunications, I am excited to celebrate Climate Week NYC. This is a great initiative and effective way to engage all stakeholders as we work to protect the environment," said Senator Kevin Parker.
A New Generation of Sustainable Hotels
New York City's evolving hotel scene is embracing eco-conscious design and practices. Overall, 19 properties are currently committed to the NYC Carbon Challenge. 1 Hotel Brooklyn Bridge opened in 2017 as part of the eco-friendly 1 Hotels brand. The Grand Hyatt New York and The Peninsula New York have vowed to shrink their carbon footprints through upgrades like high-efficiency boilers and LED lighting. The Pierre participates in EarthCheck, a program which measures the property's impact on the environment, and boutique Crosby Street Hotel was awarded the City's first LEED Gold Certified building.
Park Preservation and Honoring Horticulture
As of June 2018, Central Park—the world's most iconic greenspace, which welcomes more than 42 million visitors yearly—joined Brooklyn's Prospect Park in becoming entirely car-free. Suspended above the City streets, The High Line—an abandoned elevated rail line transformed into a horticultural oasis—opened its first section in 2009 as a habitat for birds, insects and humans seeking respite. At Battery Park City, horticulturists manage the neighborhood's park without pesticides and engage in large-scale composting.
This summer, New York City welcomed new green spaces at Hunter's Point South in Long Island City, Domino Park in Williamsburg, and Pier 3 at Brooklyn Bridge Park.
Green Roofs and Urban Farms
The Jacob K. Javits Convention Center is currently home to a 6.75-acre green roof, completed in 2014, which attracts wildlife, provides insulation that cuts the building's energy use by 26 percent, and absorbs storm water. The Javits Center's latest initiative is to cultivate a nearly 1 acre rooftop farm on the roof of the expansion, with the intention to grow produce to serve delegates.
Atop Brooklyn's Barclays Center—famed for its sporting events and concerts—is a 3-acre green roof with another sloping over its subway entrance. Brooklyn Grange keeps bees in over 30 naturally-managed, rooftop hives citywide and operates the world's two largest rooftop soil farms in Long Island City, Queens and the Brooklyn Navy Yard.
New to the Bronx, The New York Botanical Garden introduced Edible Academy this spring. The three-acre campus features a green roof, demonstration kitchen, technology lab, teaching greenhouse, solar pavilion, vegetable gardens, teaching and performance spaces and more.
Established in 2012 to help feed, inspire, and educate the local community, Snug Harbor's 2.5-acre Heritage Farm on Staten Island produces fresh fruits and vegetables in an environmentally sustainable manner. In 2017 Heritage Farm staff worked with over 100 volunteers and educated over 2,280 children on sustainable farming, food sources, and plant biology.
Roosevelt and Governor's Island
Roosevelt Island is home to Cornell Tech's in-progress campus, featuring cutting-edge green buildings the "net-zero" Bloomberg Center and "The House", the world's largest LEED-Platinum passive house structure. On Governors Island, eco highlights include an urban farm with resident goats, a composting center and the Billion Oyster Project, an ecosystem restoration and education initiative which has already planted 25 million oysters of a 2035 goal of one billion oysters, to create waterway filtration in New York Harbor.
City's Top Attractions LEED The Way
The City's LEED buildings are models of sustainable urban architecture. In 2009, the Empire State Building underwent a green-focused retrofit of the iconic 1931 skyscraper while One World Trade Center was constructed as one of the world's tallest LEED-certified buildings. At Hudson Yards—the largest private real estate development in the history of the US—14 acres of gardens and public spaces, rainwater-collection infrastructure to reuse 10 million gallons per year and an on-site hyper-efficient power plant are leading green features. Of note, the first completed building in the emerging neighborhood, 10 Hudson Yards, is LEED Platinum certified.
Brooklyn's Children's Museum earned a Silver LEED certification after it was built in 2008 for solar-generated electric power, recycled rubber flooring and geothermal heating and cooling, while the venue also teaches children about ecology through hands-on exhibits. The Whitney Museum of American Art is also LEED Gold certified for its energy-saving measures, recycled materials used in construction, and green roof which is home to two beehives.
Shining examples of the NYC theater industry's commitment to sustainability include the creation of The Broadway Green Alliance.
Mind-Blowing Facts About the Rockefeller Center Christmas Tree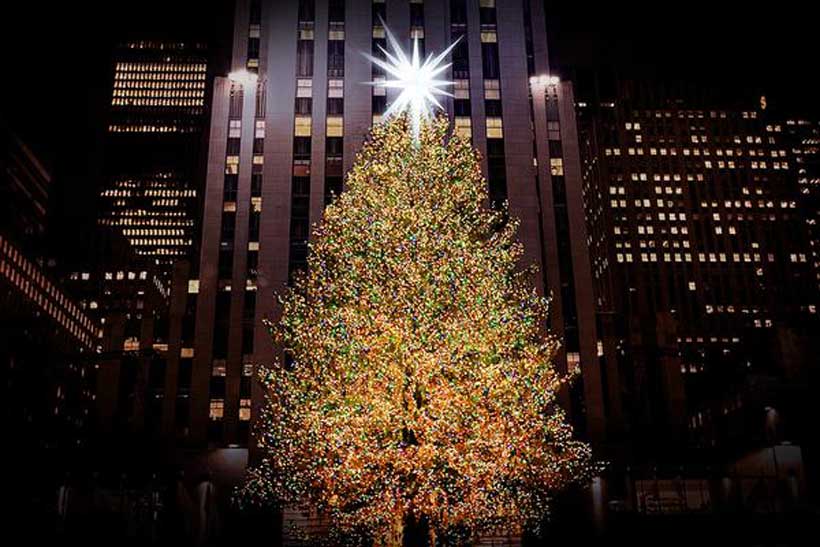 The Rockefeller Center Christmas tree acts each holiday season as a luminous magnet for camera-toting visitors. It towers above the ice-skating rink, with the golden statue Prometheus near its apron, carrying on a custom as old as Rockefeller Center itself—starting back in the early 1930s when the Midtown complex was still under construction.
The folks at Rock Center accept submissions each year. What do they look for in a specimen? A nicely shaped Norway spruce, typically at least 75 feet tall and dense enough that you "shouldn't be able to see the sky through it," according to head gardener Erik Pauze. Being from the tristate area generally helps—long distance is a consideration, but it's not a deal breaker (1998's tree was flown in from Ohio, and there was one from Canada way back when). The selection process takes a while, during which time the winner generally makes itself known. As Pauze says, "Sometimes I visit a tree several times over the year, [to] watch it grow or fill out. But when I see the perfect one, I just know it."
Come late November, Today show personalities Hoda Kotb, Savannah Guthrie, Al Roker and Craig Melvin will join a host of performers (Pentatonix and John Legend included) for the opening ceremonies, and the tree stays lit—and available for public viewing, selfies and Instagram posts—until early January. This year, a ceremony for hoisting the new Daniel Libeskind–designed Swarovski star atop the tree will precede the lighting by a couple of weeks.
Pining for more info? We'll go out on a limb and guess you are. Here's some tree trivia to keep you waxing botanic through the holiday season.
This year's model
Height: 72 feet
Weight: 24,000 pounds (estimated)
Species: Norway spruce
Hometown: Wallkill, New York
Age: Roughly 75 years
Date felled: November 8, 2018
Date put in place: November 10, 2018
Date of star raising: November 14, 2018
Date of tree lighting: November 28, 2018
Up until: January 7, 2019
Number of lights: 50,000+
Average number of expected daily viewers during holiday season: 750,000
Through the years
1931 First Christmas tree on the grounds, put up by construction workers
1933 First official year of Rockefeller Center Christmas tree
1941 Four reindeer, in pens, flank the tree; later, they move to the Bronx Zoo
1942–44 Tree goes unlit due to World War II
1949 The tree is painted silver, ostensibly to make it look more wintry
1966 A white spruce hailing from Canada becomes the first tree from outside the US
1981 Last time a species other than a Norway spruce (in this case, another white spruce) is chosen
1997 Tree from Stony Point, NY, is transported by barge down the Hudson River
1999 Tallest tree ever, at 100 feet
2016 Tony Bennett, at the age of 90, performs at the ceremony for the fourth time in seven years
Fast facts
* Why a Norway spruce? Our research indicates that its characteristics of a straight trunk and the ability to resist wind make it a sturdy choice; and its size, on average between 80 and 100 feet at full maturity, matches Rockefeller Center's height requirements.
* For the most part, the same LED lights, which were first introduced in 2007, are used each year (though their total number has grown from around 30,000 to around 50,000).
* The Swarovski-crystal star that tops the tree first appeared in 2004—and has been reimagined by architect Daniel Libeskind for 2018. The new version has 3 million crystals, 70 glass spikes and, with a brightness of 106,000 lumens, may be powerful enough to turn night into day.
* Those in charge maintain the tree with regular watering—as it's outside, it retains its freshness better than it would in a house or apartment.
* The inaugural tree lighting was broadcast on radio in 1933; 18 years later it made its televised debut on the Kate Smith Evening Hour.
* After the tree is done spreading holiday cheer, it's sent on its merry way to be used as lumber for Habitat for Humanity.
The Best Ways to Spend the Festive Holidays in Beirut
The holiday season is one of the most exciting times to visit Beirut. The city streets are decked out in shimmering lights, dazzling displays of ornaments and that incomparable festive buzz.
There's plenty to experience in Beirut during the holidays and Four Seasons Hotel Beirut is your ideal home away from home, perfectly located to take in the sights, sounds and excitement of the festivities, which are just a stroll away. To ensure you make the most of your trip and don't miss out on the best activities of the season, our concierge team is happy to share a helpful insider's guide to celebrate the holidays in the city.
Partake in Festive Culinary Delights
Celebrate the holidays at Four Seasons Hotel Beirut with an exquisite array of innovative offerings and culinary delights. From a holiday-themed afternoon tea to delightful delicatessen evenings, and even a pop-up caviar and oysters bar, revel in a host of magical moments, all backed by legendary Four Seasons service.
Admire the Beautiful Christmas Trees
Downtown Beirut is the place to be if you want to see the most popular Christmas lighting events in the city, as the famous Martyr Square welcomes Christmas with VIP appearances, music and a countdown to the Christmas tree illumination. Other celebrations include the Beirut Souks Christmas Tree Lighting event and our very own Four Seasons Christmas Tree Lighting ceremony.
Holiday Ice Skating
One of the best ways to get in the Christmas spirit and have some winter fun in Beirut is by wrapping up warm for an ice skating session at Beirut Ice Skating, just a few steps from the Hotel.
Visit Byblos Christmas Village
Without a doubt, Lebanon's most comprehensive Christmas attraction is the Byblos Christmas Village. An hour drive from Beirut, enter a world of Christmas bliss with stunning lights, decorations and other festive attractions. Admire the sky-high Christmas tree that has been featured in The Guardian and Wall Street Journal. Numerous food stalls and a traditional Christmas market add to the merry atmosphere.
Shop for Gifts
Shopping in Beirut at Christmas is a sightseeing opportunity in itself, as ABC, Beirut Souks, Aishti Seaside and Le Mall all boast dazzling Christmas displays and impressive seasonal decor both inside and out. From department stores to high-end boutiques, shopping for your Christmas gifts in the city definitely won't disappoint.
Check Out the Christmas Street Food Market
A popular annual event Souk El Akel, Christmas market edition is a food celebration showcasing Lebanon's vibrant culinary world of foods including Lebanese, Middle Eastern and international bites, and can be found at various locations throughout the city. Entertainment, parades, kids area, food court, and much more await.
Attend a Christmas Concert
One of the season's most anticipated highlights, Beirut Chants Festival welcomes during December performers from all over the world, both established and emerging, to share heart-warming performances in the many beautiful and historic churches of Beirut.
Beyond the Liberty Bell: Exploring Western Philly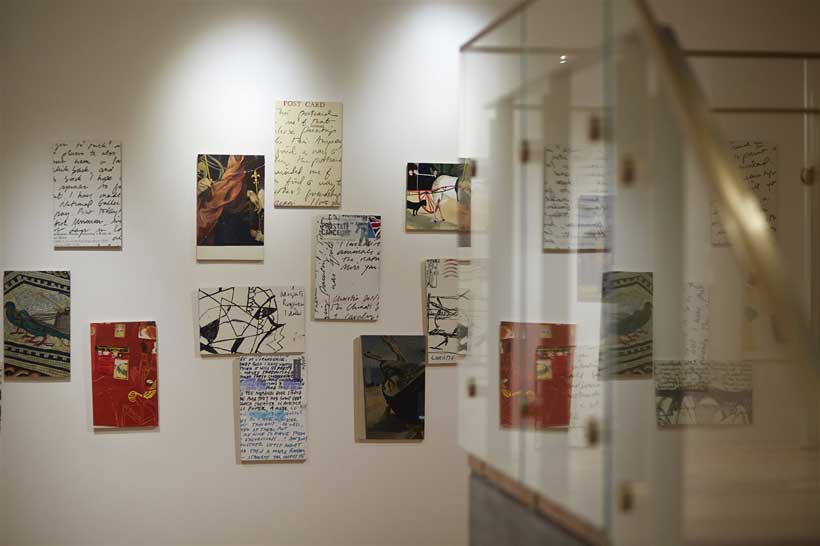 A visit to Philadelphia is sure to be steeped in American history and culture. It doesn't get more American than the Liberty Bell and Independence Hall, where the Founding Fathers signed the Declaration of Independence in 1776. And it doesn't get more authentically Philly than cheesesteaks at competing Geno's Steaks and Pat's King Of Steaks, and the oldest farmers market in the country, Reading Terminal Market. But, when you've been there, done that, what else can you explore?
Philadelphia neighborhoods beckon the savvy traveler who can, by slowing down, get a glimpse of what it's like to live here, to exhale and experience the heart and soul of a great American city. One neighborhood that's not on the radar of many travelers, but should be, is West Philadelphia, or West Philly as it is commonly known, with University City as its bustling heartbeat. Aptly named — the University of Pennsylvania and Drexel University are located here — the area buzzes with youthful exuberance. The diverse, worldwide student population brings the magic of different languages, dialects and customs to the area.
Strolling along the bustling sidewalks, visitors will find a foodie's dream with a vibrant street-food scene, high-end, locally owned restaurants and everything in between. Historic sites and museums are everywhere, with some pop culture icons as well, and the parks add a touch of green to the cobblestone and brick.
Here are some gems of West Philly not to be missed:
* The Penn Museum will take you back to ancient times in faraway places and other lands. You'll find jewelry from Ethiopia, Mayan sculptures, an Egyptian tomb, the Granite Sphinx of Ramses and new Middle East galleries. After you've seen the amazing American History of Philadelphia, the Penn Museum gives you the world.
* World Cafe Live is a multi-level venue devoted to music and good food. Take a seat upstairs at the chic Upstairs Live Cafe, where you can get late-night food and drinks along with an eclectic array of live music (they don't call it World Cafe Live for nothing!). Downstairs Live is a larger concert venue, hosting nationally known artists. It's also the home of WXPN radio, which broadcasts a show of the same name.
* The Study at University City is a local gem for guests who believe the right hotel can enhance and elevate an already wonderful trip into the stratosphere. This is not a cookie-cutter chain, but a boutique that features local artwork in an onsite gallery; hand-blown glass light fixtures (locally made); display cases with artifacts of the city's past; and its lobby, dubbed the Living Room, a vibrant and dynamic core of the hotel, a gathering place for guests to feel at home.
* Schuylkill River Trail meanders along some 30 miles of the Schuylkill river, and is a favorite of bicyclists, walkers, runners and families. Enjoy the green space along the riverfront, or use it as your way to and from the Philadelphia Museum of Art and other area attractions. If you really want to get your exercise and American history on, you can pick up the trail in West Philly and take it all the way to Valley Forge National Historical Park.
* The multitude of cuisines in the West Philly neighborhood is reflective of the diversity of the student population. A true foodie destination that's a bit off the beaten path, you'll find African, Middle Eastern, Mediterranean and Indian spots with daring fusions of flavors; upscale, chef-driven restaurants; and down-home Philly goodness. Highly recommended from the city's foodie community: Marigold Kitchen (its gin-marinated venison gets rave reviews), Aksum, which blends Mediterranean and North African cuisine; and Dock Street Brewing (Philly's first microbrewery) for all-American bar food, burgers and of course, beer.
For other insider tips on exploring West Philly, contact the knowledgeable staff at The Study at University City. They'll make sure you get the most out of your visit to the neighborhood.