Trade Negotiations: Geo-economics and Geopolitics
Trade negotiations have been increasingly used as a political tool. This is the first thing that comes to mind when one is trying to understand what is happening around the trade war unleashed by the administration of Donald Trump practically on all fronts: against the EU, China, Russia, Mexico and Canada.
On the eve of a visit to Washington of the European Commission President Jean-Claude Juncker, Donald Trump suggested that the EU, at the same time as the USA, abandon customs duties, barriers and subsidies. He said in his Twitter account that he suggests this because they will refuse just the same …
The visit ended with the conclusion of a trade deal, including the deal on duties on car industry products, but the question remained: of course, geo-economics and geopolitics are strongly interrelated, but is it permissible to use trade negotiations as an instrument of political bargaining, and why do we increasingly see this?
Just before Junker's visit the European Union and Japan signed world's largest free trade agreement, the volume of which is estimated at one-third of the World gross product (GWP), and which directly affects about 600 million people. In contrast to the actions of the Trump Administration, which recently tightened import tariffs, this was seen as an important step in protecting free trade.
It was also reported that the European Commission is completing negotiations on the establishment of a free trade zone (FTA) with MERCOSUR, which in its scale can exceed the FTA with Japan (the members of this trade and economic union account for 250 million people and over 75% of Latin America's total GDP ). Again, the question arises: is there still an immediate political context here, since the negotiations on the establishment of the FTA have been going on for years, if not for decades, and why is it announced right now about their triumphant conclusion?
The USA has a recent experience of large-scale trade negotiations, the politicization of which ended in a fiasco. The issue is the establishment of the Trans-Pacific Partnership (TTP), which implied the borders expansion and the deepening of interstate agreements on the unification of the legal field. It was planned to supplement the agreements on the liberalization of trade in goods and services under the norms of free trade agreements with the legal regulations on investment, innovation exchanges, protection of intellectual property, labor relations, management of migration flows, environmental standards and competition standards.
The USA tried to involve many Asian and Pacific countries in the creation of the TTP, but China, the main economic entity in Asia, was excluded from this union. For China, with its state protectionism in sensitive industries that provide economic growth and employment (and therefore important for political stability), the conditions of the TTP were initially unacceptable. Beijing, not without reason, suspected that the USA wanted to create a trade bloc in Asia without the participation of the PRC in order to kick China out of integration processes. That's why China has tried to create an alternative to the TTP by promoting its project – the Regional Comprehensive Economic Partnership (RCEP).
As we recall, Donald Trump "buried" the TTP as a legacy of Barack Obama, and now this partnership under the "TTP Plus" brand is already living its life without the participation of the United States. The main thing is that after the TTP deal any other initiative of this kind (for example, the idea of the Indo-Pacific partnership) automatically raises fears among its potential participants: whether they will be drawn into confronting China, whose trade and economic relations are so important for many countries in South-East and South Asia.
The experience and lessons of US trade negotiations are, of course, important for Russia, but mainly in "how not to do." In the same Asia-Pacific region, a large number of trade agreements operate, differing in the depth of liberalization and in the number of participants, which creates the potential danger of dividing the region into separate competing associations. Therefore, for Russian participants in trade negotiations, the choice is unambiguous: to avoid their unnecessary politicization and to act on the basis of transparency and openness, with mutual consideration of the interests and capabilities of the parties, by relating any possible agreements with the multilateral trading system of the WTO.
Russia's participation in the negotiations on the creation of free trade zones and integration projects is determined by its long-term geo-economic and geopolitical considerations, and at present, when Russia is in search of an "entry point" to this process, the latter can be assessed as the most relevant.
Equally, and perhaps even more important for Russia is the fact that, unlike such trade and economic "giants" as the United States and China, it is now not so much interested in the development of liberalization of regional trade (trade liberalization), as in the strengthening of its transparency and trade-economic interconnection (trade facilitation), the creation of a fair, stable and balanced trade and economic system, including in Eurasia and the Asia-Pacific region, which responds to the priorities and development level of the Russian economy, especially its export-oriented commodity-producing industries.
That is why Russia has taken a course in upholding the priorities of transparency and interrelatedness of trade and economic relations since this is what helps it become an active and interested participant in the discussion of new rules for regional and world trade.
Such a course is consistent with the long-term geo-economic and geopolitical interests of Russia, primarily in such a priority area as Eurasian integration and the development of the Eurasian Economic Union (EEU).
And here it is necessary to remember the lessons of the recent past connected with excessive politicization. The intensification of Russia's and the EU policy towards the countries of the region of their "common neighborhood" led to the fact that some of them (Ukraine, Georgia, Moldova) were faced with a tough choice in favor of the priority development of relations with the EU or the Eurasian association. In a number of countries, this has greatly reduced the opportunities for the traditionally conducted by their governments maneuvering strategy between Moscow and Brussels and led to an internal political escalation.
In Moscow, this was well understood, and there were no contradictions between the processes of Eurasian integration and the development of relations with the European Union, if the EEU and the European Union began to base their interaction on the principles of free trade and compatible regulatory systems.
However, the European Union held the view that the obligations within the framework of the Customs Union exclude for its members the very possibility of introducing a free trade zone (FTA) with the European Union – in contrast to the CIS Multilateral Free Trade Zone (based on a treaty signed in October 2011 by Kazakhstan, Russia, Byelorussia, Kyrgyzstan, Tajikistan, Armenia, Moldova and Ukraine), which does not presuppose the work of supranational bodies. From Moscow's point of view, such obstacles can be lifted if one follows the path of establishing an FTA between the EU and the EEU.
In the article published by the German newspaper  "Süddeutsche Zeitung" in November 2010, Vladimir Putin (at that time the Russian prime minister) put forward a long-term plan for the construction of a free trade zone between Russia and the EU (by the way, at that time the World political vocabulary acquired the term "conjugation").
Unfortunately, this idea, dictated by absolutely economic logic, was coolly received in European political circles, and the reply from Brussels was, not without political arrogance, that the EU's relations with the above countries do not require Russia's participation. Show Europe then a little more foresight, many undesirable events in the post-Soviet space could have been avoided …
Russia is still trying to convince its partners to abandon the opposition of European and Eurasian integration in favor of conjugating both projects. So far, unfortunately, neither the post-Soviet integration, nor the EU is consistent with these aspirations.
However, the dynamic development of integration processes in the Asia-Pacific Region offers Europe and Eurasia a new challenge. Given the geographical situation of the post-Soviet countries between Europe and Asia, the development of infrastructure networks and cross-border transport projects with access to China and other countries, the APR would create conditions that would ensure a more favorable external environment for the conjugation of Eurasian and European integration and strengthen the competitiveness of these integration entities.
And here economic logic would help to gradually overcome political contradictions. The solution of the accumulated geopolitical problems could be the creation of a common free trade zone of the EU, the EEU, Ukraine and other Eastern Partnership countries associated with the EU. However, in addition to political will, it takes time to solve a large number of purely economic and technical issues. Effectively, such a project can be facilitated by the fact that all the countries involved are either WTO members or are planning to become them in the near future.
First published in our partner International Affairs
Retirees worldwide will outlive their savings by a decade – and women will fare worse
Retirees in six major economies can expect to outlive their savings by years. Women should prepare to bear the brunt of such shortfalls, going without retirement savings for at least two years longer than their male counterparts.
As government and employer-sponsored retirement plans are under strain globally, individuals have found themselves to be increasingly responsible for their retirement savings. Despite this, savings have not accelerated fast enough to make up for the deterioration of traditional retirement plans, suggests a new report by the World Economic Forum, Investing In (and for) Our Future.
In six economies analysed, most male retirees can expect to live past their savings by nearly a decade. Women can expect to go even longer without their savings, as they will likely live more than 10 years without retirement savings to rely on due to their longer average lifespans.
These shortfalls can vary greatly by country and gender; men in the United States are expected to outlive their savings by about eight years while women in Japan will live nearly 20 years past their savings account. Despite these vast differences, the average retiree in Australia, Canada, Japan, the Netherlands, the United Kingdom, or the US will not be able to last through retirement on savings alone.
These shortfalls must be addressed, by both individuals and policy-makers, to ensure that seniors can enjoy life throughout their non-working years.
Governments must act to create retirement landscapes that prevent savings shortfalls. Currently, retirement policies in many countries, including India and China, can often hinder optimal retirement savings and investments.
Though governments should act, they would be wise to avoid implementing one-size-fits-all retirement policies as individual retirement needs can vary greatly from person to person. Instead, governments should change, or even roll back, their regulations to allow individuals to make investments that will increase their long-term returns.
A new report from the World Economic Forum identifies two key investment changes governments should allow so individuals can most effectively address their savings gaps. Both identified actions aim to optimize investment so retirement savers can achieve higher yields from their savings.
1. Consider risk from the perspective of someone saving for retirement
"The real risk people need to manage when investing in their future is the risk of outliving their retirement savings," said Han Yik, Head of the Institutional Investors Industry, World Economic Forum. "As people are living longer, they must ensure they have enough retirement funds to last them through their longer lives. This requires investing with a long-term mindset earlier in life to increase total savings later on."
Many people are far too risk-averse in their retirement investing. While consistent saving is important to build retirement money, being mindful of long-term returns on retirement portfolios is crucial to ensuring that an individual doesn't outlive their savings. Many young to middle-age savers should change their risk outlook, understanding that outliving their savings is a far greater risk to them than short-term investment risk.
2. Diversify the investment of saving accounts, by geography and asset type
While focusing on long-term returns is often beneficial for retirement savers, diversification can preserve those returns by mitigating overall investment risk.
Currently, most retirement investment vehicles are largely based on traditional equity and fixed-income investments that have the advantages of being easy to value as well as having high liquidity. However, given the long-term nature of retirement savings, that liquidity comes at a cost. Although they require adequate understanding and sound financial advice, investment in alternative assets, particularly illiquid assets, can bring strong diversification benefits to a retirement investment portfolio.
In this area, again, policy-makers must ensure their retirement policies do not hamper the ability of individuals to make the best long-term choices for their portfolios. In most countries, default retirement options focus on liquidity and the ability to perform daily valuations at the expense of long-term growth. Governments should consider changing or even rolling back these regulations to allow retirement savers to invest in the assets best suited to their individual retirement goals.
In addition, many retirement portfolios also tend to have a heavy domestic focus. Diversifying the geography of investments in portfolios can reduce risk to home country economic events. By expanding the locations of their investments, retirement savers, particularly savers from smaller economies, can protect themselves from market or economic slumps in an individual economy while still maximizing their returns.
Decumulation, or spending in retirement, is another key area of well-being after the working years yet there is far less research dedicated to it.
For instance, today's retirement spending projections are based on the rule that retirees will withdraw 4% of their portfolio each year they are retired. However, the World Economic Forum and Mercer suggest that this estimate does not match how retirees spend in the real world, with much higher spending in early retirement years and less as retirees age. This spending volatility highlights the need for new retirement solutions that both allow for flexible spending while also ensuring savings that last through retirement.
"With populations around the world living longer than ever before, we need far more creative decumulation solutions for longevity protection" says Rich Nuzum, President, Wealth at Mercer. "There are some alternative solutions emerging such as pooled annuity funds, but older individuals are going to need a more diverse range of financial tools to help protect against longevity risk."
Some countries, such as the UK and the Netherlands, have begun to recognize the importance of robust policies for the decumulation period and are even considering rolling back regulations for retirement savings. However, there is much more to be done in this area to ensure that seniors can thrive during their period of enjoying the funds they have worked so hard to save over their working years.
Sustainable development: Within reach in Iran and Asia and the Pacific
Climate change is increasing the intensity and frequency of natural disasters in Asia and the Pacific. The tragic loss of life and the destruction wrought by recent flooding in the Islamic Republic of Iran is a reminder of the threat to lives, livelihoods and societies posed by extreme weather events. A reminder that only an integrated response to economic, social and environmental challenges can pave the way to sustainable development.
The floods which swept across the Islamic Republic of Iran in spring this year were devastating. They affected 10 million people and 500,000 people were displaced of which half were children. Hospitals and schools were destroyed, denying 100,000 children and education and thousands access to basic health care. Large sections of the country's road network were affected, which will weigh on the economy, but also impact on many families' daily lives. Damages have been estimated at $4.7 billion, a third of which concern the agricultural sector, critical to many livelihoods.
Yet as tragic and costly as the recent floods have been, they are also part of a wider phenomenon: the increasing risk of natural disasters outpacing resilience in the Islamic Republic of Iran and in Asia and the Pacific. Sand and dust storms, drought, desertification and wind erosion are all expected to rise in South-West Asia by 2030. Intensified by climate change, these disasters are becoming increasingly frequent. They hit the poor and vulnerable hardest, particularly in informal settlements. Some of Iran's least developed provinces have suffered the most, with successive sand and dust storms destroying crops and infrastructure, and undermining people's health, study and work.
These challenges exemplify why economic, social and environmental considerations must be considered together, if we are to effectively mitigate the consequences of natural disasters and achieve sustainable development. Evidence from across the globe tells us ignoring the social impact of economic growth can place a huge strain on societies, and at its worst lead to instability and conflict. Ignoring the environmental cost of economic growth in many parts of our region has led to climate change and an increased risk of natural hazards, which entrench poverty and perpetuate inequality. Nowhere is an integrated, multilateral response needed more than in Asia and the Pacific, the most disaster-prone region in the world.
With this in mind, the United Nations Economic and Social Commission for Asia and the Pacific (ESCAP) has worked with the Islamic Republic of Iran to establish the Asian and the Pacific Centre for the Development of Disaster Information Management (APDIM) in Tehran. It will deliver targeted capacity development for disaster information management and knowledge sharing. A regional cooperation mechanism for combatting the sand and dust storms has already been adopted. This will work to reduce the causes of risk of multiple hazards, develop a sand and dust storms alert system and tap regional partnership networks to enhance technical support where it is most needed.
My ambition is for APDIM to fit into a broader regional development and cooperation effort. One to reduce the inequality and environmental degradation which have accompanied recent exponential economic growth in our region. Our analysis shows the investment needed to achieve sustainable development in Asia and the Pacific is within reach. Developing countries' investment needs stand at an additional $1.5 trillion per year, or five percent of their combined GDP. In the Islamic Republic of Iran, we estimate investments needed to climate-proof basic infrastructure are equivalent to roughly 1 per cent of Iran's GDP in 2018. Further investment would be required in education and people centered approaches to build resilient communities and economy.
Sustainable development which balances economic growth with the need for social inclusion and environmental protection is essential to ensure a prosperous Iran today and a clean, compassionate and safe future for our children. Investing in people, as well as investing in skies, land and water can ensure that future. The Islamic Republic Iran has the means and the will. Yet persistence will be required to achieve this ambition, and the United Nations family stands ready to assist in any way it can in the months and years ahead.
A sustainable greener future needs green employment skills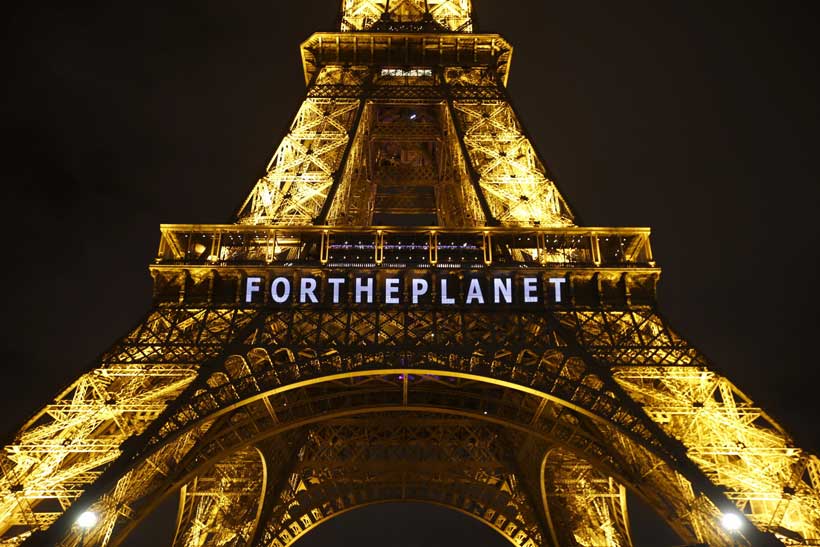 Climate change and environmental degradation are among the greatest challenges of our times. The signatory states of the 2015 Paris Agreement on climate change recognized the need for urgent action. But a commitment to environmental sustainability by itself is not enough. On the one hand, climate change and environmental degradation reduce productivity and destroy jobs and the effects fall disproportionately on the most vulnerable. On the other hand, the transition to a green economy has the potential – if handled correctly – to create tens of millions of sustainable jobs.

So far 183 countries have committed to the Paris Agreement target (of keeping the rise in global temperatures to less than two degrees Celsius) by submitting national determined contribution (NDCs) documents that detail the adaptation and mitigation measures they plan. However, while two-thirds of these NDC's recognize the importance of boosting capacity development and public knowledge of climate change, fewer than 40 per cent include any plans for skills training (or retraining) to support their implementation. What's more, more than one in five have no plans for any training or capacity development measures at all.
This should ring alarm bells. Commitments to greening economic sectors such as energy, agriculture, waste management, manufacturing and transport can't advance into concrete change if the necessary skills are not available. It is women and men with the right knowledge and skills who will take the decisions, and develop and maintain the technology, green production processes and sustainable investment strategies that are outlined in the NDCs and other policy documents.

Skilling, reskilling and upskilling covers not just technical skills but, core/soft skills (such as environmental awareness, analytical skills, teamwork, innovation, communications, leadership, negotiation abilities, and management and entrepreneurship skills), which can offer a comparative advantage because they can easily be transferred across occupations. Other most wanted skills include sales and marketing, customer handling, repair, digital skills, scheduling and budgeting, to mention just a few examples.

These issues will be discussed at the Global Forum, Boosting Skills for a Just Transition and the Future of Work (6 June), where the Key Findings of a forthcoming report Skills for a greener future (to be published later this year) will be discussed. The report includes information from 32 countries. The aim of the Forum is to highlight the need for concrete action on skills, identify occupational needs, skills gaps, and response strategies related to a sustainable future of work, and discuss possible multi-lateral collaboration that can advance green human capital.

We know this will require massive investment. But it can create millions of new jobs and repurpose many existing ones. Particular attention must be paid to ensuring that women are included in relevant skills training, so that these measures help reduce the gender gap and combat gender stereotypes rather than entrenching them. The number of high-skilled and – especially – middle-skilled jobs have the potential to grow if there is investment in relevant skills training. Workers in construction, manufacturing, agriculture and sales may gain employment if the green transition is supported by skills development. This requires good coordination across different ministries and between public and private sectors. Yet, our review of 32 countries shows that current policies are often piecemeal and lack subsequent action.