100 years of history: Historic hotel celebrates worker heritage
If you're the curious sort who enjoys exploring historic sites in your free time, you're far from alone.
Because people are fascinated with learning more about how Americans lived, thought and dreamed in the past, many seek out such cultural enclaves anytime they travel. That helps explain the $762 million in revenues logged by U.S. historic sites in 2013, according to Statista. Other research predicts the revenues realized by U.S. museums and historic sites will more than double between 2018 and 2022.
"Historic places create connections to our heritage that help us understand our past, appreciate our triumphs and learn from our mistakes," the National Trust for Historic Preservation recently noted. "Historic places help define and distinguish our communities by building a strong sense of identity. When you visit a historic site, you learn from their stories."
One fascinating and culturally rich historic site you may not have visited is The American Club, a Forbes Five-Star and AAA Five-Diamond resort hotel in the heartland of Kohler, Wisconsin. The iconic hotel owned by Kohler Co., global leader in plumbing, was built in 1918 as a dormitory for its immigrant workers. This year the multifaceted national attraction celebrates its centennial anniversary in grand style, with even more activities and offerings for its guests.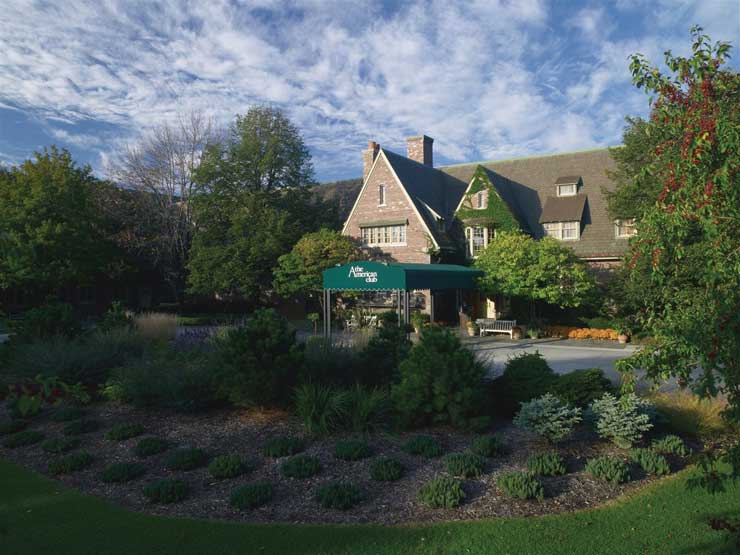 Year-long features of the celebration include a new history exhibit, guided tours and a new cast iron sculpture installation, "The Immigrant," created by artist Stephen Paul Day. Day took part in the Arts/Industry program and was inspired by the company history. The four-star restaurant, The Immigrant, will offer a tasting menu featuring dishes from France, the Netherlands, Germany, Normandy, Denmark and Great Britain — the primary homelands of original Kohler employees. Group Director Lodging for Kohler Co., Christine Loose explains, "The concept of gracious living and creating a sense of belonging has always been important to the company and our heritage."
With its trademark red brick, striking Tudor architecture and soaring roof peaks and slate tile, the landmark is recognized by both the Historic Hotels of America and the National Register of Historic Places.
Aside from the historic elements of The American Club, visitors and guests can partake of several other features offered in or near the surrounding resort known as Destination Kohler. Key attractions include the Forbes Five-Star Kohler Waters Spa; a lakeside boutique hotel known as the Inn at Woodlake; cycling and yoga studios; four championship golf courses (Blackwolf Run and Whistling Straits, the latter hosting the revered 2020 Ryder Cup); 12 dining establishments, renovation inspiration at the Kohler Design Center, and daily factory tours led by retired Kohler employees spotlighting the evolution of day-to-day manufacturing operations.
Destination Kohler is an hour north of Milwaukee and 2.5 hours north of Chicago. Learn more about its many attractions at DestinationKohler.com.
Camille Corot is best known as the great master of landscape painting in the 19th century who bridged the French neoclassical tradition with the impressionist movement of the 1870s. His figure paintings constitute a much smaller, less well-known portion of his work, but they appeared throughout his prolific fifty-year career, with particular force toward the end. Rarely seen outside his studio during his lifetime, these works made an impact on later nineteenth- and early twentieth-century modernist artists who copied or borrowed from them, such as Paul Cézanne, Pablo Picasso, and Georges Braque. Dressed in rustic Italian costume or stretched nude on a grassy plain, Corot's women read, dream, and gaze directly at the viewer, conveying a sense of their inner lives. His sophisticated use of color and his deft, delicate touch applied to the female form resulted in pictures of quiet majesty. The forty-five paintings on display, created between the mid-1830s and the early 1870s, are largely divided into three major subjects: costumed single figures, nudes, and allegorical studio scenes.
The exhibition is curated by Mary Morton, curator and head of the department of French paintings, National Gallery of Art, Washington September 9 – December 31, 2018
Dawoud Bey: Night Coming Tenderly, Black
Dawoud Bey's latest body of work is a series of black-and-white photographs that reimagine sites along the last stages of the Underground Railroad.
Photographer Dawoud Bey, the recent recipient of a MacArthur genius grant, decided to make a fresh start soon after his 60th birthday. Already renowned as a portraitist, he turned his camera on architecture and landscapes; accustomed to urban scenes, he decided to photograph thickets, a picket fence, and Lake Erie. Bey also returned to black-and-white printing, and more particularly to gelatin silver prints, which he had not used since the early 1990s. Through these choices Bey wanted to make a far greater shift: from pictures of the here and now to the vast, historical subject of the Underground Railroad, the network of secret routes and safe houses that aided enslaved African Americans on their path to freedom.
Bey also wished to pay homage to photographer Roy DeCarava (1919–2009) and poet Langston Hughes (1901–1967), who each addressed the African American experience in their work in part by foregrounding what DeCarava called "a world shaped by blackness." DeCarava's mastery of even the darkest tones gave Bey a model for depicting the twilight uncertainty that those fleeing slavery confronted as they traveled northward. Meanwhile, the closing couplet of Hughes's short poem "Dream Variations"—"Night coming tenderly / Black like me."—inspired the exhibition title. Bey has said that he wanted to hold darkness itself in a tender embrace.
The result is a series of 25 large-scale photographs, most of which are on view in this presentation—the first showing of Bey's latest body of work in a museum. All the pictures were made around Cleveland and Hudson, Ohio, a final way station for those seeking freedom in Canada. The photographs show homes and patches of land that are rumored to have formed part of the invisible railroad "track," leading those seeking freedom from one unfamiliar place to the next.
Bey chose a dense, vibrant selection of 19th- and 20th-century photographs from the Art Institute's collection to hang directly outside the exhibition gallery, works that complement the exhibition by suggesting the range of ways that the American landscape has been represented in photographs and the place of African Americans within that physical and social landscape.
Night Coming Tenderly, Black was commissioned by FRONT International: Cleveland Triennial of International Art. Art Institute of Chicago Jan 11–Apr 14, 2019
Crystal Award Winners 2019
Conductor Marin Alsop, film director Haifaa Al-Mansour, and broadcaster and naturalist Sir David Attenborough, are the recipients of the 25th Annual Crystal Award, the World Economic Forum announced today. The award celebrates the achievements of leading artists and cultural figures whose leadership inspires inclusive and sustainable change. The winners will be honoured in the opening session of the World Economic Forum Annual Meeting 2019 in Davos-Klosters, Switzerland, at 18.00 CET on Monday 21 January. The ceremony will be webcast live at www.weforum.org.
"Any new architecture for 'Globalization 4.0' will need to be both inclusive and sustainable. The remarkable achievements of the recipients of the 25th Annual Crystal Award inspire us to see beyond the limits of convention to find solutions for the current issues the world faces," said Hilde Schwab, Chairwoman and Co-Founder of the World Economic Forum's World Arts Forum, which hosts the awards.
Awardees
Marin Alsop, for her leadership in championing diversity in music
Marin Alsop, Music Director of the Baltimore Symphony since 2007, is one of the greatest conductors of our time. Earlier this year she was the first woman to be appointed Chief Conductor of the Vienna Radio Symphony Orchestra and, in 2013, was the first woman in 118 years to conduct the BBC's "Last Night of the Proms". She has tirelessly endeavored to provide opportunities for all people to access music for a world where diversity in classical music is the norm rather than the exception. In Baltimore she launched the "OrchKids" programme to serve the city's less privileged children, and the BSO Academy and Rusty Musicians for adult amateur musicians. She is also Music Director of the São Paulo Symphony Orchestra. A graduate of Yale University and a MacArthur Fellow (2005), at the Annual Meeting, she will lead the Opening Performance with the Taki Concordia Orchestra.
Haifaa Al-Mansour, for her leadership in cultural transformation in the Arab world
Haifaa Al-Mansour is the first female filmmaker in Saudi Arabia. "Wadjda", Al Mansour's feature debut, was the first feature film shot entirely in Saudi Arabia and the first by a female director. The success of her 2005 documentary "Women Without Shadows" was a breakthrough that was followed by a new wave of Saudi filmmakers and front-page headlines of Saudi Arabia finally opening cinemas in the kingdom. She was recently appointed to the Board of the General Authority for Culture to advise on the development of the cultural and arts sectors in Saudi Arabia. She recently released "Mary Shelly" starring Elle Fanning, and "Nappily Ever After" starring Sanaa Lathan. Al Mansour is the first artist from the Arabian Gulf region to be invited to join the Academy of Motion Picture Arts and Sciences.
Sir David Attenborough, for his leadership in environmental stewardship
Sir David Attenborough's broadcasting career spans more than six decades during which he has played an extraordinary role both reinventing and developing the medium of television and connecting people to the wonders of the natural world, bringing distant peoples, animals and habitats into living rooms across the planet. As a BBC producer and executive, he has played a crucial role in creating new forms of programming and scheduling that, to this day, influence global broadcasting. His work includes many iconic productions, from the ground-breaking "Zoo Quest" series to landmarks including "Life on Earth", "The Living Planet", "The Trials of Life", "The Private Life of Plants", "Life of Mammals" and "Planet Earth". At the Annual Meeting, Sir David will present key sequences from "Our Planet", a new series by WWF, Netflix and Silverback Films, focusing on the preservation of life on Earth.