Analysis of Alon Confino's "A World Without Jews: Interpreting The Holocaust"
Following the period of moderate engagement with the Holocaust between 1945 and 1975, Holocaust perception from the mid-1970s to the present has been characterized by two simultaneous trends. The first trend is prominent in miscellaneous fields such as history, philosophy, the arts, and the literature has involved a strenuous attempt to acknowledge as well as realize the Holocaust and to cope with the difficulty of representing it. The second tendency might appear to stand in opposition to the intense discussion of the limits of Holocaust representation, is manifest in the massive cultural production of the Holocaust in history books, novels, comics, plays, films and other artistic vehicles.  In general, taking into consideration of Nazi policy towards Jewish, there are three overriding notions:
The Holocaust, according to Saul Friedlander, was determined by the centrality of ideological-cultural factors as the prime movers of Nazi policies in tandem with the Jewish issue, depending mainly on circumstances, institutional dynamics, and essentially… on the evolution of the war… The anti-Jewish drive became ever more extreme along with the radicalization of the regime's goals and then with the extension of the war… The context of the war has been viewed as the breeding ground for the extermination and annihilation of Jews. Germans in occupied Eastern Europe… were living in a context in which the expulsion, even the extermination, of entire peoples was publicly discussed, a readiness to indulge in brutality and fanaticism was ubiquitously demanded, and the actions of individuals were legitimized by history and politics.
The war in general but especially the war on the Eastern Front, following the German invasion of the Soviet Union on 22 June 1941, was fought as a racial ideological struggle for life or death, whose prime enemies were the Bolsheviks and Jews. The barbarization of war on the Eastern Front, a cumulative result of the scale of the fighting, geographical conditions, and ideological indoctrination, led to killing and extermination. The notion of the radicalization of racial ideology has been important for capturing the contingency that ran through the making of the Holocaust. The radicalization is no longer understood as a realization of long-term plans or as inherent in the system, but rather as the outcome of plans for the deportation of the Jews that were always being revised and extended. Holocaust is squarely placed within the context of the regime's overall racial ideology. The 'current scholarly consensus, writes Herbert, is that those who organized and carried out the extermination were committed ideologies who wanted to build a better world through genocide. Was there a master plan on the part of Adolf Hitler to launch the Holocaust? Intentionalists argue there was such a plan, while functionalists argue there was not.
Did the initiative for the Holocaust come from above with orders from Adolf Hitler or from below within the ranks of the German bureaucracy? Although neither side disputes the reality of the Holocaust, nor is there a serious dispute over the premise that Hitler (as Führer) was personally responsible for encouraging the anti-Semitism that allowed the Holocaust to take place, intentionalists argue the initiative came from above, while functionalists contend it came from lower ranks within the bureaucracy. Christopher Browning coined the term 'moderate functionalism', in which the centrality of Hitler's belief and the role was recognized, but without an original grand design to kill the Jews. Philippe Burrin's notion of 'conditional intentionalism' recognized the centrality of evolving circumstance during the war but continued to emphasize Hitler's intention to exterminate the Jews.
"Heimat" idea as a Nazi formula
The Nazis took the Heimat idea, radicalizing and using it for their ideological purposes. It can be argued that here is another example of the hegemony of race. It was perceived as essential to Germanness. The main point rather is that the Nazis identified their sentiment of nationhood, localness, and political legitimacy with the Heimat idea: the revolutionary idea of race was thus built on tradition, and the racialized Heimat idea fitted within the boundaries of the Heimat genre that existed before and after the Third Reich, as the Nazis articulated their Heimat in familiar, traditional rhetoric and images. It is not so much race that made sense of Heimat in the Third Reich, as the Heimat idea that gave meaning to racial sentiments, making them amenable, legitimate, and familiar. There are two main directions towards the Holocaust perception: local and central approach.
The local history of the Holocaust in the hamlets of Eastern Europe is possible once we rethink the interpretative framework of racial ideology, the radicalization of Nazi policy, and the context of war. The former one rearranges these categories in significant ways: it shifts the focus from the war conditions of the Wehrmacht soldiers to the communal relationships between Jews and eastern Europeans; from Nazi racial ideology to In Bartov's words, 'the obvious though long-underestimated fact that the Holocaust cannot be understood without tracing its imagery, fantasies, passions, and phobias, as well as practices and legislation, to medieval Europe and centuries of Christian anti-Jewish theology, incitement, and demagogy, from the radicalization of Nazi policies to the dynamic of social, political, economic, and cultural relationship on the local level.
According to the central approach, Germans, in the years following 1933, constructed a moral community based on anti-Semitic fantasies that made the persecution and extermination of the Jews possible by making them conceivable. At this historiographical juncture, we view the Holocaust as a problem of culture: the making of and believing in a moral community of fantasies. Third Reich was revolutionary but not as revolutionary as was argued by contemporaries and current historiography: it was a revolution based on continuities. It was a world made by a fusion of German and Nazi identities in a way that linked Germans in the Third Reich to pre-1933 traditions and forms of belief, and where the extermination of 1941 to 1945 was part of the symbolic universe of Germany between 1933 and 1941.
To sum up, ideology, in particular, racial ideology was a crucial point for Hitler's Germany. In the case of radicalization of racial ideology, the main step was led to extermination and annihilation of Jews community within the context of war and the Nazi policy in order to reconstruct European society without Jews. Of course, the Holocaust is still a contemporary history. Survivors are still alive and their nightmare will never be over as long as they live. The attempt to exterminate the Jews is and will remain a moral signifier of Judeo-Christian civilization. In this way, we try to consider views of the Holocaust as a European occurrence, as part of a larger Nazi attempt to reorder European civilization, as linked to other Nazi persecutions and genocides, to colonial imagination and dreams of empire. Moreover, 'cultural history, memories, methods, in particular ideologies in its contemporary sense' has been a highly important component of Holocaust research from its earliest beginnings.
Women outnumber men in higher education but gender stereotyped subject choices persist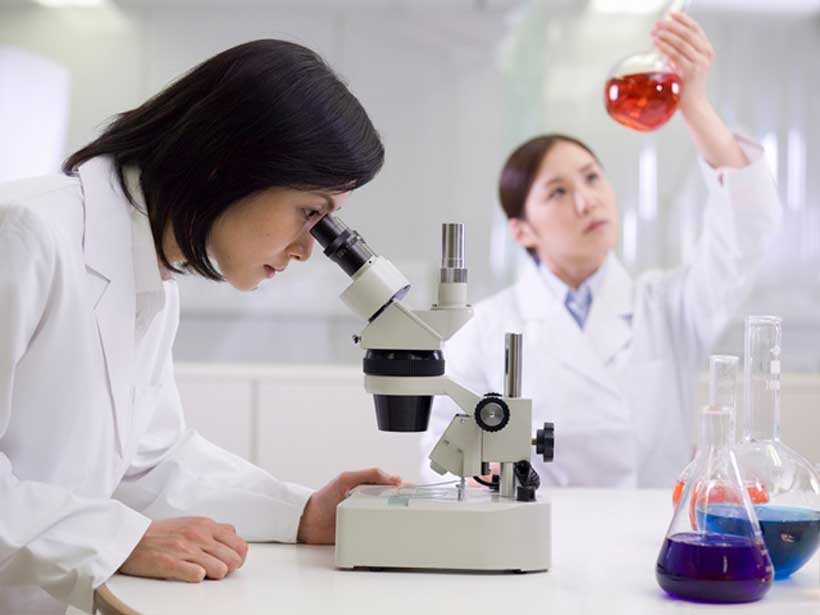 Education is essential to achieving gender equality. From the earliest schooling to the highest levels of post-graduate study, education influences the opportunities that can shape people's lives.
This is why education and training of women is one of the 12 critical areas of concern in the Beijing Platform for Action, while target 4.5 of the Sustainable Development Goals (SDGs) calls for the elimination of gender disparities in education by 2030.
In the UNECE region girls tend to outperform boys in terms of learning outcomes in schools, and women outnumber men in tertiary education (university level and beyond) in almost all countries of the region.
Women remain in the minority, however, as students of stereotypically "masculine" subjects such as ICT and engineering, although in recent years they have begun slowly gaining ground.
Tertiary level graduates
In 39 out of the 47 UNECE countries with data, more than 55 per cent of tertiary graduates are women. Iceland has the highest share, with 66 per cent women. Seven countries are close to gender parity, with the share of women ranging from 48 to 55 per cent, and only in Uzbekistan are women in a clear minority, with 38 per cent of tertiary graduates.
After decades of increase in women's participation in higher education, women substantially outnumbered men among tertiary level graduates in most countries by 2012. Since then, women's share has declined in 32 out of the 47 countries with data. Whilst in Azerbaijan and Turkey fewer than half of tertiary graduates were women in 2012, more women have entered tertiary education in these countries since and the 2017 data already show gender parity there.
Subject choices of women and men
The subjects studied at tertiary level by women and men can reflect stereotypes of "masculine" and "feminine" subject areas. Some subjects may be preferred by potential employers and may affect occupational segregation once graduates enter the labour market. Information and Communication Technologies (ICT) and Engineering, Manufacturing and Construction (EMC) are two broad groups of subjects where male students have historically predominated.
Women remain a minority among ICT students in the UNECE region, with percentages ranging from 11 in Belgium to 33 in Greece. The four countries with the largest share of women among ICT students are all in the Balkan region. Among students of EMC, the share of women is somewhat higher, but still falls far short of parity, ranging from 14 per cent in Georgia to 44 per cent in North Macedonia.
In both of these subject groups, the recent trend shows small gains for women in some countries but reductions in others. Overall, progress towards gender equality in these two typically male-dominated subject areas is uneven and slow.
UNECE Beijing+25 Regional Review Meeting
Progress in achieving gender equality in education will be one of the areas in focus at the upcoming Beijing+25 Regional Review Meeting for the UNECE region, with a particular emphasis on how women and girls can enter currently male-dominated fields.
The Beijing Declaration and Platform for Action of 1995 (Beijing Platform for Action) is the most ambitious road map for the empowerment of women and girls everywhere. In 2020, it will be 25 years since the Beijing Platform for Action outlined how to overcome the systemic barriers that hold women back from equal participation in all areas of life.
The Beijing+25 Regional Review Meeting (29-30 October 2019) will take stock of where the UNECE region stands on keeping the promises of the Beijing Platform for Action. Bringing together government representatives and key stakeholders from the UNECE region, the meeting will tackle a number of obstacles that keep girls and women from realizing their full potential. UNECE is joining forces with the UN Women Regional Office for Europe and Central Asia to deliver a two-day multi-stakeholder meeting to exchange concrete policies to accelerate the realization of gender equality. The outcomes of the meeting will feed into the global review of the Beijing Platform for Action taking place at the sixty-fourth session of the Commission on the Status of Women in New York from 9 to 20 March 2020.
Call for Action from Leaders and Business on Violence against Women
Spiralling levels of violence against women in Africa require immediate action from governments and businesses, including tangible measures to create safe spaces, experts from across the continent told the World Economic Forum on Africa today.
Protesters in South Africa have taken to the streets and social media to demand action, following the rape and murder of a Cape Town university student who was attacked in a post office. Uyinene Mrwetyana was just the latest of many victims of brutal assaults in a region where approximately 45% of women and girls over 14 years have experienced physical or sexual violence.
"I'm dumbfounded by the idea that we can continue with business as usual," said Namhla Mniki-Mangaliso, Director of African Monitor, who urged technology companies to take a lead in delivering solutions. "It would take a click of a finger for a tech company to say we are going to deploy a software that can assist us with an emergency response system for poor women in South Africa free of charge."
The potential for technology to help in the fightback highlights the need for businesses to think creatively, given that cyberbullying can also contribute to discrimination in the first place. Mniki-Mangaliso said the wider business community should also step up to the plate by backing a gender-based fund to address the deep-rooted problems behind the rising tide of physical and sexual assaults.
Hafsat Abiola-Costello, President and Chief Executive Officer of the Women in Africa Initiative, said Africa could learn from China, where decisive action was taken to ban harmful practices like foot binding and polygamy. African governments, by contrast, too often fail to enforce bans on polygamy or genital mutilation, thereby reinforcing a culture of discrimination against women that becomes embedded from childhood.
The failure to protect women is not just a moral issue; it also comes with a high economic cost. "Who drives African communities? It's our women. Our women can drive Africa's development, if given the chance, if protected, if their rights are respected," Abiola-Costello said. "Africa missed the first industrial revolution, we missed the second, we missed the third. If we don't address this issue, we will miss the fourth."
Obiageli Katryn Ezekwesili, who spearheaded the #BringBackOurGirls campaign in Nigeria and is a fellow of the Robert Bosch Academy, said calls for women to help drive African development will simply ring hollow if violence is not addressed. "The world lacks the moral pedestal to stand on to ask girls to aspire if we cannot have the back of those who are vulnerable," she said.
With 16,000 deaths due violence against in women every year in South Africa alone, Akudo Anyanwu, Associate Dean at Johns Hopkins University, said: "Our presidents and the leaders in government need to come out and take a position. We need to have our leaders come out and call crimes a crime."
Young women learn government fundamentals in nationwide leadership program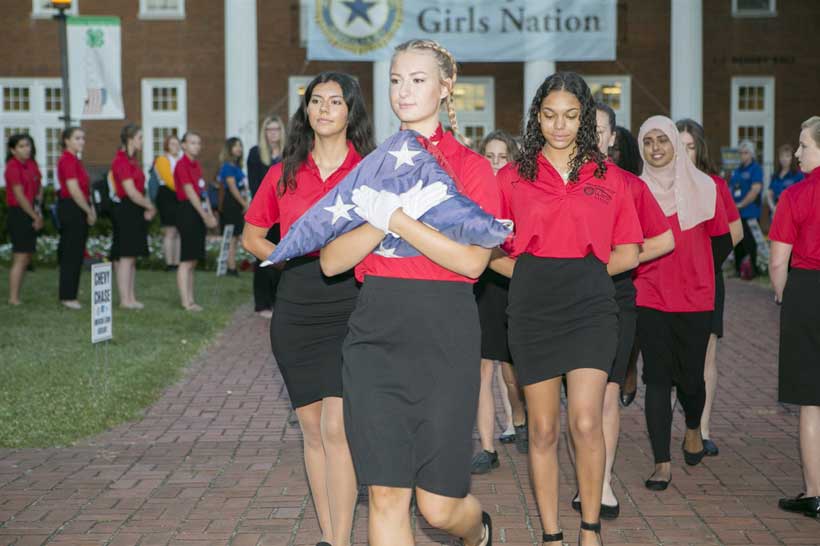 This July, two teenage girls from every state in the country met in Washington, D.C., for the 73rd annual American Legion Auxiliary Girls Nation. This one-week government-in-action leadership development program is designed to educate future leaders on U.S. government fundamentals and the rights, privileges and responsibilities of citizens.
The girls selected to go to ALA Girls Nation are chosen from week-long ALA Girls State programs in each state. The young women become "senators" for a week and participate in mock political campaigns and debates, visit historical sites, and meet their real-life counterparts on Capitol Hill. For a number of the participants, the program's impact extends beyond the weeklong event: Many go on to serve in the military and credit ALA Girls Nation as their source of inspiration.
New ALA member and U.S. Army Capt. Virginia Clark, stationed at Fort Benning in Georgia, is an ALA Girls Nation alumna. Though she says she has always been patriotic, her experiences at ALA Girls State and ALA Girls Nation helped her realize she wanted to serve her country. "Being around really motivated people made me realize I wanted to be around people who were spending their time doing things rather than looking for the next great party," Clark said.
Reflecting on where she has been and where she is going, Clark says she owes it all to the American Legion Auxiliary. "I wouldn't have gotten into West Point without ALA Girls State and ALA Girls Nation … I 100 percent owe, I think, my current life and my career — I met my husband at West Point — to the fact that I went to ALA Girls State and ALA Girls Nation."
For some girls, the Washington, D.C., leadership program is their first opportunity to connect with peers with common interests. For others, it is the first time they encounter students whose perspective differs from their own. For all, it is a moment in time where similarities and differences come together to symbolize strength, democracy and freedom.
Former ALA Girls State and ALA Girls Nation attendee Allyson Snelling, who is attending the U.S. Military Academy at West Point, chose a career in the military because she "loves everything it represents." She adds, "The values and lessons I've learned during my short time at West Point have made me a better person and leader." Snelling said the program taught her the power of one voice and the importance of communicating with others. "Being able to communicate with someone you may completely disagree with is becoming a lost art," she said. "ALA Girls Nation taught me that it doesn't matter if you agree; it matters that you understand."
ALA Girls Nation alumnae have gone on to hold leadership roles in industries spanning government, media, education and law, and many have become high-ranking members of the military.
Notable alumnae include Jane Pauley, national media personality; Susan Bysiewicz, lieutenant governor of Connecticut; retired Lt. Gen. Michelle D. Johnson, former superintendent of the U.S. Air Force Academy and former Air Force aide to the President; Ann Richards, former governor of Texas; and Susan Porter-Rose, former chief of staff to First Lady Barbara Bush, among many others. ALA Girls Nation is proud to be a foundation of support to the future strong women of this great nation.
The American Legion Auxiliary (ALA) is a nonpartisan organization committed to advocating for veterans' issues, mentoring America's youth and promoting patriotism. They advance the mission of The American Legion, incorporated by Congress in 1919 as a patriotic veterans organization founded on four pillars: Veterans Affairs & Rehabilitation, National Security, Americanism and Children & Youth.