ADB's New Power Transmission Project Supports Electricity for All in Bangladesh
The Asian Development Bank's (ADB) Board of Directors has approved an assistance package totaling more than $357 million for a project to develop two power lines in support of Bangladesh's national target of electricity for all by 2021.
The investments comprise a $350 million ADB loan, a $7 million grant from the Japan Fund for the Joint Crediting Mechanism (JFJCM) to partially finance new high-technology energy efficient conductors, and a $500,000 grant from the Republic of Korea e-Asia and Knowledge Partnership Fund (EAKPF) to promote socially inclusive growth with gender equality.
"Bangladesh has been experiencing impressive economic growth over the last decade, but to maintain and even accelerate this, more investments are needed for the power transmission network to meet growing electricity demand," said ADB Senior Energy Specialist Mr. Aiming Zhou. "In support of this, the ADB project will make the power transmission system more efficient, reliable, and environmentally friendly."
Despite its recent economic success, Bangladesh continues to face major challenges. A top priority of the government is to address infrastructure deficiencies, including modern and affordable energy services, which face recurring shortages and ever-rising demand. About 35 million people in the country are without access to electricity. Inadequate transmission lines and substation transformer capacities in the southern and western regions are the main contributors to transmission bottlenecks. At the same time, construction of new transmission lines has become more challenging because of the high population density and limited rights-of-way.
The Southwest Transmission Grid Expansion Project builds on ADB's previous work in the Bangladesh power sector, including the recently approved Rupsha 800 megawatt Combines Cycle Power Plant in the southwest region, to address continuing deficiencies in the transmission system through providing more efficient power transfer to the load centers of the southern and western zones.
The project will develop a 126 kilometer (km)-long 230 kilovolt (kV) transmission line from Barisal to Faridpur; and a 104 km-long 400 kV transmission line from Bogra to Rohanpur, along with substations, transformers, and associated extensions and connections.
The new transmission lines will introduce to Bangladesh a new type of high temperature conductor to allow more power transfer at lower energy losses. These have less resistance to power flow, higher power transferring capacity, and operate more reliably in tropical weather. In addition, the use of these conductors also helps to minimize right-of-way requirements.
The project is also contributing to climate change mitigation, since the new conductors reduce carbon dioxide emissions compared to conventional transmission conductors that are used in Bangladesh. This climate change mitigation accounts for $93 million of the investment, comprising $86 million from the ADB loan and $7 million from the JFJCM grant.
Under the EAKPF grant, the project will fund a scholarship program that will support women's access to higher education and boost their job opportunities in the electricity industry.
The government will contribute $174.5 million toward the $532 million total cost of the project, which is due for completion at the end of June 2023.
ADB is committed to achieving a prosperous, inclusive, resilient, and sustainable Asia and the Pacific, while sustaining its efforts to eradicate extreme poverty. Established in 1966, it is owned by 67 members—48 from the region. In 2017, ADB operations totaled $32.2 billion, including $11.9 billion in cofinancing.
After stalling last year, renewable power capacity additions to hit double-digit growth in 2019
After stalling last year, global capacity additions of renewable power are set to bounce back with double-digit growth in 2019, driven by solar PV's strong performance, according to the International Energy Agency.
The IEA expects renewable capacity additions to grow by almost 12% this year, the fastest pace since 2015, to reach almost 200 GW, mostly thanks to solar PV and wind. Global solar PV additions are expected to increase by over 17%.
Last year was the first time since 2001 that growth in renewable power capacity failed to accelerate year on year, largely due to a Chinese government policy change. This highlights the critical role of governments for the deployment of renewables and the need to avoid sudden policy changes that can result in strong market volatility.
Renewables have a major part to play in curbing global emissions and providing universal access to affordable, secure, sustainable and modern energy. Renewable capacity additions need to grow by more than 300 GW on average each year between 2018 and 2030 to reach the goals of the Paris Agreement, according to the IEA's Sustainable Development Scenario.
"These latest numbers give us many reasons to celebrate: Renewable electricity additions are now growing at their fastest pace in four years after a disappointing 2018," said Dr Fatih Birol, the IEA's Executive Director. "We are witnessing a drastic decline in the cost of solar power together with strong growth in onshore wind. And offshore wind is showing encouraging signs."
"These technologies are the mainstays of the world's efforts to tackle climate change, reduce air pollution and provide energy access to all," Dr Birol said. "The stark difference between this year's trend and last year's demonstrates the critical ability of government policies to change the trajectory we are on."
The cost of solar PV has plunged more than 80% since 2010, making the technology increasingly competitive in many countries. The IEA estimates that global solar PV capacity additions will increase to almost 115 GW this year, despite a slight decline in China, the world's largest market. This is set to be the first year that solar PV additions have surpassed 100 GW and the third year in a row that they account for more than half of global renewable additions.
The softness in the Chinese solar PV market is being offset by faster expansion in the European Union, led by Spain; a new installations boom in Vietnam as developers rush to complete projects before incentive cuts; and faster growth in India and the United States. Japanese solar PV developers are also expediting the commissioning of projects to meet deadlines for higher incentives.
The pace of acceleration in the Chinese solar PV market remains the biggest uncertainty for the IEA's 2019 estimates. China's policy transition from feed-in tariffs to competitive auctions resulted in relatively slow solar PV deployment in the first half of 2019. But installations in the second half of the year are expected to accelerate with the completion of the first projects linked to large-scale auctions and the emergence of projects that rely far less on incentives to compete with other power sources.
The rebound in renewables is also supported by higher onshore wind growth, which is expected to rise 15% to 53 GW, the largest increase since record deployment in 2015. In the United States, project developers have accelerated deployment before the phase-out of federal production tax credits. In China, lower curtailment levels have unlocked additional growth in several provinces this year, enabling faster expansion.
Offshore wind growth is expected to be stable at around 5 GW in 2019, led by the European Union and China.
IRENA and UN agree to jointly combat desertification through renewables
The International Renewable Energy Agency (IRENA) and the Secretariat of the United Nations Convention to Combat Desertification (UNCCD) are joining forces to support climate adaptation and resilience and to implement UN Sustainable Development Goals through renewables.
In a Memorandum of Understanding signed today by IRENA's Director-General Francesco La Camera and UNCCD's Executive Secretary Ibrahim Thiaw, the two organisations have agreed to increase renewable energy capacity building and investment on the ground, get a better understanding of the land and renewable energy nexus and undertake joint outreach activities. The agreement was signed on the sidelines of the Conference of Parties to the United Nations Convention to Combat Desertification (COP14) which currently takes place in New Delhi, India.
"Today, renewable energy is the most effective climate action tool available. But renewables can play an important role in combating desertification and land degradation too", said IRENA's Director-General Francesco La Camera. "By signing today's MoU, we intend to strengthen collaboration with the UN on country and regional support activities that accelerate renewables deployment as a component of a broader strategy to expand access to energy, foster sustainable development, biodiversity and climate resilience."
"Renewable energy is one of the solutions to restore land, as it can help conserve food or develop irrigation systems. There are a lot of areas for cooperation," UNCCD's Executive Secretary Ibrahim Thiaw said, adding that he expects renewable energy to be among the issues that could come up as a request from our Parties, in their efforts to halt and reverse land degradation.
Sustainable energy can stimulate land restoration and conservation efforts and improve the economic sustainability of projects undertaken. For example, renewables can electrify rural health centers, provide solutions in the agri-food sector and alleviate poverty through integrated rural community development projects. In regions like Africa and particularly the Sahel, additional bioenergy production through land restoration activities can generate further benefits by lightening the burden of energy in security while generating employment and income, thereby reducing poverty.
ADB-Supported Solar Project in Cambodia Achieves Lowest-Ever Tariff in ASEAN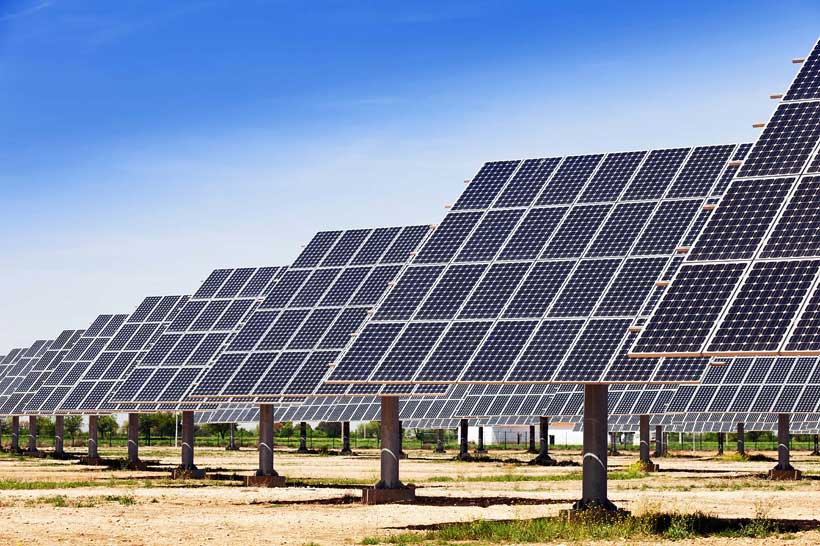 The auction for 60 megawatts (MW) of solar photovoltaic (PV) capacity conducted by Electricite du Cambodge (EDC), Cambodia's national electricity utility, has led to the lowest bid of 3.877 cents (US dollar) per kilowatt hour by Prime Road Alternative Company Limited. The project, supported by the Asian Development Bank (ADB), drew 26 bidders, including several global companies, and has achieved the lowest power purchase tariff for a solar project so far recorded in Southeast Asia.
The 60 MW project is part of a 100 MW National Solar Park and is structured as a public–private partnership. EDC is providing the land and transmission access, while the private sector will provide power generation capacity based on a long-term power purchase agreement with EDC. ADB served as the transaction advisor for the project, through the Office of Public–Private Partnerships, while also providing a sovereign loan blended with climate finance funds to finance the transmission line and substation for the solar park. The project preparation work was carried out by ADB with the support of the governments of Canada and Singapore.
"The record low prices show the power of competition. This is a new era for renewable energy development in Cambodia and the region, and particularly for solar power generation. This is good news for EDC and the people of Cambodia," said the Director of ADB's Office of Public–Private Partnerships Mr. Siddharta Shah. "We believe more governments in the region will adopt auction as a strategy to procure renewable energy generation capacity, and this structure and tariff will serve as a benchmark for future projects."
"Expanding solar generation is aligned with the country's goal of increasing access to affordable and reliable sources of electricity," said ADB Principal Climate Change Specialist Mr. Pradeep Tharakan. "ADB, as a trusted development partner of the government, is working toward the long-term development of the energy sector in the country."
ADB's other ongoing support to the country's energy sector includes financing for the expansion and strengthening of the national grid; the development of a comprehensive power development plan through 2040; and the piloting of innovative technologies, including energy storage systems.